100 Food and Drink ideas for Brighton
Here at Restaurants Brighton, our philosophy is that between birth and death you should do as much living as possible. This is our Bucket List, the 100 foodie things in Brighton and Sussex we think you must try before catching the express diner cart to The Other Side, because food is life, and Brighton is full of it.
Since opening in 2013 The Little Fish Market has garnered more national and local praise than any other restaurant in Brighton. The bijou 20 cover restaurant serves a single tasting menu that is predominantly fish-based and which changes with what's seasonal and what's been landed. The restaurant currently holds the BRAVO for Brighton's Best Restaurant, three AA Rosettes, a Good Food Guide Score of Five, a place in the National Restaurant Awards top 100 UK restaurants and is Michelin recommended – to name but a few!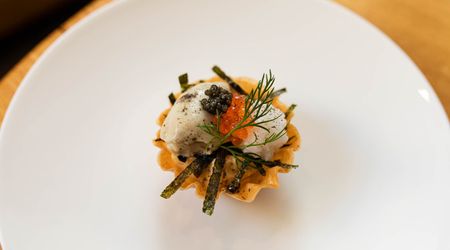 Chef Ian Swainson is resident Chef at Brighton's foremost boutique hotel, Drakes. Open Tuesday to Saturday evenings Amarillo serves a strong Spanish influenced six course set menu. Having worked in several one and two Michelin starred restaurants, Ian's offering is taking the Brighton food scene by storm. Offering a fine dining experience at a much more affordable price point, Amarillo is one to watch.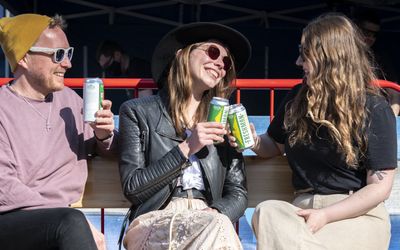 Brighton Bier Brewery has brought an unrivalled gift of a beer garden to our sunny city. With a capacity of 66+, internationally award winning beers brewed on site and a fantastic schedule of pop up vendors including; Mexican caterers Prickly Pear and Japanese snacks. You can be sure that this venue is set to be hot on Brighton's social scene this season. The bar is fully loaded with house brews, wines, spirits and soft drinks for the drivers. Covered seating is available on booking and Brighton Bier Brewery offer a home delivery service.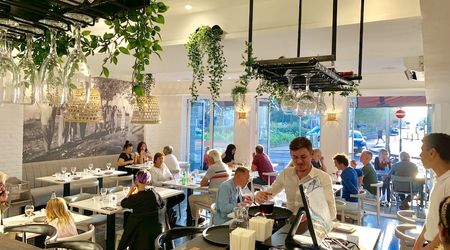 Overlooking Palmeira Square in Hove, Nostos is a new Greek restaurant on Holland Road. Serving deliciously fresh, flavour led food to guests looking to enjoy authentic Greek cuisine in a modern, stylish restaurant. Prepared daily, fresh ingredients are made into traditional Greek dishes, known and lesser known, creating a Mediterranean dining experience for all who visit.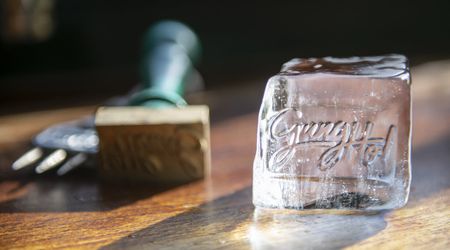 Brining the sustainability trend to the cocktail trend in Brighton is GungHo, cocktails are made using small batch foraged botanicals and local ingredients championing all types of fruit and veg; from green strawberries and elderflower to chicory root and basil. Cocktails at GungHo are an event not to be missed because, being season dependent, once they're gone, they're really gone.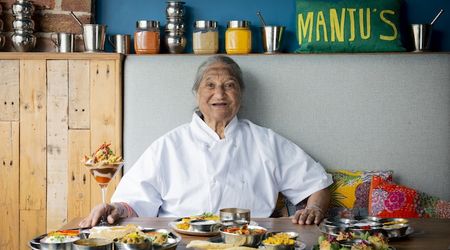 Manju's is a small, family run, Gujarati restaurant in the heart of the North Laine. From the opening, Manju's established itself a fantastic reputation and popularity. What is really special about Manju's is the story of the eponymous Chef. Manju arrived in the UK in 1972 after the Ugandan dictator, Idi Amin, expelled all East African Asians; with two small boys she went straight to work in a factory in order to survive, but nestled in her heart was the dream of owning her own restaurant. Six decades later and that dream was realised, with Manju, now in her 80s, cooking and creating all the menu's dishes.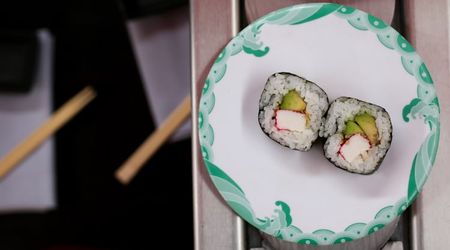 The iconic Moshimo in Bartholomew Square has at its heart a strong sustainability ethos whose 'Lovefish' campaign is one of the most successful global campaigns to tackle over fishing. Surprisingly for a sea food restaurant Moshimo have also been awarded a 'Progy' by animal rights and vegan champions Peta, get 50% off all vegan sushi on their Vegan VVednesday's and it becomes pretty clear why.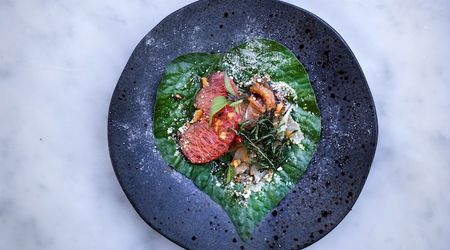 Lucky Khao, which shares its roof with Redroaster Cafe (# 43), is Brighton's first Northern Thia restaurant. Northern Thia differs from Southern Thia in that the cuisine is more hearty, reflecting the climate which in the North is wetter and similar to that of the UK. Lucky Khao cook using a green egg barbeque for meats that are fall off the bone tender and zingy and spicy flavours that will change how you think about Thai food forever.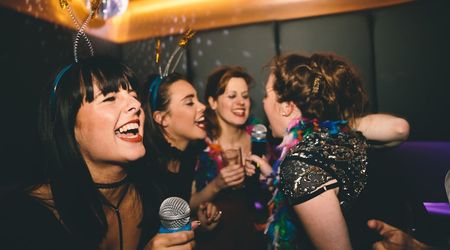 For unabashed 80's fun, karaoke still holds power over many revellers. At Lucky Voice you get a booth from which you can order cocktails and pizzas to be delivered to you, so there's no need to miss out on any of the fun, but there's also a good sized bar area should the next person up be known to murder any song and you need an excuse to get away.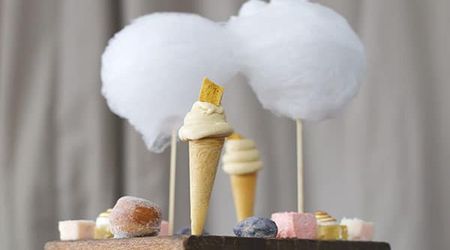 It stands to reason that the best place for a fish restaurant is by the sea, and what better way to eat it than with uninterrupted sea views. The Salt Room is Brighton's award-wining fish restaurant which champions local and sustainable produce cooked over a coal grill and boasts a seafront terrace with far stretching views. For a fun end to your meal try sharing the Taste of the Pier dessert with mango '99', passion fruit pops, edible pebbles, lime yum yum, clotted cream and strawberry fudge and peach and raspberry mallow.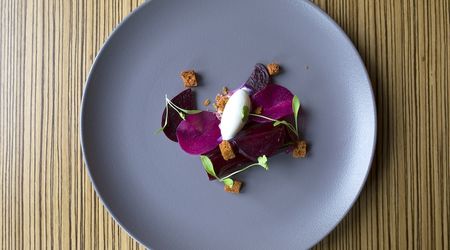 Offering a tasting menu only Wednesday to Saturday, Masterchef: The Professionals winner Steven Edwards presents his ingredient led concept etch. Since opening in 2017 etch. has scooped Michelin Plate, 5 Good Food Guide and two AA Rosettes, clearly etch. are leaving their mark.
One of Brighton's most popular restaurants and celebrated in the National Restaurant Awards for three year's running (2015-17), Michael Bremner's 64 Degrees offers intimate dining in a restaurant where the kitchen really is the heart. The tasting menu showcases local producers through genius technical delivery utilising specialist equipment such as dehydrators and water baths. A vegan tasting menu has also been introduced.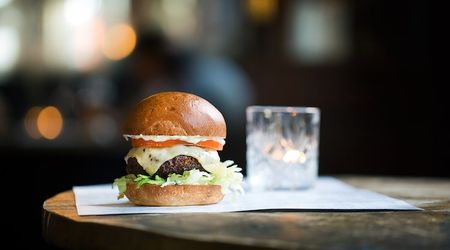 If you're up for the challenge the Lost Boys Chicken are offering a house T-shirt for anyone who can defeat them in 'The Duel'. Not for the faint hearted, this is a mountain of ten wings served in a perilous double helping of their XXX Hot Shadow Sauce and rolled in a Reaper chilli flake crumb (that's up at the top of the Scoville scale in case you wondered). So will you rise like a phoenix or plummet like Icarus, the gauntlet has been cast!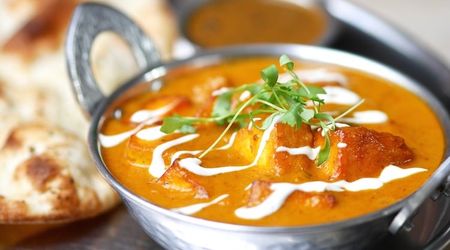 The Curry Leaf Cafe in the Lanes is the first of three outlets for the group. The cafe is laid back and cheery, with bright decor and friendly service. The street food offers a tour of some of the tastiest dishes South India's street vendors have to offer at affordable prices, including classics such as the ubiquitous samosa to the more surprising masala fish and chips.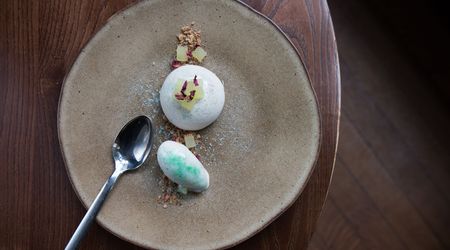 Hove Place is a strong local favourite, in part for its fine selection of wines, craft ales and spirits, in part because of its beautiful Italian inspired garden and in part because of its carefully created seasonal and locally sourced menu. More than the sum of its parts Hove Place raises the bar for fine pub fare, drinks and atmosphere.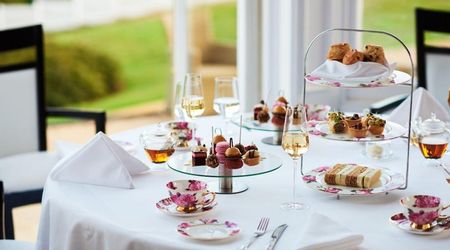 Afternoon tea is without a doubt the most delicious English tradition. Every visitor to the beautiful Leonardslee House should expect to enjoy the very finest food, spectacular views and the ultimate tea experience. Afternoon tea is set within the drawing room of the two-storey Italianate mansion, dating back to 1801. Guests enjoying one of the three options for afternoon tea can also enjoy impressive views over the gardens and South Downs.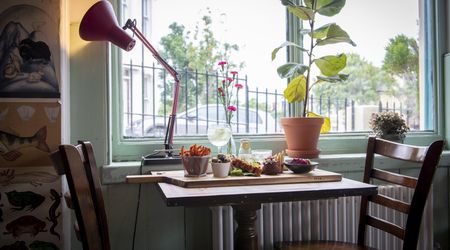 Filling a Brighton niche is The Roundhill Pub with its menu of constantly changing menu that is a cut above the standard pub fare. The menu, and all the drinks, at The Roundhill are vegan by default (some dishes can have cheese added to them). The venue itself is beautifully presented, lots of greenery, an eclectic mix of furnishings and big windows taking up two walls make for a light and friendly space. Serving food all day with lots of events keeps this plant-powered pub a hub of activity.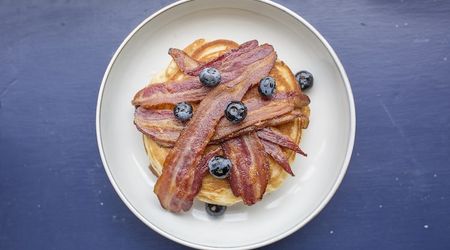 Winner of BRAVO 2018 'Best Brunch', Starfish & Coffee's aim to have you "brunch like a boss" seems to be working. Nicely placed on the corner of Queen's Park, a stack of super indulgent pancakes with bacon, maple syrup and blueberries feels less naughty if you bookend it with a good walk. If you're not a fan of sweet with savoury, go for one of the equally excellent breakfasts, from full English, to all kinds of eggs and hashes.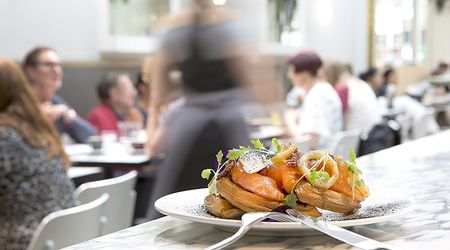 There's so much good about Redroaster it needs its own list. The fair trade, organic coffee is hand roasted daily and dispatched throughout Sussex as one of the most popular roasts going. The award-winning interior with gleaming white marble and high vaulted botanicals is sustainably built and powered. Profits from Redroaster contribute to social projects in the UK and Rowanda. Want some tasty goodness? Turn up midweek for Wellness Wednesday, for an organic, locally sourced menu full of vitalising yummy superfoods.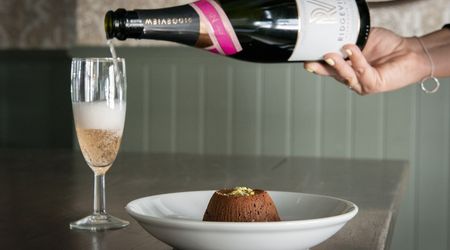 The gothic inspired Hotel du Vin in The Lanes is a bastion of sophistication, featuring 49 unique suites, a modern French bistro, bar and vine covered pergola where you can enjoy alfresco dining or an afternoon tea. Originally build by a wine merchant the impressive building houses an equally impressive wine cellar which you can tour as part of their regular wine tasting masterclasses with the resident sommelier, a perfect way to whet your appetite for some fine dining in the light, elegant bistro above.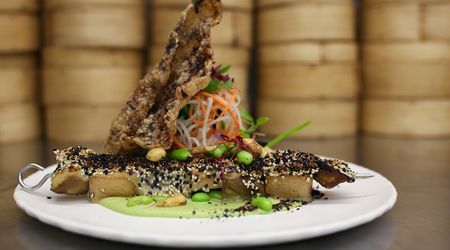 Terre a Terre has long been established as one of the finest vegetarian restaurants in Brighton, if not the country. Modern cuisine is experimental and inventive, pushing plant based dining to new heights, for the new comer its menu can be a little overwhelming supercharged as it is with a mixture of the familiar with the exotic, the Terre Tapas is a good way for two to share their way round some of the highlights of the menu. Be prepared, the Terre Tapas looks like a tropical rainforest, and its just as easy to get lost in.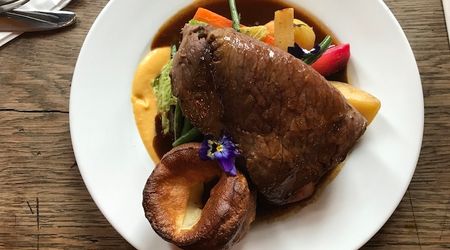 The Better Half pub has traditional furnishings with a modern twist, and a small lovely beer garden out the back for the warmer months. The menu has been impressing foodies all over Brighton since opening, and their Sunday roast offering is no exception. The menu is impressive mix of tradition and intelligent modern additions which respond to seasonality and needs, vegetarians, vegans and coeliacs will find some refreshing and well considered alternatives to the standard alternatives.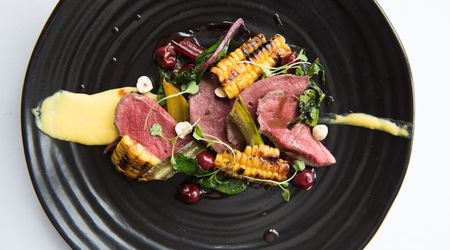 The Wardroom in The Old Ship Hotel, lends a sense of old world nautical distinction to its dining experience. Captain of the ship, Head Chef Phil Mesquitta, brings a menu rich in global influence, experimenting with the flavours of France, Jamaica and Korea to name but a few; this is a first class cruise through modern dining, where every table is the captain's table.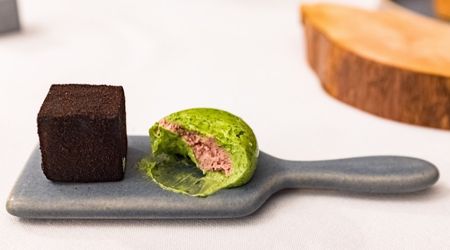 Interlude is a contemporary restaurant located in Horsham, set within the historic woodland gardens of Leonardslee Estate. On offer, is a tasting menu like no other. Choose from either a 14 or a 19-course menu, from the 'Garden' or the 'Estate'. Heading up the chef brigade here is South African born and raised Jean Dalport, who brings his unique and unusual cookery to Horsham for the lovely people of Sussex to enjoy.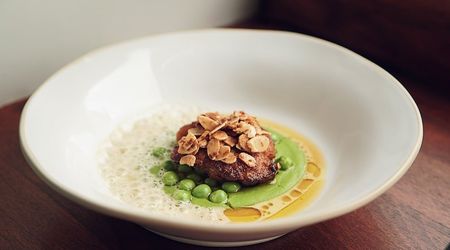 Wild Flor has an a la carte menu offering diners option from familiar and modest comfort food alongside more luxury items. But on Mondays, you will find an extra special special; Bangers and Bordeaux, which consists of a sausage based main course and a glass of claret at a fixed special price! You can be certain that the meats are sourced from the finest local suppliers and the grapes from only the most thriving vineyards.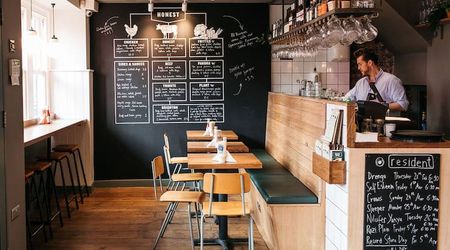 Opening on Duke Street in 2019, Honest Burgers took a long time getting here considering they launched at the Brighton Food Festival in 2010. The prodigal sons are none the less welcomed back, having spent nine years conquering London's hippest quarters, the Brighton venue keeps what works in the big smoke, things like pure 100% Brittish beef made in their own butchers and homemade rosemary salt fries, but adds to it a little sprinkle of Brighton's own fairy dust with a play list curated by the musos at Resident and a bespoke beer from the  hop-meisters as Holler Brewery.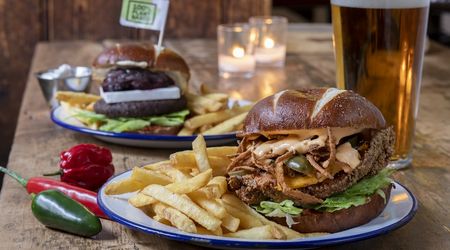 Centrally located The Black Lion pub offers a great place to get your good times started with live music and top DJ's throughout the week. Keen to deliver well on everything they do, The Black Lion serves some great traditional pub fare but with an emphasis on supplying a product that can hold its head up in very foodie city. Drinks too cover fun cocktails to good craft ales, making The Black Lion something of a ready made party in a box.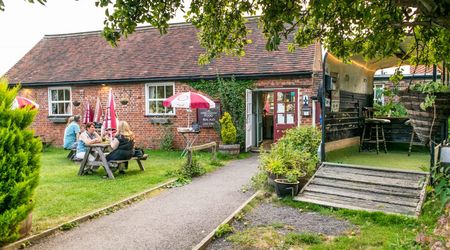 Dating back to the 1800s, The Sportsman Pub in Goddards Green was originally two buildings before being knocked through to make the now well sized traditional village pub. Situated only a pleasant meander away from Hickstead and Burgess Hill with a large children's play area and a Cask Marque award. The Sportsman is a great stop-off point whilst exploring Sussex or as a destination itself with plenty of local entertainment and private events catered for.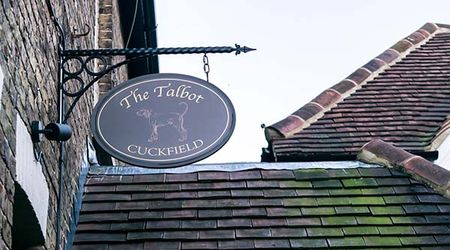 The Talbot is a gorgeous country pub in the heart of Cuckfield with a traditional warm welcome at its heart. They pride themselves in using local growers, brewers and products and are a dog friendly venue too, making it a perfect place to head out for a countryside visit. Refurbished in 2014 the Hayloft is their 70 seater restaurant with original feature oak beams, high ceilings and wooden floors, a great venue for private functions out of town.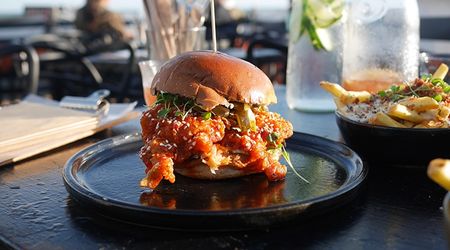 Lucky Beach are as passionate about their burgers as they are about sustainability, helping t ensure there'll be burgers for everyone forever. Meat is locally sourced and high welfare whilst the vegan option is a Moving Mountains B12 Burger, a plant-based patty so convincing it almost moos. They've clocked up awards for their burgers and their sustainability work, holding the highest rating from the Sustainable Restaurants Association in the world.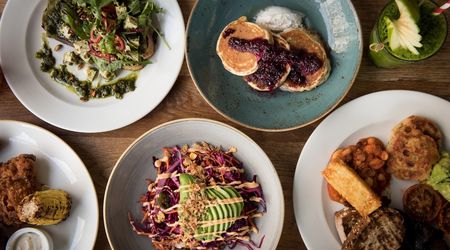 Heralded by national and local trend setters, The New Club has been listed as one of the best places to brunch in the UK by Stylist Magazine and listed by Worlds Best Bars. The urban NY decor is matched with confidently crafted diner style food, craft beers and signature cocktails. Turn up for brunch, stick around for a burger at lunch or hang out for dinner and drinks, do what you like – just be there.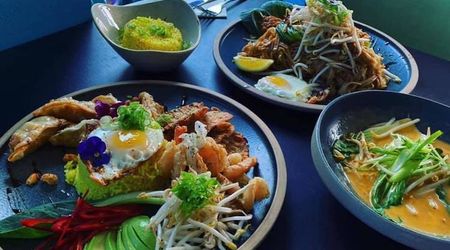 Take your tastebuds on an adventure or relive those backpacking days with brunch at Longrain Thai. Try the Balinese breakfast with yellow coconut rice and crispy Thai fishcakes, home-made Indonesian spiced crispy tempeh, and a fried egg. Served with Longrain Chilli Jam and fresh juice or smoothie of your choice. It's a far cry from a bacon butty, but you'll be sold from the first bite.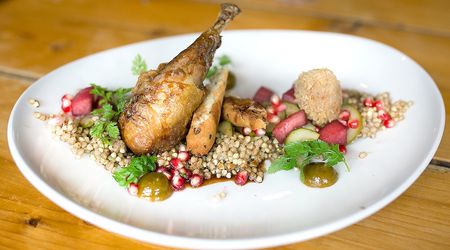 If you're looking for a city escape one weekend, then the Shepherd & Dog pub in Fulking is close enough for an easy jaunt whilst having that middle of the countryside feel. With a number of walking tracks situated around the pub, all with stunning views over the picturesque South Downs, you can work yourself up an appetite before planting yourself on an outdoor bench and enjoy a large glass of chilled wine with a delicious meal and a view.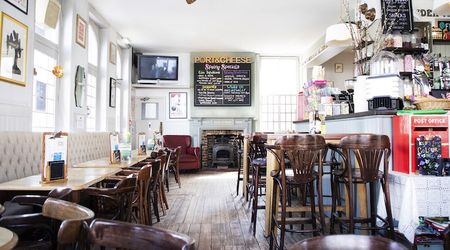 The George Payne in Hove is well known as an events venue and has also acquired for itself a very good food reputation. Combining the two every Thursday night, the Goerge Payne run an Open Mic night where all performers can get their dinner for just £5 and a free bottle of beer to wash it down with; which, if you compare to the royalties paid out by some music streaming services is probably quite generous! If you can't sing don't worry, all acts are welcome so practice that card trick or dust off that old ukulele because tonight, dinner is on your talent.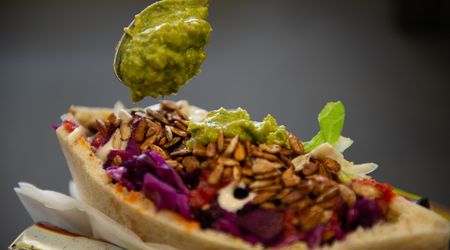 Homemade artisanal houmous and falafel are the stock and trade of Smorl's Kitchen in the Brighton Open Market. Owner, Sarah, has perfected her art over 25 years, first learning to make houmous at festivals, what she does now will spoil you for supermarket houmous for life. The Biggie Smorl's is a pitta packed with salad, zingy pickled cabbage, toasted seeds, the best falafel you are ever likely to try and a generous helping of their phenomenal houmous, one bite and you will be hooked.
With a bold new refurb and exciting menu brought to us by the skillfull hands of Phil Bartley, the Gather Inn, facing out on Hove Lagoon is a place well worth a second look. Spacious and bright with great views, it's a good spot for the whole family, especially on Sundays for top quality roasts. With a very spacious private hire area and accommodation, it's also a good one for big get-togethers, the sort out of towners can join in on too.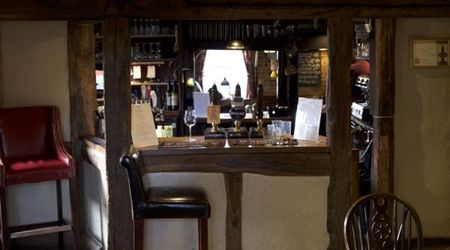 The Fountain Inn is a stunning 16th century pub in Ashurst which has kept its old world charm with low ceilings, pretty gardens and a warming fireplace for the cooler months. Here you can expect to see a menu with classic dishes using local ingredients, and with a Cask Marque award the offering of local ales and beers is certain to be top quality. Beautiful gardens and a country pond make The Fountain a popular spot in the summer, and one to add to your country pub list for anytime of year.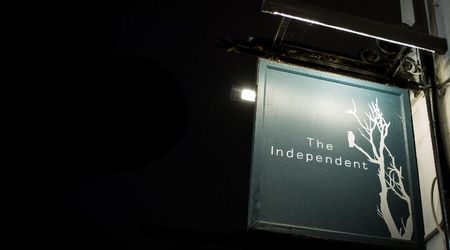 The Independent is a Hanover free house offering an ever changing selection of four keg and ten cask ales sourced from local Sussex brewers as well as globally. Tins and bottles are also available both as drink in and take out and  not limited to beer, the wine and cocktail menu packs a big offering for a cosy venue. The food is a cut above the average local's too, seasonal and fresh, extending to brunch at the weekend and a roast that holds its head high in a city mad about Sunday session. All of which makes for some serious good reasons to return time and again.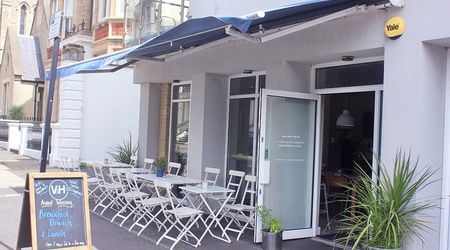 V and H cafe is a lovely and light independent eatery on Palmeira Square who home make and source from a large range of local small businesses. V and H serve classic but good quality cafe food with an emphasis on fresh and healthy, making it a popular spot for Hove's younger families. Smashed avocado on fresh sourdough from Real Patisserie proves a popular dish, topped with perfectly gooey poached eggs for a royal treat full of goodness.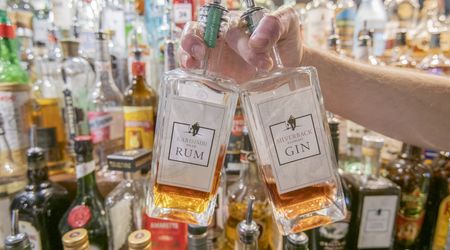 Twisted Lemon is one of those wonderful Brighton venues that can surprise you. Hidden down a tiny alley in the Lanes, this little cocktail bar is bursting with zest. Extended happy hours tend to run every day except for Saturdays with plenty of choice on offer. Here you can enjoy an expertly mixed cocktail at a price that beats most of central Brighton's bars on the cost of a pint.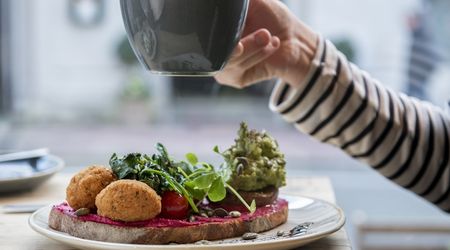 Roasting its own beans in house and boasting an Italian second generation head roaster makes Trading Post on Ship Street a real no brainer when searching out that morning caffeine hit, and handily if you're needing something with a little more substance to it they have a great selection of breakfasts ranging from the über healthy Bircher muesli with berry compote to a full range of cooked breakfasts with vegetarian and vegan options aplenty.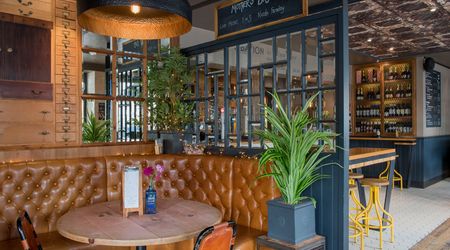 Boasting an excellent list of sparkling wines, Libation in Hove is a lively and social venue suitable for everything from a quick stop midweek to a full-on weekend party. Selling Sussex award winning bubbles from Nyetimber and Ridgeview, French champagne, Italian prosecco and Spanish cava, there's something to pop everyone's cork.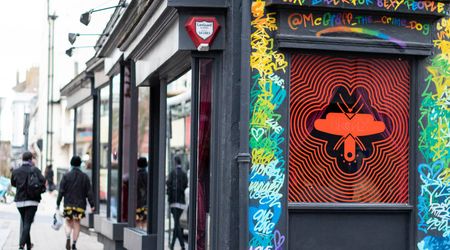 Forget all you know, or think you know, about smokehouses when paying a visit to The Bronze, St James Street. This isn't American or Australian style barbeque but pure Sussex. Quality and ethically sourced Sussex meat and produce are smoked up the road in Hurstpierpoint and cooked creatively and with panache – best enjoyed with a few locally brewed beers.
What you get here is food suitable for high-end restaurants but served in an environment much more suited for kicking back and socialising. It's all the quality and none of the pretence – just how Brighton likes it.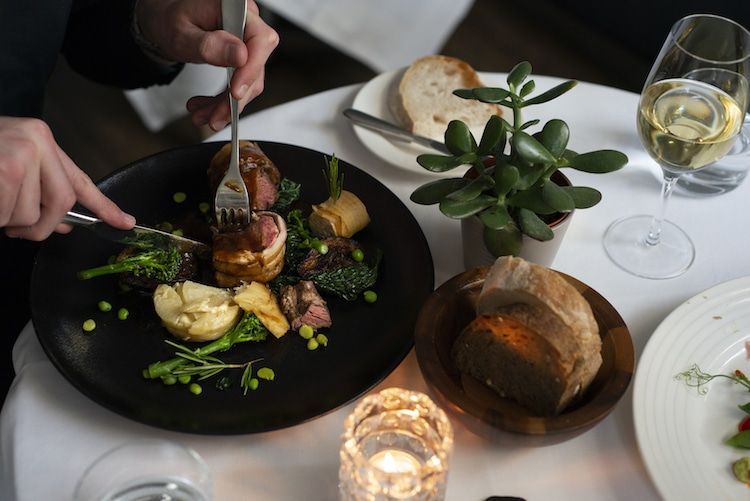 Want to know the latest food & drink news for Brighton & Hove?
Add your email address below and we will send you our newsletter every two weeks.
(Being respectful of your data and privacy is really important to us, always has and always will be.)