Best Brighton Steak Restaurant or Steakhouse
Looking for the best steak restaurant in Brighton? Which venue makes the cut when it comes to choosing the most tender, juicy and flavoursome steak in the city? Here are our best venues for steak in Brighton, Hove and Sussex.
The coal shed is an example of what happens when you take a real charcoal Josper oven, the freshest and best quality ingredients you can find and then cook those ingredients to perfection! Specialities include a range of 35 day, dry aged Scottish steaks from the North Highlands in Scotland. Offering a range of cuts, including some truly spectacular sharing steaks, and a variety of sides this is every meat lovers dream venue.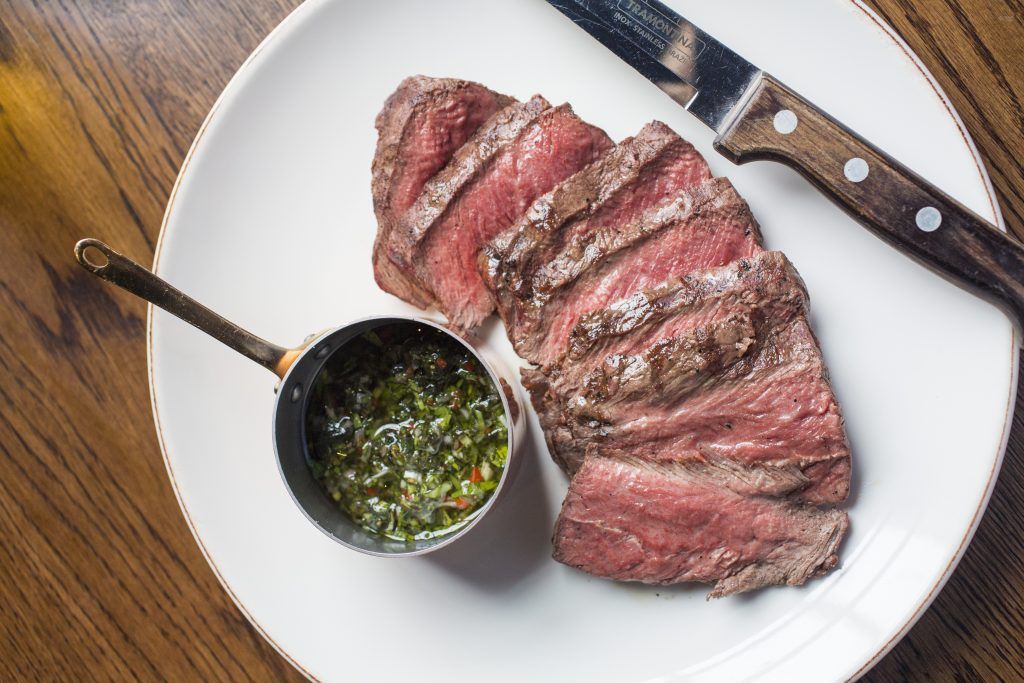 Find Out More
Critically acclaimed by the Observer
New to Shelter Hall for the summer of 2022 is Patty Guy by Masterchef 2018 winner Kenny Tutt. Kenny creates a nostalgic Americana steak sandwich menu and reimagines it using high quality and sustainably sourced British beef. Patty Guy serves smash patties with unapologetically indulgent sandwiches, such as the Mac Daddy: two beef patties, double American cheese, fresh green chilli and pickled jalapeno. Sear by Salt Shed (Bethnal Green Boxpark) takes classic grilled dishes and recreates them using a robotayaki grill, a traditional Japanese style grill that uses hot coals rather than flame. They serve a 32 day aged Bavette steak with skin on chips, green sauce and pickled red onion.
Inspired by French home-style cooking, slow-cooked foods and using locally sourced ingredients – Hotel Du Vin's Gallic style menu certainly has a British flavour delivered in a down-to-earth, cosy and incredibly relaxing setting. All steaks are dry aged on the bone for 28 days, choose from Onglet, Ribeye and Fillet steak with a choice of sauces and served with pomme frites (that's chips to the rest of us). A decadent bistro setting with options also for alfresco and private dining.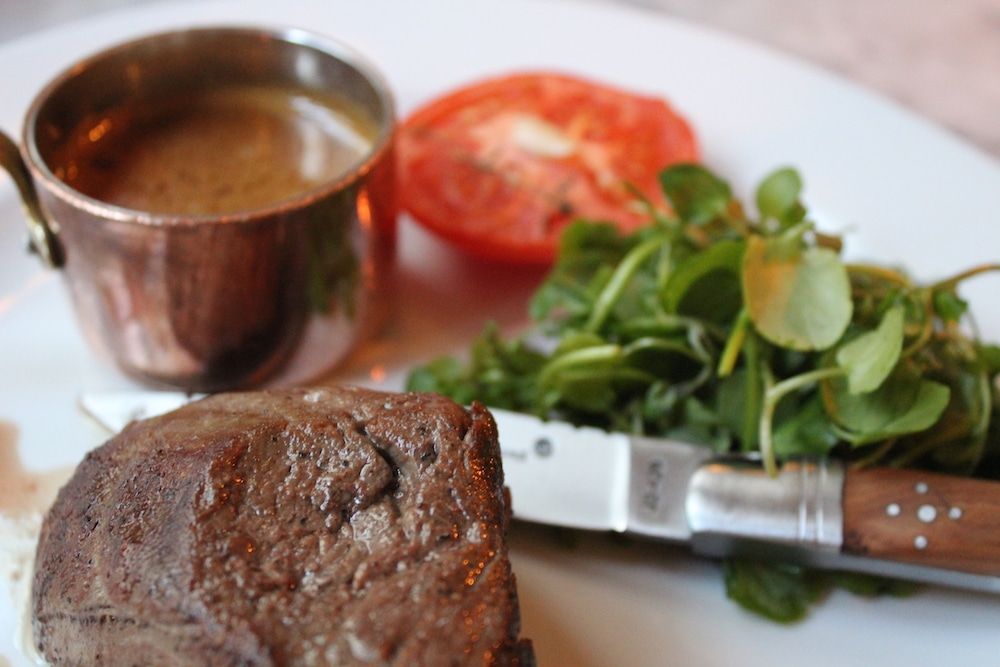 Find Out More
All steaks are dry aged on the bone for a minimum of 28 days
If quality, locality and traceability are all things you look for when choosing a steak, The Sussex Ox have got you covered. Their steak comes from their own family owned organic farm just 5 miles from pub, along with all the other meat on the menu. The menu boasts an extensive selection of meats from the grill, often with a variety of different cuts to choose from. Enjoy this with your choice of sauce and sides and pair with an glass of Côtes du Rhône, you will be all set for a perfectly relaxing evening.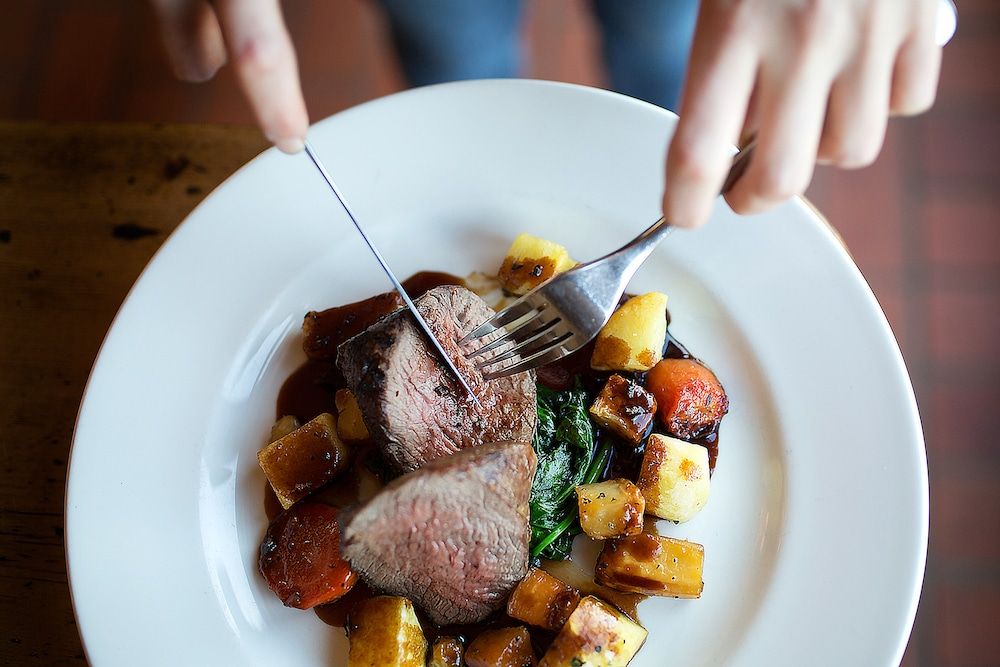 Find Out More
LatinoAmérica based in Hove is the first Argentine restaurant in East Sussex. The owner and his team are proud to share with you the authentic dishes and extensive knowledge of the cuisine of Argentina. For over 60 years, Argentina has been recognised around the world for exporting some of the finest quality beef. Try Latino America's Argentine Meat Experience which gives you a taste of each cut of steak with sides to accompany! Regarded as one of the best steak restaurants in Brighton.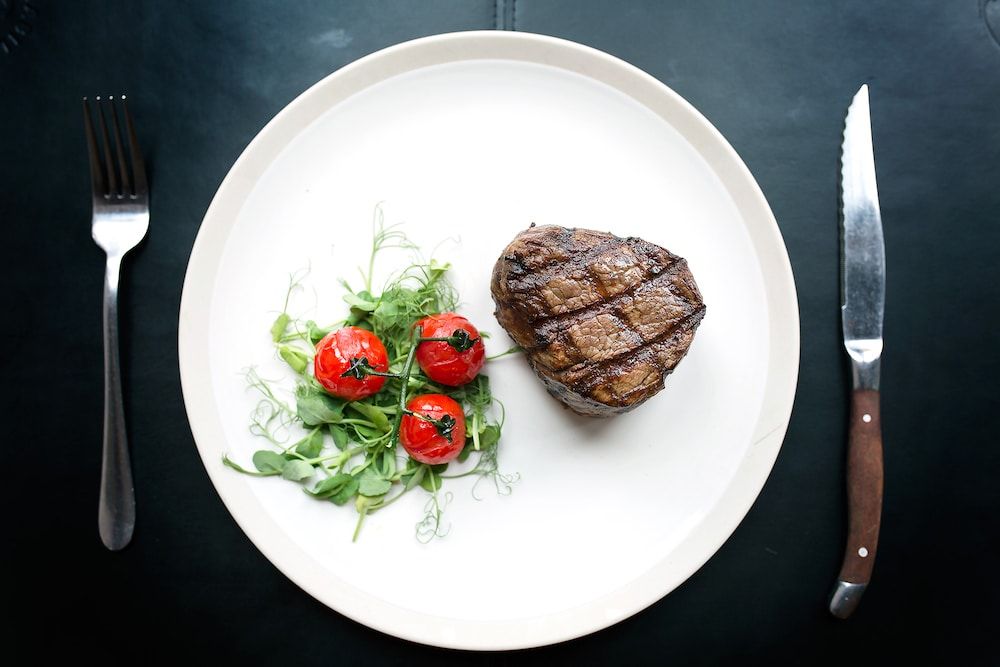 Rated by Tripadvisor as the Number One Steak House in Brighton&Hove, The Old Bank serves 28 day aged British Beef and offers great value with steak prices starting at only £10.50. One of the specialities is the "Steak Challenge" where, if guests can eat 2 kg of sirloin steak in under 45 minutes, it's free! It is also rated Number One in B&H for delicious, slow cooked, BBQ baby back ribs. The dessert menu has been created around an in-house ice cream machine, which uses pure Jersey Cream as its principal ingredient.