Restaurant Brighton's guide to
A world of flavours at the Brighton Open Market
Welcome to the Brighton Open Market, a vibrant culinary destination in the heart of the city. Here we have selected Brighton restaurants located in the Brighton Open Market itself, or close by on the London Road where the market is situated.
The market is a great spot for independent and international food stalls, it's a paradise for food enthusiasts seeking delectable vegan offerings and you can also find Brighton award winning venues proudly at home in this great indoor space. Whether you're craving a hearty breakfast or a mouthwatering brunch, you'll find plenty of options to satisfy your taste buds.
The Brighton Open Market market proudly showcases a variety of Sussex suppliers too, offering fresh dairy, sustainably-sourced fish, locally-grown vegetables, and unique second-hand clothing. The Brighton Open Market is conveniently located near London Road and adjacent to the The Level park. Discover a world of flavours and experiences at Brighton Open Market, just 5 minutes from Brighton station.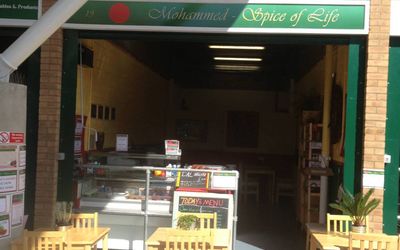 Mohammed Spice of Life is a vibrant Indian restaurant located within the bustling Brighton Open Market. Renowned for its rich and flavourful Indian cuisine, the restaurant offers a wide variety of dishes to satisfy diverse tastes. From aromatic curries to mouthwatering tandoori specialties, their menu caters to both vegetarians and meat enthusiasts. With a prime location at the heart of the Brighton Open market, diners can enjoy their delicious meals amidst the vibrant atmosphere of local vendors and shoppers, making it a must-visit spot for Indian food enthusiasts in Brighton.
Restaurants Nearby to the Brighton Open Market