Restaurant Brighton's guide to
Alfresco Dining in Brighton
Here is our guide to alfresco dining in Brighton, Hove and Sussex. From stunning seafront views to secret walled garden retreats, we have all of our favourite Brighton and Sussex cafés, bars, and restaurants with the best outdoor spaces covered.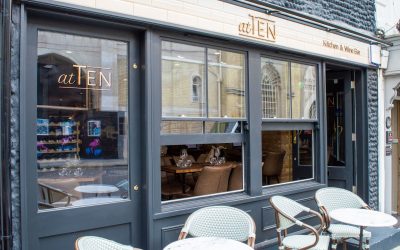 At TEN wine bar and restaurant is on Church Street, opposite the iconic Corn Exchange. Here is a lovely spot, just off the edge of the hustle and bustle of the North Laine with a few street side tables to accommodate your people watching. At TEN is a specialist in cheese, charcuterie and fine wine – a perfect combo to indulge in on a sunny day. Cheese and charcuterie are all sourced from the UK's finest artisanal producers while the wine list is curated by local sommelier, Steve Pineau.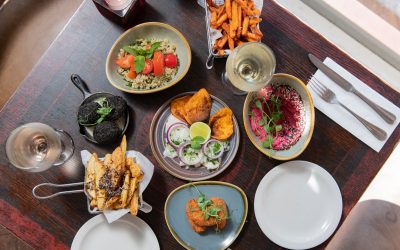 Bohemia benefits from having two fantastic areas for its guests to drink and dine alfresco. The front of Bohemia is set on the cobbled streets on the Lanes, offering guests the perfect spot for people watching from the comfort of the heated terrace. Bohemia's "Veuve Clicquot" Roof garden has been revamped with now has additional heaters, speakers and offers guests ample space for safe socialising. Bohemia is open seven days a week from midday each day.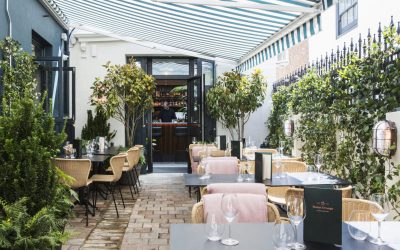 Burnt Orange on Middle Street in The Lanes is the newest venue to join the Coal Shed and Salt Room family. Located in the old coach house there is a beautiful gated and secluded alfresco dining space with original cobbled floor and walls strewn in jasmine. Burnt Orange is all about fusing quality with a relaxed atmosphere and this sheltered yet sunny courtyard is the perfect place to while away a few hours over creative cocktails and jewel-like flavoursome small plates.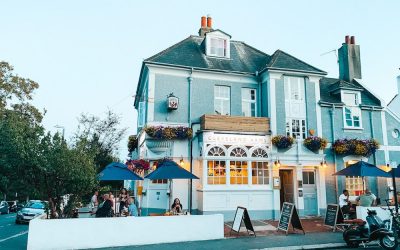 Welcoming folk of the Preston Park area and beyond, The Cleveland Arms is the definition of a community pub. The venue itself is a modern, light but cosy and welcoming space. The Cleveland Arms boasts a beautiful outside suntrap terrace overlooking Blaker's Park on a residential and quiet street, great for kids to let off some steam while you enjoy a pint in the sunshine.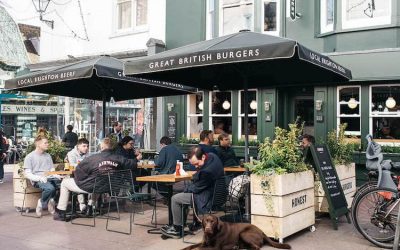 Doing Brighton in the sun with burgers, beer and beats are Honest Burgers. The successful chain started off in our fair city and after conquering the coolest of cool parts of London returned home. Keeping with their roots they have a partnership with the from local musos Resident Records. With seating on the pedestrianised Duke Street between the main shopping attractions and the beach.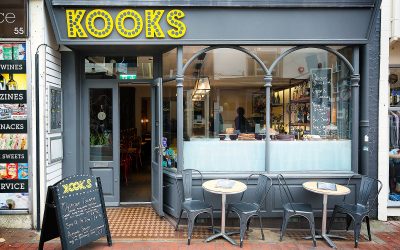 Chow down on some of the best brunches Brighton has to offer, mix it up with a cocktail or two and you have yourself a truly kooky time. Kooks is set in the popular North Laine's area of Brighton and offers guest street-side dining and the perfect spot to watch the local hustle and bustle go by.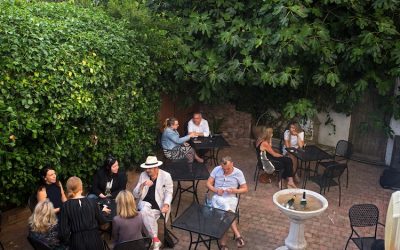 Now with three fantastic venues for you to choose from (we say check them all!); St Georges Place and the winner of the BRAVO'20 Best Cocktail are serving their prohibition strength cocktails and food on their sun terrace. Find yourself further up the hill and towards Seven Dials then check out the second jewel in the LDV crown. The champagne garden is open and drinks are being served alongside delicious sharing plates. Queen's Square now boasts the diamond of the LDV empire, with its huge sun terrace, guest can now enjoy the award-winning cocktails in the heart of our bustling city.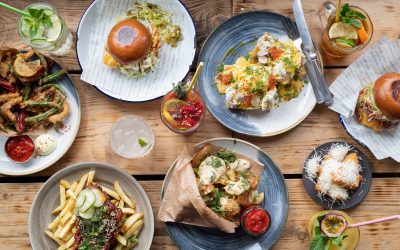 Lucky Beach is one of those cafes that locals want to keep a secret, with its beachfront location and fresh, funky and sustainably led menu you'll have to get in early to nab a seat. But it's definitely worth a short wait in order to fill your boots with delicious brunch offerings and top-notch burgers. Seats 100 across its patio and beachfront tables.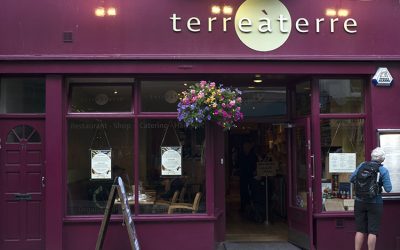 Dining at Terre à Terre is a culinary experience like no other. With intense flavours, sublime textures, and a combination of ingredients that few have the imagination or daring to put together, it will change the way you view vegetarian cuisine forever. Iconic and acclaimed Brighton institution with small rear terrace.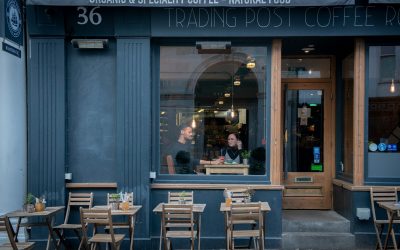 With two sites in town, Trading Post Coffee offers two distinct alfresco Brighton options to go with their excellent coffee and wholesome daytime menu; sit outside and watch the world go by on the busy Ship Street or rise above it all with the rooftop terrace on Kensington gardens.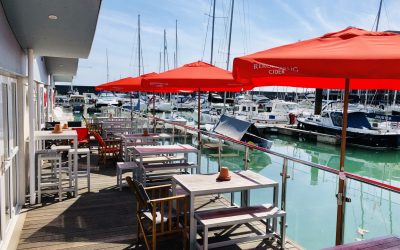 Head down to the Brighton marina and follow the boardwalk down past all the big chain restaurants to the jetty. Here you will find a gem on the water's edge. With food by Space + Thyme you know you're getting good quality freshly prepared food. There's an emphasis on sharing platters, with classic plates as well, and a good roast on Sunday. Come for the food, stay for the west facing aspect and late evening sun.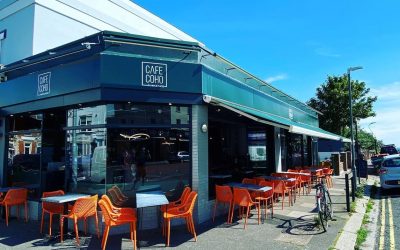 Cafe Coho, Hove follows in the footsteps of its older sibling on Ship Street in that it provides diners with unbeatable cafe culture and the perfect spot for street-side alfresco dining. With West facing tables guests can enjoy the afternoon sun rays while dining on dishes from the all-day brunch menu, and drinking European wine by the glass (or bottle). Or, in wetter weather out pop the awnings and on come the heaters to enable all-year-round alfresco dining comfort.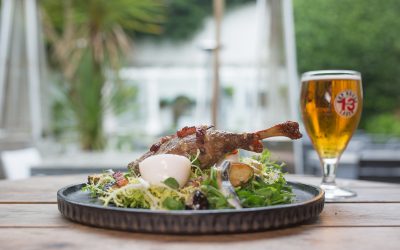 The Hove Place Bistro and Gardens is a popular casual bistro style pub in the heart of Hove located close to the seafront in the Palmeira Square area. With arguably the best outdoor space in the whole of Hove, here you have plenty of outdoor seating in their beer garden, a great mix of people and it is a super place to enjoy an evening drink or a bite to eat from the bistro menu.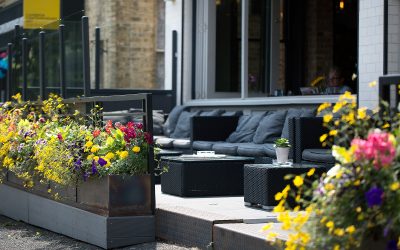 Serving food from the popular and award winning kitchen of Russell Tisbury, Libation in Hove has a comfortable sun deck with large comfy seating and an equally ample menu of sparkling wine. Graze over a bottle of something fizzy and a few sharing plates for an afternoon or evening of indulgence and libations aplenty.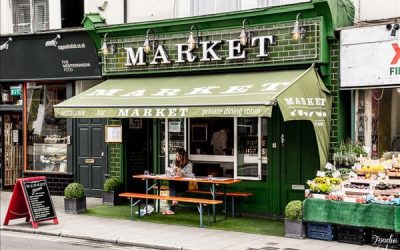 Share modern tapas style small plates and drink fine wine with friends in true Spanish style at MARKET Restaurant. Street-side alfresco dining, captures the true ambience of Spain. Framed by the vibrant exterior of the building and caught in its sun trap, you'd be forgiven for forgetting you're in Hove, actually!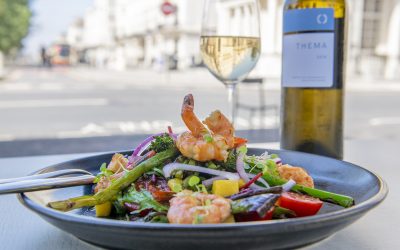 We may not have the weather of the Med but thanks to Nostos we can have the cuisine. Let your tastebuds transport you to the Aegean islands with the authentic Greek food from this popular neighbourhood restaurant. Its open vista and street side seating is a lovely sunny spot wiling away an afternoon dreaming of distant shores.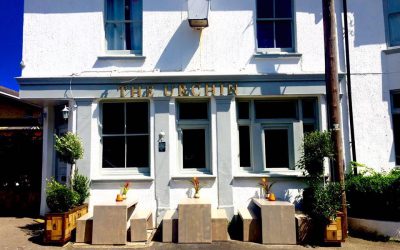 The Urchin in Hove offers its diners and drinkers a unique culinary experience in that it pairs home brewed beers with its menu of seafood delights. Oysters and ales, scallops and stoats can be enjoyed together from their beer garden. They scooped first place in the BRAVOs for Best Team in town, so you can rest assured that you'll be well taken care of.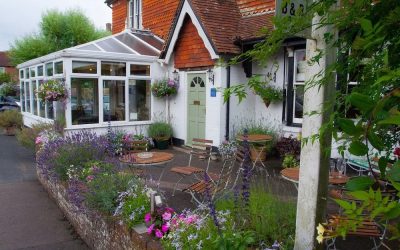 The Crown Inn Dial Post has a classic country beer garden situated at the rear of the pub, as well as a front patio overlooking the village green (perfect for keeping an eye on the kids). The menu is locally sourced and includes foraged ingredients. In addition to the alfresco spaces there is a pleasant sunroom dining area and cosy traditional pub, making it a fine stop for typical capricious summer weather.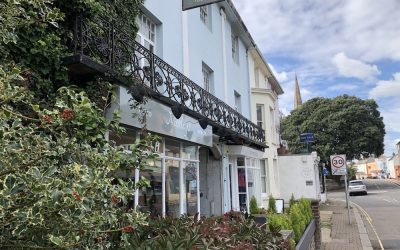 Morleys Bistro is a relaxed, comfortable and dog friendly restaurant that is nestled in the heart of the historic village of Hurstpierpoint. They have a beautifully spacious and sunny garden where you can enjoy a glass of quality wine while dining on delicious, classic bistro dishes prepared with seasonal and local ingredients.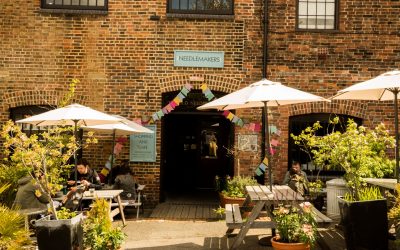 Offering a 100% plant-based menu that can be enjoyed on the grounds of the Lewesian relic, The Needlemakers. This charming and historical building is set just minutes away from the town centre and a 5-minute walk from the station. Meet here with family and friends to enjoy breakfast, brunch and lunch classics, coffee and beers and organic wines from local suppliers.
The alfresco dining space is generous in size, a guaranteed sun trap and is set off beautifully by vintage red brick, flint and lush plant life.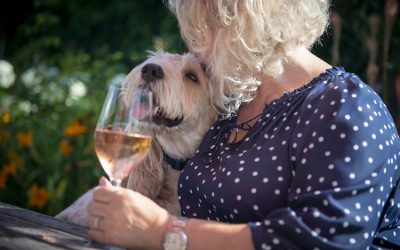 The New Inn in Hurstpierpoint has a south-facing garden that gets all day long sun during the summer months. The kitchen garden provides much of the vegetables that go into the gastropub menu, while the beer garden itself is a beautifully maintained example of the English country garden. There is also an outdoor wood-fired pizza oven which gets fired up during the summer months.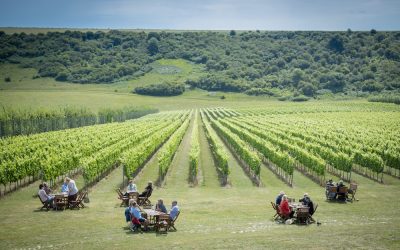 Emerging out of the Coronavirus lockdown the Michelin Plate Awarded Tasting Rooms at Rathfinny wine estate take full advantage of their exquisite views and ample space. Serving Wednesday to Sunday Rathfinny offer two alfresco dining experiences, with luxurious three-course picnic hampers and the "Seafood and Wine Kitchen". Both can be enjoyed in the beautiful estate grounds with limited seating on the Tasting Rooms decking available for visitors dining from the locally landed seafood menu. Enjoy English summer at its very best, with picturesque Sussex views and award-winning food and wine.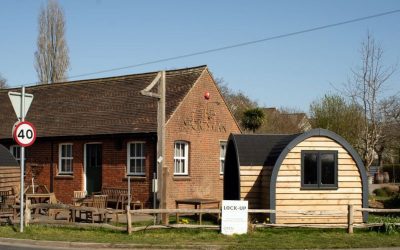 This tradtional country pub serves home cooked food from breakfast through to evening meals. During summer days and evenings there is dining seating in both the rear garden and on the green at the front. Additional cabin pods have been added, providing a rustic intimate outdoor dining experience, suited to all weather alfresco dining.