Restaurant Brighton's guide to
Best Breakfast and Brunch restaurants in Brighton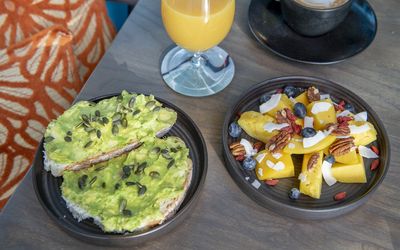 The beautiful setting of The Grand is a lavish spot for a breakfast, lazy boozy brunch or morning business meeting. The stylish Cyan restaurant and bar serves breakfast and brunch from 10 am – 12 pm Monday to Friday and with extended hours on Saturday from 11 am until 4 pm in which to enjoy the weekend bottomless offering.  As far as settings go, this is one to flock to when the sun is shining.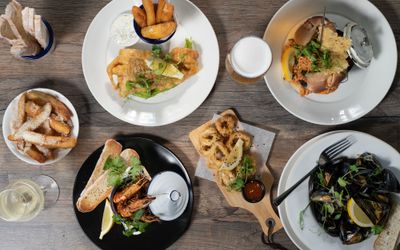 Weekend pub brunches often mean returning to the scene of the crime. Having said that, they are also a great way to remedy the effects of last night's party. The Dyke Alehouse and Kitchen serves brunches on Saturdays from 11 am-2 pm. They know how to soothe the aches caused by last night's tumbles. So let them help heal your wounds with a hearty full English and a bloody Mary.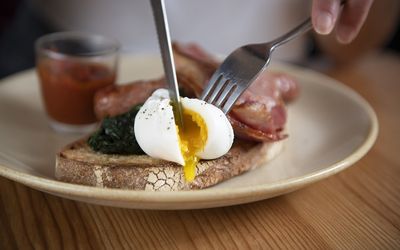 If you're looking a grab and go coffee and pastry or a luxurious lazy brunch then Mange Tout may well be a destination for you. Serving breakfast and brunch from 9 am until 3 pm seven days a week (from 10 am on Sundays). Located at the top of the North Laine Mange Tout is a great destination to grab a good coffee and a pastry before beginning your day exploring the famous Brighton boutiques. For something a bit more substantial there is the bistro take on the Full English and a vegetarian Full English, a full array of eggs and French classics such as Croque Monsieur and Croque Madame.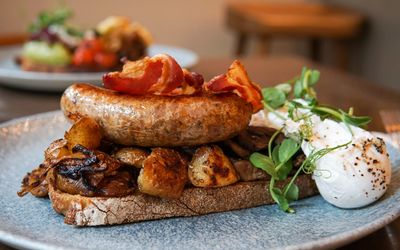 While most of the Lanes wont wake up until about 11am, Lost in the Lanes is a beacon calling out to all those wondering hungrily through the narrow streets. Open from 8.45am serving excellent coffee and speciality teas. Breakfasts cover everything from traditional Full English made with locally sourced eggs and sausage, to fresh pastries. There's lots of variety and vegetarian and vegan options too so no one's left out in the cold. 
Since 2013 Moksha have been serving a top-quality breakfast along with their excellent cakes, teas & coffees. The reviews in the first year alone have shown that their take on the modern breakfast is fast becoming a local favourite. However, it's not just their classics that are getting the attention. The Mexican inspired, Huevos Rancheros, has appealed to Brighton's desire for something a bit different and is one of their top-sellers.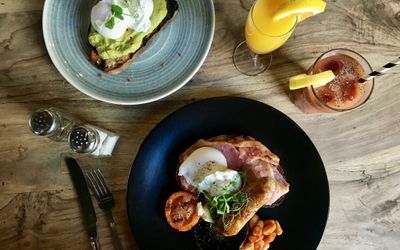 Weekend brunches are for the day after the night before and god knows how much we need the good stuff to soak up the bad stuff. The Mes is serving brunches on Saturdays from 10 am-1 pm for that very reason. Enjoy hash-based brunches adorned with a variety of delicious toppings and unlimited bloody Mary's or mimosas. Whatever your reason for needing a boozy breakfast these will get you bolstered and weekend-ready.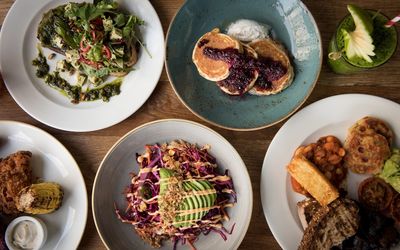 Already hugely popular with the discerning Brighton crowd, and named amongst the best places to brunch in the UK by Stylist Magazine, this venue is a cool and hip diner serving a mean breakfast and a great coffee. LA Indie Coffee House meets New York Bar & Diner – here you can expect to try the full classic breakfast, breakfast burgers, pancakes, bagels, scrambled eggs, brioche bacon rolls, granola. Great sea views and outside seating. Look out for the Hangover Cures & Hard Brunch Beverages
Offering breakfast with a Greek twist, Nostos have a brand new breakfast menu well worth trying. Served Friday, Saturday and Sunday between 9 am and 12 pm, the menu will transport to the Medeterannian with unashamed traditional choices. Try the delicious and wonderfully Greek Spanakopita, or the big Greek vegan roll (a vegan omelette inside a bun with roasted veggies and a vegan aioli). Yes, please…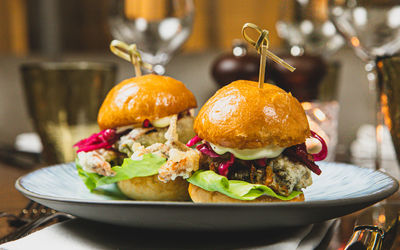 Socialite serves an extensive brunch through to lunch menu form 10am to 3pm. The sexy-stylish bar and restaurant is in the heart of the Lanes, making it a great starting point for you day of shopping, beaching or if you're here for their bottomless brunch, partying. The menu includes classics such as a Socialite Full English and ever-so-popular eggs Benedict and larger dishes like duo-burgers. Vegan and veggie breakfasts are thoughtful and definitely not another 'substitute sausages and eggs for avocado' type affair, think tofu Benedict and vegan hash.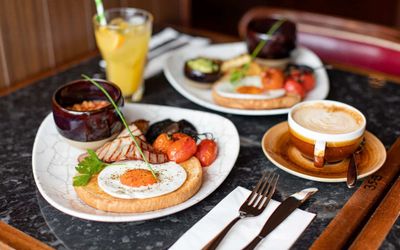 Taste Sussex on the Brighton Marina boardwalk has that all-American diner feels to it (a country renowned for its super-sized breakfasts). So let that be a starting point for you when morning hunger is making its demands. The Taste Sussex breakfast is a feast of treacle cured bacon, Cumberland sausage, tomatoes, baked beans, mushrooms and, of course, eggs. Or there's the Big Breakfast with added black pudding and hash browns. There's also vegan and veggie breakfasts and smaller options and cheeky ice cream shakes made with locally made gelato. Everything here is top quality and freshly made to order, a real breakfast of champions.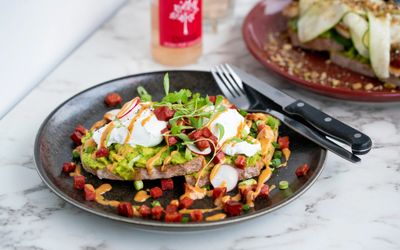 For a Hove based cafe that is worth crossing the Brighton borders for, head to Baked. If there are two things that this friendly neighbourhood cafe has nailed, it's their excellent breakfast and brunch offering. The dishes are made fresh from local produce and are delivered with beautifully delicious aesthetics. If you fancied adding some fizz to your brunch, then you can read about their bottomless brunch offering, here.
Brunch at Cafe Coho is no measly affair. Experience their elevated cafe culture and dine on the knockout selection of brunches served at their Church Street venue in Hove. Guests can enjoy a vast selection of breakfast and brunch favourites which are made with the finest Sussex sourced produce. Dishes range from simple favourites, such as the bacon sarnie to American style topped pancakes. Cafe Coho benefits from having a fully stocked bar and mixologist servers, so should you wish to add a mimosa to your morning menu, then they're on hand to make it possible.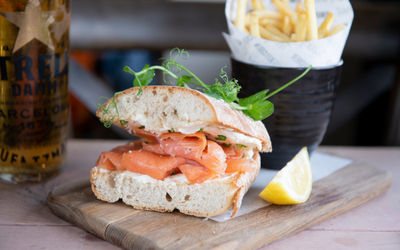 Served exclusively on Saturdays the brunch service at Libation is worth holding out for! A simple but well-made selection of the classic brunch favourites are served at this popular Hove based restaurant-bar from 11 am – 2 pm. You'll find that the naturally vibrant and friendly atmosphere of the venue lends itself perfectly to social brunches with friends. Should you wish to add a little more fun and fizz to your morning then you can treat yourself to a boozy upgrade..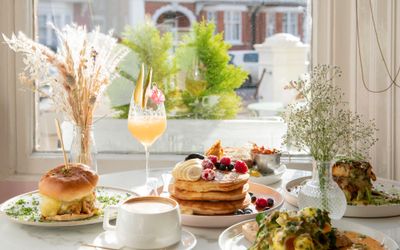 Dine all-day brunch at the exquisite and independent cafe Oeuf. Tucked away on Third Avenue and sheltered from the city hustle, with stunning seafront views and a brunch offering that could seduce the gods. The menu here is unique – while still offering classic favourites they also break the mould with Fumpets, a stack of three french-toast battered crumpets, which are crowned with a variety of sweet or savoury toppings. If you make it past this section then you'll discover the other delicious brunch options, which you can luxuriate further by pairing with a cocktail.  
Brunch Argentinian style at Cafe Malbec, Hove. This intimate and authentic Argentinan restaurant and wine bar delivered Brighton its first empanadas brunch and offers you the chance to embrace traditional South American flavour. You can opt for a smokey and spicy equivalent to to our traditional cooked breakfast or build your own pancakes with a varety of sweet and savourey toppings. For a boozie brunch Argie style you can pay a bit extra and get 90 minutes feasting with bottomless sparkling brut or Cafe Malbec's exclusive Rose Malbec sparkling.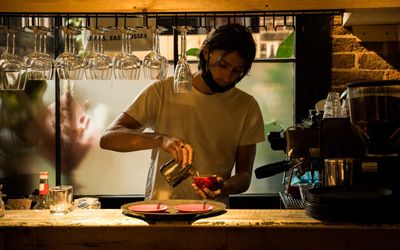 100% vegan breakfasts, brunches served at The Needlemakers Cafe- Roundhill. Set in a charming and nostalgic landmark just off Lewes High Street, the cafe is surrounded by small, independent shops, all run by local and authentic Lewesians. Enjoy some of your favourite pre-lunch bites and beverages in the heart of the historic town, Lewes.
From vegan pastries to plant-based fry-ups, nut milkshakes and animal-free organic wines and beers, this place has you covered. Most things on the menu can be adjusted to make them gluten-free, so make sure you let your dietary needs be known.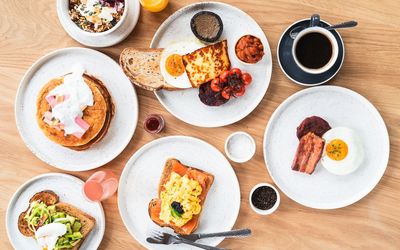 Breakfast and brunch with breathtaking sea views are on offer at Port Hotel, Eastbourne. The offering here is extensive and you will find something to satisfy every palate. From the cereals, nuts and grains which offer dishes like the nostalgic British favourite porridge, to homemade waffle stacks with locally smoked bacon and maple syrup. On the more decadent side of the brunch menu, you'll find duck royale, which includes shredded confit duck leg, fried duck egg, sriracha, on a homemade waffle and smoked hollandaise.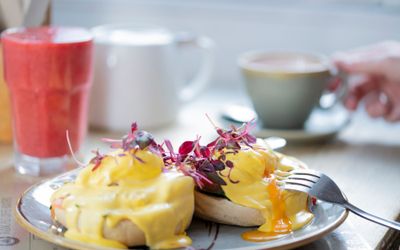 The original Trading Post cafe is found on the Lewes Cliffe High Street. It's a spacious and comfy setting where you'll find plenty of visitors and locals stopping for coffees, catch-ups and brunch. Stop here for well delivered classics such as Croque Monsieur, full breakfasts with veggie and vegan options. And of course, fantastic hand roasted coffee. There's also a suntrap garden for sunny day brunches.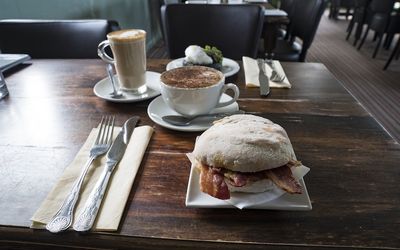 Serving breakfast from 8.30 – 11.00 am Monday to Saturday and 9.00 – 11.00 am on Sunday's The Sportsman Pub is great for early morning business meetings or a spot of breakfast with friends. Locally roasted coffee is from Lindfield and the produce used makes the most of Sussex's bounty. There's a classic Full English as well as a build your own option and several breakfast alternatives including a vegan option that shows imagination and consideration beyond what you'd normally expect from a traditional country pub.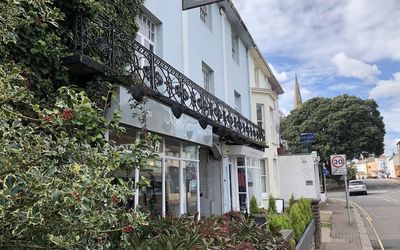 The breakfast and brunch offering at Morleys Bistro is worth making a morning trip out of town for. Or, as the venue is located in the picturesque village of Hurstpierpoint and offers accommodation, why not book in for the night and enjoy their outstanding grub after a night of luxurious comfort in one of their guest rooms? They serve generously stuffed brekkie bagels, traditional cooked breakfast and continental classics. All the food at Morleys is made with prime ingredients and sourced locally, so it's a fantastic opportunity to sample Sussex produce while staying in the heart of it.