The Restaurants Brighton guide to lunch in Brighton and Hove
Lunch on Brighton Seafront
GB1 BN1 2FW
Located within the iconic Grand Hotel, another new and exciting addition to the ever increasing selection of fish and seafood restaurants in Brighton and Hove. Again, if it's a business lunch you're after or just a special treat, you wouldn't find yourself disappointed dining here. As well as options of a la carte and classic private dining, they offer affordable set menus. Lunch Review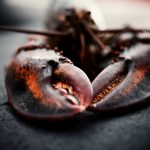 The Salt Room has created such hype and a wave of excitement since hitting Brighton! The same owners as the critically acclaimed Coal Shed, they've created an impressive venue oozing with style and a menu which tantalises the taste-buds with the freshest fish, seafood and local produce available. Posh, fancy lunch anyone? Lunch review
Award winning Restaurant at Drakes has been the best scoring Brighton restaurant in the Good Food guide for the past 5 years running. Situated in the sophisticated boutique hotel Drakes, it is perfect for long, leisurely lunches or a quick but sophisticated set menu. Highly acclaimed Head Chef, Andrew MacKenzie updates the menu regularly to reflect the seasons. Lunch review.
LA indie style coffee house meets New York bar and diner. The food is of superb local quality and the decor and atmosphere cool, stylish and relaxed. If what you need at lunchtime is a big meaty burger, this is definitely a good choice. Although they feature a range of other dishes in their menu, their 'Dirty Burger' is fast becoming legendary as one of the best in Brighton.
Lucky Beach is one of those cafes that locals want to keep a secret… with it's beachfront location and fresh n funky menu you'll have to get in early to nab a seat. But it's definitely worth a short wait in order to fill your boots with delicious brunch offerings and top notch burgers. Open year-round, Lucky Beach Cafe serves up some of the best cafe food in Brighton. Local, sustainable and mostly organic food and drink is served by a team of friendly staff who are keen for you to get the most out of your visit to both the cafe and Brighton! Lunch Review
This lively, all round venue is situated smack bang on top of the seafront, just west of the Brighton Pier. It's a perfect location for an alfresco lunch with friends or colleagues if you want some good, honest food in a comfortable setting with sea-views you just can't beat. Serving classic lunchtime dishes such as fish and chips, handmade Sussex burgers and sandwiches it's a perfect spot.
Inspired by a trip to the Californian desert, Smokey's wanted to bring back some of that delicious, home-cooked food back to the shores of Brighton. Described as classic roadside cuisine with a pinch of spice from the Southern border. Brunch is served from 8am until 2pm Monday to Thursday, and 8am until 4pm Friday, Saturday, Sunday and Bank Holidays. Benedict's, pancakes, grills, chowders, ribs, wings and more.
Forming part of the old Victorian Arches underneath the Kings Road, the Bucket and Spade Cafe is ideally located on the Promenade, next to the Kings Road Playground & Paddling Pool. The Bucket & Spade Cafe is the perfect place to bring the family, with a large selection of children's meals and snacks on offer and have plenty of book crayons and chalk board tables to keep the little ones entertained. Lunch Review
In a superb location on Brighton seafront, The Copper Clam is just metres from the waves. Describing themselves as a 'purveyor of fine seafood, gin, wines & spirits' the team are proud to shout about the fact their shellfish and fish are sourced ethically and locally. Choose from light bites and oysters for a lunchtime nibble or go for a main course for larger meal.
Not forgetting the classic Champagne and Oyster Bar, Riddle and Finns on the Beach. Just like its sister bar situated in the south lanes, its selection of high quality local fish and seafood served in a classy but deliciously relaxed setting is second to none. Come here for a quick light bite of oysters or shellfish salad or stay for a longer, more leisurely lunch whilst looking out to sea.
An institution of Brighton, this well-known and well-loved fish restaurant has made customers happy for many years. Family run, it's known for its bustling and warm atmosphere: a perfect place to take the kids for lunch or just a group of friends for a good long catch up. In fact, the Regency is such a crowd pleaser you could go there for lunch on any occasion.
Opening it's doors in Summer 2016 The Jetty has quickly established itself as a main player in the Brighton restaurant scene. Located underneath The Jetty Hotel, on the corner of West Street and King's Road, this stylish venue offers sumptuous afternoon tea, fresh fish dishes and a tasty choice of cocktails.
Lunch in The Lanes
If Dim Sum is your thing then Gars is an outstanding option if you are in the mood for Chinese with an innovative twist. Described as Chinese fine dining and with pan asian additions on the menu also, Gars restaurant in Brighton is a wonderful place for a lunch, a private party or a special occasion and it even has its very own Karaoke room should you need it. Dim Sum Review.
'The owners of Havana brings you No 32 Duke Street.' Almost unrecognisable, this is now a place to 'Eat, Drink and Dance.' The menu is an exciting selection of classic, simple dishes with creative and imaginative twists. All served in a trendy and elegant setting. Think giant, sparkling chandeliers, dark brown chesterfields and black and white vintage posters of Hollywood stars. Lunch Review
Edendum restaurant is a slice of Italy transported to Brighton, with freshly-cooked recipes that will satisfy every customer. If you're looking for a quick yet delicious lunch or a good catch-up with friends, at Edendum you'll find top-quality cuisine, a wide choice of dishes to enjoy alone or to share and a relaxed and vibrant atmosphere. Lunch Review
London's successful Breakfast Club dining experience is now in Brighton's Lanes. The Breakfast Club bring a bit of Miami Vice and art deco to Brighton. Check out their maple syrup video on this page for a bit of Breakfast Club fun. You'll find brunch classics and something different too such as the Huevos Rancheros, which translates as rancher's eggs and is a Mexican-style breakfast. Lunch Review
Located on the busy shopping area of Ship Street, the Seven Stars pub now features an impressive selection of craft beers sourced mainly from Beavertown and Camden Town Brewery, and three taps on rotation to showcase some more unusual brews. The kitchen has been taken over by the Little Blue Smokehouse, where they offer a Sunday Brunch & Lunch Menus served 11am-8pm, with the addition of Bottomless Bloody Mary's from 11am-3pm every Sunday. There's plenty of hangover-curing food on offer alongside delicious salads and burgers!
Brighton's popular vegetarian restaurant, Food For Friends, specialise in the art of cooking delicious plant based dishes, using fresh and locally sourced ingredients. Located in Brighton's cosmopolitan and vibrant Lanes area, close to the city's main attractions. The venue is warm and welcoming, offering a relaxed and non-pretentious gourmet dining experience – open for both lunch and dinner. Enjoy their set lunch menu  where you can get 2 courses for £19.95 between 12pm-5pm. Lunch Review
Family owned Spanish restaurant, Agua Dulce is a popular fare on the Rb site. Situated on Kings Road on the seafront, their Mediterranean menu is seafood focused with plenty of meat and vegetarian options also. Also offering original 'tapa' this is an ideal place for sharing lunch with friends, family or colleagues. One free tapa with glass of wine.
A stone's throw from the beach on Black Lion Street, Jamie's Italian is a lovely little place where you can enjoy an authentic Italian lunch with friends. Offering a light lunch with a selection of anti-pasti and sides such as bruschetta, arancini or sharing plates. If you want something more substantial however you can get yourself a huge bowl of pasta or a range of other mains.
French inspired cuisine with a British influence, the Bistro du Vin is situated in the luxurious boutique hotel, Hotel Du Vin. Nestled in Brighton's famous Lanes, just a 'pebble's throw' from the beach it's a perfect place to experience fine dining in a really relaxed setting. Not only can you enjoy a fantastic dinner here, but afternoon tea and Sunday lunch are done superbly here too. Find out more. Lunch Review
One of Brighton's well known pubs, The Black Lion, is situated in the heart of The Lanes just near the seafront on Black Lion Street. Not only does The Black Lion have a good reputation for a music filled night out, it's amazing food is also the attraction to many people. Available for lunchtime, early evening or weekend dining. The kitchen is open from 12pm until 10pm Sunday-Wednesday, 12pm until 9.30pm on Thursday, and 12pm until 8pm Fridays and Saturdays, you can also enjoy your food in their heated garden.
An Indian stalwart in Brighton and Lewes and one which gets a big credit for their authentic Gujarati cuisine. With secret recipes that have been passed down from Chula's mother and grandmother, there is no wonder that this venue has a reputation for quality and tradition. Try their lunch time buffet for a bit of everything. This is as authentic as they come. Lunch Review
A lively and unique Brighton venue, the Coach House is known for its informal and friendly atmosphere as well as it's outstanding food. Situated in the heart of the lanes, but still only a stone's throw from the seafront, it's an ideal place for a quality relaxed lunch. The menu features classic dishes with a twist and all made with local and seasonal produce where possible. Great alfresco courtyard.
Hailed by the Guardian as the most exciting thing to hit the Brighton Food scene in years, 64 Degrees is a lunchtime experience to remember. The kitchen is literally at the heart of the restaurant where diners can eat at the pass watching the chef's work directly in front of them. Giving you a 'Social dining' experience.  64 Degrees offer a six for four deal on weekday lunches (12-3 Monday – Friday). Lunch Review
'Where vegetarianism is indulgence not abstinence', Terre Terre has been changing views about vegetarian cuisine for the past 21 years. Imaginative and daring, the team at Terre a Terre use their skills and experience to really push the boundaries of traditional cooking creating the most exciting dishes. A lunchtime experience to behold, vegetarian or not. Lunch Review
Serving 'award winning' South Indian Street food, the Curry Leaf Cafe is an innovative, new addition to Brighton's food scene. A relaxed, modern cafe, it's the perfect place for lunch if you fancy something a little bit different. The menu is a fantastic range of dishes, catering for all tastes. And as with any good curry, there's plenty of great craft beers on offer to go with it. Lunch Review
A Victorian double fronted family run British bistro in the charming area of East Street down the historic South Lanes. Known for their amazing steaks and other signature dishes, the House restaurant is a popular among locals and the perfect place to have a quiet lunch with friends, business colleagues or even by yourself. There's a great seating area outside if you want lunch alfresco. Lunch Review
For those whose main aim to satisfy their sweet tooth at lunchtime, then this lovely little Parisian patisserie cafe is the place to come. Known for his beautifully crafted macarons, Julien Plumart also does a lovely lunch menu filled with sandwiches made with brioche baps, toasties, salads, soups and quiches. Includes choice of pastries, tarts, gateauxs and other such things so naughty and nice. Lunch Review
Finding a classy Indian restaurant you could argue is a hard thing to find, a contradiction in terms; and yet that's exactly what Indian Summer is. Popular Southern Indian dishes with great gluten free options. Indian Summer has been leading the way for many years and is still up there with the best. A great lunch menu featuring snacks, street food and thali. New location! Lunch Review
The Creperie in Brighton brings us iconic French cuisine complimented by the best in local British produce. The French and British influenced menu, created by Karen Samuel (previously from "Food For Friends"), delivers award winning ice cream to traditional french crepes and plays on the simplicity of a continental French style with the playfulness of the British seaside. Lunch Review
Traditional, intimate style Spanish tapas restaurant which has been a part of Brighton's food scene for many years. It has your token red and white table cloths and is as authentic as you can get. Always busy and bustling, bookings are recommended in advance. With its fun and buzzing atmosphere, a birthday celebration lunch with friends here would be perfect.
Riddle and Finns is a seafood and fish lover's dream. Tucked away in the discreet but delightful Meeting House Lane, it serves the freshest fish and seafood in Sussex. Quite literally, nearly all of their produce comes straight off the boat at Hove Lagoon. Think marble topped tables, candelabra's, chandeliers and fresh, classic seafood dishes served with a big smile.
One of the oldest and longest serving restaurants in Brighton. Cosy and intimate, it is perfect for a quiet exchange of gossip or business and serves the finest local seafood from the Brighton shores. Has spacious terrace and oyster bar and is based in a trio of former fishermen's cottages. Fine dining from a time gone by.
Lunch in the North Laine Area
Located in the trendy area of Jubilee Square, Chilli Pickle offers lunch with a bit of a kick. Indian cuisine served up in a setting which is unique and 'little bit boutique'. Recipient of several awards, Chilli Pickle are dedicated to providing authentic Indian food, in a variety of innovative ways. Not got time to for a proper sit down lunch? Try their street food cart or take away from the Chilli Pickle Canteen.
One of the longest standing Japanese restaurants in Brighton and Hove. Huge on freshness, they consistently provide outstanding Japanese cuisine. The setting is in an old Regency building opposite the Pavilion side of the Brighton Dome, yet inside is contemporary and minimalist. Considered one of the best Japanese restaurants in the area.
Isaac At BN1 4EW (Saturday only)
But isn't it only open at night you ask? Why yes that has been the case but Isaac At now opens it's doors for a Saturday lunch service with two sittings – 12.30 and 2.30pm. Serving a 3-course menu similar in style to their evening fare it's a chance to sample some fantastic dishes at only £29 per head. Isaac At will only be taking bookings for Saturday lunch over the phone so please call: 07765934740. Lunch Review
This warm and lively Mediterranean brasserie on Trafalgar Street really does live up to its name. It's 'bright and breezy with a chilled out and upbeat vibe'. With a diverse and creative menu, it's an ideal place for a quick bite or a long, leisurely lunch. The staff are so friendly you feel like you know them, and the food is simple but of high quality ingredients. Set menu available.
Grow 40 is the lovely cosy little French café/bar on the corner of Kensington Gardens. The reason they have called it Grow 40 is because of the unique kitchen garden on the rooftop. They serve some fantastic salads for lunch made from leaves from the roof. You can't get more local or fresh than that.
Vegetarian restaurant 1847 has made it's way to Brighton's busy North Road, a great spot to stop if you're doing some North Laine shopping! 1847 offer modern dishes across four menus; á la carte, taster, Sunday Lunch and express lunch. Dishes include Beet Bourguignon; a twist on the classic made with beetroot, Merguez and mash; a puy lentil sausage, and 'Fish' and chips, with ginger ale battered halloumi as a veggie alternative to fish. Lunch Review
Starting out in London in 2008, Brighton now boasts a popular Franco Manca. The emphasis is on good quality ingredients cooked in the traditional methods by chefs from Naples. Don't expect fancy toppings and a huge menu – Franco Manca is keeping it simple and authentic. A perfect stop if you're going for a quick lunch with it's efficient service, good prices and being sourdough, it's easy on your gut so you won't feel sluggish after this pizza!
Power yourself into the afternoon with a freshly made sandwich, sausage roll or something new the bakery has whipped up early that morning. With an ever changing menu and plenty of choice it's a great spot to have a bite to eat, especially with plenty of space to sit and relax at the back of the shop. If the sun is shining make sure to grab a seat outside for a perfect people-watching hour or so. Lunch Review
Calling itself a Boho Bistro, Kooks is situated in a prime spot in the North Laines. Keeping things simple with a touch of the inventive you won't find tiny portions or any type of foams or glaze here, but just good honest food served in a down to earth setting. And not forgetting some great music to listen to as the owner, Tim Healey, is a talented musician and creates his own playlists for the restaurant.
One of Brighton's oldest pubs, the Nelly as it's affectionately known is a great place for a proper pub lunch in a proper traditionally Victorian pub. Situated in the North Laines, it's super warm and friendly, perfect for a relaxed lunch with friends or simply by yourself. Big on using trusted local suppliers their food is simple but fresh, homemade and tasty!
Brighton's first 'Zero Waste restaurant' is a unique experience providing an ethical, guilt-free lunch. The chef and visionary, Doug McMaster describes it as a 'pre-industrial, primitive food system that generates zero waste'. Fittingly located in the North Laine, they have their own compost machine inside. Big on purity and 'zero processed', all the produce is locally and ethically sourced. Lunch Review
La Choza has been causing quite a stir! They invite potential diners to 'drop in and enjoy affordable, healthy, tasty slow cooked Mexican street food.' The menu is simple and uncomplicated as the fresh and vibrant ingredients speak for themselves. They also provide the food at the Hare & Hound pub on London Road.
Lunch in Central Brighton
Polpo is near to the famous Brighton Dome and the Theatre Royal, it's a Bacaro restaurant, modelled on the scruffy wine bars of Venice. Bacaro is a Venetian word to describe a humble restaurant serving simple food, and good, young northern Italian wines. Open all day, on the menu are cicheti (from £3), small plates (from £4) and desert (from £4). A great spot for lunch for it's casual dining and great location!
Eatalio brings you that typically Italian Street Food experience, offering the type of menu where you can also grab and go if you didn't want to eat in. Giving you a range of small bites, salad bowls and piada options and Brighton's first ever Italian street food concept. By the way, they really know how to serve a good coffee, a mean brunch bap and you must try their piada. Lunch Review
One of the most talked about restaurants in Brighton, the Coal Shed is a different take on the 'Fine Dining' experience. Here they cook the very best steak and fish over a specially imported charcoal oven, to produce quality food with exceptional taste. Using ethically reared Highland Beef, locally caught fish and offering some very tasty vegetarian options. Lunch Review
Classic Italian restaurant and pizzeria. A large and spacious restaurant, it can cater for large parties as well as lone diners. Centrally positioned next door to the historic Pavilion, Al Duomo's has a large seating capacity for outside in the warmer months creating a lively Mediterranean atmosphere. This stalwart is the place to go for a lively and Latin lunch!
The Caxton Arms is one of Brighton's best kept secrets, tucked away in the heart of the city centre, just a short hop from Brighton station. It's traditional pub inspired menu focuses on tasty authentic food, made by their passionate chefs. They use local butchers and fishmongers to ensure they have the freshest ingredients. There's also a great selection of vegetarian and vegan dishes so everyone's happy at the Caxton Arms, and don't gorget to check out their two-level beer garden and balcony, perfect for a sunny lunch!
Nuposto serves you a slice of Naples on Brighton's West Street. The Italian restaurant brings you the real deal; Italian pizza with all the smells of authentic Italy. Watch their Italian chefs at work in Brighton's newest and sociable setting. Here you can almost touch the Italian produce in Brighton's independent bar and restaurant. Lunch Review
Brighton's oldest pub, it's no wonder they host Brighton's Ghost walk here. Having established in the 1500's it certainly has a lot of history to learn and to wonder about. Over the years it has increased its reputation for a food pub, and now boasts a mouth-watering menu filled with quality, home cooked food made with fresh, seasonal ingredients. Great for a cosy, pub lunch.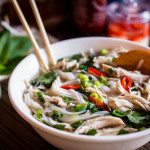 Pho BN1 1ND
Authentic Vietnamese street food, served in an informal setting, Pho provides an affordable and delicious lunch. Great for large groups, it can seat up to 130 people in one sitting inside as well as an alfresco area outside. If you don't have time to stop and enjoy the Pho experience, try 'Pho to Go', a takeaway lunch which will make you the subject of envy in your office.
Pompoko is a little Japanese restaurant situated opposite Brighton Dome which provides fast food without the heart attack. Healthy, fast and delicious Japanese food served by extremely efficient and friendly staff, Pompoko is the perfect place for a quick and affordable lunch, or a pre-theatre meal. They are always busy so you'll have diners waiting for your table if you want a leisurely lunch.
Lunches in Kemptown
Tucked away in the quiet back streets of Kemptown, Busby and Wilds is a family owned neighbourhood pub which serves great food in a friendly environment. They use fresh, locally sourced ingredients to create a range of delicious, satisfying dishes. Family and dog friendly, it's a great place to go for lunch with your clan. There's a lovely courtyard outside for the warmer months.
Classic dining in an informal and relaxed setting, perfect for a long, leisurely lunch. Situated in the heart of Kemptown, it fits in well. Making it's mark in the Michelin guide only 20 months in! 24 St Georges is committed to using local and seasonal produce, the Modern European style menu constantly evolves to reflect this. Add it to your list.
A little French Bistro attached to the New Steine Hotel in the heart of Kemptown. This delightful place could pass as an art gallery as well as a restaurant. With interesting art all over the walls, eating here is more than a meal. The menu is French inspired and does not fail to impress. Cosy and intimate, it would be perfect for a romantic lunch date or an important business meeting.
Sometimes nothing but a nice big juicy steak will do. Well the Old Bank in Kemptown will certainly deliver. Locally owned and highly acclaimed, the Old Bank serves a great range of steak and ribs in a warm and friendly atmosphere. Using only British beef and hung for a minimum of 28 days, you will not be disappointed. They also do a range of ribs and chicken dishes.
Lunch style and cuisine: Informal, relaxed. Steak & Ribs.
Morris and Jacques is an independent café on St James Street. A great place for a relaxed lunch when you want something a bit fancier than just a sandwich. They offer a great selection of light bites, salads, platters, charcuterie and local cheeses. They cater for all tastes including vegetarian and vegan. Big on simple, home cooked food. Delicious.
Independent family run café, Little Miss Piggy's on St James Street offers good, traditional British food at good reasonable prices. Not called Little Miss Piggy's for nothing, they specialise in Pork and serve lunchtime delights such as Roast Pork or Pulled Pork in a bun or a full blown Pork roast dinner. Vegetarian options available.
This trendy cocktail bar in Kemptown is a great place to relax, unwind and eat good food with friends. Serving a simple but quality menu for light bites or more substantial mains, it's got something for everyone including 'Small plates', sharing platters and steak. If you don't need to go back to work after lunch, try one of their fabulous contemporary cocktails.
A fun and independent bar/diner on the cool and hip St James Street. American inspired you'll find lots of BBQ'd dishes on the menu and other classic US dishes such as chilli cheese fries and sloppy joes. The interior of this place is certainly very 'Brighton'. Two floors covered with vintage artefacts and furniture, locally produced artwork and other interesting collectibles.
Lunch in the Seven Dials/ Brighton Station area
The Chimney House has everything a 'proper pub' should and more. The food is proper 'pub grub' but delivered in a polished way and created using the finest quality, local ingredients. They sell local jams and chutneys on the bar, and have a selection of interesting art on the walls. The menu changes seasonally and the kitchen is open plan so you can watch the chefs as they work.
If it's a burger you want for lunch, then look no further as this is what award winning Cogging's and Co do best. A fantastic selection of handmade Sussex burgers ranging from the classic to the adventurous. Great for large parties whether business or celebratory. They even do gluten free buns and offer a range of vegetarian options. Passionate about local, wholesome produce.
Inspired by the street food stalls in bustling train stations across India, the Curry Leaf kiosk offers a range of delicacies to the commuters and locals of Brighton after a quick bite to go. Spiced daals and soups of the day will keep you warm on your way to work and street food classics such as pakoras, samosas and bhajis are also served hot and crisp from the oven, along with grilled tandoor chicken, paneer and vegetable sandwiches.
Featured strongly as the 'Best Food Pub' in the Brighton Foodie Awards recently, the Sussex Yeoman's reputation exceeds itself. Situated at the top of Trafalgar Street, not far from the station it is a bit of a walk up hill. But once you get there, boy will you be rewarded. Loyal to their name, most of the produce on the menu will be sourced from Sussex. Great special offers and daily specials.
Not just any old chain of coffee houses, the Small Batch Coffee Company have fast become known as the best coffee in Brighton. Roasting small batches of their coffee beans everyday ensure you get the best tasting coffee around. Hence the name. The branch in Seven Dials (literally sitting on the roundabout) do a great range of homemade savoury and sweet pastries.
Lunch on London Road and North Brighton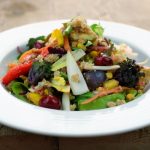 Everything Plenty sources for their menu comes from local farms, producers and suppliers, as they believe in supporting and investing in their neighbours as much as possible. Freshly cut sandwiches, pastries and cakes will be made in their micro-bakery and there's plenty of healthy lunch options from their seasonal menu, including salads and homemade veggie burgers. Lunch Review
The set lunch menu change weekly depending on what's in season and available, sample dishes include; smoked haddock and cheddar croquettes and monkfish tempura with minted peas and sautéed potatoes. Tucked away just off London Road, Semolina is a real hidden gem – but certainly no secret as they recently came 12th in the Brighton Best Top 20 restaurants. Lunch Review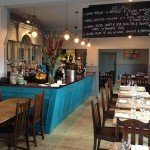 A regular contender in our top ten best pubs in Brighton. More of a restaurant than a pub in terms of what they serve, however the venue is very pub looking with a great selection of ales and wines. A great addition to the area and not too far from town on Ditchling Road. Great choice if you want lunch a beautiful pub but want something a bit more than your typical pub grub.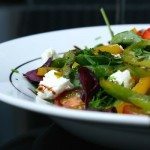 For lunch LangeLee's offer a choice of sandwiches, wraps, jacket potatoes or salads, alongside omelettes, a variety burgers and house specials too, including the South African favourite Bunny Chow. This is now becoming a popular street food dish in London, and the LangeLee's version includes 1/4 Loaf of white bread, hollowed & filled with a spicy vegetable Durban curry, and served with a side of sambals. LangeLee's Menu.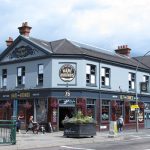 Fancy a pub vibe with some authentic Mexican food? La Choza serve up their affordable, tasty, slow cooked Mexican street food at The Hare & Hounds on London Road. Tuesday – Friday 12pm-3pm, Saturday 12pm-9pm, Sunday 1pm-9pm.
Leading Southern Indian restaurant a few minutes south of Preston Circus, Eastern Eye is a great place for a proper Indian in a relaxed and authentic setting. Very professional service, it's ideal for business lunches as well as celebratory meals with friends and family. They have really affordable lunchtime offers including their fabulous Dosa's. Highly rated.
A friendly café on York Place, a stone's throw from London Road. Great for breakfast, brunch and lunch, providing a huge range of dishes including a wide 'free from' range. Their coffee is amazing and to go with it they always have a tempting range of homemade cakes. If you just want a quick bite in your lunch hour, or a relaxed, leisurely lunch with friends Moksha is a great choice. Lunch Review
Al Campo is a spacious bar/lounge which has a slightly Mexican/Spanish slant on its extensive menu. A great place for meeting friends or colleagues and relaxing in the comfy armchairs and sofas. The décor is a combination of the contemporary warehouse style with your Nan's front room. Slightly eccentric, it fits in at London Road very well.
A little café on the corner of Preston Circus, Moe's is a stalwart of the area. Warm and friendly owner and staff, this is an ideal place if you want a quiet, simple lunch away from it all. They do fantastic paninis with meatballs and other delights, and the best homemade cakes and slices. If savouries are more your thing try their homemade scotch eggs with a twist.
Carlito Burrito is as authentic as you can get. The food, the vibrant décor and the warm and lively atmosphere. Big on quality, authenticity and freshness, their tacos are homemade every day, the chilli's imported from Mexico and quality Sussex produce. If you like the variety and the act of sharing, the tapas are the way to go. With a classic Margherita and Churros to finish, what more could you want.
Known for its burgers and cocktails. REAL meaty burgers with a choice of gourmet toppings. This concept could be a 'game changer' according to a few burger bloggers out there. The Dead Hippie comes recommended. Famous for meat and their powerfully blended cocktails. Lunch with a difference but perhaps not if you have to go back to the office?
Lunch in Brighton Marina
The Cherry tree is an independent café situated in the inner harbour at Brighton Marina with a lovely warm atmosphere and lots of sun drenched outside seating. Serving traditional brunch/lunch options such as eggs benedict and a variety of sandwiches, The Cherry Tree also offers weekend specials which vary throughout the seasons – think mac n cheese in the winter and fresh salads in the warmer months… Lunch Review
A stunning restaurant set in the Casino at the marina, the Waterside provides a range of classic authentic brasserie dishes with a modern creative twist. Relaxed but fancy, this is a great place for a business lunch or a celebration with friends. With a choice of two backdrops, either the buzzing casino or the calm and tranquil harbour of Brighton Marina from the restaurants outside decking area.
Located at the Malmaison hotel at Brighton Marina, Chez Mal serves classics with flare and skill, mixing French style with generous British portion sizes and modern American and Asian influences. Serving up breakfast, lunch and afternoon tea in the chic modern brasserie.
Lunch in Hove
Rootcandi, Western Road, BN1 2AA
Indulge yourself at Rootcandi, knowing that everything on the menu is 100% plant based and vegan. Choose from tapas style plates with dishes such as curried aubergine caviar or go for a set menu of six plates for two people to share (£19pp). Rootcandi is making waves in Brighton for it's innovative dishes and flavour combinations. Open from noon seven days a week.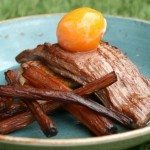 MARKET, Western Rd, BN3 1JD
The beauty MARKET'S menu is there's a comprehensive small plate section ideally designed for sharing. Choose as you wish from the Butcher, Greengrocer, Fishmonger, Cheesemonger and Bakers… Each header houses four dishes and there's enough scope to enjoy a light lunch – just order as many plates as you see fit. Prices range from £5 to £10. Lunch Review

Café Malbec is an Argentinian deli based in Hove on the busy Church Road, it's next door to it's founders Latino America. Not only is Cafe Malbec great for a glass of South American wine but the Argentinian deli items are not to be missed, with the real-deal empanadas which come in delicious flavours such as chilli beef, chicken or cheese. They're a perfect accompaniment with a coffee! If you're in the mood for a good coffee, then Café Malbec has it too, serving the unique and delicious Illy Coffee.
The 'Moonstone Sri Lankan' Restaurant on Church Road in Hove is the only Sri Lankan restaurant on the south coast, offering a huge selection of vegetarian dishes as well as fish and meat dishes. Specialising in southern Sri Lankan cuisine which has its own lively and distinctive taste, this style of cooking uses only the freshest of ingredients, along with a selection of ground spices.
Little, authentic Italian restaurant on Western Rd Hove. Rustic and uncomplicated, Morelli Zorelli's provides a true Italian experience. The artisan pizzas are cooked in a wood fired oven in front of you. The dough balls are prepared and refreshed every day using authentic ingredients flown over from Italy. Cater for gluten free and vegan.
If you're looking for a relaxed, friendly and vibrant place to quaff some wine or treat yourself to some lovely grub for lunch then look no further! Head Chef Dan Cartoni has created a a menu based on using fresh, seasonal produce and sectioned into tapas plates & main plates with filled baguettes available at lunch time. Weekend Brunch served 10.30am – 1.00pm.
Neapolitan pizzeria Fatto a Mano, serve traditional wood-fired pizzas, made using authentic ingredients, and focus on friendly, welcoming service have established Fatto a Mano's popularity among locals. There's a choice of venue depending where you are in Brighton, either Hove or their original restaurant which is on London Road. Great for an alfresco lunch! Photo credit: Emma Gutteridge.
One of our favourites is the Hove Place Bistro pub and Gardens. Recently the food has improved, it has had a bit of a face lift and their great big gardens are as great as ever. Good venue all year round, particular when it's nice and warm for their garden. A Hove stalwart in an area which needed a decent pub and now they have one.
The Urchin craft beer and shellfish pub is a wholly unique concept. Entirely dedicated to shellfish, matched with a range of over 100 craft beers the Urchin is something Brighton has never seen before. Seats 30 covers in the restaurant, the menu predominantly features prawns, lobster, crab and scallops.
V & H on Holland Road is passionate about honest, home cooked food. Everything they serve is made from scratch from the rocket and basil pesto to the mayonnaise. They cater for carnivores and vegans, gluten free and gluten full. Big on quality, consistency and supporting their neighbours, V&H provide a loyal lunch. Lunch Review
Featuring in many 'Top' restaurant lists, the Gingerman in Norfolk Square is a wonderful dining experience. Priding themselves on creating 'uncomplicated, full flavoured dishes made from the freshest and highest quality seasonal produce', it is unsurprisingly a popular choice for many. It is intimate and cosy, whilst sophisticated and classy at the same time. A meal here feels very special indeed.
The Set Cafe is the informal little sister of  The Set Restaurant at the Artists Residence on Regency Sqaure in Hove. Serving up cocktails, craft beers and seasonal small plates. The Cafe is a great venue for lunch which is open Monday – Saturday, reservations recommended.
Lunch in Sussex
Aqua BN7 2FS (Lewes)
Lewes-based Italian restaurant Aqua, offers fresh Italian food at affordable prices, using only the best produce. The Lunch and Early Dinner menu offers great choices at fixed prices and changes every week. Valid on Monday to Saturday, 12pm until 7pm. 2 courses £10.95 (choose from starter and main, or main and dessert per person) 3 courses £12.95.
Wingrove House BN26 5TD (Alfriston)
Wingrove House in the village of Alfriston on the outskirts of Brighton, boasts 19th-century colonial style, manicured gardens and seasonal menus. Open for lunch, dinner and Sunday lunch. There is a 2 course lunch available from Monday to Saturday for £18 and a 2 or 3 course Dinner available daily for £29/£35.
Located just north of Henfield, this traditional style pub welcomes the whole family (including the dog!). With plenty of space and a delicious menu specialising in freshly baked pizza we think this is a venue that will please the kids and adults alike! The Bull is popular for it's freshly made to order pizzas that are stone baked in a traditional oven. 
Other dining ideas you may like.
back to top