Restaurant Brighton's guide to
Lunch in Brighton and Hove
Where to lunch in Brighton, Hove and Sussex
Lunch in Brighton – be it a pit-stop between The Lanes and the North Laine, a luxurious lunch with libations or a family beach day re-fuel. There's no shortage of choice in our fair city. Never have a lunch fail with our guide to Lunch in Brighton and Hove.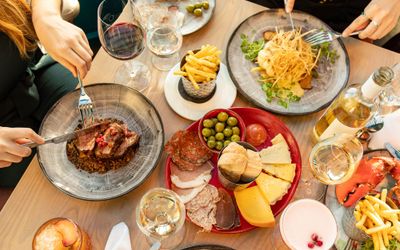 The all-day dining menu at the stunning Cyan restaurant offers a decadent spread of seasonal plates of varying sizes. Nibbles, small plates for the grazers, large plates which are perfect for a main or for sharing and large sharing platters which offer some exquisite examples of Sussex's finest and seasonal produce.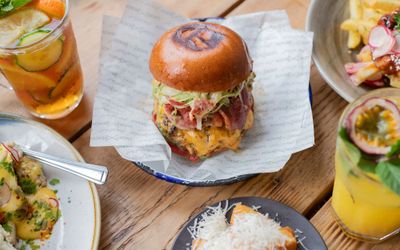 Lucky Beach is one of those cafes that locals want to keep a secret…with its beachfront location and fresh n funky menu you'll have to get in early to nab a seat. But it's definitely worth a short wait in order to fill your boots with delicious brunch offerings and top-notch burgers.
Open year-round, Lucky Beach Cafe serves up some of the best cafe food in Brighton. Local, sustainable and mostly organic food and drink is served by a team of friendly staff who are keen for you to get the most out of your visit to both the cafe and Brighton!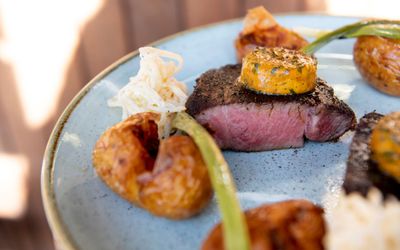 LA indie style coffee house meets New York bar and diner. The food is of superb local quality and the decor and atmosphere cool, stylish and relaxed. If what you need at lunchtime is a big meaty burger, this is definitely a good choice. Although they feature a range of other dishes in their menu, their 'Dirty Burger' is fast becoming legendary as one of the best in Brighton.
With seven independent restaurants serving modern cuisine, thoughtfully assembled and housed under one roof, Shelter Hall offers you a culinary experience akin to no other available in the city. On dry days you can enjoy unparalleled alfresco dining, panoramic sea views come as a fortuitous bonus with this venue. Inside you'll find ample seating on the ground floor as well as mezzanine and balcony seating.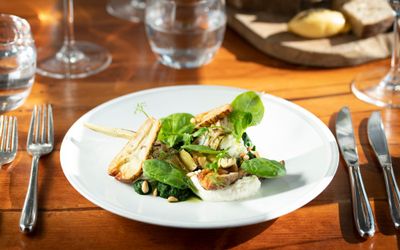 The Salt Room has created such hype and a wave of excitement since hitting Brighton! The same owners as the critically acclaimed Coal Shed, they've created an impressive venue oozing with style and a menu which tantalises the taste-buds with the freshest fish, seafood and local produce available. Make sure to check out their great deal set lunch menu.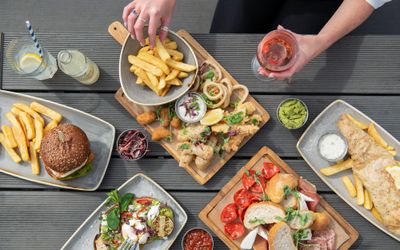 This lively, all-around venue is situated smack bang on top of the seafront, just west of the Brighton Pier. It's a perfect location for an alfresco lunch with friends or colleagues if you want some good, honest food in a comfortable setting with sea views you just can't beat. Serving classic lunchtime dishes such as fish and chips, handmade Sussex burgers and sandwiches it's a perfect spot.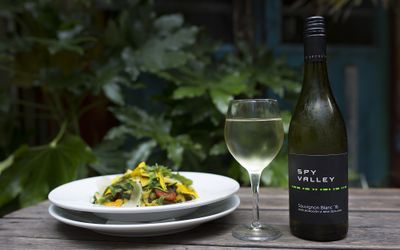 One of Brighton's well-known pubs, The Black Lion, is situated in the heart of the Lanes just near the seafront on Black Lion Street. Not only does The Black Lion have a good reputation for a music-filled night out, but its amazing food is also an attraction to many people.
Available for lunchtime, early evening or weekend dining. The kitchen is open from 12 pm until 9 pm Monday-Thursday, and 12 pm until 8 pm Fridays and Saturdays. We recommend booking a table for Sundays as their popular Sunday Roasts are subject to availability and the kitchen is open until they sell out. You can also enjoy your food in their heated garden.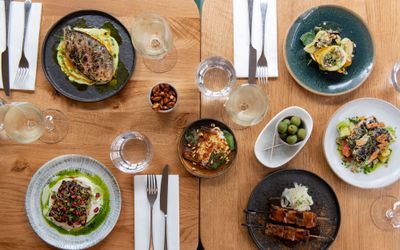 Situated in the Old Coach House on Middle Street, Burnt Orange boasts a luxuriously decked out restaurant and secluded sunlit courtyard (sun permitting). Burnt Orange mixes comfort with quality and serves up seasonal small plates and creative cocktails, plus a well-curated wine list to suit a range of tastes and budgets. Be prepared to block out your afternoon if you do go for lunch here, Burnt Orange has a habit of making you eat a little slower, talk a little longer and sip a little deeper.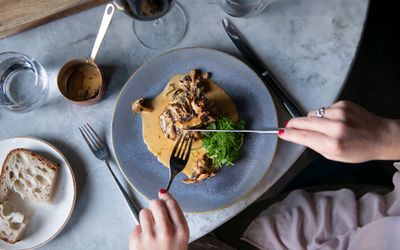 The Coal Shed on Boyce's Street has been a popular destination for over 10 years and was the first of it's kind to introduce the Josper grill for chargrilled sealed in flavour and exquisite meats. At lunchtime you can enjoy two or three courses from the a la carte menu (£20/ £24) from 12 – 4pm Monday to Saturday. Making it an affordable option on a luxury lunch in the Lanes.
Coppa Club has arrived in Brighton and bring a whole new vibe to town when it comes to all-day-dining. Choose from either the brunch or all-day menu, giving endless choice no matter who you visit with. Swing by for a 1 pm pancake stack after a busy day has made you skip breakfast, or stay for the long run catching up with a group of friends over a few bottles of wine from their expertly chosen list.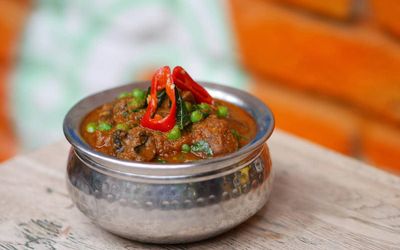 Serving 'award winning' South Indian Street food, the Curry Leaf Cafe is an innovative, new addition to Brighton's food scene. A relaxed, modern cafe, it's the perfect place for lunch if you fancy something a little bit different. The menu is a fantastic range of dishes, catering for all tastes. And as with any good curry, there's plenty of great craft beers on offer to go with it.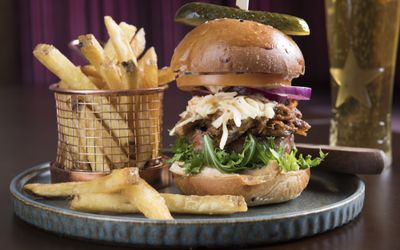 Brighton's oldest pub, it's no wonder they host Brighton's Ghost walk here. Having established in the 1500's it certainly has a lot of history to learn and to wonder about. Over the years it has increased its reputation for a food pub, and now boasts a mouth-watering menu filled with quality, home-cooked food made with fresh, seasonal ingredients. Great for a cosy, pub lunch.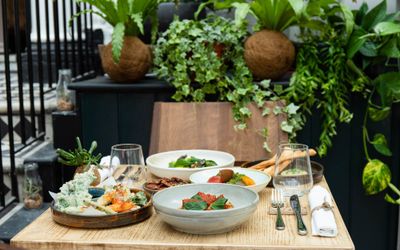 Open from noon from Wednesday to Sunday Kokedama provides a lunch offering that is elevated and somewhat special. The restaurant serves an entirely plant-based culinary experience. Small plates of exquisite quality and flavour make up the menu, so you can feast on as many or few as you like. If you're after a lunchtime tipple then make sure to sample some of the stunning natural wines and innovative cocktails. Being Lanes based makes Kokedama the ideal spot to stop for lunch in between visiting some of the other cosmopolitan offerings in the area.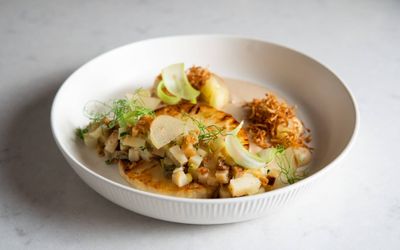 Lost in the Lanes cafe and deli is open seven days a week from breakfast through until late afternoon. All their food is made using fresh, local ingredients, with an emphasis on simplicity and authenticity. There are six lunch dishes which change seasonally, and always offer something creative and unexpected. Expertly mixed cocktails and a well thought out wine list make Lost in the Lanes a delightful find for leisurely lunches while visiting Brighton's famed shopping area.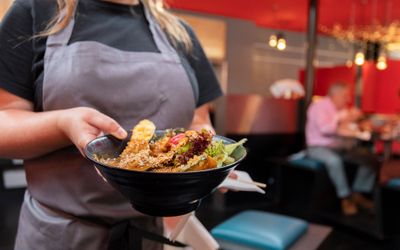 With an almost fanatical following, MOSHIMO is a Japanese restaurant seen by many in the city as a Brighton institution. It's the city's original conveyor-belt sushi bar serving handmade and sustainable sushi with a hot food menu, perfect for a light lunch. All fish is the highest grade and sourced as locally as possible so you can be sure you are doing your bit for sustainability.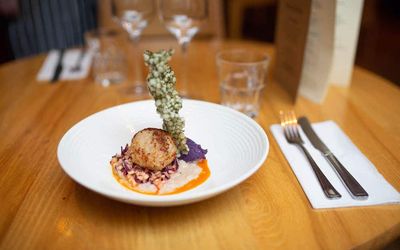 'Where vegetarianism is an indulgence, not abstinence', Terre Terre has been changing views about vegetarian cuisine for decades. Their imaginative and contemporary cuisine has won them Michelin Guide approval and the team at Terre a Terre have proven that their expertise can really push the boundaries of traditional cooking by creating the most exciting and delicious dishes. A lunchtime experience to behold, vegetarian or not.
Lunch in The North Laine area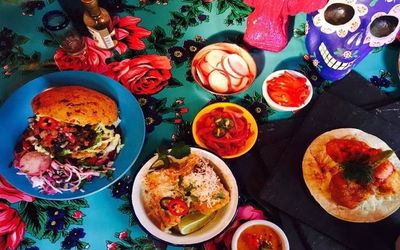 La Choza has been causing quite a stir! They invite potential diners to 'drop in and enjoy affordable, healthy, tasty slow-cooked Mexican street food.' The menu is simple and uncomplicated as the fresh and vibrant ingredients speak for themselves. They also have a venue on Church Road in Hove.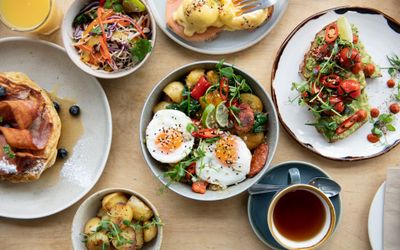 Starfish & Coffee is located right next to the beautiful Queens Park in Brighton and specialises in brunch, pastries, homemade cakes and excellent tea & coffee. At Starfish & Coffee, they ensure all ingredients used are of the highest quality and at their peak of freshness. From pancakes with bacon & maple syrup to a luxurious eggs Benedict or a big slice of fresh homemade cake.
Seven Dials / Brighton station area
The Chimney House has everything a 'proper pub' should and more. The food is proper 'pub grub' but delivered in a polished way and created using the finest quality, local ingredients. They sell local jams and chutneys on the bar and have a selection of interesting art on the walls. The menu changes seasonally and the kitchen is open plan so you can watch the chefs as they work.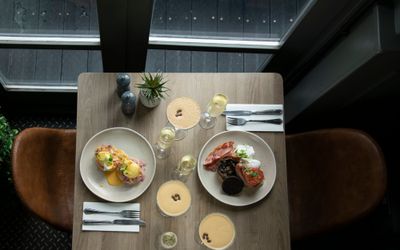 Small Batch Coffee Roasters are renowned for their coffee through Brighton, Hove and beyond. While picking up your favourite lunchtime caffeinated pick-me-up, you can also grab a tasty sandwich, salad, pastry or savoury all made fresh thanks to their Small Batch Bakery and Kitchen. Three of the shops (Goldstone Villas, Norfolk Square and Seven Dials) also have kitchens, so you can enjoy a freshly made all-day brunch (or lunch if you've already had breakfast, they don't discriminate).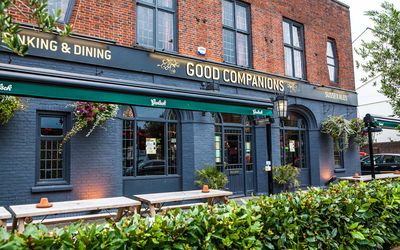 Serving up lunch and dinner in the thriving heart of Seven Dials is the talented team of Space and Thyme at The Good Companions. The kitchen is open from noon until 9.30 pm Monday to Saturday (changing to an evening menu at 5.00 pm) and roasts on Sunday. This spacious pub, restaurant and garden offers a range from light bites and sandwiches to full classics with a 2 for 1 offer on burgers Monday to Wednesday lunchtime and a good selection of vegetarian, vegan, gluten-free and options.
London Road / North Brighton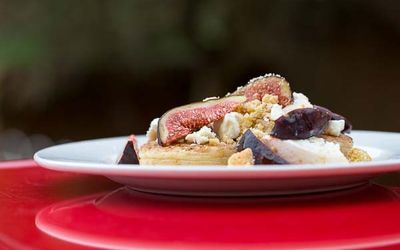 The Cherry tree is an independent café situated in the inner harbour at Brighton Marina with a lovely warm atmosphere and lots of sun-drenched outside seating. Serving traditional brunch/lunch options such as eggs benedict and a variety of sandwiches, The Cherry Tree also offers weekend specials that vary throughout the seasons – think mac n cheese in the winter and fresh salads in the warmer months.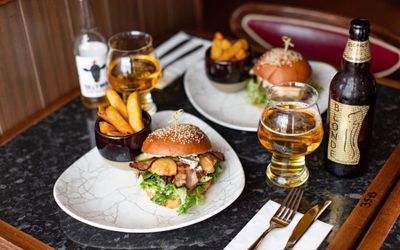 Taste Sussex on the Brighton Marina boardwalk is a big lounge-diner style restaurant but is actually locally and independently owned. Here you'll find a take on big-chain favourites, like burgers, large sandwiches, grilled plates and pasta dishes, but the difference with Taste Sussex is nothing is a microwaved reheat job and almost everything is locally and responsibly sourced. It's a great spot for lunch while visiting the Marina, but also, we feel, a lunch destination in its own right.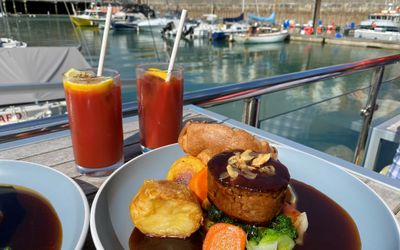 Positioned perfectly on the waterfront with views over the bobbing yachts, The Watershed is open from midday for lunch. The kitchen is run by Space + Thyme creating fresh high-quality meals using local produce. The daytime menu has pub classics, small plates and sharing platters.
For a lunch that's worth venturing over the Brighton border from head to Baked. The inviting, family-friendly, neighbourhood cafe is enviably set on the sunny side of the street, on a south-facing corner of Church Road, Hove. Whether it's a lite lunch with a side coffee you're after or a leisurely cocktail accompanied luncheon with friends, Baked provides both. Being just a short stroll from the idyllic Hove coastline, the cafe provides the perfect setting for resting after a seaside stroll.
Guests can enjoy an all-day brunch and lunch menu at Cafe Coho in Hove. The super stylish, retro diner-inspired cafe offers a great selection of dishes made from locally sourced produce. Daily specials are offered, alongside baked goods and a thoughtfully curated wine list. As well as hand-crafted cocktails, which are made fresh and available for you and friends to enjoy on those long laidback lunches in Hove (actually).
Set aside two to three hours for lunchtime dining at etch. Dining here offers an unparalleled experience to others in the city and is a culinary journey of excellence that simply can't be rushed. Expect the best at Etch, over six to nine courses of innovative tasting plates that will take you to new culinary heights. The restaurant is stylish, sophisticated yet unpretentious with service that is fit for a king.
The Farm Tavern in Hove serves their build your own sausage and mash lunch on Saturdays, making it a good spot to line your stomach if making a day of it in local pubs. You'll get to choose from a whooping selection of meat, veggie and plant-based sausages, pair them with a flavoured mash of your fancy and drown it all in one of their sumptuous selection of sauces (gravy). Or of course, if it's a Sunday lunch you're after then you'll want to read about theirs here.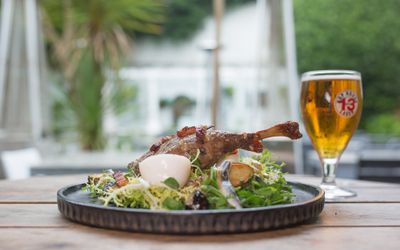 One of our favourites is the Hove Place Bistro pub and Gardens. Recently the food has improved, it has had a bit of a facelift and their great big gardens are as great as ever. Good venue all year round, particularly when it's nice and warm for their garden. A Hove stalwart in an area that needed a decent pub and now they have one.
If you're looking for a relaxed, friendly and vibrant place to quaff some wine or treat yourself to some lovely grub for lunch then look no further! Head Chef Dan Cartoni has created a menu based on using fresh, seasonal produce and sectioned into tapas plates & main plates with filled baguettes available at lunchtime.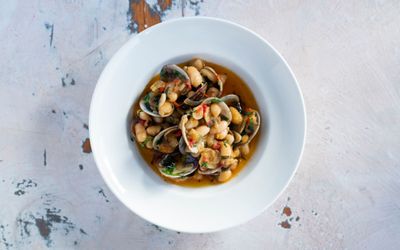 The beauty of Market's menu is the wide choice of tapas and small plates ideally designed for sharing. Choose as you wish from the Butcher, Greengrocer, Fishmonger, Cheesemonger and Baker.
Each header houses four dishes and there's enough scope to enjoy a light lunch – just order as many plates as you see fit. Prices range from £3 to £9. Tuesday to Thursday they offer a menu del dia, which includes three dishes for £12. They also offer a super selection of meats and cheeses from The Market Deli. The Chef's Board offers a taster and at £20 is big enough for two or even three to share, you can't go wrong!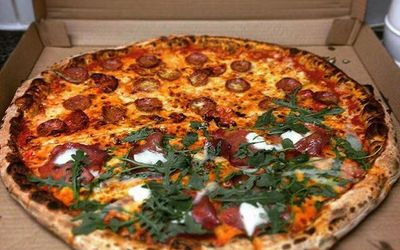 Little, authentic Italian restaurant on Western Rd Hove. Rustic and uncomplicated, Morelli Zorelli's provides a true Italian experience. The artisan pizzas are cooked in a wood-fired oven in front of you. The dough balls are prepared and refreshed every day using authentic ingredients flown over from Italy. Cater for gluten-free and vegan.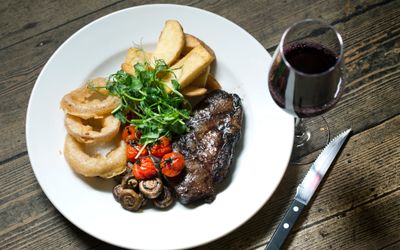 Just fifteen minutes outside of Brighton in the picturesque village of Hurstpierpoint, The New Inn is a gastropub with a wonderful menu of modern and classic lunches, a major feature of which is their use of local Trenchmore beef and a Josper grill, largely regarded as the best grill in the industry. Beer and wines are also a celebration of things local with wines from Albourne Estate just a short distance up the road. The menu features weekly specials including a weekly vegan special.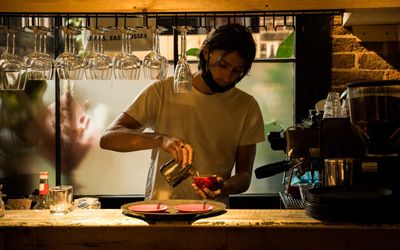 Venture over to the historic riverside town of Lewes for a lunchtime feast at the Needlemakers. The exclusively plant-based menu comes from the team behind The Roundhill (BRAVO, Best Sunday Lunch 2020, Moshimo Vegan Challenge winner 2019). They serve everything you'd want from a cafe from knockout brunches, lunches and countertop treats. Locally sourced wines and beers means that lunchtime here can be celebrated with a toast of the bubble stuff.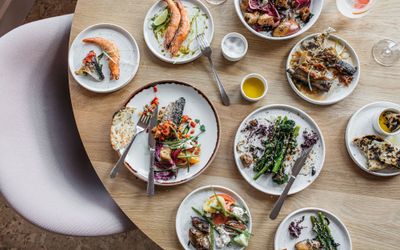 Head to Brighton's coastal neighbour Eastbourne and experience the excellence of Port Hotel. The restaurant is set on the ground floor of a contemporary restored Victorian townhouse. It's sleek, modern and benefits from unbeatable views of the coast. Lunch here is an experience that should be savoured. The menu offers small and sharing plates of modern cuisine that champion local and seasonal ingredients and flavours thoughtfully curated and simply divided into five key offerings: little delicacies, meat, fish, veg and sweets. Should you wish to add a tipple or two to your luncheon then there's a superb selection of exquisite local wines, beers and cocktails.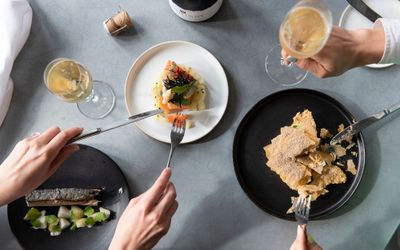 Wine and dine your lunchtime away in Sussex in the Tasting Rooms at Rathfinny wine estate. From Wednesday to Sunday guests can enjoy the Michelin awarded, weekly changing three-course menu of modern cuisine, alongside the stunning views of the vineyard and sip on the fruits of its yield in the process.
North of Hurstpierpoint you'll find a charming pub called the Sportsman. Known for its warm, hospitable service, exceptional food offering and bountiful selection of cask ales. The food served here is of an exceptional standard, by using locally sourced and seasonal ingredients they've ensured that the menu of gastropub favourites is of the highest quality.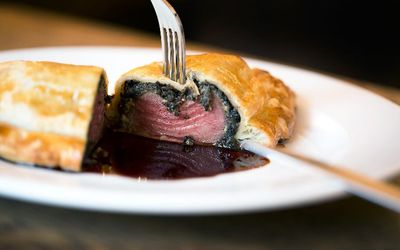 One of our favourites is the Hove Place Bistro pub and Gardens. Recently the food has improved, it has had a bit of a facelift and their great big gardens are as great as ever. Good venue all year round, particularly when it's nice and warm for their garden. A Hove stalwart in an area that needed a decent pub and now they have one.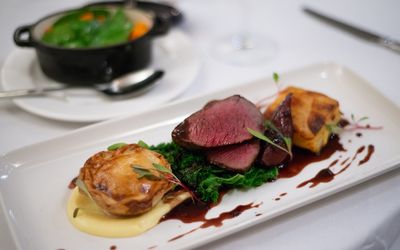 Wingrove House in the village of Alfriston on the outskirts of Brighton, boasts 19th-century colonial style, manicured gardens and seasonal menus. Open for lunch, dinner and Sunday lunch. There is a 2-course lunch available from Monday to Saturday and a 2 or 3-course dinner, also available daily.