Restaurant Brighton's guide to
The  Brighton takeaway industry has been revolutionised beyond recognition. With many top quality Brighton restaurants developing a version of their offering that can come to you. So if the cupboards are bare and you don't fancy going out, you can still enjoy an excellent meal, or a mouth-watering Brighton burger. 
Use our guide to who'll deliver their best dining experience to your door (or let you pick up)
Check out our other takeaway and home delivery pages too; including alcohol delivery, vegan takeaways and Sunday lunch delivery.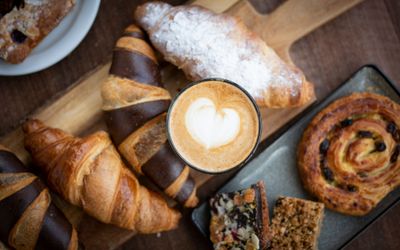 Brighton takeaway like you've never seen before. Grab your favourite flaky bakes and delicious pastries at BAKED in Hove. When you're whizzing by and you're running out of steam you can also pick up a coffee to go (of course). The coffee at BAKED is roasted by the local favourites Trading Post Coffee Roasters, so you can be sure that the 'go faster juice' will keep you nicely boosted. BAKED is open for delivery until 4 pm daily.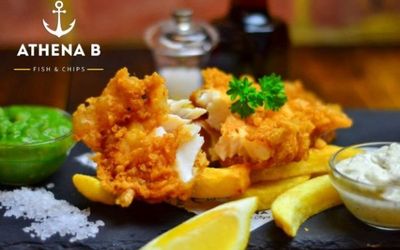 Athena B, fish and chips takeaway
Expert purveyors of fish and chips, Hove's family-run Athena B has over 50 years of experience, so as you might expect, they're pretty good at it. Their food is 'cooked with love and ludicrously tasty' as stipulated by "Great Uncle" Hambis. Flaky, white fish, crispy batter, crunchy chips with fluffy insides are all on offer but AthenaB goes the extra mile with sustainably sourced ingredients and ethical, biodegradable packaging. Hooray guilt-free fish'n'chips….well almost…!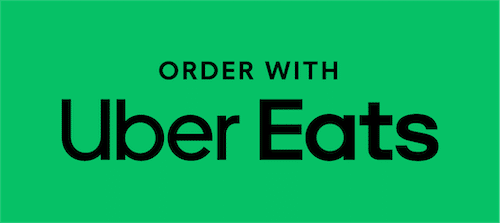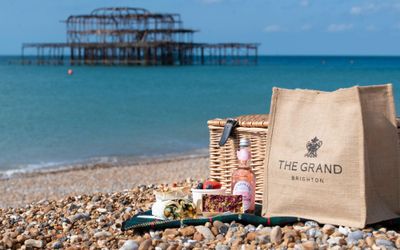 Going for a picnic and don't quite know what to buy to make it super special? Try a Grand Picnic. They are being described as 'no average lunch' and once you see what's inside this hamper you'll understand why. They contain dishes to supply you with a veritable midday feast of savoury wraps, pastries, quiche and sweet cakes to enjoy al fresco or back at your home office. Pre-order by 2pm for collection next day.
The cafe offers chocolatey treats for you to drink in or take away, they also have a healthy spread of patisserie treats on offer. You can order from Uber Eats to get your chocolate and pastry fix brought to you. Or if you're swinging by for a Brighton takeaway you can save money and help the planet with 50p off if you bring your own cup.
International Brighton Takeaway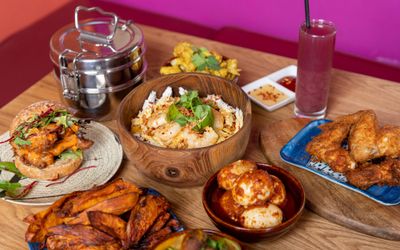 Get ready to tantalise your taste buds with the vibrant, authentic pan-Asian cuisine of Nanima! Located in the heart of Kemptown's charming village, this family-run restaurant welcomes you with its friendly, personal touch and an ever-changing selection of seasonally-led dishes from India, China, Vietnam, Thailand, Malaysia, Singapore, and Afghanistan. But that's not all! Nanima is also committed to sustainability, using only eco-friendly, reusable containers and offering a discount to customers who bring their own. Whether you're looking for a quick snack, a delicious meal, or some irresistible cafe treats, Nanima has got you covered. Only thing is once you've sampled the hospitality you might not want to leave.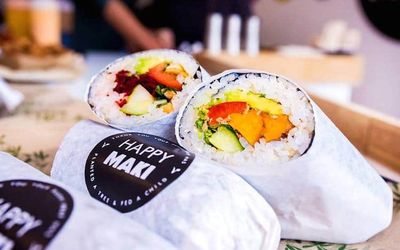 Proving that sushi can be made sustainable, healthy and absolutely delicious – without fish – you can now order dishes from Brighton's trial-blazing Happy Maki restaurants straight to your door. Sushi rolls, featuring a rainbow of fresh, crunchy vegetables and an impressive range of plant-based meat and fish options, are at the heart of the vegan menu. You can also order exciting poke bowls, huge sushi burritos, loaded satay pockets and healthy salads. Don't miss out on their famous tempura-style Popcorn Cauliflower and spicy sauces. You can't fail to be impressed by their environmental credentials too. It's really not hard to be good when it tastes this great!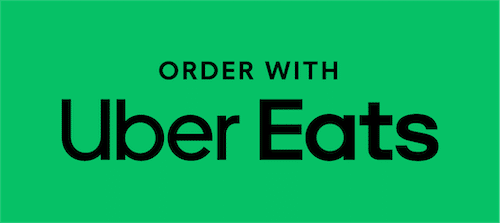 Lavash serves authentic Middle Eastern street food made to order using quality ingredients. Here you'll find all of your favourites such as falafel and hummus wraps, halloumi and tzatziki wraps, spicy lamb kofta shish and handmade chicken shawarma. Tandoor cooked lavash bread is a feature throughout the menu, it's the perfect mix of bubbly, chewy and charred, perfect for wrapping or scooping. The full menu is available for home delivery on Uber Eats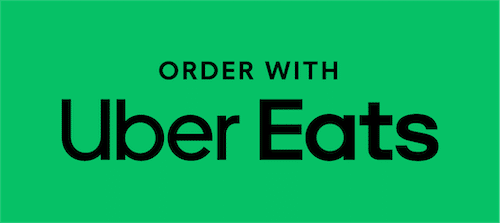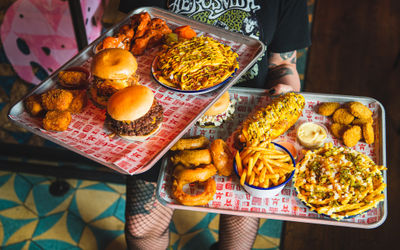 The cult burger joint MEATliquor is available for Brighton takeaway and delivery. Deliciously indulgent food from here is the right amount of naughty and 100% tasty. Once you've decided on their Brighton burger (it might not be easy because the extensive selection of quirky named treats all sound equally tantalising), you'll then have all the sides to tempt you. We'll leave you with that and wish you luck on your journey of oozy gooey side dish discovery.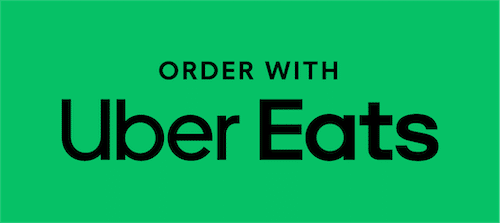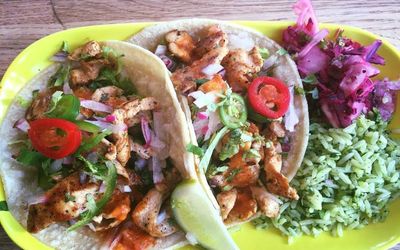 Street food specialist La Choza's authentic recipes were brought back to Brighton from Mexico's best markets and street stalls. The Brighton takeaway menu is packed with flavour-filled  favourites, from nachos and tacos to burritos and quesadillas. But what sets La Choza apart is the care and attention that's put into the preparation of the slow cooked meat chilli, freshly marinated fish and wonderful array of delicious dips. And their chillies are sourced from Mexico, as I suppose you might expect. Just try to leave space for their ever popular churros – they're hard to resist. 
European Brighton Takeaway