Restaurant Brighton's guide to
Child Friendly Restaurants
The best child friendly restaurants in Brighton and Hove
Finding a child friendly venue in Brighton can be a little exhausting as there is so much to choose from. We have put together this no-nonsense guide which brings you the highlights of child-friendly dining restaurants in Brighton, Hove and Sussex. These venues are perfect for the whole family to enjoy a delicious meal out, whether middle of summer family adventure or pre 'back to school' treat.
Child Friendly Restaurants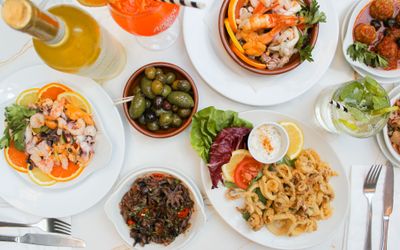 If you're looking to feed the family, an Italian restaurant is always a safe go-to with something for everyone. Al Duomo in the North Laine has been feeding families for more than 40 years, so it's safe to say they know what they're doing. There are high chairs and changing facilities to cover the basics then a children's menu for under 12s which will keep them well fed on quality, affordable and freshly made staples for under a tenner.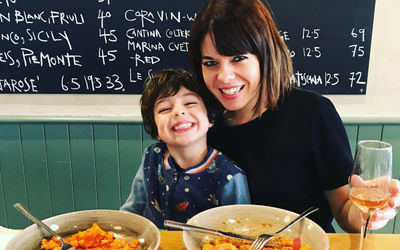 The entire family is welcome at Cin Cin, and while there isn't a specific children's menu, the chefs are more than happy to adapt dishes to suit their preferences, ensuring that everyone can enjoy the authentic Italian dishes. Highchairs are available, and there's a courtyard for sunny afternoon seating. Please make a note when booking that you'll be bringing the little ones so that you can be seated appropriately.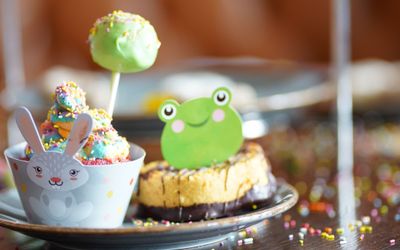 The Brighton Metropole Bar is a wonderful choice for families with children. They offer a dedicated children's menu, ensuring there are options to suit their tastes. Little ones will love dishes like the Mini Metropole Burger, a perfect-sized treat, and the Crispy Fish Fingers with chips. The bar also provides essential facilities such as high chairs, changing facilities, and even colouring equipment to keep the young ones entertained. Located on Brighton seafront, the Metropole Bar combines delicious food, breathtaking views, and family-friendly amenities, making it a great choice for a memorable dining experience with your children in tow.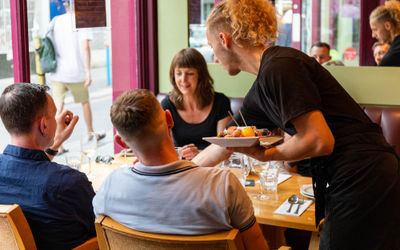 Levelling up kids food but keeping it tasty for sensitive palates, Terre a Terre takes their kids offering seriously, it's well considered and creative – no beans on toast here! If you're raising your brood veggie then treat them to the innovative child friendly dishes that are created at this pioneering restaurant. Indulge them in a little pre-dinner fun with the complimentary addition of Wikki Stix to your table. Fun for the whole family, not just the children!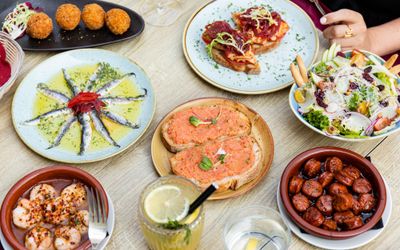 The Spanish are famous for their familial hospitality, and Tinto Taperia is true to form. While not officially offering a kids menu, this exquisite Spanish restaurant's offering can be enjoyed by the whole family. You can expect authentic tapas favourites, seasonal specials and paella made to order. From the drinks, you'll find great wines and spirits that hail from Spain. Set in the North Laine, with views of The Pavilion, you'll find you're in the ideal spot for enjoying authentic Mediterranean cuisine.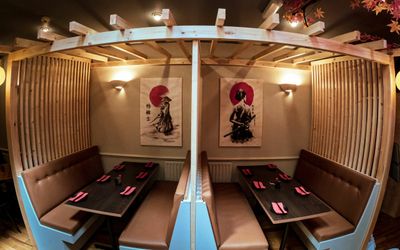 Wabi Sabi welcomes all the family, making sure that everyone, including the children, feel right at home. Having children too, owners Ken and Sukita understand that kids like their own choices, which is why they offer a set menu just for children. The kids' menu includes a starter, a nutritious and healthy main course, and a drink. For an extra treat, you can add a dessert. Wabi Sabi also have highchairs at the ready – bring your family and let Wabi Sabi take care of the rest!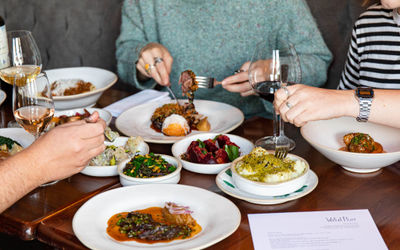 Wild Flor is renowned for its mix of classic cookery, interesting and unusual wines and outstanding service. It's a place where you can relax in luxury and feel thoroughly taken care of. You don't need to reserve your visit to Wild Flor for special occasions and babysitters as they cater for children. The children's menu changes seasonally and typically offers bread and a soft drink, a choice of two mains and a dessert. 
Looking for a cafe that caters for kids? Look no further than Baked. This friendly neighbourhood cafe is set on a sunny south-facing corner of Church Road, Hove. They offer a dedicated kids menu, highchairs and changing facilities. The cafe itself is only a short stroll from the beach. So, why not bundle up the brood and head down for a dip after lunch? 
Brighton Regency Routemaster provides a romantic setting that's out of the ordinary, beautifully nostalgic and downright delicious. Take a ride in their stunning restored 1960s Routemaster and experience Brighton's most iconic and historic sites, while being serenaded by 60s classics. Savouring a traditional British afternoon tea on an original Routemaster will certainly be a date to remember. The afternoon tea is made up of lashings of homemade sweet pastries, savoury patisseries, cakes and sandwiches. They're available for all dietary requirements and to top off, you'll have the option of adding the extra fizz of Prosecco or a Brighton Gin cocktail, to accompany your journey.
Heading to Hove with the family and need a failsafe option for some daytime dining? Cafe Coho can cater for all. As well as a menu that provides the adult diners with sophisticated brunch favourites. They provide the under elevens with an enviable offering. Included in this is bacon and maple syrup stacked pancakes and the simple but reliable favourite, eggs on toast. All child options are available for £5.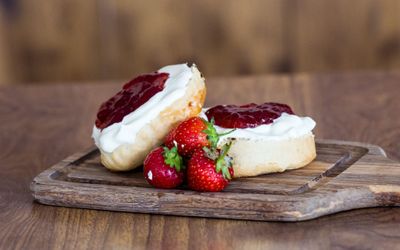 The Cherry Tree is one of the lovely little independents located in Brighton Marina. It's a cosy cafe and kids will love the menu which features plenty of brunch and lunch options as well as tea and cake. After eating you can take a trip to the nearby cinema and bowling alley to make a day of it.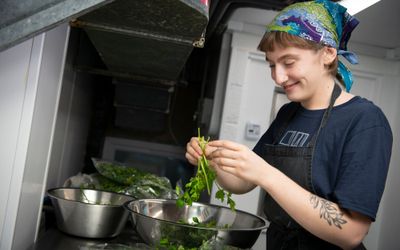 Children are welcomed with open arms at The Gardener cafe on Gardner Street. While we can't divulge the specific kid-friendly offering, because the daily changing menu is dictated by what supplies are available, we can guarantee that there'll be plenty for your little one to munch on.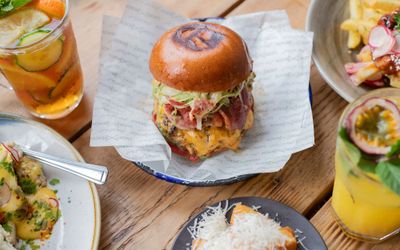 Seafront strolls wouldn't be complete without popping in for a bite to eat with the family, and Lucky Beach is keen to oblige. Boasting a large seating area you can nab a table either on the patio or beachfront, all of which have umbrellas in case the sun (or rain!) is beating down! The kid's menu features mini burgers, fish and chips and chicken kebabs – all of which are locally sourced.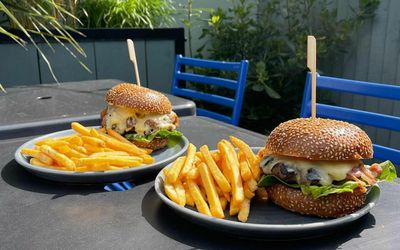 The Lewes Road Inn is a community based pub that has the local student population bumping shoulders with the young families of the surrounding area. It's a bright and inviting pub with plenty of space, especially during the day, which makes it perfect for family get-togethers over a bite to eat. The menu is Italian inspired with classic small plates and home made pizzas. There are frequent food and drink offers, so you could save a bit too. The dedicated kids menu features a selection of pizzas, chicken and chips and burgers (beef/ vegan) and chips, all leaving you with change from a tenner.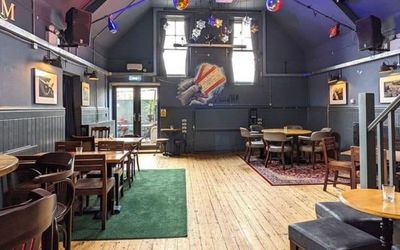 The Railway Inn in Portslade is a spacious and welcoming community pub. There's a large rear garden for sunny days and a busy calendar of events, including some tailored especially for children that really go all out (think Halloween parties with bubble machine disco, games, spooky dance routines, fancy dress parade…). When it's not all fun and games, The Railway Inn does a child friendly menu that's reflective of their adult menu which is a fusion of Mexican and Asian street food and pub classics. For kids you'll find easy pleasers such as cheesy pasta and things that are a bit more adventurous like chow mein with chicken or tofu. On Sundays it's all about Sunday roast with kids getting smaller portions of the classics and some simpler options if they're not quite ready for roasts.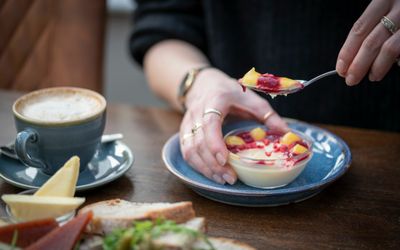 Welcoming folk of the Preston Park area and beyond, The Cleveland Arms is the definition of a community pub. The venue itself has been recently refurbished into a modern and light but cosy and welcoming space, overlooking the beautiful green space of Blakers Park. Offering plenty of food and drink options for children, The Cleveland Arms boasts a large outside seating area, situated on a quiet and residential street, with a play area just over the road.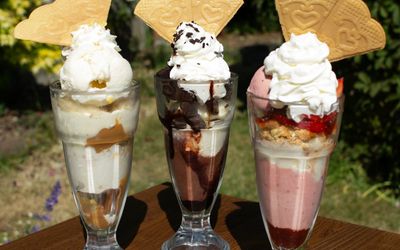 The Cricketers in Worthing is a fantastic destination for families, offering an incredible outdoor area and beer garden that kids will love. With a spacious play area, children can have fun while parents relax and enjoy their time. The pub goes above and beyond to cater to young ones, providing a dedicated kids menu that features delicious and wholesome options. Little ones can enjoy dishes like fish fingers with chips, mini burgers, or chicken nuggets with fries. The family-friendly atmosphere and enticing children's menu make The Cricketers an ideal choice for a great day out with the kids.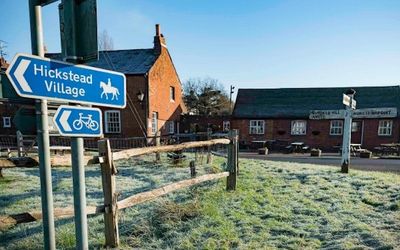 A great spot if you want to take the kids to the Sussex countryside. Formerly, two pubs, the Magpie and the Sportsman, the Grade II listed buildings were knocked through into one over recent years and this traditional 'beer house' has been part of the village's heritage for some years. Situated north of Hurstpierpoint at Goddards Green.