Restaurant Brighton's guide to
Private Dining in Brighton and Sussex
Private dining in Brighton
Private dining Brighton and the multitude of venues available. Our selection of the best venues across restaurants in Brighton, Hove and Sussex. We've handily divided this page to help you match your event to one of the fabulous local venues that will make make your gathering memorable, not matter the occasion. Private Dining Brighton
Exclusive luxury private dining rooms in Brighton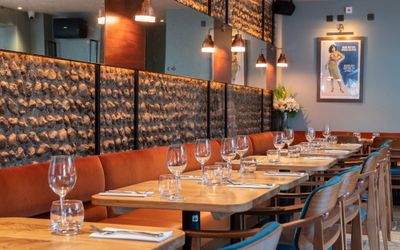 An award winning option for private dining Brighton. Burnt Orange on Middle Street in The Lanes is a sophisticated yet relaxed restaurant and bar which has achieved local and national recognition, including winning Brighton's Best Restaurant in the 2022 BRAVOs. Upstairs there is a private dining room for up to 10 guests, perfect for intimate soirees or impressive business meals. The attentive team of professionals will help you prepare the perfect menu and ensure your guests are given an enviably memorable experience.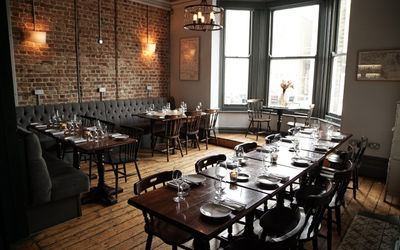 Wild Flor is renowned for its combination of classic seasonal cookery, unusual and interesting wines and outstanding hospitality. The second floor dining room is available for hire for exclusive lunch and evening meals so is a wonderful option for private dining in Brighton and Hove. There's no hire cost, just a minimum spend and is available for groups of 10-28. The whole of the restaurant is available for hire for larger groups. They'll create a menu that's seasonal and match it with exquisite wines for a truly memorable experience.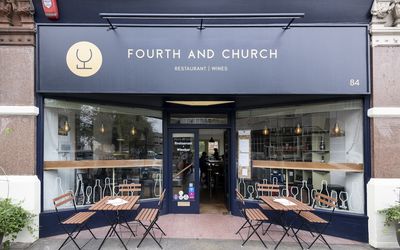 The private dining room at Fourth and Church in Hove is entirely self contained with its own music system and a very polished experience. The team here can prepare you a high quality meal from their seasonal menus which fuse modern and traditional cooking styles, for elegant high-quality dishes. Fourth and Church are well known for their exceptional wines which they source directly from growers. They can pair your party menu or help you select some choice drops for unforgettable wining and dining. Fourth and Church is an excellent choice for subterranean private dining in Brighton and Hove.
The Chef's Library at The Coal shed is a stylish private dining suite at one of Brighton's most popular grill restaurants. The suite is available seven days a week, seats 15 diners and comes with a dedicated server. Guests can choose from a set three course menu or a feasting menu with signature sharing dishes for the whole table. The Coal Shed's reputation is high held in a city of exceptional eateries, it's produce is locally and ethically sourced and cooked using a Josper coal fired grill for seared in flavour.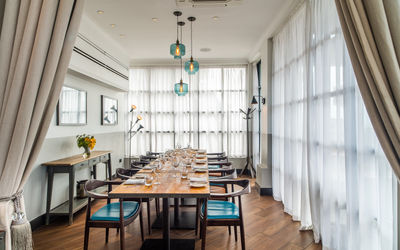 The Salt Room is a critically acclaimed and award wining restaurant with a focus on fresh, locally landed seafood and seasonal menus. They have a private hire room which seats 16 and is available seven days a week for both evening and lunch. Two seasonally led menu options are available, with individual courses or communal sharing plates. The private hire room is separated from the main venue by a curtain which you can choose to have drawn, or not, and boasts spectacular sea views. 
Private hire is also available with the mezzanine level of the restaurant, although this doesn't offer privacy. The mezzanine seats 35 people with access to the private dining room for reception drinks and use of the sea-facing terrace in warmer months. A flexible high quality experience for private dining Brighton.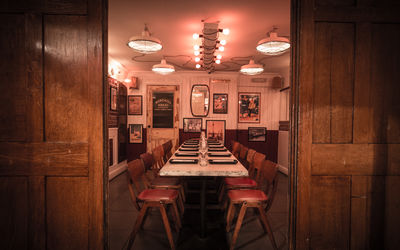 The private dining room at Market at 42 Western Road, (called 42d Downmarket) is an upmarket space ideal for parties both small and large. Seating groups of between 12 and 22 you'll enjoy an array of benefits including the option of indulging in The Chef's Menu (a sharing feast of many of their Spanish-inspired tapas and small plates), your own dedicated waiting and bar staff and you can even play your own music. Events are tailored to perfectly suit each party's needs, (Market also offers set menus) and there isn't even a hire charge to pay. This is a hidden nook which we highly recommend, a great option for private dining Brighton.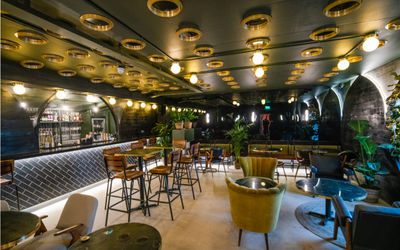 The modern meets deco inspired interiors of the Skylark cocktail bar in Shelter Hall set the scene of class and sophistication. The stunning seafront, beach facing setting adds further to the luxurious feel of the venue. You can hire the bar exclusively for 30 – 50 guests and enjoy the benefit of dedicated bartenders, who will deliver bespoke cocktails, stunning wines and premium spirits. You'll also reap the benefits of having access to all seven of the Shelter Hall kitchens. Minimum spends apply. This is as good as it gets if you want to soak up the seaside Brighton atmosphere, a wonderful option for private dining Brighton. 
Exclusive casual dining rooms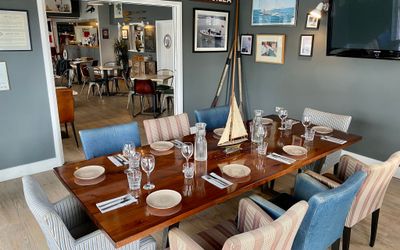 The Watershed is situated in the Brighton marina, on the waterfront of the inner harbour. Admiral Jack Voss dining suite is available for private dining in Brighton Marina. The kitchen at The Watershed is run by local catering company Space + Thyme who are more than qualified to deliver a professional and delicious feast be it a buffet or sit-down meal. The views here are a real selling point, few places capture the late sun while offering privacy such as The Watershed.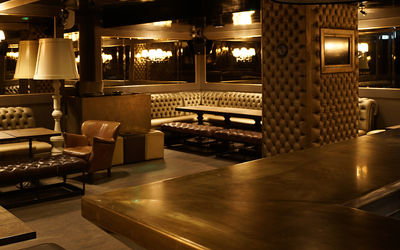 The Late Lounge in the basement of the plush Hove venue, Third Avenue, is a sleek, stylish and sexy space available for private hire. It has its own bar, a 2am license, access to the terrace and DJs are available. They can cater for your party with their small plates menu or with a buffet. A very luxurious private dining option for Brighton and Hove.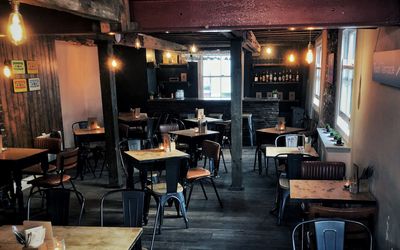 Full venue hire is available at all Trading Post venue's across the city and you'll fall in love with the industrial meets elegant interiors and sense of artisan craft that is illustrated throughout all the Brighton venues. With three sites dotted around the city centre there is scope for hosting a variety of events, be it corporate, a big birthday bash or more intimate gatherings. The Kensington Gardens site offers exclusive room and floor hire and benefits from a fully equipped kitchen and multiple floors for entertaining. All three have stocked bars and coffee machine facilities, serve some of the freshest coffee beans in town and are available with no hire fee.
Pubs or bars with food and rooms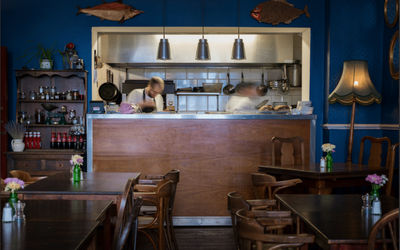 The Chimney House is a lovely pub in Sevendials with a fantastic local and seasonal menu and lots of character. The upstairs function room can be yours for a cosy, candle-lit soiree for up to 22. The menu incorporates classic cookery with seasonality and foraged for, rare and forgotten ingredients, making for a truly unique occasion. Highly recommended if you are looking for something more relaxed and local, a great private dining Brighton option.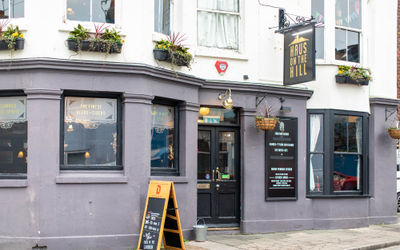 Haus on the Hill is a popular local pub in the Hanover area and tap room for local brewery, Bier Haus. In 2022 they won the coveted BRAVO for Best Roast. Upstairs there are two additional dining rooms  and large second bar available for private hire. The in-house menu is primarily Caribbean, from the kitchen of Danny O'Shea (formally of Bus Stop). Dog friendly, child friendly and very enthusiastic about beer, this is a good venue of choice for relaxed good time get-togethers in Hanover. A laid back vibe with great beer; our kind of private dining in Brighton sort of experience.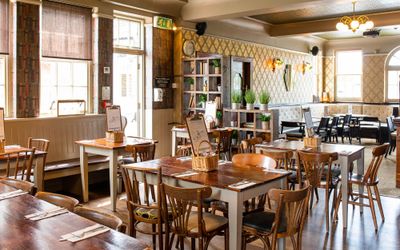 The Ladies Mile pub in Patcham has a large function room that is entirely separate from the main venue, offering privacy for your party. The space can host up to 120 guests and the kitchen can cater for everything from a buffet style reception to a sit-down meal with table service. The function room has its own bar and in-built sound system plus plenty of nearby parking and easy access to the rest of the city.