Woodfire Camping | Britain's First Gastro Campsite
Attracting both seasoned campers and comfort-loving city foodies alike, Woodfire Camping is Britain's first-ever gastro campsite. Owner Stella Gurney and husband Mark 'Griff' Griffiths were inspired by farm stays with home cooking, or 'agriturismos', which they'd enjoyed on family holidays in Italy, When they opened Woodfire, they wanted to offer something new to the South of England and "show both traditional campers and city diners just how good life outside can taste."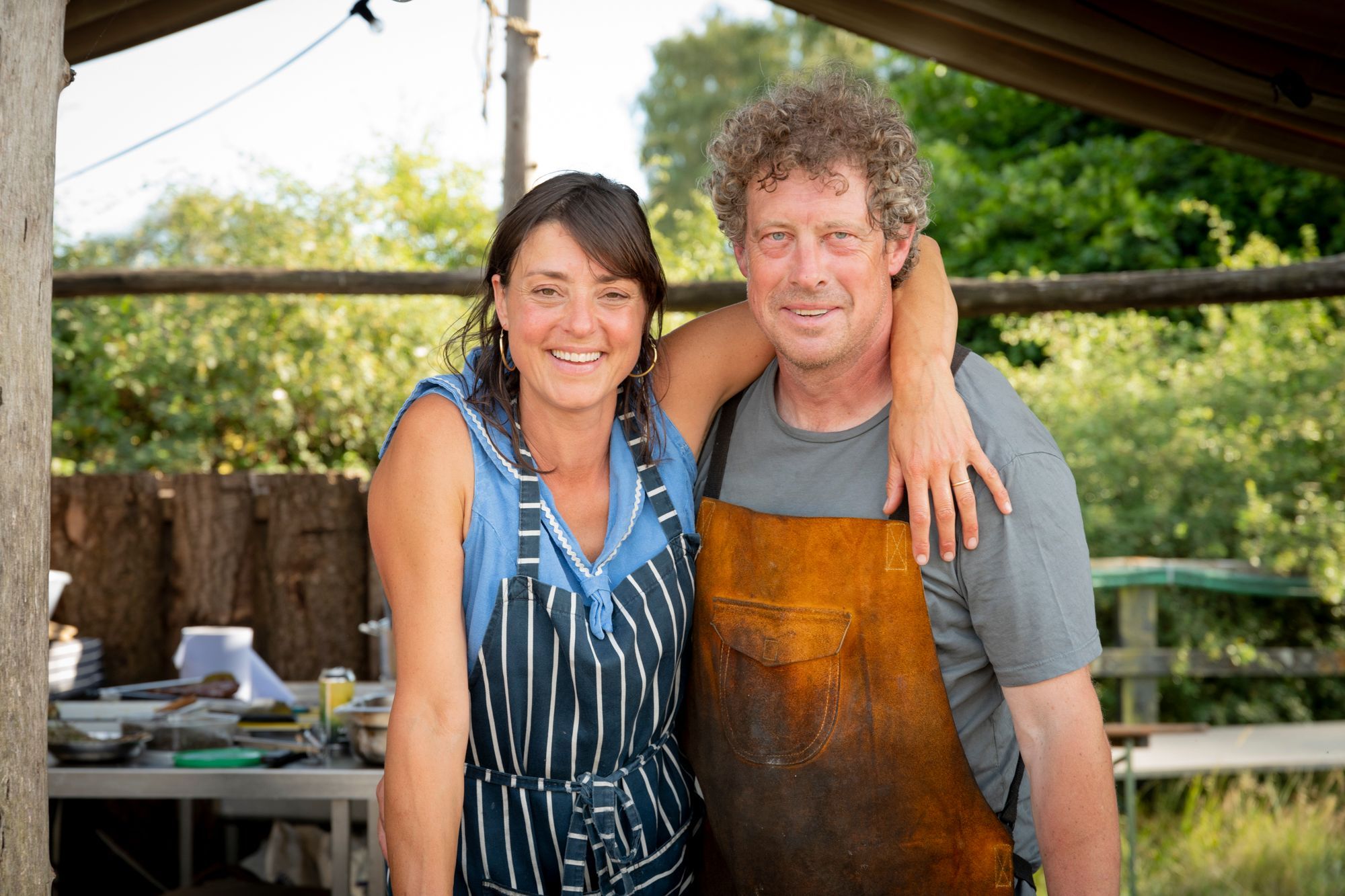 With Woodfire Camping, Stella and Griff have successfully introduced the concept of bringing tourism to the source of great produce to the beautiful South Downs, by creating an affordable campsite that combines sustainable outdoor living with delicious food, cooked outside, over fire, and sourced from neighbouring farms.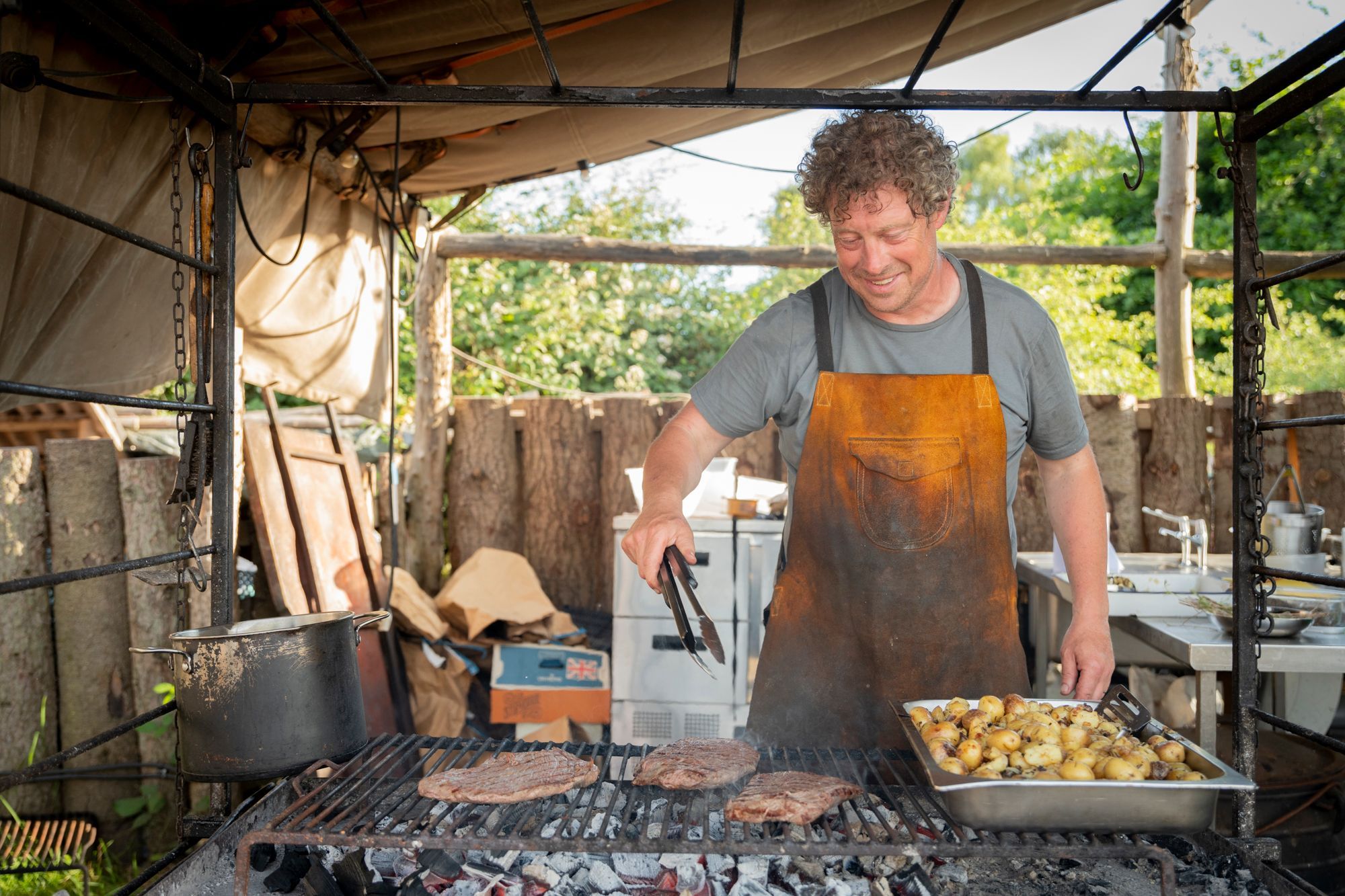 A Very Special Campsite
Stella and Griff knew that they had come across something rather special when they found the site for Woodfire Camping. Right in the heart of the South Downs National Park, the campsite occupies flat grassland in the middle of a former stud farm. Stunning horses still roam the surrounding fields which lead the eye to forests and then up the rolling hills beyond. It is an area of outstanding beauty, peace and bucolic charm as well as an official 'dark skies' area so, on clear nights, visitors can expect to be treated to some of the best stargazing in the South of England. 
Pitch your own, or hire one of their wonderful, kitted-out pre-pitched tents. Then enjoy the stunning wood-crafted facilities and hot outdoor showers which have been described as 'spa-like' in the national press. Firepits and wood are available for a small fee. This is not 'glamping' but it is seriously comfortable camping.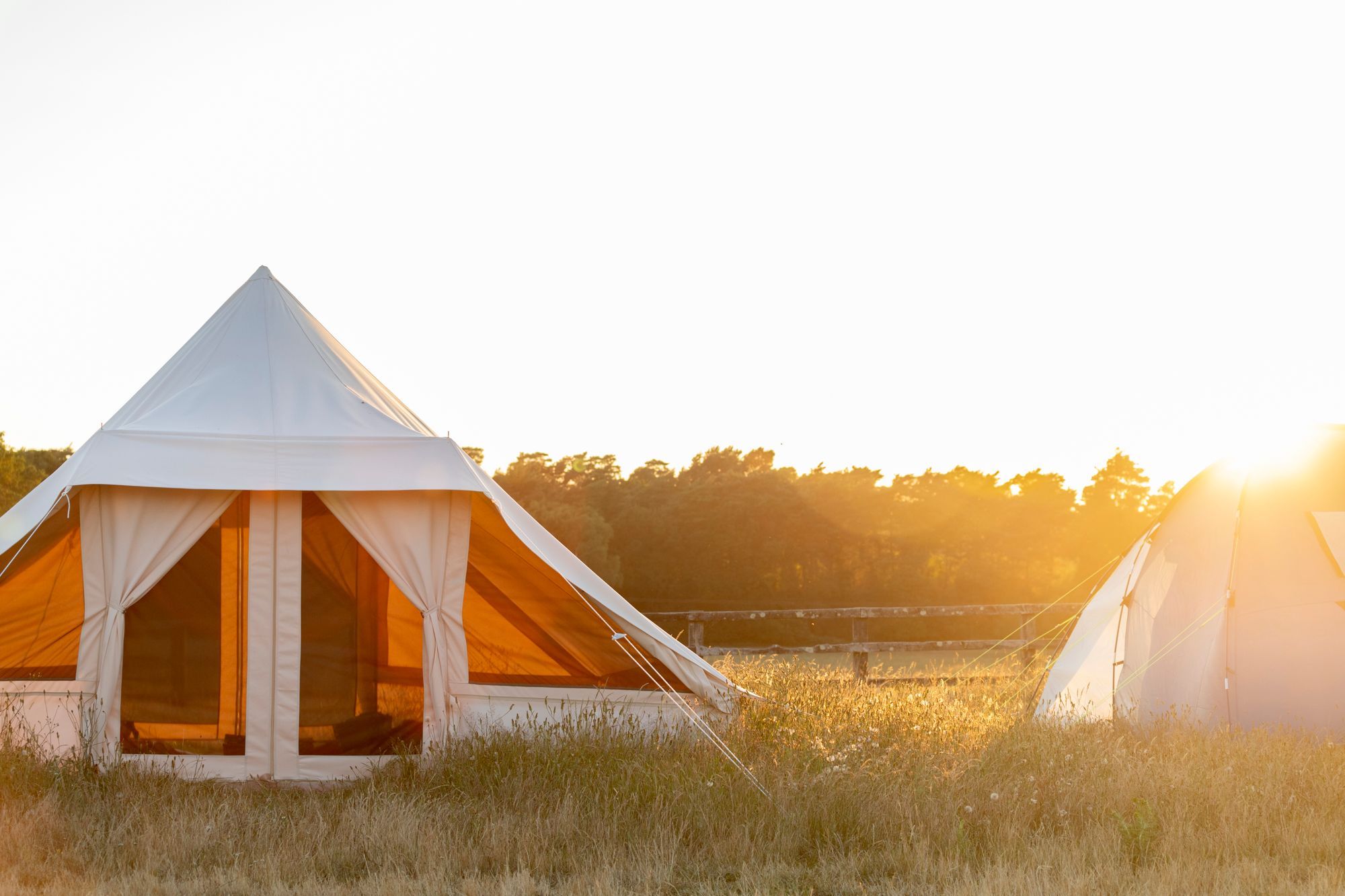 Well-behaved dogs are welcome. 
A Wood-fired Kitchen
Most nights, you'll find Chef Griff behind a massive grill. There is something rather like chef meets 'Mad Max' about this wonderful sight. You'll know what we mean when you visit. His excellent cooking is all live-fire, rustic, super-fresh, local and seasonal. The portions are pleasantly generous at Woodfire Camping. Meals are eaten at long trestle tables where families and big groups can eat together happily. The choice is usually limited to a meat and vegetarian option and children are given smaller portions of the same. Great value, great British food with pan-European influences.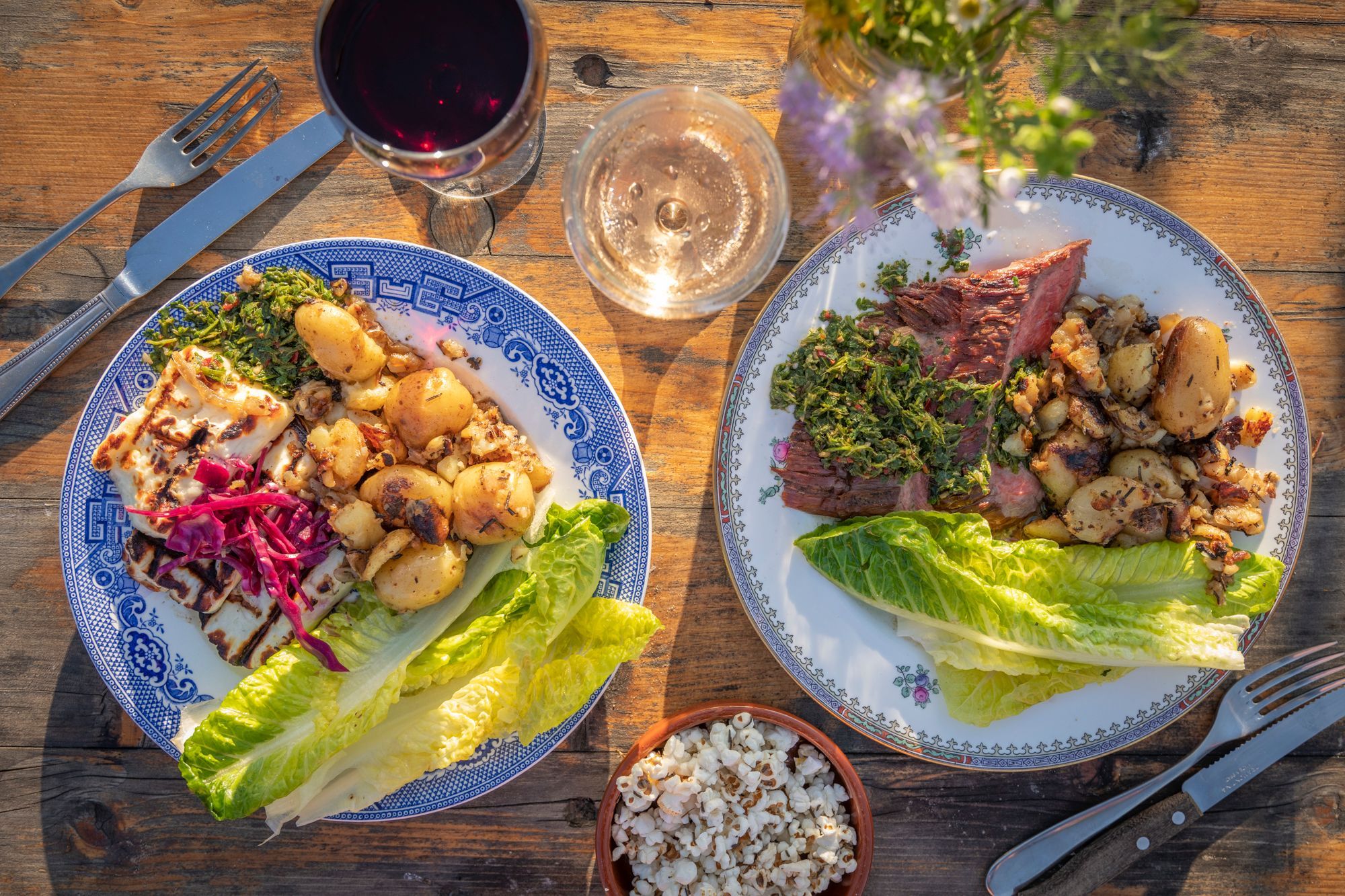 While Griff cooks, Stella hosts with significant charm, making absolutely sure that everyone has what they need in order to have a great time. The couple wants to help people remember the joys of eating outdoors; the pleasure of being in nature which instinctively makes us relax.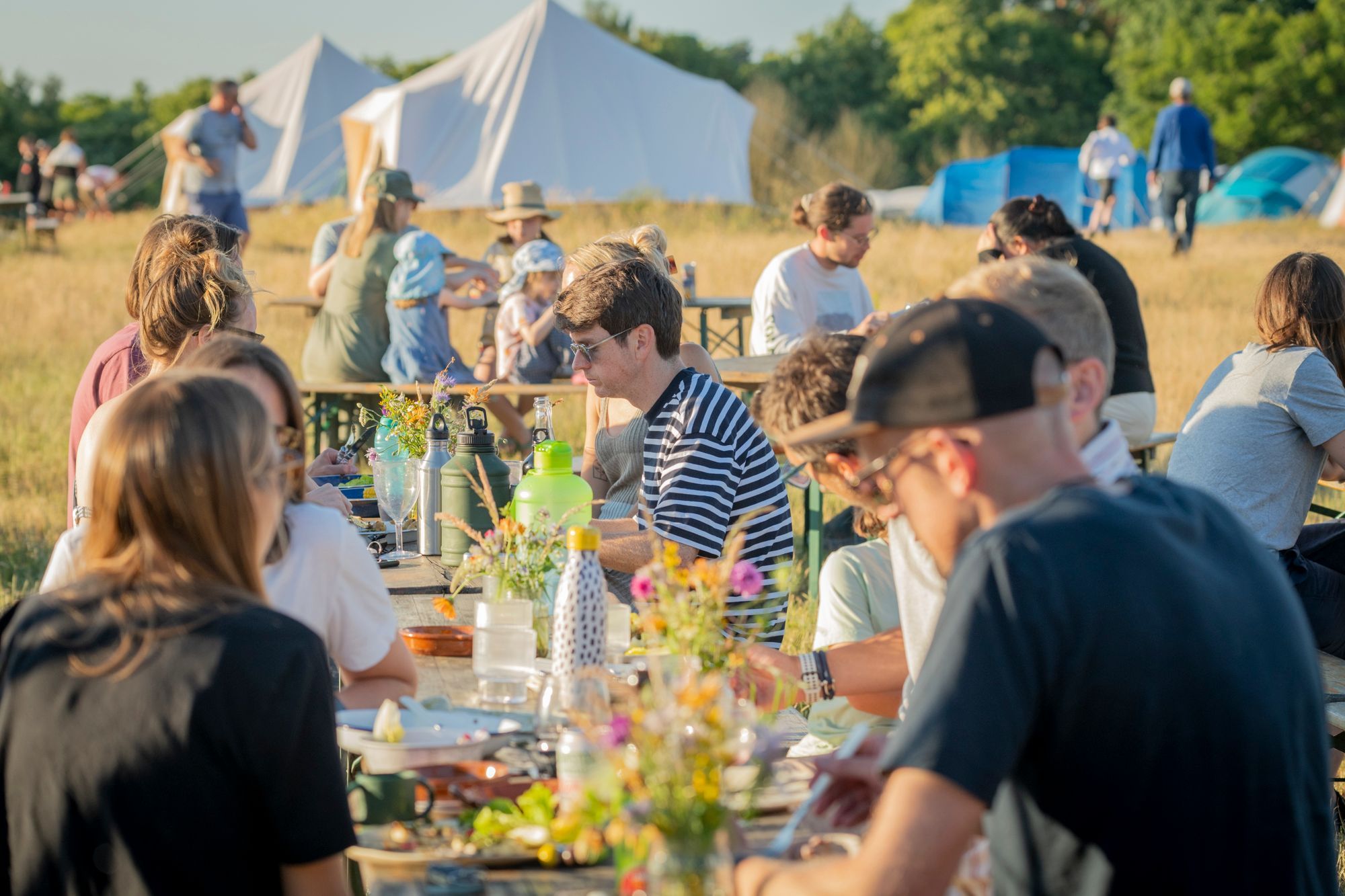 They invite you to "Sweep your crumbs onto the grass; wander over to the grill to watch the theatre; have a chat with the chefs afterwards; lie down in the sun in the grass afterwards or head back to your tent for a snooze – no need to drive anywhere; have a campfire look at the stars – all a truly pleasurable and relaxing experience."
See what Restaurants Brighton writer Brittany thinks of her experience at Woodfire Camping  just here.
Feast Under The Stars
As well as cooking up delicious, seasonal fare for guests, Woodfire also hosts fabulous one-off Feast Nights throughout the season. Tempting chefs out from the confines of their city kitchens into the field, Woodfire Camping hosts talent from top restaurants such as Ottolenghi's ROVI; Native; Scully's, St James' and Temper, to collaborate on multi-course tasting style menus which showcase the outstanding quality of produce from across Sussex and the South Downs.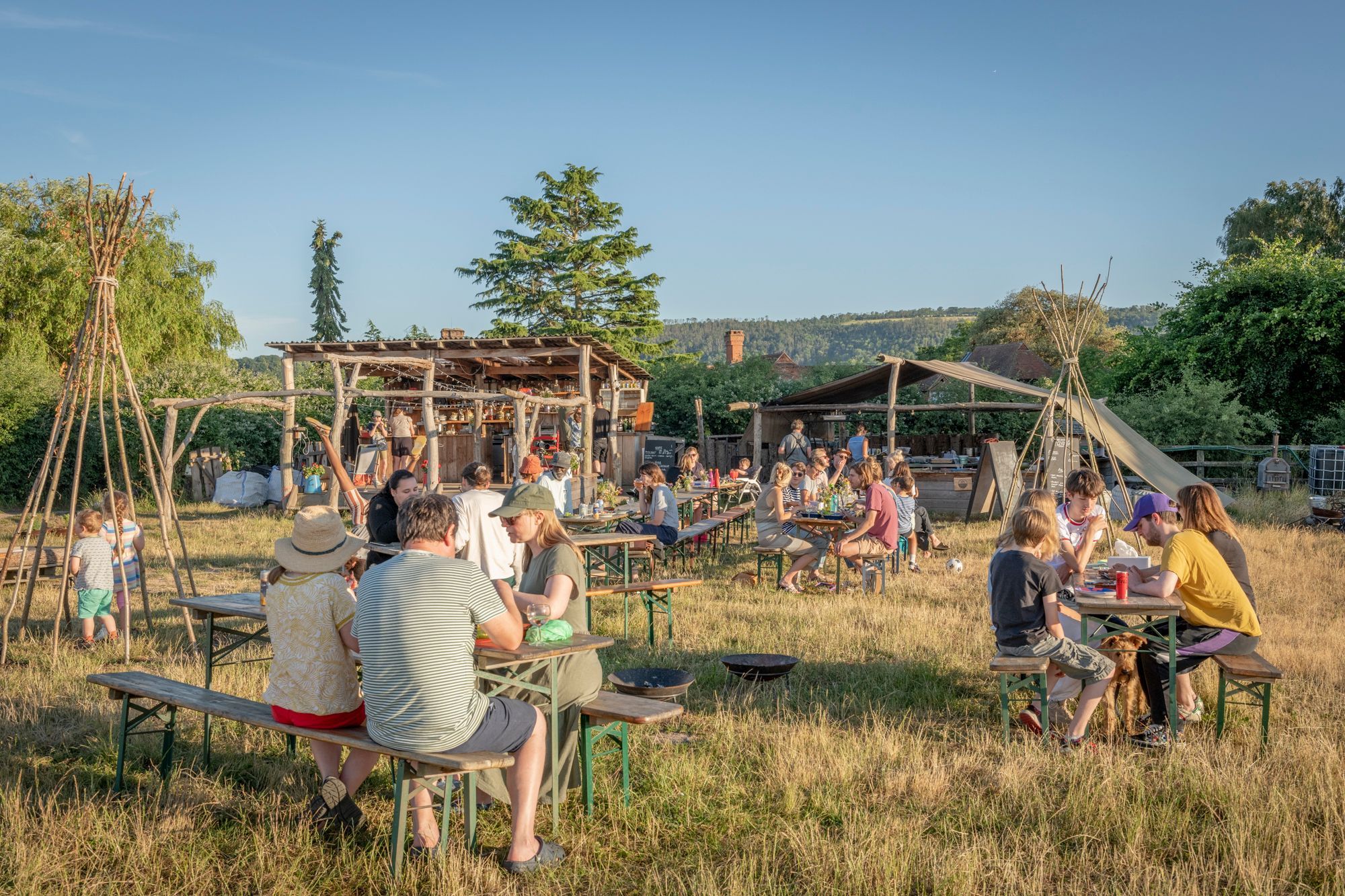 The Feast Nights maintain the casual and relaxed atmosphere Stella and Griff cherish and are served in one sitting. There are wine pairings with each course and culinary surprises aplenty.
Woodfire Camping Feasts in 2023
21st June – A Woodfire Summer Solstice Feast with Chef Sophie Taverner

29th June – A Woodfire Midsummer Feast with Chris "Chops" Taylor

6th July –  Woodfire Summer Feast with Chef Julian Brown, (aka Chief Fire-starter and Tamer of Flames), our Woodfire Chef-in-Residence for 2023! 

19th July – A Woodfire Summer Feast with Genevieve Taylor

15th September – A Woodfire New Moon Feast with Ivan and Imogen from Native, Mayfair

29th September – Woodfire Full Moon Harvest Feast with Chef Julian Brown
Watch this space as we reveal the 2024 Woodfire Camping line up.
A Pioneering Offer
Woodfire Camping is pioneering a new, unique type of sustainable dining and camping experience. Spread your wings and enjoy the acres of space, greenery, fresh air, roaring campfires, stargazing and delicious, home-cooked food.
Post a Review
Be the first to review.