Restaurant Brighton's guide to
Brighton Igloos are a relatively new concept and becoming increasingly popular. With British weather being something of a wild card, the rise in popularity of igloos isn't surprising. Shielding you from wind and rain they provide you and yours with a personal bubble to drink, dine and update your Instagram! Brighton igloos are popping up all over town to provide sheltered outdoor dining whatever the weather. Brighton Igloos also host some of Brighton's best Christmas parties. 
Most beer gardens in town will provide heaters and shelter for outdoor winter warmer drinks. Our post-2020 world is now well equipped for alfresco dining and will provide shelter, blankets and heating for outdoor dining on more clement days.
For more on private dining, visit our private dining and private hire page.
Brighton Restaurant Igloos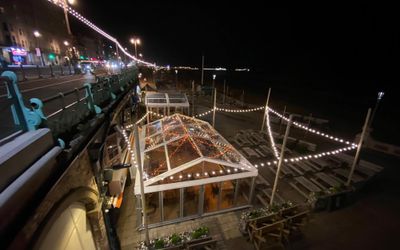 The Fortune of War is one of those iconic seafront bars that attracts a solid crowd throughout the summer, spilling onto the beach in what very much resembles a four month long beer festival. The festival feel goes perennial with their Winter Haus, a temporary marquee that's clear on all sides so you never lose that beach side experience. Think bierkeller-basic vibes, with shared tables, good drinks and memorable times. A stand-out Brighton pub. 
Brighton Music Hall is a popular place for live music, and cabaret, food, drink and fun times. In the winter months, the igloo and beach hut village on the seafront is a winter wonderland, with a performative element to match. Igloos are free to hire in multiples of two-hour slots for 6-12 guests or 8-14 guests if you want a beach hut. There's a minimum spend of £100.