Restaurant Brighton's guide to
With British weather still being something of a wild card, the rise in popularity in igloos isn't surprising. Shielding you from wind and rain they provide you and yours with an intimate bubble in which to drink, dine and update your Instagram. Igloos are popping up all over Brighton to provide sheltered outdoor dining whatever the weather. 
View our beer gardens page here. Sun worshippers might find our "drinking amongst the gods" guide to roof terraces of interest.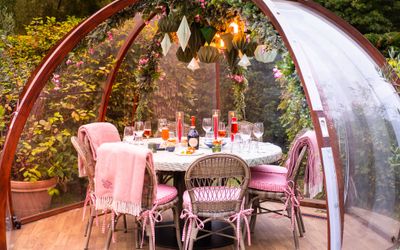 The igloos at Copps Club in Brighton Square, really are a special delight. They're seasonally transformed into art installations in their own right, festooned with flowers, candles, thick faux fur blankets or lighter throws in the summer. These are coveted spots indeed and booking in advance is absolutely necessary. If you're planning a special outing and want somewhere really striking the Coppa Club igloos are a perennial hit. Food-wise think modern European dining from Breakfast through to the evening, add fun and very photogenic cocktails – or what better to sip while in your bubble, than bubbles?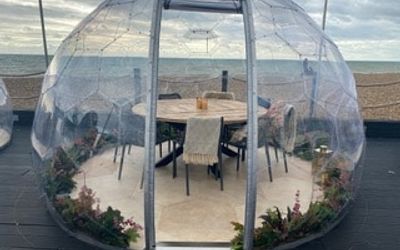 OhSo has always been more of outdoor space, sitting bang on Brighton beach, so igloos are a welcome addition, especially on those bright but not so warm days. This is a spot where you can enjoy all-day panoramic sea views between the two piers with table service for you and up to nine of your friends and family. For food, OhSo is open every day serving breakfast, lunch and dinner. Nothing pairs better with the exclusive sense of being seen in your bubble than cocktails and OhSo have a superb selection to choose from. 
Parties of six or more have exclusive use of an igloo. If you're in a smaller group you may need to share your igloo, but that's always been the OhSo social way, and many a friendship has begun that way!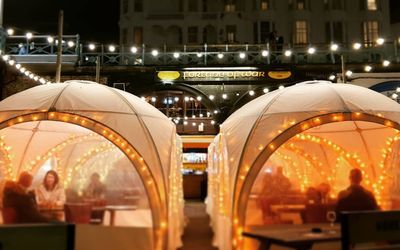 The Fortune of War is one of those iconic seafront bars that attracts a solid crowd throughout the summer, spilling onto the beach in what very much resembles a four month long beer festival. The festival feel goes perennial with their winter pods, strung up with lights and pub benches and stretching out to the beach. They look such a natural part of the Fortune of War that we wonder why they never did it before. One of those cases of necessity breeds creativity, probably.
Brighton Music Hall is a popular place for live music and drinks, especially in the summer as it boasts quite an extensive stretch of beachfront seating. The current look is a little village of igloos and brightly coloured beach huts, complete with traditional deck chairs, looking out to the sun (hopefully) and sea (definitely). There are five street food vendors to choose from, a cocktail bar (in addition to the main bar) and live music from local talent.
The huts and igloos at Brighton Music Hall are free to hire at weekends. Bookings are advisable but if you're passing and the mood and music take you, walk-ins are welcome too.