Restaurant Brighton's guide to
Cocktail Bars in Brighton
Looking for the best cocktail bars in Brighton?
When it comes to living it up large, Brighton has no shortage of options. In a city with more bars per capita than any other in the UK the competition for serving superior cocktails keeps every mixologist on their toes. In no particular order here is our guide to all the best cocktail bars Brighton has to offer.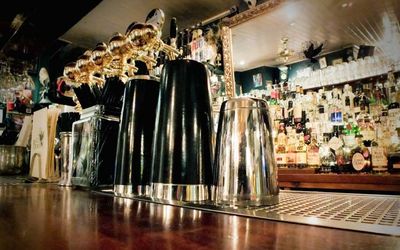 A worthy mention in our Cocktail Bars Brighton listing, The Black Dove on St James' Street is a laid-back hostelry with quirky décor and basement DJs. The ideal place to lubricate tired vocal chords and soothe worn-out limbs in eclectic and sumptuous surroundings. The stereo plays a healthy rotation of be-bop, Jamaican ska, cool jazz, delta blues, Afrocentric, 30s/40s/50s vocal greats and contemporary beat music.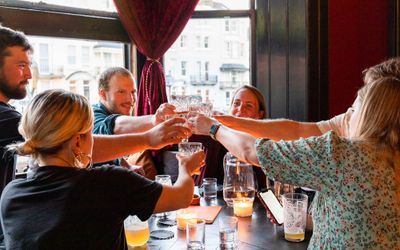 If you're looking for a cocktail bar that offers innovative cocktails, balances stylish flare with fuss-free fun and consistent quality, then look no further than The Bronze. Based in the eclectic hub of Kemptown's St James Street, this bar is well placed in both its ethos and its offering. The drink menu is varied and vast, they offer an enviable range of beverages from classics to the obscure. When it comes to ordering, we recommend asking your server for advice as they'll be more than happy to guide you through the gigantic menu of treats.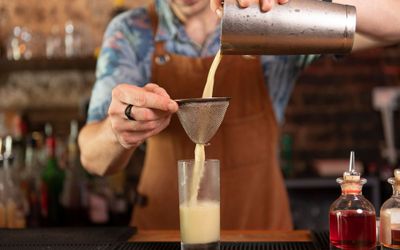 We can't resist a low lit neon spiked bar that plays 80's tropical beats into the early morning and that serves cocktails like nowhere else in Brighton. Running on a zero waste policy Julien and his team create a seasonal ever-changing menu focussing on local and lesser used ingredients. With cocktails being created using what's in season and on hand it's a case of here today, gone tomorrow, FOMO's* going to get you in its grips and keep you coming back. Another reason to love this bar is the home-brew goodies on offer – think orgeat, grenadine, falernum, ginger beer, triple sec, coffee liqueur and syrups all made from scratch. (*FOMO, Fear Of Missing Out)
Voted best place for a drink (winner and third place) at the Brighton Restaurant Awards. In the heart of Brighton's buzzing North Laine, you'll find My Hotel Brighton. The hotel's wacky futuristic theme transports you off world and continues in their swanky Merkaba bar, where you can celebrate life with an artisan cocktail. The tantalising menu has a huge range, including Asian, bohemian, Brighton, American and tiki inspired cocktails. They love to host a party, so if you're after a night to remember, why not try one of their cocktail packages. Or you could take part in a fun cocktail masterclass where you'll receive expert tuition from experienced cocktail bartenders. Music is provided by Top local DJ's every weekend.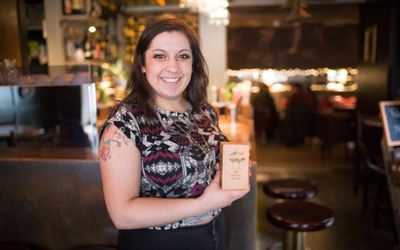 Winner of the best cocktail bar in 2018 at the Brighton Restaurant Awards. Nestled in a side street just off the Old Steine and Kemptown Their success is built on an exceptional cocktail list created by some of the most talented mixologists in Brighton, including Manager, Luke Loddo. With more awards such as 'Best New Bar' at the Brighton Bartender awards rolling in it's no wonder you're advised to book a table, and yes you heard us right – you can book in, rock up and enjoy table service all night long – no more jostling at the bar. Bliss.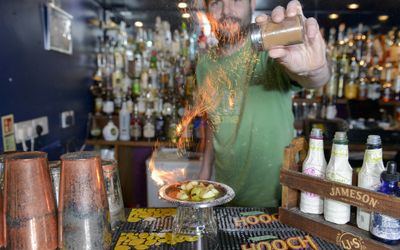 Blink and you'll miss it, so make sure you have your wits about you when seeking out this little gem of a cocktail bar. Twisted by name and twisted by nature, their extensive cocktail menu offers unique twists on much loved classics. Its cosy, vibby and inclusive atmosphere makes it a great location to hang on with friends and spend evenings sipping on boozy beverages and should you get hungry you'll be delighted to find they offer a tailored menu of bar snacks and pizzas.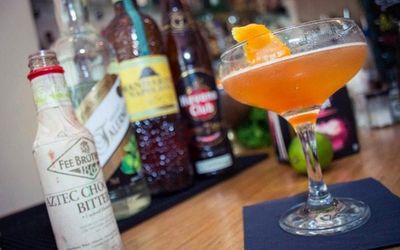 Situated next door to the Theatre Royal is El Mexicano, which claims to be the only authentic Mexican restaurant in Brighton and Hove. Hidden away, up an unassuming flight of stairs to the side of the restaurant, is their tremendously popular, and ever busy Bar Valentino. This cosy little bar is lined with leather sofas and curvy mirrors and has a brilliant little balcony overlooking the buzzing New Road, ideal for a spot of unashamed people watching. Offering seriously potent cocktails, Bar Valentino is guaranteed to get you in the party spirit. (Image credit: Bar Valentino Facebook)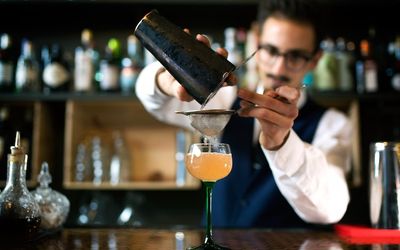 Right in the heart of Brighton's is L'Atelier Du Vin on George Place, a 1920's prohibition inspired, bootlegger bar. It's low-level lighting and classic jazz soundtrack create a perfectly intimate setting to enjoy a cocktail made by expert mixologists. L'Atelier's delivery of authenticity is evidenced in their menu categorising cocktails by the dates they were coined, or at least at their height of social appeal; get your Al Capone on with a 1920's Sidecar or celebrate the end of prohibition with the 1930s Between the Sheets. With over 300 different spirits to choose from L'Atelier Du Vin pride themselves on enjoyment not snobbery outlook to their menu and will make to requirements ensuring everyone's tastes are satisfied. New in 2019 – L'Atelier Du Vin Seven Dials.
Good for cocktails in Brighton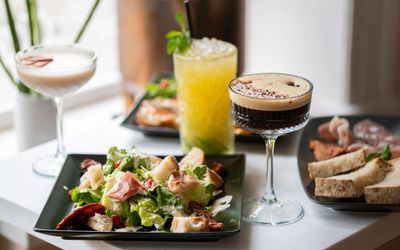 Notably one of the best cafe and cocktail spots in the area, 2 Church Street is truly a cafe that'll entice you to sample not one but many of the cocktails on offer there. Made with masterful skill, they pack a punch, just as a cocktail should, but just as a great cocktail should they flawlessly balance booze with flavour. The cafe is exquisitely decorated, luxurious, intimate and sleek and with its superb North Laine location, it's easily accessible from anywhere in the city.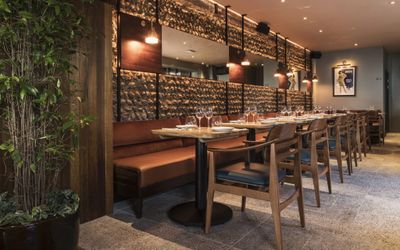 Burnt Orange on Middle Street is a stylish restaurant and bar that pitches itself as a grownup hangout for Brighton that's open all day and just the right amount of the night. It's easy to find yourself settling into the luxury here, with big comfy seats and music that's just the right pitch. Cocktails are skillfully mixed and offer a good range of seriousness and fun. The bar with its views of the open kitchen is a perfect spot to perch, pick over a few nibbles and enjoy a tour of the cocktail menu.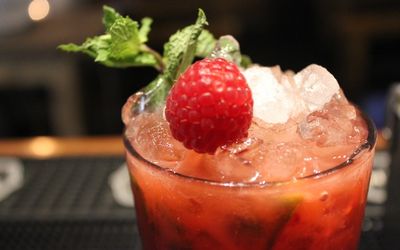 One of Brighton's most well known pubs, The Black Lion, is situated in the heart of The Lanes just near the seafront on Black Lion Street. Not only does The Black Lion have a good reputation for a music filled night out and its amazing food, it's the go-to place for great tasting, affordable cocktails, with an extensive list made from quality ingredients and seasonally changing creations. There's something for everyone! Look out for their regular cocktail offers including two for £12 Tuesdays!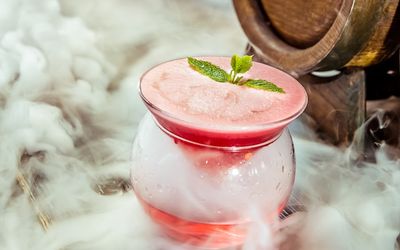 Bohemia is tucked away in the winding Lanes, hiding from many its three floors of bar, diner and roof terraces. Despite this, Bohemia is all about bold noticeable looks, pulling in crowds of style-conscious revellers. Drinks are bold statements here too, with cocktails that utilise as much pyrotechnics, dry ice and UV lighting as you'd expect from a Las Vegas headline show. Luckily it's not all smoke and mirrors with the Bohemia cocktails delivering plenty of fun, exceptionally drinkable mixes both new and old.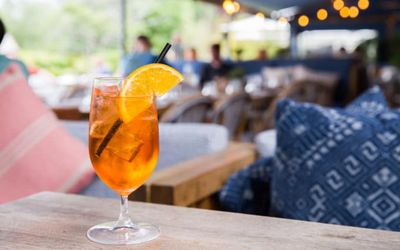 New to Brighton in November 2019, the Coppa Club screams cool with its colourful interior and all-day dining ethos. The 'stay all-day' vibes here are helped by some of the comfiest looking seating in town, a killer menu and a delicious cocktail menu. Prop yourself up at the bar, order a 'Winter Mojito' or a 'Coppa Colada' and enjoy your evening while nibbling on some snacks from the bar menu. During the summer, their outside terrace is going to a popular one to sip on an Aperol Spritz or two…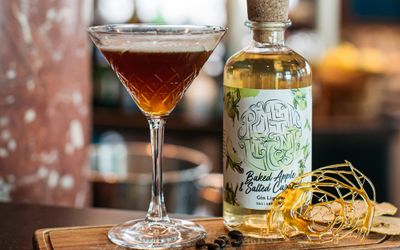 Cyan is the new all-day eatery and bar in The Grand, mixing splendour with casual social vibes suited to remote workers and party-goers alike. The food and drink menu draws heavily on local producers so you'll see plenty of brands from the city gracing plate and cocktail glass. While the new-look venu is vivid in cyan hues, the iconic central bar and four marble pillars that are a feature of the original building have been preserved, giving a striking old-meets-new look.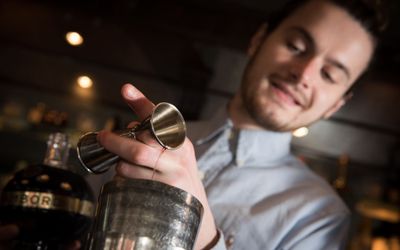 Housed on the first floor of The Mesmerist, The Flipside is Brighton's newest and grooviest 70s inspired cocktail lounge taking style nods and inspiration from this iconic era that heralded the legendary Soul Train movement.  The funky cocktail menu features drinks that were all the rage in the 70s but brought up to date with a modern (and sometimes surprising) twist! The Flipside is open Thursday to Saturday evenings and can also be hired exclusively for your own events and celebrations from Sunday to Wednesday. Groovy Baby!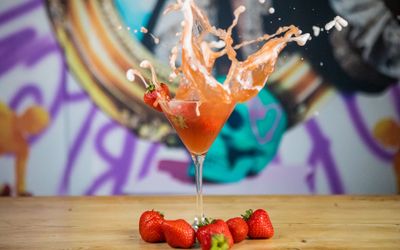 Cocktail enthusiasts that want to knock back a few in a great atmosphere and in a party central location will love the bar life at The Freemasons, Hove. Boasting a large open plan venue that offers ample space for you to pull some epic dance floor moves. Or, should you wish to snuggle up for a more intimate evening then slide upstairs to a window booth and watch the bustle outside on the Western Road go by.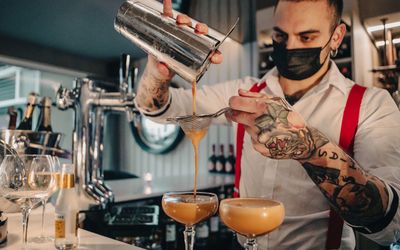 Socialite Brighton is a large all-day venue in the heart of the Lanes. Set over multiple floors and with street-side seating and a fabulously stylish roof terrace, you can pop in for a drink, a nibble or a full meal. The cocktail menu isn't extensive but it is well rounded, with a mix of short 'serious' cocktails and taller fun drinks, all made with premium spirits and expertly mixed. When the sun's out their gorgeous terrace really is the place to be seen sipping something out of a fancy glass.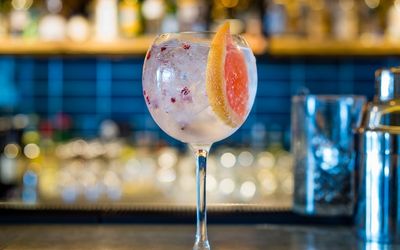 Located opposite the British Airways i360, with spectacular sea views, The award-winning Salt Room is a stunning modern British seafood and grill restaurant celebrating the fruits of the sea. During the summer months, their seafront terrace is opened up for alfresco dining and drinking, or otherwise, the modern bar welcomes guests just after a tipple. The same seasonality and innovation that is applied to the menu finds its way into the cocktails, with a selection of drinks changing through the year and with a hint of earthy herbs and sea spices sprinkled throughout. the taste of the sea is never far away. The Salt Room also offer a cocktail masterclass.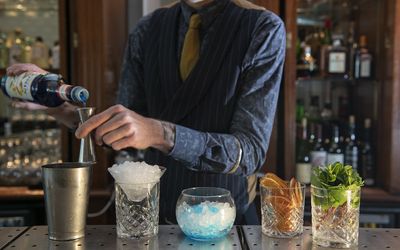 Everything about the Victoria Bar at The Grand Hotel screams luxury and decadence. Well known in Brighton for a quality offering on both drinks and service, The Victoria Bar is a fail safe option for anyone looking for a very sippable drinks and luxe vibes. Go for something of the cocktail menu, which offers classic and more experimental drinks to suit everyones tastes. Also on offer are specially selected wines and bubbles, beers and high end spirts. 
Good for cocktails in Hove and Sussex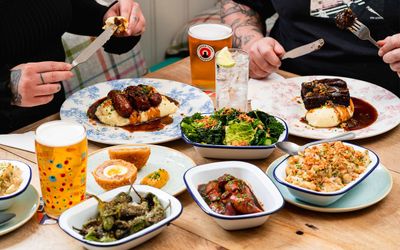 With a simple but quality cocktail menu, The Farm Tavern in Hove is a great option if you're looking for a pub that does cocktails well. No mixes on tap here folks, we're talking proper cocktails made by trained bartenders. If you happen to be free on a Thursday and love a well-made margarita, then head here to take advantage of Margarita Thursdays, where you'll get two of the tangy classics for £10!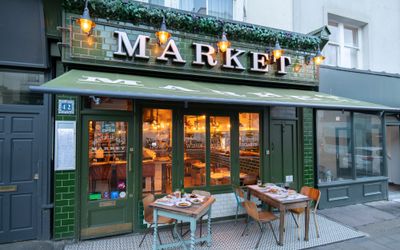 Market Restaurant has social dining at its heart, so naturally, a touch of social lubricant is more than forthcoming in the form of excellent wines, local beers and of course cocktails. The Anglo-Spanish theme permeates through to the cocktail menu, with the sherry infused Bloody Mary making for an excellent brunch or lunch time treat. Negroni's are a focus here too, with masterclasses and paired tasting sessions making for a suitably social evening.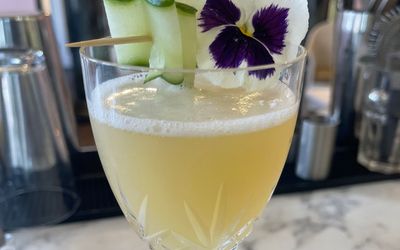 We respect anyone confident enough to advertise a "breakfast martini" on their menu, which is exactly what Oeuf in Hove does. Open from 9am – 4 daily, this breakfast and brunch café does a very good line in cocktails and floristry. Parisian Chic set the tone with hints of campy exuberant fun, it's brunch for celebrating and nothing helps you celebrate like a cocktail. The drinks menu is classic with twists and very much keeping to the fun element – which is exactly what we want out of breakfast cocktails.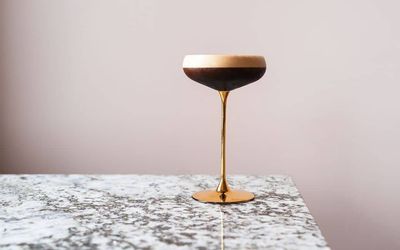 Enjoying a superb cocktail with a stunning view is something that is second nature at Port Hotel, Eastbourne. Set on the sea-facing strip this restaurant bar sits on the first floor of a contemporary and beautifully restored Victorian townhouse. The dedicated emphasis on locally sourced and seasonally ingredients runs deep through all the menus here. You can enjoy unique cocktails made up of the finest spirits and seasonal flavours. As well as classic favourites (which are not listed but are available upon request).