Restaurant Brighton's guide to
Gluten-free restaurants in Brighton and Hove
Brighton and Hove are superbly equipped to cater for all the main dietary requirements – dairy, vegan, vegetarian or gluten intolerant. This is our guide to gluten-free Brighton.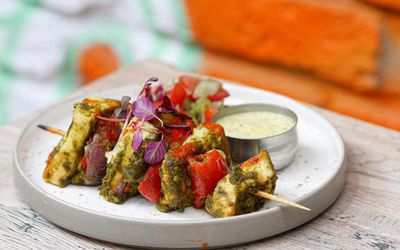 The food of South India is renowned for being lighter, healthier and fresher-tasting than that of the North. Many dishes are naturally gluten-free, with gram (chickpea) flour taking the place of wheat in battered and breaded dishes. Curry Leaf Cafe keeps their dishes true to origin and offers a good gluten-free selection of their mouth-watering, flavourful meals.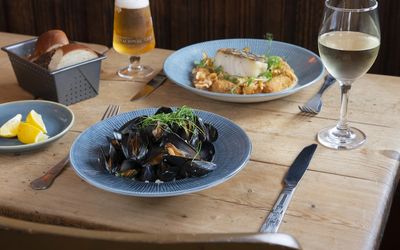 This long standing Brighton favourite pub, is smack in the centre of our bustling North Laine and, being just five minutes from the station, it makes for a cracking assembly point for those visiting the city. Food wise the menu at the Dorset is simple, unfussy but great pub classics. While they're not bursting with options for gluten free diners, there are several good options and the offerings that they do provide are tasty.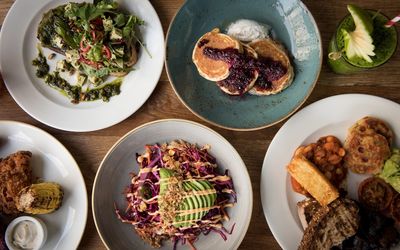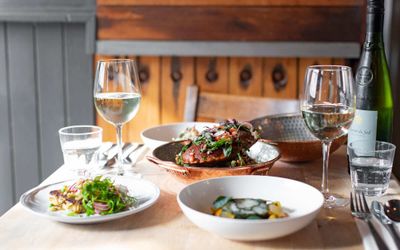 As a pub that boasts a menu anchored in the fruits of the sea you may expect a healthy gluten free offering and the menu at The Urchin will not disappoint. Boasting a wealth of fresh seafood dishes, small and sharing plates and some super daily specials that are also suitable for gluten free diners. Dishes are made to order so check with your server and they'll be able to guide you through all the gluten free options.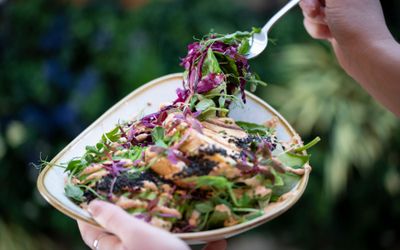 Moksha Caffe was built around a passion for excellent coffee, great cooking and skill for professional baking. There are quite a large variety of cakes and sweet treats that always provide at least one gluten-free option. There are also gluten-free homemade soups, salads and jacket potatoes on the menu daily, they even make their own GF bread!
Best for special occasions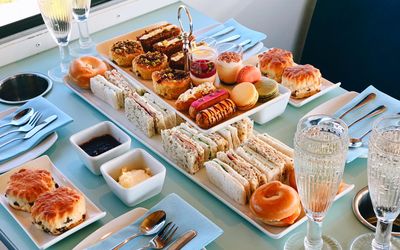 Join Brighton Recency Routemaster for one of their local bus tours and enjoy their gluten-free afternoon tea. It includes a choice of freshly-cut sandwiches, made with seeded gluten-free bread and a tasty selection of fillings. For sweet treats, their pastry chef has created an array of homemade cakes including, lavender and orange drizzle cake, cherry and almond slice, rose and pistachio cake, chocolate orange square. Finished with a no gluten scone, clotted cream and their homemade jam. You'll have the option of adding fizz or a gin cocktail to your tour package on booking.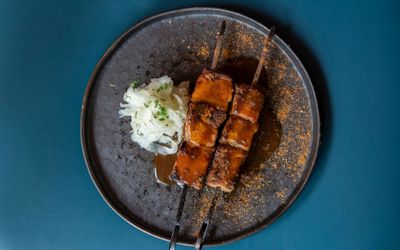 Burnt Orange is a beautifully stylish and relaxed bar and all-day restaurant, serving locally and seasonally sourced small plates. They offer a good selection of gluten-free options, while other dishes on the menu can be adjusted to be gluten-free as everything is freshly prepared. Speaking to your server about your dietary requirements will really open up the menu.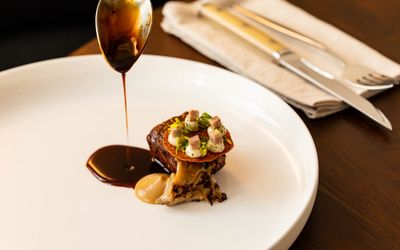 Looking for a high-end dining experience that champions sustainable and ethical practices? Look no further than Dilsk, the modern British restaurant in the heart of Brighton. With a five-course menu starting at £55 and a full 10-course menu at £95, Dilsk uses seasonal and largely Sussex-sourced ingredients with a zero-waste policy in the kitchen. But that's not all – Dilsk also offers an exceptional gluten-free tasting menu, as well as options for vegetarian and pescetarian diners. And don't forget about the handpicked wine pairing from Sussex, Kent and international vineyards. Non-alcoholic options are also available.
The Brighton Metropole Bar is committed to catering for gluten-free diners and dietary requirements. They provide options for those with gluten and dairy intolerances, and all allergens and dietary information are clearly marked on their menus. Guests can enjoy their popular Afternoon Tea, which can be specially prepared to be gluten-free and dairy-free with 24 hours notice. Whether it's indulging in gluten-free dishes or customising the Afternoon Tea experience, the Brighton Metropole Bar ensures that gluten-free diners are well taken care of and can enjoy a delicious dining experience without compromising their dietary needs.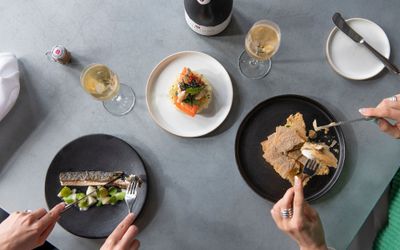 With two Michelin plates under their belt the Rathfinny Tasting Rooms are a serious competitor for the top spot of the finest dining experience in Sussex. The elegant menu offers local produce and can be matched with some of their most delectable home grown wines. Diners with specific dietary needs will need to flag up requirements upon booking.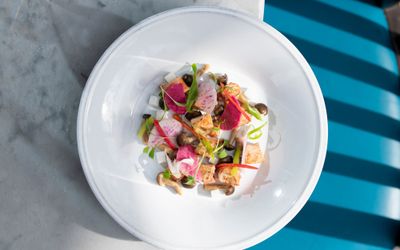 Set across the road from Brighton's seafront and serving up some of the best views in town is not all The Salt Room has going for them. They're one of the most popular destination spots in town and they come from good stock. The menu here offers diners traditional seafood from top chefs and an assortment of other seasonally changing dishes. Gluten free dishes are available on request.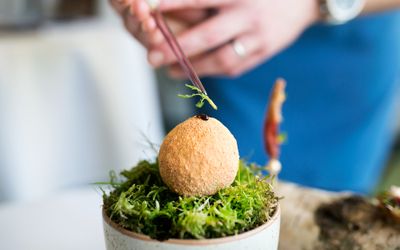 Restaurant Interlude offers a dining experience like no other. The seasonally changing set menu showcases exquisitely prepared local ingredients, many of which have been foraged from their gardens. They accommodate food intolerances and allergies providing that these are mentioned at the time of booking.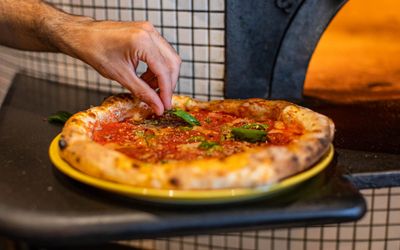 Purezza on St James' Street, Kemptown, is well known as the birthplace of 100% vegan pizzerias in the UK. What is less well known is that 98% of their menu is either gluten-free or can be made gluten-free. For those on restricted diets, Purezza suddenly opens up a glorious pizza-shaped window of new opportunities while retaining an authentic, modern, Italian pizzeria experience.
Terre a Terre is multi-award-winning and caters for vegan and gluten-free diners on a daily basis. Terre à Terre is Brighton's iconic acclaimed restaurant where vegetarianism is more about indulgence than abstinence.
Best for breakfast and brunch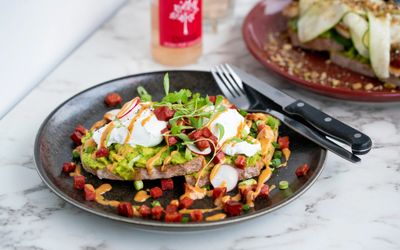 Based on a sunny corner of Church Road, Hove and providing the neighbourhood with standout breakfasts and lunch is Baked. The food menu is simple and offers knockout meals made with the freshest local ingredients for a great value. If you're seeking a great gluten-free alternative then all you need to do is ask. As the cafe doesn't list GF on the menu but they can provide most of the dishes without the pesky ingredients, on request.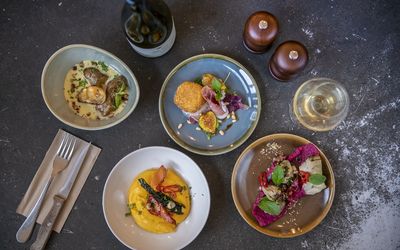 Famed in Brighton for their award winning brunches, Mange Tout bagged the top stop in the BRAVOs '20 as the restaurant serving Brighton's best brunch. The charming North Lane Bistro also serves small and large plates of seasonal and sustainable modern cuisine. The food here is made fresh to order so asking your server where GFO apply is your best bet for making the most out of their exquisite menu.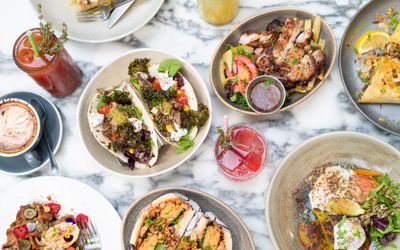 Not only does Redroaster serve enviably good coffee, their brunches (which conveniently are served all day) are also some of the best around. Ask your server to guide you through the menu as it might not be obvious where and what you have, but they're in there and it's worth digging for!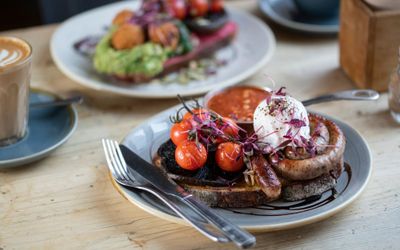 With three town centre venues The Trading Post is an extremely accessible destination for anyone in search of a banging brunch. The bread that's offered with brunches here is available in a gluten free variety. If you let them know on ordering they will offer other switches and swaps, so even though your plate is glutenless you won't be going without.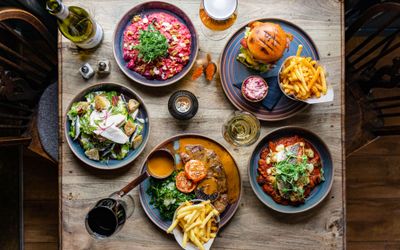 This charming country pub is nestled at the foot of the West Sussex Downs. They offer guests brunch to evening dining options, which include: tapas and small plates, lunchtime sandwiches and gastro classic mains. There are several gluten free options listed on the menu and they recommend stating dietary needs on booking so the kitchen can open the menu up further.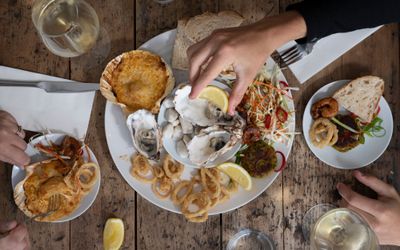 Based in Hurstpierpoint, Morleys Bistro is a charming and well-presented restaurant that offers guests a fantastic menu of European and modern favourites. Dishes are made fresh using locally sourced ingredients. Gluten-free variations of dishes are available all across both the breakfast, lunch and dinner menus.