Intro to Wabi Sabi
The restaurant owners, Ken and Sukita, had dreams of opening their restaurant for several years, and now their vision has become a reality in Hove. They love amazing food and are totally devoted to serving outstanding sushi and Japanese cuisine. Naming the restaurant Wabi Sabi, embraces the concept of finding value in imperfections, which strongly resonated with Ken and Sukita.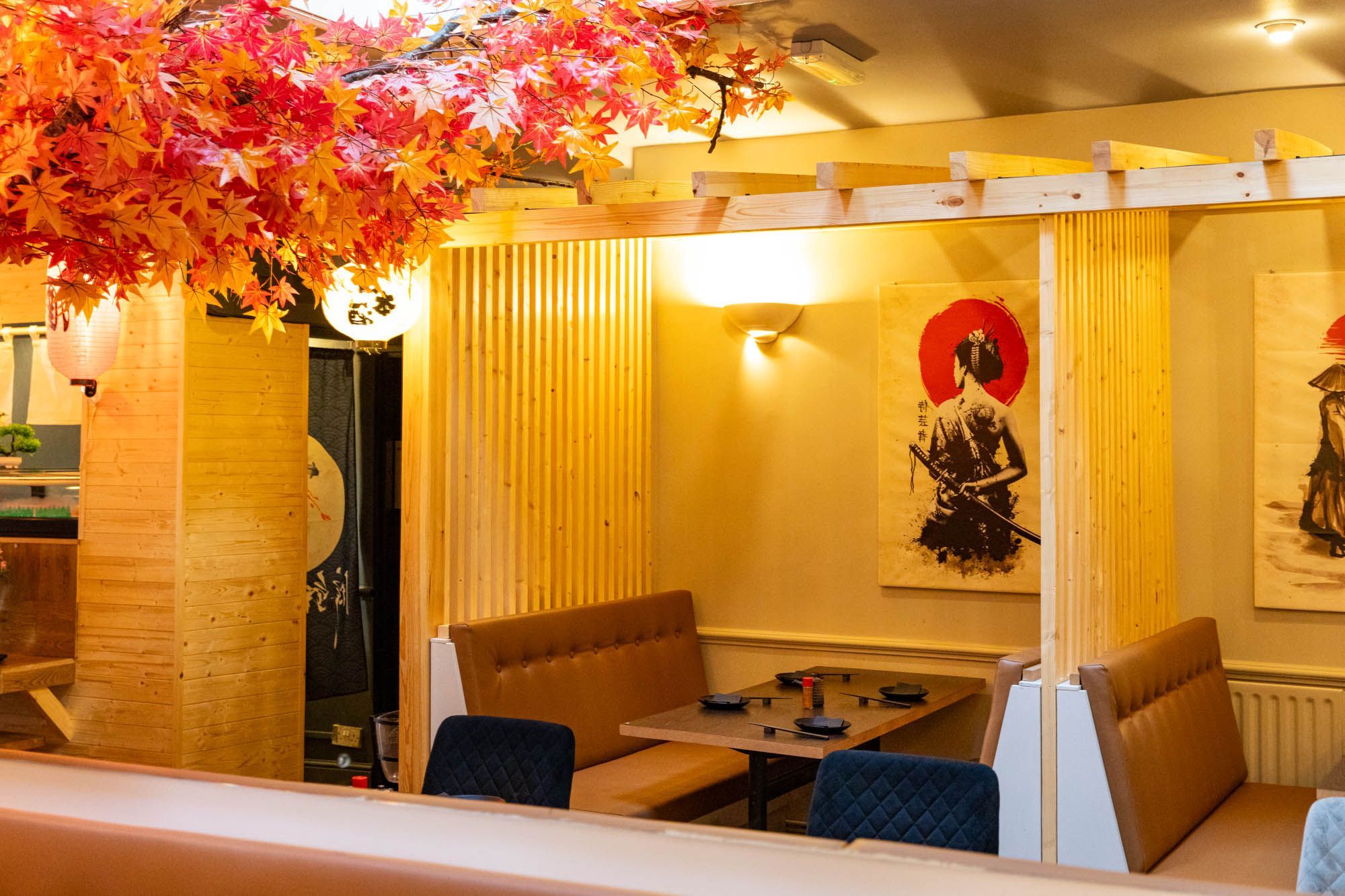 Wabi Sabi has a warm and inviting ambience with walls adorned in maple leaves, complemented by a team of friendly and hospitable staff. With their emphasis on quality Asian food and beverages, a dining experience at Wabi Sabi promises to be welcoming whether you're visiting with friends, family or work colleagues.
Location
Situated on Church Road, Wabi Sabi basks in the warm glow of natural light that streams through its floor-to-ceiling windows. Just a stone's throw away from George Street, or a leisurely 10-minute walk from Palmeira Square, this hidden gem beckons food enthusiasts with its inviting ambiance.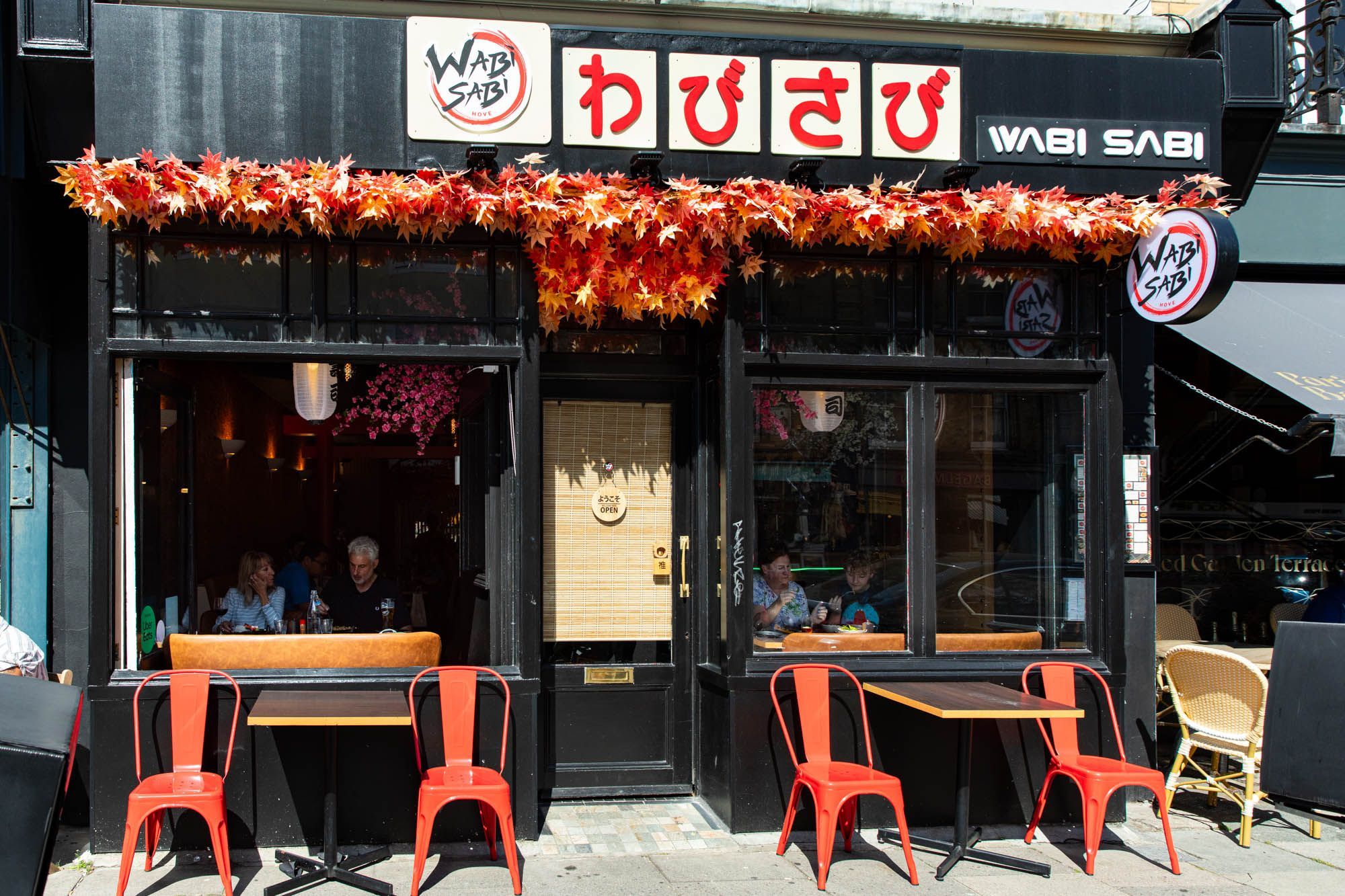 The restaurant front is painted sleek black, with Japanese graphics, decorated with a colourful garland of maple leaves – paying homage to Japan. Situated on this bustling main road, which is brimming with a kaleidoscope of tempting restaurants and bars, Wabi Sabi effortlessly claims its rightful spot at the very top of your "Hove restaurants to visit" list.
The atmosphere at Wabi Sabi
Imagine stepping into Wabi Sabi, filled with a blend of warm pinks and vibrant pops of red. As you enter, the light wooden furniture and cosy cushioned seating welcome you to settle in and relax. Modernity intertwines with tradition, as neon signs add a trendy touch to the surroundings. The window seat, a personal favourite, offers the perfect spot to soak up the sun's rays or indulge in some people-watching.
Transported to Japan
Venturing further into the restaurant, you're transported to Japan. Pass beneath the torii gate, and you'll discover the bar area which is decorated with cherry blossom-filled vases, setting the stage for the bartender to create cocktails and showcases an extensive selection of speciality sake. The bar also has stools you can perch on and enjoy some nibbles alongside your drinks. Further into Wabi Sabi, you'll find the display of fresh fish at the fish counter, where you can take a seat on the bench and watch the artistry of sushi-making firsthand.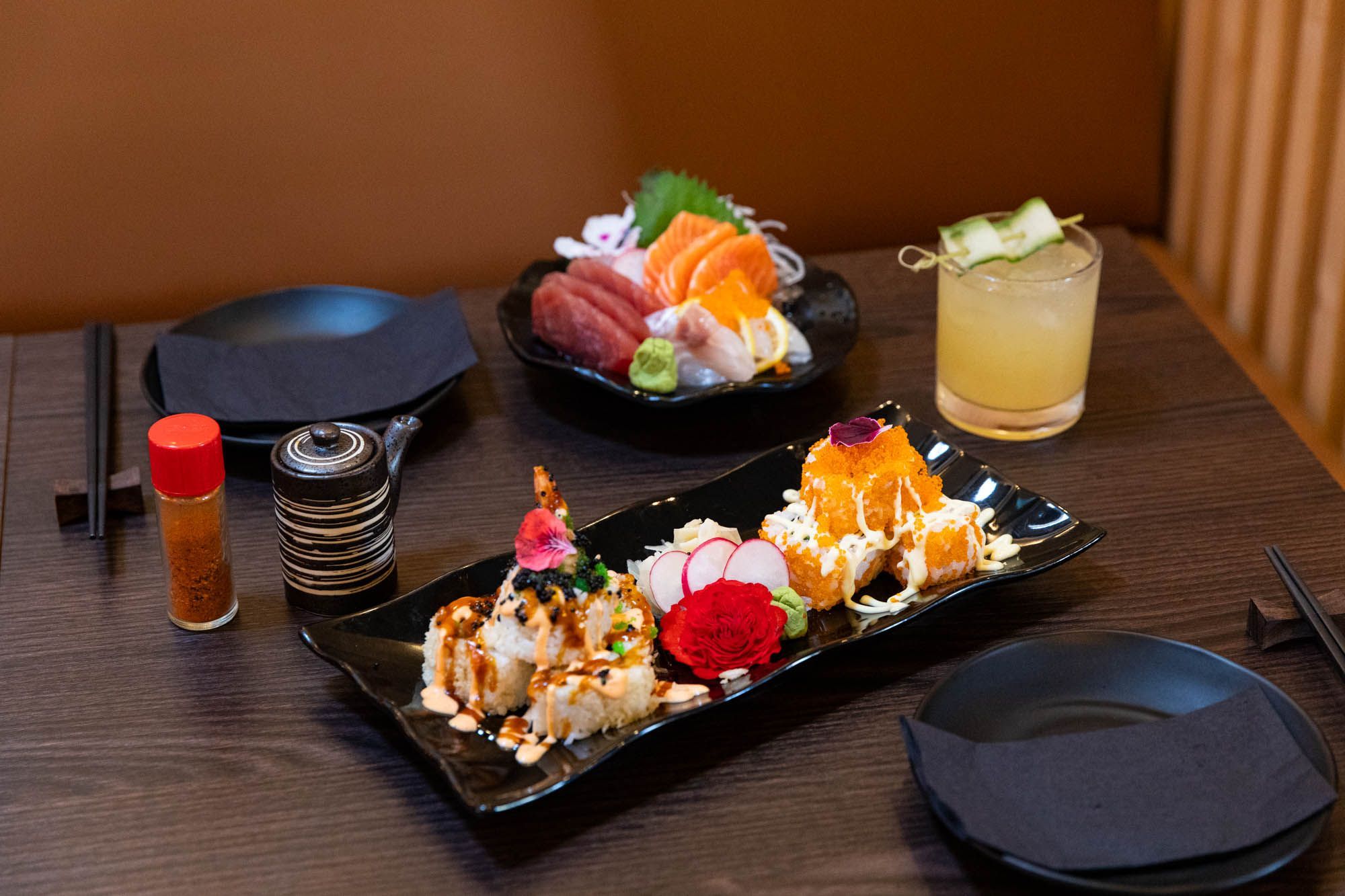 At the back of the restaurant, you'll find traditional-style booths with Japanese lanterns, reminiscent of the charm of Kyoto. These cosy nooks provide an intimate setting for a small group of friends to gather and mingle over their dishes. Additionally, there are spacious tables and chairs available, with the entire area open for private party bookings, allowing you to celebrate special occasions in style.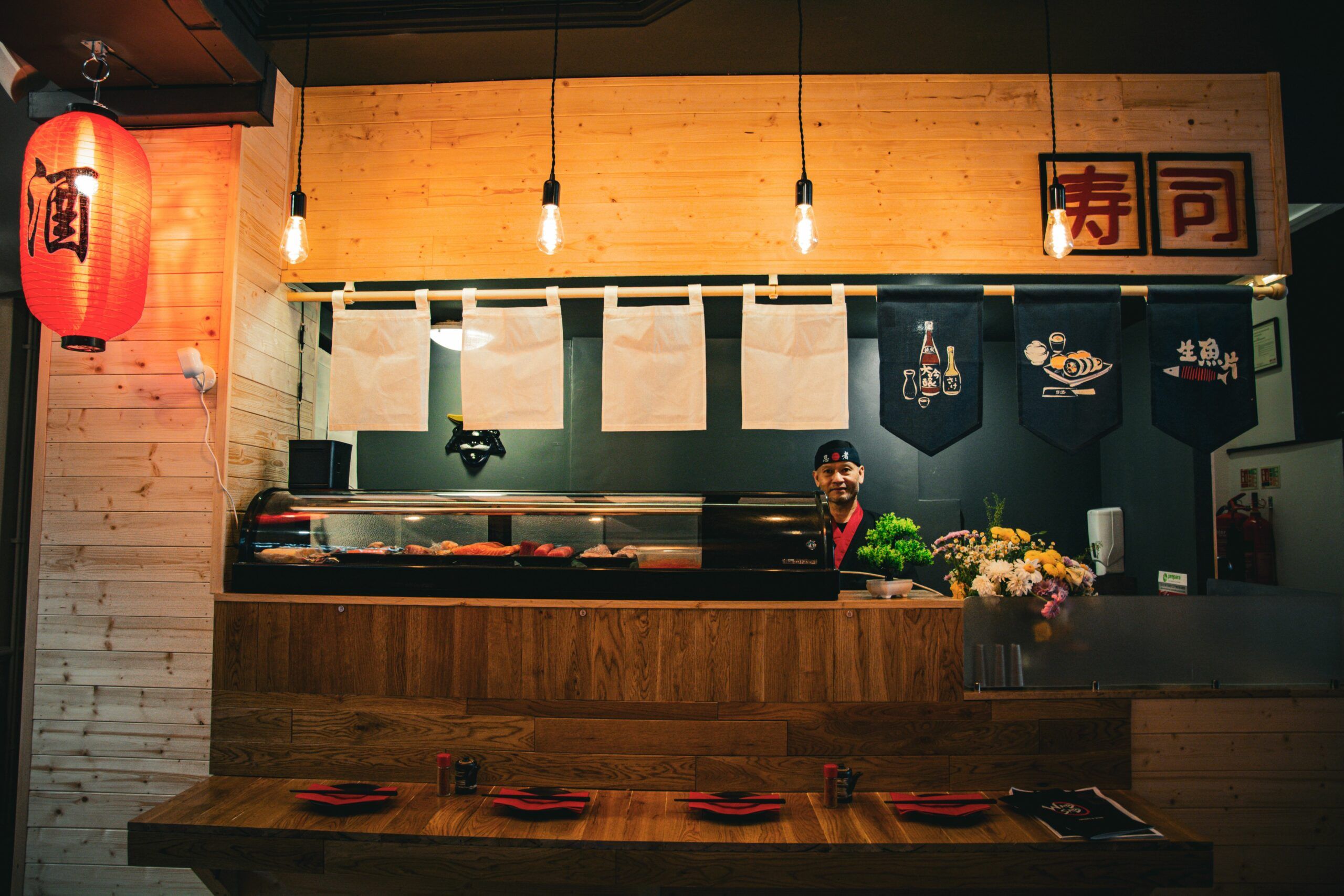 Eating and drinking
At Wabi Sabi, owner Ken and his esteemed friend, the head chef, are committed to creating excellent, high-quality food. With their attention to detail and quality, they have curated a menu that takes you on a journey to Japan whilst exciting your tastebuds. As you peruse the menu, Japanese graphics and captivating photos guide you through the choices on offer.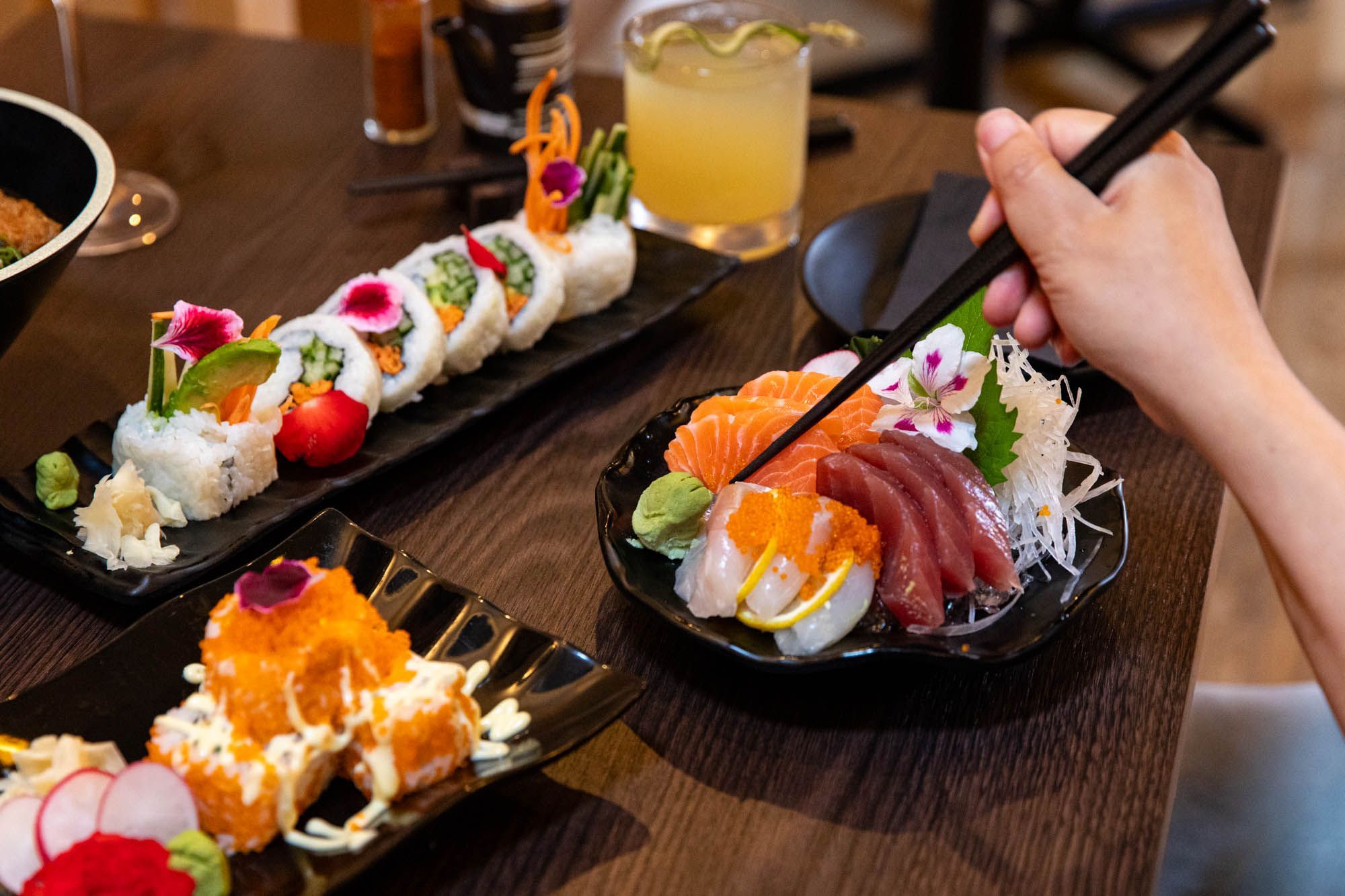 Traditional dishes and crowd-pleasing platters
Discover delicious dishes of traditional raw fish sushi, reverse maki rolls, temaki hand rolls, and exquisite sashimi. Indulge in the chef's signature dishes and platters, including crowd-pleasers such as The Boat and Ada's Platter, which perfectly showcase the culinary skill of Wabi Sabi. For those seeking comforting bowl dishes, the menu presents an array of options, from hearty donburi, and noodles to Japanese curry, and elegantly arranged bento boxes. And let's not forget the tempting Japanese afternoon tea, a treat we can't wait to try.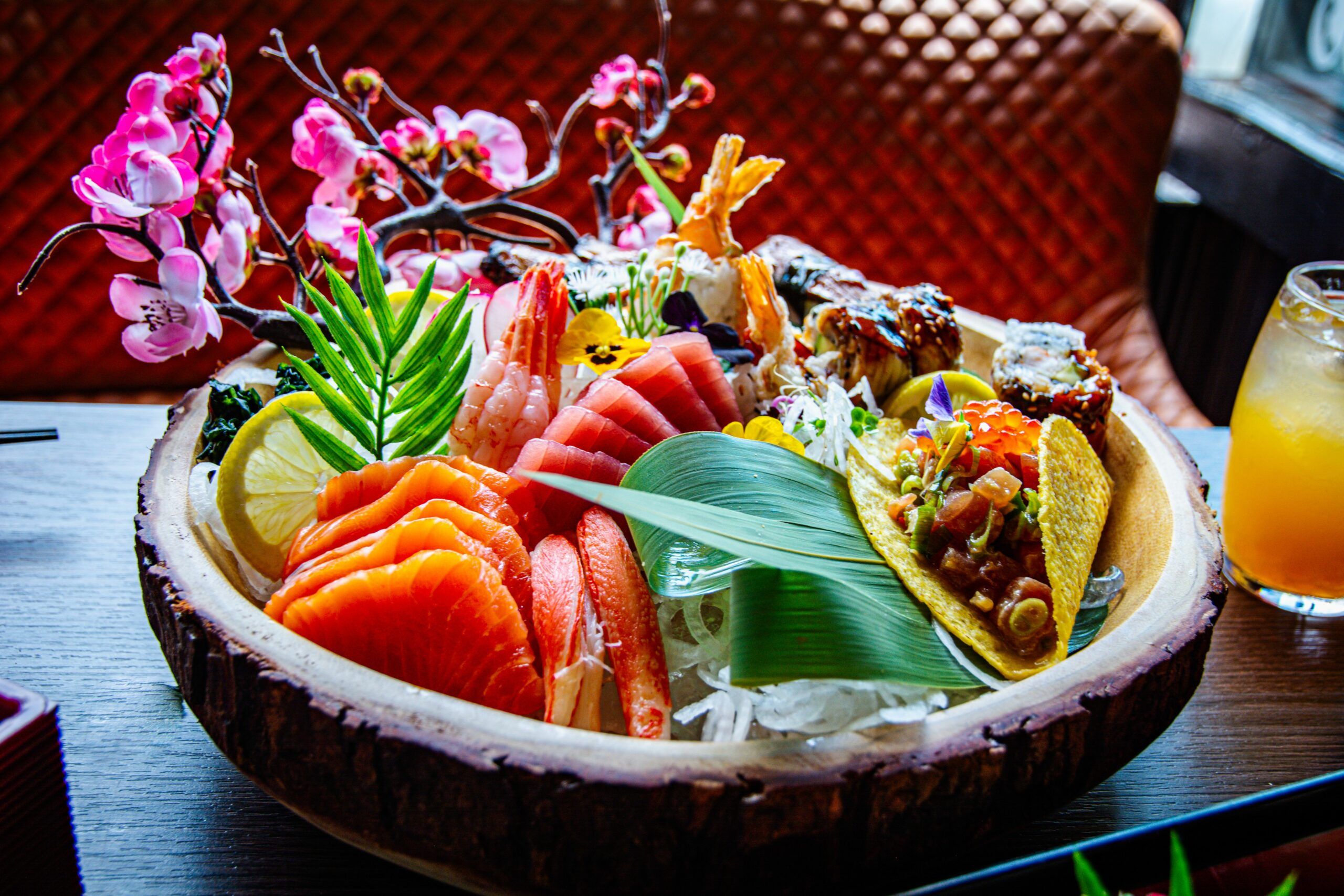 And to drink?
Quench your thirst with the well-curated drinks menu, boasting an impressive selection of spirits. Japanese gins, whiskies, and vodkas stand ready to accompany your culinary adventure. A vast array of sake options are available, ranging from premium varieties to sparkling, and plum wine. Indulge in cocktails with a unique Japanese twist, such as the enticing Umai Colada and the creamy Matcha Tea-Ni. Not forgetting the non-alcoholic options as well, with their mocktails, refreshing Japanese teas, and invigorating matcha iced tea. And for those seeking a caffeine fix, a selection of coffees is also available.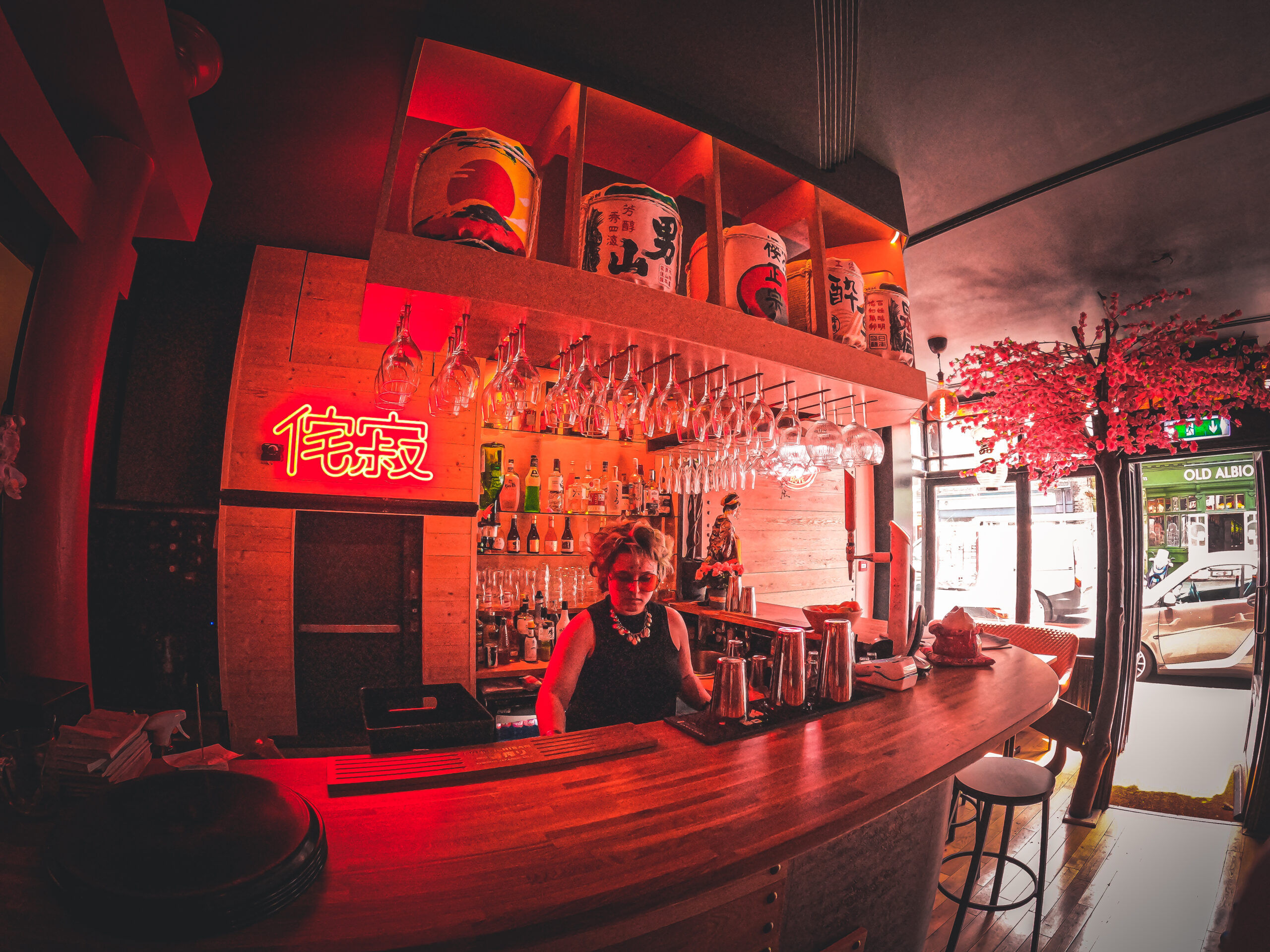 Lunch
Whether you're seeking a casual weekend lunch spot to catch up with friends or a weekday meeting venue, Wabi Sabi has got you covered. From 12pm – 3pm daily, they serve their lunch bento boxes, tailored to satisfy your midday cravings. These bento boxes offer a light and satisfying lunch, featuring a harmonious combination of rice, salad, and comforting miso soup.
To suit various dietary preferences, Wabi Sabi offers a choice between chicken, fish, or a vegan option, ensuring there's something to please everyone. So, whether you're in the mood for a leisurely lunch or a spot to eat on your lunch break, Wabi Sabi's lunch bento boxes are a superb choice.
Private Bookings at Wabi Sabi
Inside Wabi Sabi, towards the back of the restaurant, guests have the opportunity to book the entire space for their private party. Whether you prefer tables or their traditional Japanese booths, you and your guests can enjoy a Wabi Sabi celebration. For further information and to explore the possibilities, we recommend reaching out to the venue directly who will be happy to assist you with all the details.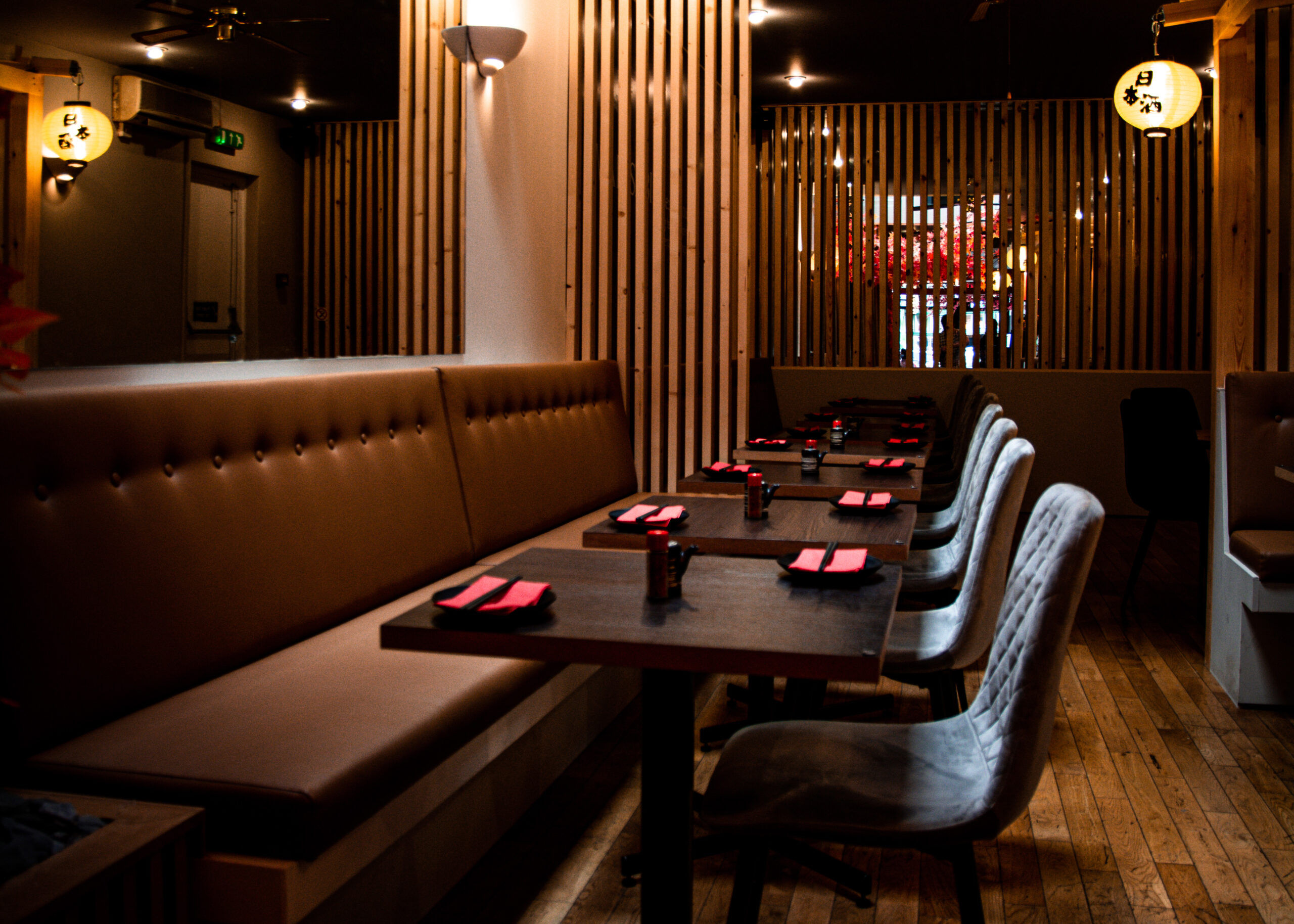 Child-Friendly Wabi Sabi
Wabi Sabi welcomes the whole family, making sure that everyone, including the little ones, feels right at home. Having children themselves, owners Ken and Sukita understand that kids have their own preferences, which is why they offer a special set menu just for them. The kids' menu includes a starter, a nutritious main course, and a drink. And for a little extra treat, you can add a dessert too. Wabi Sabi also have highchairs at the ready – bring your family and let Wabi Sabi take care of the rest!