Authentic Indian cuisine at Curry Leaf Cafe
In need of comfort food on a soggy, grey October evening, hubby and I head to Curry Leaf Café in Brighton's Lanes. Stepping through the doors of this informal Indian eatery with its buzzy atmosphere, friendly welcome and colourful décor immediately puts a smile on my face and I feel like I've been transported somewhere warm and tropical!
We swiftly order poppadums for snacking (rude not to!) and a beer. Curry Leaf Café boasts an impressive craft beer selection chosen to complement the food. Many are brewed locally and there's not a super-sized bottle of Cobra in sight. I'm more of a wine than a beer drinker, but when in Rome. I take advice from the waiter and his 'Lucky Buddha' recommendation is spot on – light and refreshing.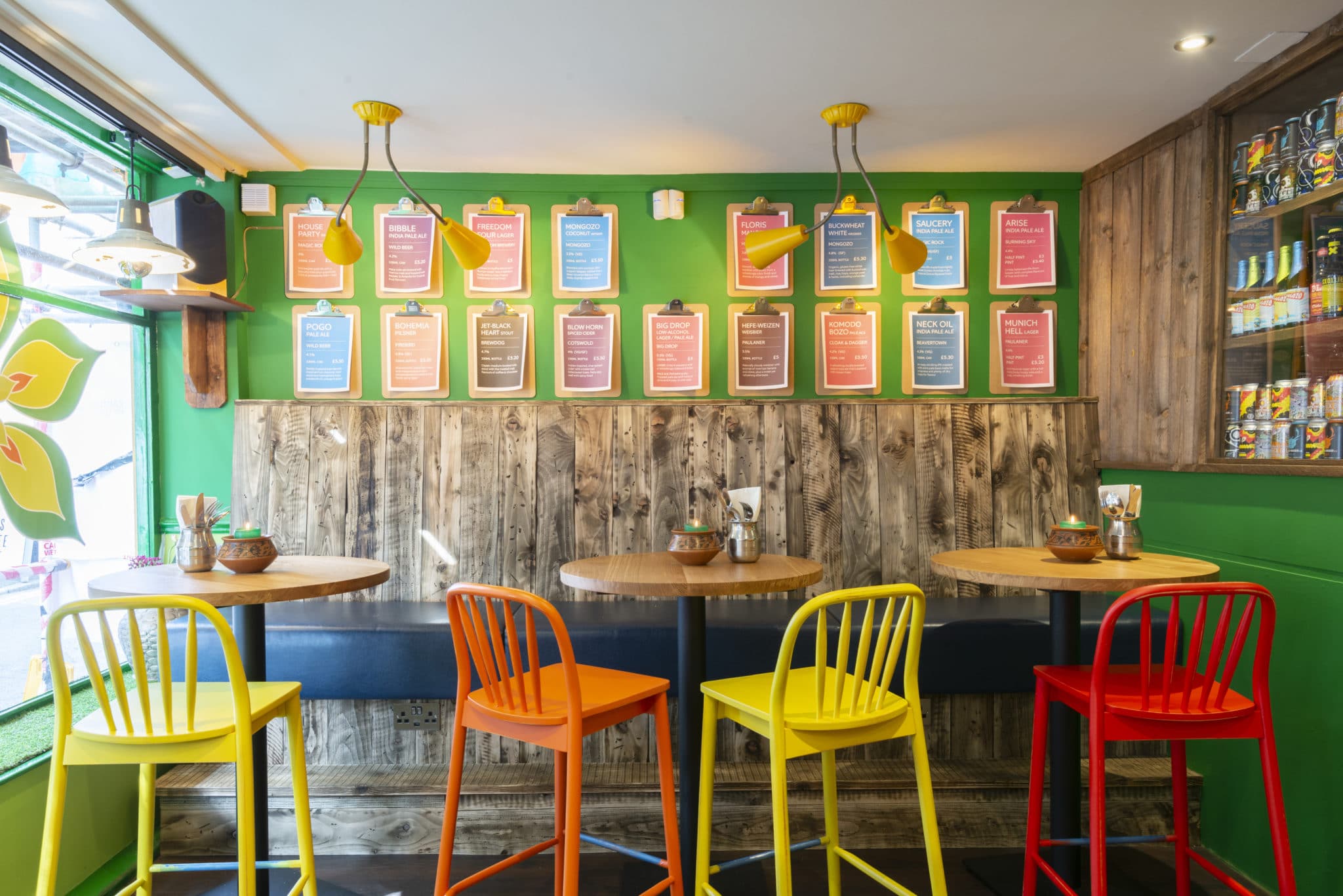 Award winning dining
Since opening in 2014, the restaurant has notched up numerous awards and as we tuck into our poppadums I can understand why.
Dismiss any thoughts of traditional curry house poppadums that are the size of a dinner plate and served with a sickly sweet mango chutney; Curry Leaf's selection of bite-sized mini poppadums are lightly flavoured with warm cinnamon or crushed black pepper and served with a fruity, rich tamarind dip; a sweet, fresh mango and mint chutney and a chilli jam.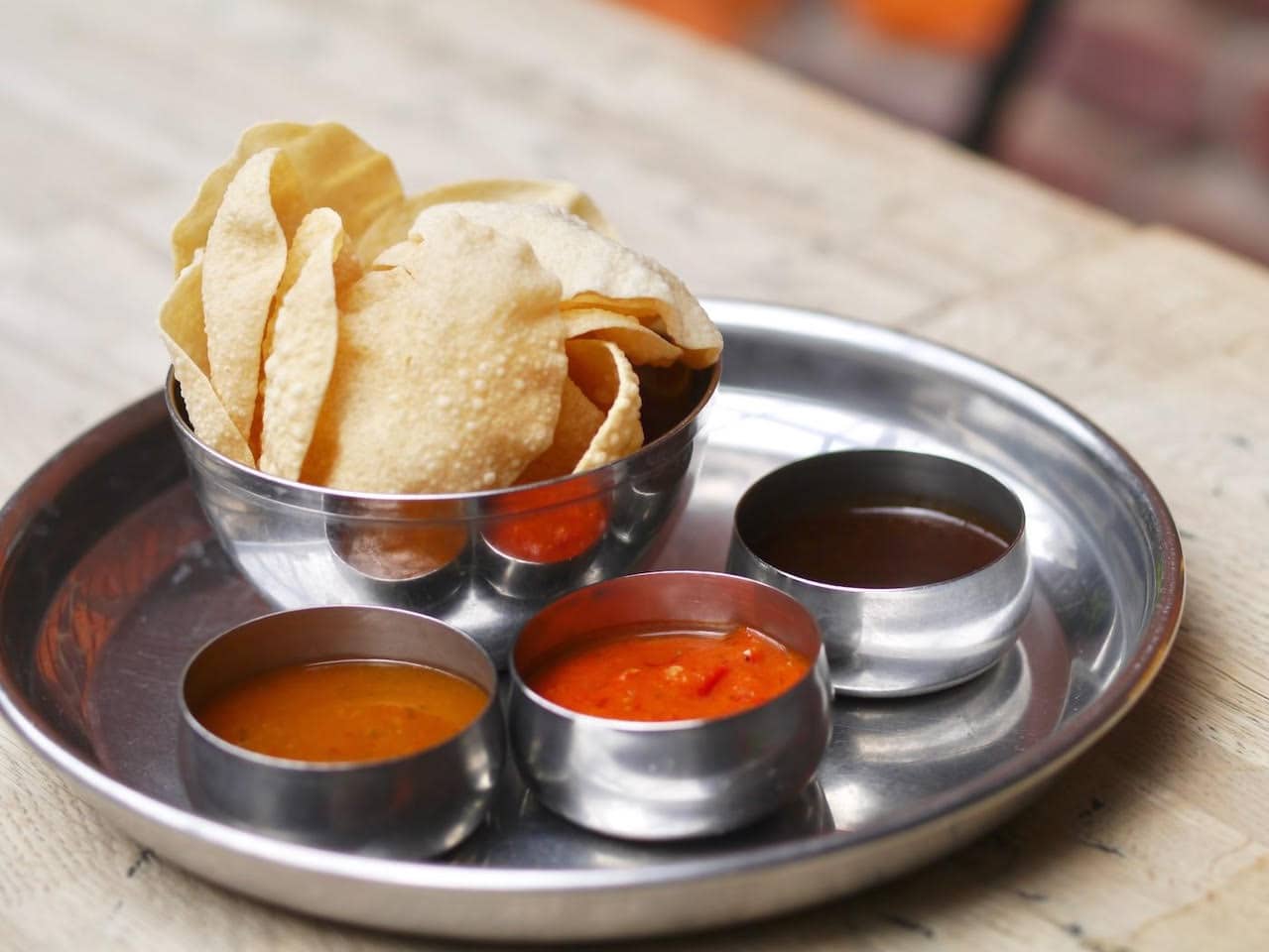 Curry Leaf Café specialises in South Indian cuisine, and whilst there are a few recognisable items on the menu including Rogan Josh and Pakoras, it's predominantly an offering of exotic-sounding dishes such as Gobi Manchurian and Aubergine Kuzhambu. There are plenty of options for those with dietary requirements and a heat rating, to avoid any fiery surprises!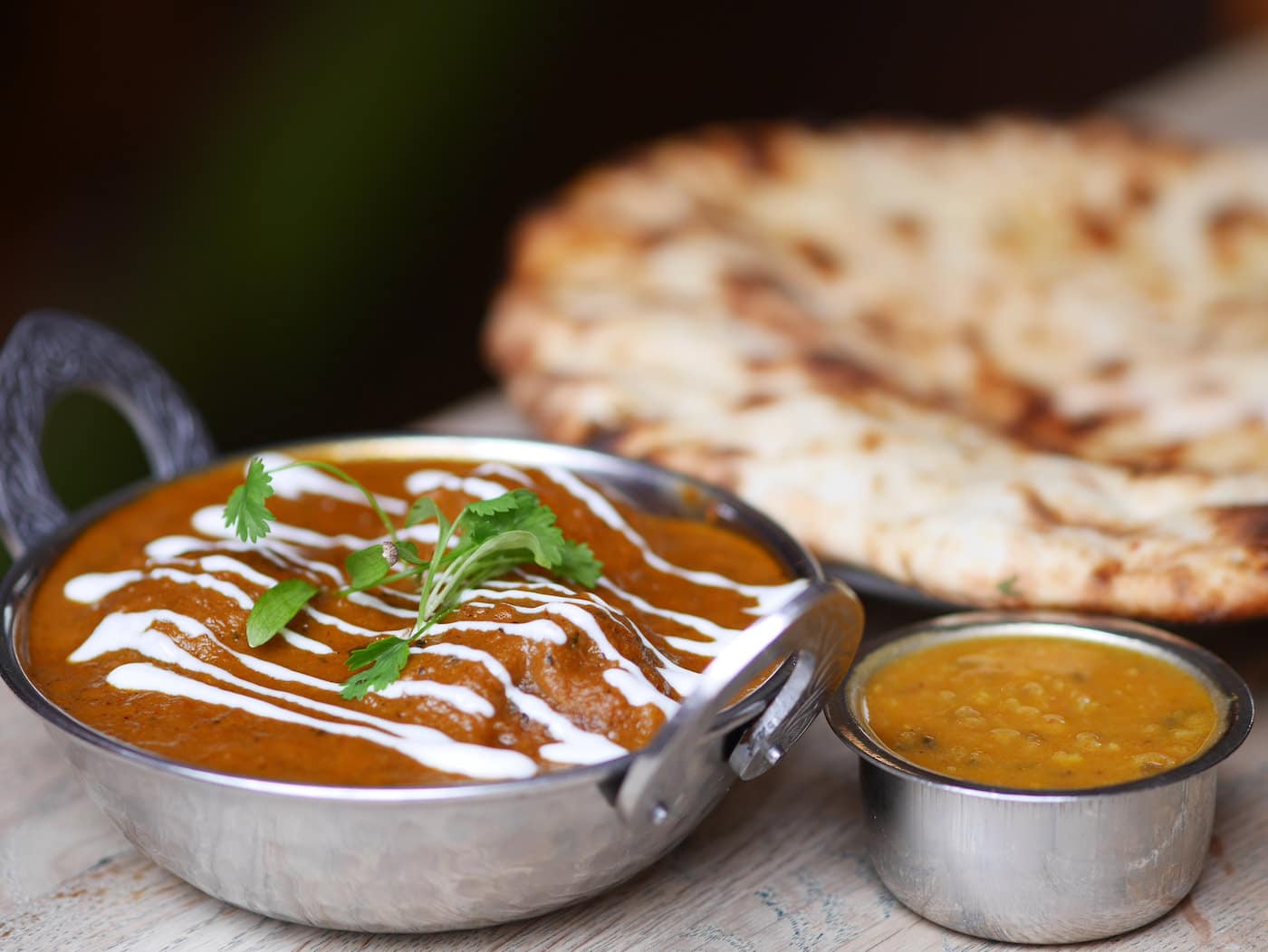 Dishes to start
To start with we choose Papri Chickpea Chaat and Hariyali Paneer Tikka. The Chickpea Chaat is a moreish fusion of textures: crispy spherical crackers topped with smashed chickpeas, drizzled with creamy coconut yoghurt and rich tamarind chutney, sprinkled with plump pomegranate seeds. However, it's the Paneer Tikka that provokes the loudest, mouth-filled, murmurs of appreciation. Chunky wedges of paneer that have been marinated in a fresh but spicy green paste and artfully chargrilled, so the centre is still spongy. It packs a bit of a punch, but it's not overwhelming.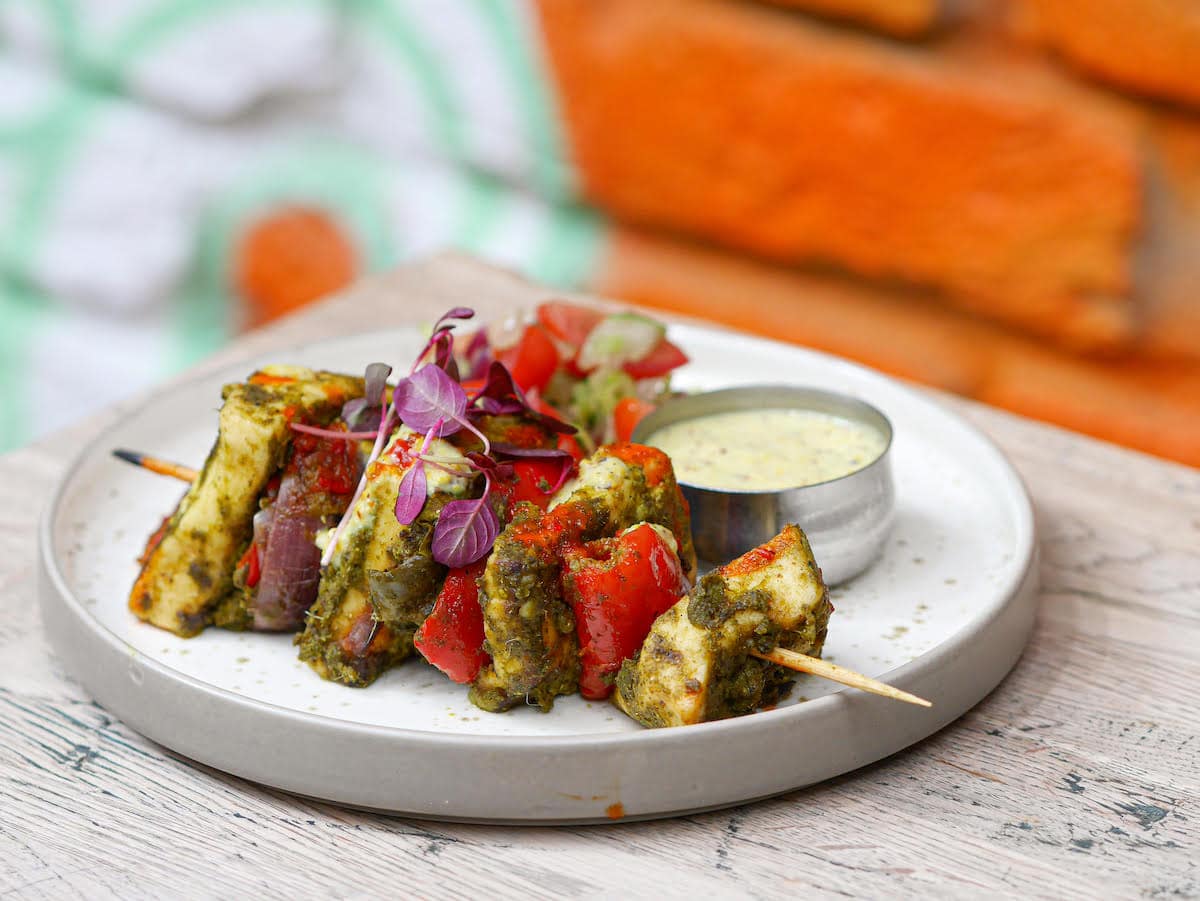 The Mutter Mushroom Masala
The starters have set our expectation levels high and the mains don't disappoint. The Mutter Mushroom Masala is loaded with chunks of mushrooms, in a thick, medium-spiced, and slightly sweet sauce. I love that you can still taste the flavour of the mushrooms beneath the sauce. The accompanying still-warm naan is not heavy and doughy as per traditional curry house offerings but deliciously light and slightly crisp around the edges. It's also served with a small side of panchratna daal that's a comforting cuddle in a bowl!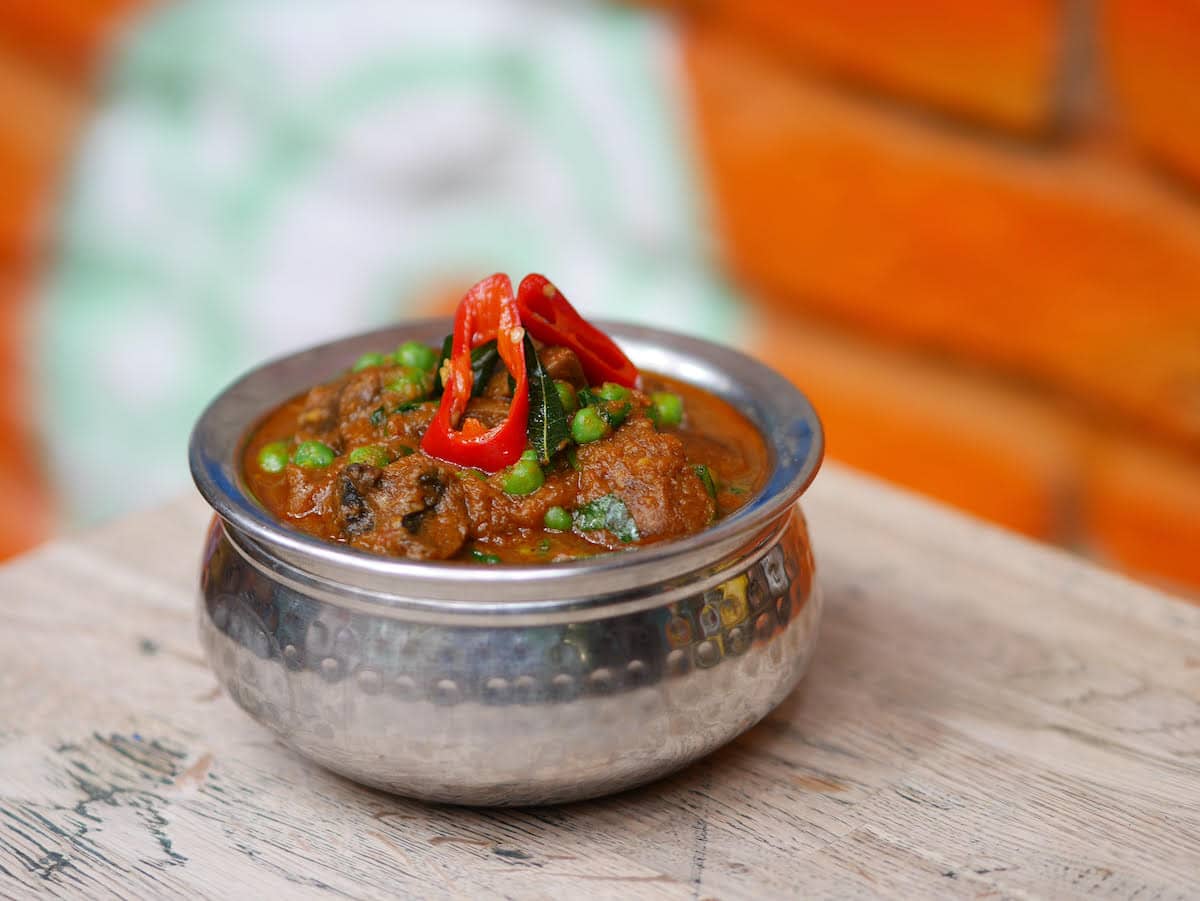 The Chicken Kori Gassi
The Chicken Kori Gassi has a spicy kick but it's not set-your-mouth-on-fire hot. Tender chicken pieces are enveloped in a creamy, rich sauce with a subtle coconut flavour. It's served with light and fluffy tamarind rice (a world away from the curry-house pilau) and a rather moreish side of vegetable thoran (shredded veg stir-fried with grated coconut).Portions are perfect: not too much and just the right amount of rice and naan to curry ratio, so we're not left with oodles of sauce.
There's an enticing dessert offering including traditional Gulab Jamoons and an intriguing black coconut ice cream, but I'm just on the right side of full! Next time…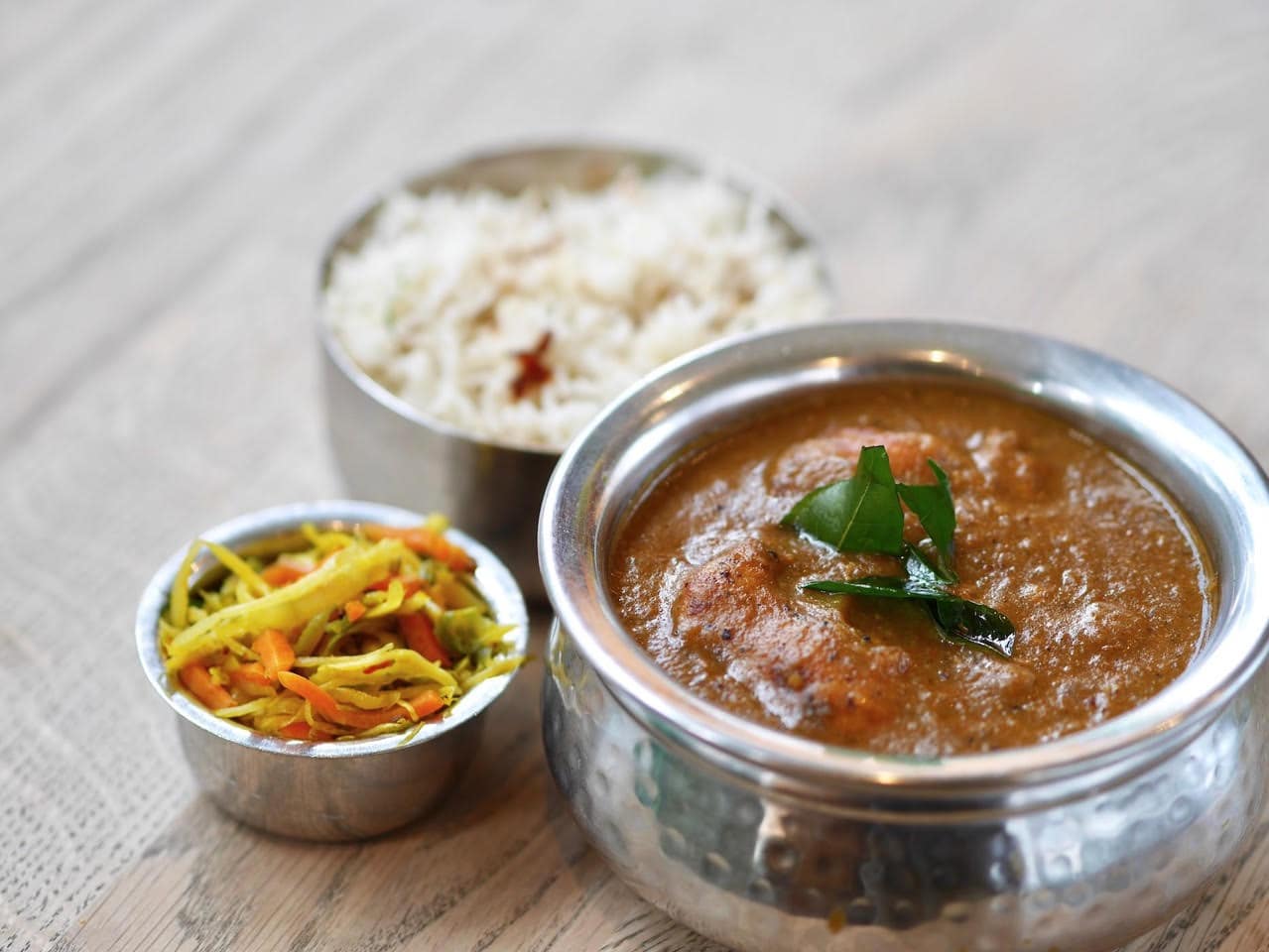 Authentic Indian cuisine
If you're looking for a traditional curry house experience – made-for-British-taste curries that are heavy with ghee, tables topped with brass food warmers and a background of traditional sitar music – then Curry Leaf Café is not for you. However, if you're keen on sampling authentic, contemporary style Indian cuisine or just looking for a relaxed and friendly restaurant in Brighton with a delicious, reasonably priced menu – Curry Leaf Café ticks the boxes.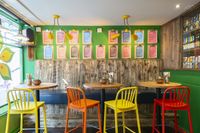 Want to know more about Curry Leaf Cafe Brighton Lanes?
Find Out More