A Million Miles from Ordinary – Experience at The Better Half
The Better Half Pub is like a secret outbuilding of The Pavilion, in the sense that it envelopes you with splendour, opulence and warmth. The décor gleams with grandeur and the lighting is subdued, warm-fire-glow-perfect. You can barely see in from the outside and, once inside, you don't really want to leave. And the paintings? Well, they watch your every move. The ghosts of Hove Place past?
A Three-S Approach
Owner Simon Stern and Bar Manager son Sam say surroundings, skill and a smile sum up the secret to their success. They are doing things the way they'd like them do be done, and from the packed Tuesday night pub it's an agreeable approach.
"We're relaxed, friendly and easy going," they say. "And we'll do whatever we can to make sure you feel the same way when you visit."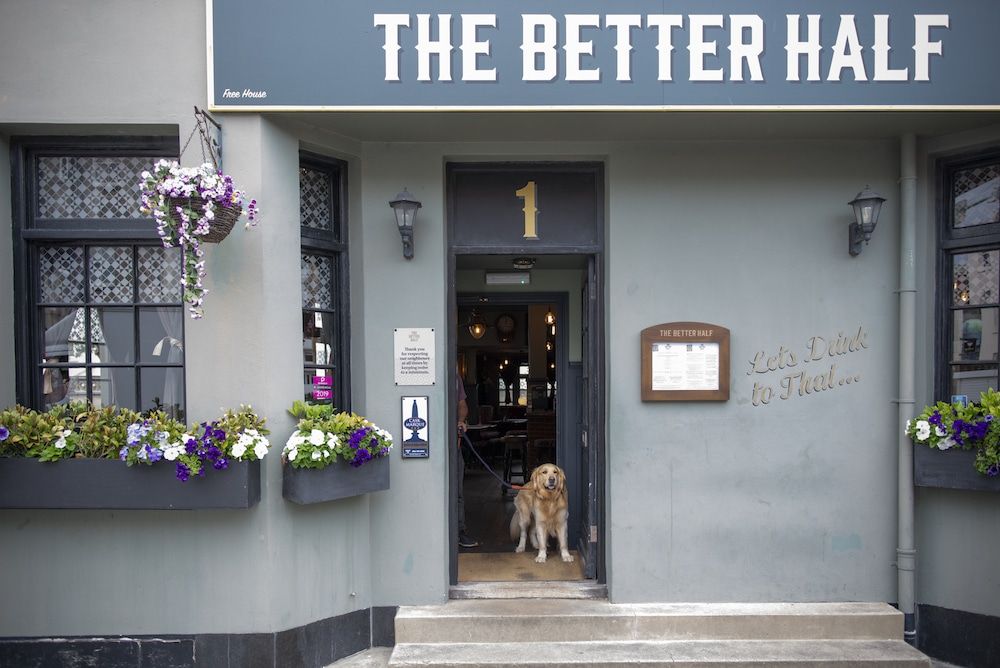 Let's Drink to That
The Sterns' handpicked booze array is just one reason this is fast turning into a destination pub. The (mostly) wallet-friendly wine list offers around twelve reds, twelve whites and five rosés. And absorbing the opulence, sherries and whiskies are in abundance, alongside Champagnes and Proseccos. On tap are ever-changing ranges of craft beers, ready for you to sup and savour.
Local, Seasonal, Ethical Food
The food is pleasingly pub-grub-done-good. Spying the chefs at play in a surprisingly large kitchen, it's clear that they mean business. Winter comforts like bangers & mash and mountainous burgers are well-presented and crafted with care. Nachos with a choice of toppings, and chicken wings with sweet, BBQ or chilli are and both crowd pleasers and IPAcompatible.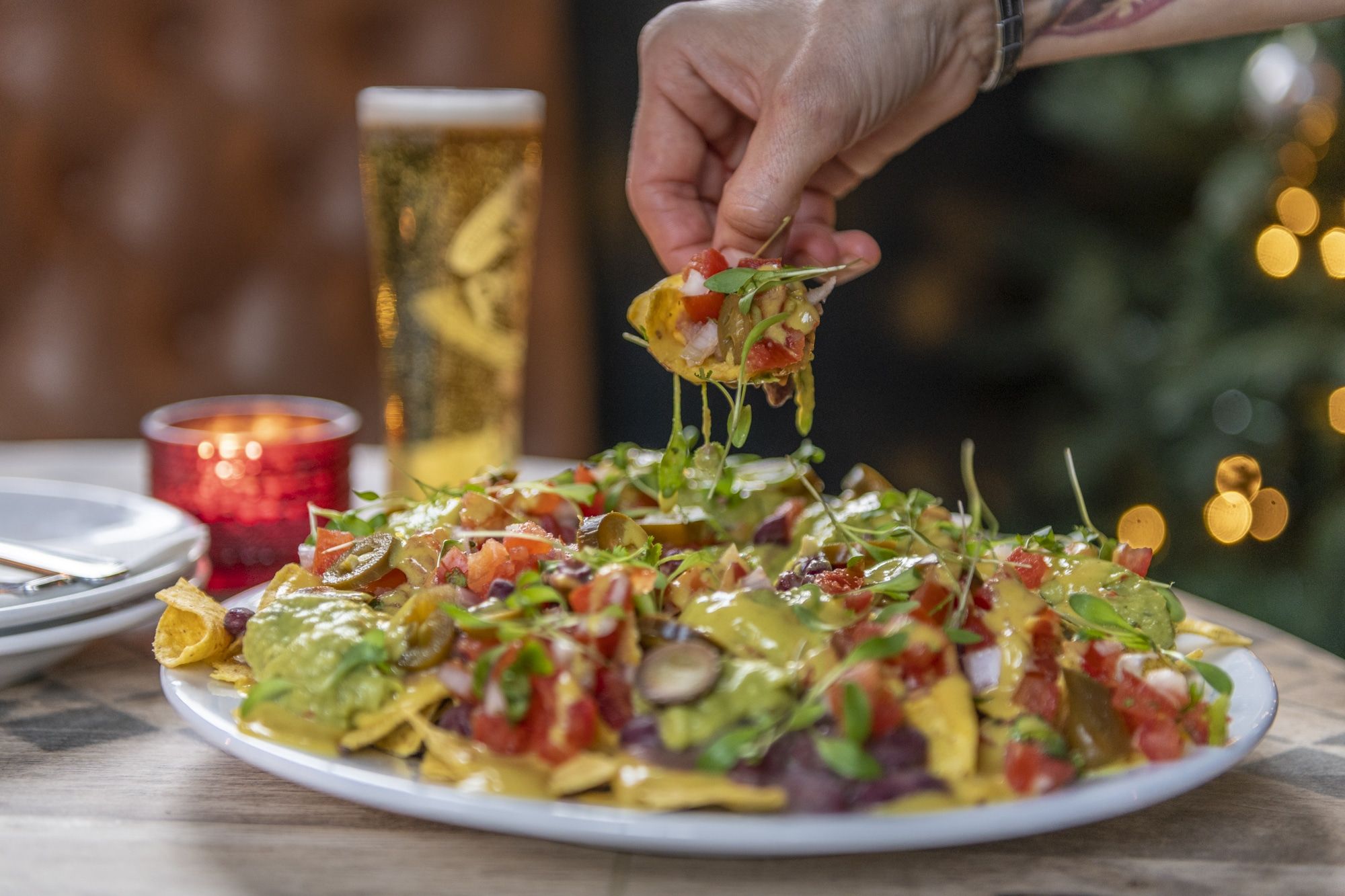 For starters, we sampled the Potted Smoked Mackerel with Toasted Sourdough – two of my favourite things – and the mackerel was more mackerel-like than I've ever tasted: just a hint of creaminess, and certainly not swimming in yoghurt or mayo as is so often the case. We also treated our tastebuds to the unusual-sounding Kimchi Bhaji with Mango Coconut Raita. This proved to be a welcome take on the classic Indian dish, with super crispy-crunch batter and a perfect blend of sweet, sour and spice, dunked into the refreshing raita to cut through it all.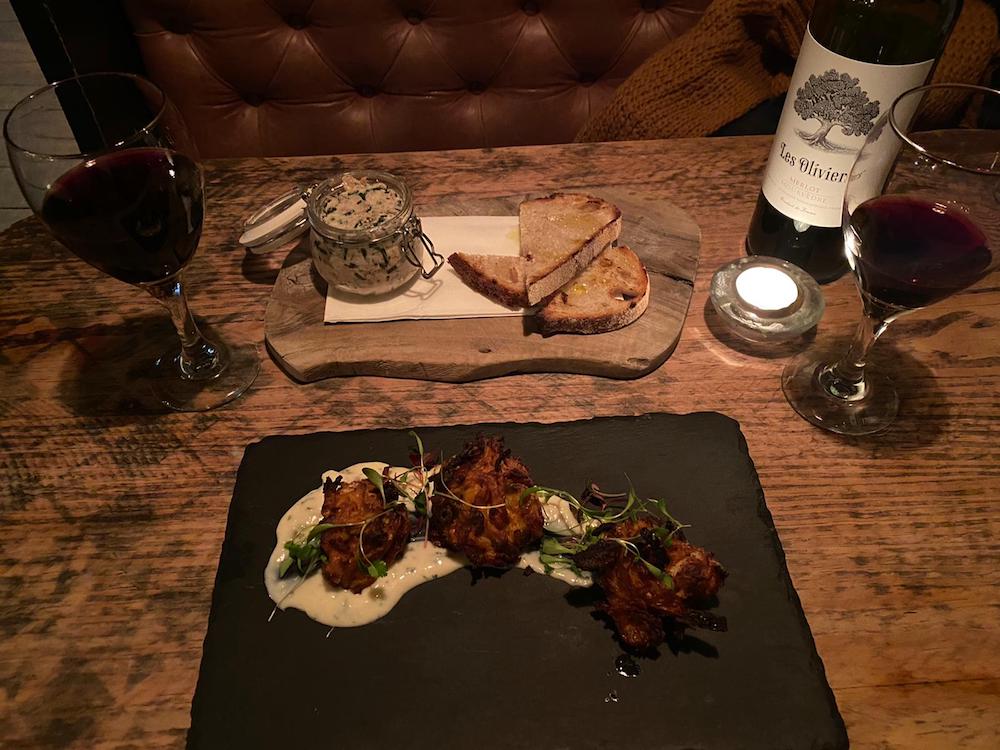 The Main Event
To complement our Merlot bottle of joy, we plumped for the Short Crust Ham and Leek Pie, and a Meat Platter.
The pie plate is like a warm hug on a wintry evening: rich and creamy inside and generously filled with chunks of ham and slithering leeks, and flaky and crispy pastry on the outside.
The al dente seasonal greens provided crunch to counteract the creamy mash, along with a tasty gravy. Dreamy.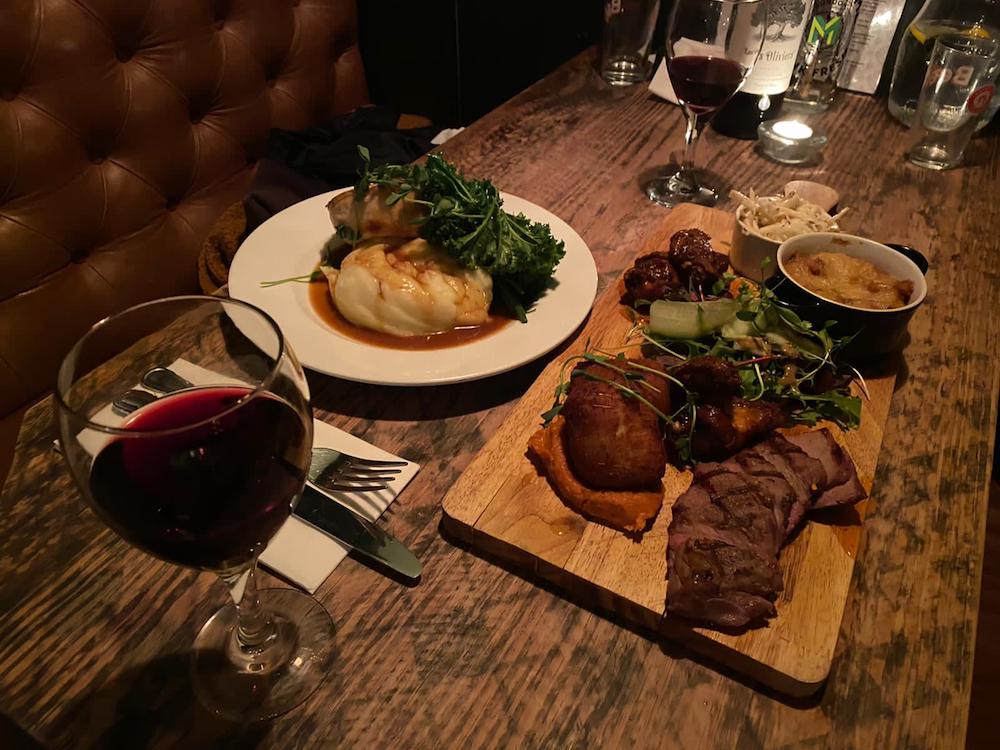 The Meat Platter is for those with an appetite, or those who have learned to share. The ham hock croquettes are generous in size and the saltiness of the meat is matched perfectly with a sweet and smoky chorizo jam. The sliced bavette steak was cooked to order, seared on the outside and pinky medium rare on the in. Zig-zagging from one meat to another is a journey through sugar, spice, crisp and creamy…One mouthful of harissa honey chicken wings beautifully complemented the tender steak and the mini bacon and potato pie, and the creamy celeriac remoulade led to a gratifying journey for the tongue. And then there's the mandatory side salad, to fool you into health.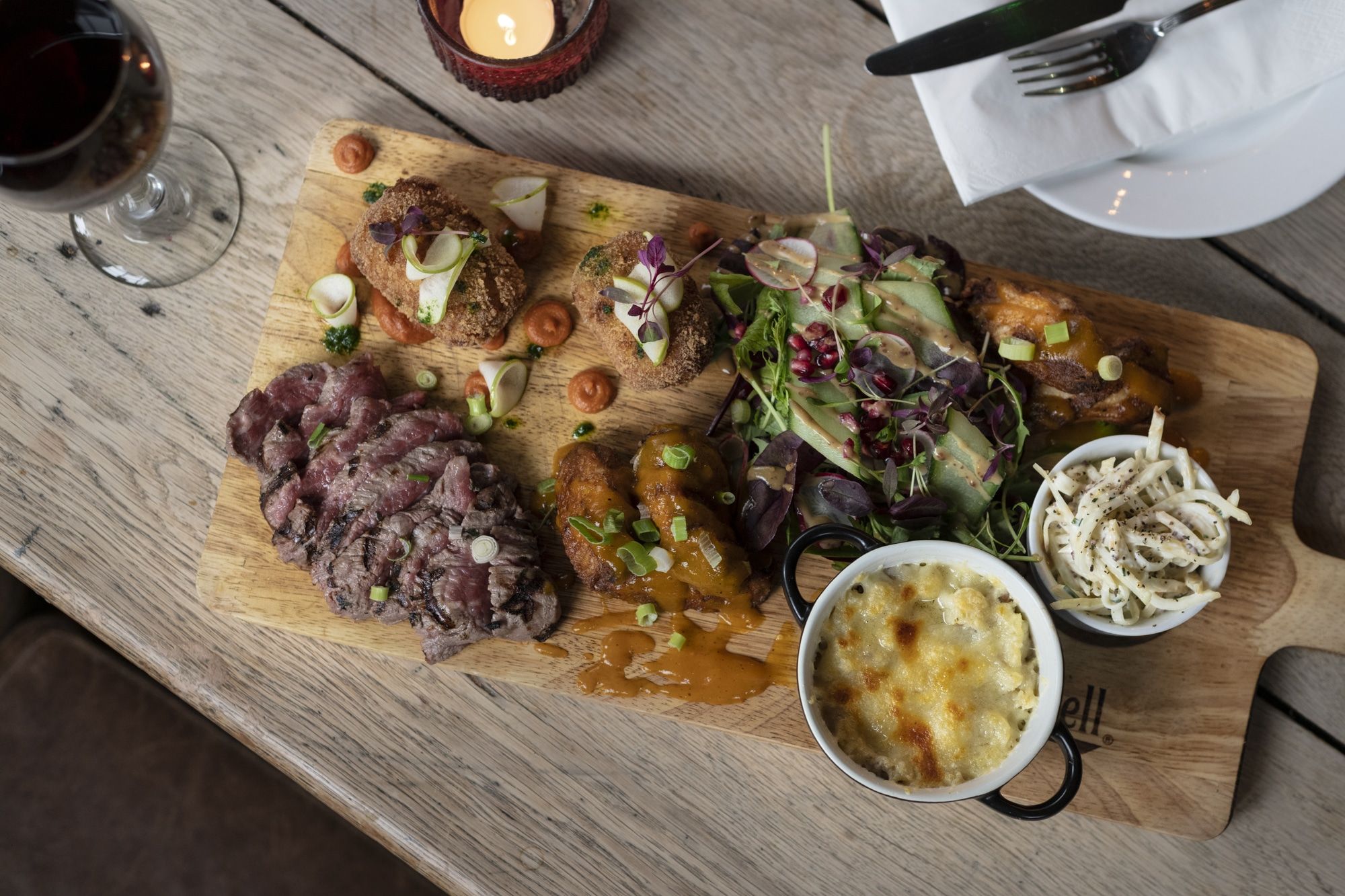 The Better Half has a great menu of plant-based dishes, too, including versions of its burgers, bangers and platters.
Vegan Strudel
For pud, we plumped for Apple Strudel with Salted Caramel Ice Cream and Vanilla Custard. Yep, it comes with both, putting to bed those ongoing arguments. This dish is actually vegan, and a plate of pure comfort and delight. Equalling this tum-treat was the Sticky Toffee Pudding with Vanilla Clotted Cream – not vegan – which was rich with a date filling and tooth-endangering toffee yumminess.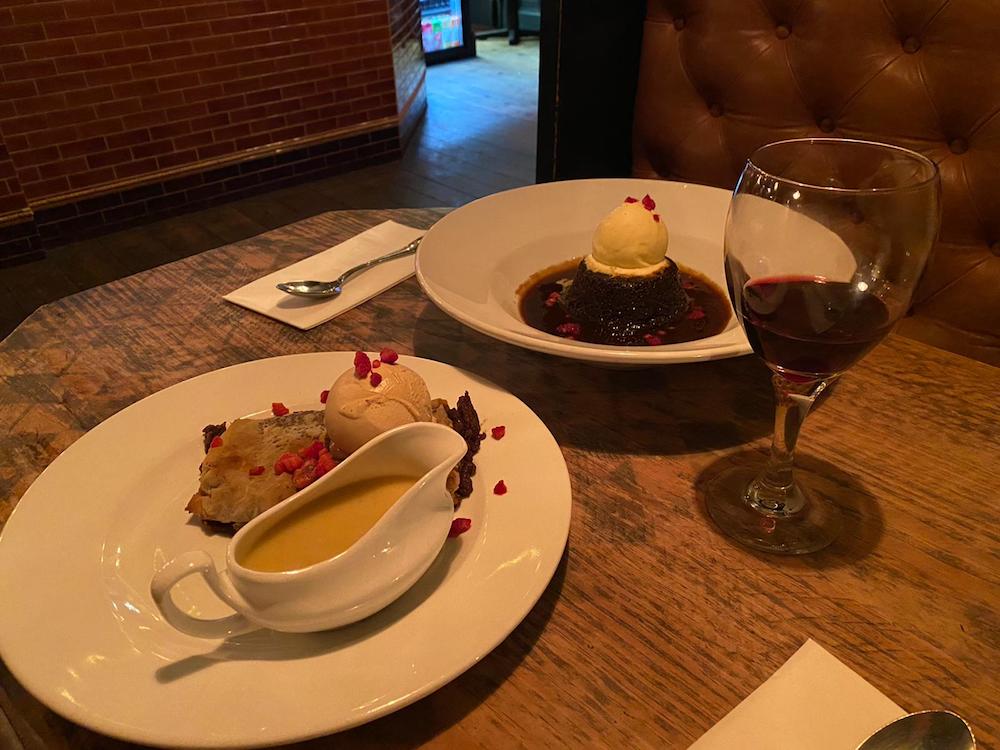 Come Again
Dog friendly, human friendly and foodie friendly, we can't wait to go again. And then there's the wine…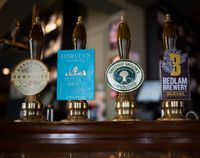 Want to know more about The Better Half Pub – Hove?
Find Out More