South Indian Street Food, Coffee, Tea & Craft Beer
Check availability and make a booking online with Curry Leaf Cafe
Curry
Leaf
Cafe serves up a thoroughly modern take on South Indian street food alongside killer cocktails and the city's best craft beer list from a relaxed, colourful dining space in the heart of Brighton's Lanes. The Cafe has earned an impressive collection of accolades since opening in early 2014, being named a 'Local Gem' in the 2016 and 2017 editions of the Waitrose Good Food Guide and winning 'Best Newcomer, South Coast' at the 2015 Asian Curry Awards. It is also listed in The Telegraph Travel's 'Insider's Guide to Brighton', The Guardian's 'Top 10 Places to Drink in Brighton' and the 'UK's Top 10 Flexitarian Restaurants' (Olive Magazine).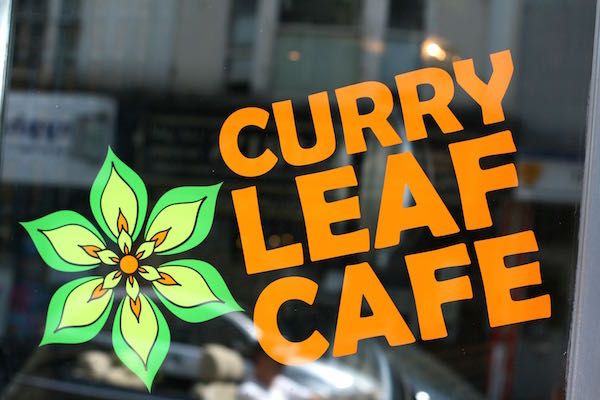 A fantastic team
Curry Leaf Cafe is the brainchild of former food critic and car journalist Euan Sey and chef Kanthi Kiran Thamma, whose background includes chefing roles at award-winning Brighton Indian restaurant The Chilli Pickle and as Food Champion at Jamie Oliver's Recipease – roles that left him with a profound respect for quality seasonal ingredients.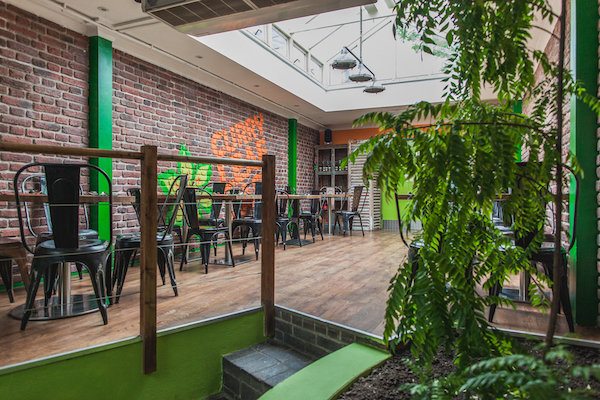 Curry Leaf Cafe is exactly that – a cafe, not a restaurant – and has the price list to match; a three-course meal typically costs around £20 per head, and a filling, healthy lunch can be had for as little as £7. All ingredients are locally sourced where possible and around half of the menu is vegetarian.
All appetites are catered for – from those looking for a quick coffee or a snack, to people in search of a freshly prepared, affordable four-course meal. Its range of quick and healthy lunches include soups, warm salads, dosas and open tandoor naan wraps, as well as traditional Thali platters. The dinner menu, meanwhile, focuses on crisp, fresh-tasting street food and fragrant, expertly spiced curries, rounded off with a selection of refreshing desserts and infused ice creams.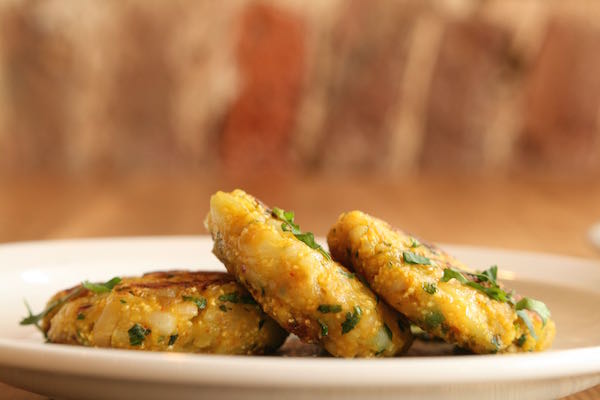 Great for those with dietary requirements
A wide selection of vegan, gluten- and dairy-free dishes is offered throughout the day. A collection-only takeaway service is available Sunday (6pm) to Friday (3pm). The cafe has offers  spiced Indian Sunday brunch menu which includes the already legendary 'Full Indian' fryup, spiced omelettes, savoury lentil doughnuts, dosai and traditional slow-cooked Biriyani dishes. Brunch is served from 10:30am to 3:30pm every Sunday.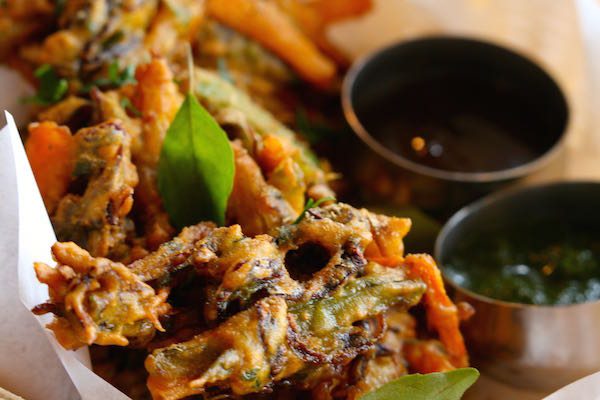 Community spirit
Much more than a place to eat, Curry Leaf Cafe aims to build a new community of people interested in Indian culture, sustainable dining and the sociable pleasures of the street food experience. As such, special events will be held to coincide with major Indian festivals such as Holi and Diwali.
Collaboration is at the heart of owners Euan Sey and Kanthi Thamma's vision for Curry Leaf Cafe. As Kanthi puts it: "Forget fine dining – it's fun dining we're about."
Check availability and make a booking online
Reviews of Curry Leaf Cafe
back to top