Indian Street Food & Craft Beer
Curry Leaf Cafe Brighton serves up a winning combination of home-style South Indian food and craft beer from its relaxed, colourful dining space in the heart of the historic Lanes. Having become a much-loved local fixture since opening in 2014, the menu has undergone a significant revamp to bring it in line with modern food-sharing culture; with the same delicious South Indian flavours designed to please a crowd.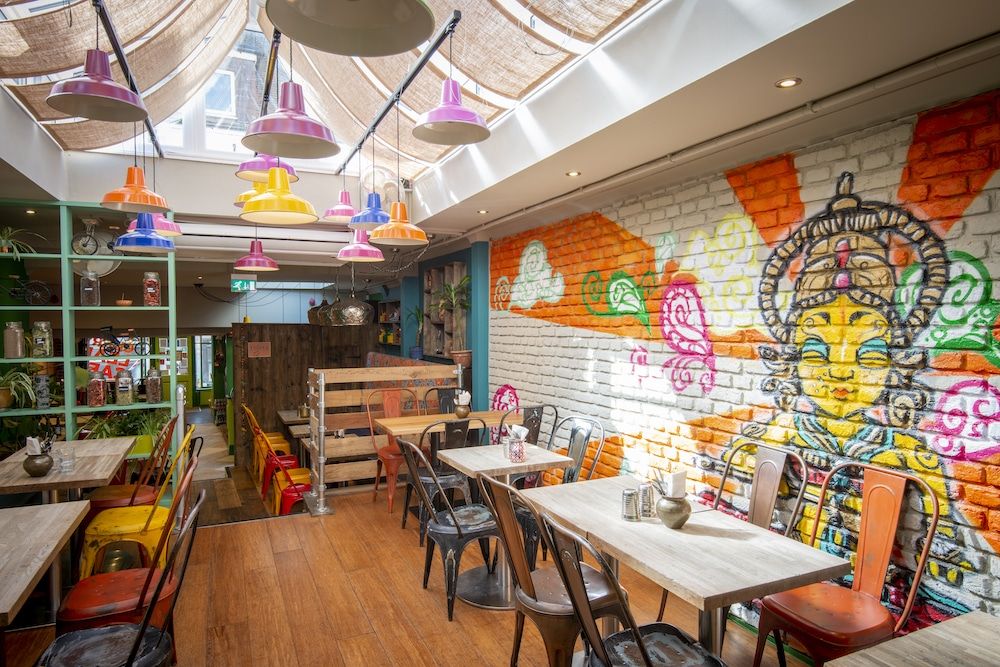 A fantastic team with a brilliant idea | Curry Leaf Cafe
Curry Leaf Cafe is the creation of food critic and journalist turned restaurateur Euan Sey and former chef Kanthi Kiran Thamma. Both inspired by their previous experience in the food industry, including work with Jamie Oliver, they set out to create a contemporary Indian cafe, championing local, seasonal ingredients and craft beer.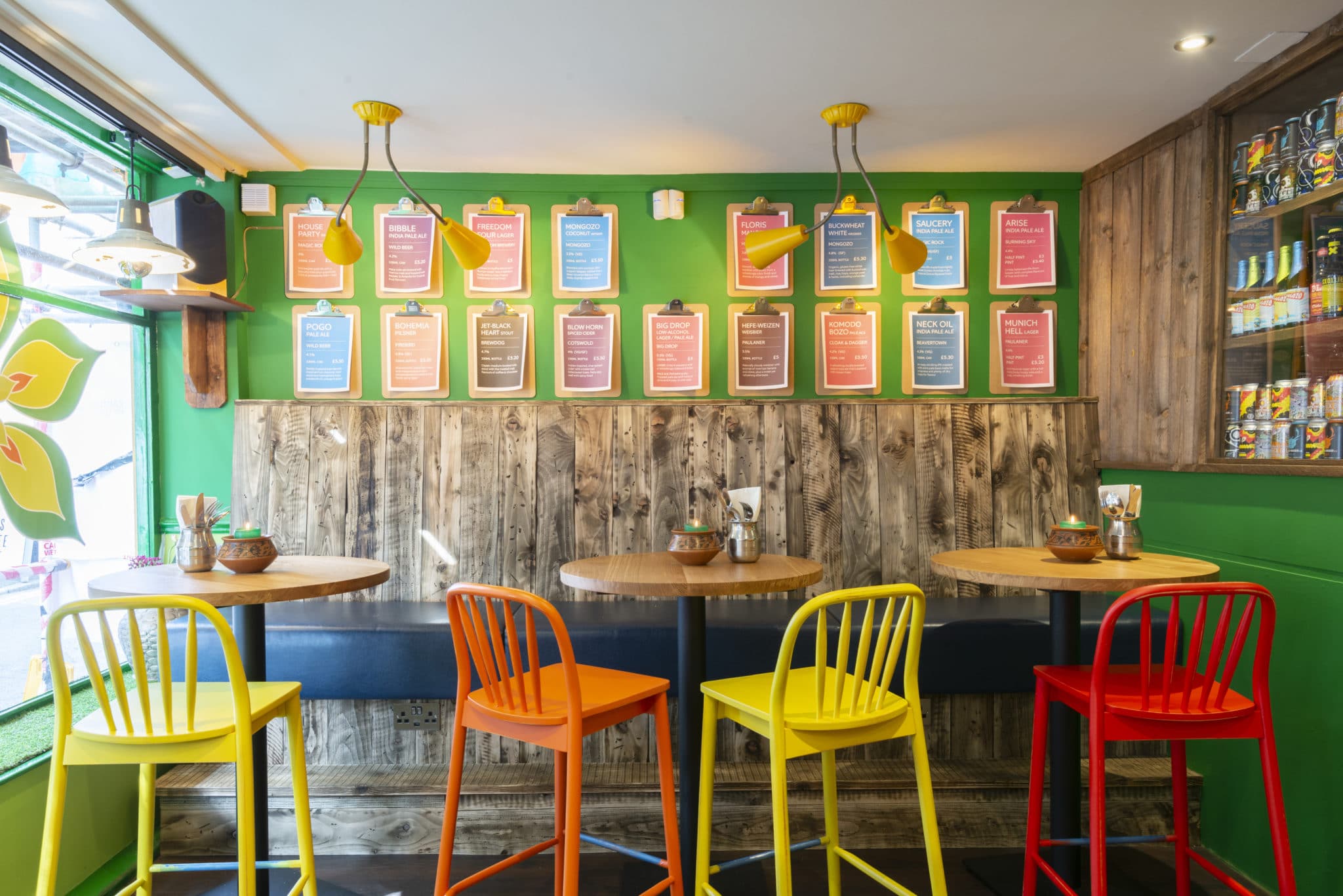 Curry Leaf straddles the definition of cafe-restaurant comfortably and the team has succeeded in creating a comfortable, relaxed atmosphere, keeping prices sensible and fair and the team warm and friendly. All ingredients are locally sourced where possible and around half the menu is vegetarian. This is just the kind of independent spirit Brighton loves. 
Indian cafe culture, Brighton Style
With its distinctive, bright colours, exposed brick work, sun-lit mezzanine and vintage Indian design, Curry Leaf Cafe provides a welcoming, casual environment, perfect for enjoying good food with friends and family. Embark on a culinary journey at Curry Leaf Cafe, where their extensive all-day menu caters to a variety of dining preferences from morning till evening. Whether you're meeting friends for an early bite, enjoying a swift work lunch, relishing in a family feast, or simply sipping on great beers while sharing a plate of pakoras, Curry Leaf Cafe has something to satisfy every craving.
Notably, don't miss out on their special morning breakfast or brunch indulgence – the beloved bacon & egg naan – a treat designed for those who prefer an earlier dining experience.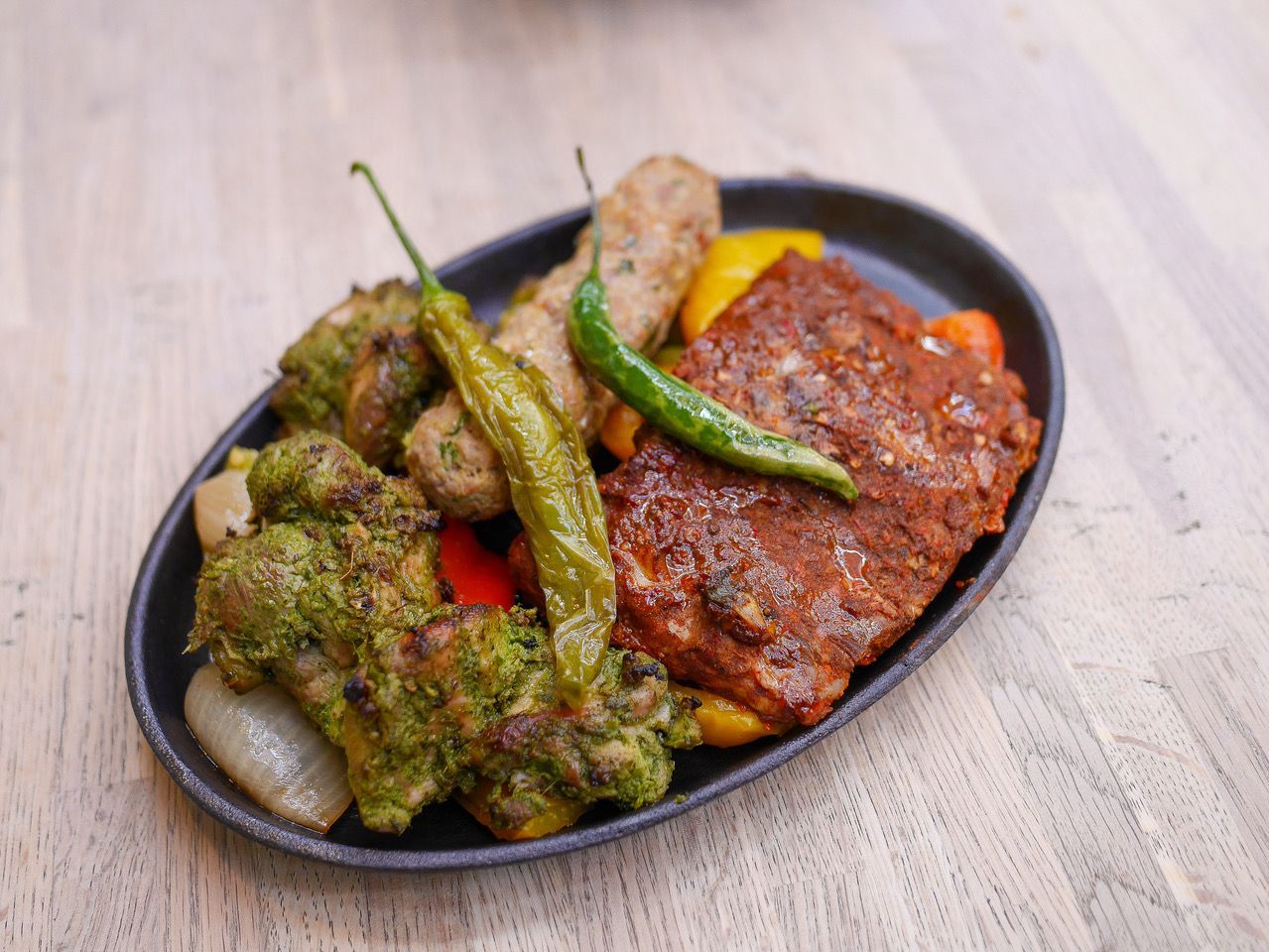 Menu at the Curry Leaf Cafe
The menu is designed for sharing. There are dishes of fresh, street food classics like aubergine bhajis and crispy Keralan squid, generous sharing and Thali platters, authentic curries and spiced grills. The chef's special sizzling tandoori grill platter is a particular show stopper. Filled Pavs (Indian buns) come stuffed with crispy fried chicken or mushrooms, layered with pickles, salad and raita – perfect if you're a little short on time. And don't forget to order from the fabulous array of sides, naan breads, rice dishes and chutneys.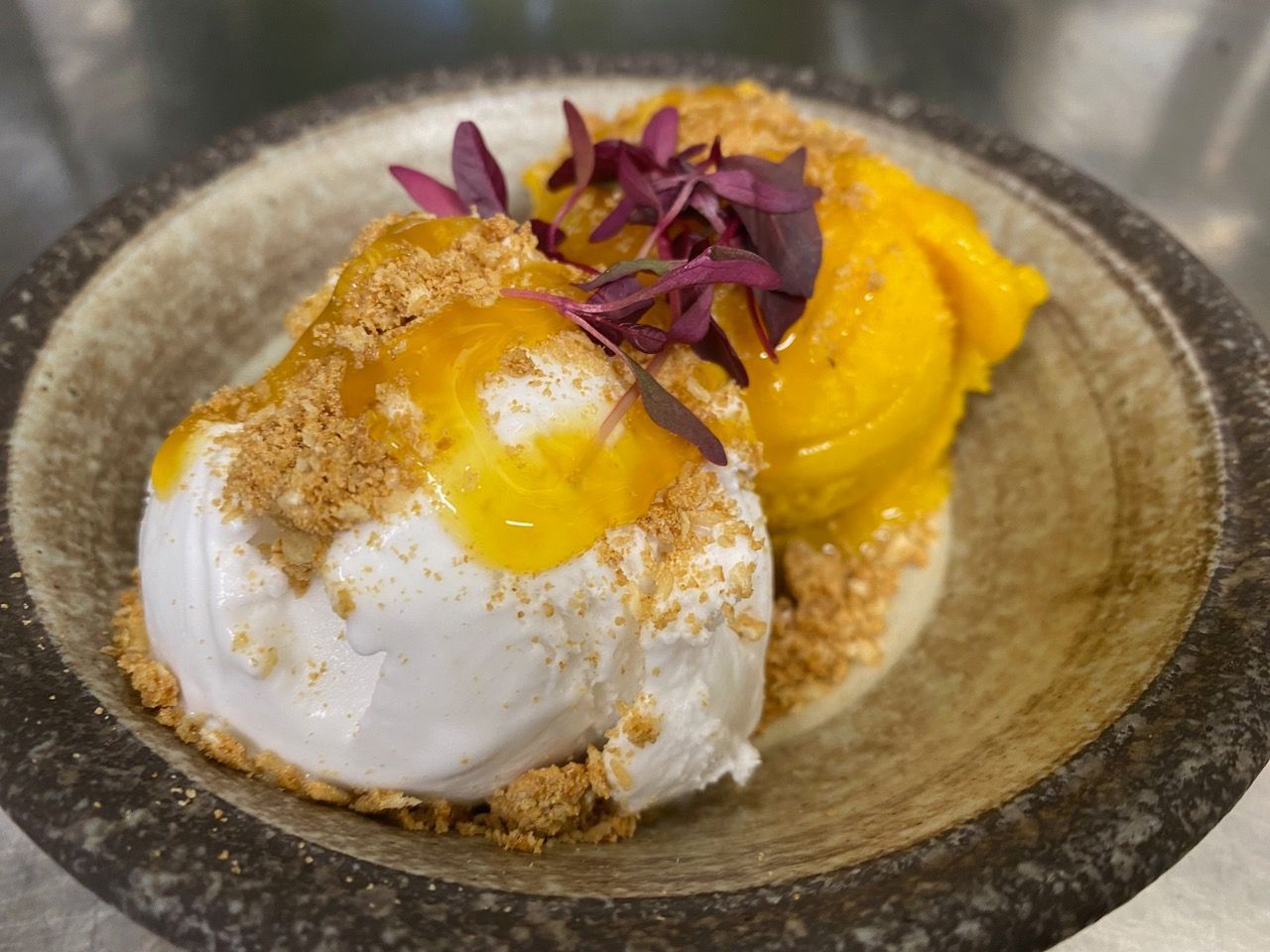 To top it all off, there is a small selection of delicious, refreshing desserts including a selection of infused ice-creams and the signature Beach Bum; coconut ice cream and mango sorbet topped with a Hobnob biscuit crumb and drizzled with passionfruit coulis. We'd like to meet the genius who came up with this and shake their hand!
If you're not in the mood to think, or you're finding it hard to choose, there are pre-selected feasts for groups available in the evening.
The award-winning Curry Leaf Cafe Brighton
Curry Leaf Cafe Brighton has earned an impressive collection of accolades, including being crowned one of 'Britain's 12 Best Indian Restaurants' by BBC Good Food Magazine and a 'Local Gem' from 2015 -23 in the Waitrose Good Food Guide. Curry Leaf won 'Best Newcomer, South Coast' at the 2015 Asian Curry Awards.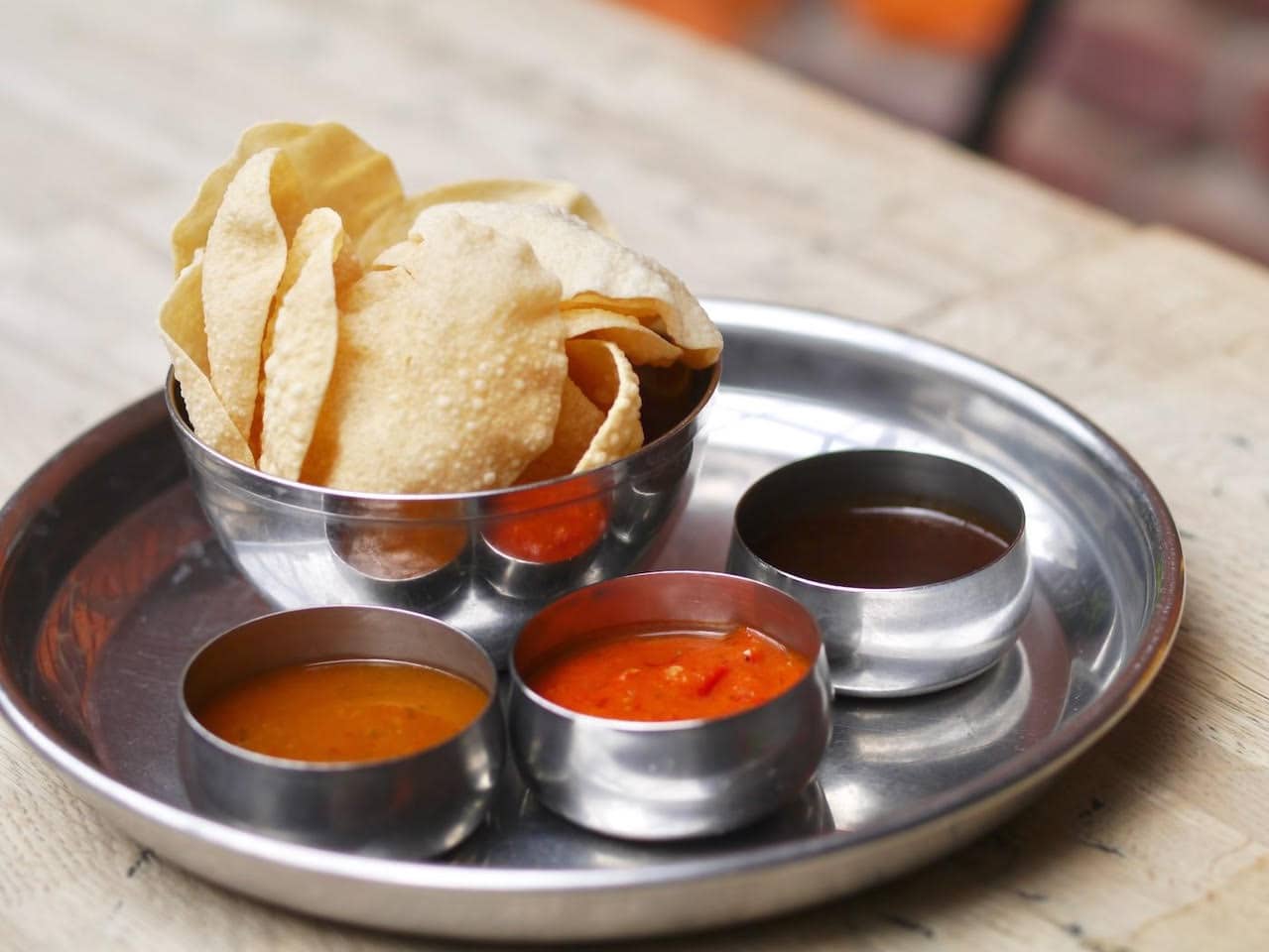 It has also been named Best Independent Craft Beer Restaurant in the UK (2019, 2020) and featured in The Guardian as one of the UK's top 10 restaurants for craft beer. It is listed in The Telegraph Travel's 'Insider's Guide to Brighton', The Guardian's 'Top 10 Places to Drink in Brighton' and the 'UK's Top 10 Flexitarian Restaurants' (Olive Magazine).
Curry Leaf Cafe | Street food and craft beer
The team at Curry Leaf Cafe are proud to boast one of the best craft beer lists on the restaurant scene in Brighton, or arguably anywhere! There are always four different craft ales on tap for customers to choose from, as well as a vast selection of cans and bottles. All beer is sourced directly from the breweries by the Curry Leaf team, whose passion and knowledge mean there is always a great selection on offer. They often showcase lesser known craft breweries to surprise and delight Brighton's demanding beer aficionados. And if you are keen to drink beer with your food, the team is happy to recommend delicious pairings. 
Just for a drink…
Curry Leaf Cafe has a small dedicated bar area, offering customers a more informal drinking space to enjoy the craft beer without a full meal. You could choose to pop in for a few drinks before a romantic date night, or fish and chips on the beach but we'd be surprised if you can resist a few tasty snacks when you get there.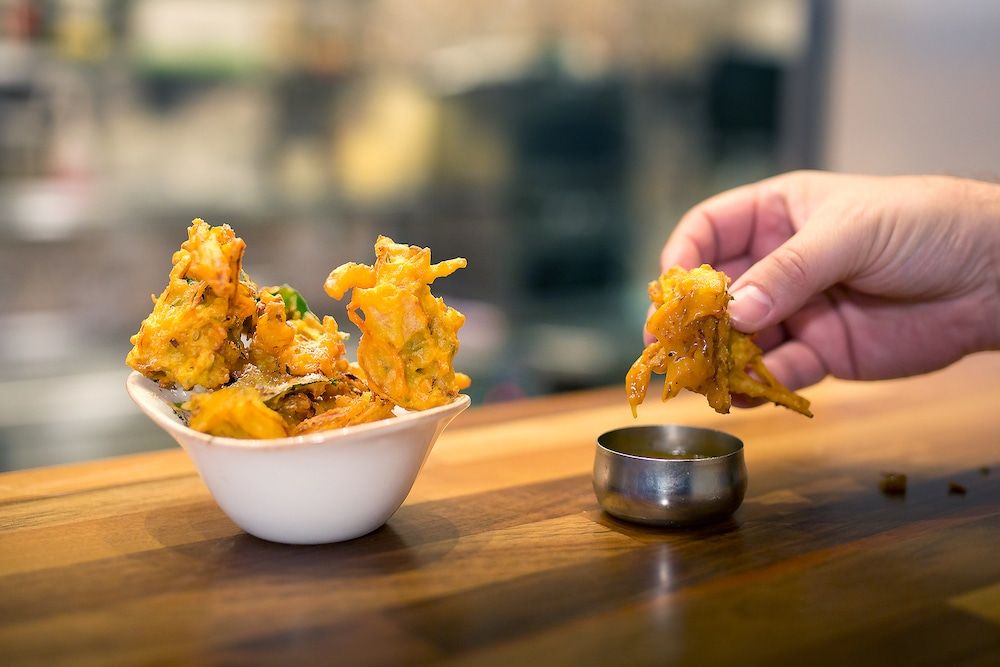 Community spirit
Much more than a place to eat, Curry Leaf Cafe aims to build a new community of people interested in Indian culture, sustainable dining and the sociable pleasures of the street food experience. Watch out for special events and offers. 
Wine is sourced from a Sussex wholesaler, Sussex beer is showcased, bread is from Flour Pot, fruit and vegetables are sourced locally. This is a Brighton-born, independent restaurant that enriches the community and makes Brighton life even more delicious to boot.
Great for those with dietary requirements
A wide selection of vegan, gluten-free and dairy-free dishes are offered throughout the day.
Delicious Curry Leaf dishes are also available for takeaway.