South Indian Street Food, Coffee, Tea & Craft Beer
Curry Leaf Cafe Brighton serves up a thoroughly modern take on South Indian street food alongside killer cocktails and the city's best craft beer list from a relaxed, colourful dining space in the heart of Brighton's Lanes.
The award-winning Curry Leaf Cafe Brighton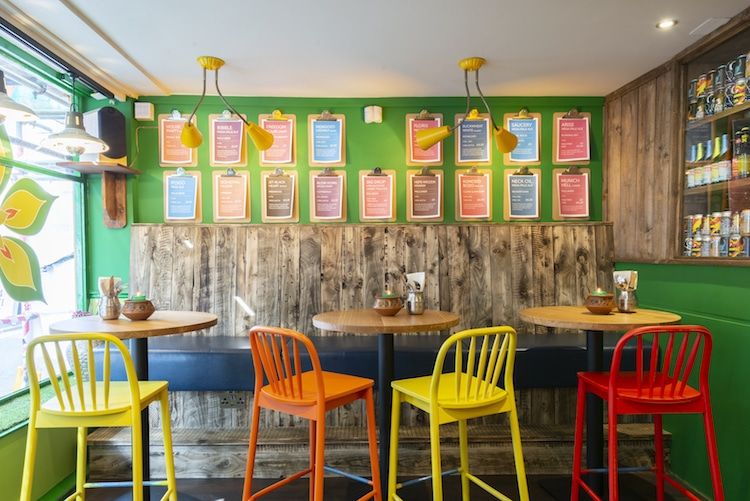 Curry Leaf Cafe Brighton has earned an impressive collection of accolades since opening in early 2014, being named a 'Local Gem' in the 2016 and 2017 editions of the Waitrose Good Food Guide, winning 'Best Newcomer, South Coast' at the 2015 Asian Curry Awards and being named Best Independent Craft Beer Restaurant in the UK and featuring in The Guardian as one of the UK's top 10 restaurants for craft beer. It is also listed in The Telegraph Travel's 'Insider's Guide to Brighton', The Guardian's 'Top 10 Places to Drink in Brighton' and the 'UK's Top 10 Flexitarian Restaurants' (Olive Magazine).
Elle tries takeout
There's no doubt the English love a curry, but with so many authentic, regional Indian offerings here, it's really worth steering away from your beloved tikka masala for a more memorable evening.
In my opinion, The Curry Leaf Cafe offers the best Indian street food and craft beer the city has to display. The team have pivoted the business to bring you finish at home kits prepared by the same chefs that brought them the accolade of BBC Good Food's 'Britain's 12 Best Indian Restaurants'. With a distinct yet accessible menu catering for all diets, there's no reason not to mix up the monotonous life in lockdown! What's more, delivery is free and meticulously organised.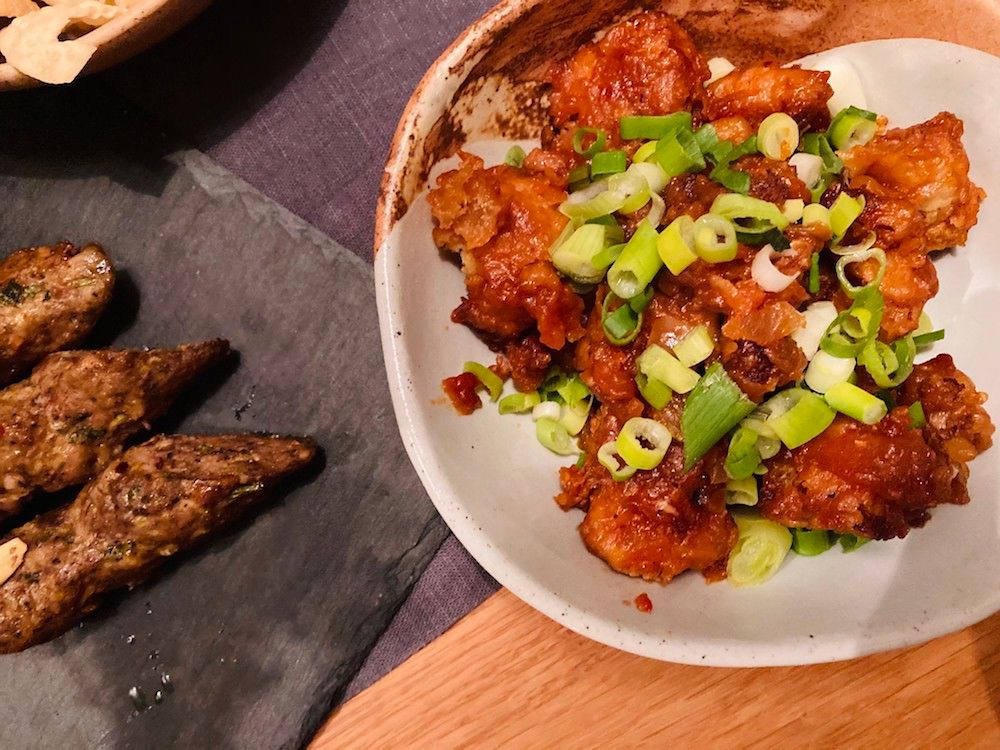 We ordered the Family Kit for four which arrived in its superb, compostable packaging, along with instructions which were really easy to follow, ensuring our food was dished up in a timely manner. All you need to do is select four curries, then the rest of the sumptuous street food and condiments are arranged for you.
We also shared several side dishes;
Gobi Manchurian
Moreish, sweet and sour cauliflower florets crisp-fried in spiced corn flour batter.
Lamb seekh kebab
Meltingly soft British lamb skewers packed with aromatics and grilled on the tandoor. This paired beautifully with the coconut and mint raita.
Chicken wings
A fiery addition to our starters, with tender chicken beneath that crispy, spice paste.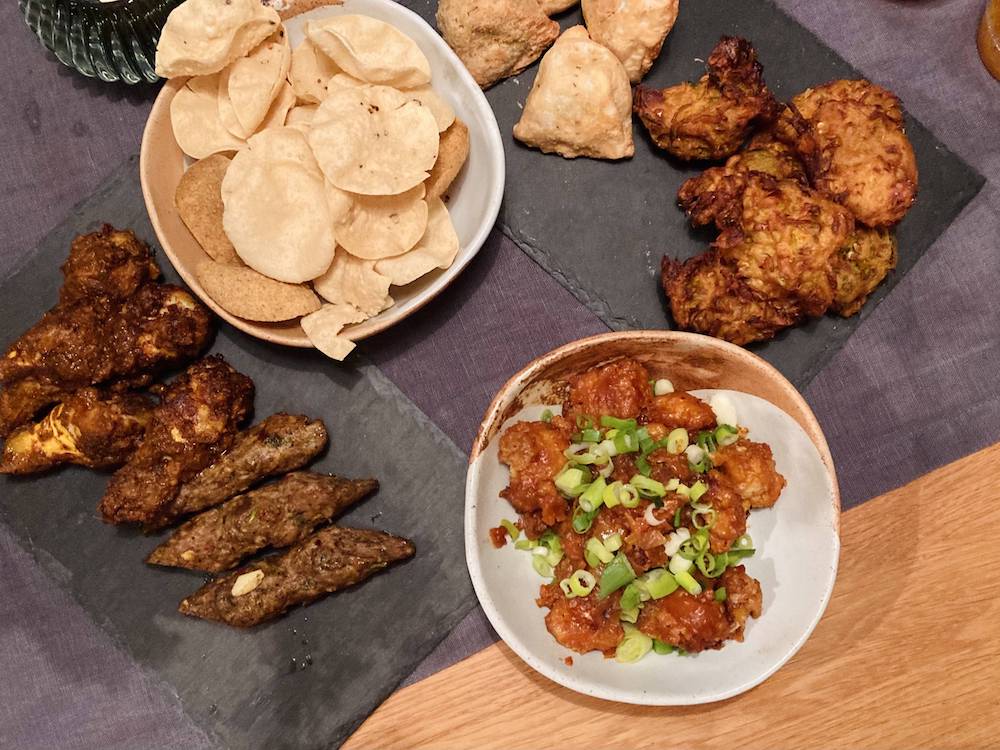 We selected the following curries:
Aubergine Kuzhambu (V/VE)
A fresh tasting curry made from aubergine, sliced peppers and okra simmered in a fragrant sauce. This was my favourite with the mixed textures of soft, slow-cooked aubergine, and crunch from the peppers and okra!
Rajasthani Lamb Laal Maas
A rich, intensely spiced curry made from cubes of meltingly soft British lamb shoulder, slow-cooked in a yoghurt and onion sauce.
Keralan Chicken Mappas
Pieces of sizeable, succulent chicken thigh, slow-cooked in an aromatic, almost nutty sauce made from coconut, green chilli, ginger, onion, lemon and curry leaves.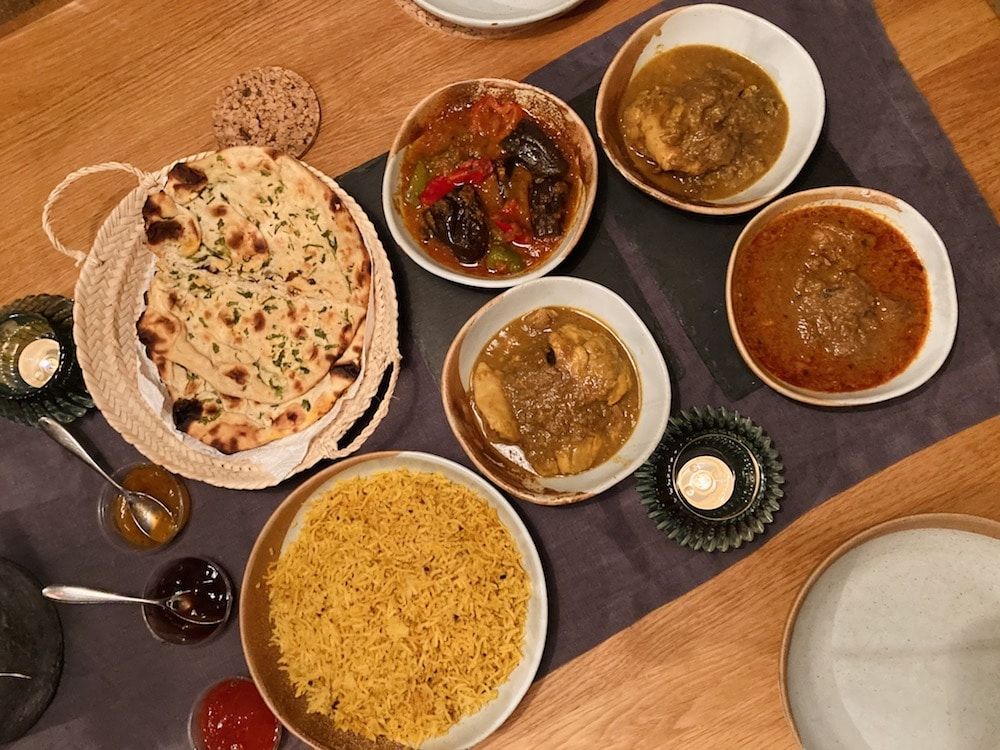 There really is something for everyone here, and even better for only a modest price. I'd even consider ordering the Tiffin Meal for one (prices from £12.95) on a day my family aren't feeling a takeaway! These finish at home takeaways can be ordered on the Curry Leaf Cafe website, they deliver for free across all areas in Brighton, Hove and Sussex or if you're a little further away, they also have express UK wide delivery available!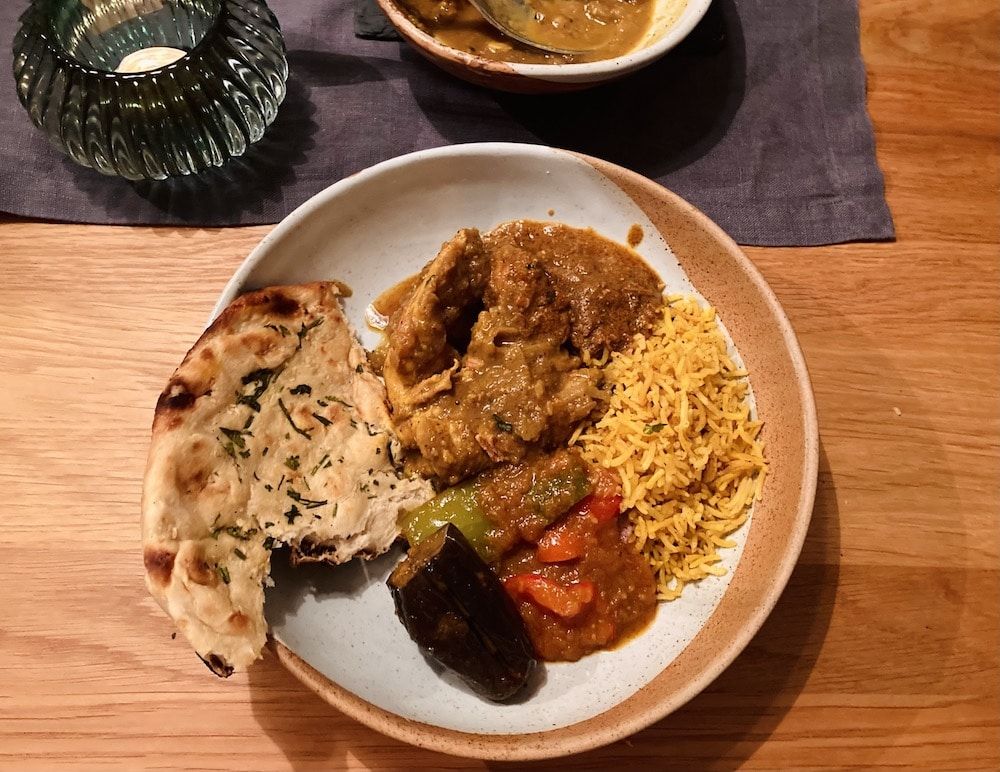 Street food and craft beer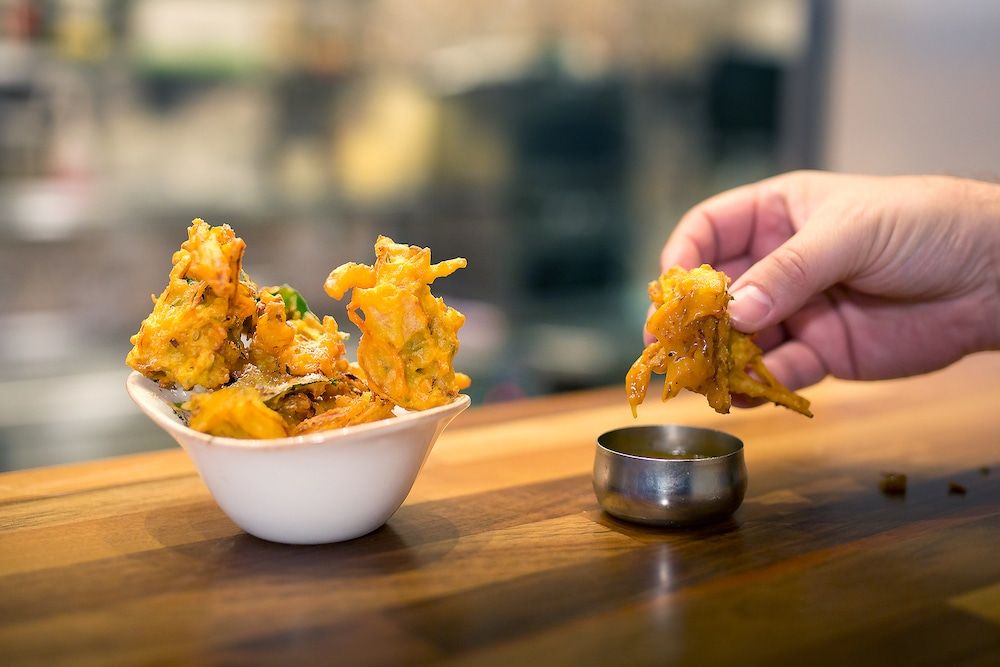 The team at Curry Leaf Cafe are proud to boast one of the best craft beer lists on the restaurant scene in Brighton. At all times, they serve four different craft ales on tap for customers to enjoy, as well as a vast selection of cans and bottles too. Breweries are chosen on a what is best at the time basis, meaning a great selection is always on offer often showcasing lesser known craft breweries to the beer loving Brighton crowd.
Just for a drink…
A new, very welcomed feature at Curry Leaf Cafe is their bar area, offering customers a more informal drinking space to enjoy the craft beer on offer without a full meal. Pop in for a few before a date night, or fish and chips on the beach. You must dig into their famous poppadoms though, as they are a brilliant addition to any craft beer.
Beer to match your dish
Wine is often in the spotlight for food pairings, with little thought given to how much of a match made in heaven beer and Indian food are. Curry Leaf Cafe are pioneering a trend set to grow, with their thoughtful beer offering matching the Indian street food dishes on the menu. Enjoy Aubergine Bhagis with a Wild Beer 'Bibble' or their sea bass curry with something a little more local from Arundel Brewery.
A fantastic team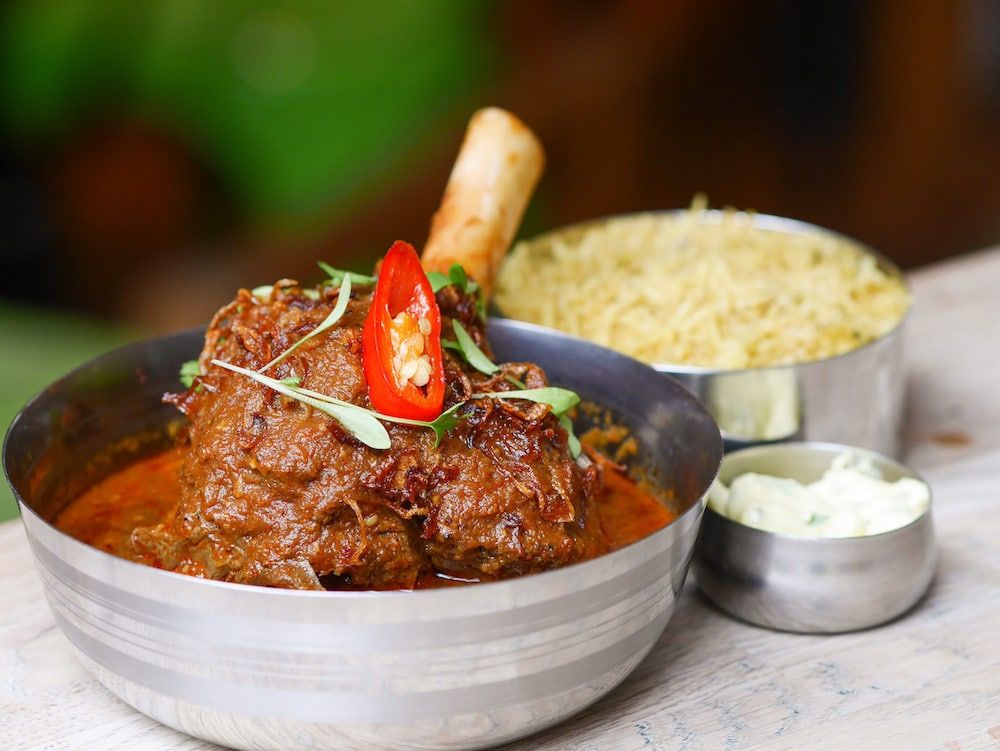 Curry Leaf Cafe is the brainchild of former food critic and car journalist Euan Sey and former chef Kanthi Kiran Thamma, whose background includes chefing roles at award-winning Brighton Indian restaurant The Chilli Pickle and as Food Champion at Jamie Oliver's Recipease – roles that left him with a profound respect for quality seasonal ingredients.
Curry Leaf Cafe is exactly that – a cafe, not a restaurant – and has the price list to match; a three-course meal typically costs around £20 per head, and a filling, healthy lunch can be had for as little as £7. All ingredients are locally sourced where possible and around half of the menu is vegetarian.
All appetites are catered for – from those looking for a quick coffee or a snack, to people in search of a freshly prepared, affordable four-course meal. Its range of quick and healthy lunches include soups, warm salads, dosas and open tandoor naan wraps, as well as traditional Thali platters. The dinner menu, meanwhile, focuses on crisp, fresh-tasting street food and fragrant, expertly spiced curries, rounded off with a selection of refreshing desserts and infused ice creams.
Great for those with dietary requirements
A wide selection of vegan, gluten- and dairy-free dishes is offered throughout the day. A collection-only takeaway service is available Sunday (6pm) to Friday (3pm). The cafe has offers  spiced Indian Sunday brunch menu which includes the already legendary 'Full Indian' fryup, spiced omelettes, savoury lentil doughnuts, dosai and traditional slow-cooked Biriyani dishes. Brunch is served from 10:30am to 3:30pm every Sunday.
Community spirit
Much more than a place to eat, Curry Leaf Cafe aims to build a new community of people interested in Indian culture, sustainable dining and the sociable pleasures of the street food experience. As such, special events will be held to coincide with major Indian festivals such as Holi and Diwali.
Check availability and make a booking online