Walking into Arcobaleno is like entering a colourful other-world where rainbows shimmer across walls, plants sprout from walls and neon signs glimmer with comforting words. 'No place like home' beams a pink one, neatly summing up the concept of the venue: a space where everyone is welcome, you can simply be yourself and most importantly, you can celebrate you. It's your home from home.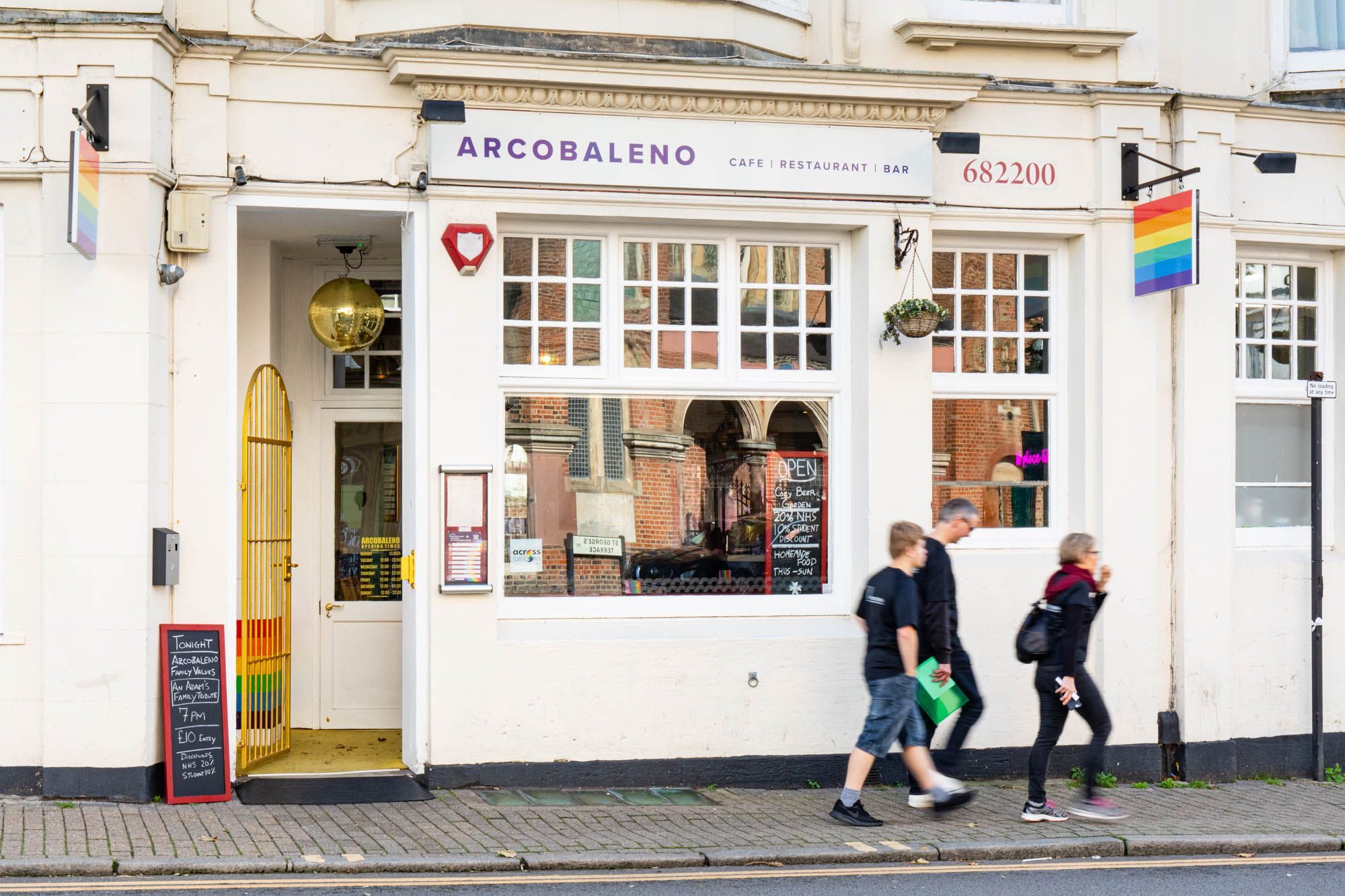 But there's much more to rejoice about within the walls at Arcobaleno. It's the city's only Maltese cuisine food spot; it creates unique, in-house conjured cocktails; and there are float-loads of entertainment that mainly involve drag, dress-up, and letting go. The outside seems so far away… and we're certainly not in Kemp-sas anymore (just ask the pair of Dorothy-Wizard-of-Oz glittery ruby slippers poking out from the wall).
Mother and son owner-team Luciana and Nick's passion for Arcobaleno is palpable and the family vibe spreads throughout the expanding team of talented chefs, servers, mixologists, drag artists, and you. It's a nice place to be and it's ready for you to absorb the vibe.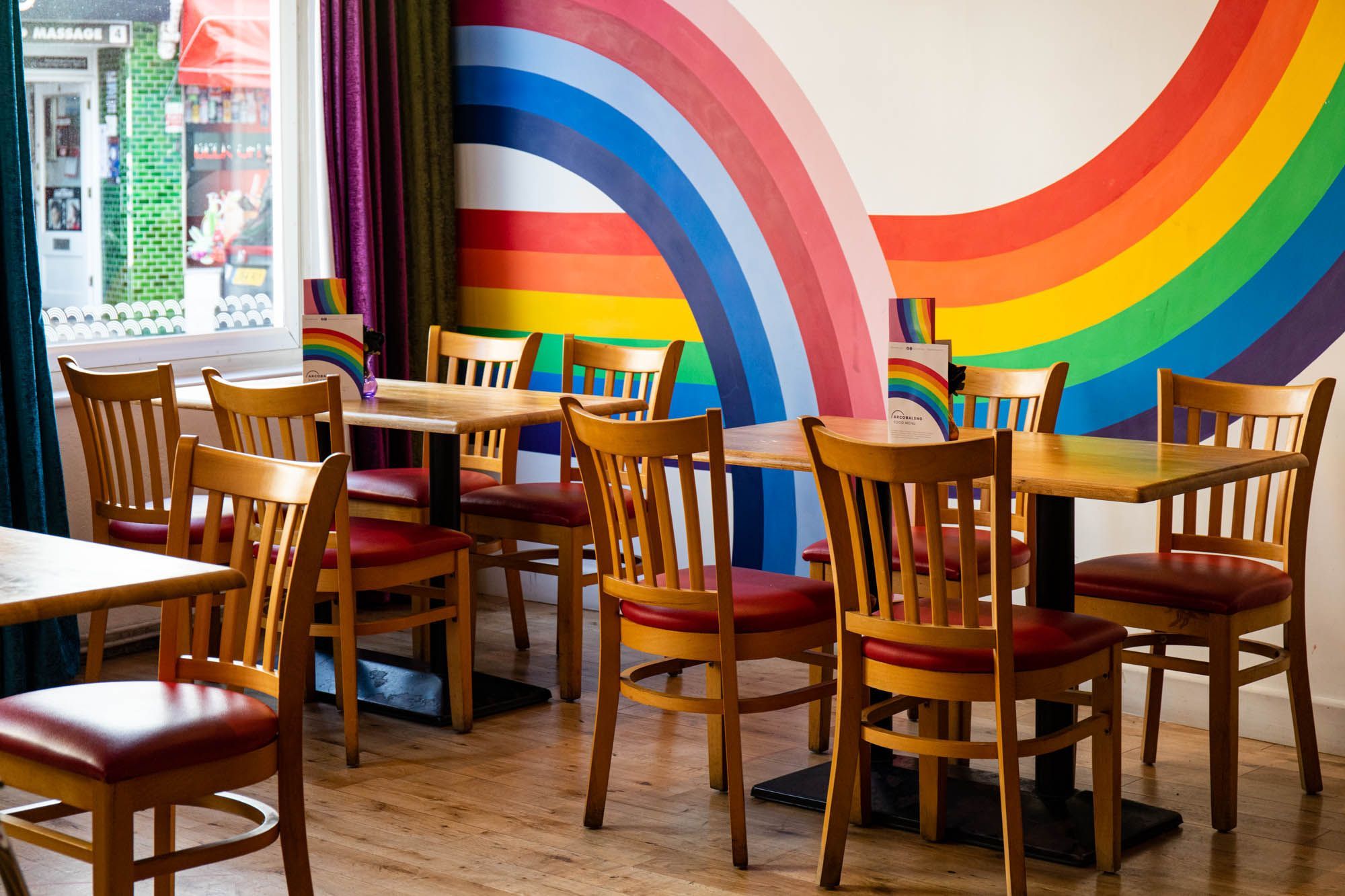 Heightened flatbreads
Malta's food is shaped by its rich history, taking in Spanish, French, and other Mediterranean cuisines as well as some North African influences and even British traditions. Arcobaleno has embraced some of the classics, such as the ratatouille-like Kapunata, which they serve in a number of incarnations: with flatbread; with penne pasta; as part of a 'proper platter' (with warm bread and beans, sun-dried tomatoes and the popular cauliflower fritters, among other delights); and a top one of the venue's signature 'Fill 'em up Flatbreads'.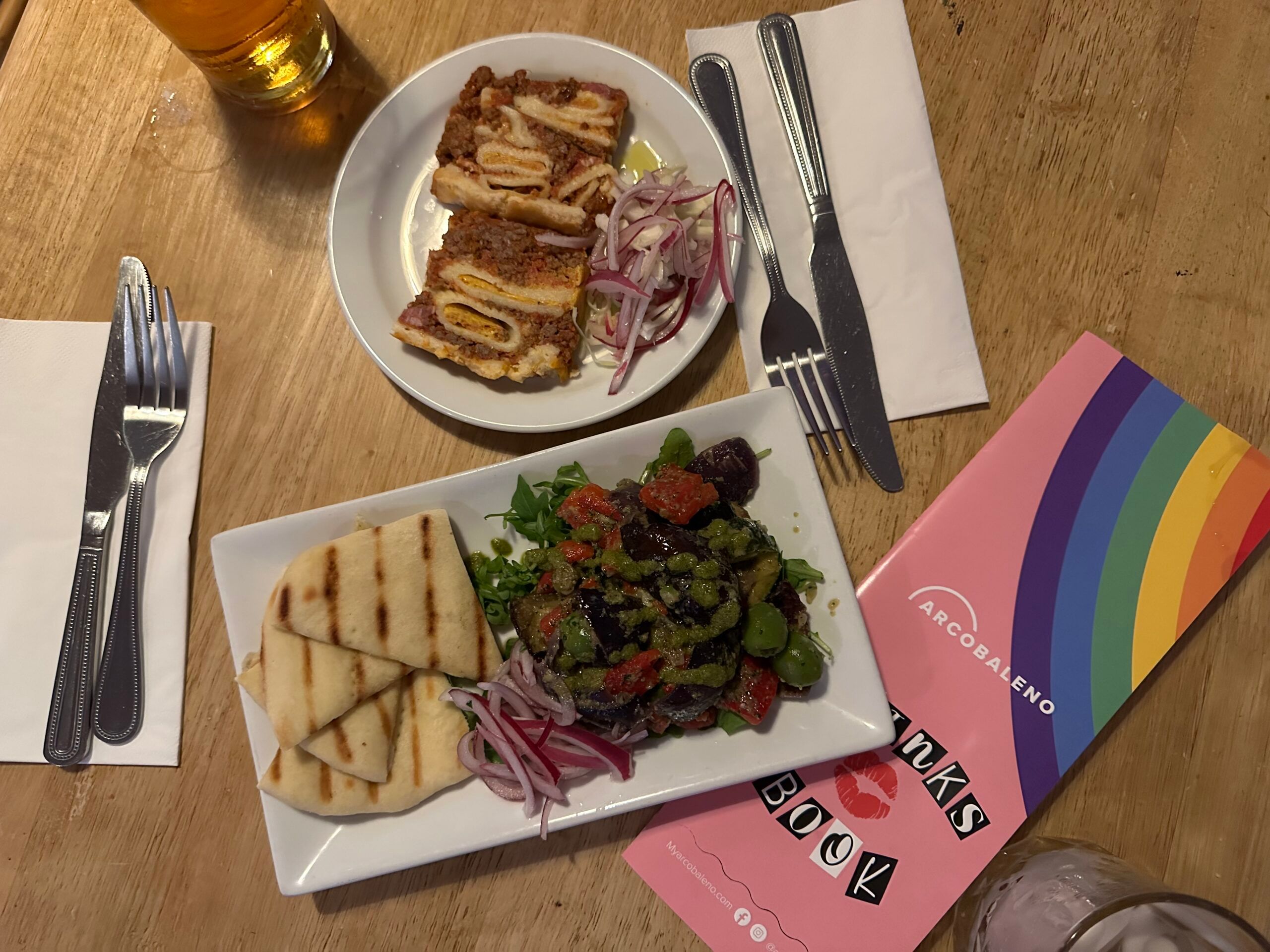 In the colder months, these flatbreads are a much-needed comfort food: intensely flavoured, beautifully balanced with textures and ingredients, and filling enough to fuel you for some time thereafter. They come in five main variations, taking in an all-day brunch, slow-cooked pork, meatball, goat's cheese (with that Kapunata) and a vegan plant-based version piled high with leaves, veggies, seeds, pickles and the surely soon-to-be-famous Arcobaleno cauliflower fritters.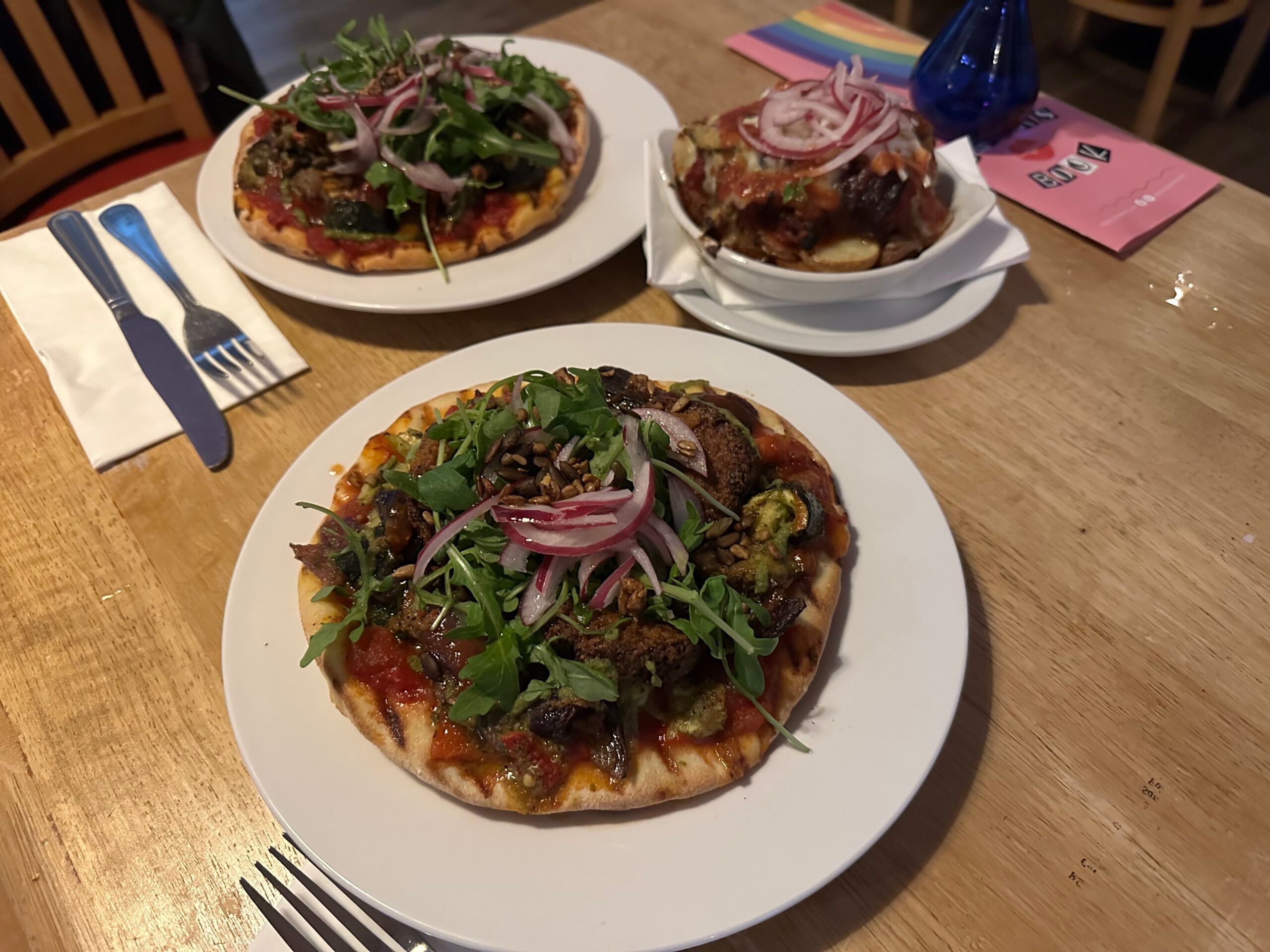 We plumped for The Made in Malta version, which arrived with a generous chunk of goat's cheese, adding that salty essence to the rich tomato sauce and enlivened with an added Maltese honey drizzle.
The roasted vegetables melted in the mouth and their gooeyness was offset by the toasted seeds and fresh crunchy pickles. And the breads are bursting with freshness, offering a touch of extra virgin olive oil goodness and baked in-house. You can't ask for better than that.
We also sampled the vegan Plant-Based Perfection and, given its name, were pleased to find it is indeed a taste of heaven. It's clear the chefs know how to mix and match flavours and textures – those cauli fritters adding bite to the plethora of roasted veggies and the green sauce and rocket leaves elevating each gobble. They certainly aren't afraid of flavour here. 
Loaded potatoes
In a welcome twist on the standard pub-grub chips with toppings, the Arcobaleno team has created a selection of sautéed new potatoes, crushed to absorb toppings that range from pulled pork to roasted veggies, and to some of the tastiest beef and pork meatballs we've tried. Perfect with one of the venue's beers (especially after work) these dishes are healthier, tastier and lovelier than we'd imagined. The meatballs are also present on some of the menu's other dishes, as small plate starter and on the main event flatbreads, so there's plenty of opportunity to try them on whatever variety takes your fancy, and wonder how they make them so darn divine.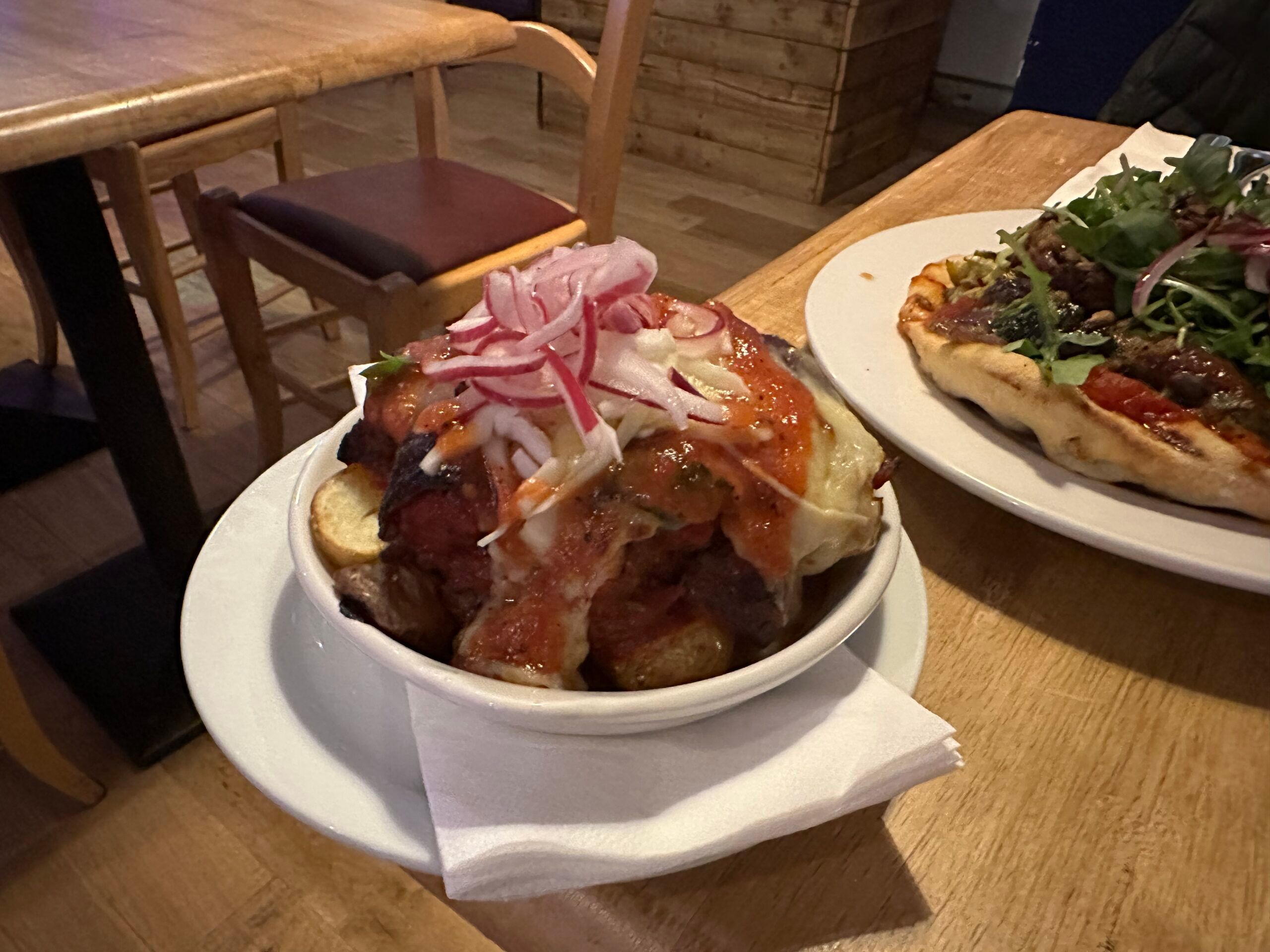 Happy for Hours
Every Tuesday, Wednesday and Thursday between 5 and 8pm, it's happy hour at Arcobaleno with two cocktails for £12. The drinks menu delves deep, offering some surprises as well as much-loved classics. We didn't need an excuse to make Arcobaleno a regular, but this just adds to the lure. And who doesn't need some rainbow when the weather's grim? Or when it isn't, to be honest. See you there, soon. And come hungry.