Indian Street Food at the Curry Leaf Cafe
As they say, 'life is too short for boring food' and that certainly is the case with this incredible Indian street food. 
And one thing Curry Leaf Café isn't, is boring. At this Brighton indian restaurant, It's almost as if the spices you're about to experience envelope you as you walk in – the décor is a colour palette of bright greens, oranges and yellows mixed with distressed wood and the aromas are like an amuse bouche before you've even taken to your seats and started salivating over the menu (please refer to NHS guidance on sharing bodily fluids during a pandemic, of course).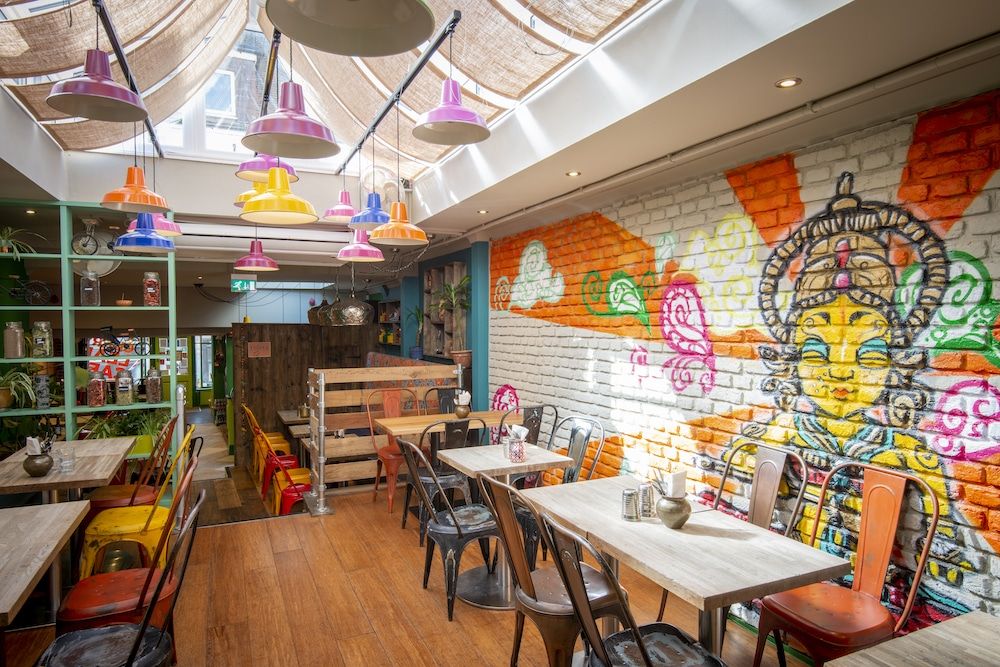 The staff are pretty brilliant at Curry Leaf Café: attentive, knowledgeable, and friendly. They seem to sum up what's often brilliant about Brighton. And they're only too keen to recommend what's hot (in terms of on trend) and what's hot-hot. We like spice and are eager to learn about fashion, so we asked about both. More on that in a moment.
Indian Street Food | Chickpeas and Chicken please
The Kale and Chickpea Chaat caught our eye because it sounded, well, odd. The kale is dipped in spiced chickpea flour batter then deep fried and topped with a range of tastes and spices that immerse your tongue in something of a game of crunch, ooh and OMG. 
The creamy soy yoghurt soothes the spiced tomato; the pomegranate seeds burst sweetness around the sour tamarind chutney. It's moreish and mouth-wateringly enjoyable. And vegan, too.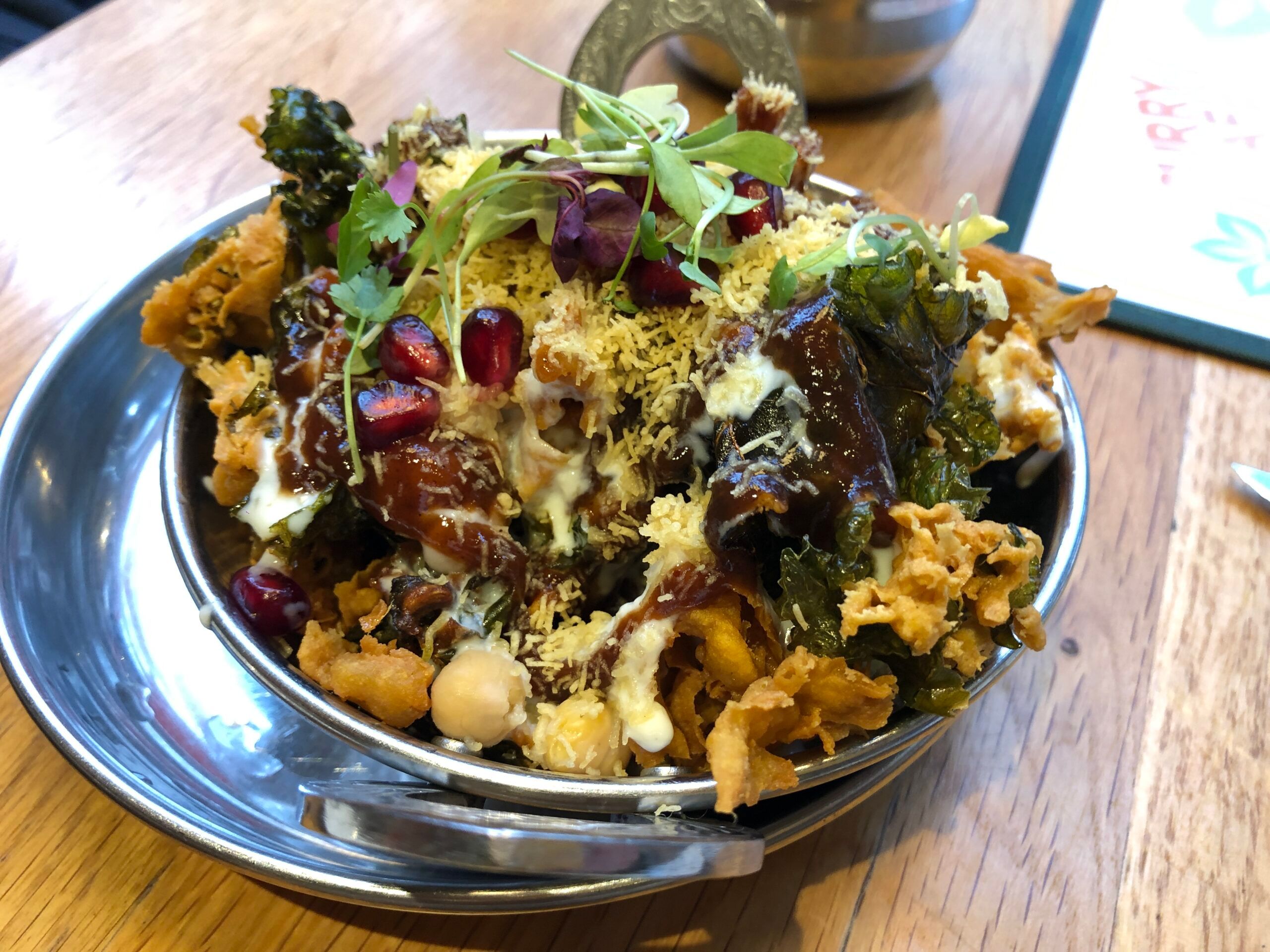 Less vegan were the Chicken Lollipops. We chose these mainly because we love the sound of child-like food. They're on the menu with only one red chilli emoji indicating mildly hot but, we must confess, the sweet and sour garlic and chilli sauce that sticks to the deep-fried chicken wing coating is a force to be reckoned with (and offers a chance to sip a craft beer from Curry Leaf Café's extensive selection, perhaps). Inside, the meat is marinated in ginger, garlic, soy, and lemon juice, so you can just imagine the depth and diversity of flavour they combine to conjure.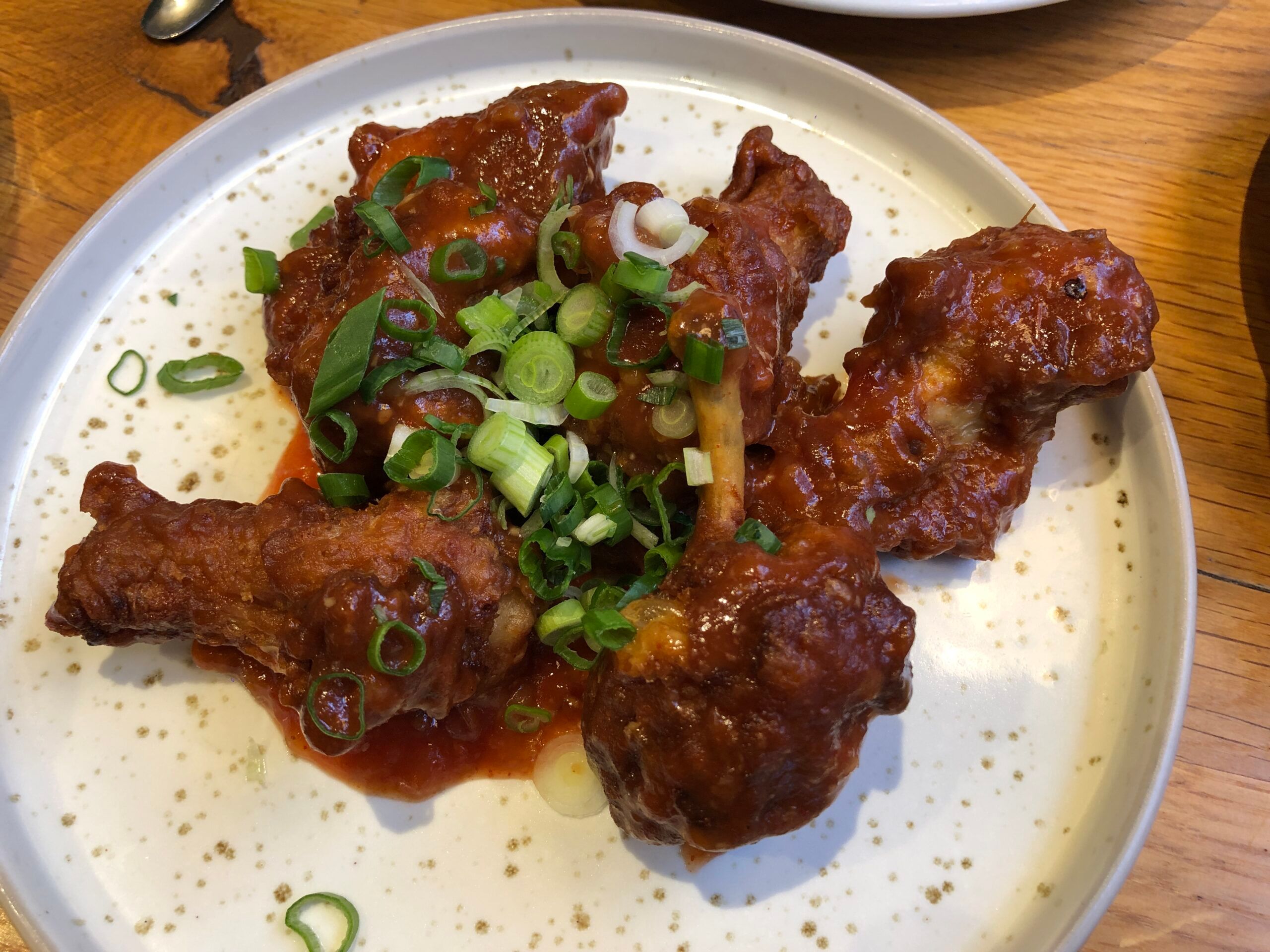 Curries so good, they're served in silver bowls
Curry Leaf Café's curries are served in silver-mirrored bowls. It's as if they've just checked how good they look before coming out of the kitchen and want to share the beauty with you. The rich colours and sheen on the sauces are magical, mixing a street food vibe with a maharaja's serving spoon of glamour.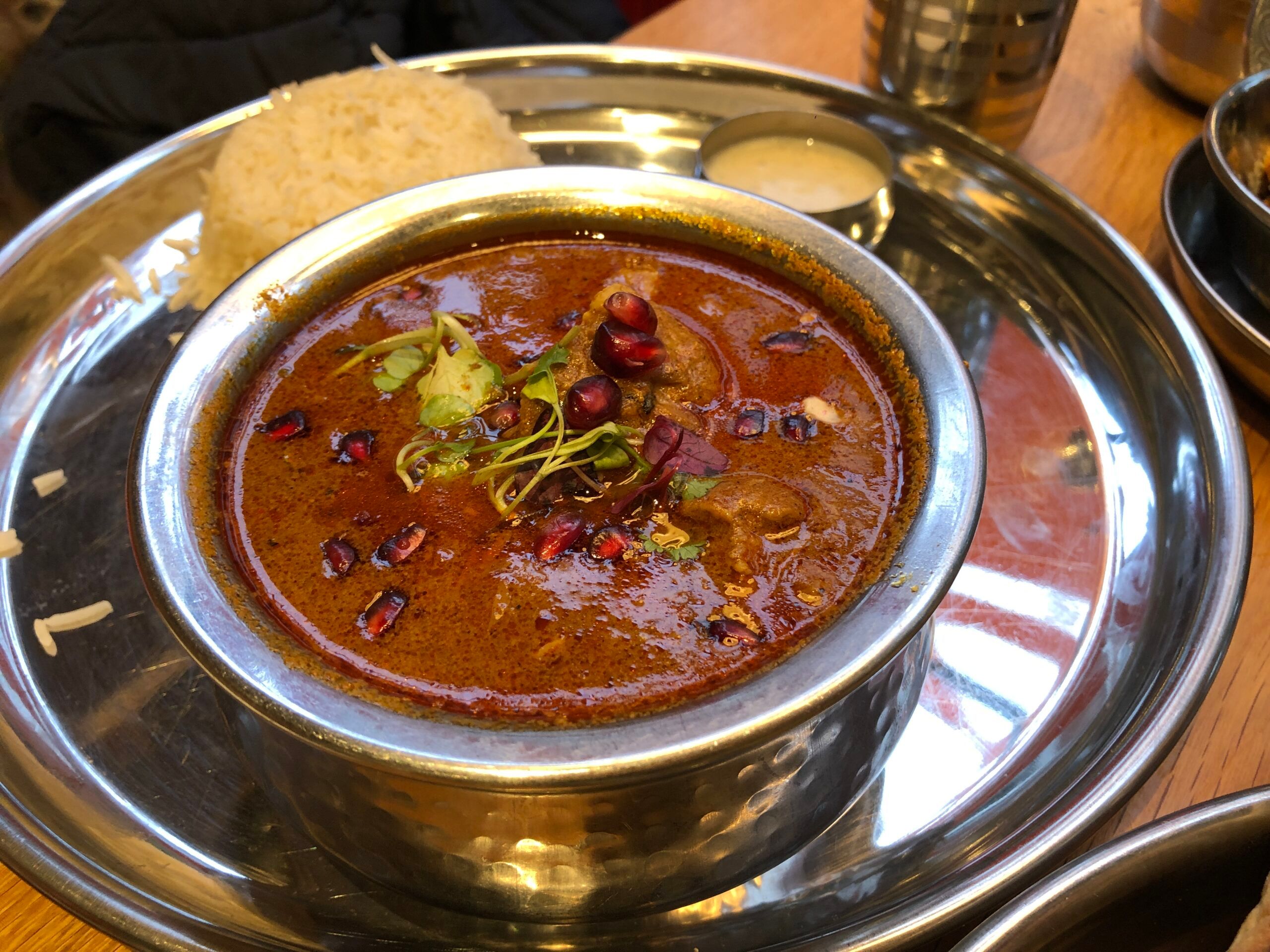 We plumped for the extremely plump Paneer Masala (two red chillies on the menu, meaning Medium Hot) which comes in a rich tomato-based sauce flavoured with onion, coriander, chilli (of course!), garam masala and black pepper.
The paneer cubes are bulging and fried on all sides to have that nice crisp outer later, while still being able to soak up the spices. The Curry Leaf Café matches each curry with it's perfect bedfellow of naan bread or rice with a side dish. The paneer came with a Peshwari naan and a mung bean daal. Delicious.
Indian Street Food | Mains
For a meaty selection, we chose the Rajasthani Lamb Laal Maas (also two red chillies on the menu) and when they say slow cooked and intensely spiced they mean it: this is one to savour. The Brighton chefs say that the yoghurt and onion sauce is carefully balanced to mix fruity heat with the spices and it works like a dream, scooped up by the matched garlic and coriander naan with lashings of pomegranate raita to cool.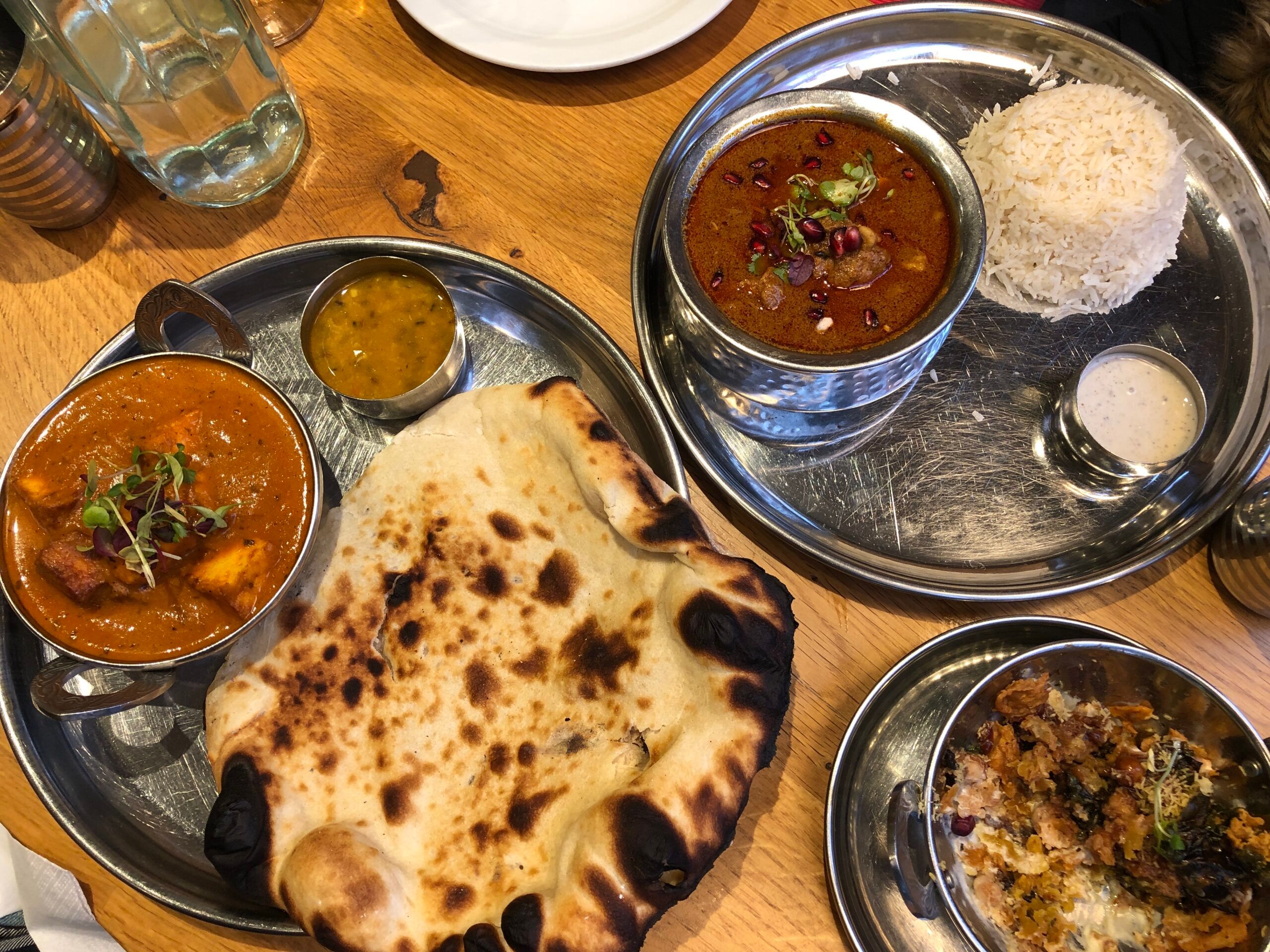 Life really is too short for boring food and the Curry Leaf Café is on hand to enliven any meal.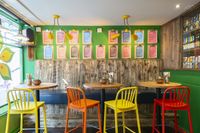 Want to know more about Curry Leaf Cafe Brighton Lanes?
Find Out More