English Wine Week 18 – 26 June 2022
We caught up with some local hotspots to find out what English wines they're just mad about and what delicious seasonal dishes they're enjoying them with.
Anya Wlodarczyk – GM and wine buyer
Albourne Estate has been my favourite English producer for the last few years. They're based in Sussex, only eight miles from our bar! The Albourne Estate is owned by a really lovely couple, Alison and Nick. I've met Alison on multiple occasions, she's a very friendly and knowledgeable person. I love supporting women in the drinks industry. However, in this case, her wines really speak for themselves.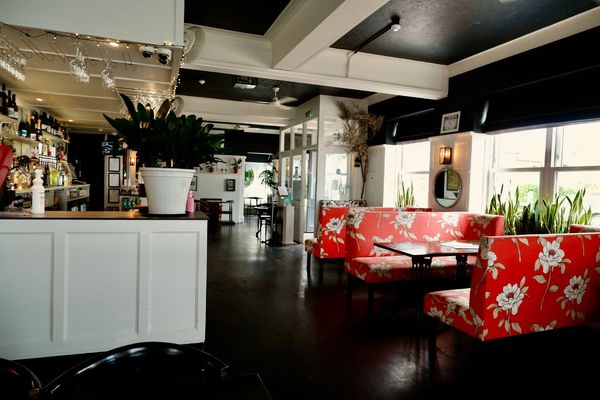 Albourne Estate has an ethos that really speaks to me, to be a truly boutique producer in style and scale and to do this in a sustainable and low carbon way. They grow their own grapes, harvest them and produce wine in a small barn in the middle of the estate, if that's not 'boutique' I don't know what is. The vineyard's located in the middle of South Downs, it's just beautiful. Everything about them speaks Sussex, even the animals on wine labels.
My favourite is their Multivintage which is a traditional method English sparkling, but I'm also a huge fan of their Sussex Rosé and Estate Selection white wine. On my menu, I would pair tiger prawns with a nice glass of Estate Selection (Chardonnay, Ortega, Bacchus) and for a pudding, I'd suggest a glass of Multivintage with Lemon Posset. Enjoy!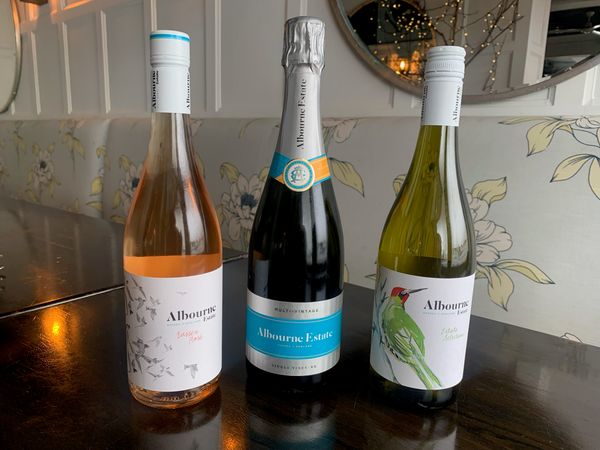 Nicky Hitchmough, General Manager
Wiston Estate Brut NV is one of our favourite English wines. It's made in East Sussex so super local. It's a multi vintage sparkling wine with elegant fine bubbles and lots of toasty biscuity notes, autolysis from long lees ageing creates a creaminess and a long refreshing finish. We've previously paired it with our trout dish with smoked mackerel sauce and trout roe. The trout for this dish was mostly caught by Duncan himself from the chalk streams in Arundel. The green apple and freshly cut lemon flavours of the Wiston give a sharp etch of acidity which worked perfectly with the beautifully rich, unctuous, smoky trout dish. Simply exquisite!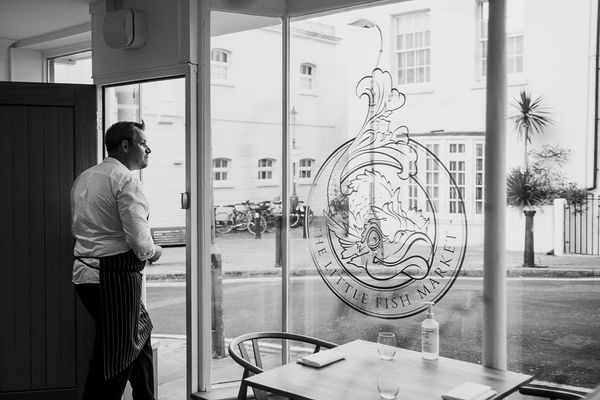 Amy Penfold
As we progress into the warmer months of the year, it has to be a sparkling Rosé! The latest release of our sparkling Rosé comes from the stand-out 2018 vintage which has widely been considered the 'vintage of the decade' by winemakers in England.
Our house style is particularly Pinot Noir-dominant and this Rosé is made from 81% Pinot Noir. It's a delicate pale pink on the eye and really represents a beautiful English summer in a glass.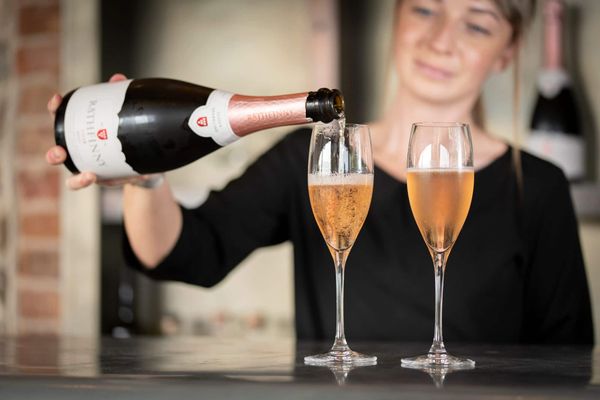 Every Friday and Saturday night in the Tasting Room, we serve a tasting menu with an optional wine flight. It's a great way to sample wines from across the Rathfinny portfolio, perfectly paired with delicious food. Right now, we're pairing the Rosé with a woodruff custard tartlet with frozen raspberry cells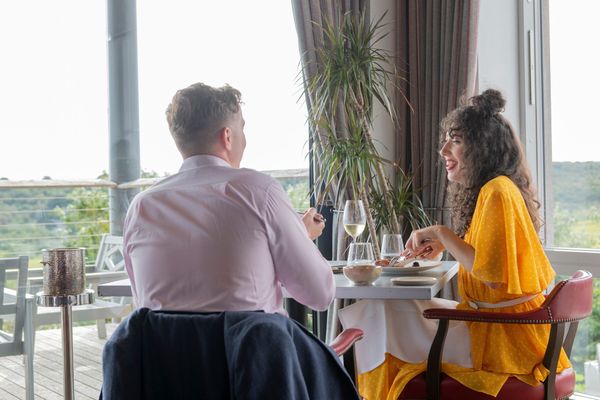 Lily Ashdown Harris, Sommelier
When I think of English wines, my mind immediately jumps to English sparkling – and is it any wonder when English bubbles keep winning awards in blind tastings? Here in Sussex, we're blessed with similar soil and a climate to the OG sparkling mecca – I'm talking about Champagne of course! So with this in mind, to commemorate the jubilee and all things royally British, we've had a selection of home grown sparklers on by the glass. While I've always felt that English fizz has a distinctive freshness and zippy acidity, which I still stand by, they all had very unique character.
First up we have Dermot Sugrue, a one-man institution in great British winemaking and winner of WineGB producer of the year 2020 and 2021. His estate is based down here in Sussex (Wiston to be exact) but he's had a hand in setting up multiple English wineries. Sugrue's 2017 vintage of his signature brand, 'The Trouble with Dreams', is predominantly chardonnay based. It's a super linear, crisp and zesty little number with a salinity that pairs beautifully with fresh Jersey oysters. It's the ultimate way to kick off any meal in my opinion!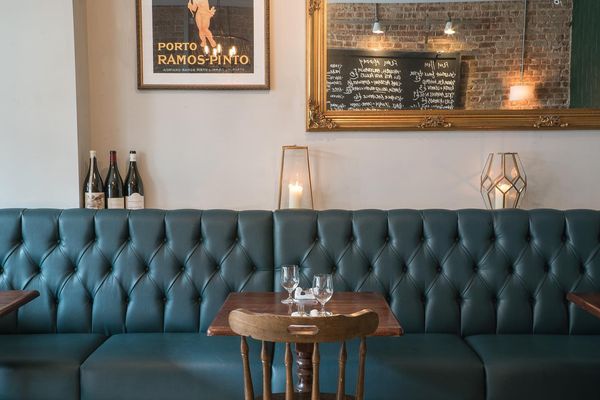 For those looking for a slightly broader style of bubbles, I'd look to Westwell 'Pelegrim' NV. This winery is based on the chalky slopes of the North Downs in Kent and comes to you from Plumpton alumni, Adrian Pike. A seriously traditional blend of the Champagne trio: Chardonnay, Pinot Noir and Pinot Meunier. It's aged for 36 months on lees, the result is a gloriously rich, biscuity and complex tipple. I'd want it alongside our mackerel and miso caramel starter with pickled grapes.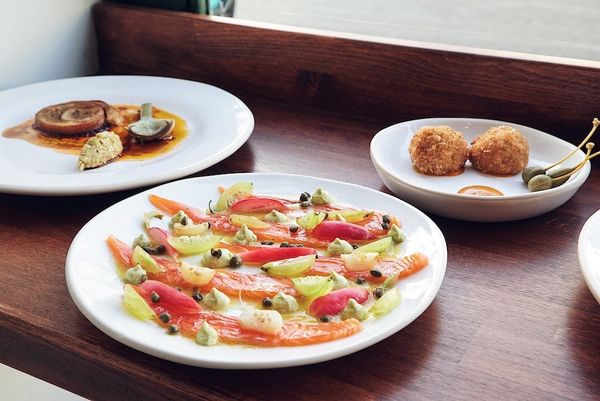 Lastly, my personal favourite, Ancre Hill Estate Rose! For one week only we poured this Welsh beauty by the glass. Richard and Joy Morris head up this entirely organic and biodynamic winery, which uses no pesticides, wild yeasts, very low sulphur and little-no filtration. This particular drop is made from 100% Pinot Noir grapes (which are responsible for the red wines we all know and love) with 24-36 months on the lees. Salmon pink in colour, something quite herbaceous on the nose, with red fruits on the palate and a creamy mouthfeel that lends itself nicely to a number of dishes. This is the kind of fizz that happily carries you through from aperitif to mains. It's a match made in heaven with our Loch Duart salmon en croute – yes please!