The Brighton & Hove Food and Drink Festival 2014
Autumn Harvest, 4 – 4th September 2014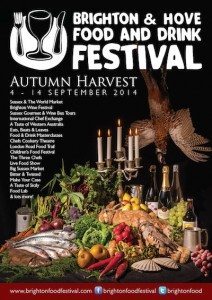 Now in its 13th year, the Brighton and Hove Food and Drink Festival programme for 2014 includes eleven days of dinners, major outdoor events, tastings and tours celebrating the best of the city and the surrounding county of Sussex.
The Brighton festival is one of the UK's longest established and largest food and drink events running every Spring and Autumn – but also hosting a year-round programme of food events, including Sussex Wine Bus Tours, farmers markets, charity events, Brighton & Hove Food and Drink Awards, and the International Chef Exchange.
Here is the full schedule of events for the Brighton and Hove Food Festival for 2014.
All of the festival's major outdoor events, including the Sussex & The World Market, Big Sussex Market, Live Food Show and Children's Food Festival are free entry for everyone to enjoy.
The Autumn Harvest runs in September each year and hosts more events, has more attendees and is a greater spectacle of food.
The Brighton and Hove Food Festival event is hosted in different parts of the city from Hove Lawns, New Road, Jubilee square, Brighton Marina; it is an occasion when you can really spoil yourself through an amazing journey of food and the entertainment that goes with it. Please prepare in advance and wear loose clothing so you have room to grow!
Brighton and Hove are leading the way as a food and restaurant destination and the Brighton and Hove Food Festival is the biggest event of its kind in the South east of England. Each year this event continues to gather

momentum, the organisers have a superb grasp as to what makes the city tick and so the Brighton Food Festival team just keep getting better and better.  In 2013 Brighton attracted over 160,000 visitors to various locations around Brighton and Hove as the Brighton and Hove Food Festival enjoyed its most successful year to date.
With the Big Sussex Markets, Make Your Case, Bitter and Twisted, the Children's Festival, the Churchill Square Farmers Market, just to name a few events – Brighton becomes a food Mecca with people strolling around each corner of Brighton, just enjoying great food and hopefully soaking up the sun.
The Brighton & Hove Food and Drink Festival is a celebration of the best food and drink in the city and wider Sussex, with producers, restaurants, pubs, bars, retailers, markets & great events firmly at its heart. Here is a link to the Brighton Food Festival organisers website which gives you further information, plus if you wanted to get involved in the event as a stall holder to represent your business then please get in touch with them directly.
Nick Mosley from Brighton Visitor is heading the Brighton Food Festival campaign for 2014 once again, spreading the word about Brighton and Hove as a food destination city, therefore attracting thousands of people for the benefit of the city. If you want to find about food and drink in Brighton and Hove, then this is the event to attend. The Brighton Food and Drink Festival  is also a great occasion to showcase your restaurant or food shop off at; so get involved and help celebrate this occasion with anyone and everyone who knows and wants to know about food. The event also brings in close to £4 million for the local economy, well done to Nick and his team! This is considering the festival is a not for profit event, with no public sector funding.
"As comprehensive a festival as you will find in the UK this summer, this month-long homage to Brighton, Hove and the wider Sussex food scene takes in pretty much every taste-related activity you could think of…
For foodies who like to keep it local, the Big Sussex Market, which attracted over 40,000 people last year, is a shopping experience without parallel. Best start saving."
– The Guardian 'Word of Mouth'
More About The Brighton and Hove Food Festival
The main Autumn Brighton & Hove Food and Drink Festival runs  through September 2014. Featuring the Big Sussex Market, Make Your Case, Bitter and Twisted, Brighton Wine and Champagne Festival, Brighton and Hove Restaurant Week and much more.  Have a look at their full events listings just here.