Express Lunch
Heard about the Coal Shed express lunch in Brighton?
What if I told you you needn't wait until the weekend for decidedly delicious food, which doesn't break the bank? Here we have the Express Lunch menu at The Coal Shed; buying you a bavette steak, a choice of sauce, those famous beef-dripping chips, and a glass of red (or a beer) for just £20. It might be at the top end of what you'd pay for a midweek lunch, but it's very good value for money. Plus, quality permeates just about everything at The Coal Shed, from the decadent decor, to the rare breed heritage meat cooked over coals – meaning you're getting more bang for your buck than your standard lunchtime deal at another Brighton restaurant!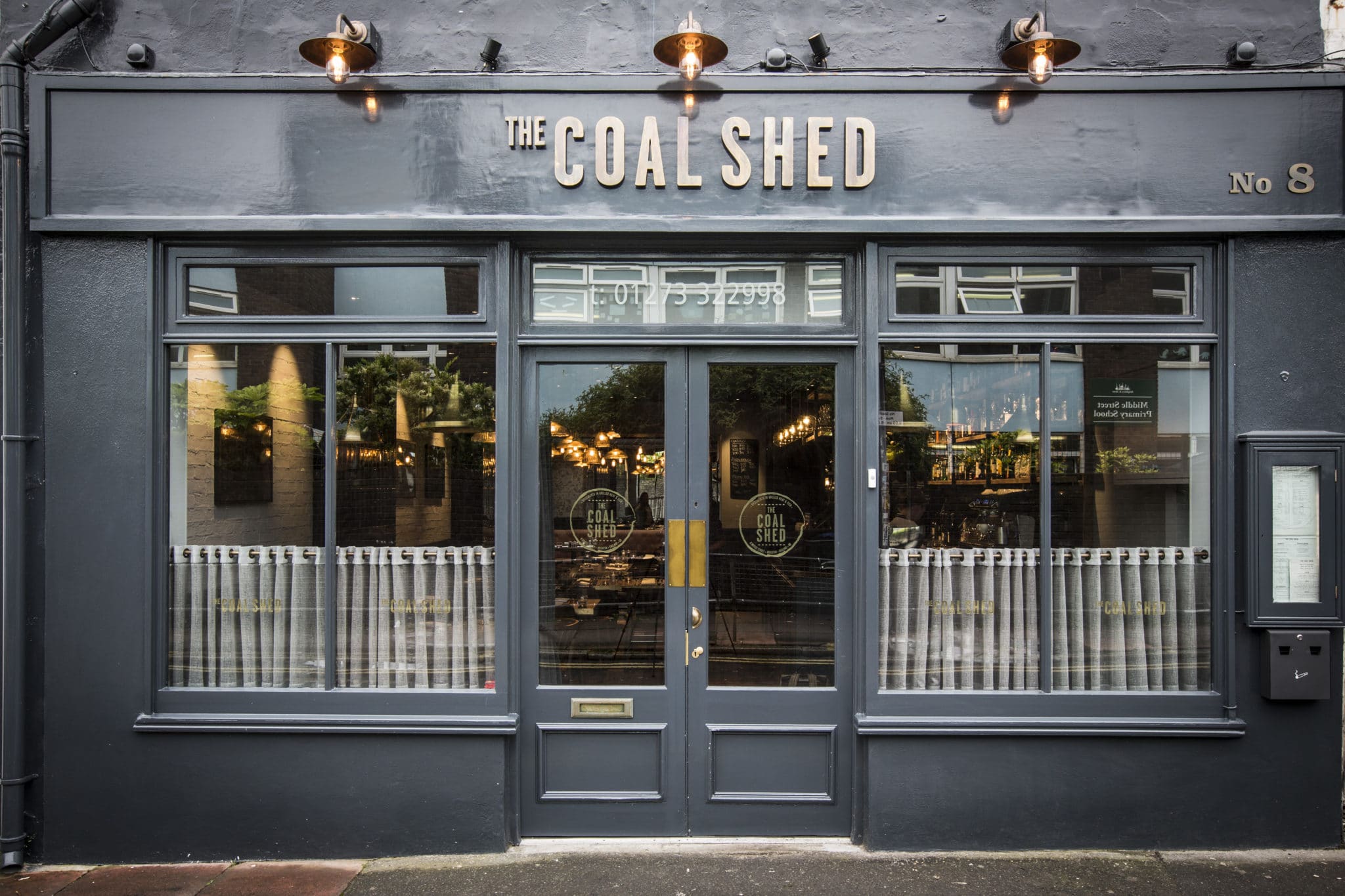 Local renowned quality
You know what to expect when you visit one of the restaurants owned by Black Rock Group; warm hospitality, expansive, well-considered menus, sexy interiors, and independence ingrained in their DNA. These lot are the masters of listening to customers and understanding what they like. So whether you're slurping on oysters and champagne at The Salt Room, or diving into a hedonistic bowl full of pasta at their newest restaurant, Tutto, you're always in good hands.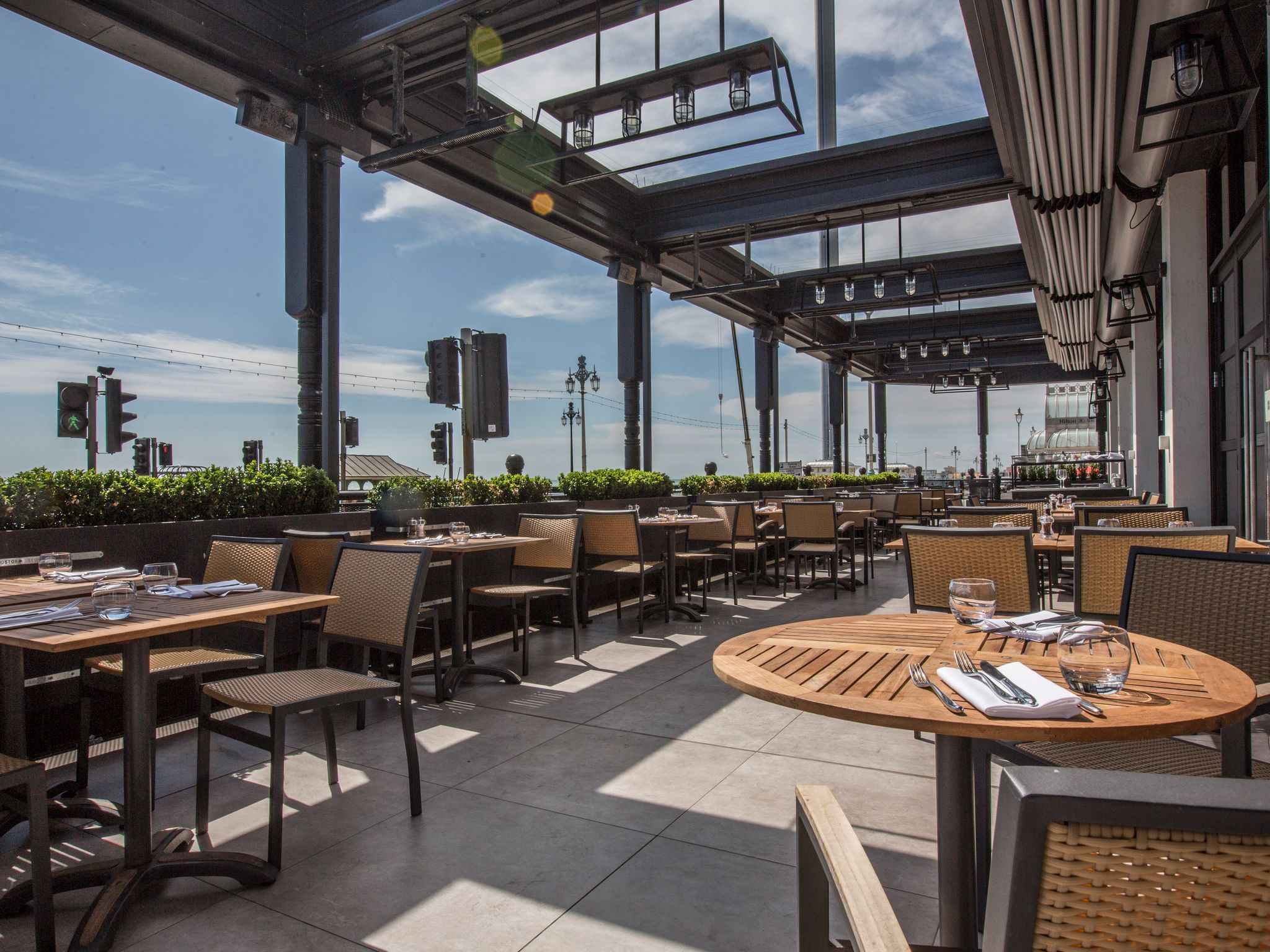 Everyone knows what you visit The Coal Shed for: meat. But that's not to say it's the only thing on offer, and given we'd both taken the afternoon off to visit, it seemed silly not to try some of the dishes from the a la carte menu.
Life's better with burrata
Burrata, smoked lardo, tomato, and a lemon and basil vinaigrette. I don't trust anyone that dislikes burrata, for what's not to love about what is essentially mozzarella and cream? Adding to its elite-level cheese status, it pairs with so many special flavours such as the heat from nduja, or the powerful oaky flavours of truffle, to sweeter pairings like peaches and toasted almonds, or figs and fine cured hams.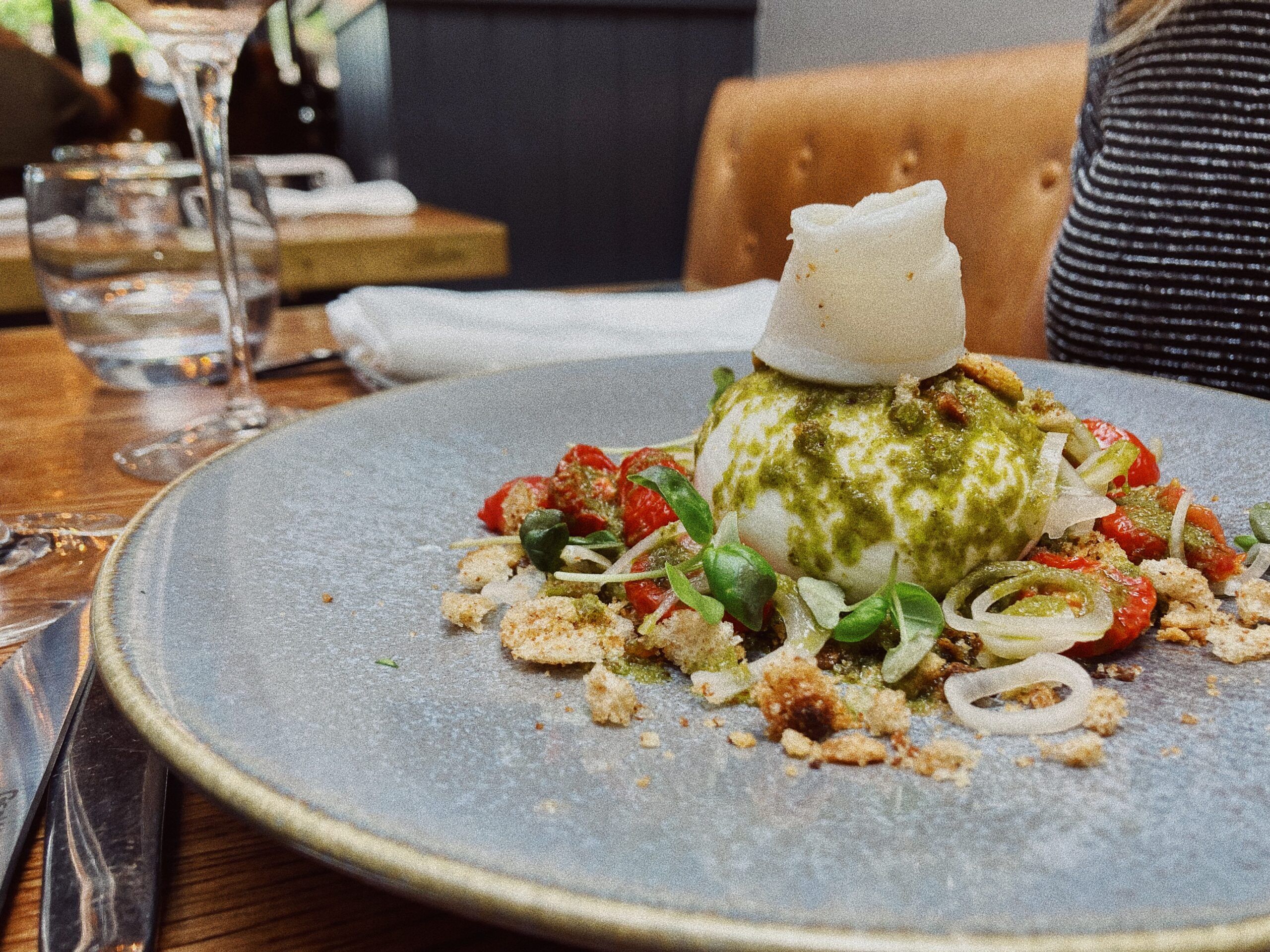 As mozzarella's less springy counterpart, there's this magical sensation as you cut through the knitted top at the centre of a burrata ball. From the moment you push down with the knife, that cream slowly seeps out of the soft shell that encases the filling. While it requires no "cooking" as such, the burrata by the Coal Shed delivers on just that, assuring me that quality ingredients are a non-negotiable here. I'd prefer a finer slice of meat than lardo so it can melt with the soft texture of the cheese, however, this is my only critique.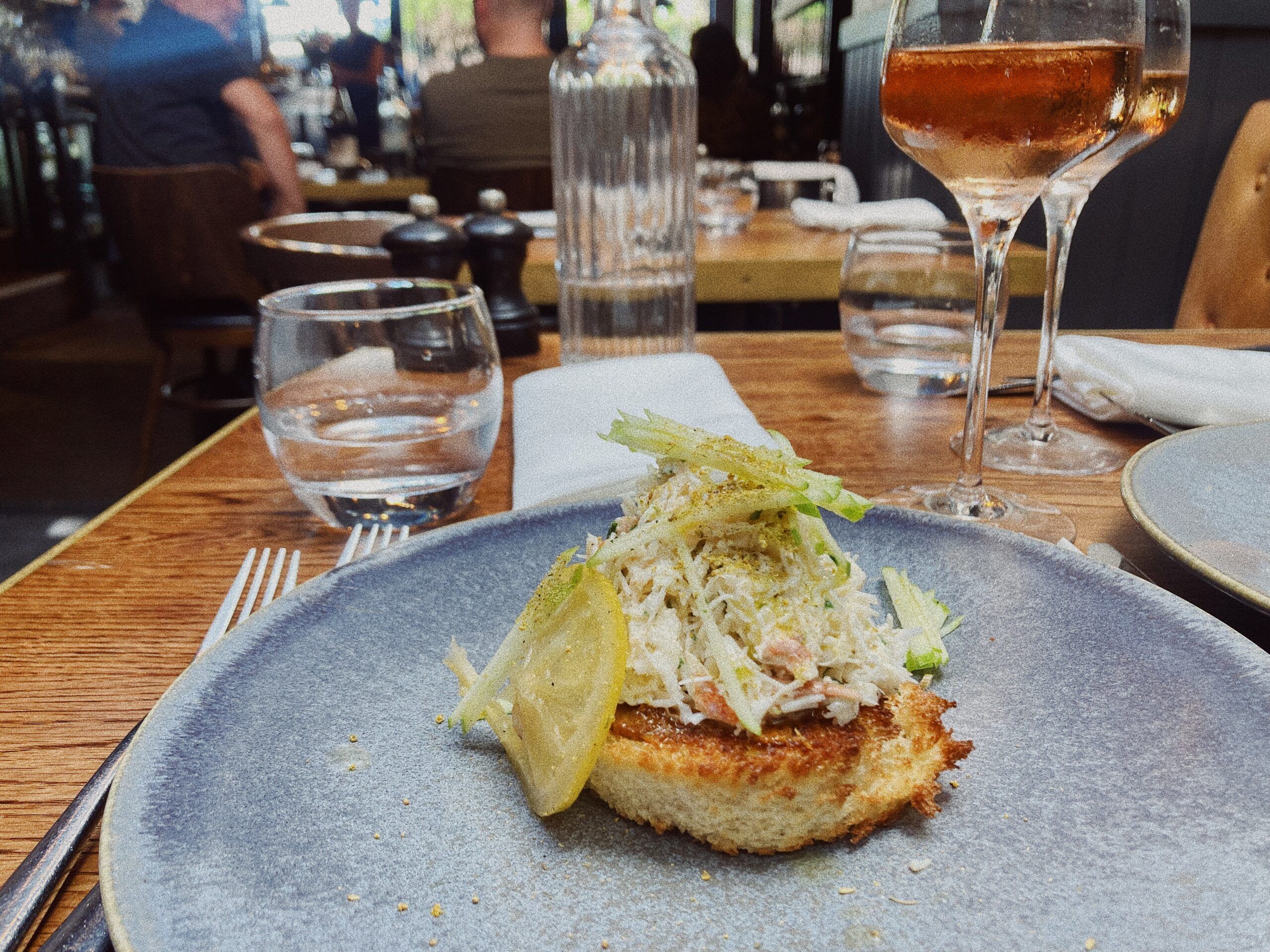 Our second starter is the XO Crab on Toast. This is paired with apple and fennel, undercutting the buttery crab and offering a dance of sweet and sour flavours on the tongue. It's pleasant to embrace these complex combinations before our more voluptuous main course. 
Steak expectations
Now this is what we came here for: that crowd pleaser, the meat of all meats. It's the only meat to merit its own class of structure: of course, I'm talking about steak. Steak is what other meat wishes it could be, the guy she told you not to worry about. Being in one of the most renowned grillhouses in the city, I'm assured that we're in safe hands.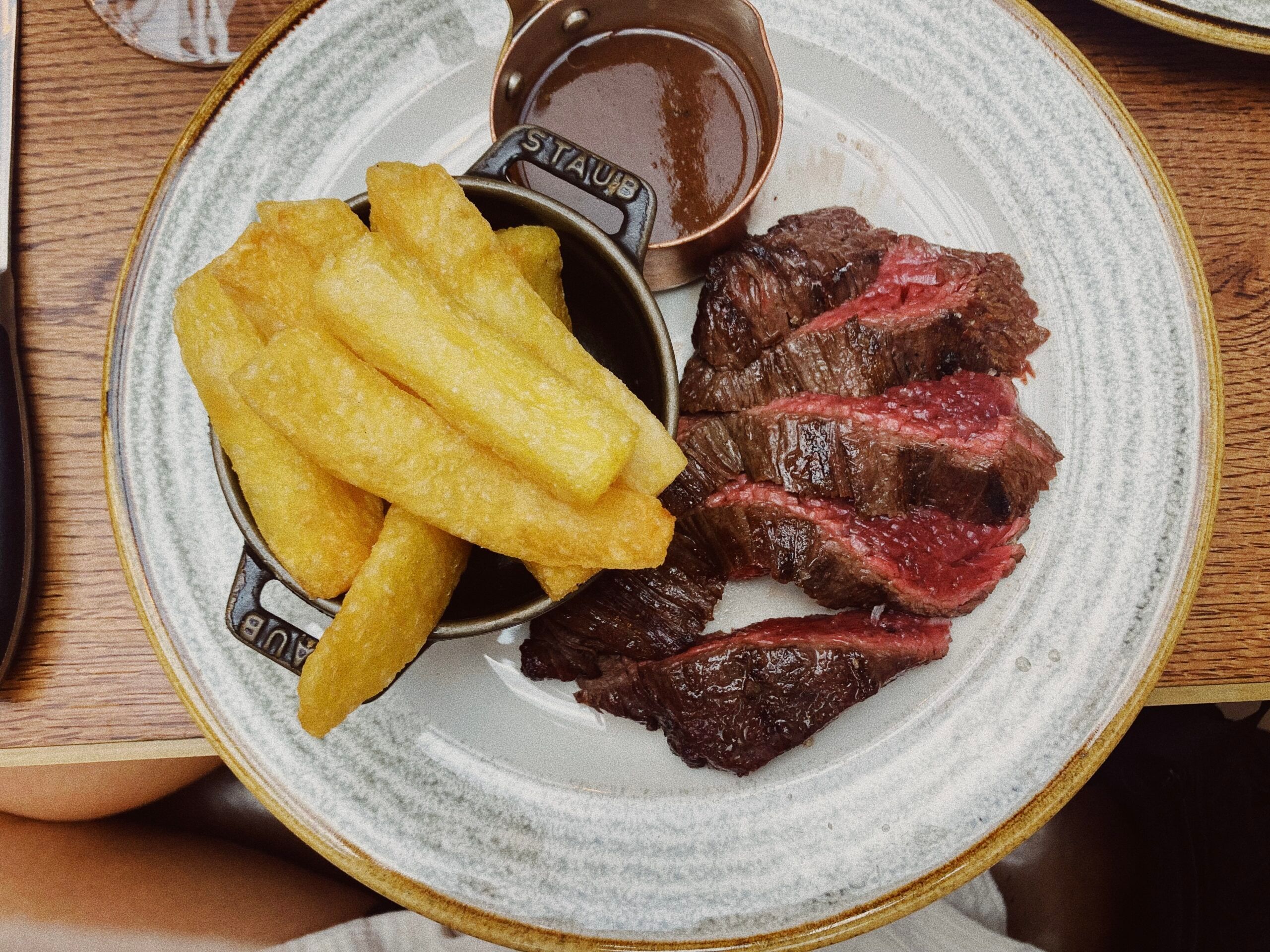 In particular we're having the cut named 'bavette', otherwise known as a flank steak. This is the rear quarter under the belly of the cow, renowned for its strong flavour and almost crumbly texture when cooked properly, allowing it to stand up to strong sauces and accompaniments. For accompaniments, we have the choice of a traditional peppercorn, Béarnaise, and Argentinian chimichurri. The final touch is their famous beef-dipping chips to soak up the juices off our plates.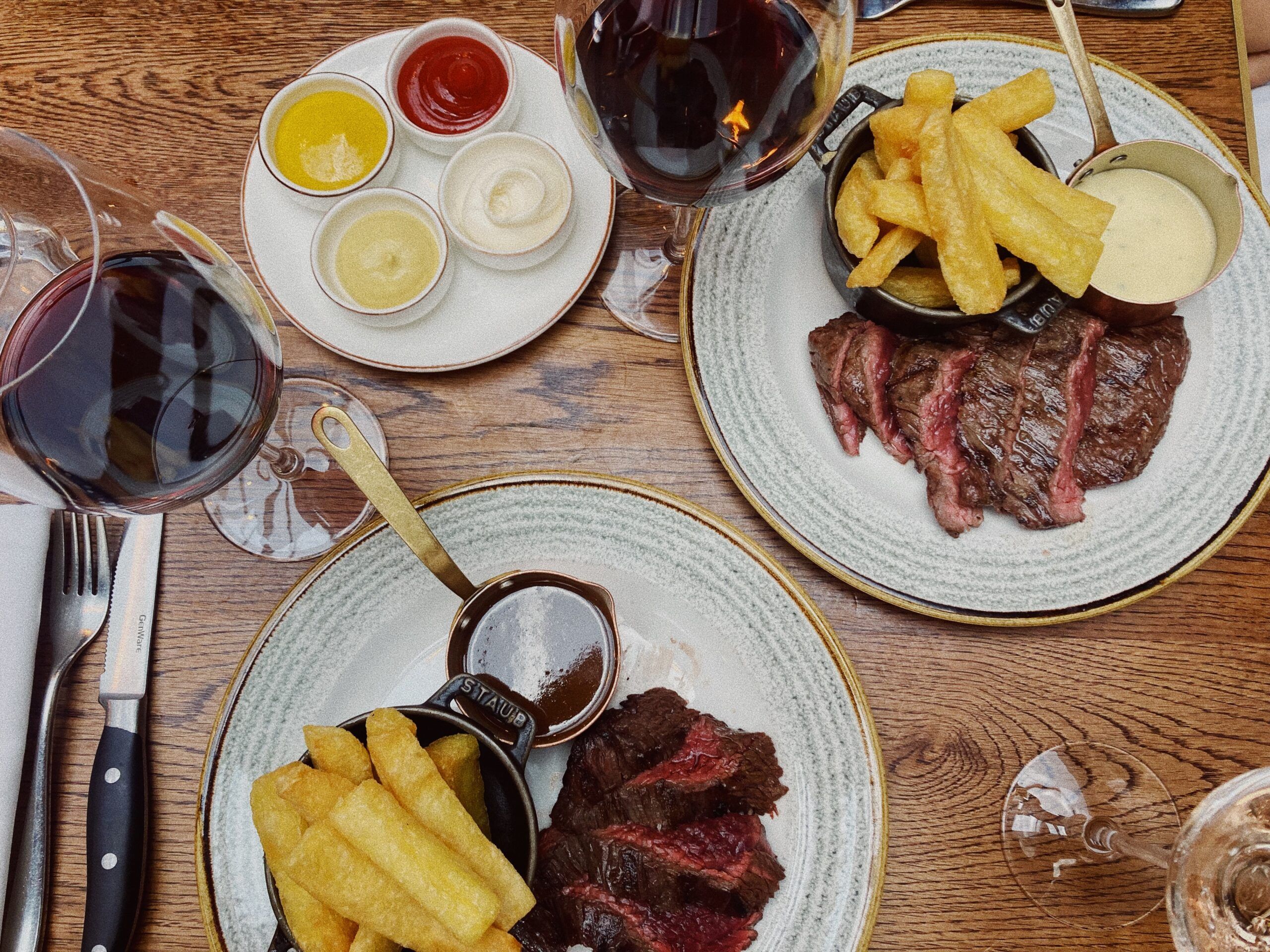 Our lunch arrives with a strong trio of elements; that glowing crimson hue from the steak, a mini cast iron dish with those famous chips, and a mini copper saucepan bearing saucy goodness. The meat has been lightly kissed by the grill and is cuddled by a rich, golden crust, indicating that it has aged well and thus is packed full of flavour. Steaks are served medium-rare as standard here but I'd say they're even on the pinker side of this, so do make a note to your waiter if you prefer something a little more well-done. 
As for the sauces, I opt for the peppercorn. This is infused with a bold and dare I say it "peppery" bite, with a little bit of heat thanks to the alliums that carry through. I was hoping for a slightly thicker texture since this arrives more like a gravy – which – I'm not totally against, particularly for dipping those crispy golden nuggets into! I have to say the chips are superb and I could plunge these into an assortment of relishes all day long (particularly that buttery Béarnaise). These have a musky sweetness from the fat, but are not in any way soggy in bite. 
We wash down all of the rich flavours with a well-paired red, with the tannins of the wine softening the fats in the meat and unlocking those dreamy, mellow flavours. It's a true symphony of sensations on the palate. While I'm no wine-guru, I can tell from glancing over the expansive wine list that there's something on the menu for even the fussiest of noses. Should you need any guidance then definitely discuss your needs with a knowledgeable member of the team. 
Cheerio with churros | Express Lunch Brighton
Our meal is finished with some homemade chocolate truffles and a plate of cheeky churros for sharing. The curly doughnuts are dusted in cinnamon sugar and accompanied by a miso Dulce de Luche; perfect for dipping and between you and your guest. We were battling for that last dip of milky caramel!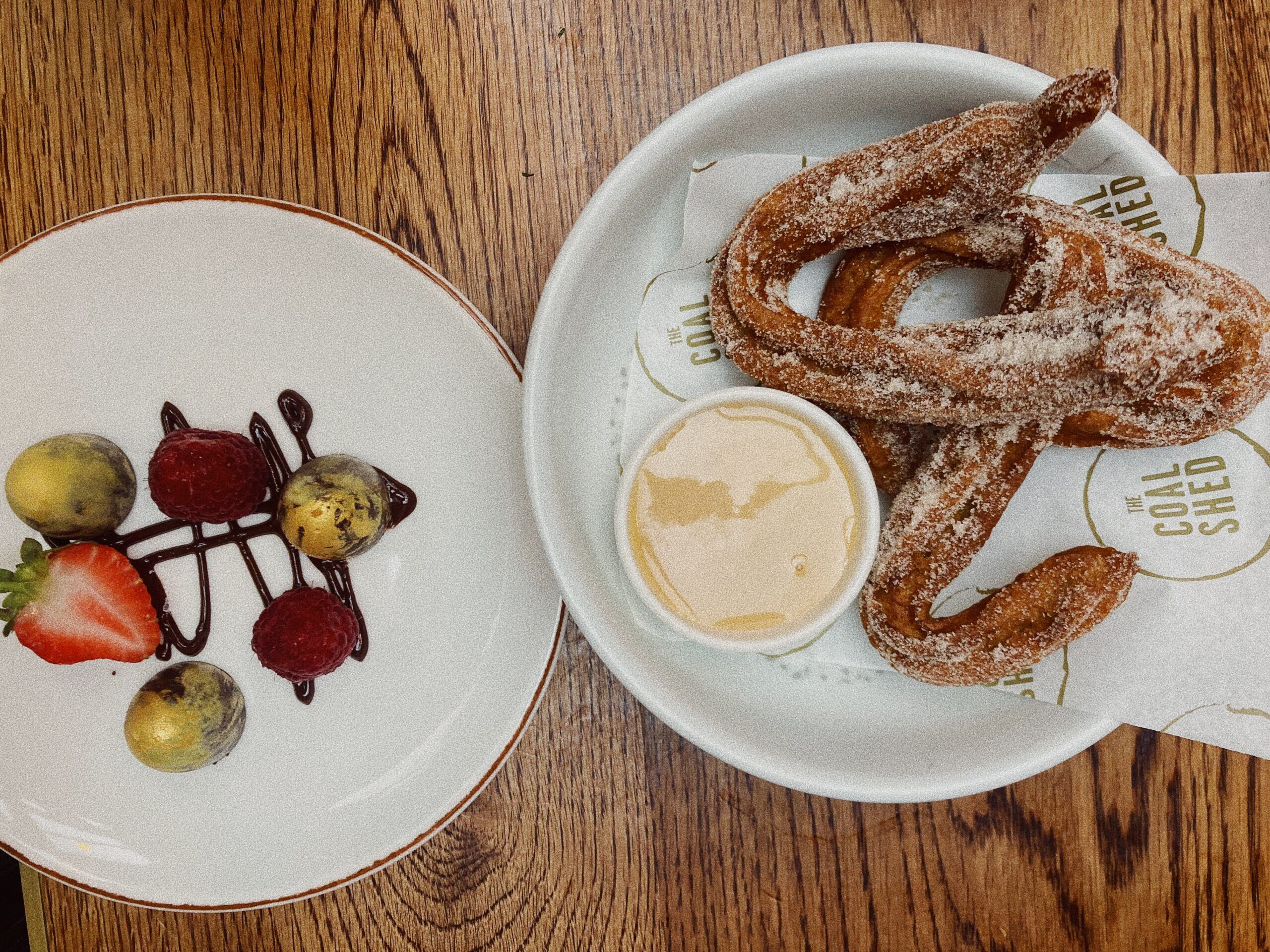 We leave Boyces Street merry and full-bellied. We probably didn't need the extras, but ah, it makes for a perfect reason to walk it off in the dazzling August sunshine. My gastronome dreams are fulfilled and I will absolutely be back in the colder months – next time for the award-winning Sunday Sharing Roast!