The news is out! In spring 2024, THE COAL SHED –  acclaimed steak restaurant from restaurateur Razak Helalat and the Black Rock Restaurants Group – will relocate to a larger, 142-cover site on Brighton's North Street. 
The Coal Shed's current home at Boyce's Street, which first opened its doors in 2011, will continue to serve the Brighton community with its lauded flame-grilled foods and outstanding hospitality until the spring. The eagerly anticipated move planned for shortly thereafter will kickstart a new chapter for Helalat's The Coal Shed brand.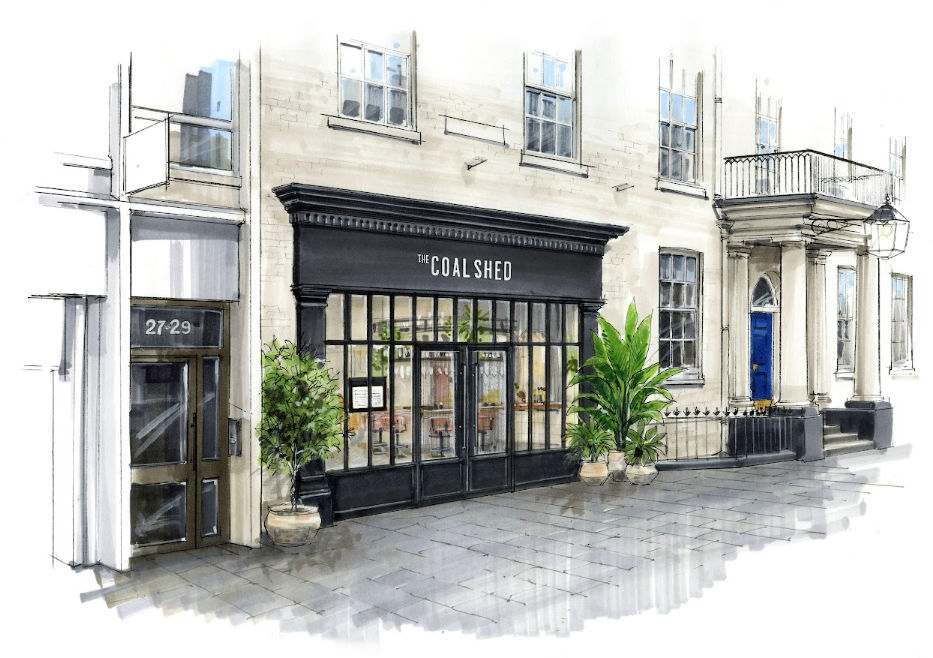 New Look – The Coal Shed Brighton
The space will boast a grand main dining room, located in a historical orangery with high, glass ceilings, as well as three private dining spaces that can cater for up to 60 guests. An open fire kitchen will put the coal-grilling theatrics at the heart of the dining experience, with an on-site aging room for meats and a bar area situated on entry to this new Brighton restaurant. 
The bar area will comprise a relaxed yet sophisticated stretch of banquet seating, dotted with round tables, and a crescent shaped bar lined with plush stools. This feature has been Helalat's long standing aspiration for The Coal Shed, but was impossible at Boyce's Street venue. How wonderful to hear that that this dream is coming to life!
Refreshed and Expanded À La Carte Menu
The food offering at North Street will continue to champion the art of cooking over flames, with coal-roasted rare breed heritage meat and South coast seafood taking centre stage of a refreshed and expanded À La Carte menu. The Coal Shed's signature steaks and sharing cuts will still be available, alongside dishes from the sea and land as well as daily-changing sharing specials. 
On the relocation, Black Rock Restaurants Group Founder Razak Helalat said;
We've always envisioned moving The Coal Shed into a bigger location and now, as we edge closer to our thirteenth year at Boyce's Street, it feels like the right time. The move is all about offering customers the full dining experience that I have always dreamed of, with the new site allowing for a bar area, a more intimate experience with your host, and more seating. Needless to say we'll continue serving our favourite dishes with the same warm hospitality to customers right up until the move in spring, but are really excited about this new era for The Coal Shed.
We're also excited to hear that a new concept from the Black Rock Restaurants Group is currently in the works for the Boyce's Street site. Watch this space!