Style and substance at The Coal Shed for spring
We're very blessed when it comes to food in Brighton these days.
Looking at the city's vibrant, pioneering food scene today, it's easy to forget how different things used to be. As hard as that might be to believe now, Brighton's been through a huge transformation from only having a few decent restaurants a decade ago to becoming the foodie mecca it is today.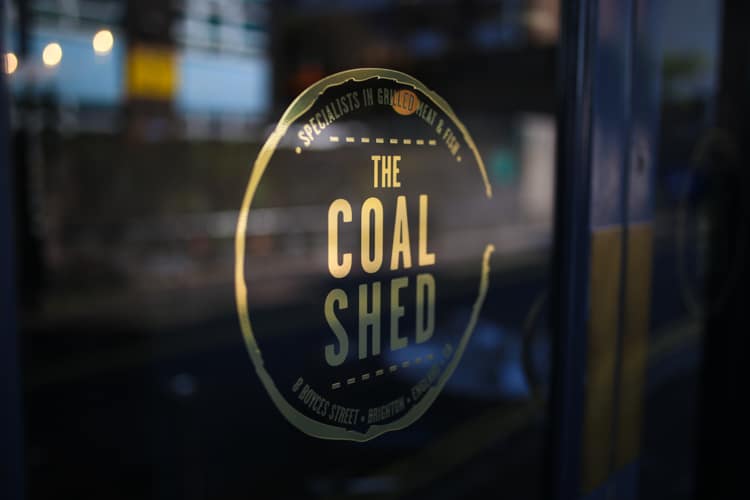 Trailblazing restaurateurs
A large part of that evolution can be attributed to the work of a handful of trailblazing restaurateurs, critics and foodie activists who've been brave and bold enough to envision and bring about much-needed change. And with Brighton residents being so socially, politically, culturally and environmentally astute, any attempt to follow a hollow trend of "style over substance" would have never cut the mustard here.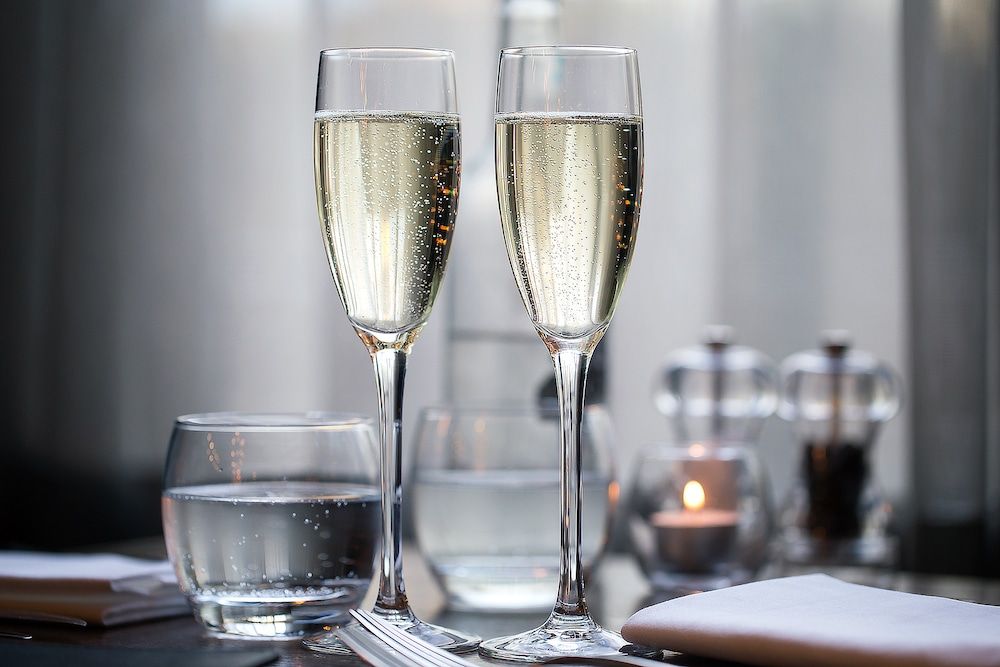 Creative and independent
Instead, Brighton's creative, independent and alternative character has fostered a flourishing food scene run. And those who've paid attention to what suits this city best, without forsaking style or substance, are the ones who've made the biggest difference.
Raz Helalet, owner of The Coal Shed and The Salt Room, is one of those people.
Both of his restaurants have had people flocking down from London ever since they first opened, deservedly winning lots of awards in the process. It's wonderful Londoners now have their very own branch of The Coal Shed in Tower Bridge as we Brightonites can now enjoy the delights our Boyce's Street original even more!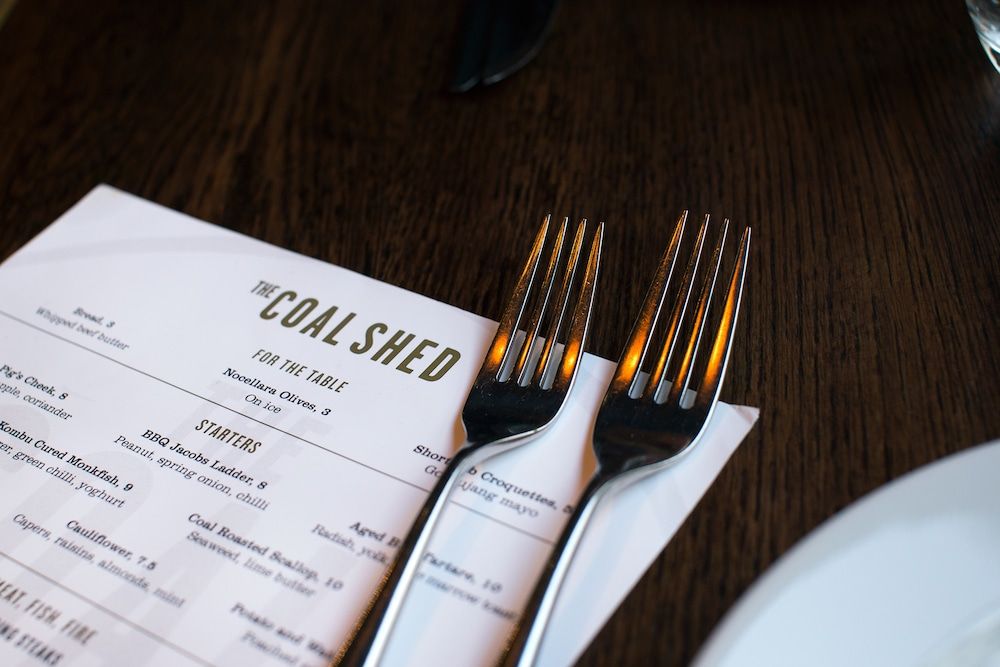 New season makeover
And what delights they are, especially with the depths of winter now behind us and an abundance of gorgeous new produce available.
The menu has had a bit of a new season makeover, but worry not – your old favourites are still there, alongside new springtime additions that are well worth checking out, which this review will walk you through.
We visited for dinner on a Monday, which is also when you can bring your own wine. For the purposes of this review, however, we decided to try the different wines recommended to us by The Coal Shed's excellent sommelier.
Starters
To whet our appetites, we started with a gorgeous glass of biscuity Collet Brut NV champagne followed by the tempura oysters with nduja and pickled vegetables, which are very pretty to look at.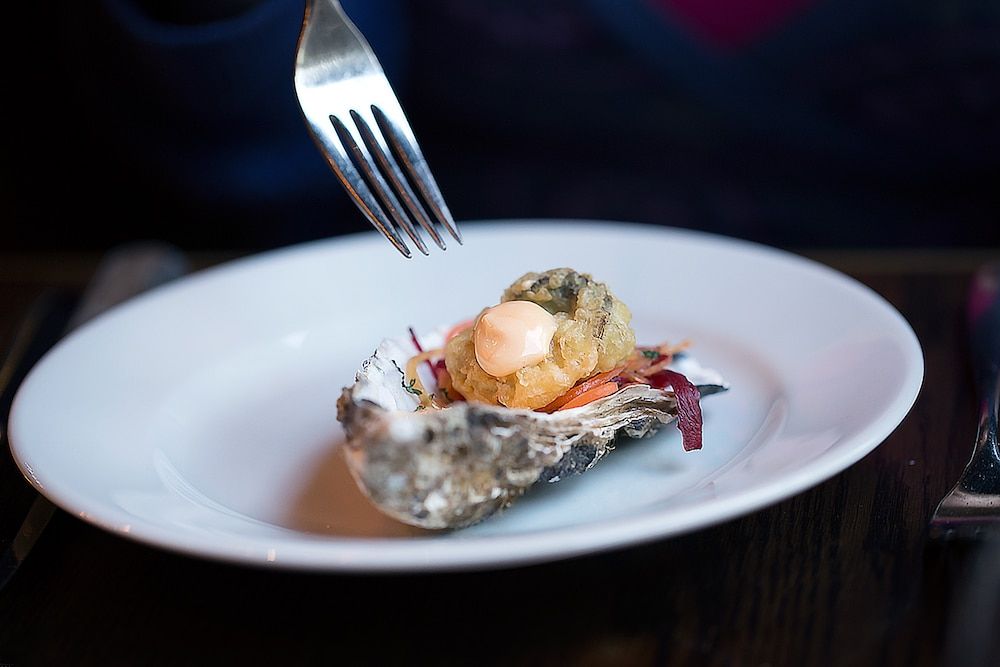 You get two shucked oysters in a light, white tempura batter lying in their shells on a colourful bed of finely cut orange, yellow and purple heritage carrots, alongside some creamy pinkish mayo that had the Spanish Nduja sausage blended into it. The taste combination was lovely; delicate, with a gentle salty hint from the oysters, the crispy, light batter, a sweet and slightly sharp taste and crunch from the zingy carrots and then the creamy, slightly smoky mayo as a backdrop.
An elegant opening dish.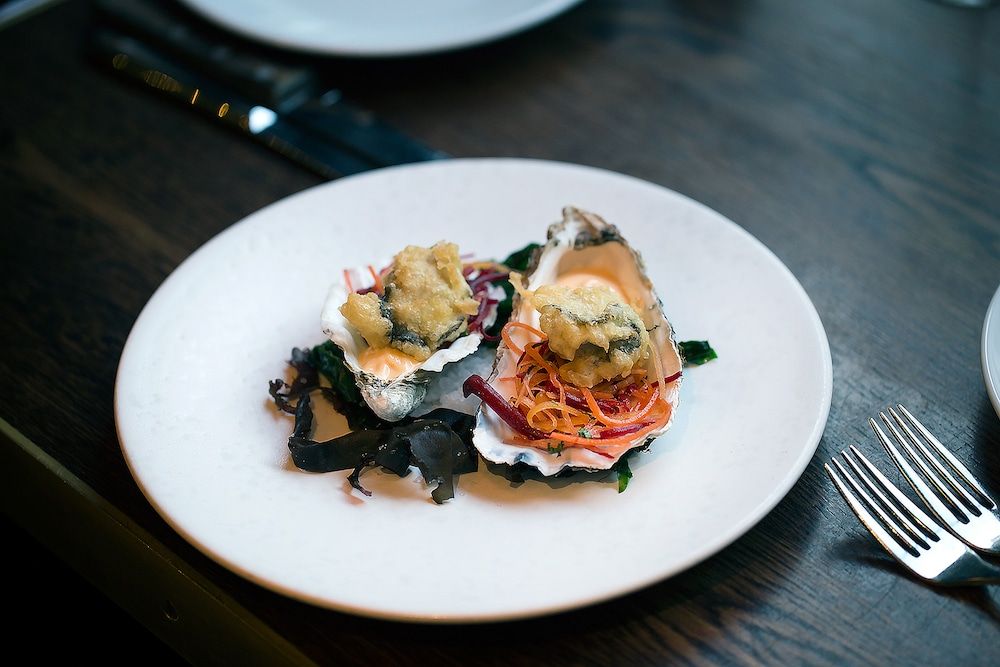 A beautiful dish of substantial flavours
Alongside that came the 'jerk pig's cheek, burnt pineapple, coriander' for which the pig's cheek had been marinated in no less than 25 different spices, including fiery scotch bonnet and tantalising All Spice, vinegar and rum.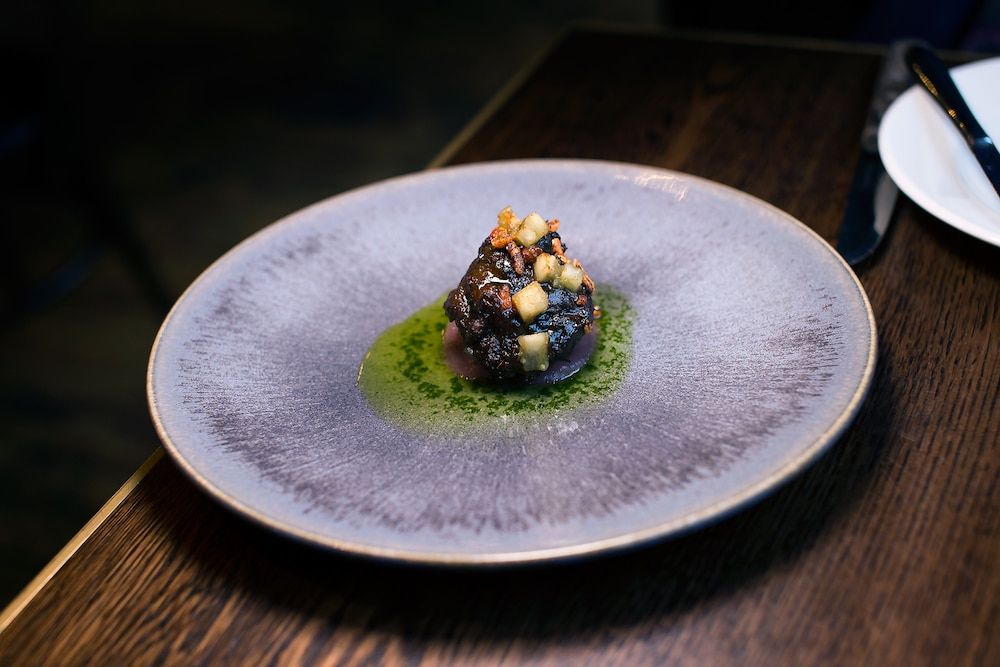 The meat was very tender – super soft inside but crispy outside – doused in a dressing of slightly charred and caramelised cubed pineapple, crackling and puffed wild rice, all sitting on a bed of pink purée surrounded by a vivid green swirl of coriander oil, adding a welcome fresh taste contrast. A beautiful dish of substantial flavours that reminded me of a dream holiday on a yacht in the Caribbean!
Next up came the radically different "kombu cured monkfish, ginger, green chilli, yogurt", paired with a very special glass of Petritis 2016 from the Kyperounda Winery in Cyprus, which was soft, creamy and almost lemony but with a slightly oaky volcanic depth.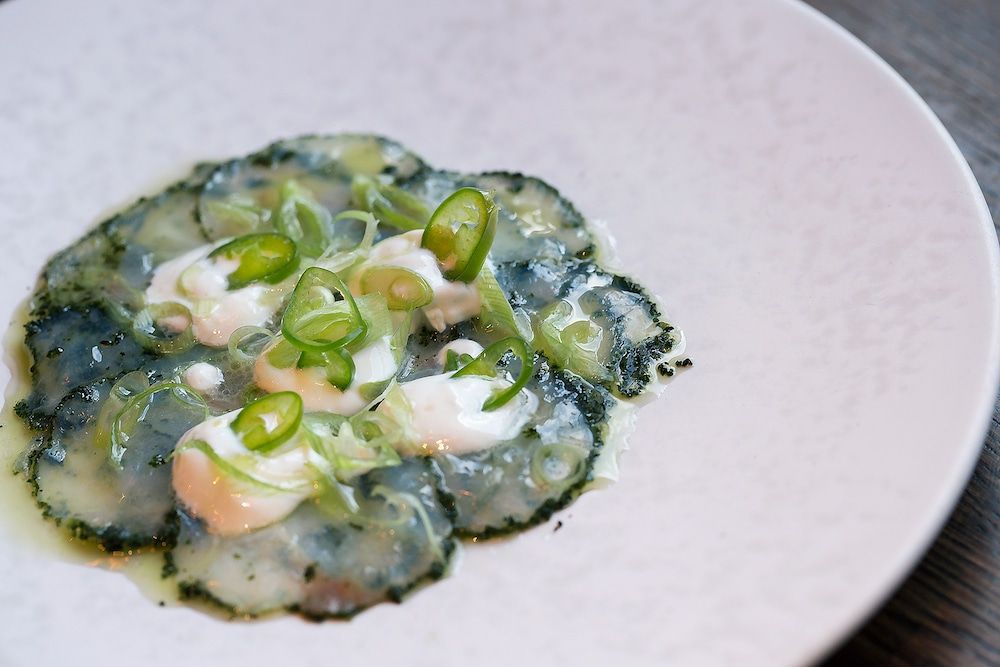 Cured in citrus and wine, the monkfish had been rolled in flaked kombu seaweed then thinly sliced and topped with ginger, green chilli and yogurt.
I was concerned the ginger and green chilli would overpower the subtle monkfish dish but thankfully that wasn't the case: instead, they brought a sharpness and a warmth that was very Asian, while the yogurt married really well with the creamy fish helping to harmonise all the flavours.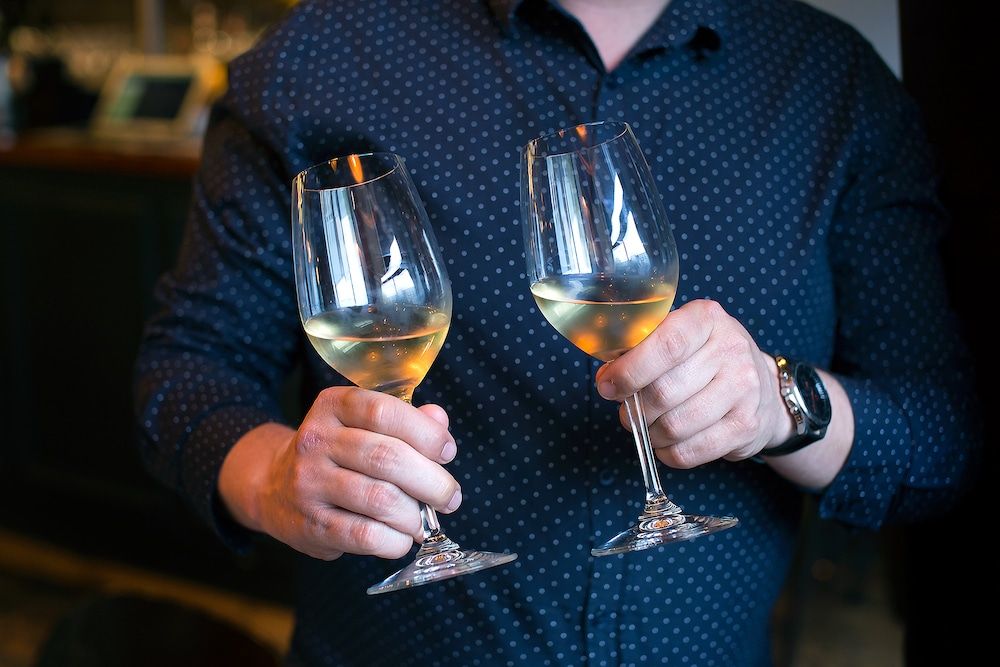 The mains
For our mains we had the "spiced lamb rack, spring onions, yogurt, zhug, chickpeas", as well as the "whole plaice, spiced butter, carrots, brown shrimp, capers", a side order of mash with burnt ends and bone marrow and a spritely green salad.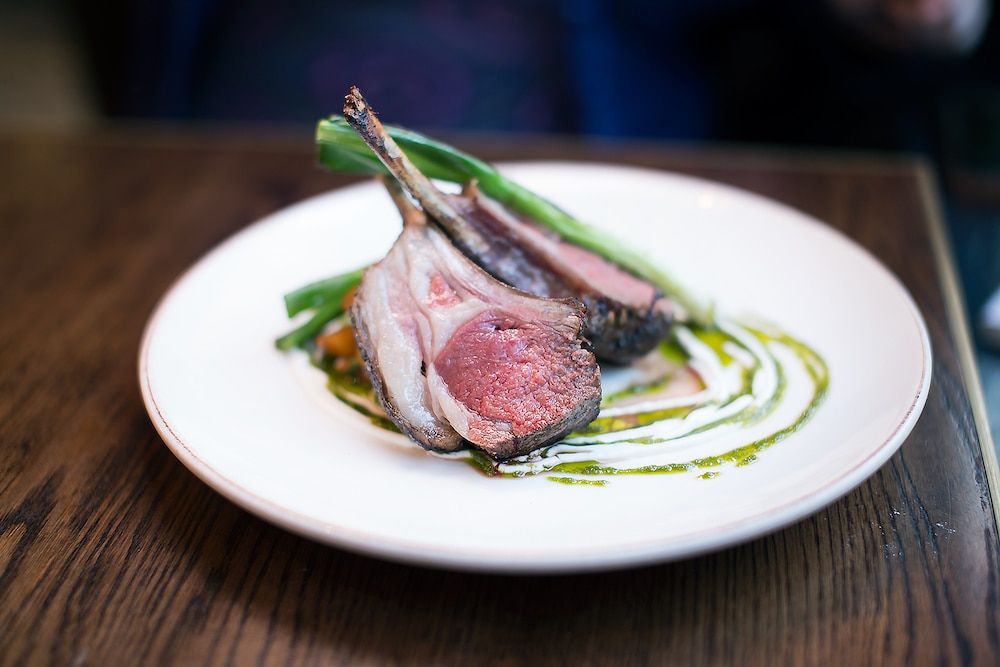 To drink we went for the very juicy Tempranillo/ Cabernet Tandem Ars Nova from Navarra in Spain, which was a stonker of a full-bodied red; a really impressive, robust wine.
Lamb, a spring highlight
Now, as much as I loved the starters (and I really did, they were stunning), the combination of flavours in these main dishes blew me away. Lamb is obviously one of spring's highlights and this one was cooked to pink perfection with the gorgeous chargrill flavours from the Josper oven, but what elevated this dish to exceptional heights was the warming North African tomatoey chickpea ragu and the Middle Eastern green Zhug, which combined was so nourishing and yet exciting too I could have eaten that dish every day of the week and not grown bored.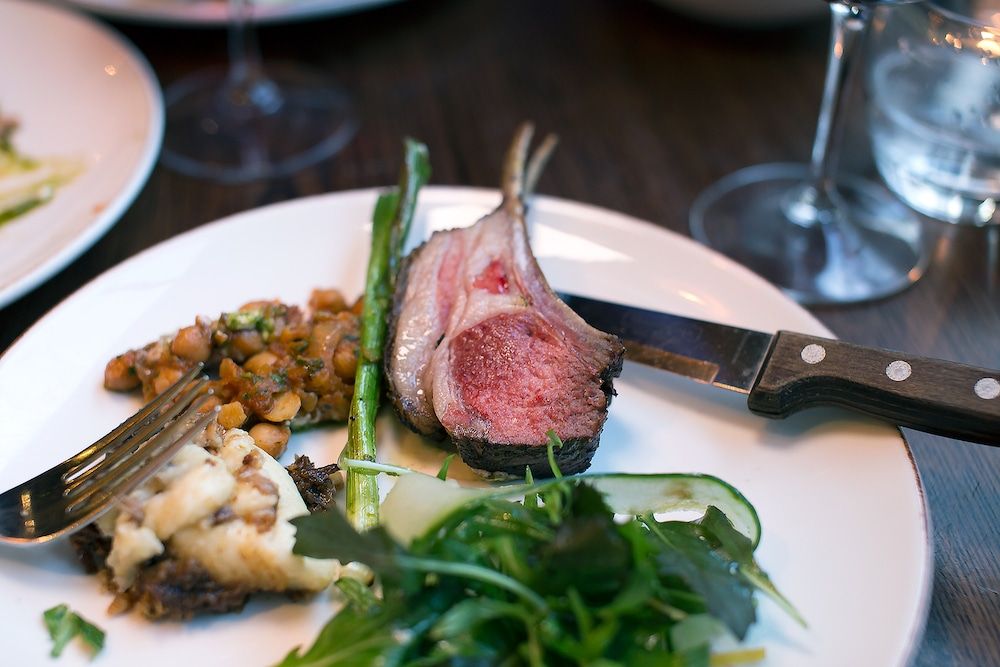 Similarly, the plaice was innovative and unexpected with the accompanying carrots, shrimps and spiced butter with cumin, coriander and curry powder, which brought a depth, warmth and exoticism that I found really comforting. The mash with burnt ends and bone marrow – well, that's always a winner – rich, indulgent luxury in a bowl.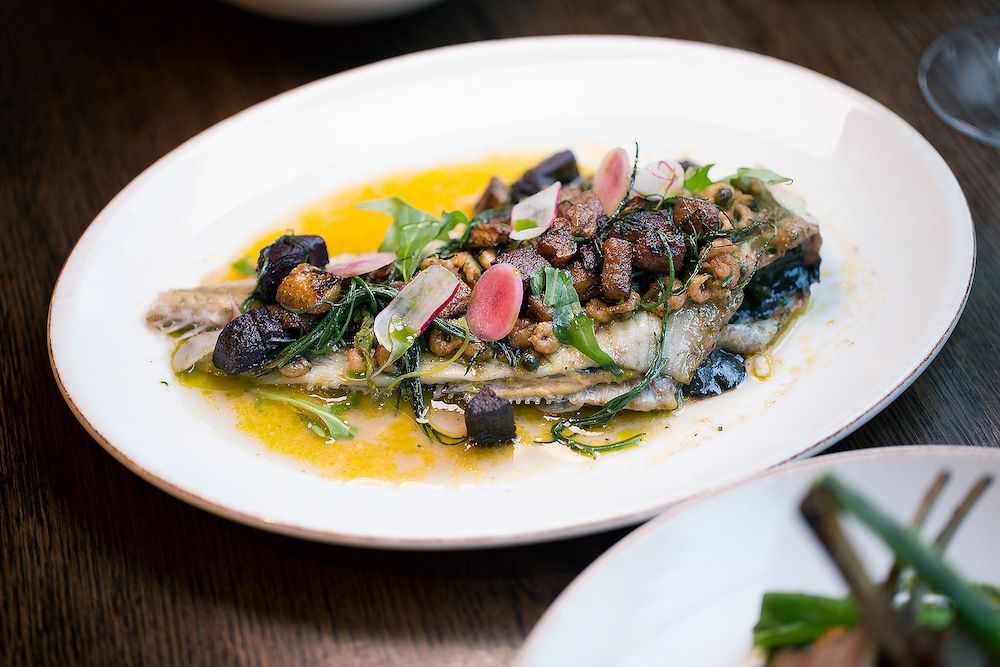 What I really liked about both the lamb and the plaice was that they both looked and felt like spring dishes – and yet in many ways, through the use of very aromatic spices, they seemed to nod back towards winter comfort food in a way without being heavy or over-bearing, which to me was inspired, innovative food of the highest order
– a wonderful bridge of seasons.
Moving onto the desserts
How much better could things get after so much joy so far? Well, there's a reason both The Coal Shed and The Salt Room are as known for their desserts as well as their savoury dishes.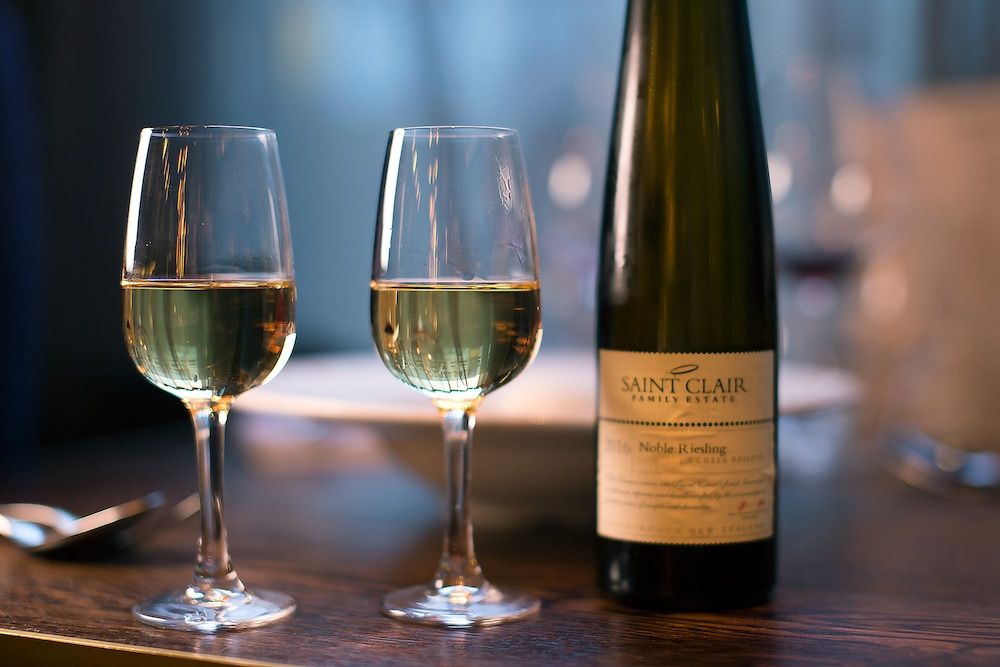 To prepare our palates for what was to come we sipped the deliciously silky, honeyed 2016 Godfrey's Creek Noble Riesling from the Saint Clair Family Estate in Marlborough, New Zealand.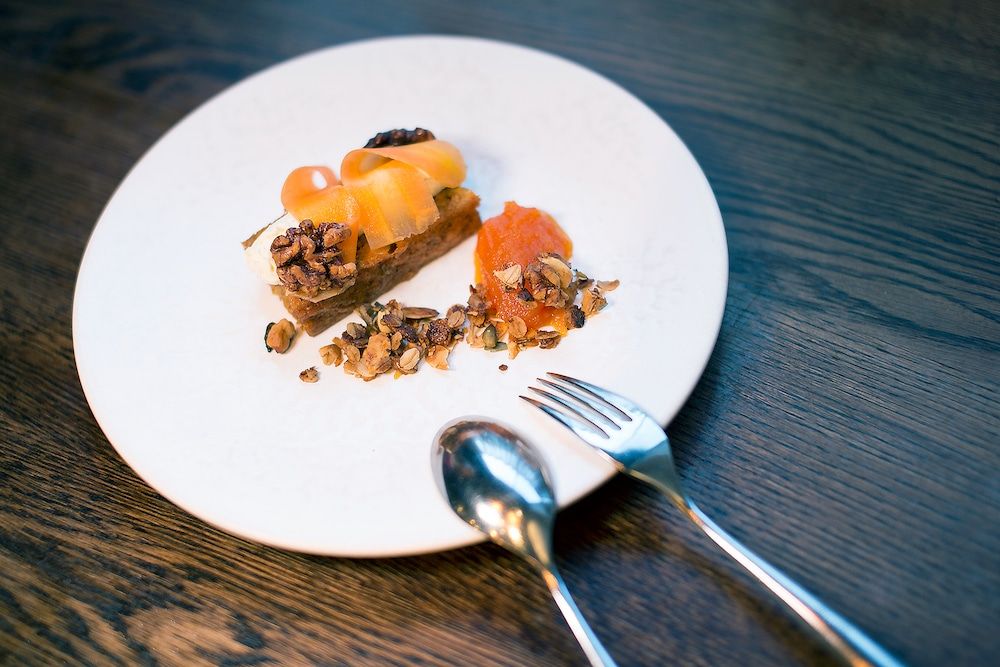 I'm not usually a fan of carrot cake, it has to be said, yet this one converted me.
Topped with cream cheese parfait, candied walnuts, a sweet carrot jam and carrot shavings that had been cooked in orange and sugar syrup, it was light, perfectly spiced and incredibly moist. A delightful dessert.
Queen of desserts
Last – but by no means least – came the vanilla panna cotta with rhubarb, ginger crumb and ginger beer sorbet: a Queen of desserts and my dining companion's absolute favourite. I've never seen a panna cotta so packed with black specs of vanilla as this one is, and the rhubarb and ginger crumb additions were very special.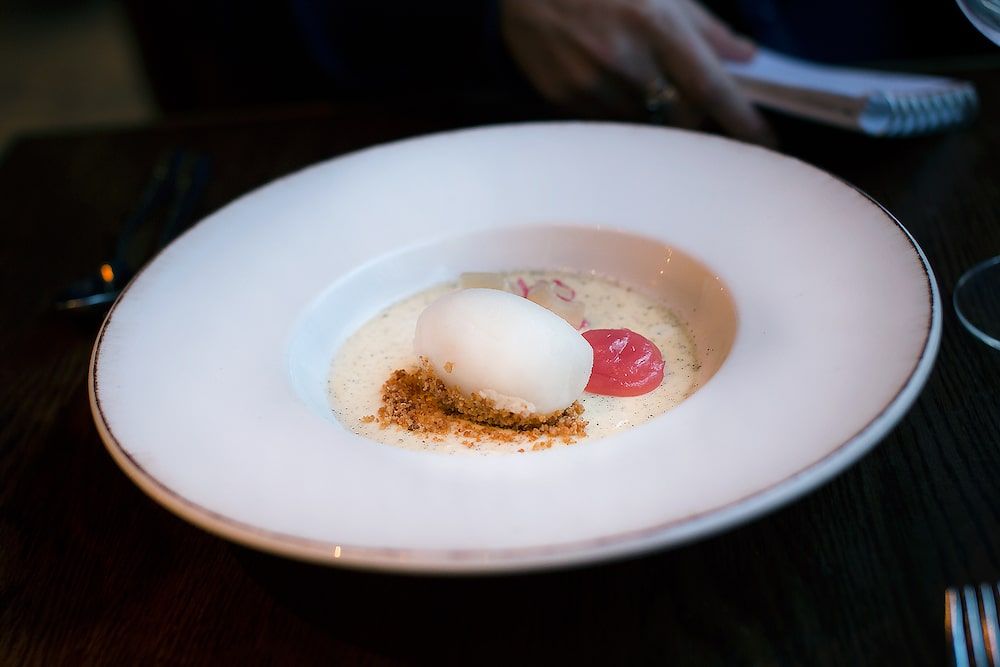 A perfect end to a gorgeous meal of style as well as substance. You can't get much better than that!