Breakfast of champions!
It was a brisk Autumnal morning and me and my partner were congratulating ourselves for being up and out before 10am. We were on our way to Kooks, a trendy Boho bistro located on Gardner Street in central Brighton's North Laine.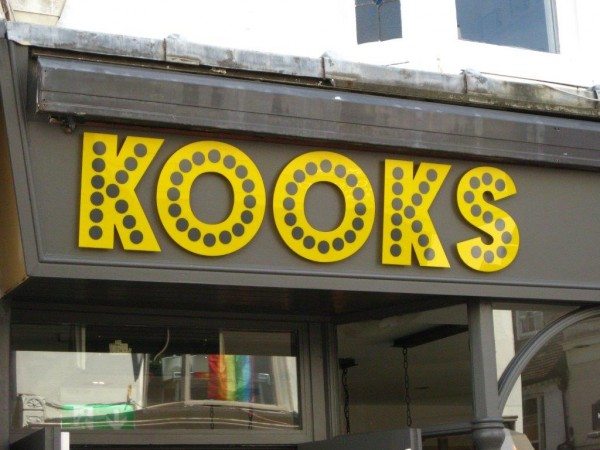 Good vibes
Kooks is owned and run by Rebecca Monk, and has been going strong since opening in 2014. Music is important to Kooks, with an extensive music collection streaming through the speakers around the restaurant all day long. You certainly won't hear a generic background song here.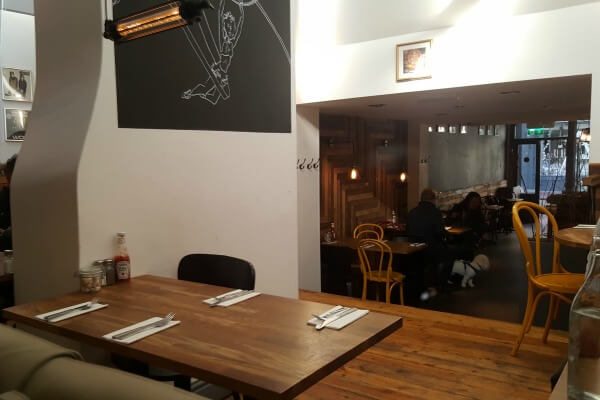 Spacious interior
Walking in you are greeted by a long bar which runs along the side, and as you reach the back it opens out to a larger area with plenty of tables lit up from the natural light that beams in from the skylights above. The walls are scattered with quirky artwork and there are mirrors all along the back wall opening up the whole place. You can really tell they thought well about the interior design as it felt like good use of the space.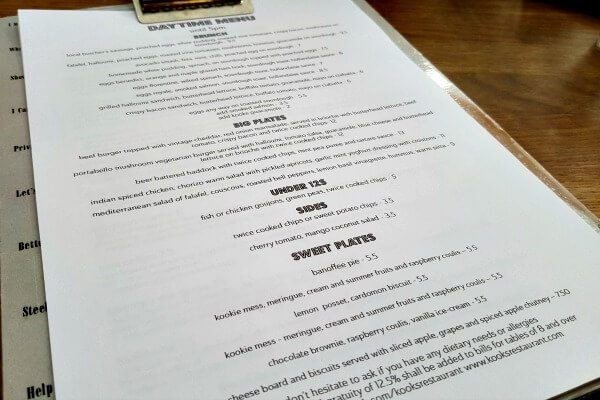 All day brunch menu
The daytime menu is served until 5pm, and consists of all day brunch, big plates consisting of burgers, salads and fish and chips, and then desserts for the sweeter teeth amongst us. Everything is priced as to be expected, but very reasonable, with brunches ranging from £7 – £9.50 and the bigger plates for lunch around £12. 
Locally sourced produce
Kooks are passionate about using local suppliers where possible for all of their produce, including Swandean Butchers for their ethically reared meat, and Coburn bakery for the bread, which also supplies gluten free. They also get their teas from Metrodeco teas in Kemptown.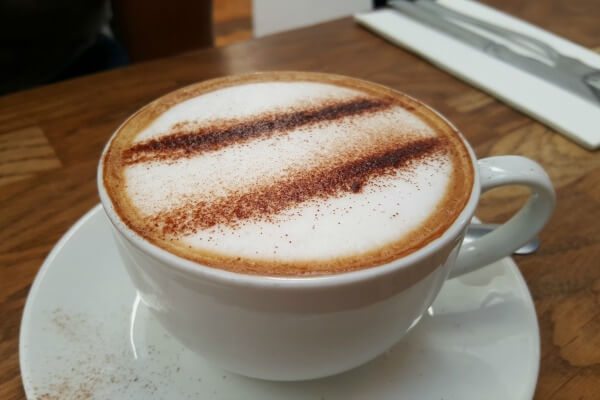 Really good cocktails…
We started with a couple of standard morning beverages – I went for the Shades of Earl Grey tea, and my partner had a cappuccino. Rebecca mentioned they also do killer cocktails if we would like one, including one of my weaknesses, an espresso martini,  but we said we would wait until after breakfast when it wasn't as early!
The tea came in a cup with the bag left in, and it was all pretty with it's extra floral ingredients. The cappuccino was well made with a light dusting of cocoa on top and silky milk.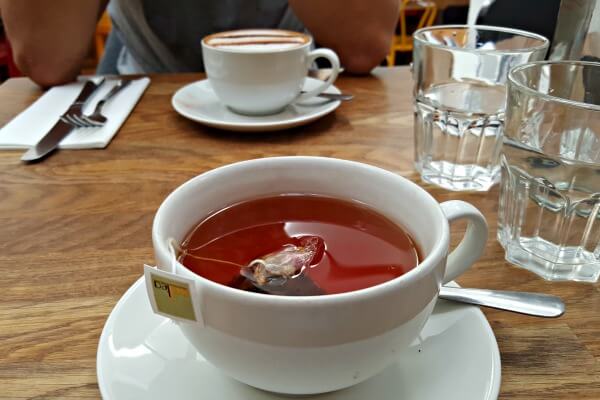 Creative menu
For breakfast it was a tough choice as everything sounded delicious! They make their own white pudding so I knew that had to be involved somehow. I knew what my partner was going to have before we even got there and it was the Veg Breakfast including homemade falafel, hummus, guacamole, halloumi, roast tomatoes, poached eggs, mushrooms and sourdough toast. It pretty much has all of his favourite things. 
I decided to have the full meat breakfast, which included poached eggs, mushrooms, roast cherry tomatoes, bacon, sausage and of course their homemade white pudding which I had to try. 
Regular clientele
The cafe was getting busier, there were a number of tables already full when we arrived and it started filling up as the morning went on. You could tell there were a few regulars as well which is always a good sign!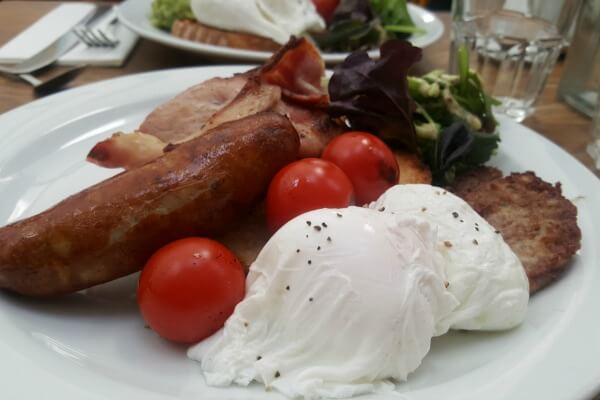 Speedy service
Our breakfasts arrived and were presented well, the plates were clean and the food looked colourful. Both of our eggs
were perfectly poached and the portions made everything great value.
My partner loved the falafel, it tasted like it was made of sweet potato and nice and crispy on the outside too. The halloumi wasn't squeaky, and the sourdough toast was of good quality. Everything was cooked with care, and the homemade guacamole and hummus was well seasoned and super flavourful!
Simple food done well.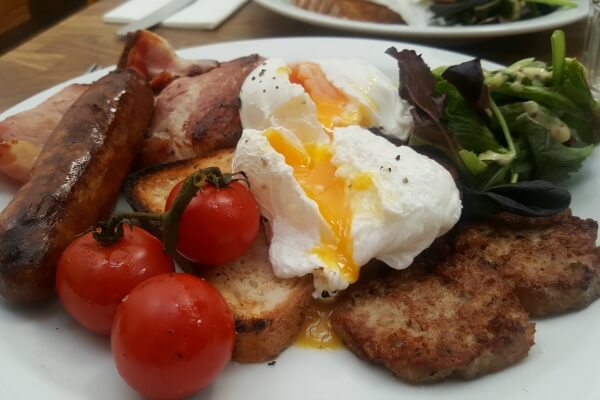 Gluten free options
I had gluten free bread on mine, and it was really tasty and not brick like or crumbly like some of the supermarket stuff! The sausage was plump and herby, and the white pudding was a nice touch and something different! There was enough of everything on the plate to feel balanced and for £9.50 I think it was a great value breakfast especially considering the quality.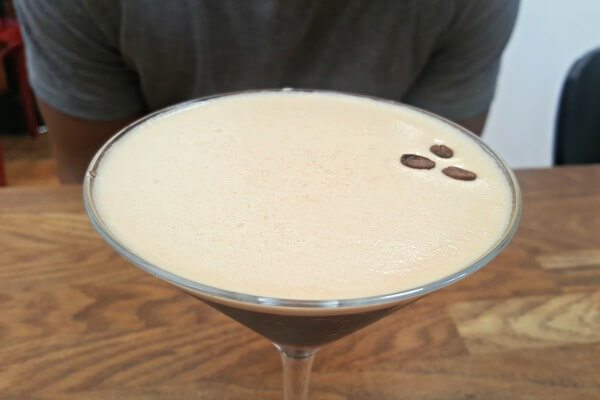 Perfect espresso martini
With our plates scraped clean, Rebecca asked again to see if we wanted to finish our brunch with a cocktail so we agreed to share an espresso martini as it is still coffee right? She wasn't lying, it was really good, perfectly textured and had the balance of sweetness, bitterness and booze spot on. I will certainly keep Kooks in mind for one of these as a night cap after a meal and I would be interested in trying some of the other cocktails too!
There is a bacon bloody Mary, just saying…
Definitely be back!
We were both full and satisfied after the tasty brunch, and now I know they offer gluten free bread too, I will definitely be back to try their smashed avocado, or orange maple glazed ham hock Benedict for brunch with the girls! Open from 9am in the weekends, it's a perfect, centrally located spot for a brunch meet up with your friends.
Check availability and book online
Reviews of Kooks
You can also call Kooks on 01273 626060
See the listing for Kooks Brighton