Quirky boutiques and kooky cafes
Nestled in the bustling North Laine, Kooks has been on the Brighton brunch scene since 2015 when Rebecca Monk took over and created an established independent favourite for coffee, cocktails and a 'kooky' food menu.
We were warmly welcomed by Rebecca and shown to our table where we had a chance to look over the menu – famed for their cocktails and espresso martinis we were offered a cheeky lunchtime tipple but I couldn't resist the coconut, berry and balsamic smoothie. Deliciously creamy and thick with just the right tart berry flavour, the slight acidity from the balsamic vinegar complemented the sweetness creating a well balanced mid-morning drink. My friend opted for the Refresher Mocktail with elderflower, lemon juice, cranberry and lemonade which was just that – light and tangy with the perfect zing to perk you up.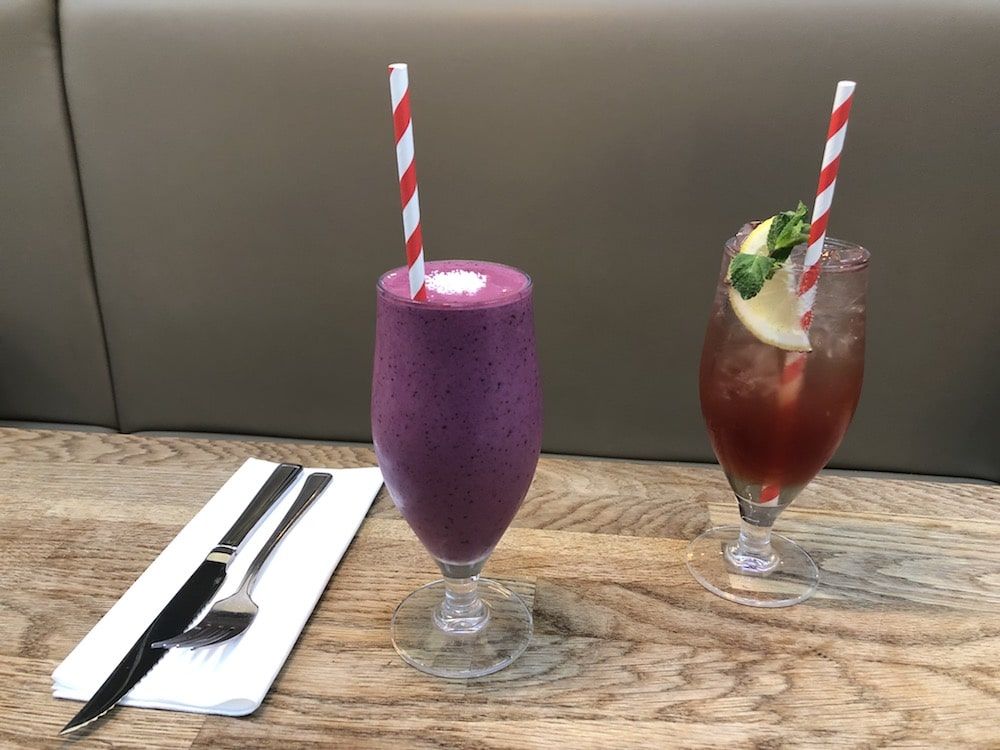 Brunch at the heart of Brighton's North Laine
We looked over the menu and were spoilt for choice, with an extensive selection of brunches, big plates, small plates and sweet treats, open for brunch and lunch Monday – Sunday until 5 pm, there's something for every time of day.
Rebecca came back to take our orders and told us about the Kooks ethos and how she operates; there's a real emphasis on supporting Brighton businesses and collaborating with local producers. Kooks get their bread and cakes made off-site and delivered fresh each morning, all food is made in house by the talented chefs…
even though it takes more time, it's worth it!
stated Rebecca and I couldn't agree more – the quality and flavour of homemade food is unparalleled and customers can really tell the difference. For a town like Brighton which is saturated with eateries, it pays to be one step above the rest.
After we'd made our order, I sat and absorbed the vibe as the cafe started to fill up, for a Friday lunchtime every table was full with a broad selection of clientele and a warm, friendly buzz.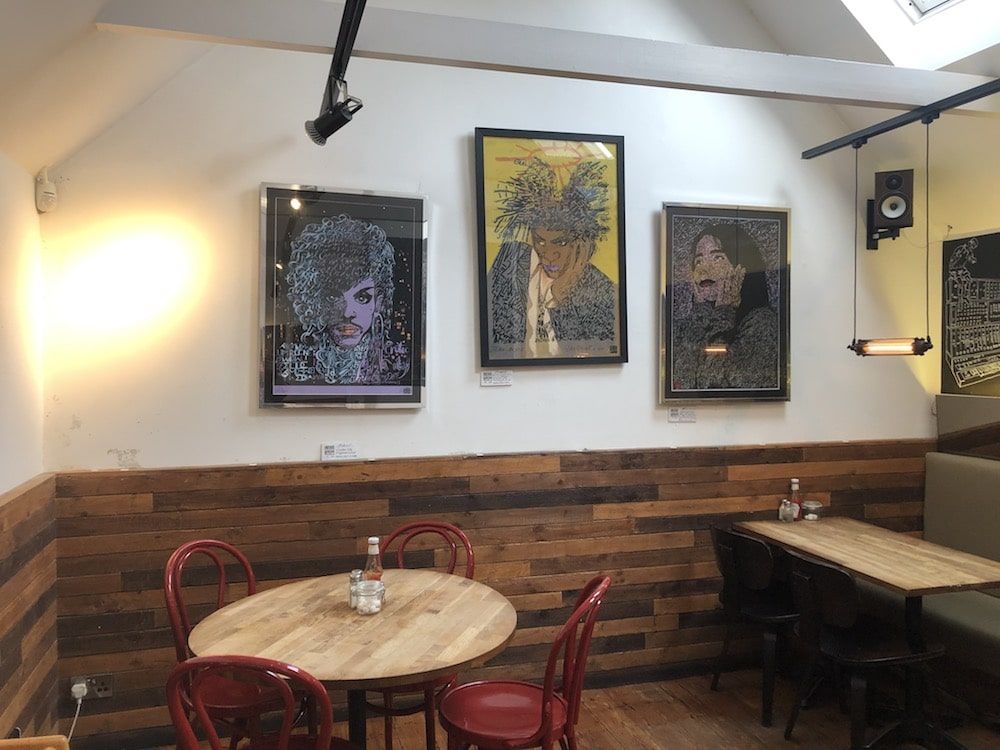 The Full Vegan
During the week, Kooks offer a selection of toasted sandwiches for your desk lunch needs, the options sounded divine but I wanted to sample their brunch. I went for the vegan choice of homemade falafel, tofu, spinach, mushrooms, humous and guacamole on toasted sourdough with a chilli dressing. I had also spotted the fried potatoes on a customers plate as I walked in and went for a side of those too!
The falafel was lightly spiced with a wonderfully fluffy texture, the spicy tofu, spinach and mushroom mix was flavoursome creating a range of textures which was complemented by the homemade humous and guacamole. Served with a side salad and small cubes of hand-cut fried potatoes which were light and perfectly crisp.
The dish was hearty and filling using some untraditional ingredients but still retaining the right brunch feel.
The famous 'Kooks Benedict'
My friend had the Eggs Benedict with maple glazed ham hock, poached eggs and hollandaise on toasted sourdough which looked impressive! We were told that regulars come to Kooks especially for the Eggs Benedict and it's rumoured to be the best in Brighton – with the rich hollandaise sauce made fresh each morning and the on the bone ham cooked for 18 hours this dish wasn't your average brunch.
Served on toasted sourdough my friend was pleased for the variation from your traditional English muffin as it really created a platform for the star ingredients to shine. Expecting a couple of slices of thick cut ham, the slow roast ham hock which was soft and juicy was a serious upgrade and once topped with two rich orange yolked eggs and the creamiest hollandaise you'll ever try – Rebecca was right, this was perhaps the best Eggs Benedict in Brighton and my friend proudly stated
next time I want Eggs Benedict I'm only coming to Kooks.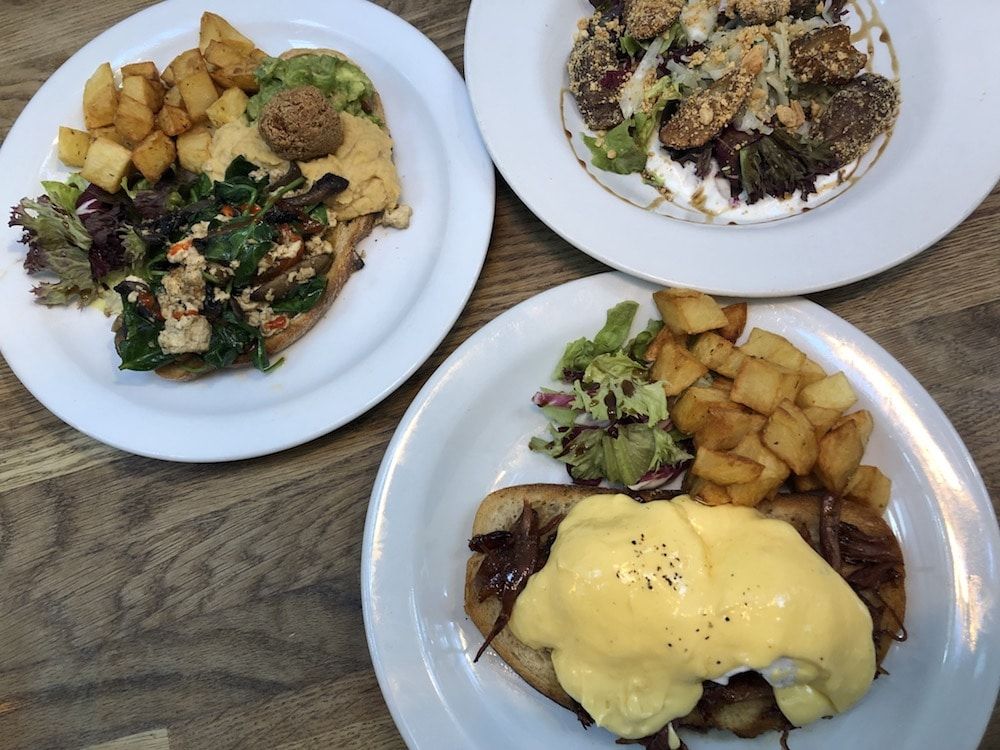 Standout small plates
The Big Plates and Small Plates looked appetising too, with choices from homemade burgers to superfood salads with pineapple, pickled ginger, fried noodles and hemp seeds we decided to sample one of the delectable small plates and chose Deep Fried Jerusalem Artichokes with vegan mayo, sauerkraut and peanuts which was an unusual and standout dish.
The vegan mayo is made in house with a spike of garlic and smooth velvet consistency, the sauerkraut is also homemade and had reached an optimum fermentation with a slightly pickled taste but not overbearing.
The Jerusalem artichokes were crisp and light with creamy middles, served on a bed of salad leaves and garnished with balsamic reduction and roast peanuts, this was a dish I'd go back for.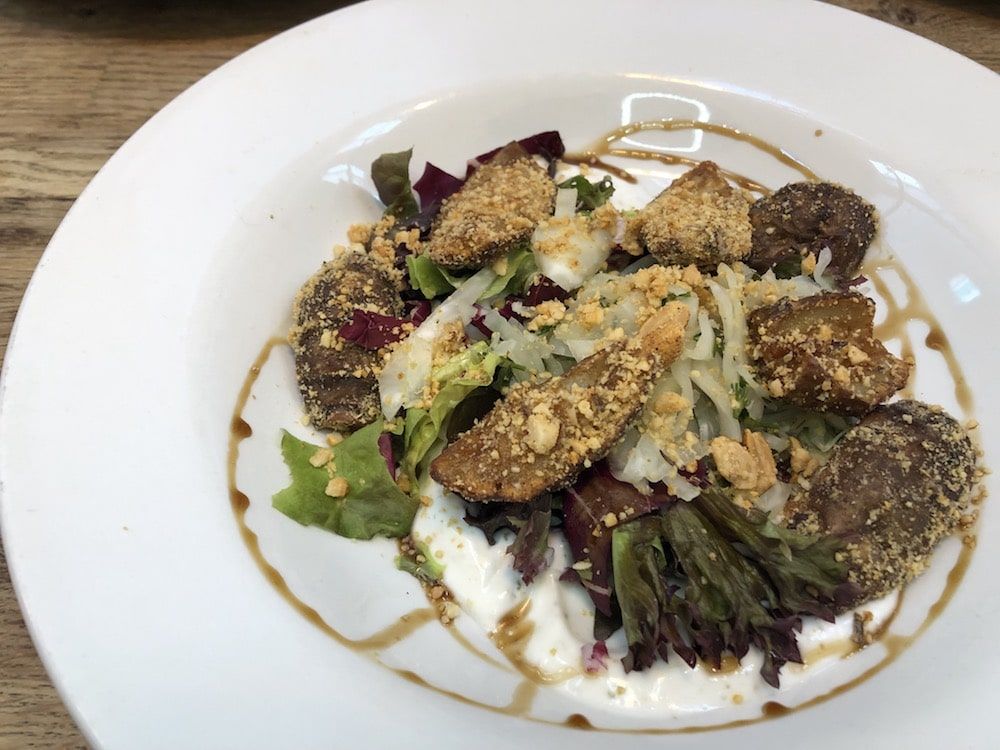 Tempting tea and cake
After brunch, we were invited to check out the impressive cake selection by the window, perfectly poised to lure passers by in. With four, four-tiered cakes and a chocolate tiffin to choose from I found this an invitation I couldn't refuse. From classics like carrot and orange to banana, chocolate and coconut we decided to share a slice of the blueberry and lemon cake with a cup of Earl Grey tea.
Kooks get all their tea from the local Kemptown Metrodeco tea shop, crafting bespoke tea blends to the public and local businesses. The cake was light and moist, spiked with soft blueberries and generously iced with a refreshing lemon buttercream which balanced the sweetness of the sponge.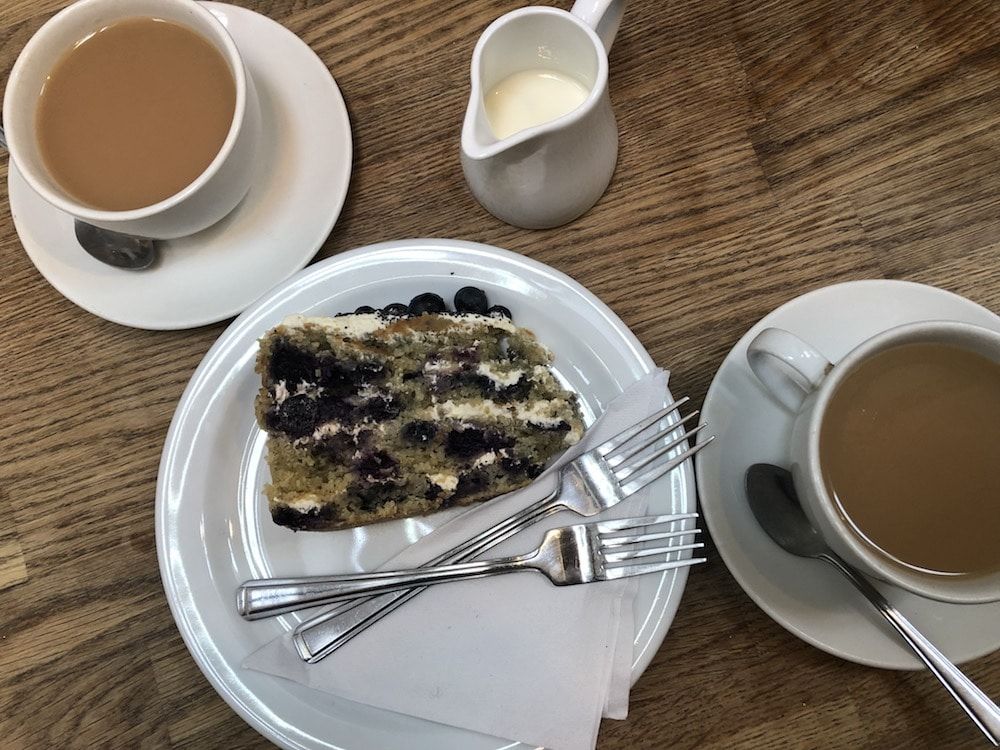 Kooks provided a thoroughly enjoyable brunch experience; warm welcoming hospitality, delicious handcrafted food and a neighbourly atmosphere – Kooks has made it's way on to my top Brighton brunch spots.