The food of India, not just Indian food
The organic way that this popular Lewes restaurant has come about, fills me with 'foodie' confidence.
The people behind Chaula's clearly have a lust for good quality, authentic cooking.
Starting out in 1995, from their grocery shop in Lewes, Chaula's home cooked, Gujarati cuisine, quickly grew in popularity, finally inspiring the first of two Sussex based restaurants to open in 2007.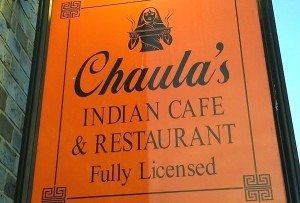 Venturing outside of our normal stomping ground for the night, Chaula's in Lewes is ideally located on Eastgate Street, which for us was an easy 8 minute walk from the station.
We are welcomed by Chaula at reception, who is very pleasant and proud to tell us about her food and her concept.
She is eager to explain that Chaula's specialises in authentic Gujarati and regional Indian food, with all sauces being made from scratch and tasting distinctly different, setting them apart from other Indian restaurants that might use a base sauce resulting in similar tasting curries across the menu.
When we are seated and I begin to peruse the menu, I can see straight away there are many dishes that are new to me, several of which, I am certainly interested to explore.  This is not to say that the 'all time favourites' are absent.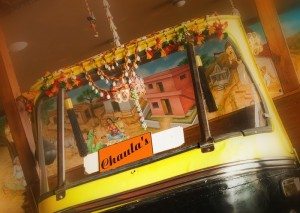 For those of you who are less adventurous, there is a section of the menu dedicated to the more familiar dishes such as the Tikka Masala, Korma and Dhansak.
The menu also has some very useful indicators, advising diners of the spice level, if the dish is wheat free, vegan or contains nuts.
What also strikes me is that the menu is big.
In particular the range of vegetarian options is impressive, with dedicated sections for 'vegetarian starters', 'Chaula's vegetarian specials' and 'Chaula's vegetarian dishes'.
When I mention this to Chaula, she explains that she herself is a vegetarian, so understandably has developed an advanced catalogue of vegetarian cooking over the years.
We order two draught Cobra lagers from the drinks menu and take in the atmosphere.  The interior is unusual.  There is a hand painted mural cheering up the back wall, various Indian ornaments adorning rustic shelves and wonderfully colourful mosaic lampshades hanging from the ceiling, achieving low lighting throughout the restaurant.
The neutral nature of the tables and chairs gives the space a modern twist and although everything seems a little random, it works, and succeeds in creating a very 'homey' place to enjoy a meal.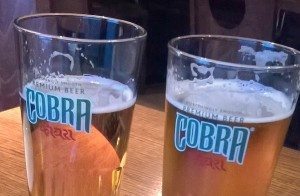 We receive many recommendations as we carefully consider the menu.  It is clear that Chaula is very passionate about her creations and her excitement for her menu is contagious.
We willingly put ourselves in her hands and that of the cooks.  We agree to go 'off the menu', choosing as one of our mains a dish with no name, or 'Chef's Special'.  This dish will be rustled up in the kitchen as a one off this evening, just for us.  What a way to ignite our interest, we know we are in for a treat with this dish!
For our second main, as always, I go in search of spice…well, when in Rome!  There are several dishes that catch my eye, but in the end the 'Chicken Darbari' makes the cut.  This is described as a 'house speciality', cooked with cashew nuts, coriander, and ginger.  Along with the mouth-watering description, I am pleased to see those all-important chillies on the menu, signally the spice I was hoping for.
Starters are picked in an attempt to showcase as much of this wonderful menu as possible.  My partner goes for the 'Non-Vegetarian Mix Platter' for one, which provides us with a healthy selection of samosa, kebab, chicken tikka and chicken wings.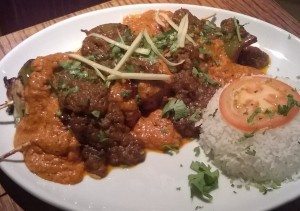 I am concerned about the amount of food we have ordered, but want to ensure we fly the flag for the vegetarian section of the menu, so throw in a 'Chilli Paneer' for good measure.  As a big fan of paneer, I am interested to experience this dish.
I consider it will highlight how traditionally paneer should be prepared, as opposed to the popular take-away sag paneer, which is full of guilt and melted cheese.
Although the menu prepares us that we 'may find our meal takes a little longer to arrive on our table than at most Indian restaurants', the waiting time at Chaula's seems perfectly reasonable to us.  We know everything is cooked with care, fresh, from scratch and quite frankly, I believe, if you want a good meal, you have to wait for it to be cooked!
However, as soon as our starters arrive, my concerns about the amount of food we have ordered, are quickly realised.
The food looks amazing and the aroma tantalising.
How will we resist finishing every last bite of what we have been presented with, to ensure we have room for dessert?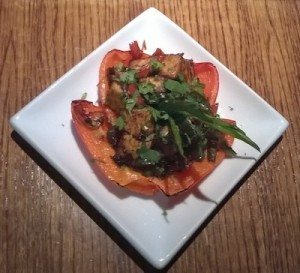 The paneer is fresh and not a greasy sauce in sight.
Presented in a whole red pepper it looks very light and appetising; the perfect addition to a starter menu.  The mix platter looks more formidable, although no less appetising.  A brilliant selection for any meat lover!
What is really impressive with dish is how distinctive all the flavours are – not one thing on our platter tastes the same as another, everything is spiced perfectly and cooked just right.  The chicken wings are a favourite with the tandoori masala and yoghurt marinade, the meat is moist and just falls off the bone.  We finish every last bite!
Our mains arrive in good time.  The chefs special we have been eagerly awaiting, looks fantastic.  We have been treated to two very generous, chicken shashlik kebabs, with two different sauces coating them both.  The colours of the sauces, which are very artistically zig-zagged over the skewers of plump and juicy chicken chunks, are thick and vivid and really set the dish off.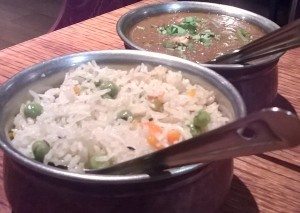 One of the sauces is milder in flavour and lighter in colour, with a lovely nutty base.  The other is richer, spicier and tomatoey, with a vibrancy that creates a nice contrast.  The sauces are not greasy and the scattering of sliced ginger added as a garnish adds a freshness to the dish.
The Darbari curry is indeed spicy.  I am pleased this has not been muted for a western palate, as so often happens when I order a spicy dish when dining out.
The curry looks honest, it does not look artificial in any way.  The sauce is almost brown in colour, but this is simply down to the spices and ingredients that have been used to create this dish.  The flavour is unlike any curry I have ever tasted, but I like it!
The cashew nuts make for a thick and indulgent sauce and the mixture of other flavours dance around in my mouth, not overwhelmed by the chilli.
Both dishes are served with rice, one plain and a Pilau, which we ordered to go with the curry.  In the end, we are defeated, and we tell Chaula so.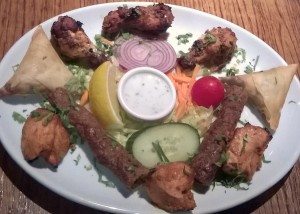 We have certainly eaten well, but know there is one more course to come.  Again, a recommendation, we opt for a dessert to share and agree to the carrot 'Halwa'.
I have to say that I did not regret this one little bit, although I found it hard to comfortably walk out once done.  This was honestly one of the nicest and most interesting desserts I have had in a long time.  Of course, no stranger to carrot in puds, I have never had it quite like this before.
On appearance alone, this could be mistaken for grated carrot on a plate with a bowl of ice cream centred in the middle.  But trust me – as soon as you take a spoonful, all that changes!  Beautifully sweet, caramelised carrot, spiced with saffron, complimented by refreshing and light cardamom ice cream.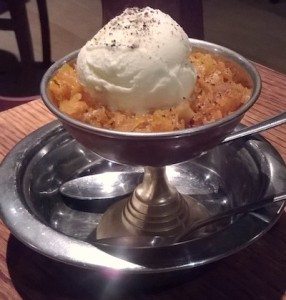 This dessert is pure delight.  After some fennel sweets as an after dinner offering, to help with our digestion (certainly welcomed), we check the time and realise Brighton beckons us home.
Chaula's has been great!  We to walk to our train and reminisce throughout the journey about how spoilt we have been.
The service was attentive and considerate.  We were guided through the menu and given some fantastic recommendations and the food was quite simply a pleasure.
If you are looking for a restaurant with traditional dishes packed with flavour and undeniable authenticity, with a wealth of vegetarian options – this is the place!  When summing up, Chaula puts it best herself:  "the food of India, not just Indian food"!
Review: Sarah Gathercole, August 2014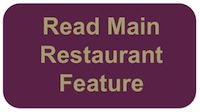 Make a Booking on 01273 476707