Some Things Are Just Meant To Be!
The story as to how the Curry Leaf Cafe came about is quite inspiring as it shows that sometimes things are just meant to be – and this was certainly the case when Euan met Kanthi.
Two guys that shared a mutual passion for Indian cuisine and a friendship that began when Euan advertised for a flat mate via Gumtree.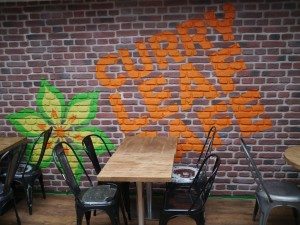 In walks chef Kanthi and then the concept of Curry Leaf Cafe is born.
It's easy to see the love and passion that the owners of Curry Leaf Cafe have for good food and enjoyable dining experiences.
The menu is full of exciting and unique Southern Indian dishes, and the cafe is spacious, bright and cheerful, with brick walls and trendy wooden furniture.
When I first saw the menu I was so excited, there were loads of gluten free options and so many dishes I had never seen before!
I ended up visiting on a Wednesday with my boyfriend (who was equally as excited as me), just 3 weeks after it had opened, so it wasn't too busy.
The staff were friendly, welcoming and attentive, as well as knowledgeable with all of the dishes.
We were seated and given menus to look over straight away, both of us feeling overwhelmed that we would have to come to a decision – everything looked so good!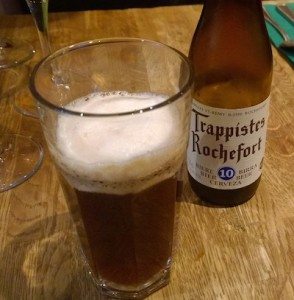 The drinks list contains a thoughtful selection of craft beers from Belgium, Germany, France and the Netherlands, each with descriptive taste notes for you to match with your dish.
There are also wines, cocktails, coffee, homemade chai and organic tea – which is grown in small tea farms where the head chef Kanti grew up.
The food selection is a good size, with a range of nibbles, starters, mains and desserts – all with information next to the item to state whether it is nut free, dairy free or gluten free.
For drinks we both chose wine to start with, my boyfriend went for the Sauvignon Blanc while I chose the Viogner.
I really wanted to try the Masala Roasted Peanuts, but also wanted to try the chutney and Pappadums as well, and when we ordered the waiter said that we could have both of them together for the same price, I was very happy!
Our drinks arrived swiftly, with our nibbles arriving shortly after.
My Viogner was described to have lychee and honey taste notes and how right that was! It had a beautiful mouthfeel as well and a lovely sweet finish. My boyfriend's Sauvignon Blanc was crisp and acidic with citrus fruits and gooseberry flavours.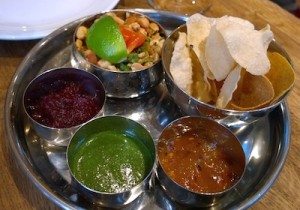 The peanuts and poppadums came served on a silver dish, with 3 types of chutneys that our friendly waiter described for us when they were placed on the table. 'Mint & yoghurt, beetroot and mango' he said.
The poppadums were the mini version, perfect for dipping into the wee individual pots of chutney.
The beetroot chutney was earthy and delicious, and the mint & yoghurt was cool and refreshing while still showing off a good amount of spice!
The mango chutney was the star of the day, with a sticky sweetness and lovely notes of warm toasted cumin coming through. (My mouth is watering just thinking about it)
The masala roasted peanuts packed a real punch! They were really well seasoned and full of flavour.
I would highly recommend squeezing the lime that comes served on top, it really brings out all of the flavours.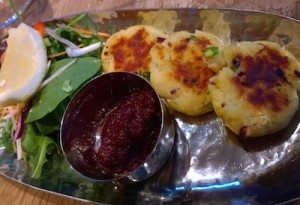 Now my tastebuds were screaming for more, I had so many good flavours going on in my mouth! I was thrilled that the starters arrived just as we'd finished.
I had chosen the Mangalorean fish cutlets which are gluten free. They came served with beetroot chutney and a side salad and had the texture of a moist cake! They were loaded with spices and flavour and went nicely with the beetroot chutney.
My boyfriend ordered the Murg Tikka Chettinad – marinated chicken breasts with black peppercorns, coconut and fennel then cooked in the tandoor.
They were so moist and succulent, with just enough heat from the black peppercorns and paired very well with the mint & yoghurt chutney.
My boyfriend said it was the best chicken he's ever had and that made me slightly jealous (as it wasn't my chicken that he said was the best), but it was very good so he was forgiven.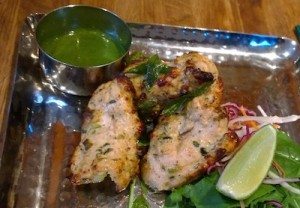 We had now finished our drinks and wanted to try something else. This time I went for the Rose, and my boyfriend went for the Trappistes Rochefort from Belgium. His first choice was the Boon Kriek Lambic (cherry beer from Belgium) but they were out of stock at the time.
My Rose had notes of vanilla and light berry undertones with a smooth, buttery mouthfeel, while the beer tasted of rich chocolate and raisins.
Our mains arrived not too long after, and we were very excited.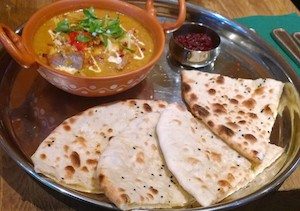 I went for the Keralan Pork Curry, which was generous on the pork and was loaded with cardamom, peppercorns and cloves.
It had a decent amount of spice, and was served with a refreshing coconut chutney and steamed rice on the side.
The boyfriend had the Kharai paneer, with homemade paneer cheese in a sweet pepper and red chilli sauce.
It was also of a decent spice level, and came with Kulcha – an Indian flatbread stuffed with thinly sliced potatoes and a side of the earthy beetroot chutney. The Trappiste Rochefort went very well with this dish!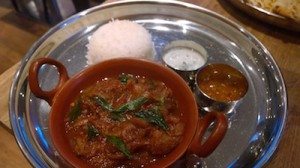 We were feeling very sad that our eating was coming to an end and asked to see the dessert menu to finish off our tasty experience.
There are 4 items on the dessert menu, 2 of which are labelled gluten free. As these both sounded delicious, we decided to order one of each to share.
My favourite was the Ethekka Appam, bananas coated in rice flour, deep fried until crispy and served with beetroot and cardamom icecream. The icecream is made locally at Boho Gelato and is creamy, rich and full of flavour.
It matched perfectly with the crispiness of the fried banana. I always love having a hot and cold element together!
The chilli glazed pineapple was a very close second – it was stewed in a Malibu and chilli caramel sauce and was complimented by a scoop of coconut and lime sorbet.
To go with my dessert I had to try their homemade chai – it was very creamy and well spiced and had a little bit of salt to balance out the sweetness.
Words can't fully describe how much we enjoyed the food at the Curry Leaf Cafe, but I've tried my best.
Fresh, creative, beautifully presented and full of so many good flavours – whether you're gluten free or not, you need to pay a visit, it'll change your views on Indian food forever.
See the listing for Curry Leaf Cafe Brighton