Classic French Homeliness at the New Steine Bistro
We decided to go and try the New Steine Bistro at the New Steine Hotel last Thursday.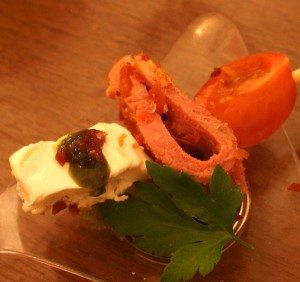 The New Steine Hotel is off the New Steine Square so it really is in the very heart of Kemptown and only a 10-15 minute walk from Hanover where we live.
The hotel itself has been there for about 15 years and is run and owned by the very French and very charming Hervé who loves a good chat over a glass of wine.
The restaurant is obviously used by the guests and there is no reason why non-residents can't pop along for a good meal.
Like many of Brighton's smaller hotels the restaurant is not enormous (6 or 7 tables) but it means that it feels quite intimate and Stephane makes everyone feel at home.
Perhaps it was something to do with the ambience, the French influence or the bottle of Crozes-Hermitage 2010, but this turned into one of those long chatty evenings where you eat, drink and talk about plans for the future and we had a wonderful time.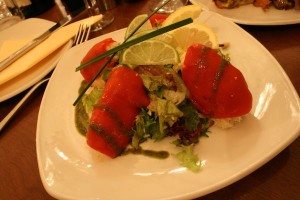 The food was obviously an important part of the whole relaxing scenario and things started off very nicely with a small amuse bouche of goat's cheese parsley and bacon, which calmed the evening's hunger and promised deliciousness.
For our starters I opted for an oxtail spring roll with beetroot vinaigrette and Mr. RB had Skate Wings and Piquillos Pepper Salad.
Maybe it is the cold wet weather or maybe just winter in general but I seem to keep opting for the heavier starters.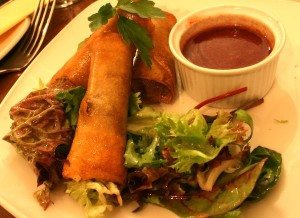 It makes watching my waistline something of a struggle but it also means that I get to eat things like these spring rolls which were very satisfying and full of meaty flavour; almost a meal in themselves.
If my starter was a comforting winter choice Mr. RBs was a reminder of the bright colours of summer with its bright red peppers set off against the white of the fish; fresh looking and fresh tasting.
With my main it was back to the comfort of carbs and cheese as I opted for Guinea Fowl Ballantine stuffed with Gruyere & Autumn vegetables, served with gratin Dauphinoise.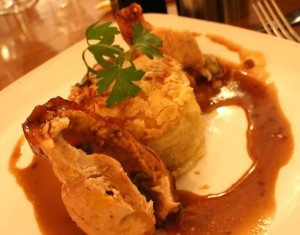 I wouldn't normally choose Dauphinoise except, like here, where the influence in the food is heavily weighted to France in which case I think it is rude not to embrace the creamy, cheesy delights.
There is always a risk with something like Guinea Fowl that it will be dry – maybe that says more about my cooking skills than anything else? – But at the New Steine Bistro we seemed to be in good hands.
The Guinea Fowl was moist and tender and that extra bit of melted Gruyere over the Dauphinoise was as good as you would imagine it to be.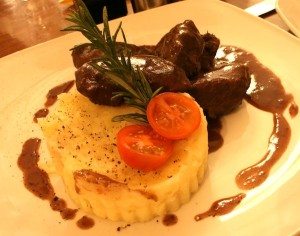 Mr. RB had Sussex braised pork cheeks in a red wine and shallot sauce served with crushed potatoes.
For some reason my mind's eye (or indeed minds taste buds) couldn't really conjure up what this dish would be like so, in case you are similarly afflicted, I think all you need to imagine is a good Beef Bourguignon with a rich red wine sauce through which you can taste the herbs. See? Good, isn't it?
For pudding, as if we needed them, we chose profiteroles and Crème brûlée.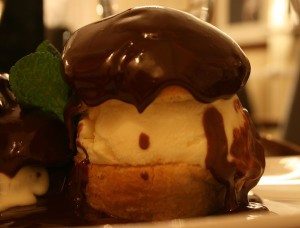 The puddings were extremely generous – I would probably have been satisfied with pudding a third the size but what a wonderful indulgence to end a meal on!
Those profiteroles were dripping in a lovely dark chocolate sauce and the ice cream inside was a cool counterbalance.
I ate one and then I had to call it a day which meant that Mr. RB had himself a whole massive Crème brûlée and finished the evening off with a profiterole.
All the food at the New Steine Bistro is prepared and served with care and is the right side – the restaurant side – of homely.
I had a great time and, if we only manage to pull off a few of the crazy plans we were hatching, then 2014 should be a good year.
Go if you get the chance!