Baqueano – Argentinian Steak Brighton
I had high expectations when I walked into Baqueano last week.
This new Argentinian Steak Brighton restaurant has received nothing but rave reviews since it opened earlier this year, so I was excited to find out if it lived up to the hype.
Entering the simply styled restaurant, I was greeted by the wonderful Adriana (front of house). Hailing from Córdoba, she runs the restaurant with her husband Jorge (head chef), and their two children. Baqueano (ba-ke-ano) means 'guide' or 'expert' – their aim is to serve authentic food and wine, with exceptional service that guides you through a true Argentinian experience.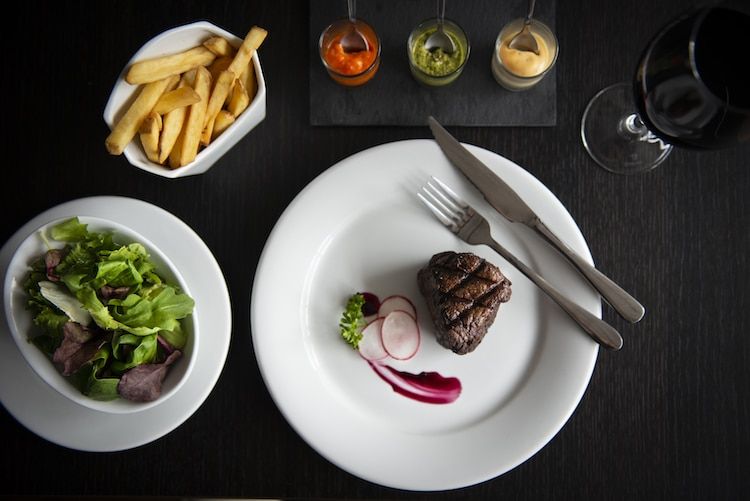 The star of the show
Unsurprisingly, steak is the start of the show. Sourced from Argentina, all their beef is premium, 45-day wet-aged Angus. There's also a tempting choice of other Argentinian dishes, grills, salads and burgers.
Veggies and vegans are catered for too – think spinach empanadas, tofu salad, and vegan burgers with sundried tomatoes.
They also offer a tasting menu with wine pairing, as well as set menus for early diners. Adriana's hand-picked wine list is stocked with many of her favourite Mendoza wines. Other authentic drinks include Quilmes Argentinean beer.
Authentic entrees
Starter options range from 'gambas putapario' (spicy prawns with Argentinian chilli peppers) to 'mollejas crocantes con miel' (honey-marinated sweetbread). On Adriana's recommendation, we opted for two starters to share: provoleta and el duo. Our mozzarella-like provolata cheese was topped with oregano and chilli, and served with charred bread. Creamy and stringy, I loved the contrast of spicy chilli and mild cheese. Ella enjoyed it so much, she polished off the cheese without the bread!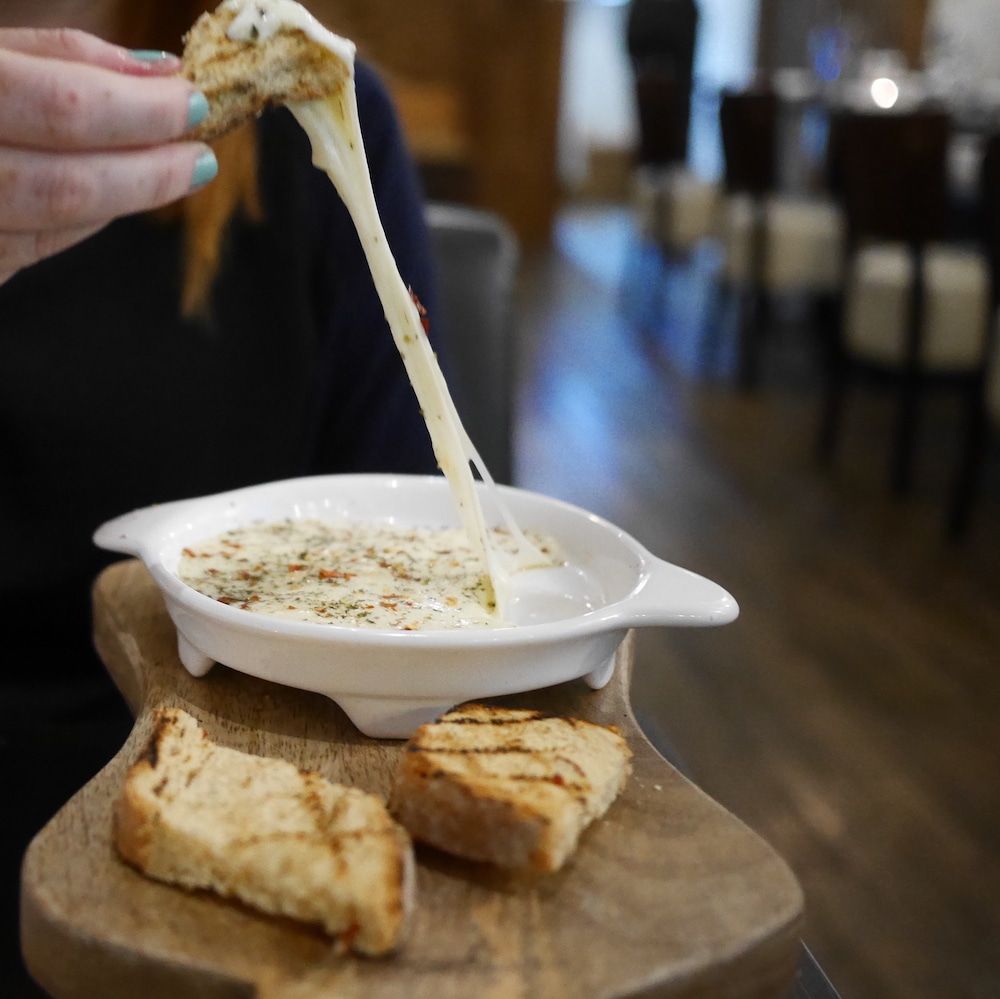 El Duo is a sharing starter of grilled Argentine sausage and black pudding. The sausage was full of flavour with a crisp skin, while the black pudding was lighter, sweeter, softer and juicier than English black pudding. "It's delicious," Adriana beamed. And she was right.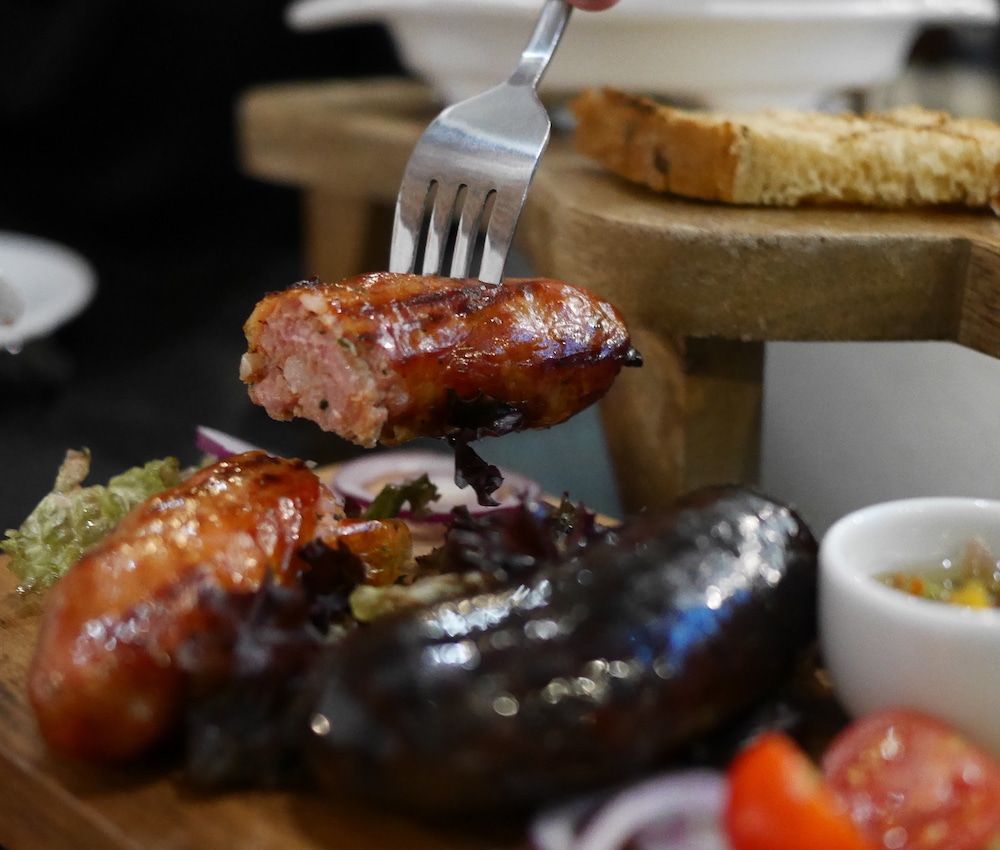 As passionate and knowledgeable about wine as food, Adriana recommended the Elsa Bianchi rosé (2019) with our starters. She's always updating the wine list, and has lots of recommendations that haven't made it onto the menu yet.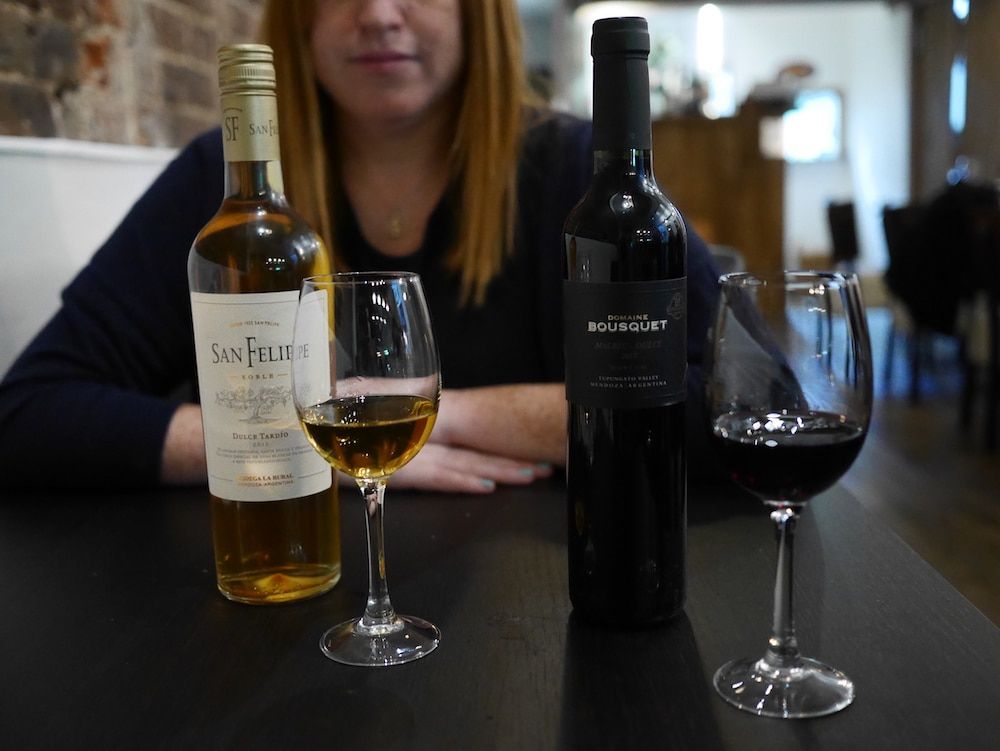 Life-changing steak
When Adriana brought our mains to the table, I accidently knocked my steak knife on the floor.
"I'll get you another. But you won't be needing it," she winked, as she placed my 'Ojo de Bife' (ribeye steak) down.
She explained how all their steaks are seasoned with Argentinian salt from inland mines. "It dissolves straight into the meat," she grinned.
Cooked rare, my ribeye was butter-smooth and served with a smear of homemade malbec reduction. Closing my eyes as I took the first bite, the flavour was just incredible.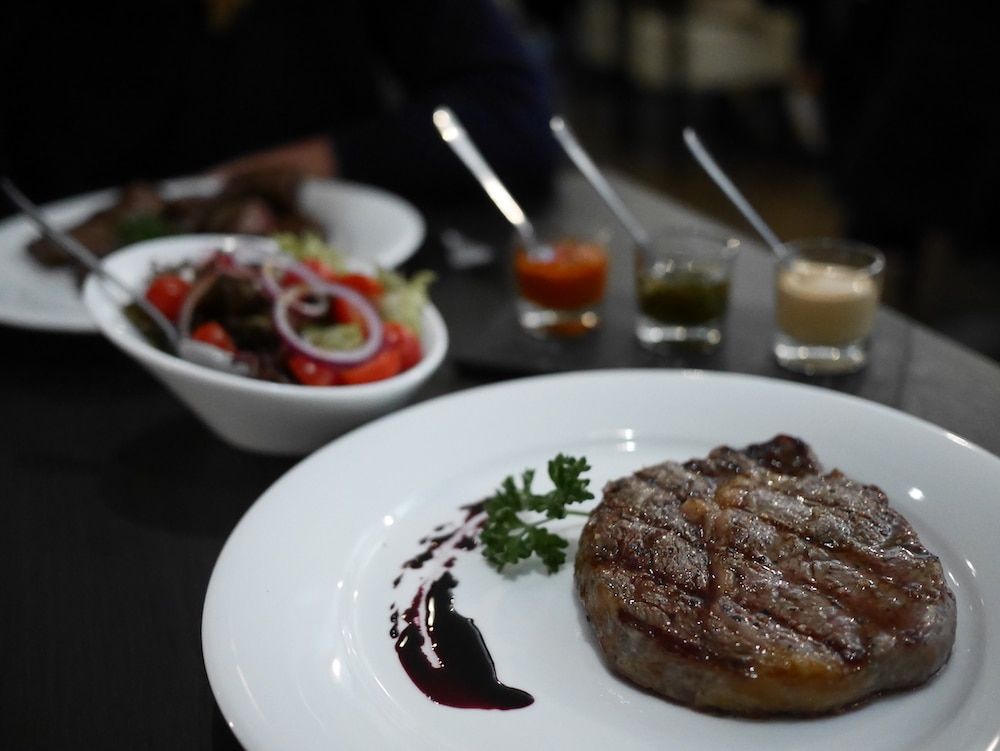 Across the table, Ella was equally enjoying her Entraña – skirt steak with a rich, gamey flavour. This is the only place in Brighton you can try it. Accompanying our steaks were three sauces: herby Chimichurri, spicy Putapario and creamy Golf. Apparently, every Argentinian family has a top secret Chimichurri recipe; Golf dates back to the 1920s; and Putapario? I'll let Adriana explain that one.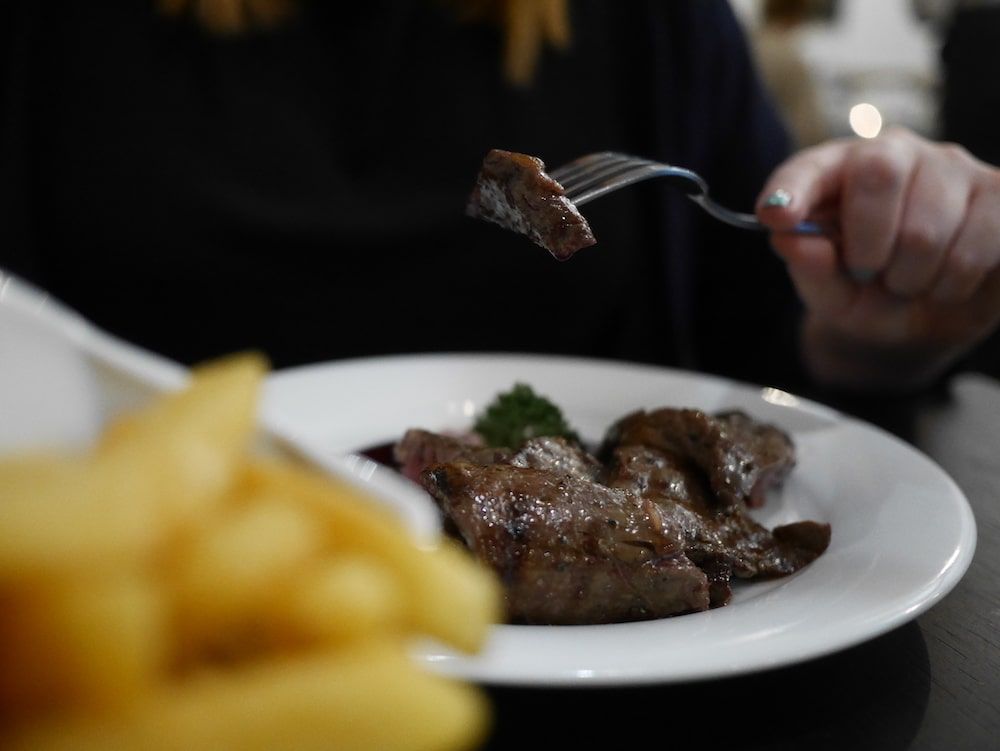 For sides, we ordered mixed salad and fries, which were excellent. Other options include chimichurri mash and zanahorias herdade (carrot with garlic and parsley). To drink, Adriana recommended the fruity and full-bodied Rutini Trumpeter Malbec (2017). Great choice.
Dulce de leche desserts
For dessert, I chose Chocotorta – a layered slice of chocolate cookies, cream cheese and dulce de leche caramel sauce. With it, I sipped a glass of red, Domaine Bousquet Malbec Dulce (2017). Dark and deliciously intense, it had an almost port-like flavour.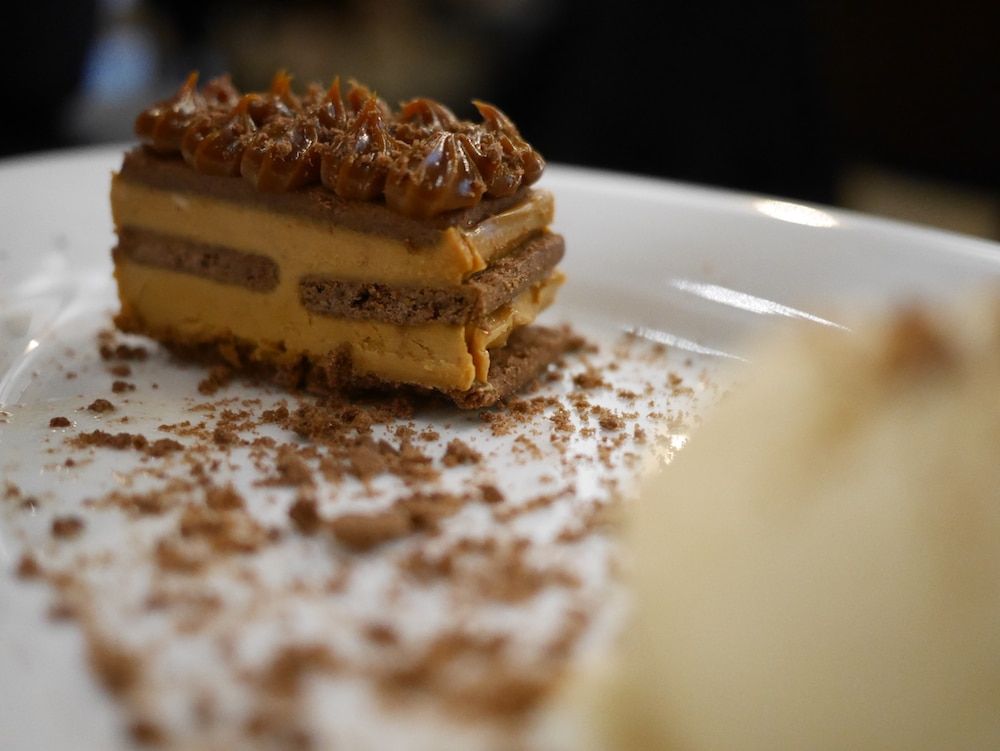 Ella chose the 'panqueque con dulce de leche y helado' – crepes with dulce de leche and vanilla ice-cream. To wash it down, Adrianna recommended a sweet white dessert wine, San Felipe, Roble Tardio (2015).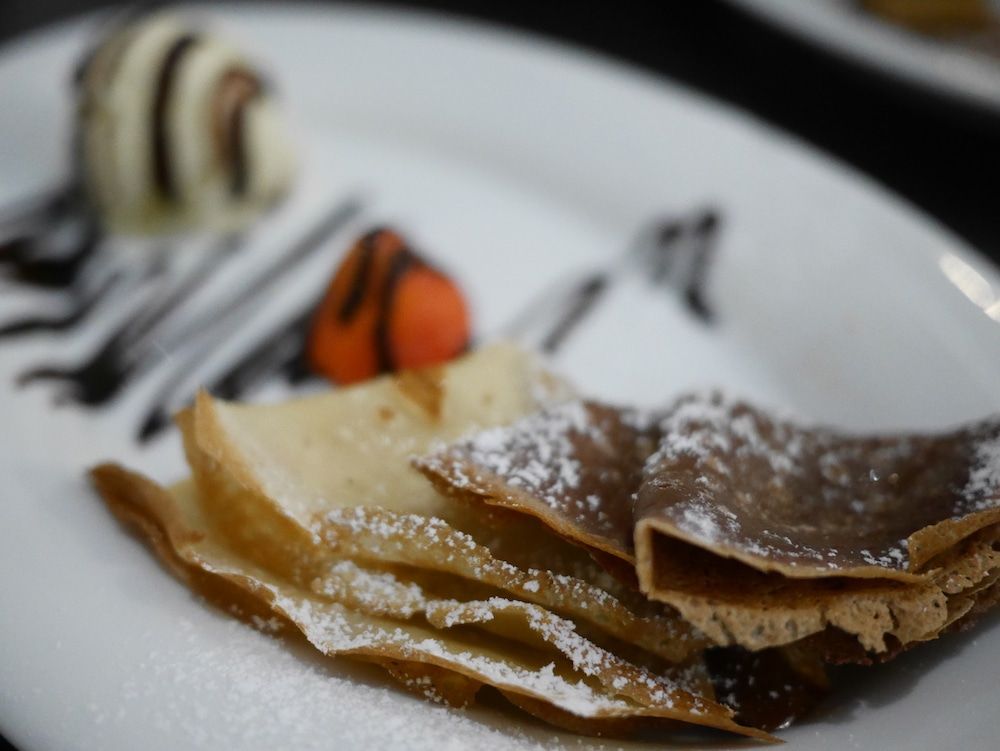 A true Argentinian experience
Baqueano definitely lived up to the hype. Jorge is a very talented chef, and Adriana has an infectious passion for food and wine. Every dish has a story, and she speaks with real heart, passion and expert knowledge. This unassuming little restaurant delivers a full Argentinian experience, guided and enriched by a true baqueano.