Two things changed forever for me when, last Saturday, I paid a visit to The Roundhill – the acclaimed and award-winning vegan food pub. Firstly, margarita cocktails must always, from now on, be accompanied by panko olives. Secondly, broccoli must always be griddled and served with satay sauce and fresh chillies.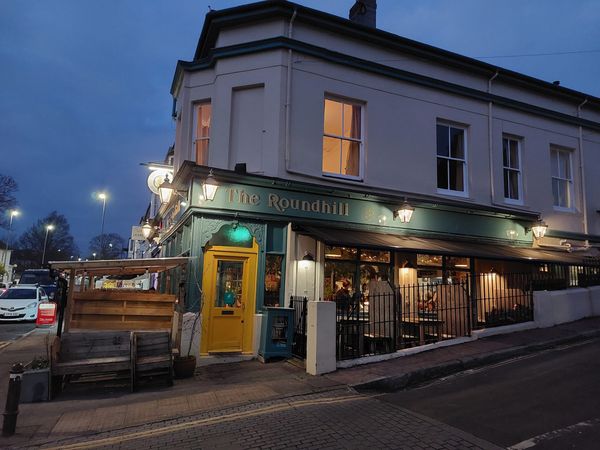 Welcome to The Roundhill
The Roundhill pub opened in 2018 as an unassuming local pub with the niche remit of serving an entirely vegan menu. They were reasonably quiet about what they were doing for a while, picking up local custom and making a name for themselves in vegan circles.
Then in 2019, the newcomer vegan kid made good by winning the Great MOSHIMO Vegan Challenge (find out more about the challenge in our YouTube video interview), beating many a well established local chef and restaurant to the plant-based crown. In 2020 they did it again claiming Best Sunday Lunch in the BRAVOs, making national and international press with this unthinkable achievement ("Sunday roast without the roast, isn't that just vegetables?")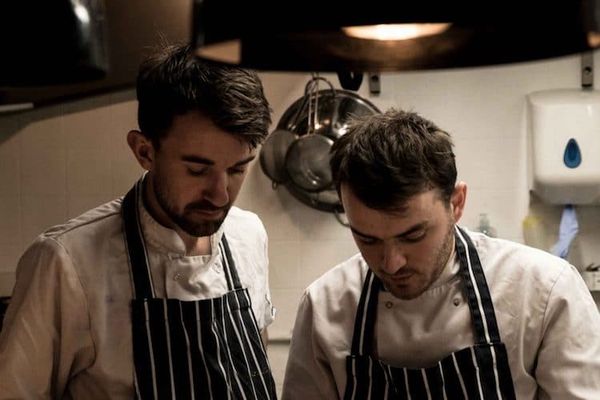 The pub itself is cosy and welcoming and filled with a mix of people from all walks of life. Soft, well-worn wood predominates the interior with warm candlelight and an abundance of greenery (I spent the evening having my head tickled by a tenaciously flirtatious dragon plant – I rather enjoyed the attention, but don't tell the dragon plant).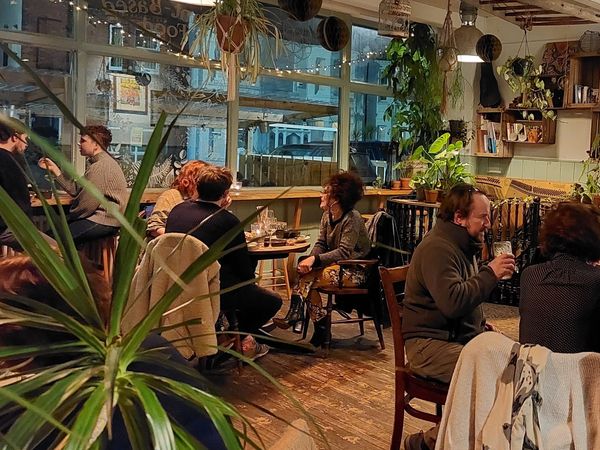 Panko olives
We arrived relatively early on a Saturday evening and The Roundhill was already in good swing with a mix of casuals popping in for a pint and diners in groups of various sizes. Our server showed us to our table and presented us with menus taking a moment to recommend the panko olives, a recent favourite of hers.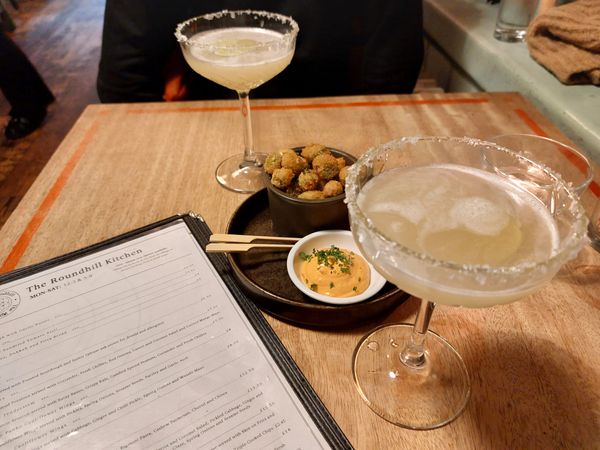 I do love a margarita so seeing these were on the cocktail menu we decided to start our evening with a couple of those and some of those olives – oh my!
Crispy fried panko, fruity olive deliciousness, the sharp cut of lime, the sting of salt, the kick of tequila and the smooth 'come-to-bed' notes of sundried tomato aioli all collided in repeated greedy mouthfuls. Eyes rolled. Little was said. Things were going well.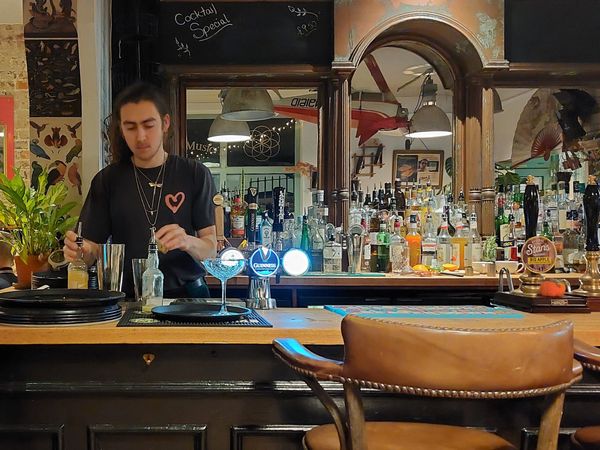 Broccoli satay
The main menu at The Roundhill does a very good job of bridging several diverse terrains. There are strong plant-led dishes as well as things a meat eater who's not too interested in going far from their comfort zone will recognise and feel comfy with. The menu also bridges 'good pub food' and 'gastro-pub food', which is to be expected since The Roundhill family is growing and will be opening their fine dining restaurant, Kokedama, in the Lanes later this spring.
Currently, the menu features main plates (for one) and small plates (a selection to share). Our server again suggested that the broccoli satay (small plate) was really rather special, so we opted for a main each but a side of the broccoli because so far our guide hadn't led us astray.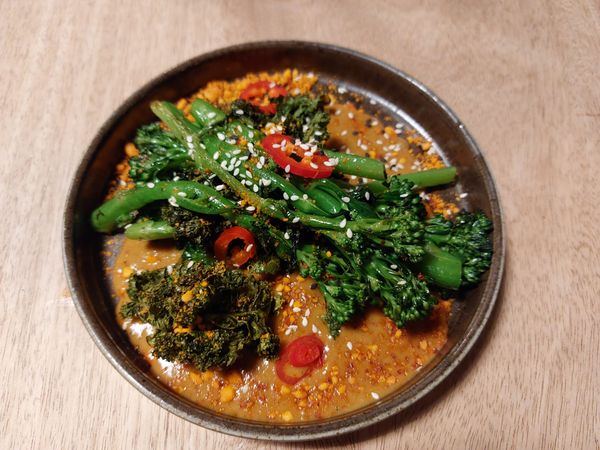 A dish of tenderstem broccoli soon arrived. Outlandishly green in a moat of ochre satay sauce and decorated with shining gems of fresh red chilli, candied nuts and lime wedges. Like the margarita and olive combo, this did everything all at once, hitting every part of the palate and satisfying every desire for flavour and texture.
The mains
My dining companion (one of the few people left in my life willing to sit on their hands with a beautiful plate of food in front of them while I dance about arranging napkins and cutlery to take a few smartphone snaps) opted for the classic RH burger. A Beyond Meat patty given The Roundhill treatment with smoked cheese, skin on fries and a side of red onion and cucumber pickles. It was everything a burger should be, juicy, gooey a bit messy, with perfectly cooked chips and a little bit more of that counterbalancing sharp cut from the pickles.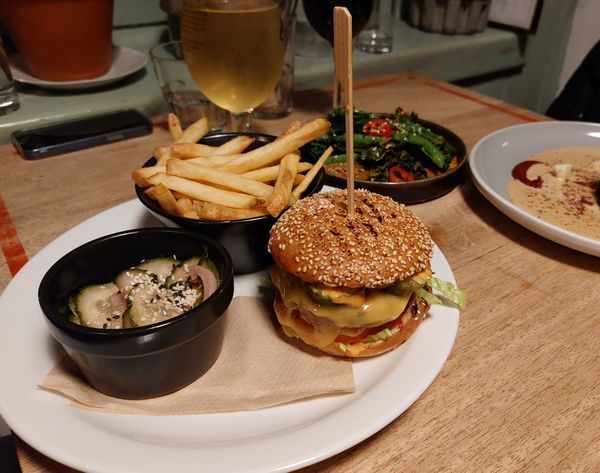 This is one example of familiar food available at The Roundhill, which means it's the sort of place where the less adventurous, or less vegan inclined, can still feel comfortable. Also, sometimes you just want a really good burger.
I went for the fondant celeriac, a visually spectacular winter dish. A medallion of al dente fondant celeriac sat atop a stack of garlic cavolo nero greens. Pickled apple added wonderful sweet-sharp flavours and a streak of beetroot puree curled around the plate amid a pink peppercorn sauce.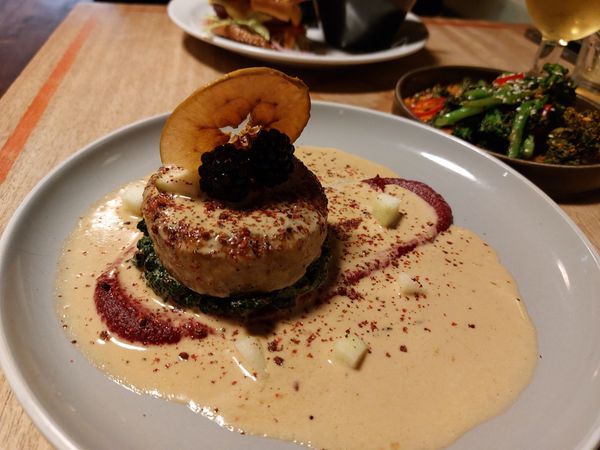 On the side, I had a bowl of triple-cooked chips that crunched like good roast potatoes and disappeared in clouds of potato yumminess.
If you're imagining this dish to be something approximating steak and chips then clear your mind. This was all about the earthy, subtly varying flavours of seasonal produce.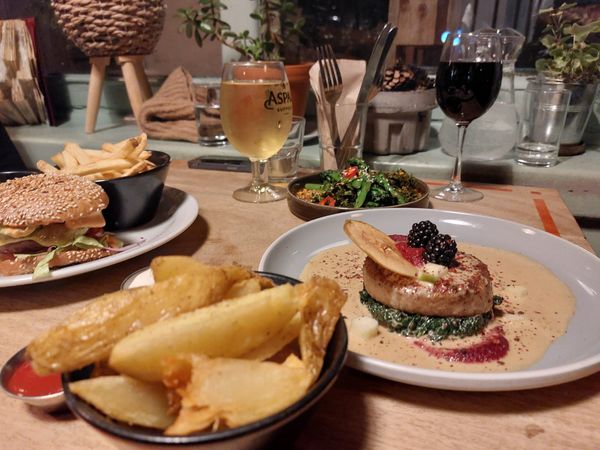 One last recommendation
We were by this point very satisfied with our decisions and recommendations, when our lovely guide, friend, and server returned to ask if we'd like to see the dessert menu. Well, it would be rude not to.
In addition to this season's dessert menu, featuring wine-poached pear and apple and rhubarb crumble, there was a daily special, we were told. A pavlova with chai whipped cream, chocolate sauce and berry compote and "it's really rather good", she added.
What could we do? We'll have one to share. We should get a photo of a dessert at least.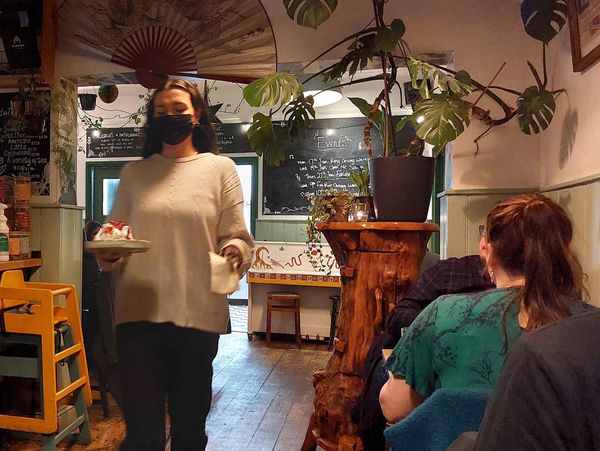 A pavlova the size of Pavarotti arrived a short while later. The pavlova crunched under the spoon like fresh snow and dissolved in the mouth leaving sweet kisses mingled with smooth, rich chocolate, cheeky berries and the warm spices of chai infused cream. Despite being really rather full it was impossible to stop eating it until every last mouthful was gone.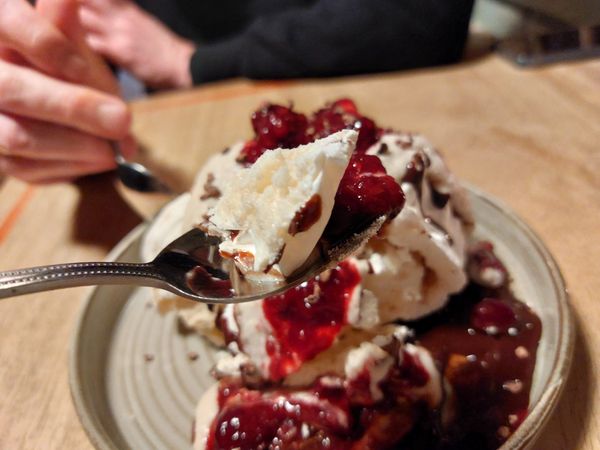 An afterthought (pity poor food bloggers!)
That night we left The Roundhill round of belly and full of good cheer and very much looking forward to what Kokedama will bring us later in the year.
But I've come to realise it's a poisoned chalice doing this job. Sure it looks glamorous and sounds amazing from the outside, "so you get to eat lovely food and drink lovely drinks all over the place and write about it?" But what you don't see is the other side, a life shackled to little caveats like a horror for anything that isn't 'artisanal houmous' and being ruined for margaritas if they're not served with panko olives. I'd fall down and weep if I weren't so busy stuffing my face.