Welcome to The Roundhill
Walking into The Roundhill felt like visiting a friend and being welcomed into their living room. The décor is unassuming with lots of plants, warm low lighting and a homely vibe – we felt instantly comfortable as we were greeted by the owner Max who showed us to our table.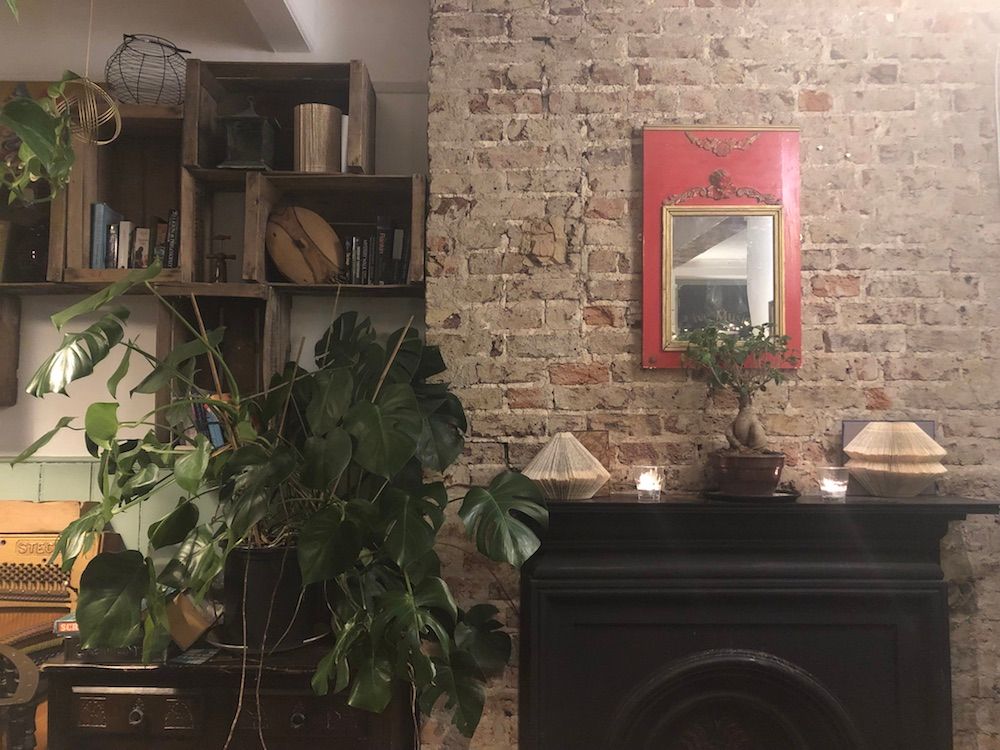 A very vegan bevvy
We went to the bar to see what drinks they had on offer, being a plant-based pub it was reassuring to know that all the drinks are vegan, including all wines, vegan Worcestershire sauce for the Bloody Marys and some of the local ales are made especially for them. We opted for Holos Kombucha who have recently moved their warehouse to Sussex and were delighted to try the 'Citra Hops' made using real hops with a refreshing summer ale taste.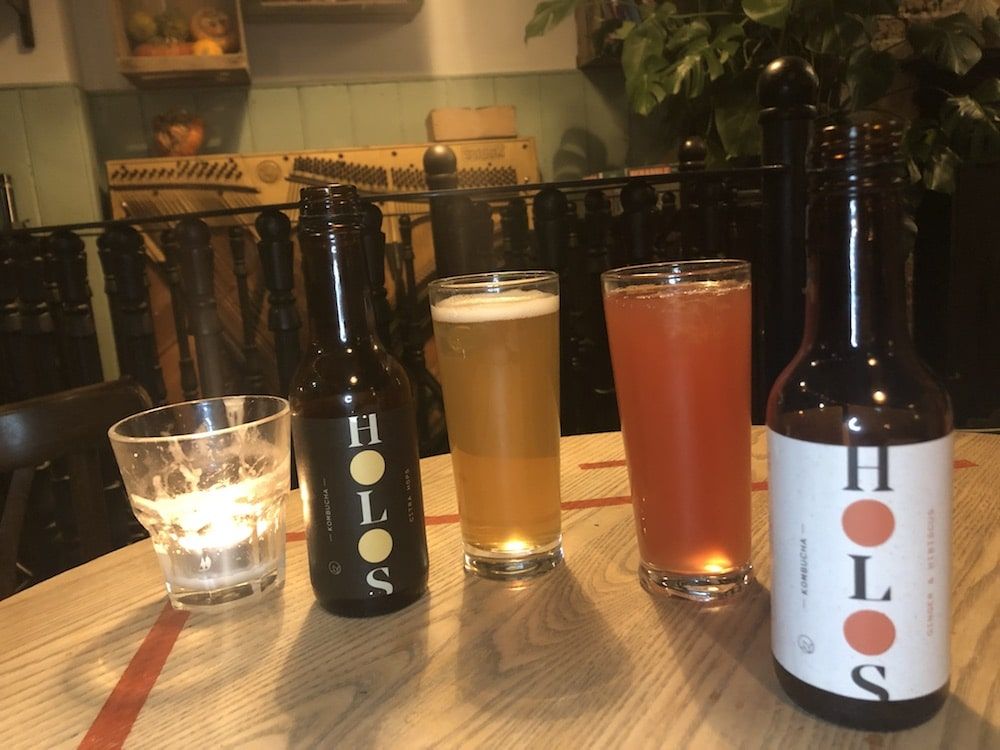 The Tasting Board
The Roundhill chefs prepared us a tasting board to start which was a beautiful array of small plates and sides from their menu. This is one of my favourite ways to sample the kitchen's offering as you get to try a little bit of everything.
We were given a generous snapshot of what the food at The Roundhill really stands for – fresh, homemade, comforting and wholesome, accessible to all regardless of dietary preferences.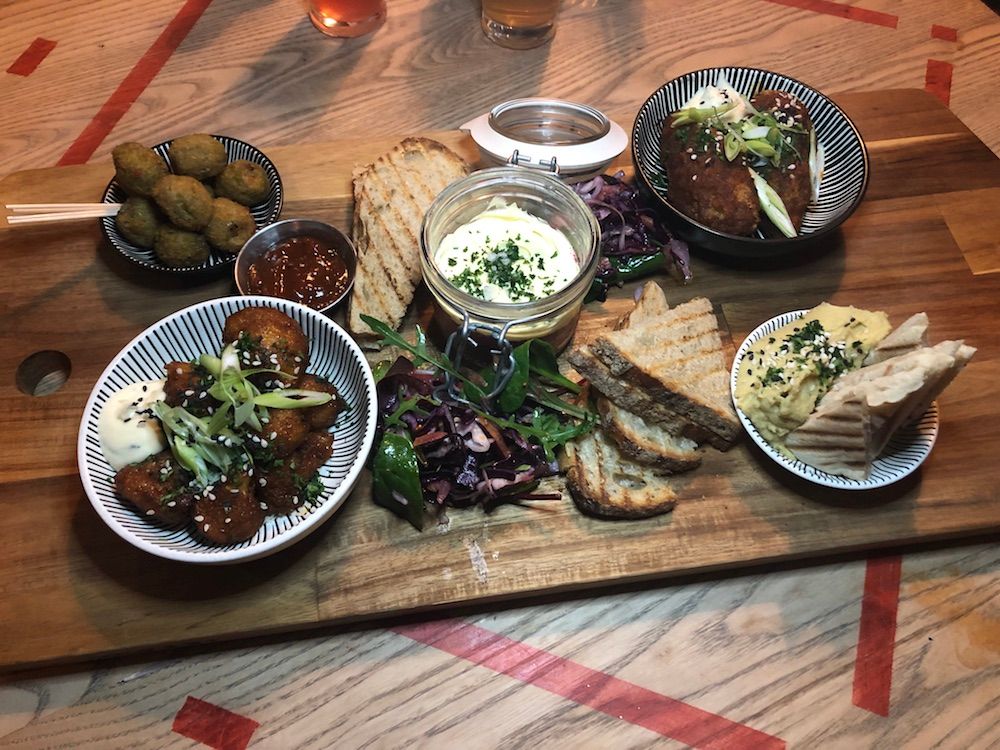 The tasting board consisted of hot breaded olives which were light and crisp balancing the pickled olive taste. The barbecue cauliflower wings were perfectly cooked in the middle and coated in a sticky barbecue glaze. The 'on the bone' hot buffalo Jack Fruit drumsticks with a blue cheese mayo were really a standout – reminiscent of a chicken drum stick, the soft fibrous jackfruit created a perfect meaty texture wrapped around a sugar cane 'bone' and then breadcrumbed and coated in a buffalo sauce which had the perfect amount of heat with a sweet undertone. The accompanying blue cheese sauce wasn't overpowering and balanced the juicy, meaty drumsticks well.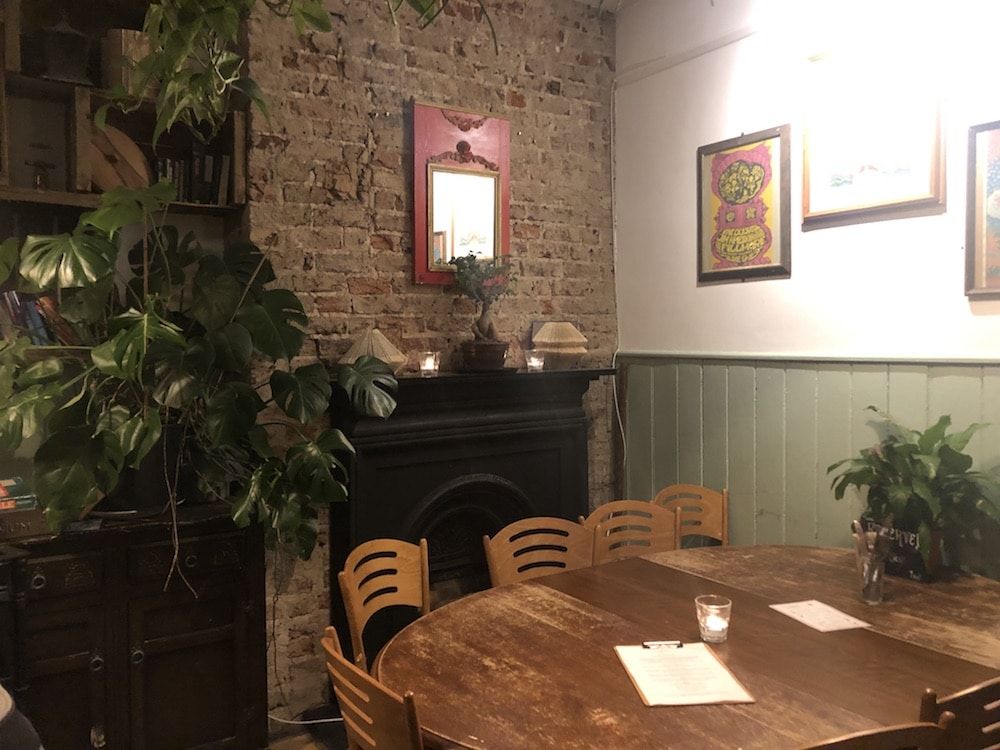 Another favourite of mine was the Round Hill paté which was rich and savoury with a real paté taste. The deep purple colour indicated beetroot but without the sometimes overbearing earthy flavour, this was nutty and full of umami which was the perfect addition to the colourful and flavourful spread.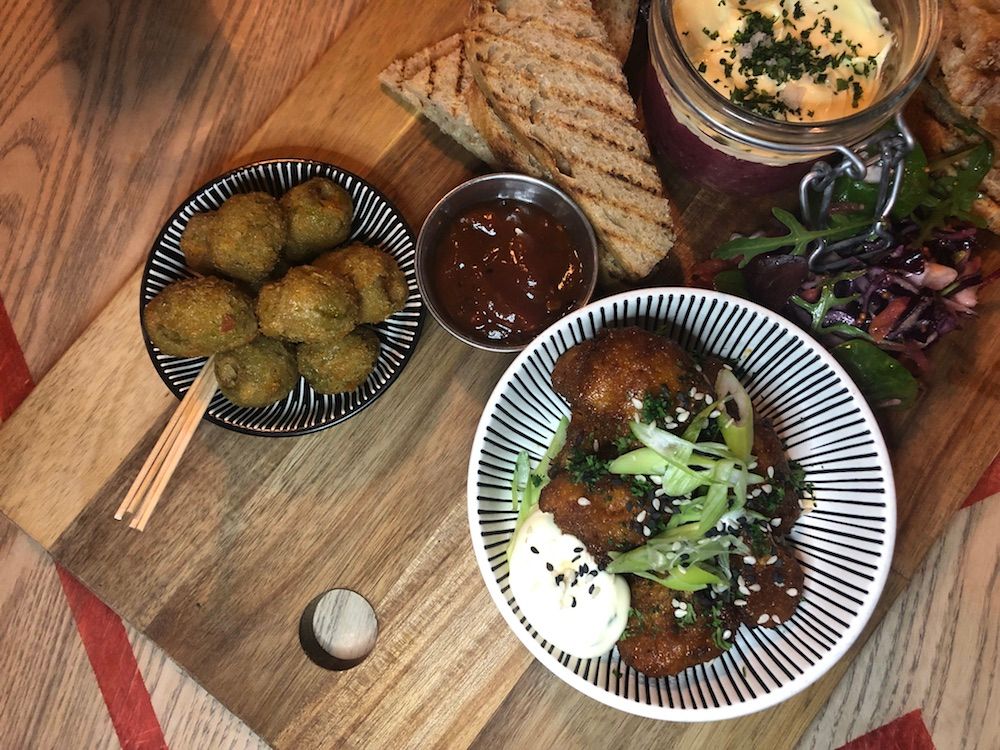 Amazing Service and Buzzing Atmosphere
The service at The Roundhill was everything you'd expect from a relaxed pub dining experience, hospitable and warm without any formal restaurant conventions making for an ideal mid-week meal. The pub quickly filled up and most customers were ordering food which was promising knowing the kitchen was a local favourite rather than just a quick 'en route home' pint. The atmosphere was buzzing and friendly with each table seeming to share good conversation over a wonderful meal, it was a great environment to be part of while we waited for our mains.

The 'game-on' gammon
We ordered the mustard, maple and treacle gammon which was a firm favourite for sure – served with fondant potatoes, crisp savoy cabbage, carrot and swede mash and rich port jus. The gammon was homemade seitan which was sweet and pan-fried to crisp perfection, it was tender with a meaty bite – everything you'd want from faux meat.
Tart apple puree and stewed apple balls complemented the sweetness of the gammon and the homemade crackling was a delicious surprise, salty savoury and crunchy it rounded by the sweet and tart flavours wonderfully.
This dish was perfectly suited to the winter season; warming, comforting and homely. The taste was just as you'd expect from a traditional British dinner, with complementing flavours and textures like these, meat would not be missed by anyone.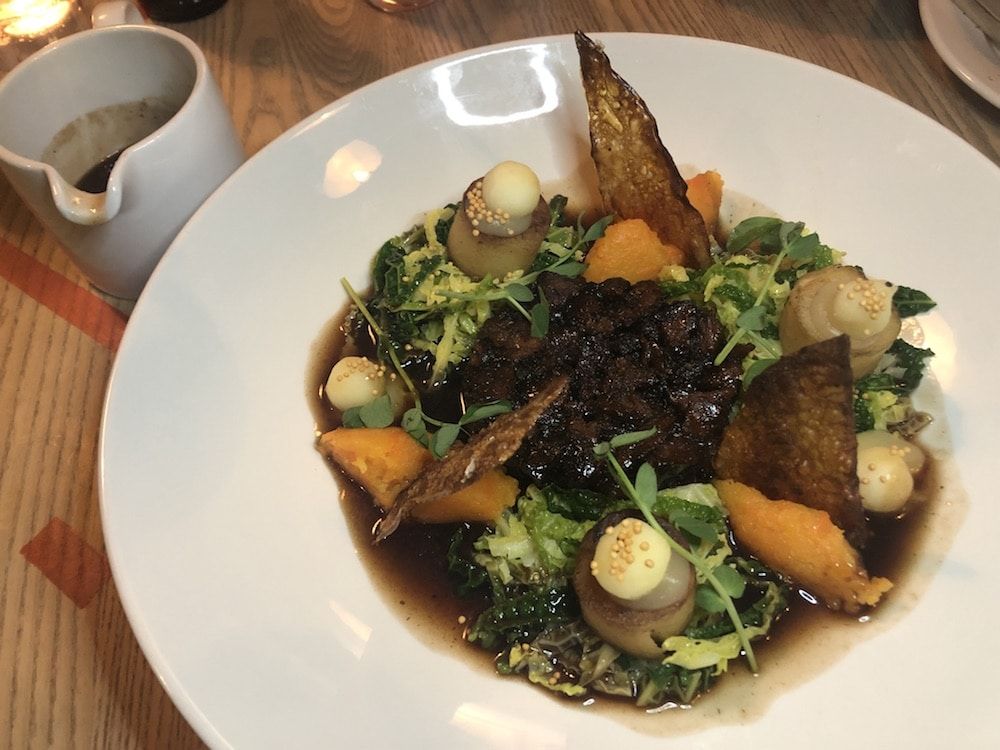 hearty but not heavy, a perfectly healthy and filling choice
The Buddha Bowl
The Buddha Bowl was healthy, fresh and satisfying. Warm and cold elements made the dish feel like dinner rather than a lunch salad with warm roast beef tomato with balsamic olives, crispy roast new potatoes, rice salad, beetroot and horseradish salad and homemade humous and pitta. This dish utilised fresh seasonal vegetables, while being hearty but not heavy, a perfectly healthy and filling choice.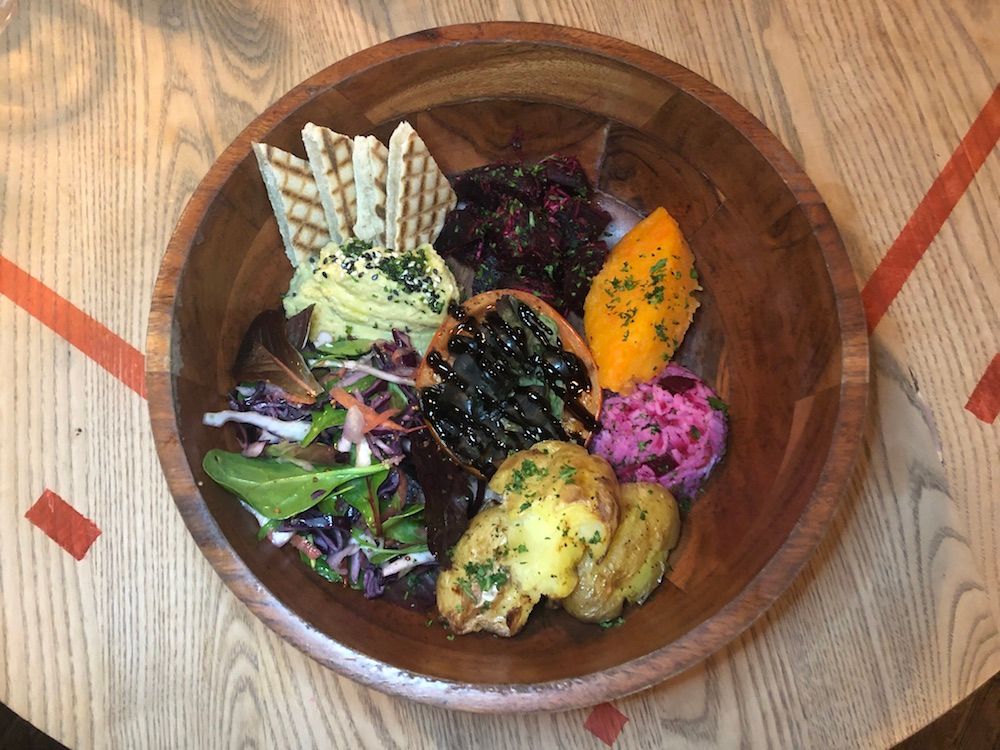 Roundhill Mac 'n' Cheese
We also got to sample the Round Hill mac 'n' cheese with elbow macaroni smothered in a deliciously creamy and velvety sauce – a perfect ratio of sauce to pasta with wilted spinach woven throughout. Beautiful textures and flavours adorned the topping – garlic bread crumbs, 'facon' and crispy shallots created a decadent crust unveiling an oozing cheese sauce. A well balanced cheese flavour with a strength you'd expect from a mature well ripened cheese but remembering it's all plant-based here.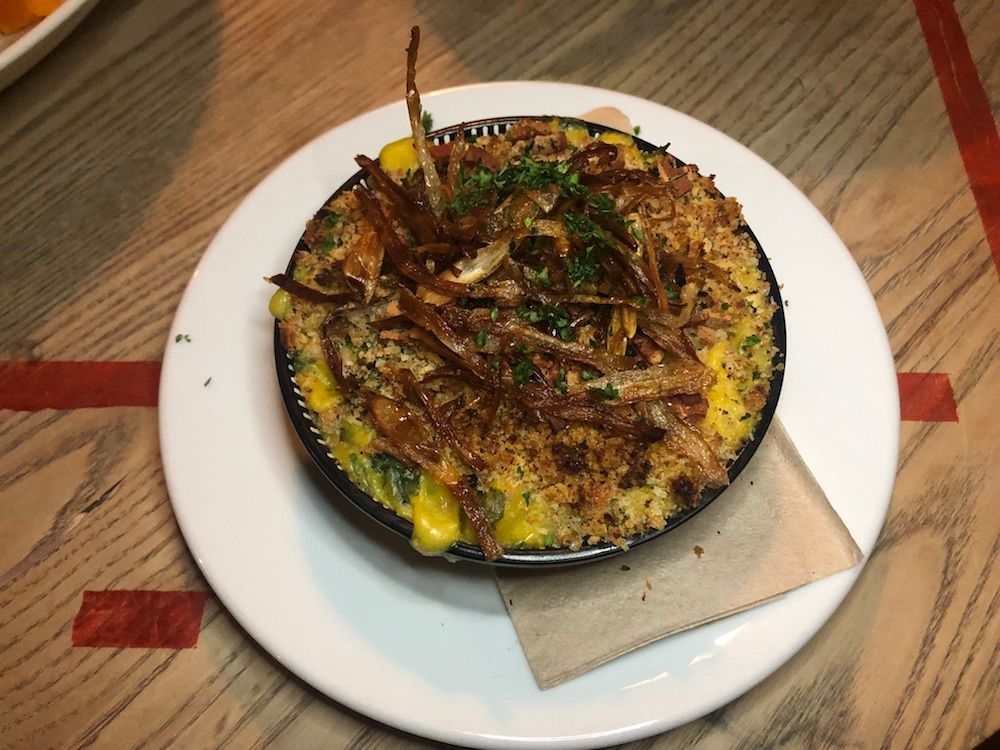 Desserts at The Roundhill
After such a feast we just about had room for dessert and eagerly looked through the dessert menu – a well thought out offering with a flavour profile for all, chocolate, toffee and creamy fruit.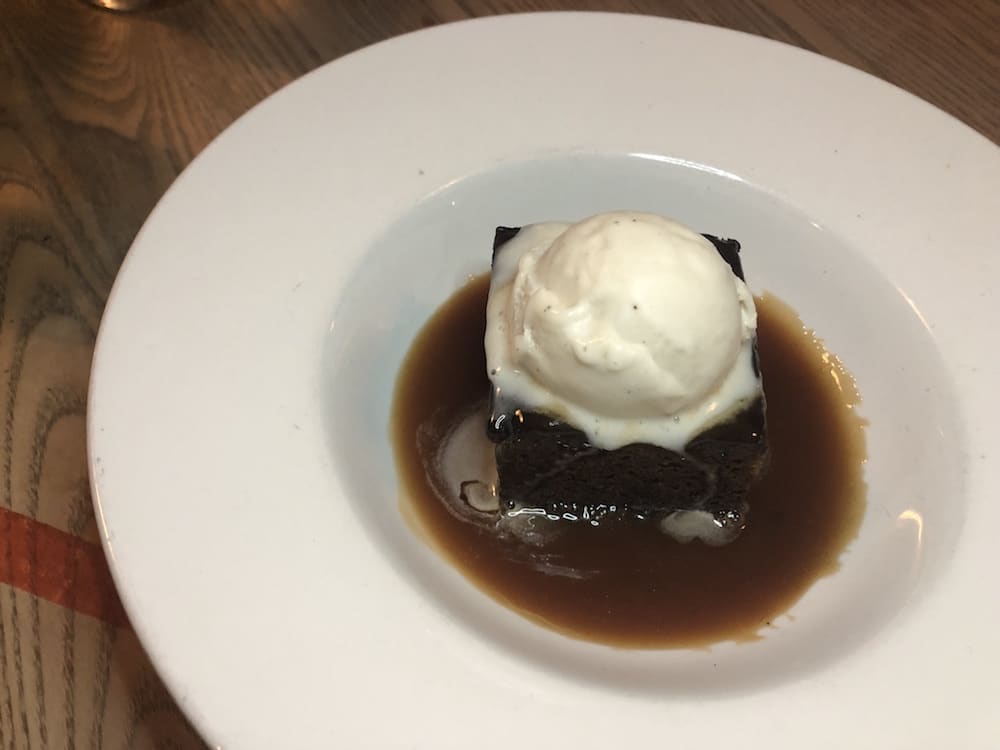 I can't say no to a sticky toffee pudding and was served a moist and sticky date sponge, surrounded by caramel maple sauce with cold vanilla ice cream – nostalgia and sweet comfort in a bowl. We also tried the biscotti cheesecake which was creamy and decadent, well paired with a berry coulis to cut through the richness.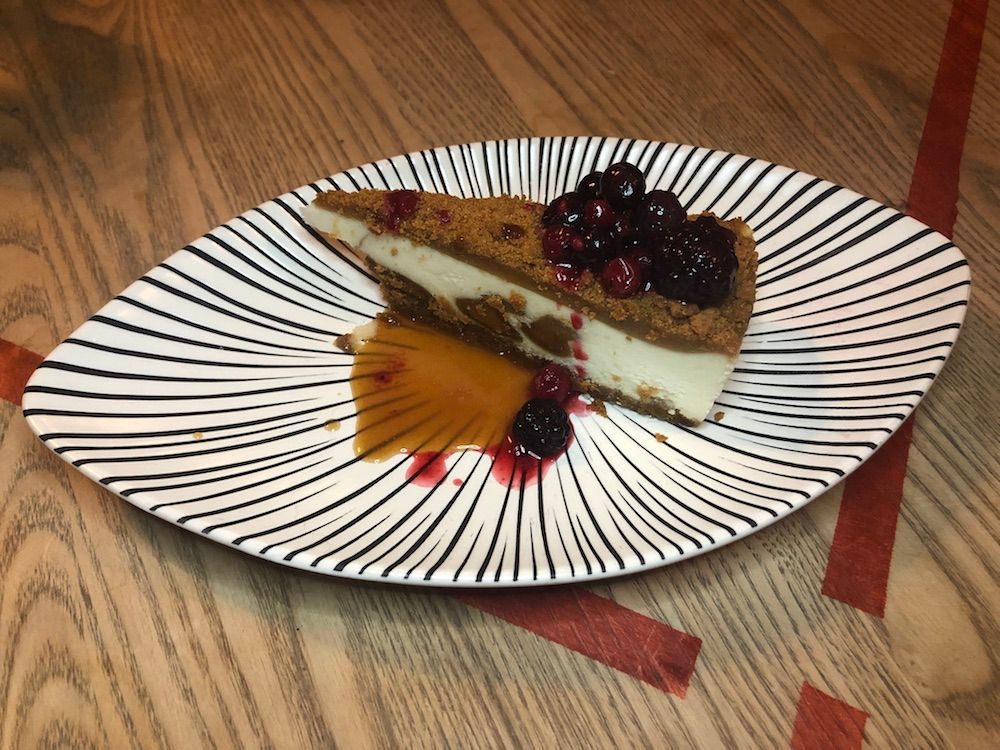 Overall the service, ambience and food at The Roundhill was exceptional with something for everyone, plant-based or not. The menu was well thought out and curated with seasonality, flavour and satisfaction in mind – with so many options and varying flavours, meat or dairy wasn't missed. I know I'll be visiting The Round Hill for the gammon and sticky toffee pudding again very soon.