Where The Locals Eat fish and chips
Bankers are some what of a Brighton Institution when it comes to fish and chips, and are arguably serving some of the best fish and chips that our seaside town has to offer.
You may also like..
What makes Bakers stand out from the rest is their passion to only source sustainable fish, and they are the only company in the UK to be awarded the Icelandic Responsible Fisheries Management award by the Icelandic ministry for fisheries in recognition of their policy for only using sustainable, cod, haddock and plaice.
As well as being ethically recognised, they do produce good value, quality fish and chips!
Located on Western Road, just a couple of blocks up from the seafront and near the quieter end of the beach by the picturesque West Pier, Bankers is in a perfect spot for grabbing a quick, paper wrapped takeaway before heading down to the beach.
If it's the winter, and it's not really beach appropriate weather, you can take some home to a roaring fire, or sit in their spacious restaurant and watch the world go by.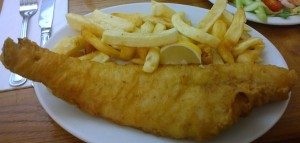 We visited Bankers on a weeknight evening, and decided to sit inside, as it was a fair walk from home.
There were a few customers eating in, but it wasn't in any way busy. We were greeted and seated straight away, and we chose a table towards the back.
The interior is made up of wooden tables and chairs, white walls and old black and white pictures of Brighton printed on canvas. The tables are classically set with cutlery, and condiments such as salt, pepper, vinegar and ketchup.
The menu includes 15 different fish dishes to choose from,..
..including fish cakes, skampi, and roe, and you can choose whether your fillets are grilled, poached or fried which is good if you feel like something a little lighter.
They have a selection of starters to choose from too, such as prawn cocktails, mackerel pate etc and all your usual condiments and trimmings like curry sauce, mushy peas, and tartare sauce.
We decided to order a couple of classics, I chose the haddock, grilled with chips, and my partner ordered a fillet of cod, battered with chips. We chose a side of curry sauce too, for dipping.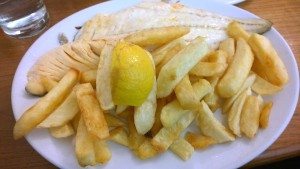 After a short wait, our food arrived, the portions were huge!
It was good that we were hungry. My haddock came plain, but with lemon on the side to squeeze over.
The fish was firm, and tasted fresh and the lemon really complimented the flavour.
I think it was cooked slightly more than I would've liked, but it was tasty none the less!
The chips were crispy, not too greasy, and fat cut with a good potato flavour that you would expect from a decent potato. A little bit of added salt and they were perfect!
The tartare sauce on the side was really good, had just the right amount of tang and creaminess.
The cod came with a crunchy, well seasoned batter, and flaky, well cooked fish inside that went really well with the tartare sauce. The curry sauce was lightly spiced, and added that little bit more of more-ishness to the dish. 
Overall, I think Bankers do a great job, and as a regular here anyway, I will definitely be going back especially now I know more about their sustainability ethos, as this is really important to the future of our fish enjoyment!
If you are wanting to avoid the touristy fish and chips alongside the seafront, and you want to try where the locals eat, venture a little further during your trip to Brighton for sustainable, classic fish and chips, with speedy service and really great value.