Hotel Du Vin Brighton
Hotel Du Vin is a beautiful boutique hotel in the heart of The Lanes. It's more than just a luxurious place to stay, but an everyday destination for the finest wines and delicious foods whether you're an overnight guest or not. Set amidst the charming, cobbled streets of Ship Street you'll find a warm and intimate bar serving wine, beer, cocktails and coffee. The Bistro is like stepping into an elegant yet relaxed Parisian eatery – great for breakfast, lunch and dinner – anyone is welcome to come in to dine. The beautiful historic exterior is perhaps deceptive to what the hotel holds inside – within the mock tudor walls you'll find incredible rooms for weddings, private dining, meetings, events and wine tasting dinners. Hotel Du Vin Brighton really does have it all. 

The Food
The beating heart of the Hotel Du Vin is the food from The Bistro. Under the helm of a resident French chef, Bistro Du Vin is renowned for its fantastic French cuisine as well as some beautiful British classics. From the A la Carte menu you can start full-French with Crispy Frogs Legs or Escargots Bourguignon En Croute. For the non meat eaters you have to try the Vegan Black Pudding – unexpected and very tasty.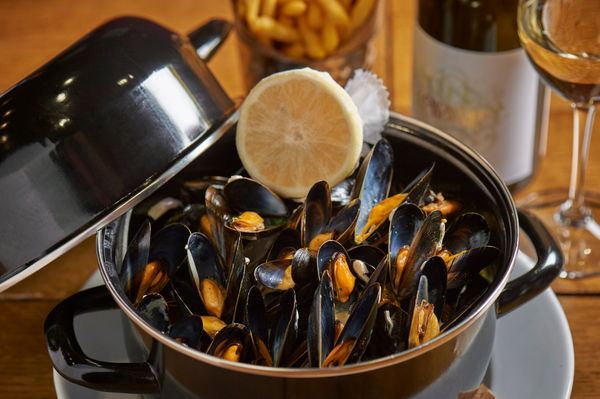 The Plats Principaux and Grillades courses are full of flavoursome choices – Moules Mariniere and pommes frites, Whole Roast Dorade served on a Fennel Bed or indulge in the famed Chateaubriand 500g sharing plate. There is a host of sumptuous sides are there to add extra delights. For dessert there are many dishes to satisfy that sweet spot. The Creme Brulee is a generous sized helping of baked vanilla custard, the crepe suzette a fantastic fanfare, or for those sweet enough, there is plenty of cheese to please your palate.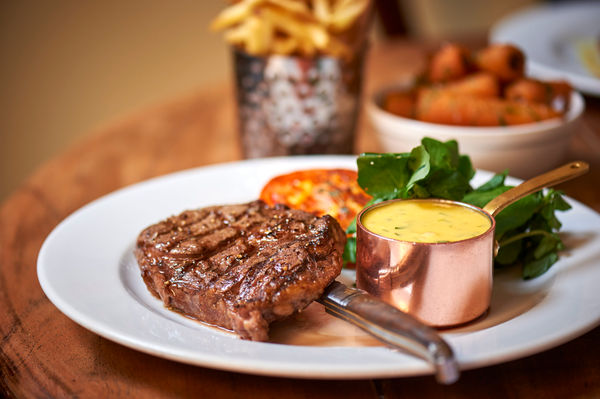 Not just A La Carte – non!
Hotel Du Vin caters to all tastes and has a selection of menus to suit your appetite. There are two Taste Du Vin menus, one for the carnivores and another for the vegans – each course has the perfect wine pairing, handpicked by the group's chief sommelier. An afternoon tea in the resplendent surroundings is a huge favourite – layered plates festooned with Finger Sandwiches, Scones, cakes, and tea…champagne optional, but pinky-fingers-out is a must when you divulge in this treat.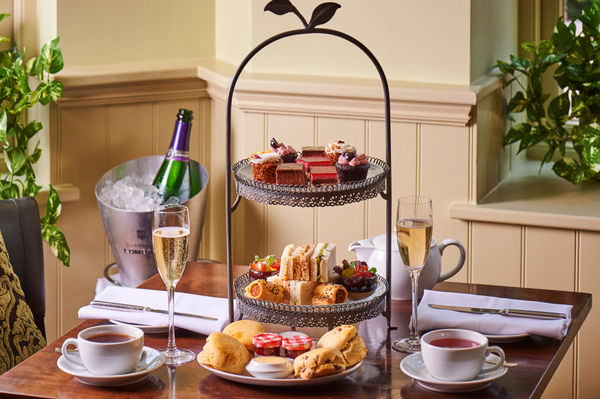 The Prix Fixe is a great value set menu offering a really fine selection with 2 courses for £21.95 or 3 for £26.95 – eat like a king for less on Sunday to Thursdays 6 – 7pm. The kids can tuck into some tasty treats from the staple yet sophisticated Les Enfants menu – highchairs are available as well as changing stations. If you just want some nibbles with a lovely glass of wine or two check out the bar menu.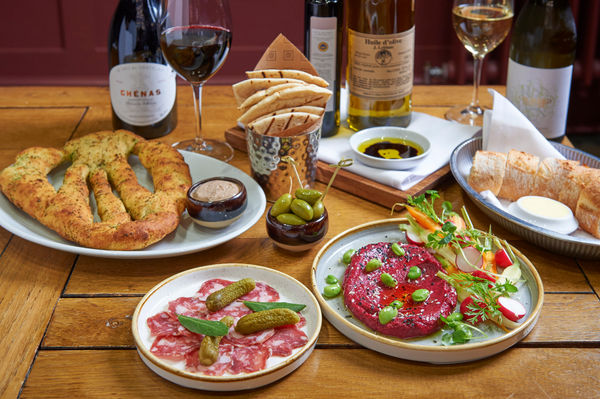 Sunday Lunch
Adding the Hotel Du Vin to your Sunday Lunch trail is advisable as what they offer is quite unique, enough to stand out in a crowded market. The Roast Du Vin has a two or three course option at a fixed price. The meal kicks off at The French Market Table – an abundant buffet of non stop entrees from soup, seafood, meats, salads, breads and more. Fill your plate to your heart's content.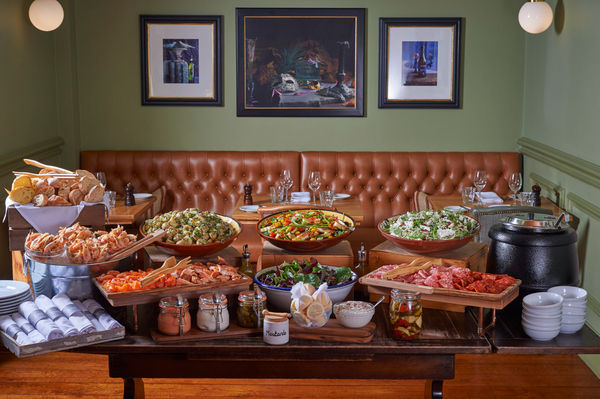 Make sure you leave room for the main event; Roast Sirloin of Beef, Roast Chicken & Stuffing or a choice of the Plats Principaux from burgers, veggie casserole to salad. The desserts finish off this Sunday feast perfectly – light mousses or sorbets, or nourish your soul with the apple & blackberry crumble served with custard. Yum.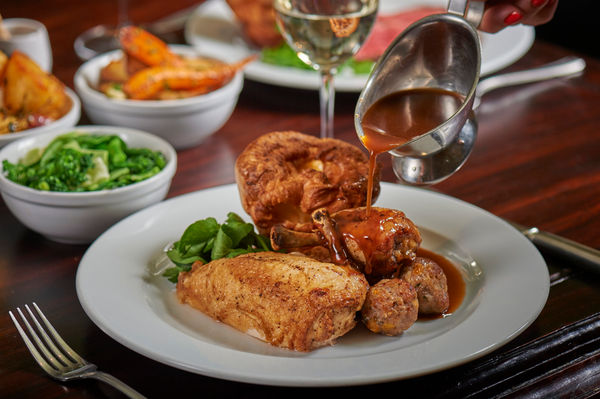 Wine
Hotel Du Vin literally translates to Hotel of Wine. The connections to wine more ingrained into the fabric of the hotel than their well stocked cellar. The beautiful gothic building, just off the iconic Brighton seafront, has had many iterations since it was first erected in the 17th century. Nearly 100 years ago it was as a wine merchants store. With each of their 49 rooms named after a wine producer – surely this makes Hotel Du Vin the most authentic wine destination in the city.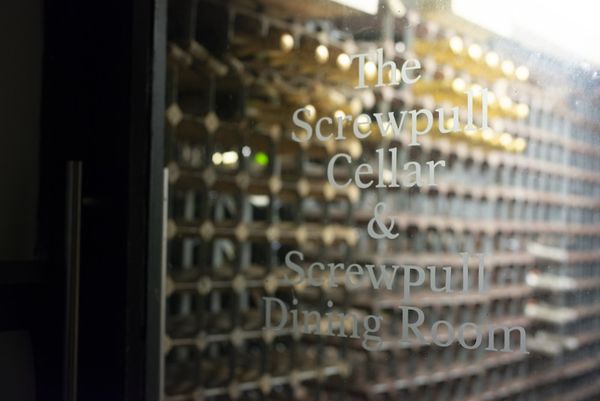 The extensive wine list has over 600 bottles to choose, from some of the world's top producers, including local English sparkling. The team are passionate about wine, not pretentious and will make the experience of choosing the wine as enjoyable as drinking it – matching the food, the celebratory mood and your budget. For the wine connoisseurs there is a Wine Locker service where you can buy and store exclusive vintage wines at near cost, and safely store it until your next visit.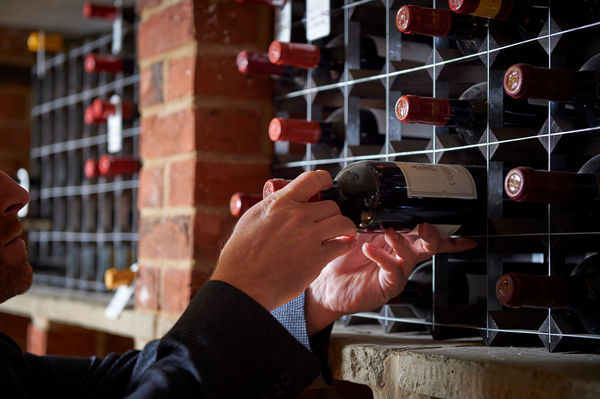 Cocktails 
Wine may be their speciality, but the gorgeous cocktails are also an inviting reason to visit. With a choice of carefully crafted Classic, Signature, Spritz, and Champagne Cocktails – many involving wine – you can suit the drink to your mood or the weather. From celebratory Bellini Royales, summery Pina Coladas or a slow sipping Side Car as you nestle in the warmth of a comfy bar chair. There are non-alcoholic cocktails too so no one has to miss out on the flavour sensations on offer. Catch a very happy hour on Champagne Cocktails at Hotel Du Vin from 3-7pm Monday to Friday. Santé!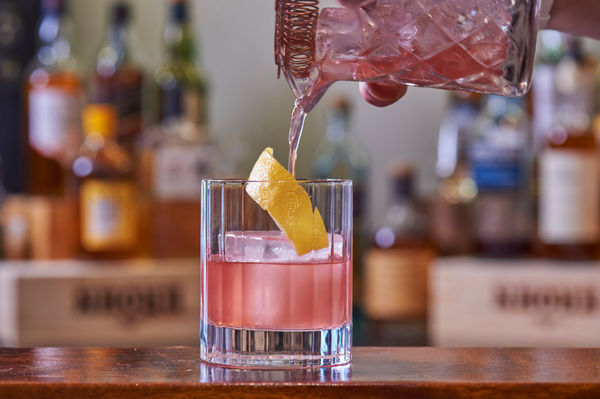 Weddings
Hotel Du Vin prides itself on orchestrating incredible weddings or civil partnerships. This boutique hotel is one of the top venues in the City to celebrate your I Do's. Big or small, glamorous or traditional the hotel can cater for the most extravagant or intimate occasions. The friendly team are on hand to suggest great food and drink to complement the day – the Bistro menu is adaptable to suit all tastes and budgets.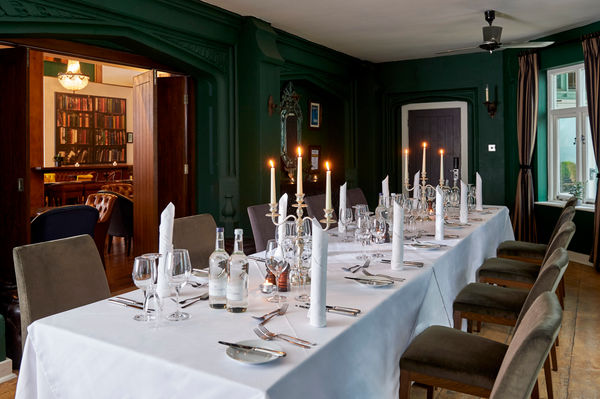 There are many romantic spaces to host your wedding from cellars, snugs to tranquil terraces. In our opinion the most stunning is the Dome, a show-stopping room with a glass domed roof that will wow your guests and look great on photos. Whatever you're looking for in your dream Brighton Wedding the Hotel Du Vin delivers. Packages start small, and top tip, keep an eye out for special offers out of the main throng of wedding season – you could get something lavish for less.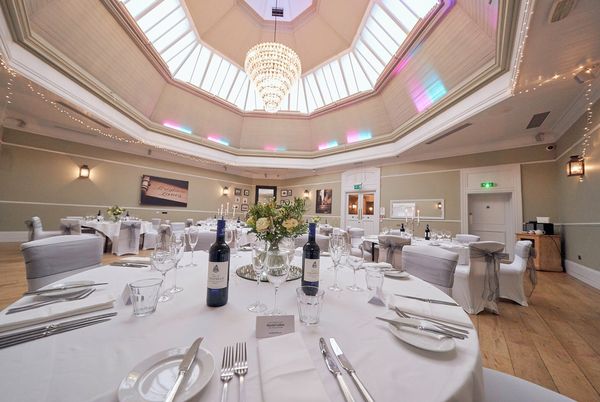 Dog Friendly 
Hotel Du Vin are big dog fans, with big beach walks on the doorstep. For overnight stays you can book up to 2 medium dogs to lap up a bit of luxury alongside you. Your furry friend will get a comfy mat, a bowl and a bag of treats to make their stay special. The bedrooms and bar are dog friendly but the Bistro not – however the team can set a table in the bar where you can order any meals from the menu and your pampered pooch can sit alongside you.