Gluten Free Review – Planet India, Brighton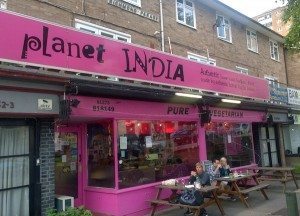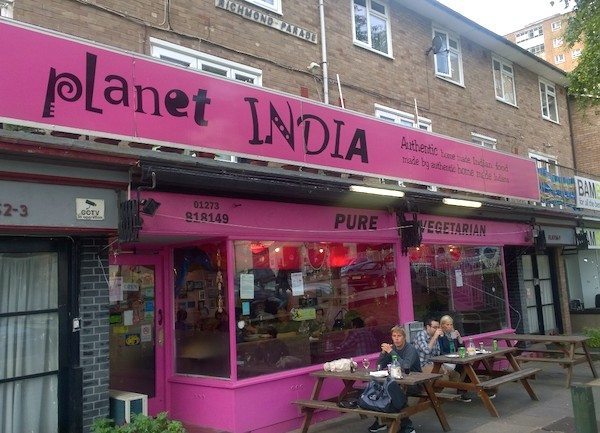 Walking into Planet India makes you feel like you have just walked into the friendly owner's home and he has lots of people round for dinner.
The ceilings are draped with colourful, sequined Indian Sari's, and the walls are covered in family photographs in brightly coloured frames in front of pastel coloured walls. This place definitely has a lot of character, and certainly makes you want to keep coming back.
Run by an Indian husband and his wife, this well known Brighton vegetarian local, has been serving deliciously healthy Vegetarian food for what is now coming up 6 years.
The owner is incredibly informative about the ingredients in his menu, and is so comfortable in his restaurant that he walks around in bare feet!
The menu is very gluten free friendly, and you are able to omit ingredients in some of the dishes to make it suit.
They have a number of mouth watering starters, that are fresh and unique to Planet India – I haven't seen some of these in other Indian Restaurants in Brighton.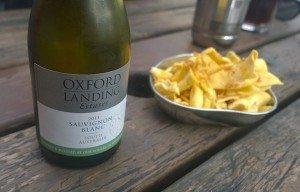 Two of the starters can be gluten free, just ask the owner and he will be happy to help.
The mains consist of vegetarian and some vegan friendly curries, all of which are gluten free.
If you can't decide on just one, you can opt for the half and half plate so you can try two different curries at once.
The craft beer selection is excellent, with over 10 different types of beer to choose from to go with your delicious food, and my favourite are the little 'aeroplane bottles' of wine for a steal at just £3.50 each!
We visited on a Tuesday night, and they were fully booked – the place was buzzing!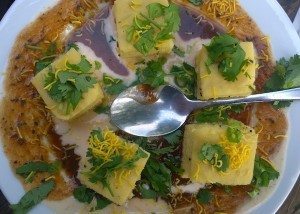 We decided to sit outside anyway, as it was a nice evening, and we had experienced many times before the atmosphere within.
Our drink orders were taken quickly, and we were brought tap water straight away, served in a upcycled Apple Juice bottle with silver lassi cups.
We ordered food at the same time as we were particularly hungry that evening, and were brought a small plate of crunchy, spicy chickpea flour snacks that we were told are gluten free!
For the starters, we chose the two gluten free options, so I could eat and try them both!
These arrived after not long of a wait at all, and we were both excited to tuck in.
The first choice was the Bhel Puri, served in a small silver dish and bursting with freshness.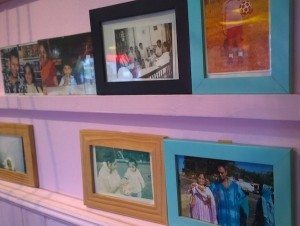 Bhel Puri is made from puffed rice, puri, fried chickpea flour noodles, tomatoes, onions, fresh coriander, tamarind, yoghurt and chilli. It's incredible zingy, and more-ish, and if you are gluten intolerant, ask for the gluten free version which takes out the Puri element which is a type of unleavened crispened bread made from wheat flour.
The second starter we went for was called Khaman Dhokla.
It is described as a Wheat Free sponge cake, served with tamarind and yoghurt, and it is something I have never thought of ordering before, it just didn't sound like it would be very good?
The owner recommended that we do try it, and as it was gluten free I thought I had better give it a go!
Also made from chickpea flour, the sponge came in small cubes, and was surprisingly light and airy and drizzled in tamarind syrup and yoghurt, with crunchy chickpea noodles for added texture.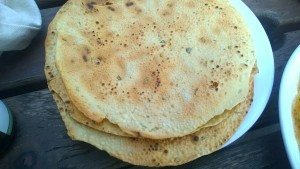 I would highly recommend trying this dish if you pay a visit, it really is something different!
Our plates were cleared without too much wait, and our mains arrived shortly after.
We ordered a half and half plate each, and a cumin rice and a plate of poppadums between us. I definitely think that is enough!
Please note that the poppadums are cooked on the same flat plate as the Chappatis, so are not 100% gluten free – so if you are super sensitive then I would avoid them.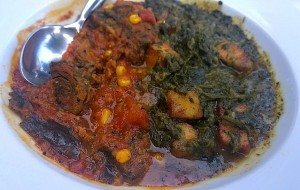 My curry choices were the peas and paneer, with Mumbai potato, and my partner had the sweetcorn and patra, and the spinach and paneer.
The peas and paneer had a generous amount of paneer, with a subtle taste of coconut and a mild spice.
The potatoes were in small bite sized pieces, and the sauce was rich in tomato flavours with a medium level of spice.
The sweet corn and patra curry was the hotter of the four, and had delicious vine leaves and mustard seeds throughout.
The spinach and paneer was on the milder side and up there in the top spinach and paneer dishes that I've had in my life!
The cumin rice was sweet and flavoursome, and the cumin went nicely with everything else, and the poppadoms were perfectly crunchy, and not too oily like some can be.
We were now truly stuffed, but we questioned dessert anyway, as we couldn't see it on the menu. The owner said that they don't do dessert as it was something that they were good at! Fair enough, better to do something well or don't do it at all I guess!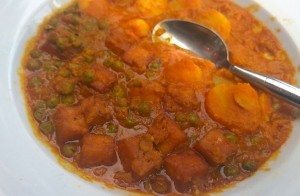 However, it would've been nice to finish with some gelato or a sorbet or something, maybe they could consider one of the many great local gelato businesses we have to choose from in Brighton?
If you are vegetarian or not, Planet India is a must see in Brighton, with it's quirky charm, and fresh tasting Indian food that really differentiates itself to anything else that you will find in the area.
With a fantastic menu for someone who is gluten intolerant, affordable prices and welcoming environment..
it's the perfect place to catch up with friends or family to try something different!
Planet India are open Tuesday – Saturday, and I would advise booking in advance to avoid disappointment.
See the listing for Planet India Hove