How Have I Never Been to this Pub?!
The Black Lion is right in the heart of The Lanes, incredibly popular and, as I was about to finally discover, a real gem!
A weird Hammer House of Horrors style building on the outside, inside it is more reminiscent of a Star Wars set, with organic arches, subdued, twinkly lighting and a good mix of colourful, albeit human, patrons.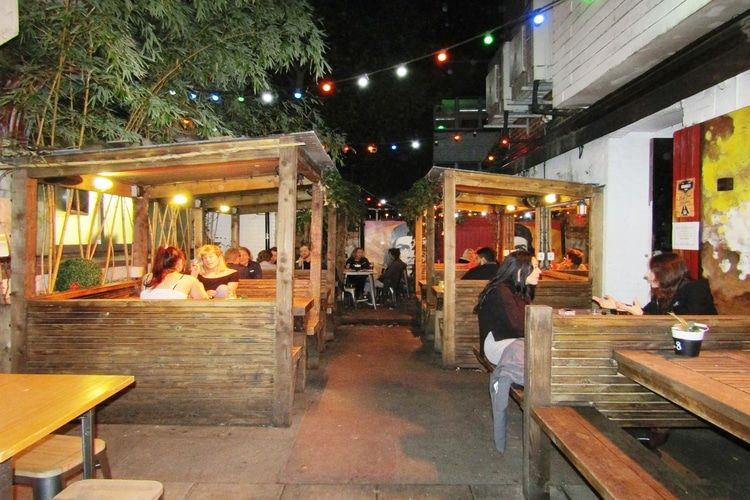 It sets a remarkably romantic scene for such a popular music venue, with white-washed walls, dark, glossy floor and well-spaced, attractive wooden tables and benches. Outside, a lovely long courtyard is equally whimsically lit and separated into intimate, covered, heated booths. This is clearly a pub with a split personality, chilled foodie oasis by day and banging music hotspot by night.
Local, seasonal ingredients
Head chef, Gerald Mylius is part of the talented Space and Thyme team, which also runs the kitchens at The Signalman and The Good Companions, as well as providing catering for outside events. Using quality fresh, local, seasonal ingredients, Gerald and his crew create traditional pub favourites with a touch of restaurant class.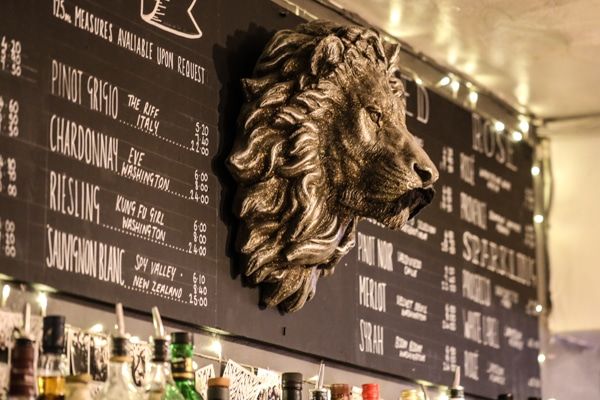 We decided to get the ball rolling with a large glass of easy drinking house white for me and for Andrew, a pint of Laine Brew Co's Ripper, a refreshing, citrusy, chilled IPA. Being of a certain age, we struggled a little with the small print on the menu but, through a combination of tactical squinting and holding the menu at arm's length (I know, classy), we managed to decipher it.
Delicate flavours
For his starter, Andrew chose the spicy crab and prawn fish balls with sweet chilli sauce. I'm not generally a fan of fish cakes but colour me converted! A delicious, delicate, savoury filling in a crispy coating, served with a handful of fresh mixed leaves and a sweet, zingy dipping sauce.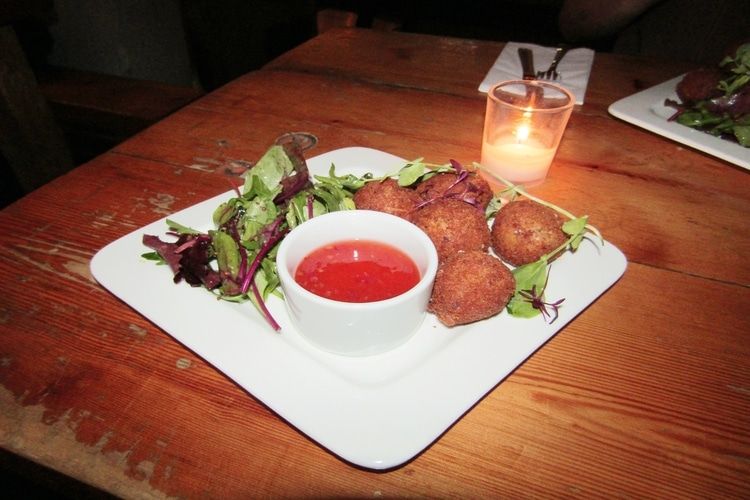 I would have quite liked one of the amazing sounding salads as a starter but they were only available as a main course and I only had eyes for the Pie of the Day winking at me from the specials board. So instead I opted for the wild mushroom arancini with rocket and balsamic. I was a little wary as I had yet to try an arancini that wasn't heavy and claggy but, happily, these were lush, soft and moist and packed with earthy, juicy mushrooms, delicious dipped in the thick, rich, sweet balsamic vinegar.
Mouth-watering mains
Next for Andrew was the Pork Three Ways – slow cooked pork belly, brined pork tenderloin and pork shoulder croquettes, apple and vanilla sauce, crispy black pudding, curly kale and jus. All the meaty components were mouth-watering and the iron-rich kale was a good choice, its punchy flavour comfortably standing its own against the rich, succulent, salty pork. It was an exceptionally good-looking dish that wouldn't be out of place in any quality restaurant and, judging by the conspiratorial, good-choice-sir expression of our waitress, is something of a point of pride.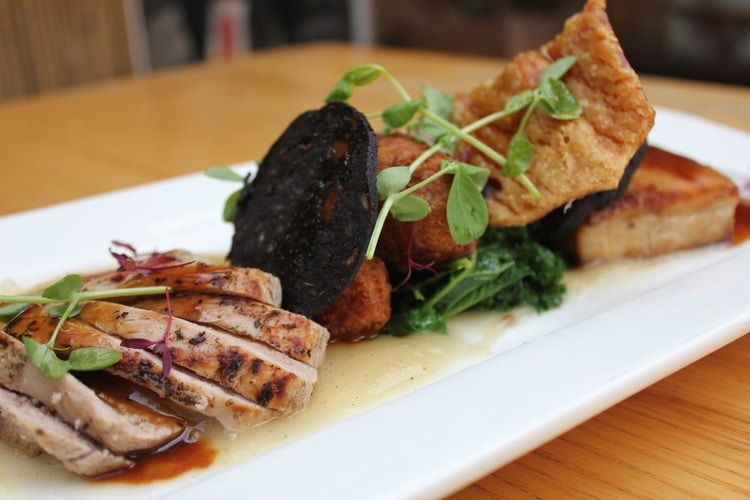 I had the homemade, beef, ale and mushroom pie with buttered mashed potatoes, green veg and gravy. It might not have looked as "magazine cover" as Andrews dish but it was no-nonsense comfort food of the highest order. The pie, entirely encased in thick, crumbly, buttery pastry, was absolutely rammed with gorgeous, tender chunks of beef, juicy little button mushrooms and a thick, glossy gravy.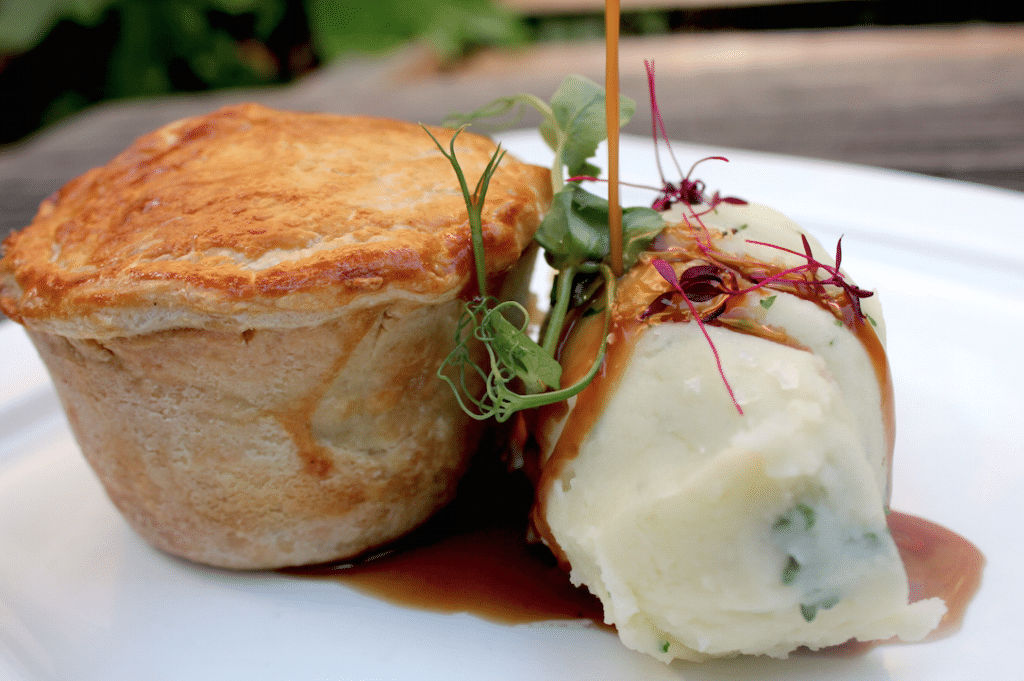 The accompanying broccoli had been cooked just right, retaining its vibrant colour and a bit of bite and leeks and a smattering of fresh peppery leaves added extra flavour. The great mound of buttery mash swimming in beefy gravy was delicious all on its own.
Classy cocktails
We hadn't left room for pudding because we'd missed it on the menu but, once the waitress pointed it, out we were doomed to over-indulge. Andrew has a weakness for a good fruit crumble (and it really was) and, having discovering that there was more to the menu, I stumbled across the cocktail list. Powerless to resist, I ordered a Pornstar Martini – Ciroc vodka, passion fruit, vanilla and a shot of prosecco and it completely ruined me, now no other cocktail will ever do! Fruity, refreshing, zingy and positively exquisite. Oh and on the QT, f you're a fan of the bloody Mary, rumour has it The Black Lion does the best in town.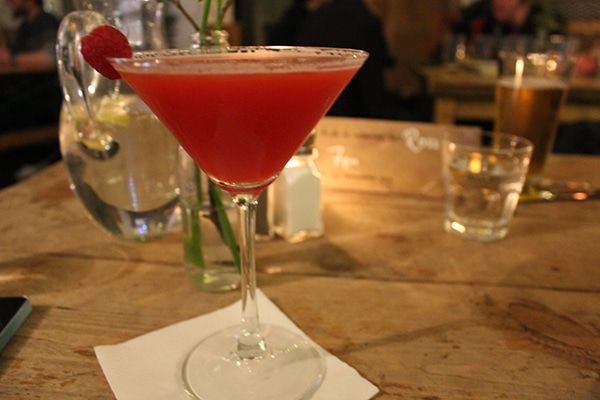 Something for everyone
I was fine on the bench as I have significantly more padding and was short enough to rest my elbows on the table but my lanky husband was a little uncomfortable by the time we left. Probably a good thing though, otherwise I wouldn't have been able to resist another cocktail and it was a school night after all.
The staff were helpful and friendly and with seriously good food, excellent local draught beer and stand out cocktails, The Black Lion really does have something for everyone.