Restaurant Reviewer, Lucy, March 2017
Cold, dark and drizzly, it was one of those evenings when dragging yourself off the sofa feels like a real effort. But with a reservation at Market Restaurant to lure us out of the house, my partner Tommy and I zipped up our raincoats and set off in the wind and rain.
A weekday evening in mid-February, with storm Doris brewing outside, we'd expected the restaurant to be half empty but, when we arrived, it was positively buzzing. With filament-bulb lighting casting a warm glow across the diners, and smells of truffle oil wafting from the partly open kitchen, it felt far more inviting that the sofa back home.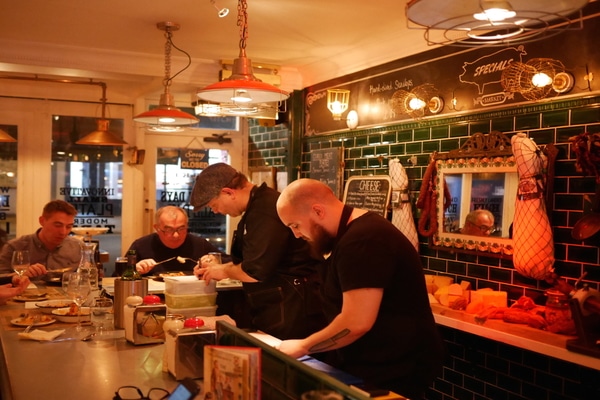 Prepared for all seasons, Market Restaurant also has pavement-side seating outside – the perfect spot for some wine, nibbles and people watching on a summer's eve.
Best seats in the house
Greeted by restaurateur Kate Alleston, we were seated at the bar on thickly padded stools. In my opinion, these are the best seats in the house – many of the restaurant's dishes and desserts are prepared behind the bar, so you can watch the chefs work their magic while chatting to the bar staff.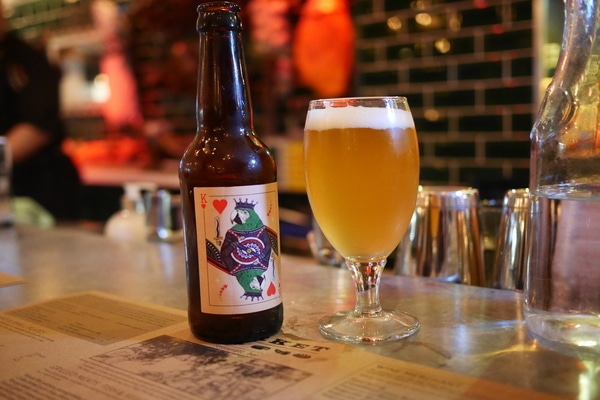 Seeing as it was a weeknight, I resisted the tempting sounding cocktails on the bar's hand-scrawled blackboard and, instead, ordered a glass of Catalonian Chardonnay from the wine menu. Meanwhile, Tommy turned to the 16-strong craft beer menu, selecting a light and citrusy 'Wild Card King of Hearts' ale.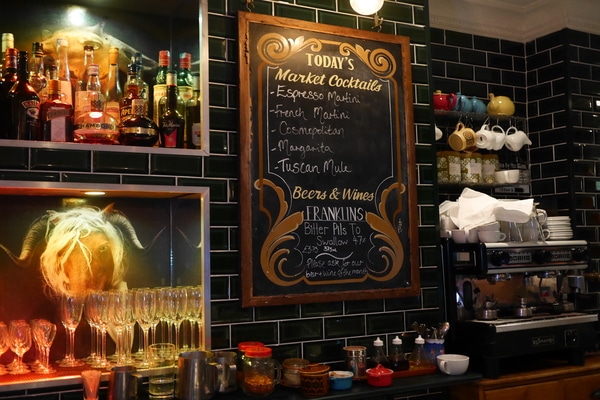 The new menu
Serving our drinks, Kate talked us through the restaurant's flexible, market-themed dining options: after a few nibbles from the Mini Market, you are encouraged to taste your way through several small plates from the menu's Butcher, Fishmonger, Greengrocer and Cheesemonger sections; or, alternatively, you can pick a dish or two to start, and then go for one of the larger plates offered.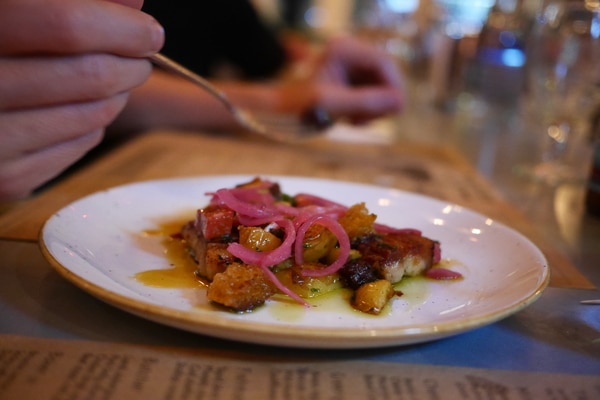 If you've been before, you'll be pleased to know that their latest menu features some firm favourites, like mussels with chorizo; and broccoli, kale and tahini; while many of their newer dishes see a stronger Spanish influence than before – think squid with black lentil and mojo verde and pork chop with sherry, onions and jamon. Also new to the menu is the Market Deli which features British and Spanish sharing boards as well as individual plates – this means that anyone who fancies a platter of meats and/or cheeses with their bottle of wine are as well-catered for as those indulging in the main menu.
Terrific twists
Tommy and I wanted to taste as many flavours as possible, so we decided to share lots of small plates.To kick things off, we ordered some oysters and a bowl of olives – while this may sound pretty standard, at Market Restaurant there's a twist: Decadently plump, our oysters were served with finely chopped fennel, red chilli and orange – an accompaniment which gave an apple-like freshness and a subtle kick.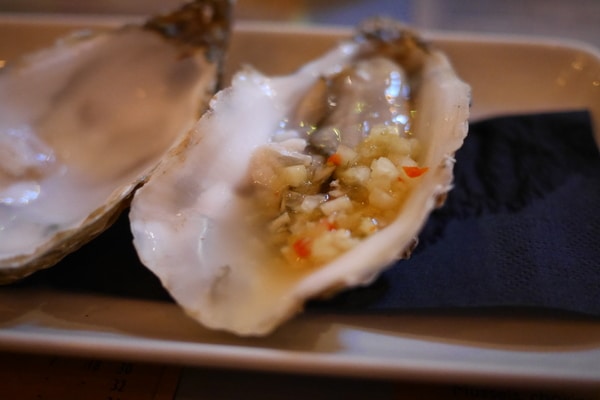 While I sometimes find that unusual garnishes can overpower the delicate flavour of oysters, I can safely say that Market Restaurant has got the balance just right. If more restaurants served oysters like this, I'd order them every time.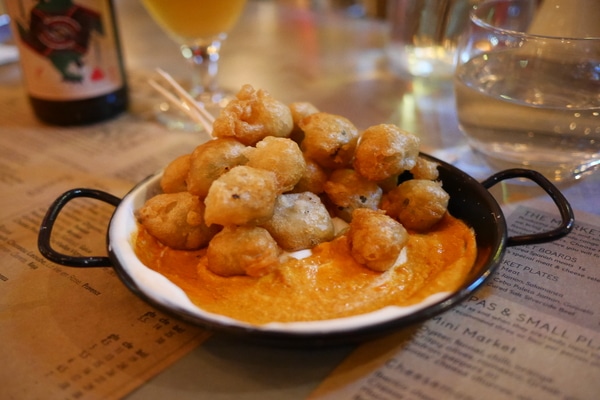 Our 'crispy olives' were another pleasant surprise: rich, warm and lightly battered, they were served with cooling Greek yoghurt and romesco dip (peppers, tomatoes, ground almonds and olive oil). Deliciously Moorish, if you're an olive fan, like me, I'd definitely recommend a bowl. Or two.

All new Market Deli
Next, we moved on to a meat board from the Market Deli, which we watched co-owner and chef Neil Mannifield (known as Manni) carve from the cured legs hanging behind the bar. Placing our board down, he talked us through the six meats: a melt-in-the-mouth jamon serrano, and a richly flavoured Iberico paleto cebo; a cured pork loin and a smoke-cured beef loin; and a soft Iberico sausage, plus a drier, chorizo-style version of the same. The platter was served with thin wafers of crisped bread, and a puddle of olive oil that was so refined, I could have slurped it through a straw.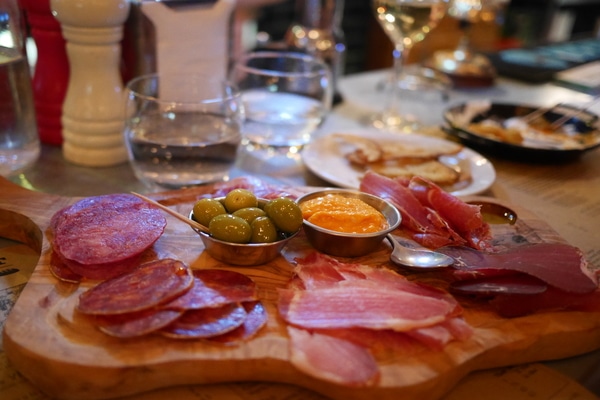 The scallop carpaccio that came next was my favourite dish of the evening: delicate discs of scallop and a scatter of winkles were flavoured with lemon zest and rapeseed oil – if you love punchy citrus flavours and aren't afraid of raw fish, then definitely order this dish.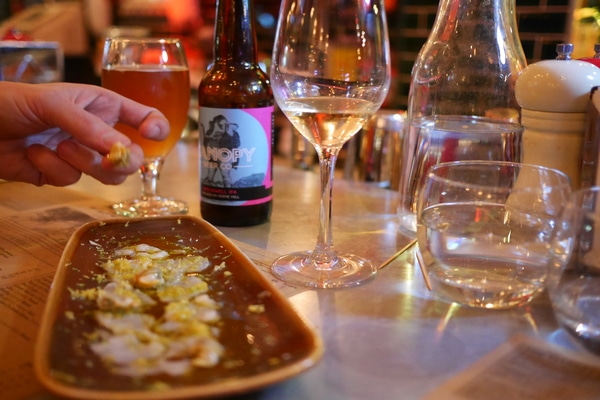 With just enough room for two final plates, we tucked into fiery jalapeno croquettes that oozed with melted cheese. Finally, we picked at bite-sized morsels of belly pork, chorizo, morcilla (blood sausage), crispy bread and potato, all garnished with thin slices of pickled shallot.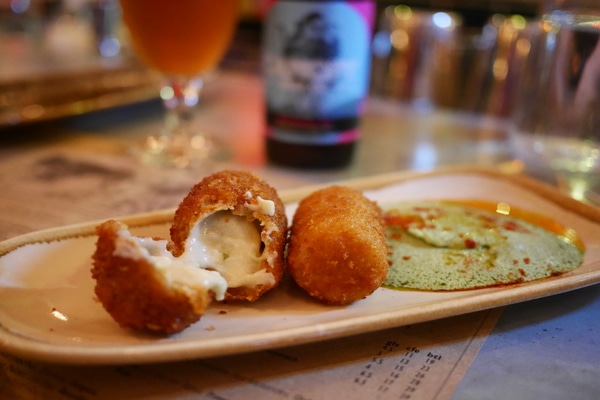 Luscious lemon
For the sake of our waistlines, we should have called it a night. However, the curse of the open kitchen meant that we'd already watched Manni plating up some puddings that looked too tempting to miss out on. To soften the calorie count, we decided to share, ordering lemon curd brioche with two spoons.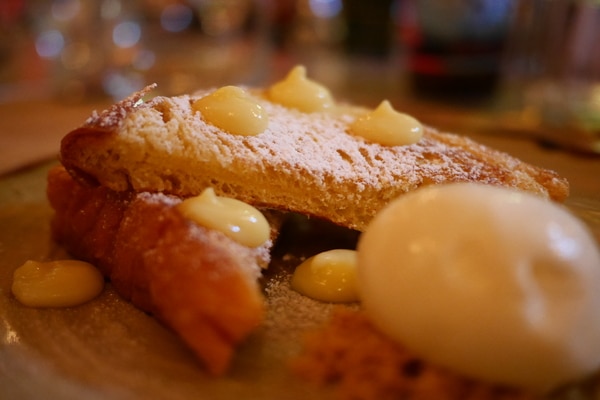 Ten minutes later, we were fighting over the last mouthful of soft brioche, zingy curd and yoghurt sorbet (a bit like ice-cream but far more refreshing). On Manni's recommendation, we paired our desert with a glass of Pedro Ximenez Antique. More than 30-years old, this figgy, caramel-like sherry tasted like a real treat and, true to Manni's word, really complimented our citrusy curd and sorbet.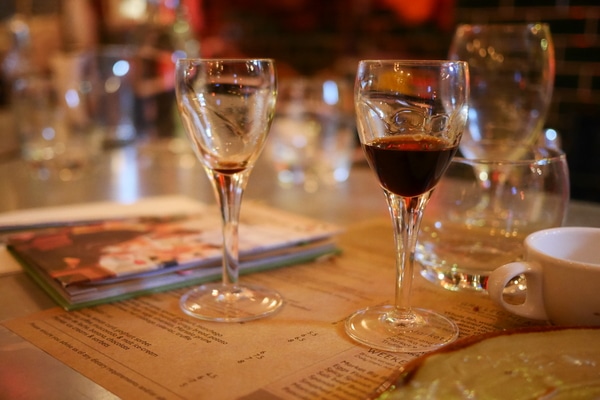 It was the perfect end to truly fantastic evening that was packed with flavour and, without question, worth braving the elements for.
What Next?
Make a reservation on 01273 823707