Check availability and make a booking online
Date Night at NuPosto
My husband and I don't usually go in for the whole 'date night' thing, preferring to chill out at home. It's no reflection on our relationship, we're just a bit lazy! However, something inspired us one Thursday night to venture off the sofa and go for pizza and a movie.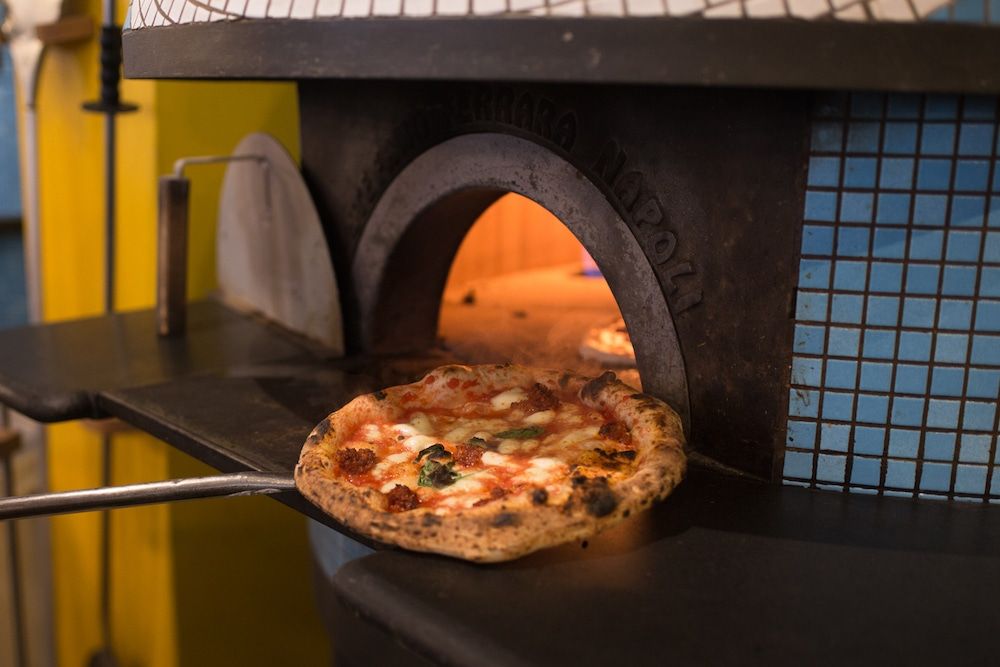 Pizza can be something special if it's done right
I'm a bit of a snob when it comes to pizza. Pizza can be something special if it's done right, but if it's not, it's just a soggy let down. It has become easier and easier to find an authentic pizzeria in Brighton and Hove in the last few years, and Nuposto on West Street is certainly no exception. Just up the road from the Odeon, it's an ideal place for a date night, or any kind of night where you fancy a film and something quick, easy and delicious for dinner. Nuposto Brighton is the first neapolitan pizzeria in the city however, run by the same family, there is another Pizzeria in Naples itself. Committed to providing authenticity and a traditional Napoli dining experience, they get produce delivered directly from Naples several times a week.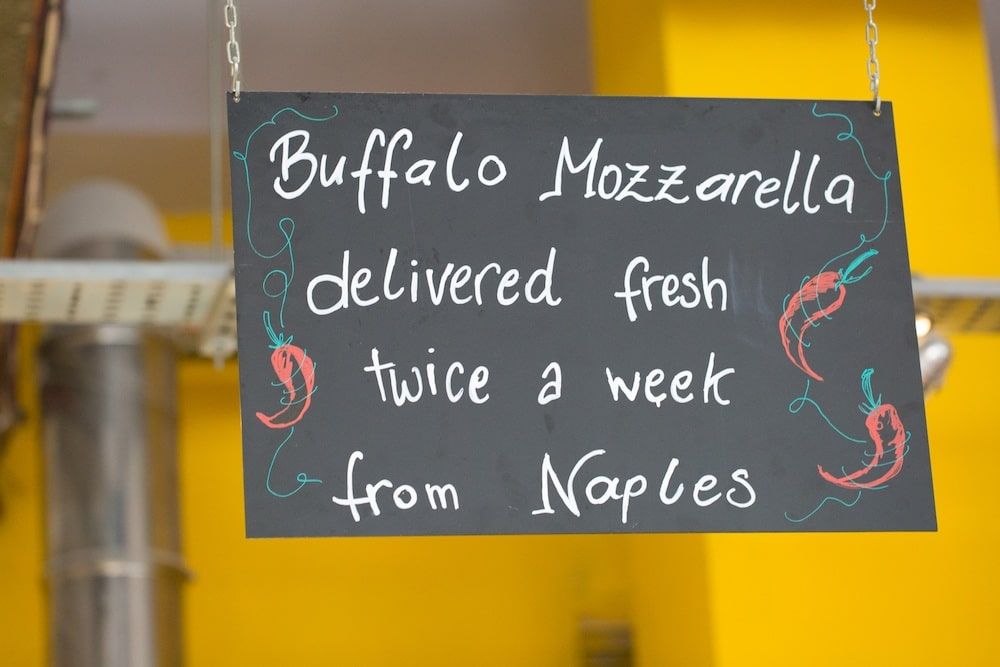 Inviting interior
When I walk in, I'm struck by the space. High, industrial ceilings and numerous high and low tables all dotted around with plenty of space in between. The decor is striking too. Blues and whites reflect the owners passion for his home team S.S.C. Napoli. The sky blue football shirts hanging from the chandeliers also give you a clue. There's also chalkboards dangling from the ceiling with translated Italian phrases for you to learn while you eat. One that I learnt…."Si doce comm o zucchero," translated "You are sweet as sugar." I love this touch. So simple and costing nothing. It all adds to the relaxed, comfortable atmosphere.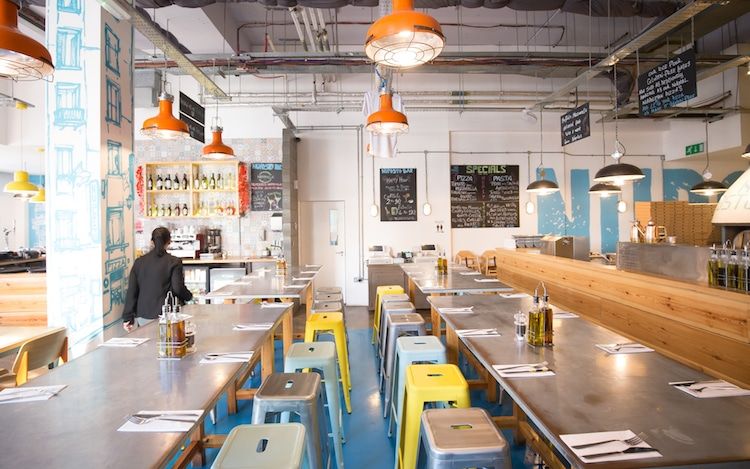 Diverse and exiting menu
It's so easy to feel relaxed at Nuposto. You don't feel crowded because of all the space, the waiting staff are really friendly without being intrusive, and you can tell they just want you to have the best experience. We didn't have to wait long at all before ordering. We decided on a Garlic Bread with mozzarella, a Vesuvio (spicy salami and fresh chillies), a Napoli (anchovies, capers and olives) and a Rucolina (fresh rocket salad and parmesan). In the Italian spirit Tommy ordered a Peroni to go with his meal.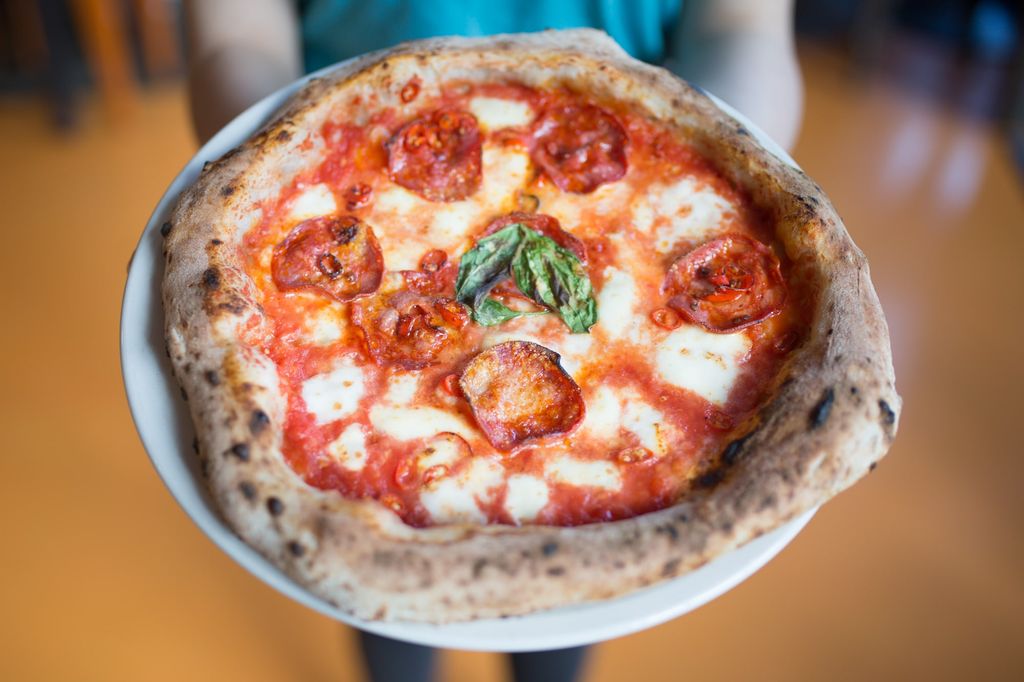 Within 10 minutes our meal had arrived. Everything looked beautiful, so fresh and well presented. The dough is 'something else'.
It's so soft and deliciously chewy, with a super crispy base. Their secret is fermenting the dough for over 24 hours to give it that crisp and the two blue and white tiled stefano ferrara monster pizza ovens which they transported all the way over from Naples, also probably have something to do with it.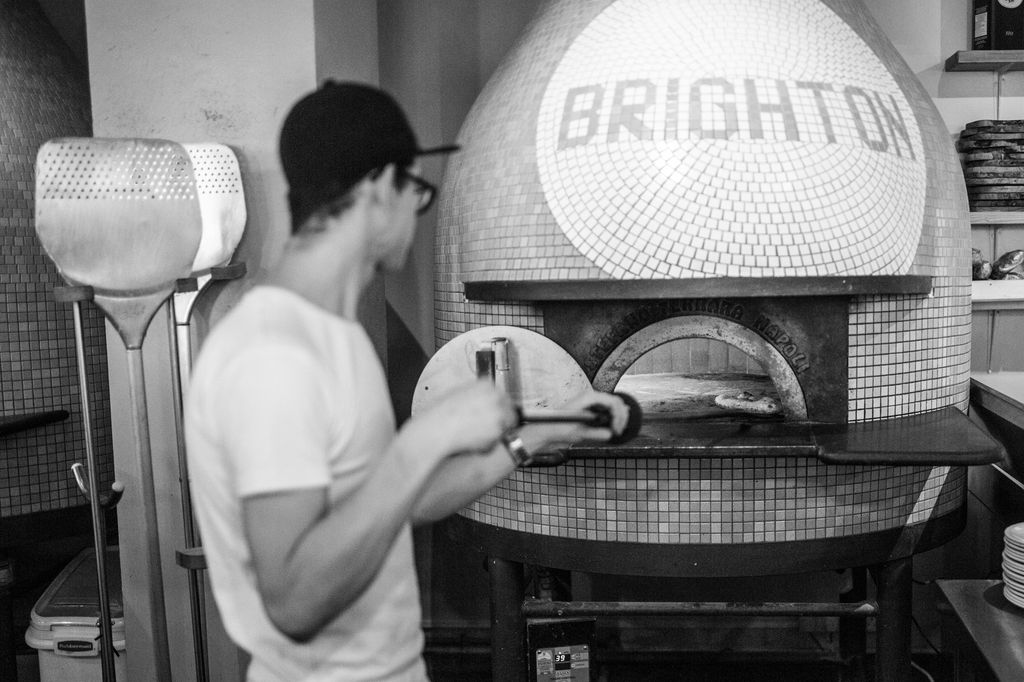 True taste of Naples
As a pizza snob, I was well and truly impressed. The rich homemade tomato sauce is sweet and tangy and the creamy mozzarella is to die for. Knowing it travels over from Naples twice a week makes it all the more special.The saltiness from the anchovies and the capers on the Napoli was mouthwateringly moreish. We just couldn't get enough. The dark green Rucolina salad drizzled with olive oil and balsamic set everything off perfectly. It was an absolutely delicious, authentically Italian meal. With the Italian music playing in the background, the native references hanging all over the ceiling and the Italian staff, we could so easily have been in Naples, and not on West Street, Brighton!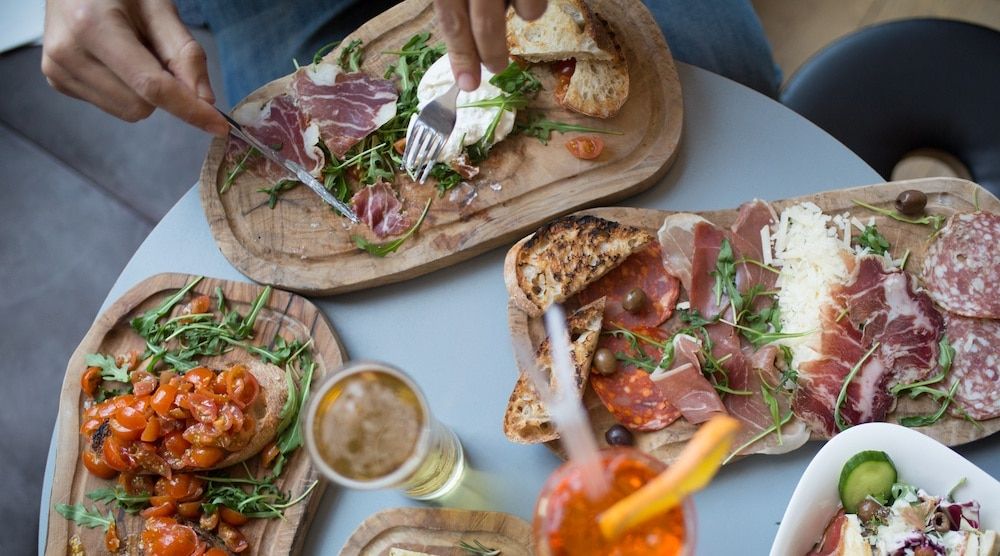 Time for some dessert..
Wanting to finish things off in Italian style we were keen to try the Tiramisu. A classic Italian dessert, and one my husband and I are massive fans of. When we visited Rome last year, we tried one in every restaurant we went to, scoring each one on its merits. Unfortunately, the waitress came out from the kitchen to tell us that there were no tiramisu left. She looked genuinely upset for us. Although disappointed, we told her not to worry as we know these things happen, especially when everything is made from scratch. Whilst we were perusing the other options, the chef came out to speak to us. He explained that he had just made up a new batch of tiramisu but the sponge had not quite set. He went on to say that we could still have one if we wanted, however for him the dessert was not quite ready. We were both really impressed by this.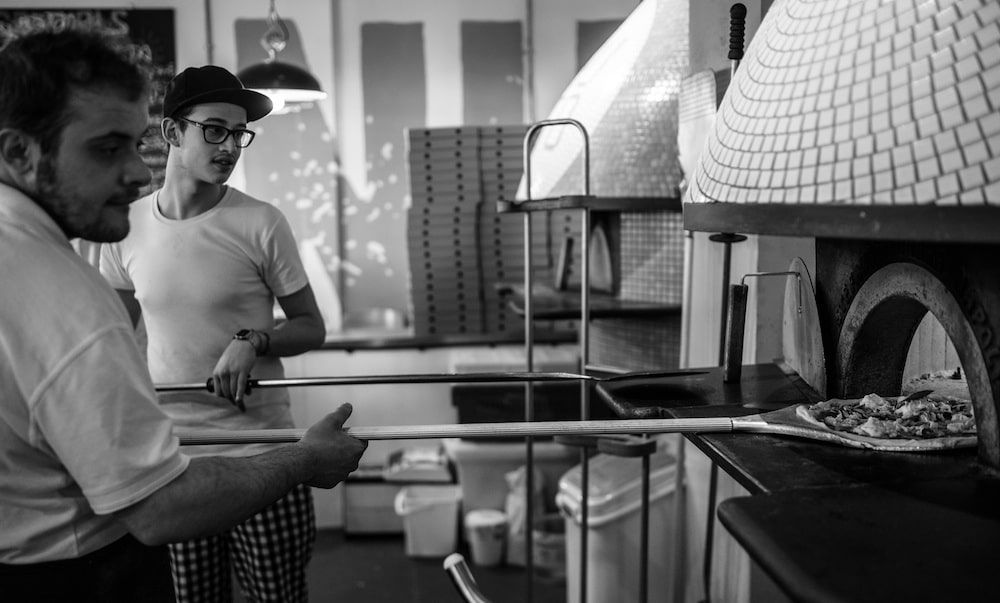 True passion for the job
For one, to make the time to come out and explain why something isn't available, but also the obvious pride he takes in his food, and how clearly important it is to him that the customers experience his food at its best. I can think of so many restaurants I've been to where this pride just isn't there. For us, this is worth way more than getting the dessert you originally wanted. Anyway, it made us venture out a bit, and try something new. Salame Cioccolato (chocolate and broken biscuits served with vanilla gelato). AMAZING. A must try and so simple. It's a bit like a really good tiffin without the fruit, and with a softer, more velvety texture.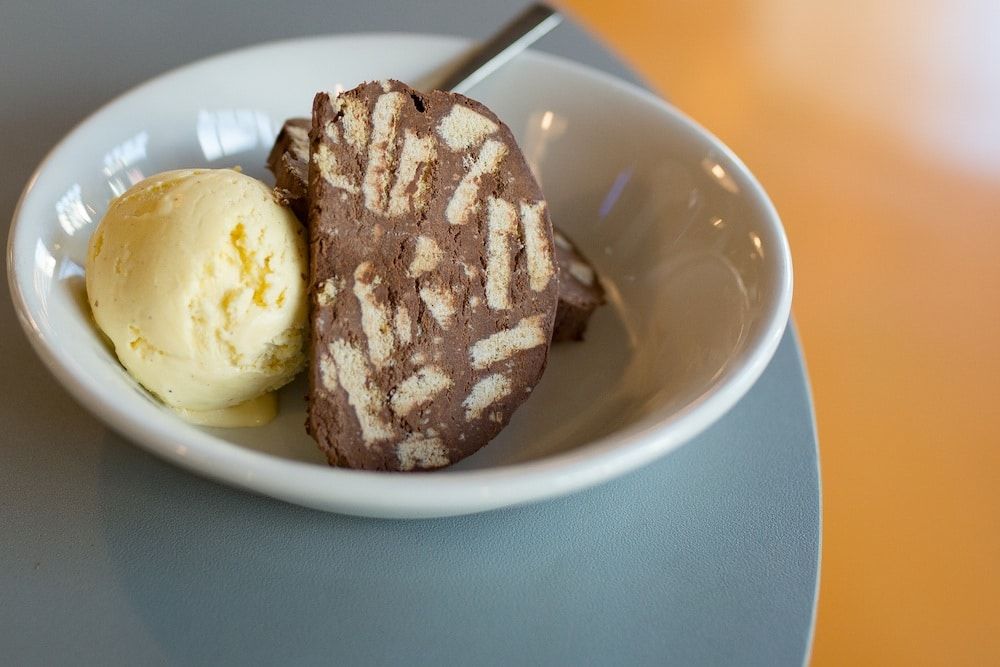 Happy customers!
Both of us left Nuposto feeling extremely satisfied and relaxed, and very glad we ventured out for date night. Nuposto is definitely somewhere we will venture again. And again. Although, confession to make…We were so full and satisfied, we skipped the cinema and went home to resume our happy position on the sofa! Perhaps, their new collection service is a good option for us next time…