The Glass House – Sunday Chic
Last Sunday was a perfect sunny Autumn day.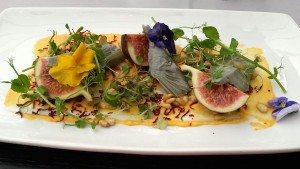 The dappled sunlight was reaching through the trees as we drove through the beautiful Sussex countryside, through the Dyke and down towards Henfield.
Our destination was The Glass House restaurant, part of Wickwoods Country Club in Albourne, and its reputation as a relaxed casual dining restaurant with a touch of county club chic didn't fail to meet expectations.
It also isn't too far a drive from the city, taking only twenty minutes to transport yourself from the tarmac to the twittering birds!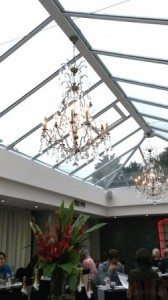 As we drove onto their drive entrance and up towards the country club, we found ourselves in a beautiful wooded setting which made me feel like I was driving into a BBC period drama.
We walked through the main building to The Glass House, and yes indeed there was a lot of glass! The ceiling and two walls are glass, looking out onto the well-kept and sculpted gardens where you could relax with a coffee or G&T on a sunny afternoon, the sounds of tennis balls articulating the country club authenticity.
The restaurant itself was awash with light, huge crystal chandeliers hanging from the glass ceiling and the décor an elegant spotless chic. My nephew Jude, and my mum were also impressed with the intimate and stylish feel, taking our seats as we did next to one of the many windows.
The waiting staff were impeccable from the get go, their straight backed ballet dancer posture almost as impressive as their knowledge of the dishes!
We began by ordering some drinks and having a look at the Sunday lunch menu. There were all the usual suspects, Sunday lunch isn't Sunday lunch without them, but there were really interesting looking alternatives like Moroccan Lamb Tagine and Roasted Cod on Sag Aloo.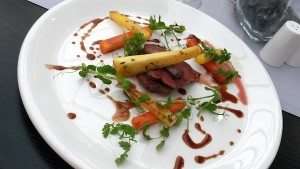 The menu was really very impressive, and after eating what they had created, I would definitely like to go back another time to try some of the delights the head chef has created on the regular menu.
I started with soup of the day, which was Curried Cauliflower served with home made focaccia. It was sublime. Creamy and smooth and absolutely perfectly seasoned, it was subtly and delicately spiced, really delicious.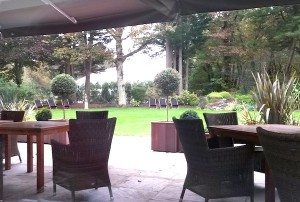 My mum had a taste, followed by a 'hmmmmmmm', topped off with 'that's really pleasant'! It was also a fair size, not what I would normally go for when going out for a Sunday roast, but in for a penny, in for three courses!
I combined this with a glass of Five Foot Track Chardonnay (Australian), which lent buttery vanilla notes to my just woken palate. A good pairing.
Mum's starter was Pan Fried Wood Pigeon Breast with Honey Roasted Veg and a Thyme Jus. It was art on a plate, beautifully presented with the little honey roasted carrots and parsnips combined with the baby watercress continuing our autumnal colour theme of the day.
The pigeon breast was perfectly cooked, soft and tasty being married perfectly with the thyme jus. Another really good starter.
Jude's won the best starter award for presentation and flavour combinations though – he opted for the Fig, Artichoke and Pine Nut Salad with Butternut Squash Puree and Beetroot Crisps. It was incredibly beautiful, the colours were gorgeous, and the flavours and textures a veritable mouth explosion!
A mixture of the sweet and moist figs, salty cool artichoke and crispy crunchy pine nuts and beetroot all brought together with an incredibly sweet roasted butternut squash puree which was painted delicately across the plate.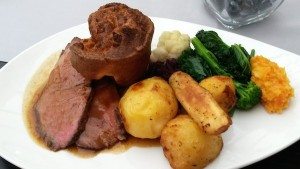 Then came the mains. Mum and Jude had gone for the Roast Sirloin of Beef and I being a sucker for crackling, went predictably for Slow Roasted Pork Belly.
The roasts were huge, the potatoes and Yorkshires enormous (pots too big for our liking to be honest, but not everyone likes them small and crispy), the roasted roots were fabulous, sweet and crunchy and fresh. Red cabbage, which was nicely spiced and sweet, a great contrast to the tasty savoury gravy which brought it all together.
The pork was exceptional, I cut through it like a knife through butter, and the flavour was intense and delicious.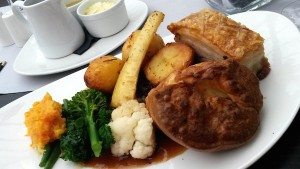 The crackling was perfect and I begrudgingly shared it out as is expected. The beef was moist and tasty and pink, as it should be, well seasoned and very nice.
After a little break for the wine to go down (I had a glass of the Chilean Merlot which was lovely and jammy), we asked once again for the menus and chose our desserts.
Mum went for Sticky Toffee Pudding, which was the best any of us had tasted. It was light and spongey with a dark rich flavour.
The sauce was amazing and sticky and rich.
I had the Chocolate and Blackberry Mille Feuille with Cassis Cream (gorgeous!) and Berry Compote. What an amazing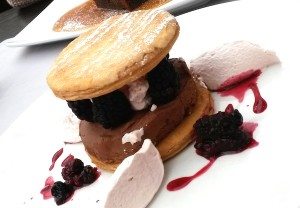 dessert… The chocolate was rich and smooth, the pastry sweet and crunchy and the berries out of this world. Although not so, as they were from Kent. The size of your fist.
Witchcraft is the only thing I could think of that would produce such beasts of blackberries in this part of the world. Or maybe a polytunnel. I'm not a fruit growing expert, as you may have guessed.
Jude, being a 9 year old chocoholic with a passion and flair for food and talking about it, surprisingly went silent whilst devouring his Belgian Darkest Chocolate Fine Sussex Ice Cream. I had a taste to see what all the facial expressions were about. It was amazing. Just that.
I'll definitely go back to The Glass House, the food is impeccable, and the vibe is cool clean classy and chic.
The service is understated and discreet and the menu a work of art.
Well done chef, you are truly an artist.
See the listing for The Glass House Restaurant – Wickwoods Country Club