"A passion for cooking" – Fermentation class at Brighton Cookery School
Brighton Cookery School is a hub of culinary expertise, a melting pot of cuisines and cultures for you to immerse yourself into learning about a range of techniques and world flavours. With cookery classes from Thai to Brazilian to more technical applications such as knife skills and macaron masterclasses, if there was ever something you were curious about learning or developing in, Brighton Cookery School is for you.
A perfect place for people from all culinary backgrounds to learn and develop their skills, no expectations or prior knowledge is required – just a willingness to learn.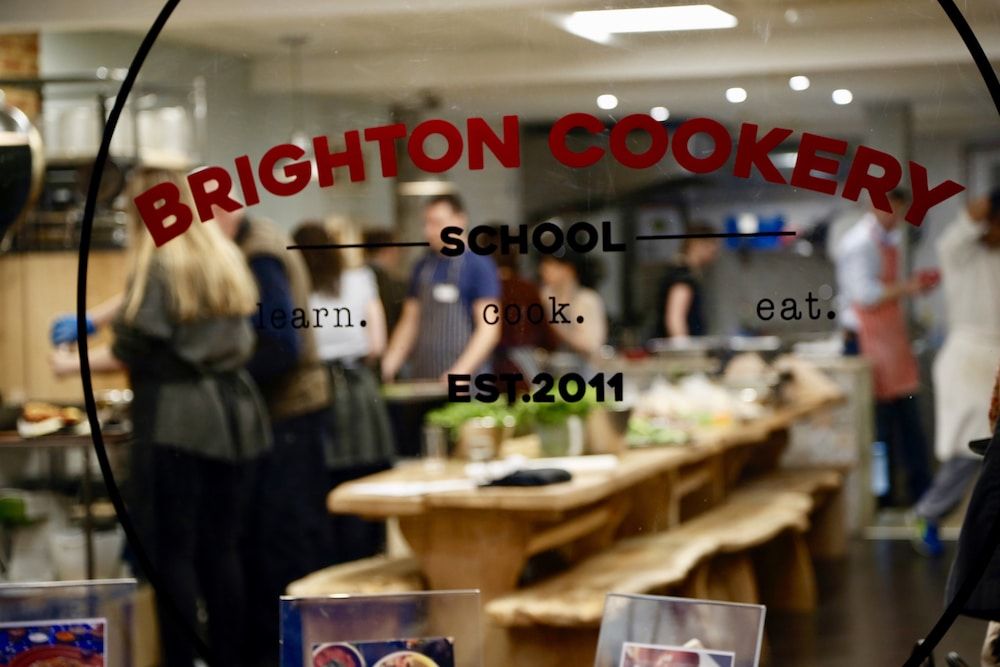 Learning and developing skills
I attended the Fermentation class at Brighton Cookery School and was excited to delve deeper into this ancient technique. We were welcomed by Ben, the owner and chef mastermind himself, and given an introduction to the day and what to expect.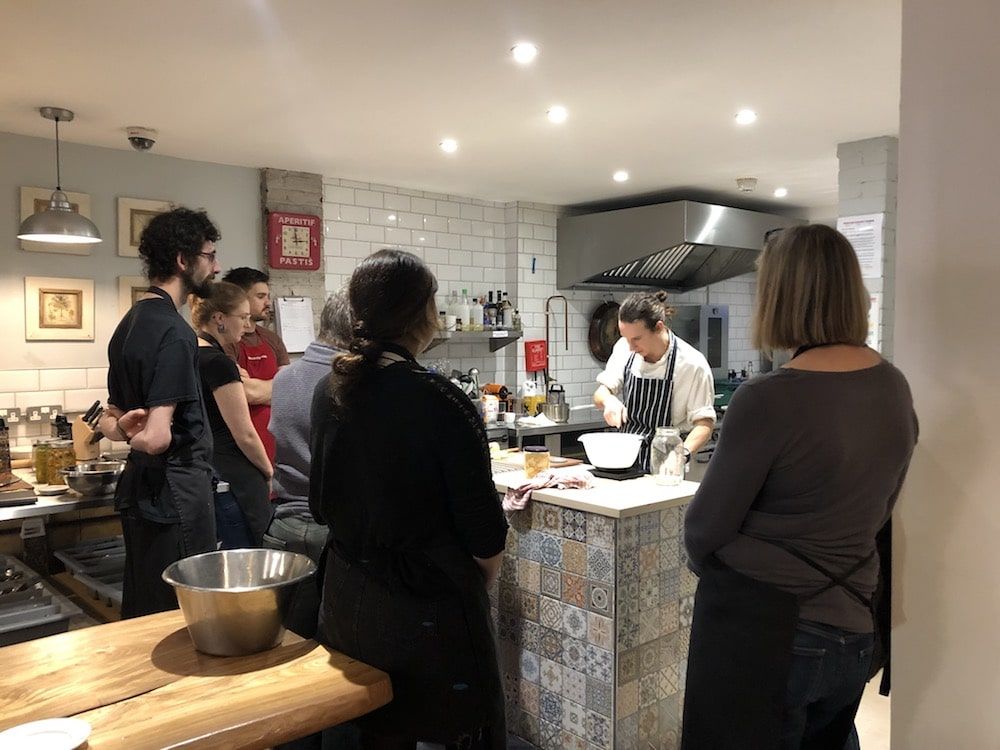 Working as part of a team
There are a number of benches equipped for two people to work at Brighton Cookery School, which is nice as you feel part of a team and can discuss the process with your bench mate, or ask what ingredient you forgot!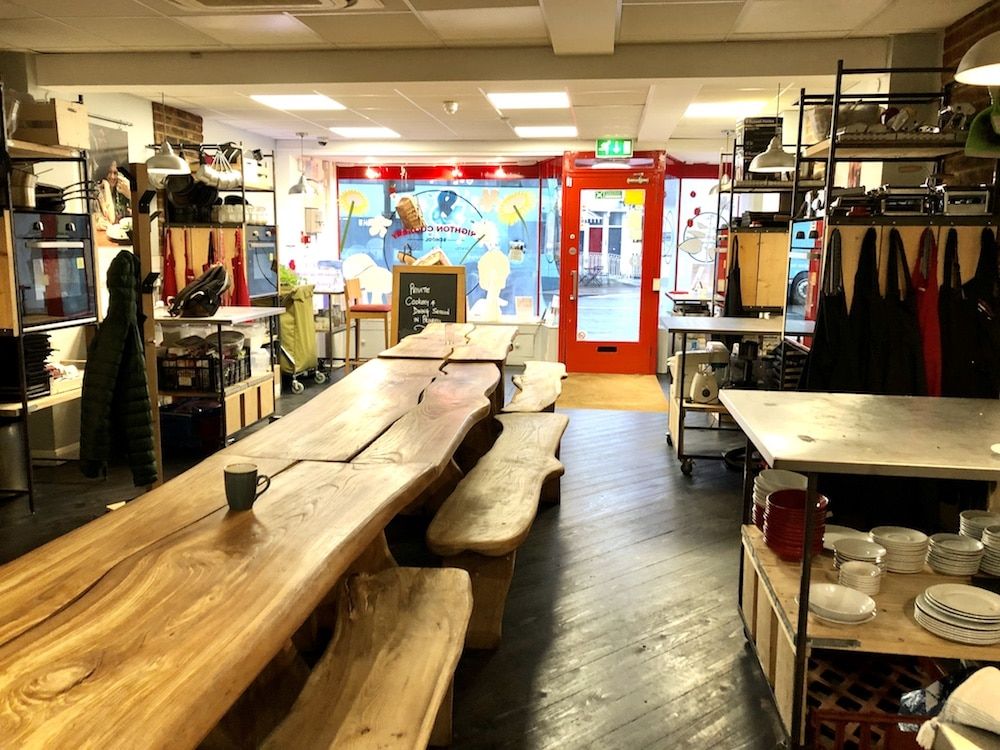 The benches were laid out ready with all relevant utensils and ingredients to start on our first ferment – a seasonal shredded sauerkraut pickle using butternut squash, jerusalem artichoke, celeriac, carrot, fennel and wild garlic which was foraged locally by our teacher, George Upshall, a professional chef and fermentation enthusiast.

A unique variety of fermented dishes
We were due to make three different ferments – seasonal vegetable pickle, lime pickle and a sourdough miso with George also demonstrating an assortment of techniques and showcasing some of the fermentation projects he had on the go.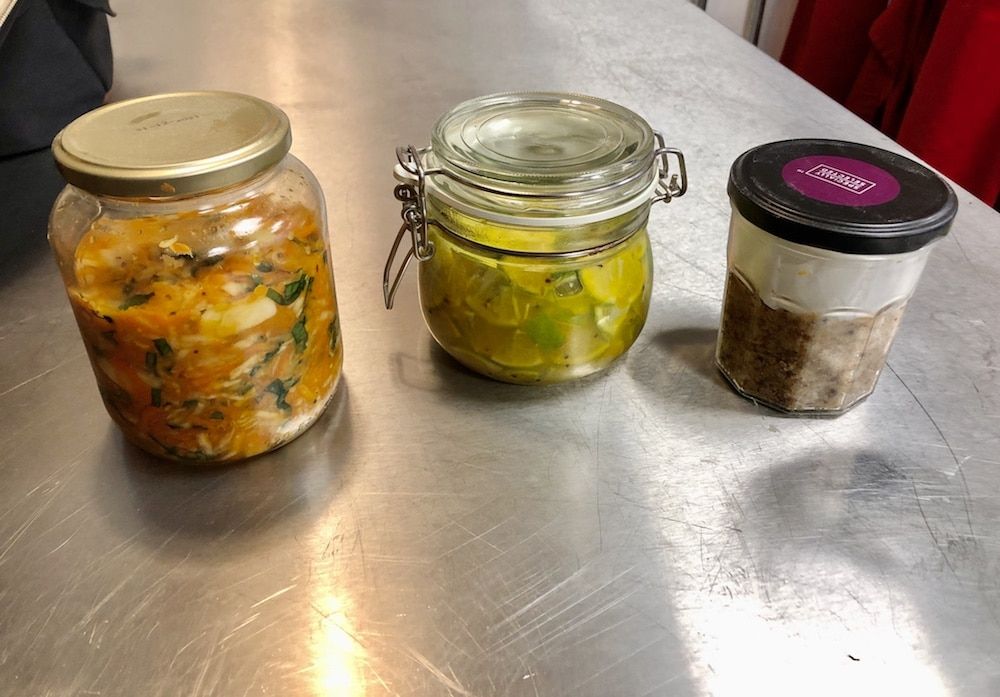 It was really inspiring to make a unique variety of fermented dishes, rather than the usual sauerkraut or kimchi that we're all familiar with which gave the participants a broad view of fermentation and the endless possibilities. 
Starting with the grated vegetable pickle which was infused with a spice blend George had prepared earlier, we were given a taste on a cracker so we would know the profile we were looking for, this was a great introduction as with all cooking – tasting your ingredients and development is a crucial part of getting the dish right.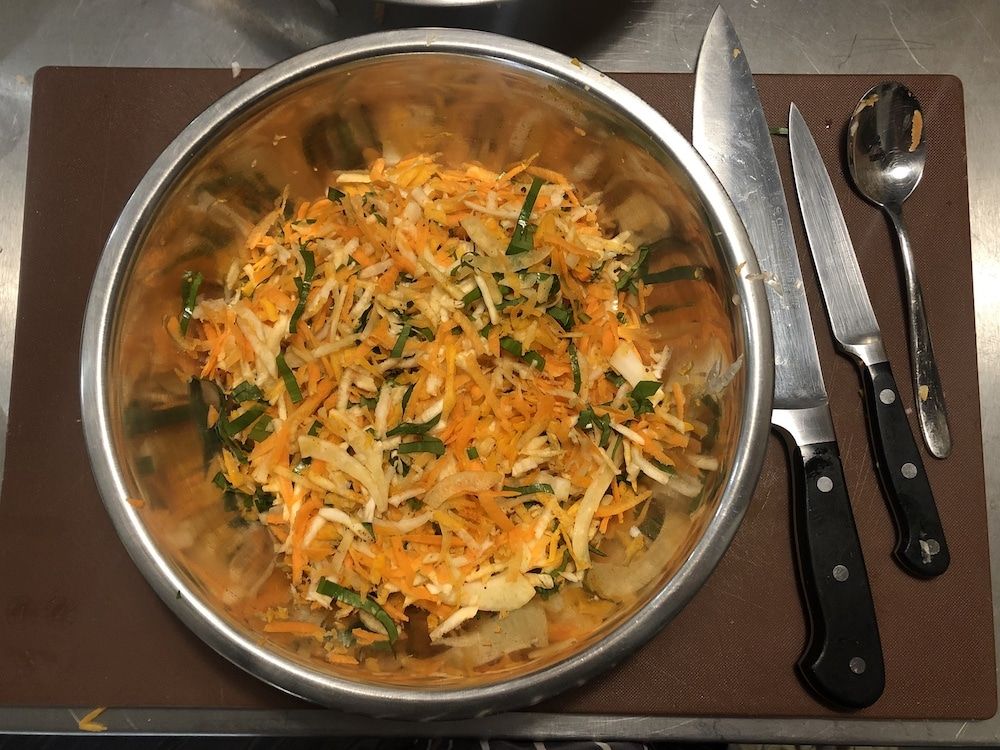 He led us through the process and spoke about the varying fermentation practices and salt brine solutions – the veg pickle would be a dry ferment using a 2% salt solution which would encourage the natural juices from the vegetables to create their own brine.
A flavour sensation
We then went on to make a lime pickle; anyone who's been to an Indian restaurant has probably tried lime pickle but George's ferment was a flavour sensation unlike any I had previously eaten.
We were offered a taste on a cracker which was quite intense but I knew once mine was ready and I paired it with a homemade curry it would be the burst of flavour to make any mid week meal a masterpiece. As we cut up our limes, George tempered some chilli, nigella seeds, curry leaves and fenugreek in hot oil which would be added to our lime, garlic and ginger mix to add depth and tone as the pickle fermented.

Tips and tricks
Once we had tightly packed our lime pickle into our jars, we gathered around the main kitchen bench where George was preparing the sourdough for the fermented potato flatbreads. He led us through the procedure for fermenting the potatoes as they need to hibernate for 5 – 10 days and spoke about the method for his fast flatbread recipe and how to correctly fold the dough resulting in a light and fluffy bread.
It was great listening to the tips and tricks of the teacher, who clearly had a strong passion for fermentation and cooking, George made the students feel welcome and at ease with questions answered respectfully and without pride.

Collecting skills throughout the class
While the bread was proving we went on to make the sourdough miso using sourdough bread scraps and barley fermented in koji – a Japanese fungus used for soy sauce and various fermented beans and beverages. This was particularly interesting as most of us are used to rice or soy bean miso but learning how to make a version with sourdough and barley was a new skill to add to our growing fermentation repertoire.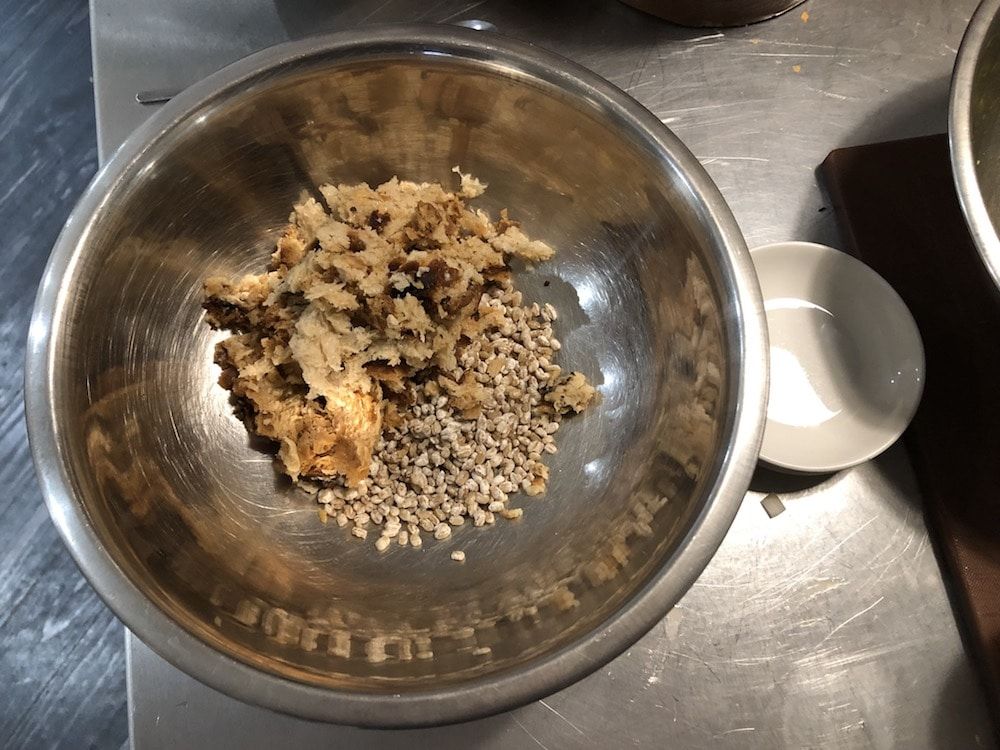 Taking your creations home
We used our hands to work the sourdough scraps and barley into a fine texture and packed the mix into our jars and sprinkled with salt and then covered with a piece of greaseproof paper to create a seal to encourage a healthy fermentation without mould. This miso would need to ferment for around 3 months.
What's nice about this cookery class is that students go home with their creations and continue to learn and look after their dishes.
Fermented foods are like little pets, you've got to look after them and 'feed' them, and then they'll look after your micro-biome in return.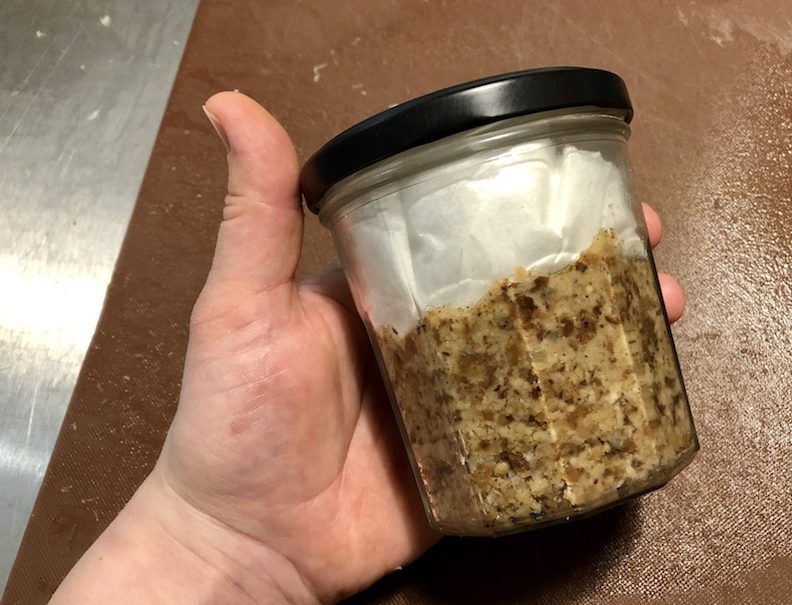 Tepache – a Mexican fermented drink
George led us through a couple more demonstrations making a Tepache – a Mexican fermented drink using the rind of pineapple and the Ginger Bug he had been fermenting for a while. The ginger bug is extremely versatile and can be used in many different ways and for a variety of dishes and drinks, it paired perfectly with the Tepache enhancing the fermented quality and depth of flavour.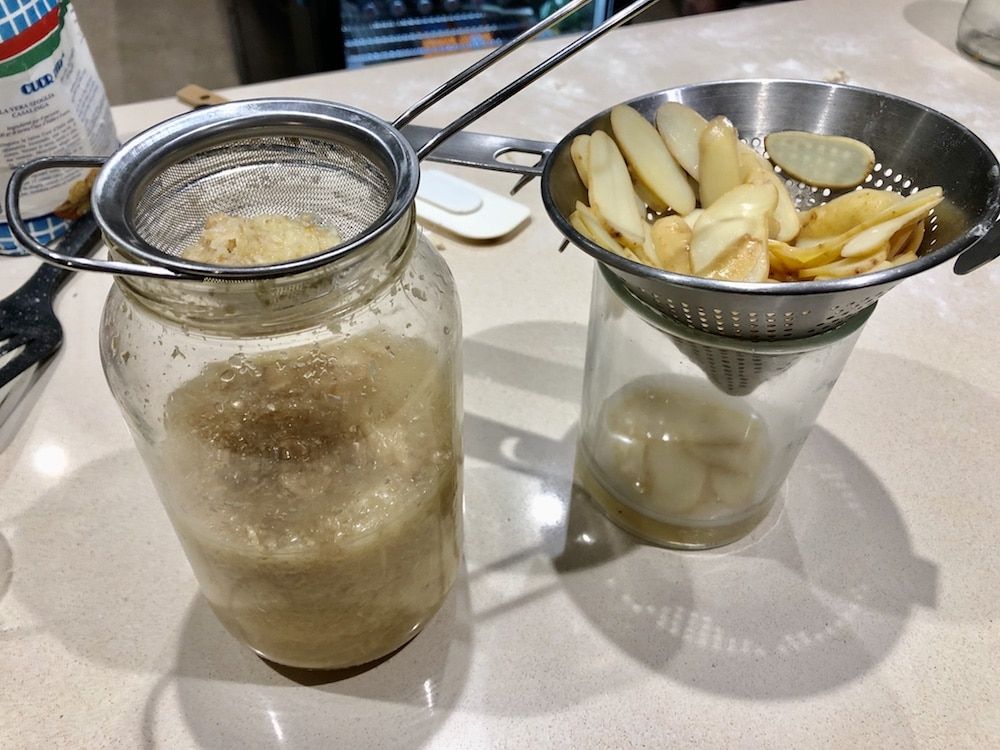 Recipes to recreate the dishes at home
We were also led through the process for making a fermented pumpkin syrup which could be used as a sweetener for drinks or as a topping for desserts and had a rich, warming spice blend using cloves, cinnamon and star anise, a perfect seasonal syrup and something I'll be making myself.
No need to scribble notes during the class as all the recipes we made would be sent to us via email so we can continue to re create the dishes at home in our own time. 
Fermented potato flatbreads
As the dough had proved, George whipped up the fermented potato flatbreads with rosemary and sea salt and popped them in the hot oven while we gathered our jars.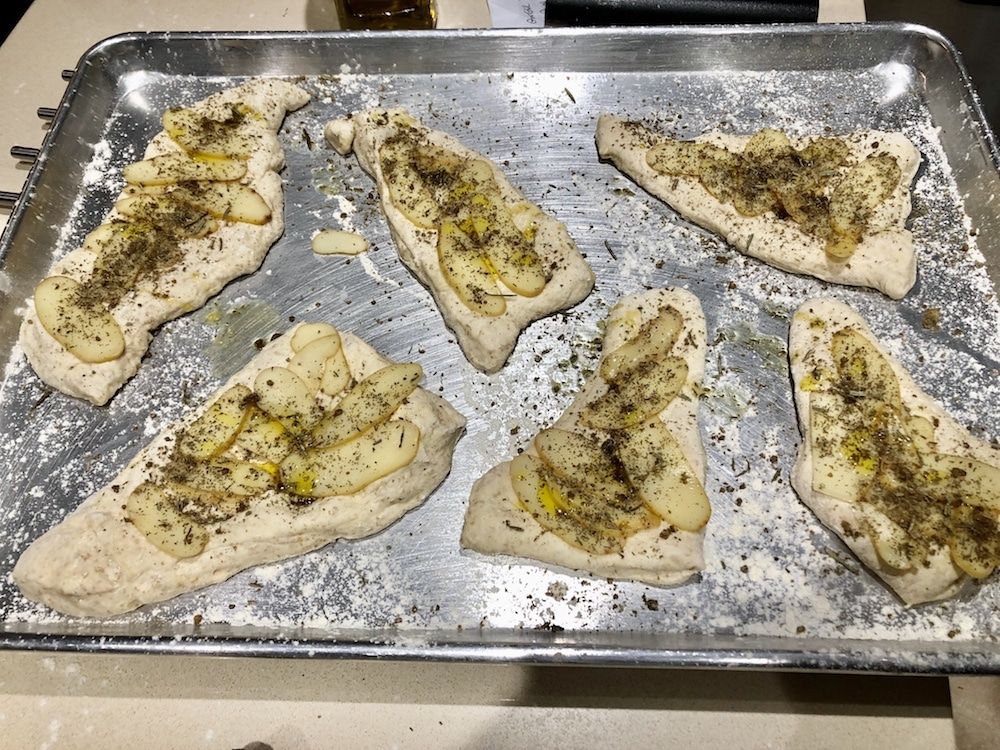 The smell of freshly baked flatbreads filled the studio and we all sat around the large central table to enjoy the snack George had prepared. Using the sourdough miso George had made previously as a umami dip – these were some of the most delicious flatbreads I had eaten.
Whether it was the care and attention that had gone into them, or the slow fermented potato on top, it was a joy to sit around the table with my fellow students, break bread and debrief after a very enjoyable and informative afternoon.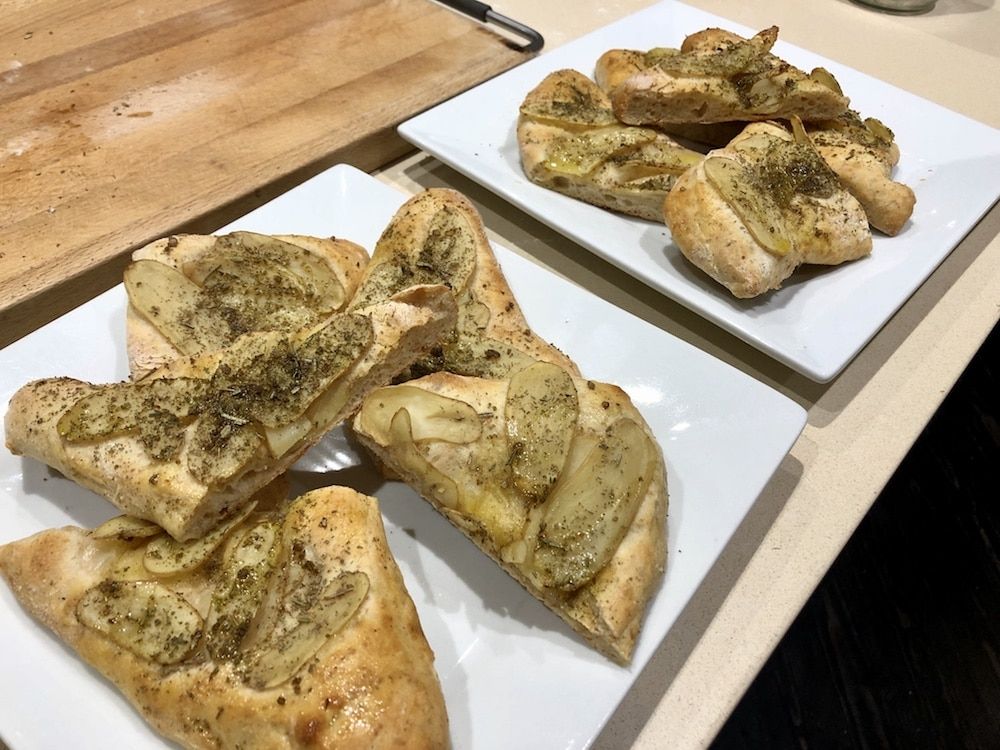 Showcasing cuisines and techniques
Brighton Cookery School focuses on showcasing cuisines and techniques from a wealth of independent chefs and tutors, creating a space for budding cooks and novices alike to come together and share their passion for good food. With new classes updated regularly, there's no doubt this is an afternoon well spent either alone, or with a partner to expand your culinary knowledge.
Check out the list of upcoming classes at Brighton Cookery School