Pasta Perfection at Brighton Cookery School
Like many people over the last few months, I've developed a keen interest in picking up new skills. Brighton Cookery School offers a series of cooking classes throughout the year, from Pasta Perfection to Macaroon Masterclasses, and located in the heart of Brighton, you really don't have an excuse not to go.
Although a couple of minutes late (whoops!), we were greeted warmly by Ben, our leading chef, and the rest of the class participants.
Covid safety restrictions have been put in place, so currently you'll find yourself wearing a mask throughout the class and working in pairs socially distanced, but trust me, this doesn't deter from the brilliance of the class, or the atmosphere.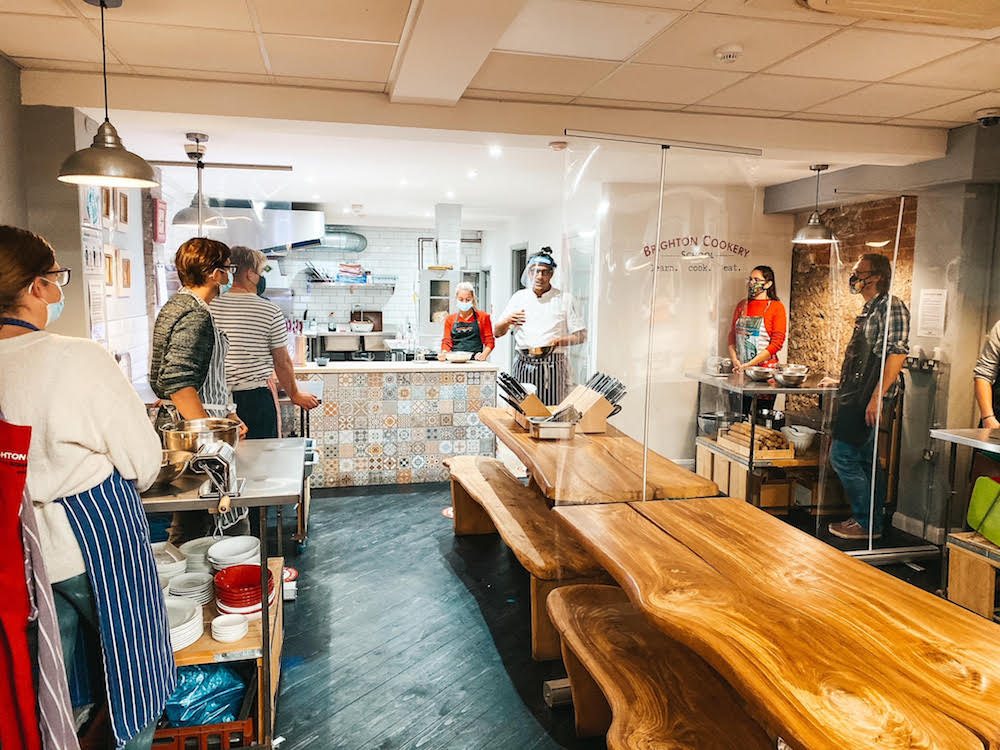 We'd chosen the Pasta Perfection class, both keen lovers of carb eating, it seemed only right to understand the skill and technique behind fresh pasta making. The class is around two hours, and although I thought I was a pretty good cook, I definitely benefitted from professional assistance when learning to make pasta from scratch! Queue an evening of giggles and laughs.
Messa Ben
We started the class with a talk from Ben about the history of Brighton Cookery School, himself and his previous experience and what we were to expect from the class. Hailing from the Pyrenees region in France, Ben has from a young age been passionate about food and its origins; he has worked in both Paris and London's finest restaurants incorporating varying cooking styles and flavours.
He shared his knowledge of foraging in Brighton, and the best places to find wild mushrooms which would wonderfully complement the pasta we were about to make!

A Sticky Situation
Ben demonstrated exactly what we needed to do in order to create the perfect pasta dough, my friend succeeded the first time but I got myself into a bit of a situation… it got stuck to my hand!
Thankfully Ben and his sous chef Antonio were there to give a helping hand, and after adding some more flour, my pasta dough resembled the rest of the classes. We made this by mixing flour and eggs, and getting our hands dirty kneading the dough… and maybe with a little assistance from our chefs!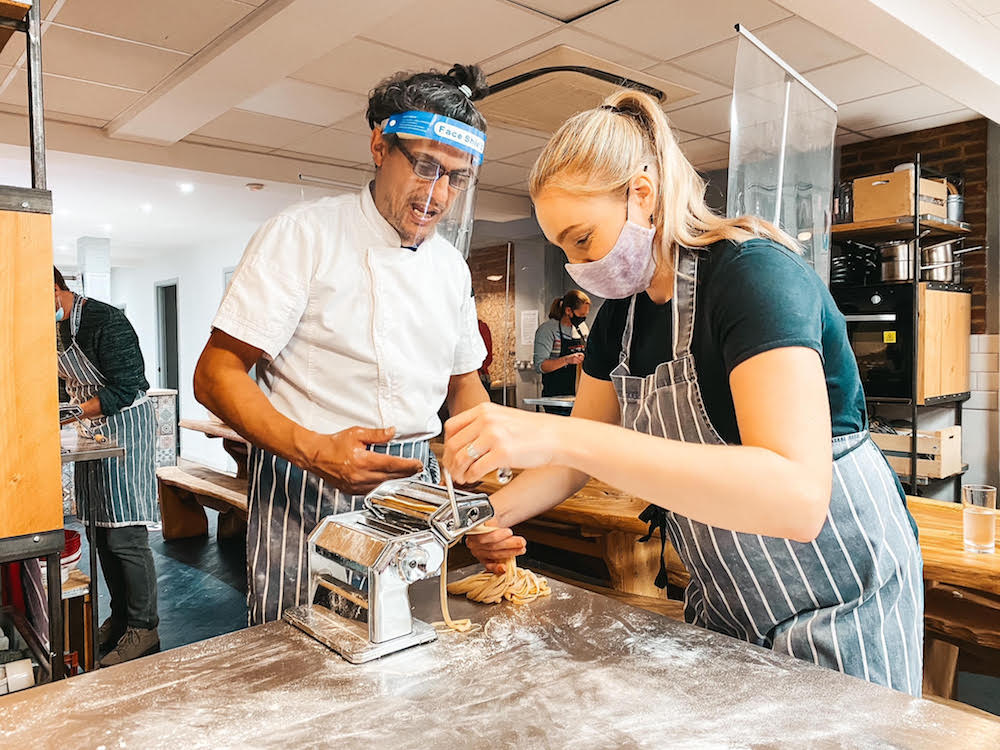 Then came the tricky part of rolling the pasta dough through the pasta maker. Ben demonstrated this at the front of the class, making it look a breeze, so we ran away back to our work stations and tried in our pairs to recreate the wonderfully thin sheets of pasta he had created.
After a few tries, we finally got the hang of it, and then cut our pasta into tagliatelle and doused it in semolina, in order to keep its shape and stop it from congealing!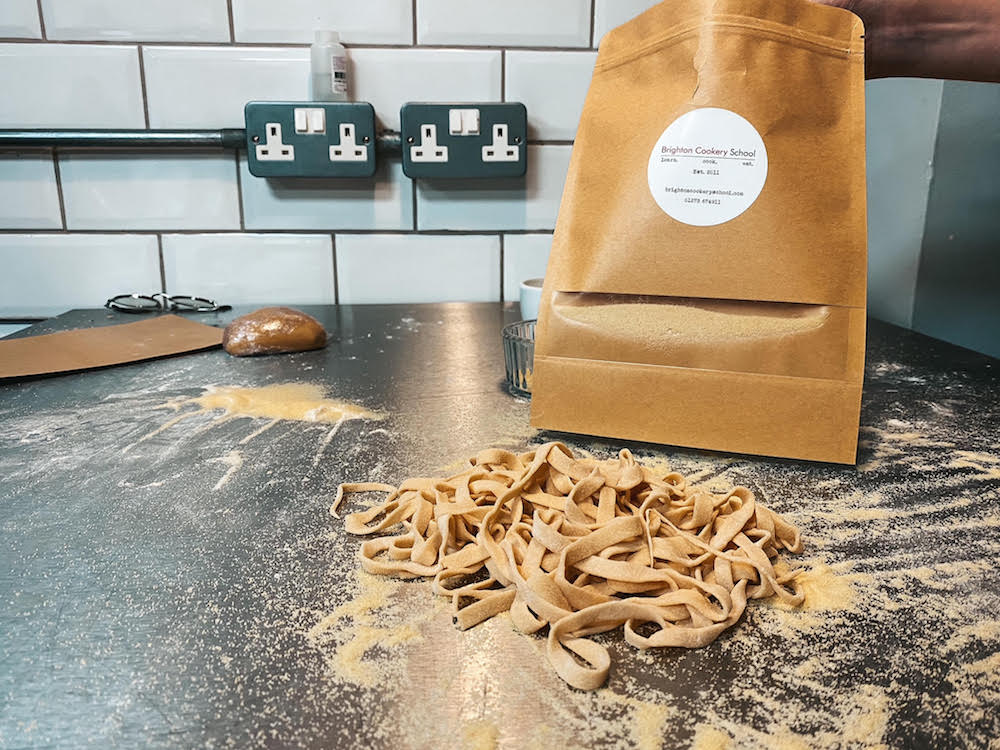 The Art of Folding
Now we had got the "long" pasta out of the way, we had to tackle the stuffed pasta. Once again, Ben demonstrated beautifully how to roll out pasta into thin sheets, slice and cut squares and stuff with a nettle, ricotta and spinach mix. Whilst the tagliatelle may not have been my forte, I really enjoyed the intricacy of making the stuffed pasta.
There were a few giggles around the room at the shapes we had all managed to make, but I personally was pretty proud of the tortellini I had managed to create! Once again we covered our creations in semolina and bagged up ready to take home!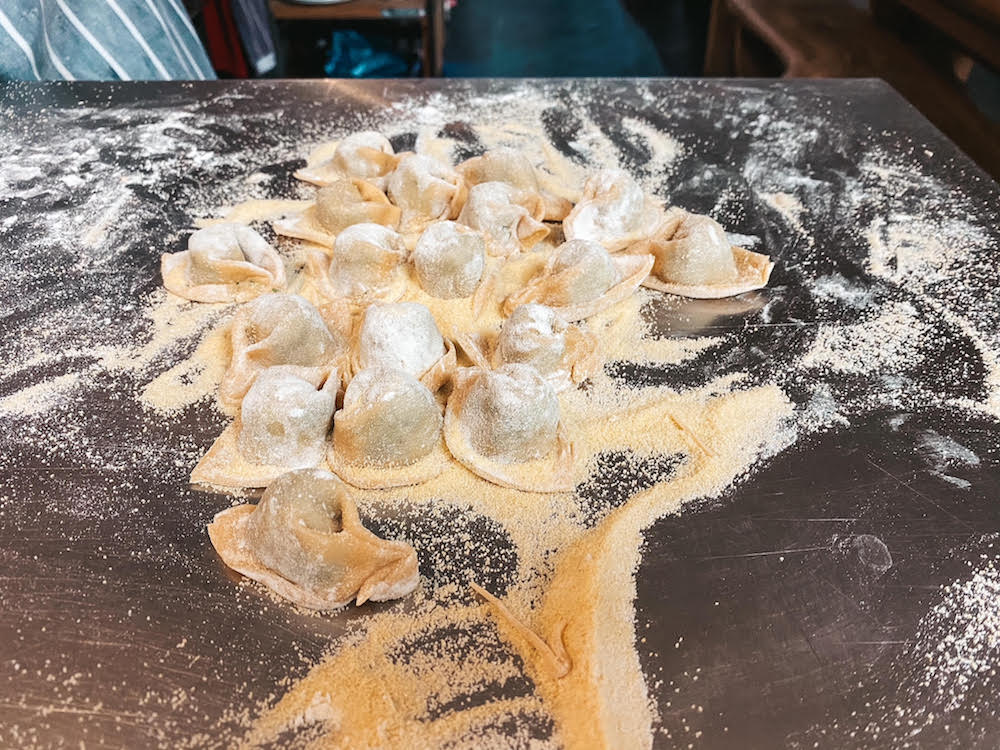 The Brilliance of Ben
All in all, we had an absolutely brilliant evening, but what made it was the charisma and presence of Ben. We spent the whole evening laughing, and even when we felt we weren't necessarily the best pasta makers, we had all the encouragement from Ben and Antonio and the rest of the group. It was a wonderful mini-community feel, and incredibly good value for money for an evening activity at £40 per person.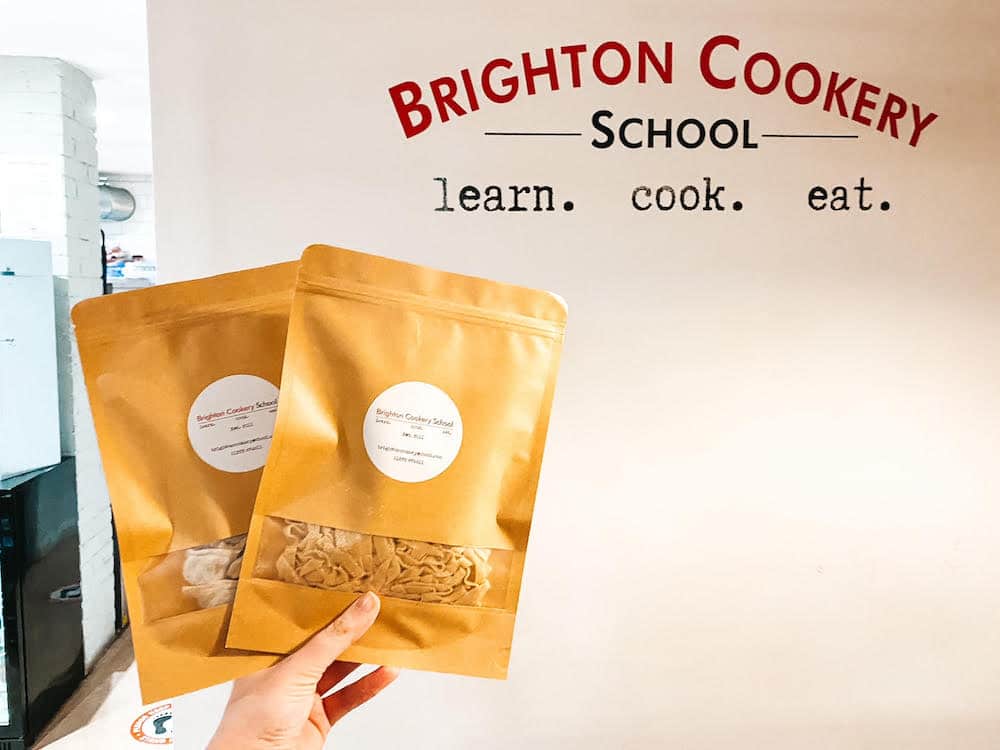 Brighton Cookery School also offers cooking classes on world curries, sushi making, essential vegan cooking, bao buns and many more! You can gift a friend or relative a class with a gift voucher, attend as friends, families or couples, and leave with not only a new skill acquired but also that buzz of an evening well spent.