Welcome to The Crown Inn Dial Post
The Crown Inn Dial Post is an award-winning family-run free house, located 40 minutes outside of Brighton near the market town of Horsham.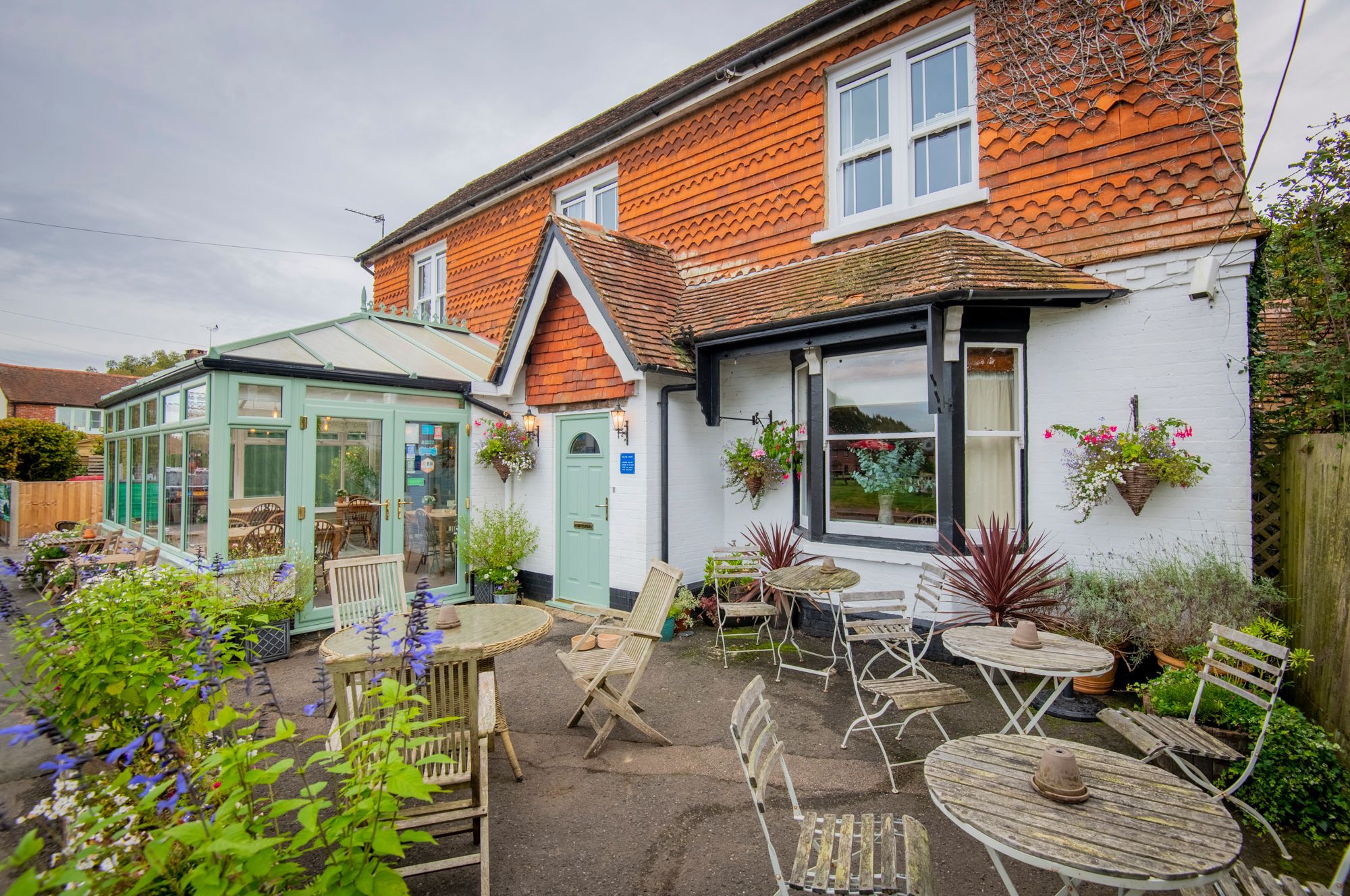 Country Roast Cheer from The Crown Inn
A Sunday roast might not be the first thing on your mind on a Friday evening, but The Crown Inn's finish-at-home offerings must be ordered by 7 pm on that day for the following Sunday. The good news is that this allows plenty of time to build up an appetite for the joy coming your way.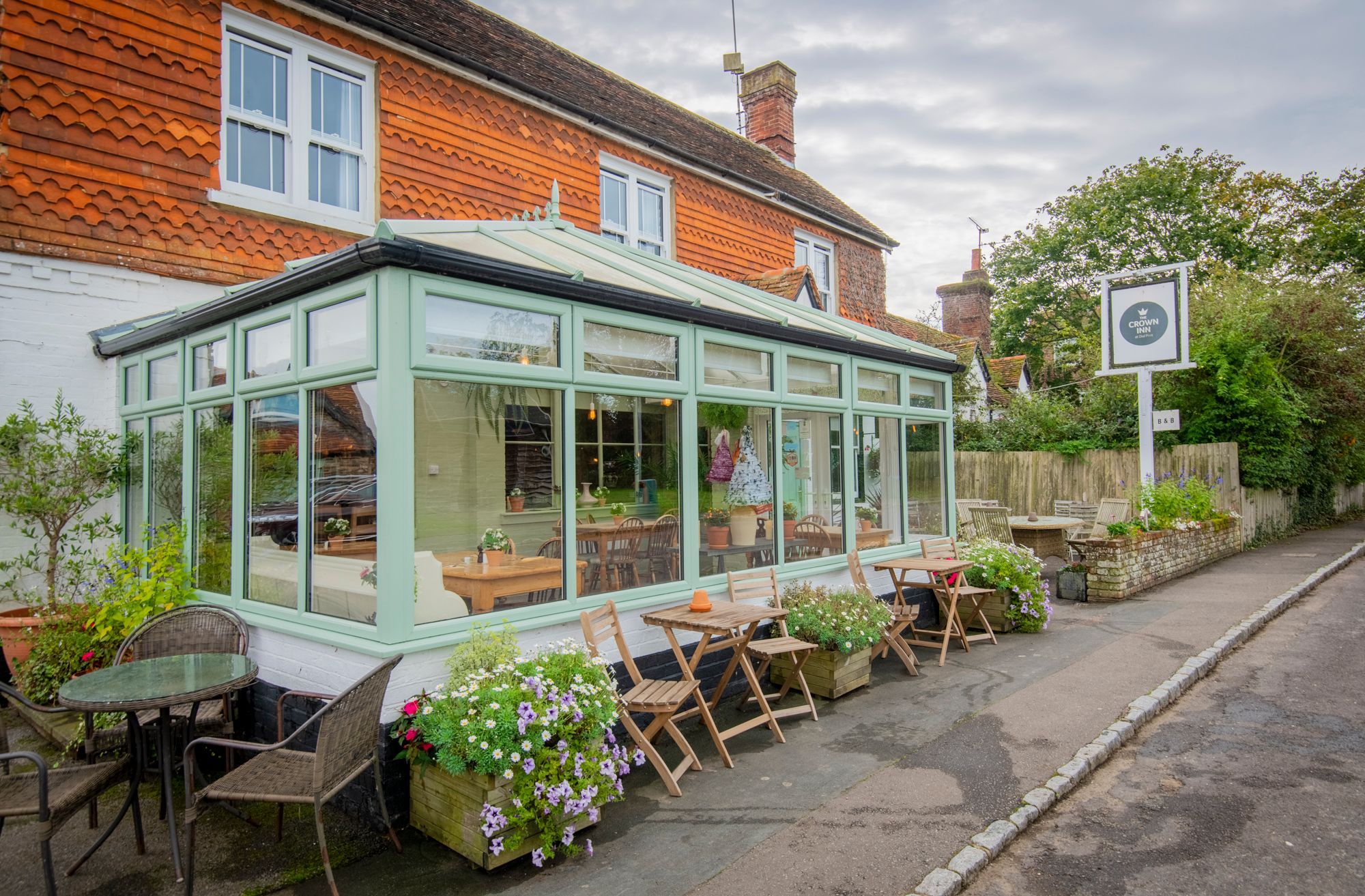 Penny and James's award-winning pub, in a cute village Americans would surely call 'quaint', has a sizeable kitchen positioned opposite Dial Post's village green and is therefore well situated to create proper country roasts.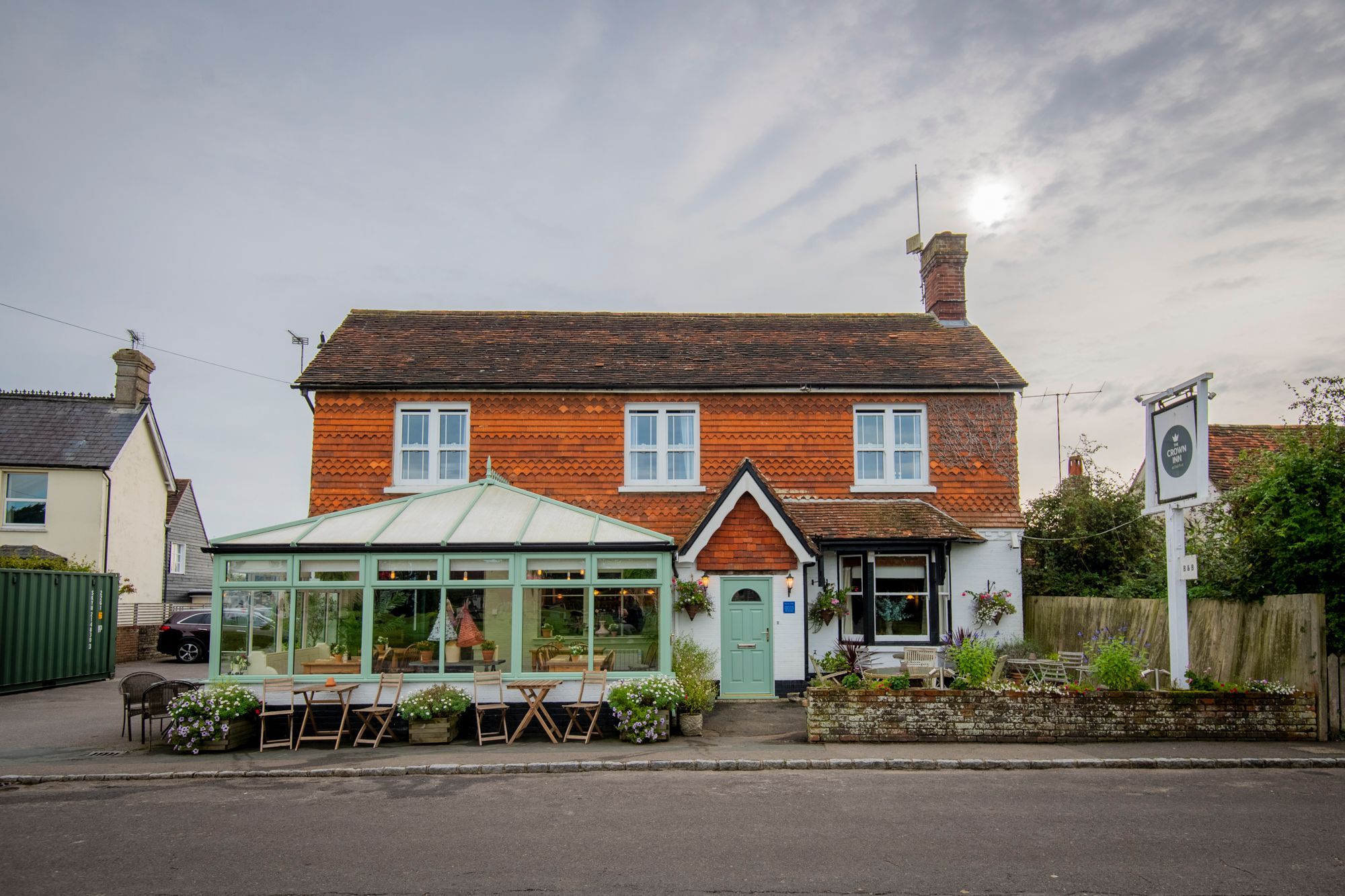 Dial Post born-and-bred Penny is from a farming family, so she knows a thing or three about satisfying hearty roasts. There are three meat choices available: locally sourced pork belly with crackling; local sirloin of beef; and British chicken. All come with real gravy (no freeze dried granules here!), roast potatoes and fresh, seasonal veggies. (No vegetarian options are available on the roasts.)
We're not sure what magic they smother on the potatoes, but they're among the most divine we've devoured. The veggies demand only a brief steam or microwave and they're steaming with 'eat me' al dente vibes. And the meat, well, there's enough for the most
voracious of appetites and emerge as if freshly cooked from scratch when heated up in the supplied gravy.
Crackling is often the star of the show and it was here, too, providing textural contrast to the tender pork meat and the fatty treat. The thinly sliced sirloin is smooth, tender and tasty and slips in beautifully alongside its Yorkshire pudding plate mate.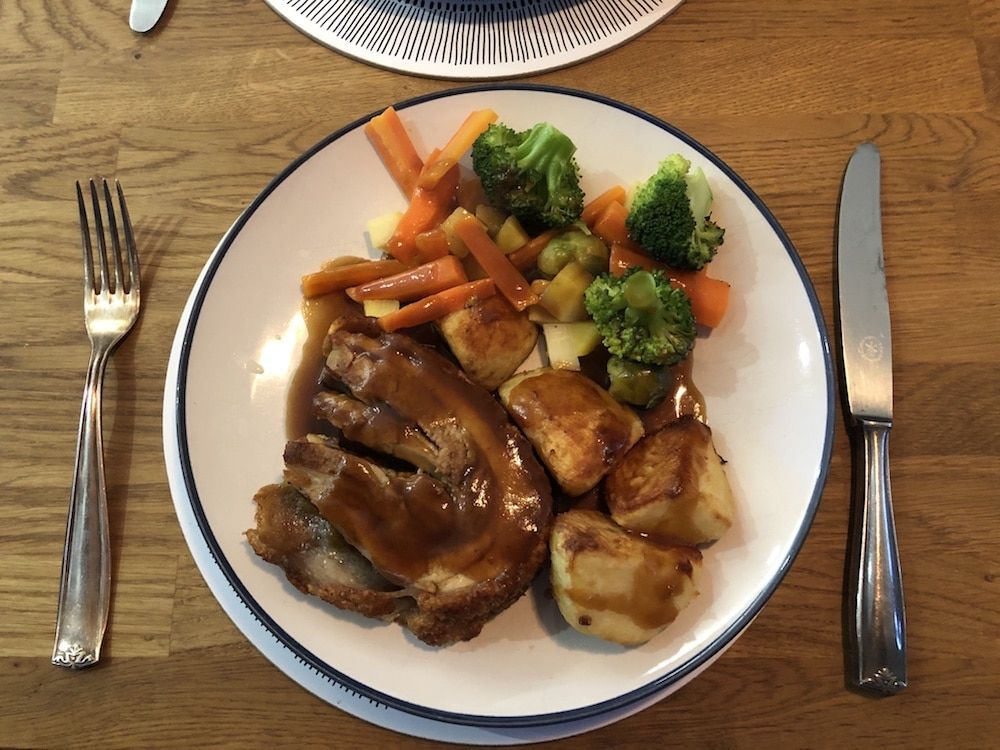 The range comes in easy-to-unpack packages with simple instructions – including contact details for the pub's kitchen team in the unlikely event you get confused (or perhaps if Saturday night's cocktail cabinet was indulged too readily).
It's worth noting that The Crown Inn is approximately 35 minutes' drive from central Brighton, so make sure you can get there before ordering (and check current restrictions) but if all is well, the roasts are worth entering a reminder into your smartphone to order before that Friday 7pm deadline.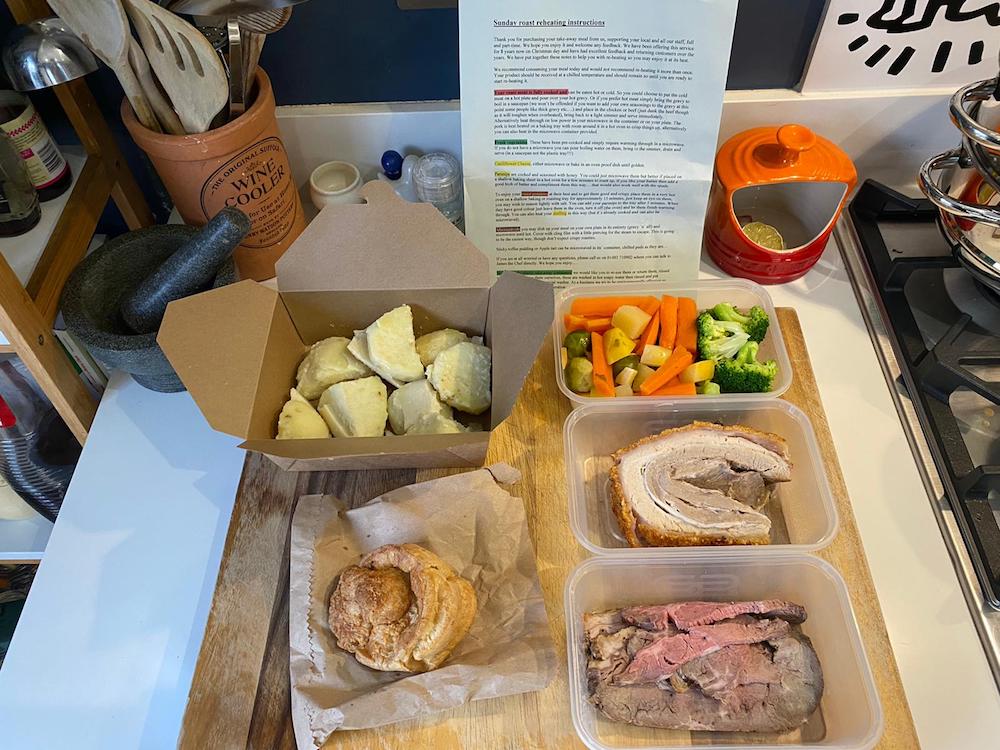 Available via www.crown-inn-dialpost.co.uk or 01403 710902
[/rb_dropdown]
The pub itself overlooks the traditional village green of the hamlet of Dial Post. It is well-positioned for local nature walks and is close to Knepp Castle Estate; famous for its re-wilding project and beautifully unique campsite (glampsite).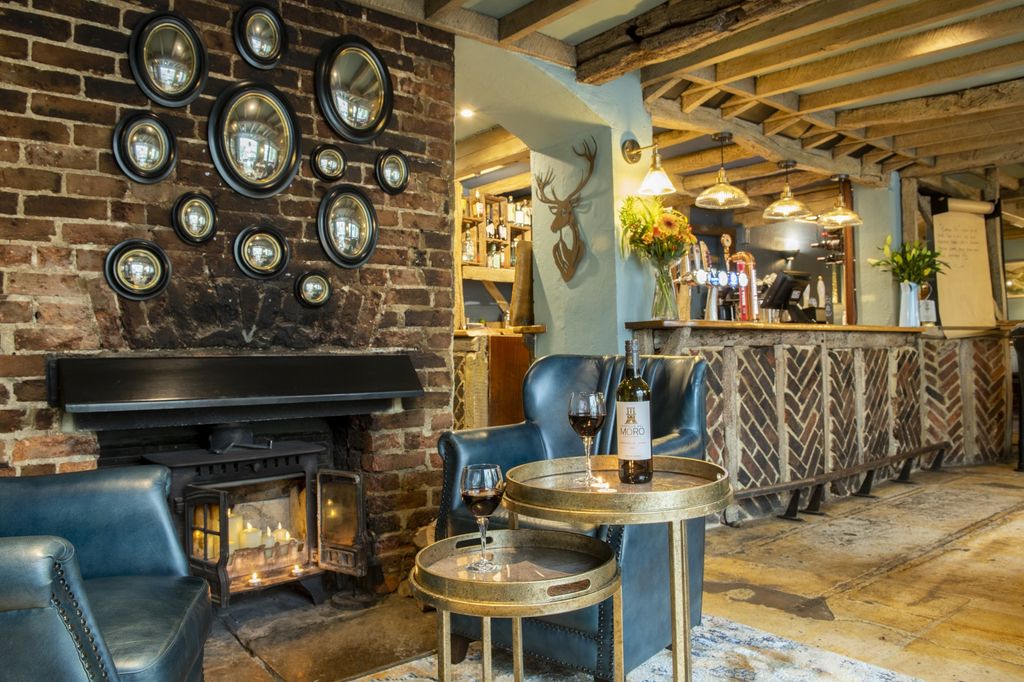 The Crown Inn Dial Post has a delightful beer garden, an actual garden with grass, not concrete, and is planted beautifully with roses and additional street-side seating at the front overlooking the village green. The pub also has a garden room and dining area as well as a comfortable seating area at the bar. In addition to this, there are four bedrooms available for bed and breakfast which are located above the pub.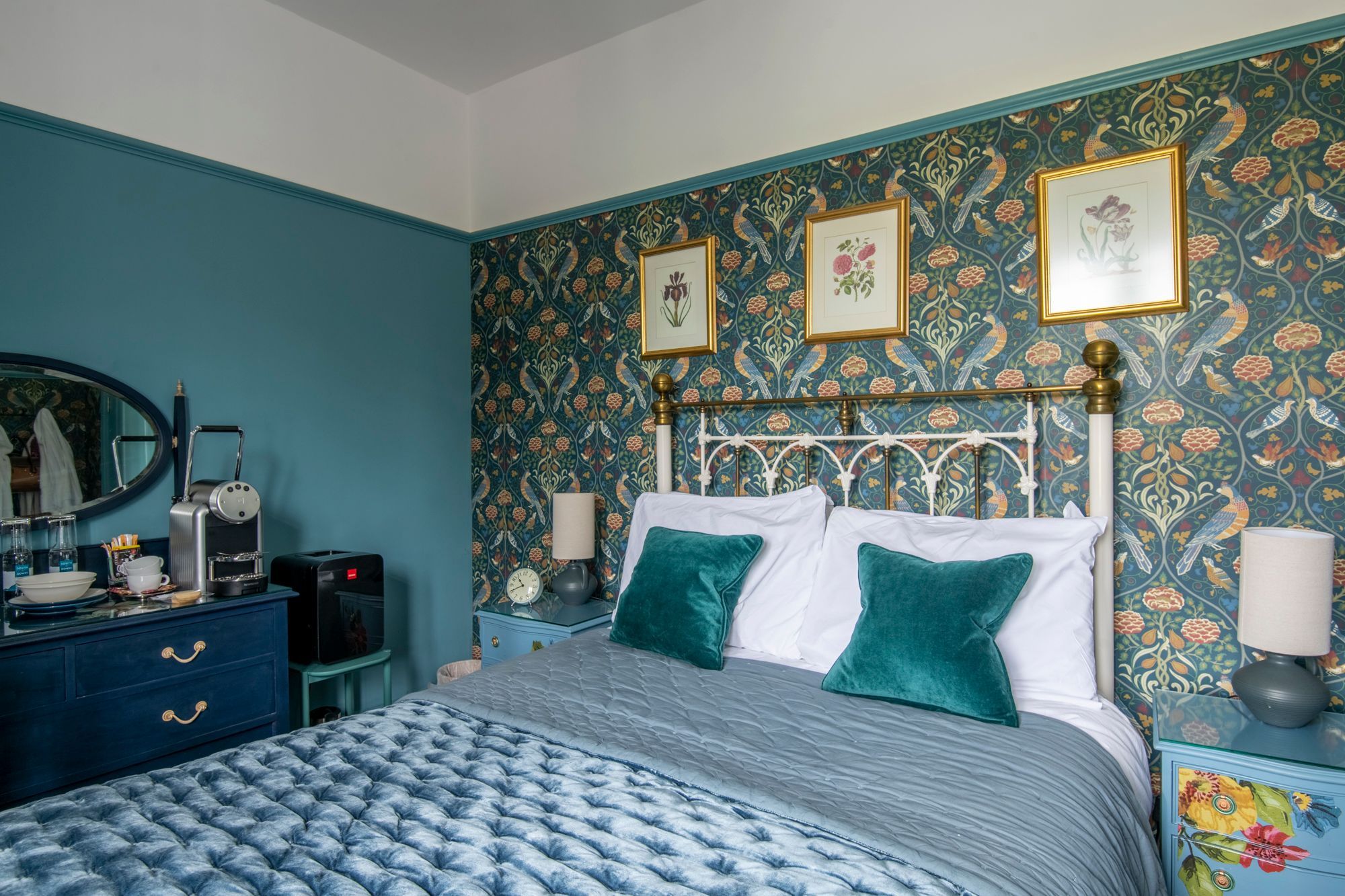 Local produce, local people.
The pub is owned and run by husband and wife team Penny and James. Penny is a local, born to a Dial Post farming family, and manages the front of the house, while James is the chef. The passion for local produce is very much in the couple's blood, buying locally and also foraging for seasonal ingredients that make up the freshly home-cooked menu, which can be viewed on their website.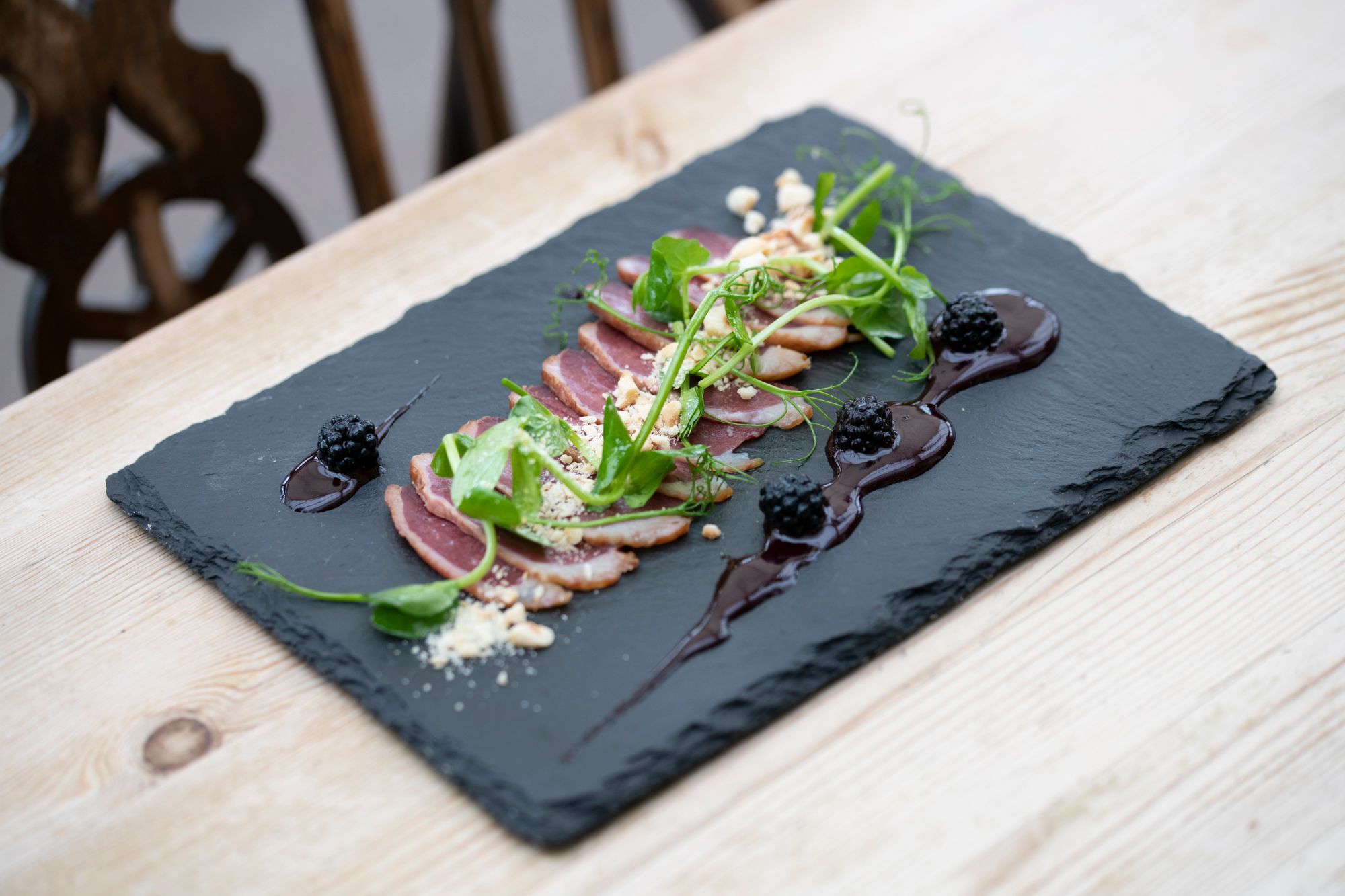 The menu is a mix of pub classics and seasonal specials. Local quality producers populate the menu such as sausages from Calcot Farm and locally landed fish. The menu always features several dishes that are suitable for vegetarians and vegans and there are gluten-free options and alternatives.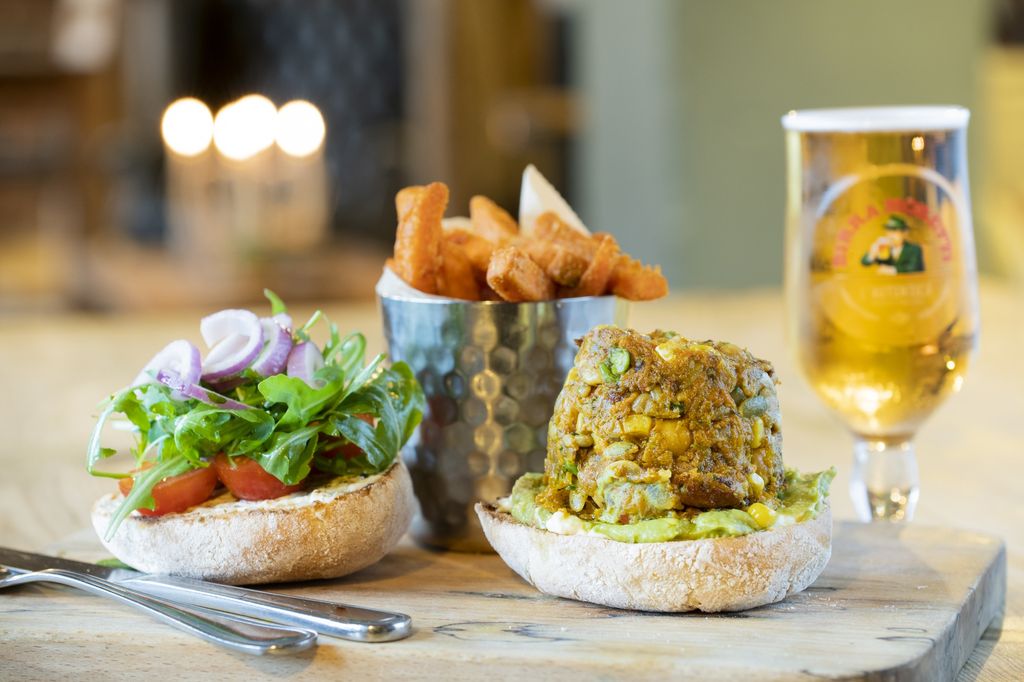 Sunday Lunch at The Crown Inn
Make an occasion of Sunday Lunch with a trip out into the countryside, perhaps a safari tour of the nearby Knepp estate or work up an appetite with some healthy hiking, before settling into one of the finest roasts in West Sussex. The Crown Inn Dial Post offers unlimited vegetables with their roasts, with options including local lamb, beef, pork and chicken as well as a vegan dish.
Read all about Elle's Sunday lunch experience at The Crown Inn here.
Everyone welcome.
The Crown Inn Dial Post is people friendly with a good mix of locals and visiting diners all receiving a warm country welcome. Dogs are spoilt rotten here with water bowls, biscuits and scratches behind the ears. Children can enjoy the play area situated on the village green, with plenty of space to tear around and parental viewing from the patio seating. For the very small there is a high chair available and booster seats.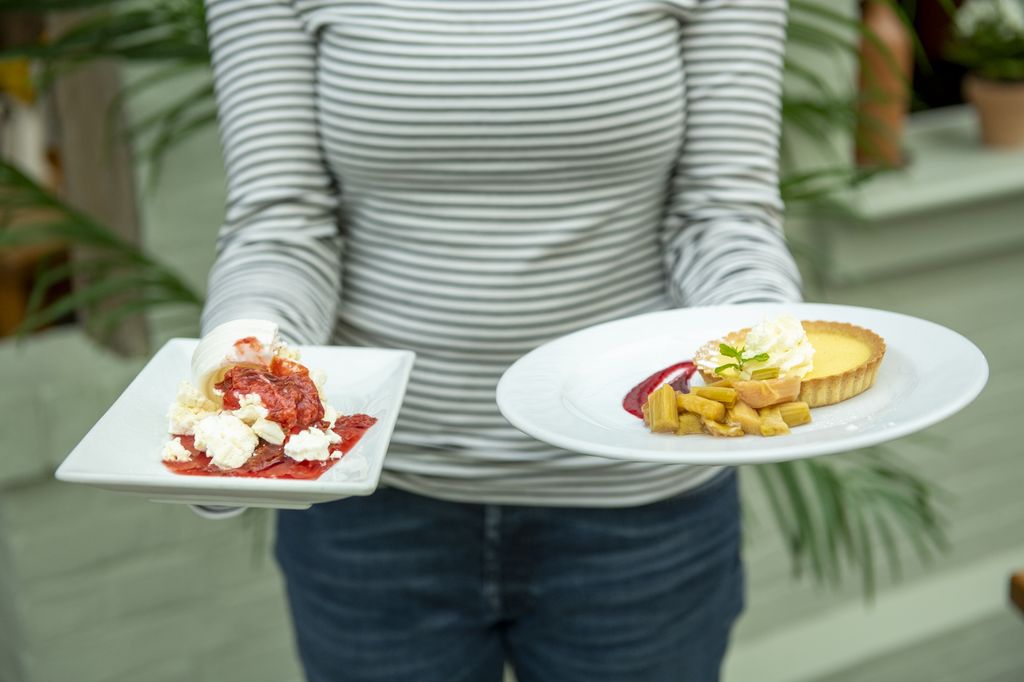 Torsten tries 'finish at home' pies
It's January, we're in lockdown, and we're in need of treats. Lots of them. And proper English country pub The Crown Inn in the West Sussex village of Dial Post knows it. Which is why, thanks to the god of pheasants and long walks in wellies, they're offering tum-pleasing, finish-at-home pies for takeaway during lockdown. It's worth making the drive – around 35 minutes from central Brighton – to collect these hand-wrapped, puff pastry goodies, which are generously filled and unsparingly portioned. (Please check current restrictions on journeying out of the city before travelling.)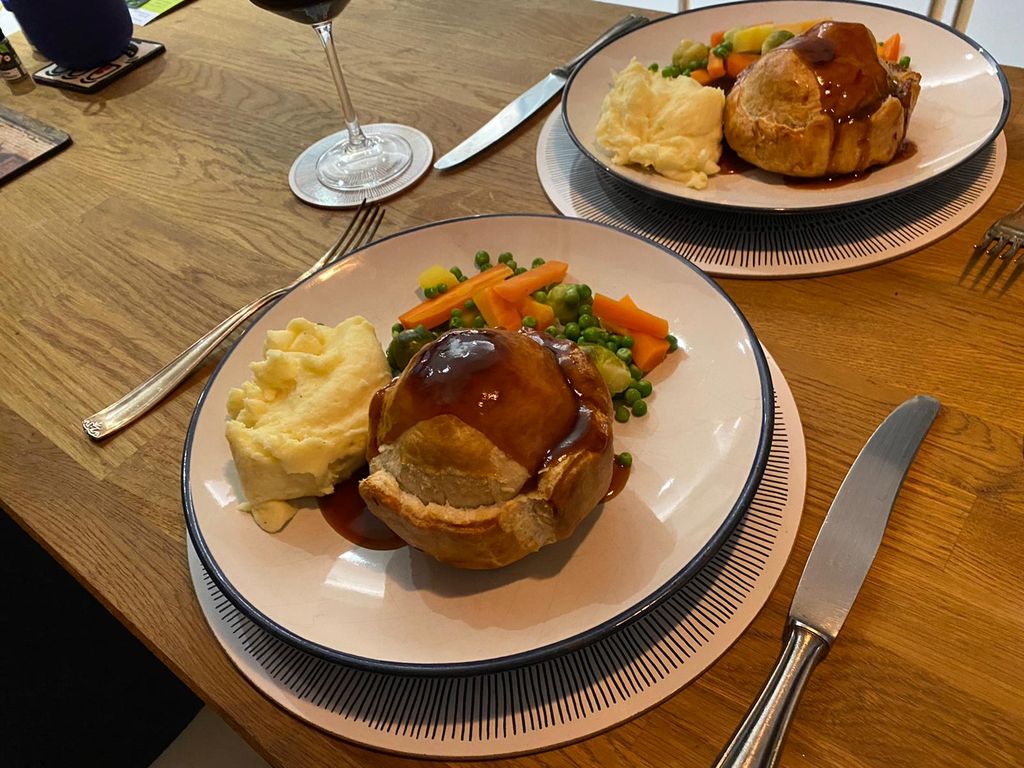 Four variations of fillings are available: Steak and Ale; Chicken, Smoked Ham and Sweetcorn Sweet Potato, Roasted Nuts, Mushroom and Spinach; and Wild Venison, Red Wine and Chestnut Mushroom. We plumped for the two meaty steak, and chicken-based versions, which come frozen in cute cardboard boxes complete with cooking instructions and a reassuring 'Pub Pies' sticker.
The Steak and Ale pie glistens with buttery, flaky pastry that melts in the mouth almost as much as the meat inside. The Chicken one is moist with a pleasing mix of saltiness and sweetcorn-sweet. Both offer the perfect amount of sauce inside to complement the filling but not overwhelm, which holds it all together in a toothsome package of joy.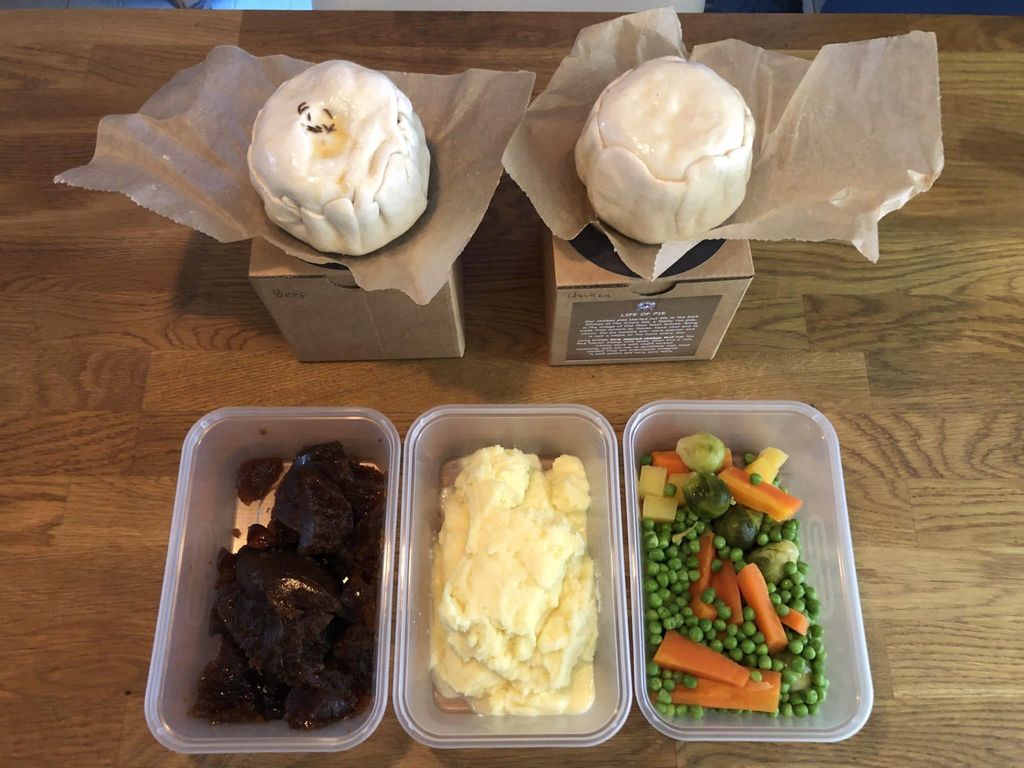 All of the homemade pies are accompanied by gravy, peas and carrots (which a brief microwave blast brings back to life) and some of the creamiest mash we've pleasured our tongues with for a while.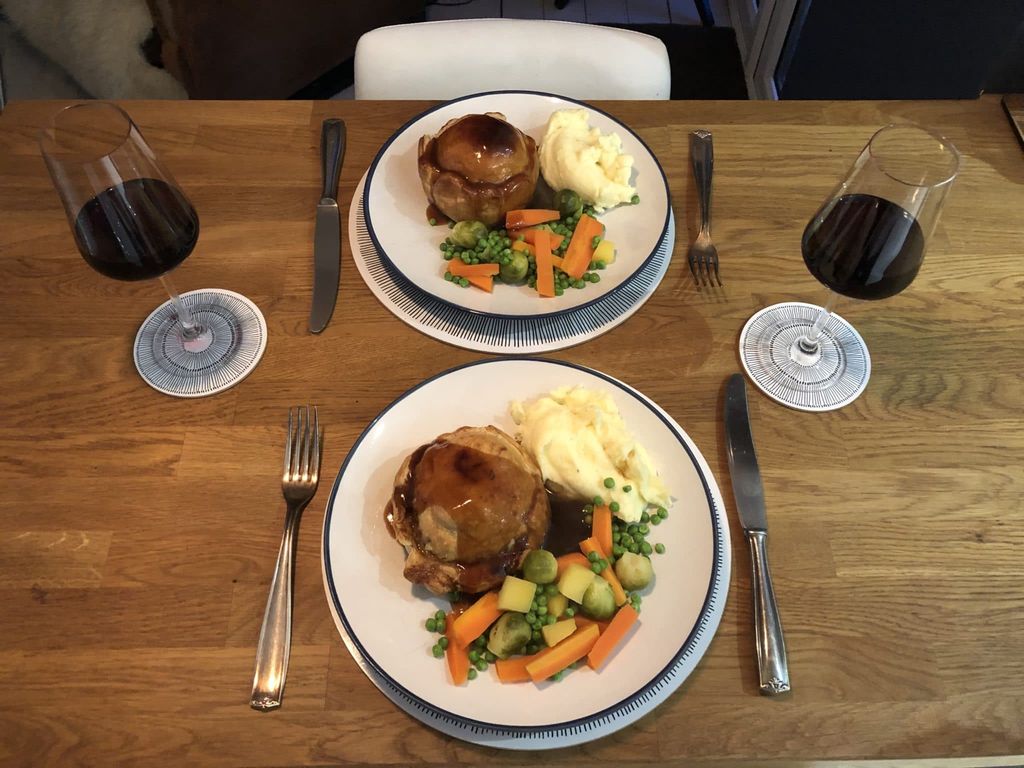 The finish-at-home thing ensures your appetite is seduced as the aromas fill your kitchen, fooling you into thinking you've created these little wonders yourself. But, of course, you've actually just had more time to let your wine breathe and gear up your belly for what's in store. It's a win-win situation, and one we're keen to try again. And, of course, as we love country pubs this is a grand way to support them while they can't welcome guests inside. Which means you're doing your bit for Britain, too.
Available via www.crown-inn-dialpost.co.uk or 01403 710902.