From the moment you walk up to the newly refurbished etch. your dining experience has begun. With blacked-out windows and a dark minimalist facade, you feel like you are being welcomed into a secret society.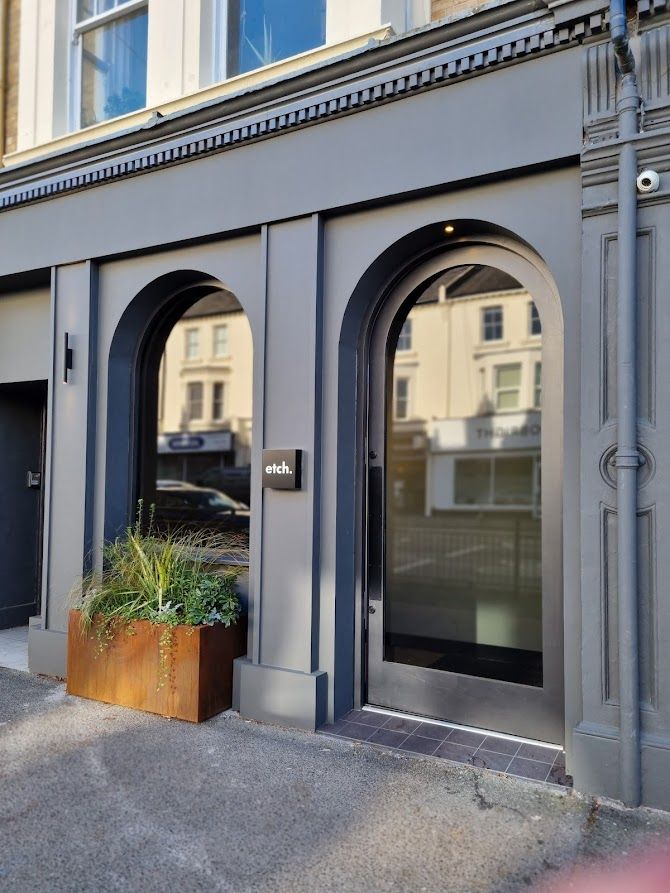 Once inside, the minimalist entryway opens into a bright New York style contemporary dining space with natural light pouring in from the windows. Intimate booths line the edges, and each table has a view of the open kitchen and pass. For me, a full dining experience includes watching the artists create, and it is such a wonderful space for doing just that.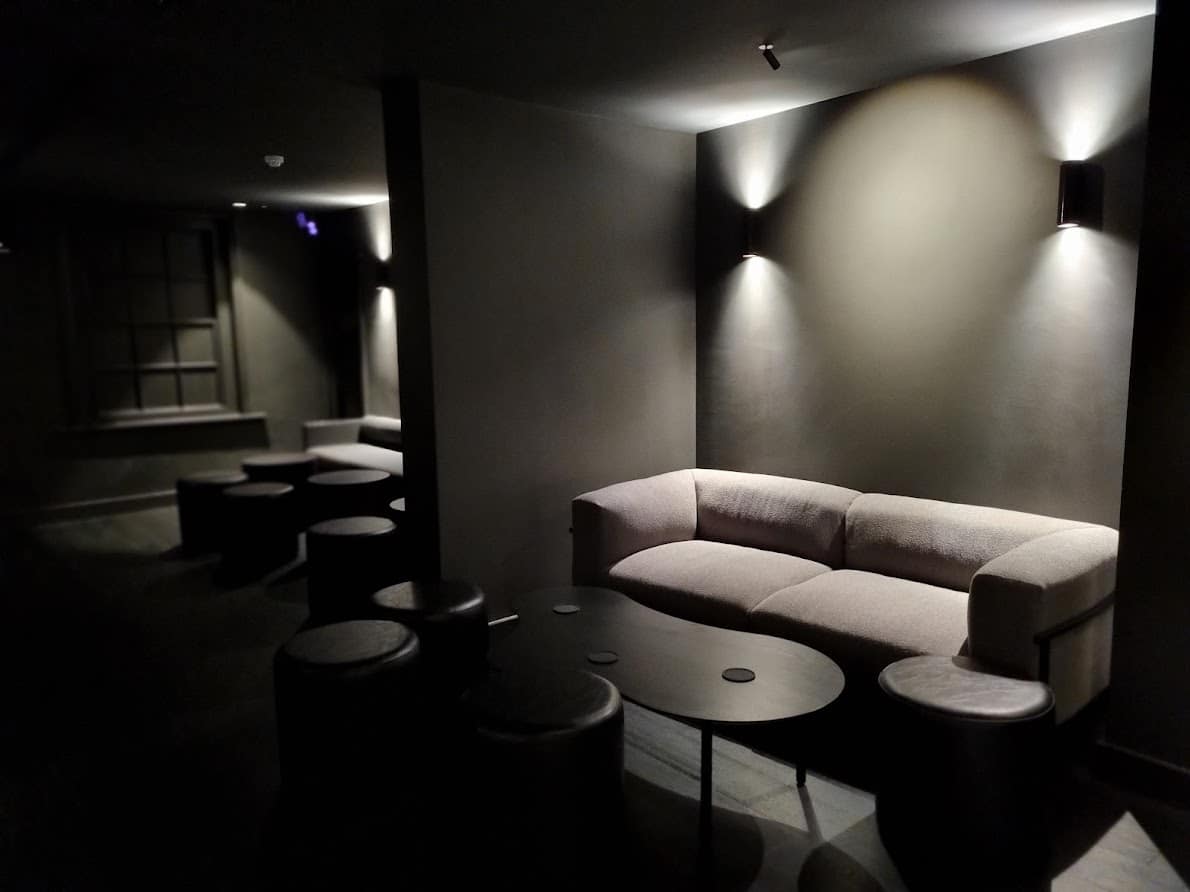 One thing that you will notice from the moment you sit down is that etch. is all about exceptional service. Each time someone approaches your table they are polite and attentive, knowledgeable and honest, and completely dedicated to making you feel welcomed. This tight-knit group of hospitality professionals is another outstanding element of the etch. dining experience.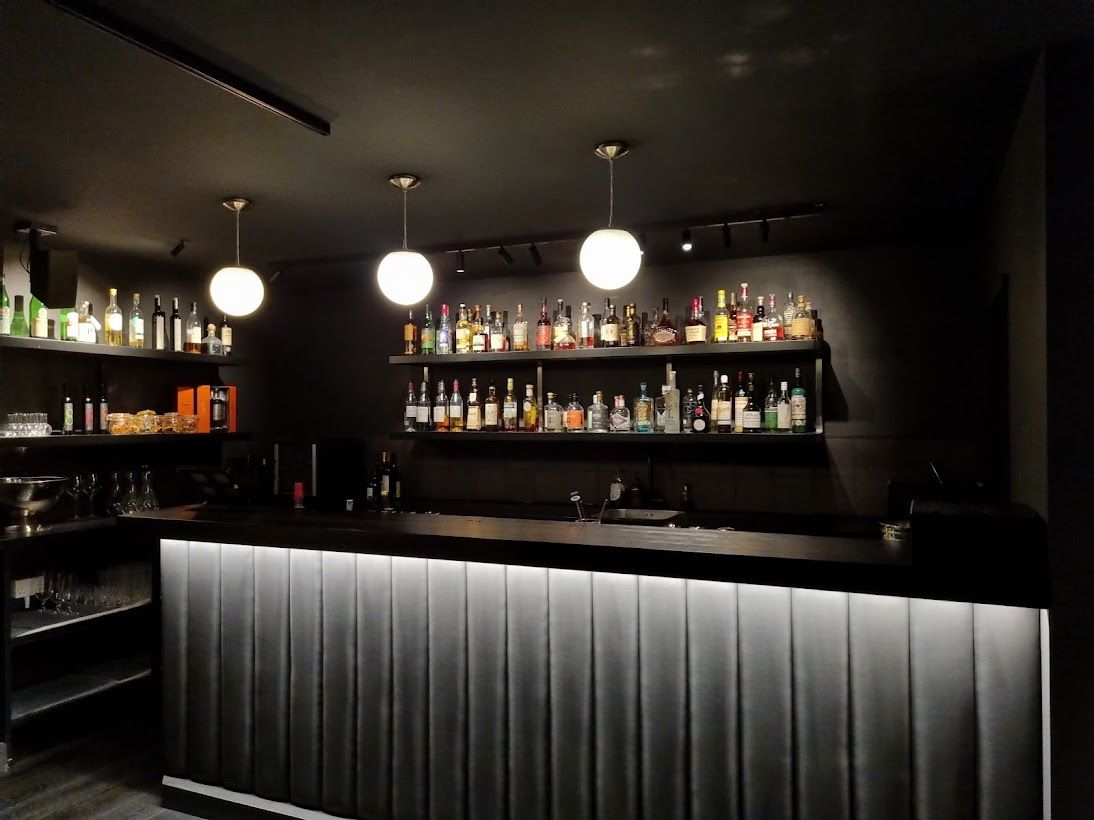 We sat in a booth by the window and were immediately greeted by our sommelier and Assistant Manager Daniel Risdale, who suggested a Classic Cuvee by local Sussex winery Nyetimber. Deliciously crisp and delicate, British sparkling wine may just be the perfect way to start any dining experience.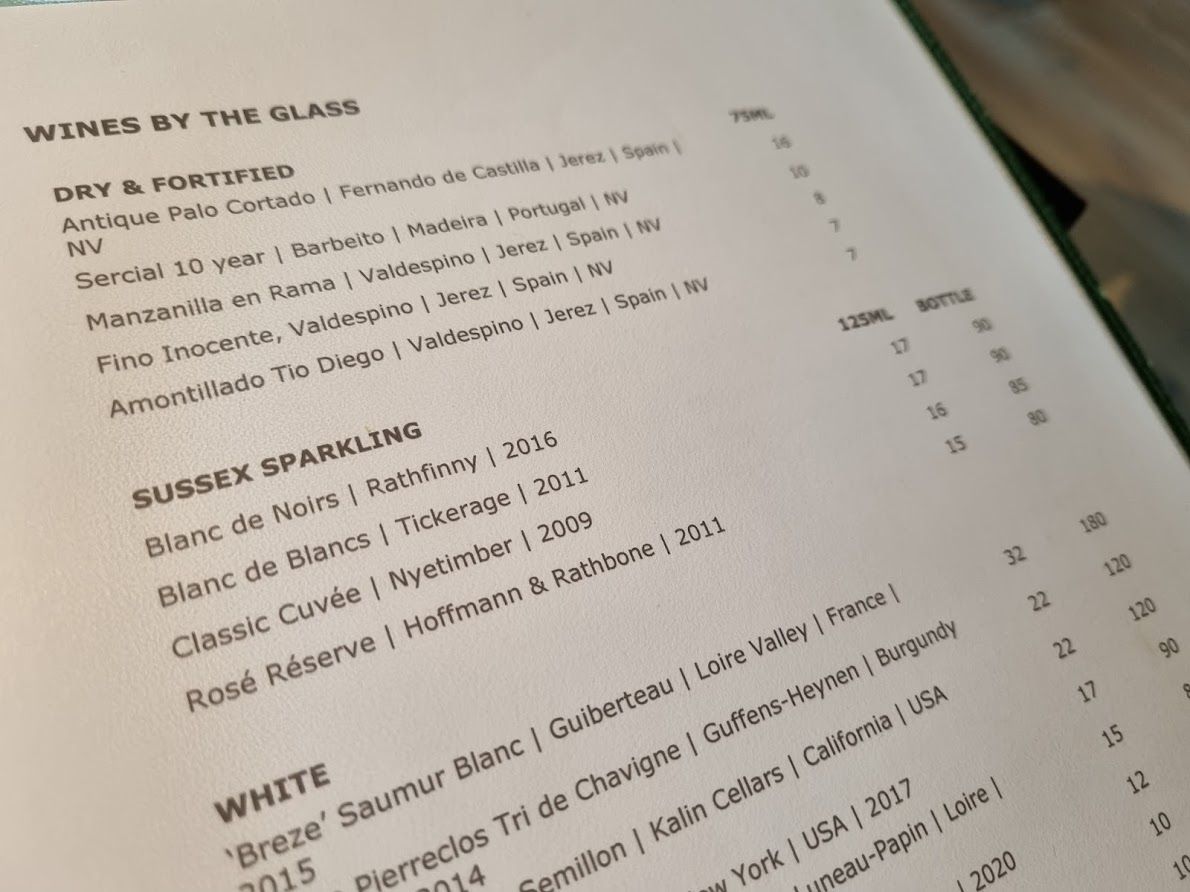 Although technically we were booked into a nine-course tasting menu, there were actually twelve unique courses, and as my dining companion is gluten-free and a pescatarian, between us we had twenty-four customised courses. I know what you are thinking, 'that is incredible', and it is, but incredible is standard practice at etch.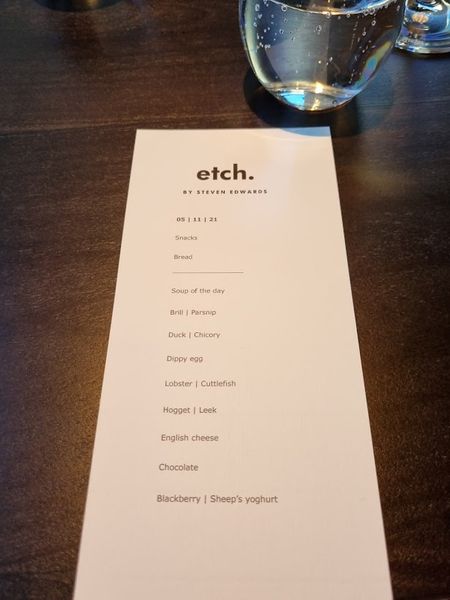 For those of you unfamiliar with a tasting menu, twelve courses may seem extravagant, but the reality is that every morsel, and every mouthful, is so thoughtfully crafted and expertly planned that you finish satiated and smugly satisfied, not overstuffed.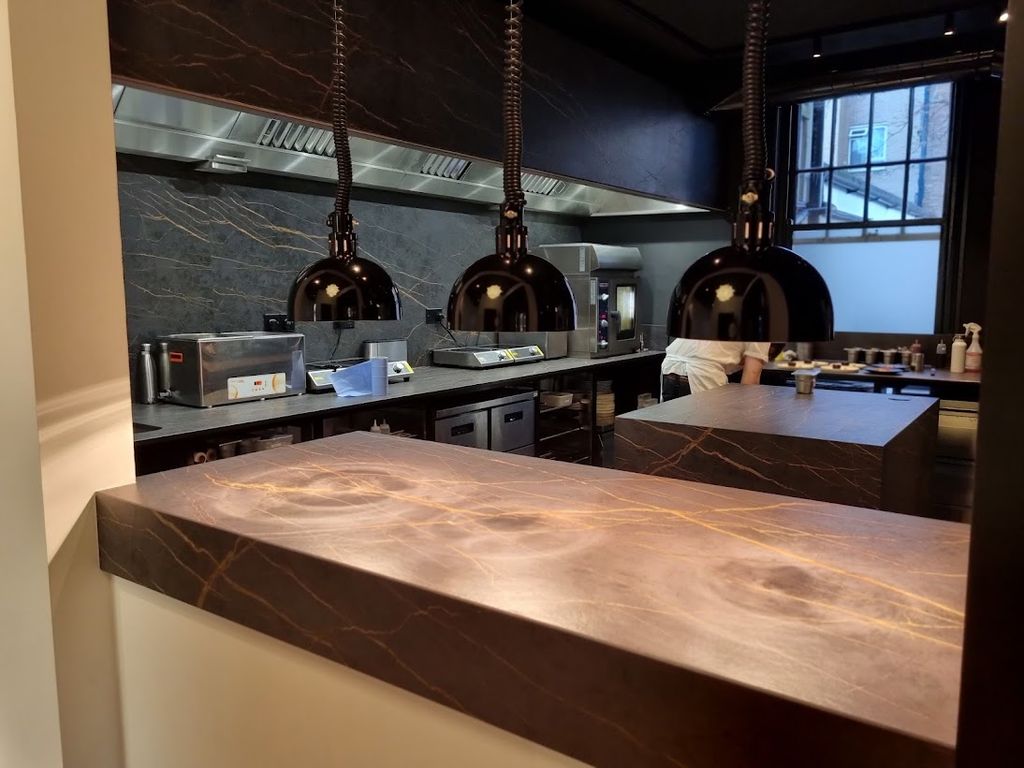 With a laser-like focus on fresh local ingredients, and a determination to make each piece of produce sing, Steven Edwards and his team use a staggering number of techniques to bring each dish to life without the use of spices, not even pepper. Instead, they reduce, puree, sous-vide, and grill to bring out the naturally occurring flavours, often adding edible flowers that have a natural pepper flavour in place of pepper. It is culinary artistry at its best, and each dish shows the passion of the talented chefs in the kitchen.
Our first taste was a duo of goat's cheese, truffle crouton and donut 'Snacks' that were as delicate as they were delicious. Single mouthfuls of perfectly presented bites that deliver a surprisingly full flavour for being so dainty.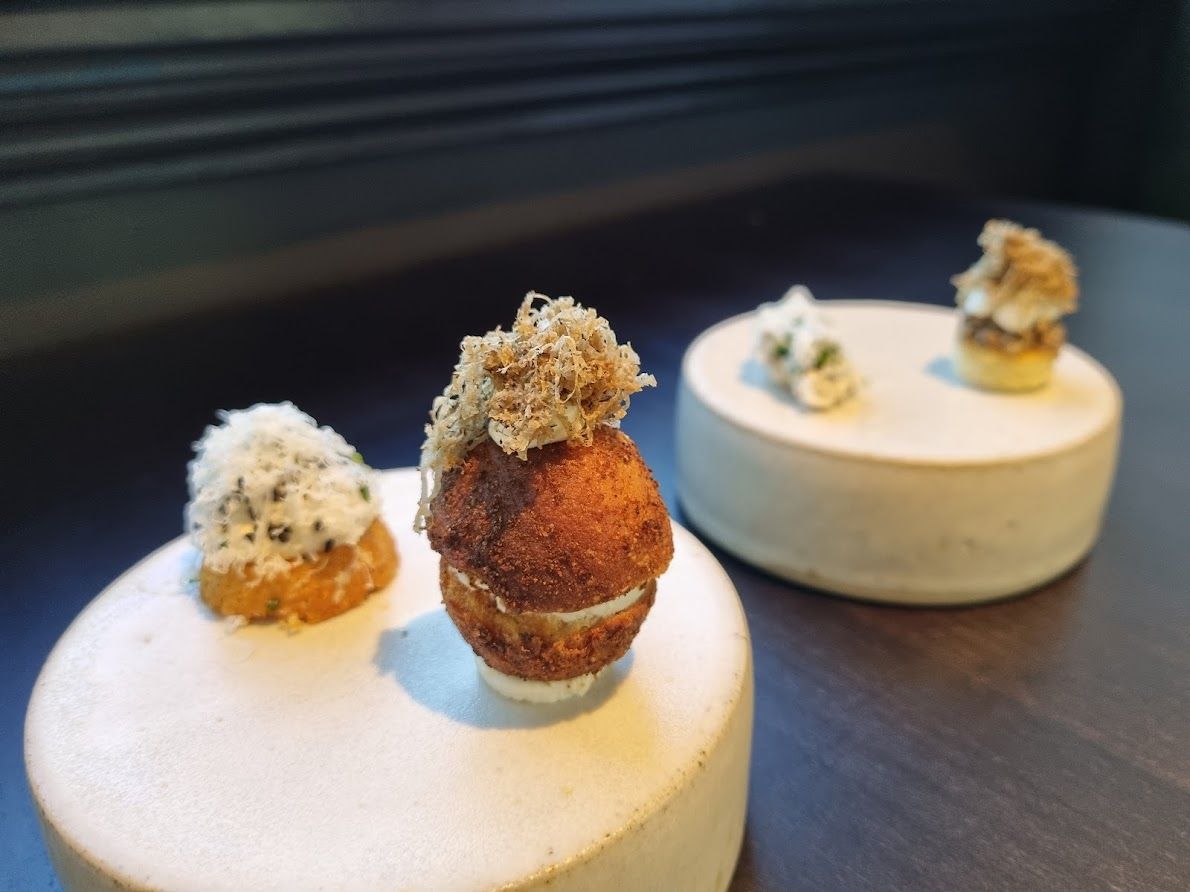 Next, the 'Bread'. Stephen Edwards' infamous Marmite Brioche with whipped seaweed butter, and seaweed crisps. Served straight from the oven and gloriously golden it is obvious why this course will forever be a signature dish.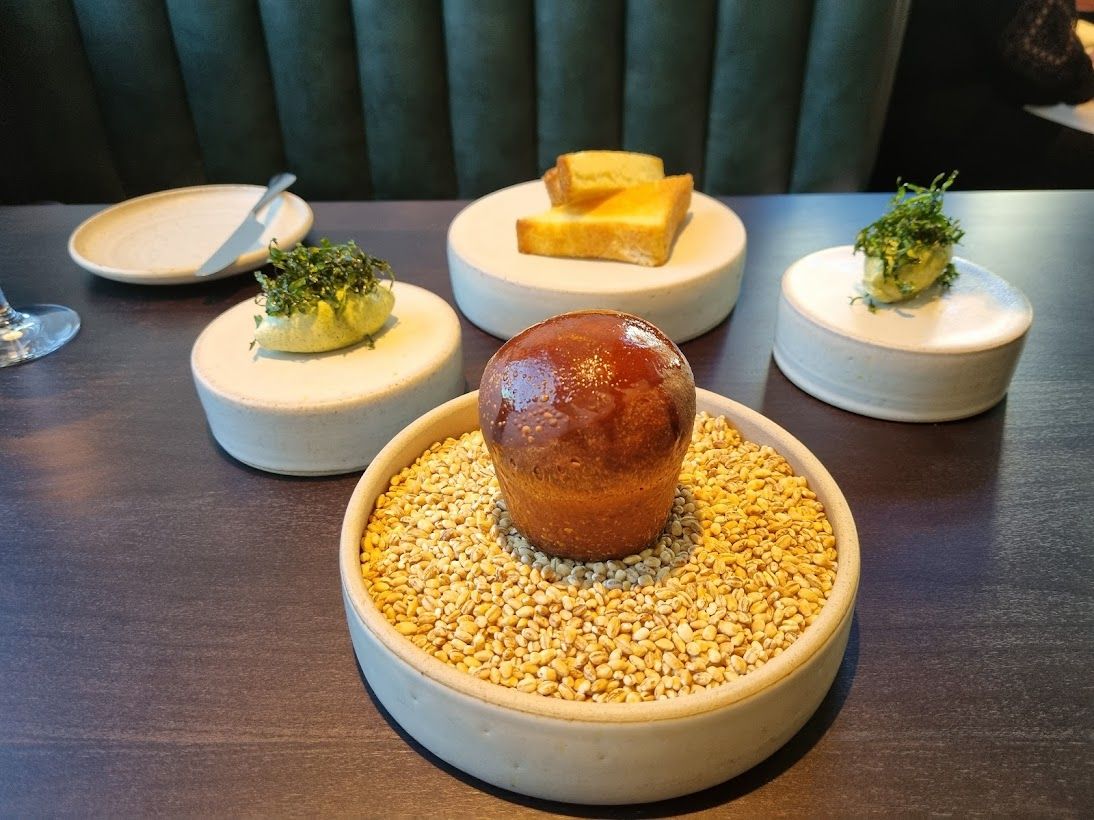 The 'Soup of the Day' was actually one of my favourite courses because of the glorious textures. The butternut squash soup was hand whipped to a creamy foam consistency, topped with soy roasted seeds and crispy fried sage leaves taking all those traditional flavours and turning them into something texturally unique. It was accompanied by a paper-thin tweal cone filled with creamy goat's curd and topped with salmon roe and edible flowers.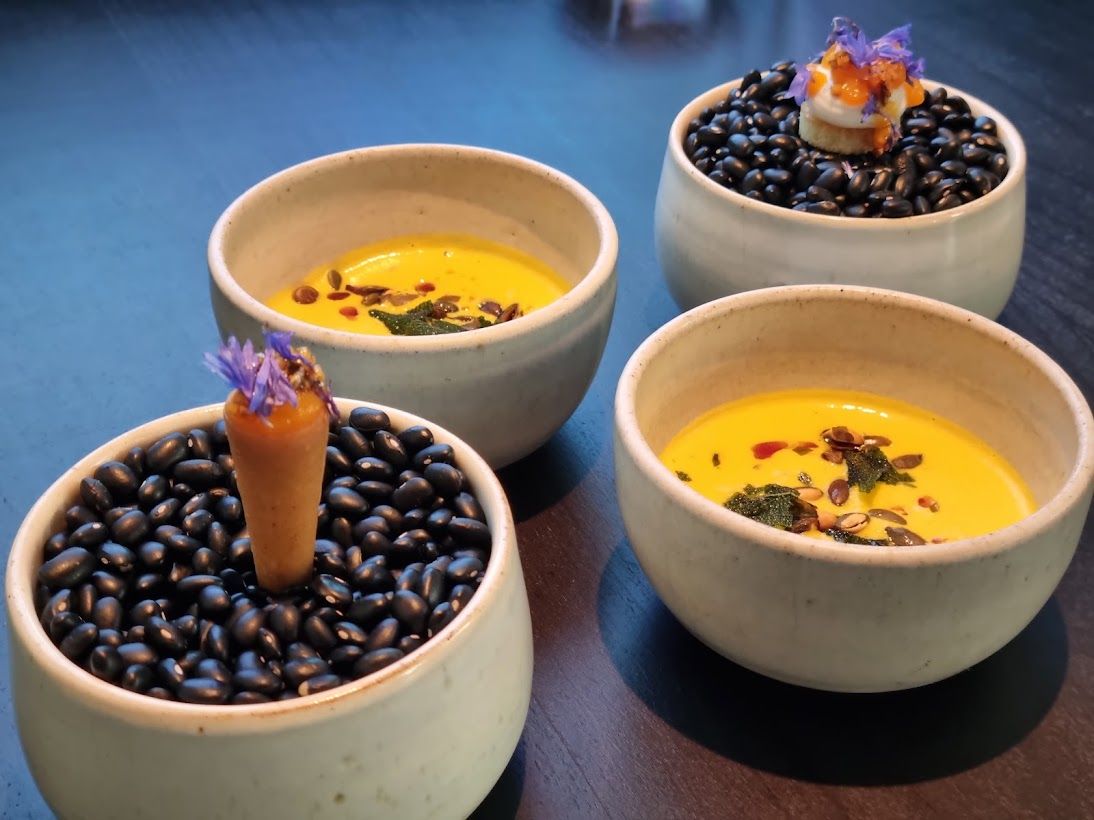 Paired with a Southan South African Chenin Blanc, this glorious sea creature was our 'Fish' course.  A beautiful butter-poached brill topped with a tangle of fried vermicelli noodles dusted with tarragon to add texture, atop a trio of parsnip which gave it a touch of sweetness, and set in a flavourful tarragon seafood emulsion.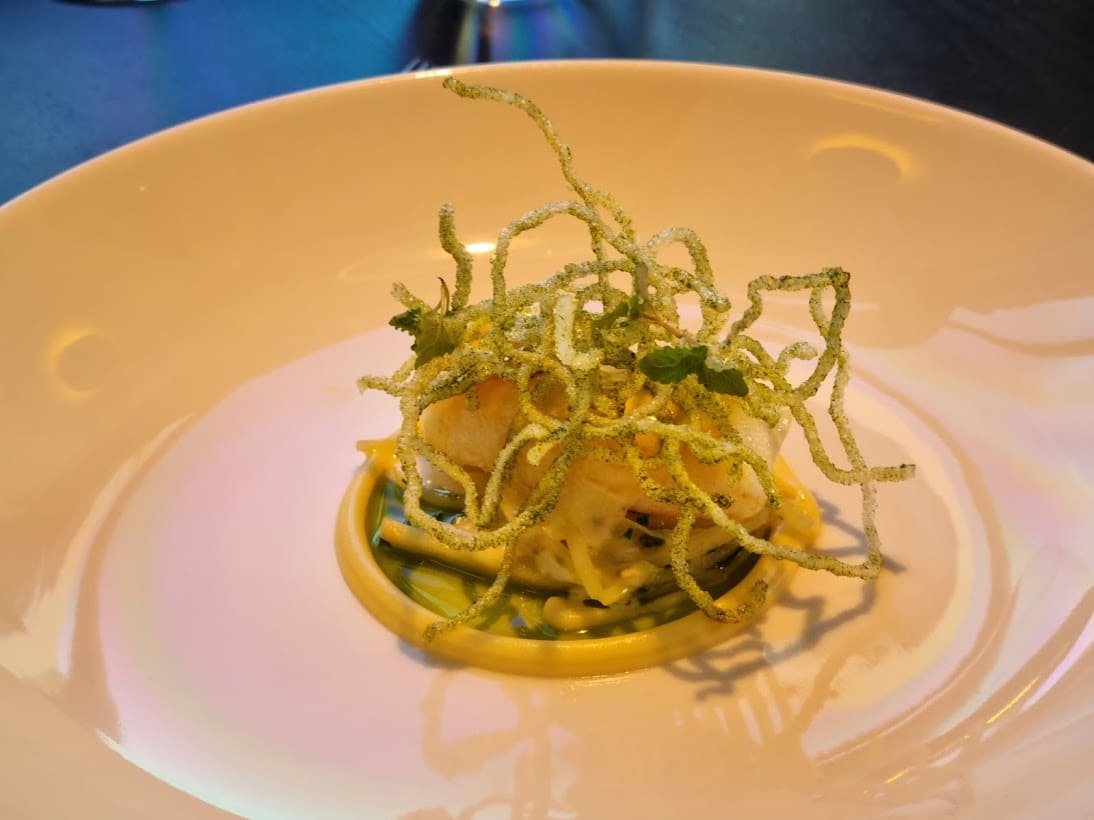 Next was an outstanding duo of duck, and the picture speaks a thousand words.
Perfectly rendered duck breast aside a rillette of duck topped with Sussex blue cheese, chicory, and fresh grape. A beautiful balance of flavours and textures that I could happily eat time and again.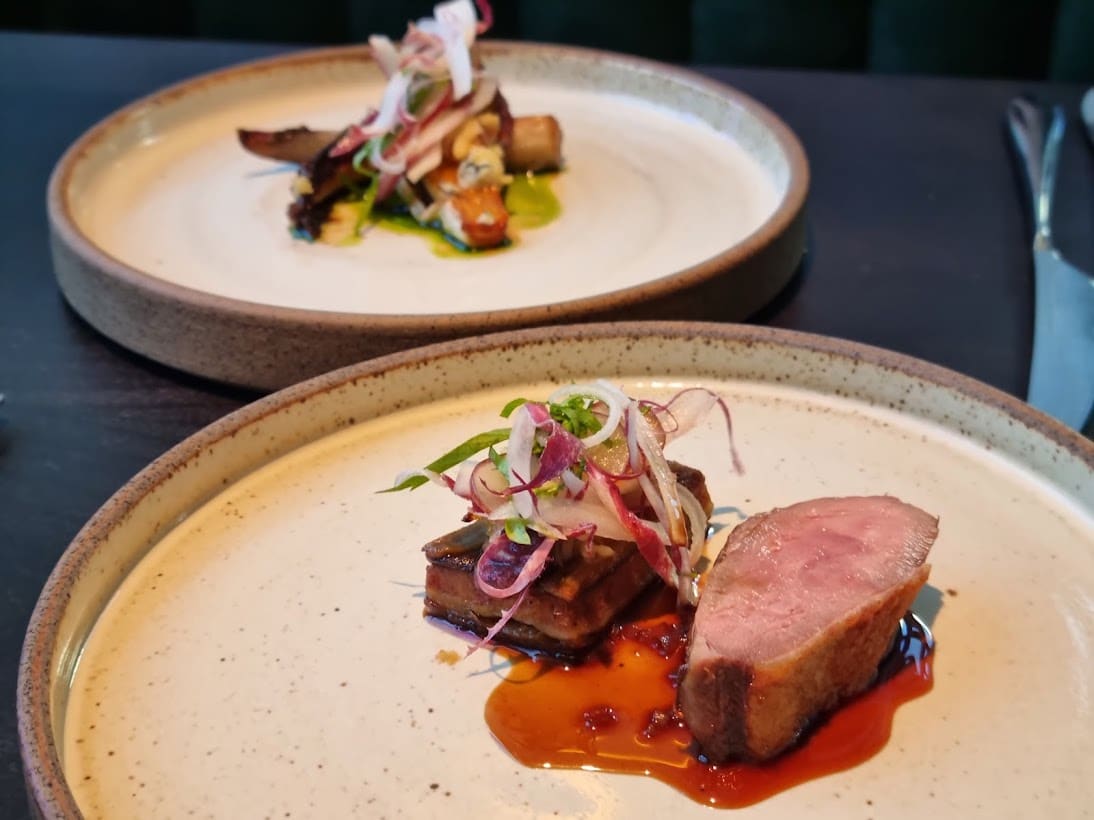 The presentation alone for the 'Dippy Egg' was a joy. Bright and colourful, and oh so tempting. For anyone who loves the first cut into a runny yolk, this was that and more. Sous-vide at 62 degrees the duck egg yolk was a glorious golden yellow topped with fried and pickled onion, with nasturtium leaf for a natural pepper flavour, and served with a delicate roll of savoury smoked duck.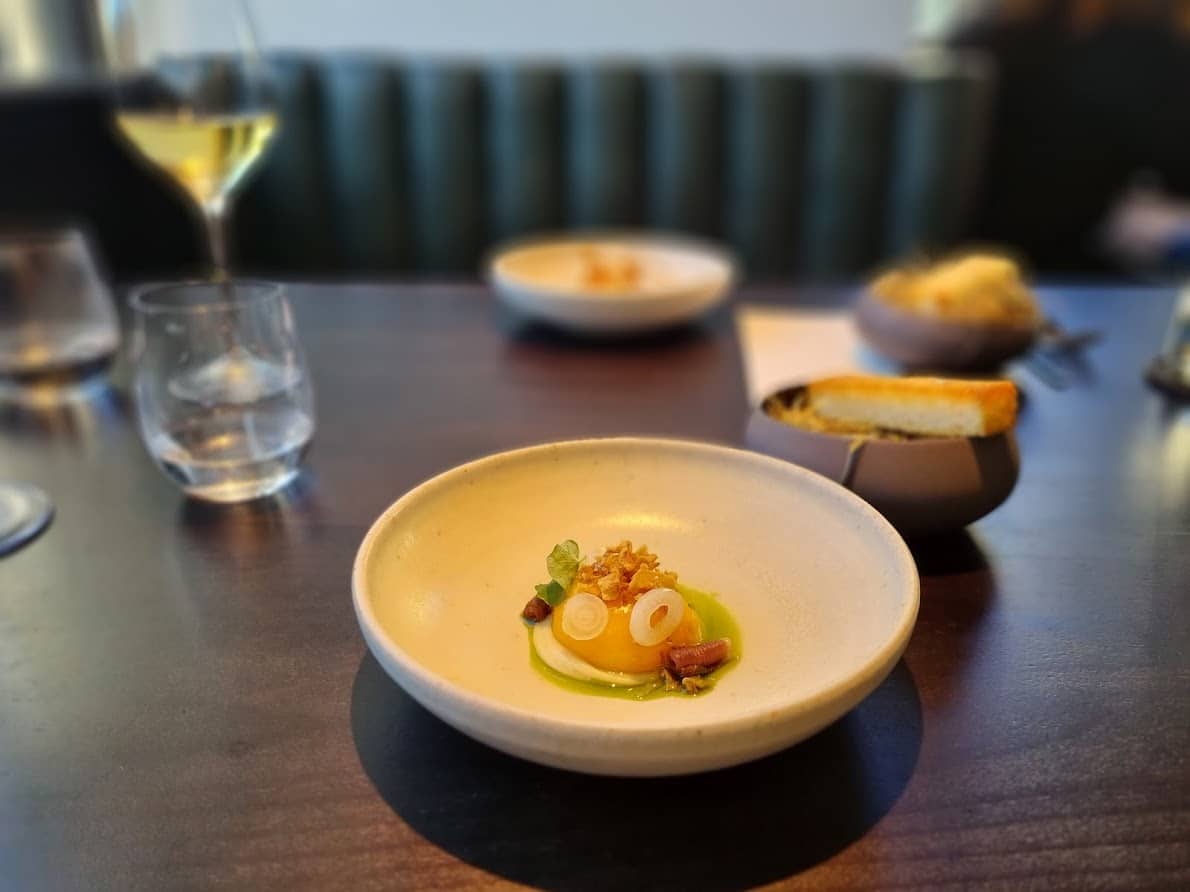 Full of colour, drama, and decadence, the natural lobster with squid ink tapioca crisp was the plate that made the whole dining room smile. Served atop braised cuttlefish orzo and drizzled with a bright green emulsion it truly is a 'wow' dish.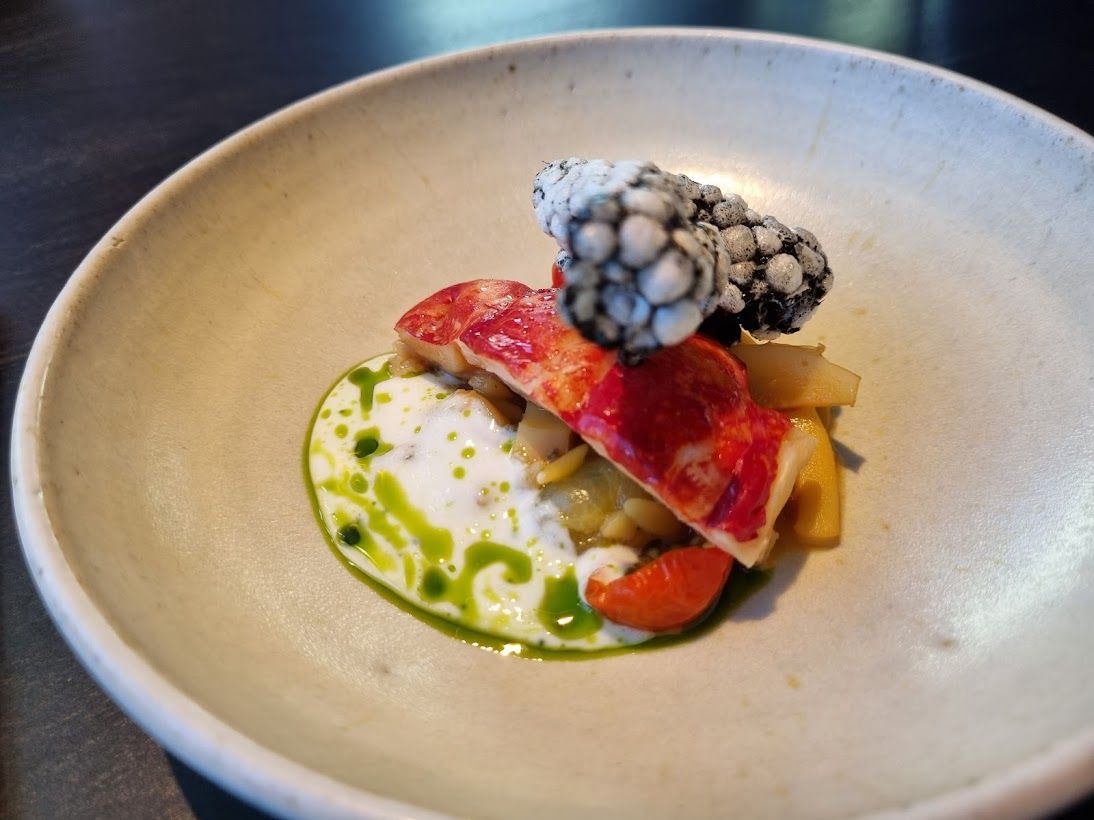 For the final main course, we were served a piece of blushing pink hogget and hogget terrine with grilled and creamy leeks. Hogget for those that don't know is a slightly more mature lamb, that is too young to be mutton. As the meat is not flavoured with spice the use of hogget allows the diner to have a richer flavour experience, and it was as tender and succulent as it was delicious. 
An English cheese course is one of the great joys of life, and when presented as art and served with a trio of fig and crispy tweal it is particularly delightful. The creamy sheep's milk Sussex cheese was paired beautifully with fig puree, fresh fig, and fig sorbet.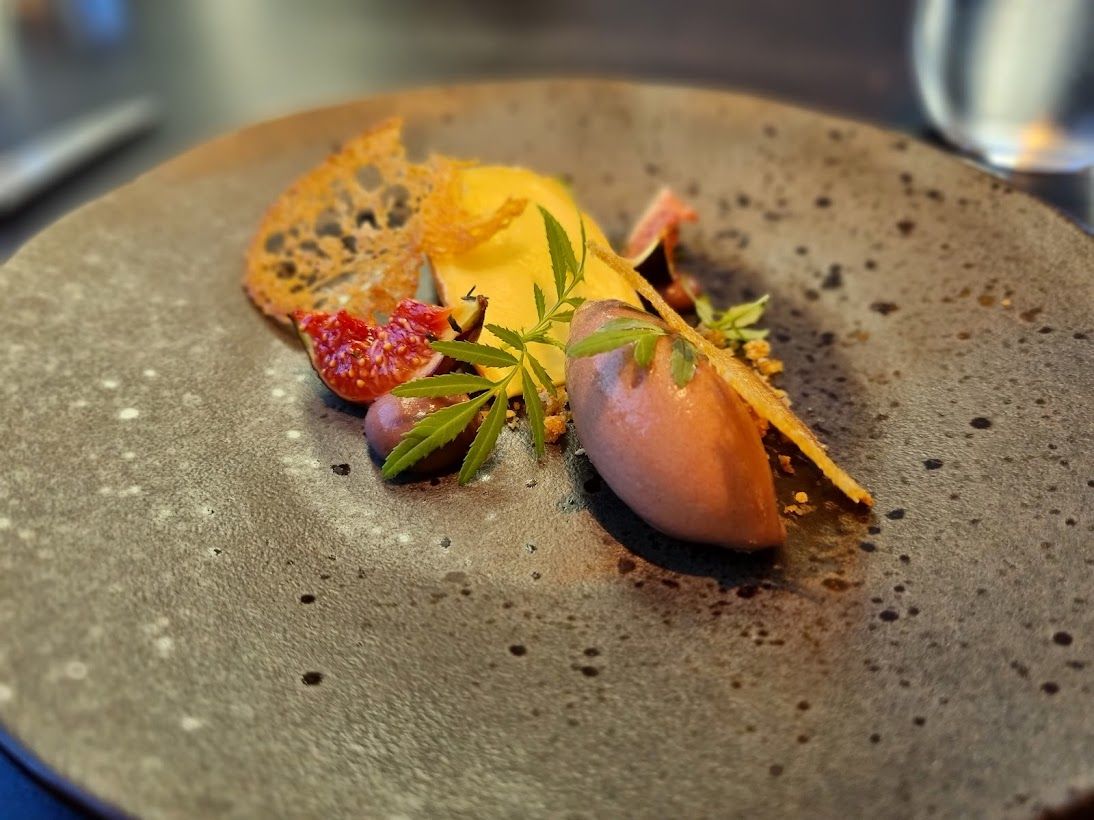 'Chocolate' one simple word that can mean so much.
In this case, it means a 66% dark chocolate coin, served in a bowl of chocolate nibs, as an accompaniment to cocoa nib tweal sitting atop a chocolate delice that was covered in a perfectly shiny mirror glaze and paired with a mushroom ice cream to cut through the sweetness. What is this magic?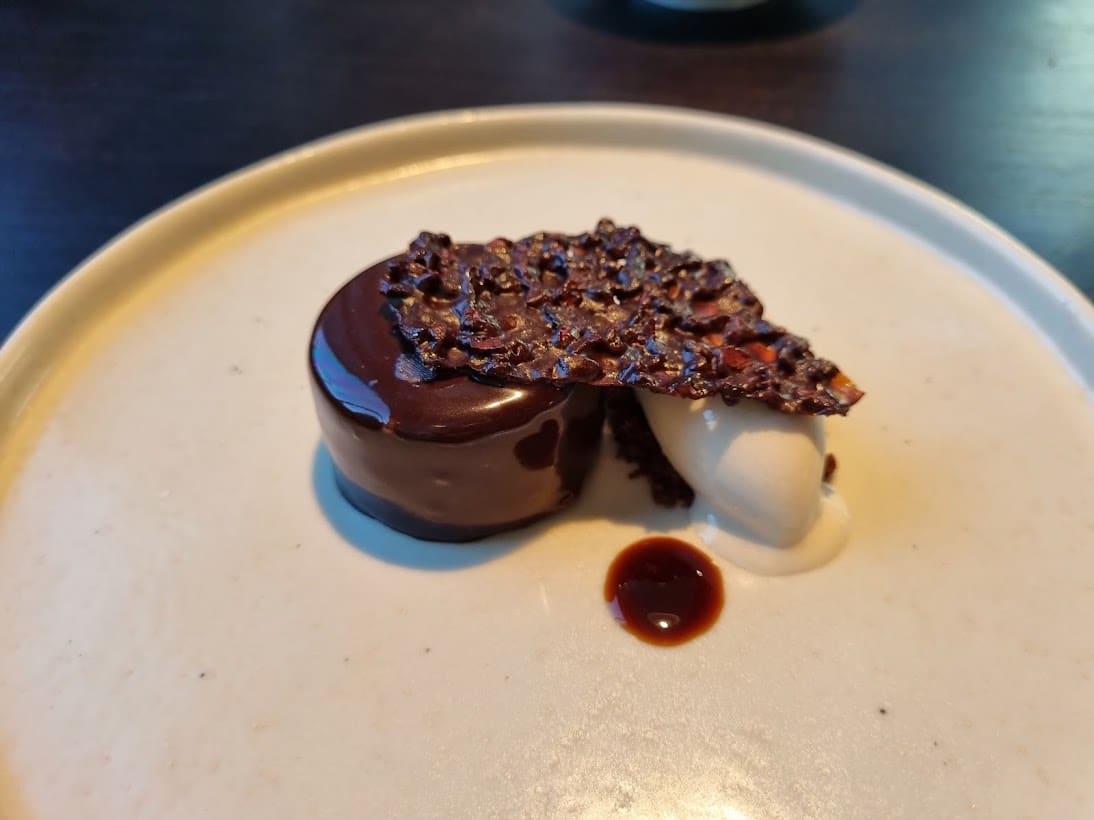 Next a short interlude of alcoholic chocolate cocktail bites…a skull negroni or a dark chocolate blackberry vodka cocktail.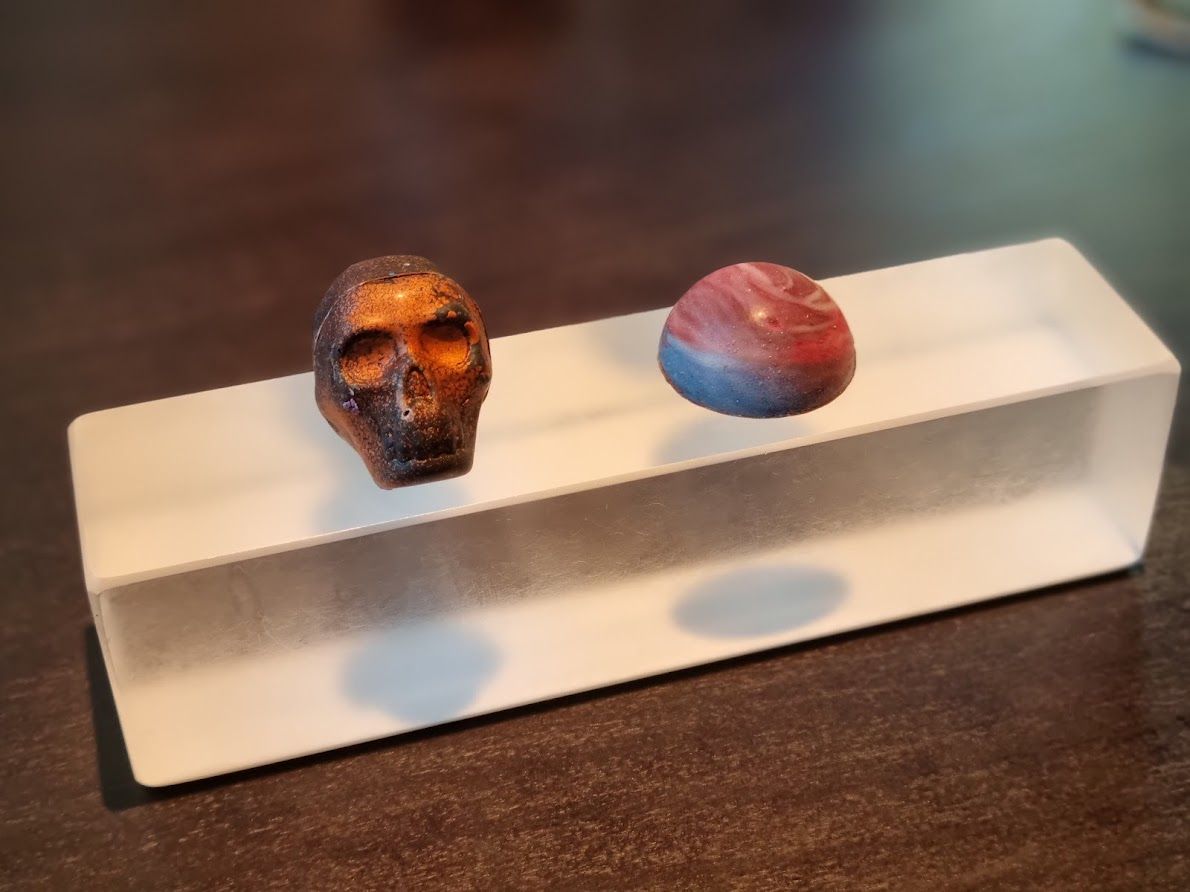 And finally, the dish that I didn't even know I needed. Blackberry three ways with sheep's yoghurt ice cream. Not only was it visually one of my favourite plates, it really was exactly what I needed to finish such a diverse and complex tasting menu.
The tart blackberry and the cooling, slightly bitter sheep's milk cleansed the palette and reinvigorated my over-worked taste buds. It was exactly what I didn't know I was missing, and that is the genius behind Stephen Edwards' exceptional talent and outstanding menu.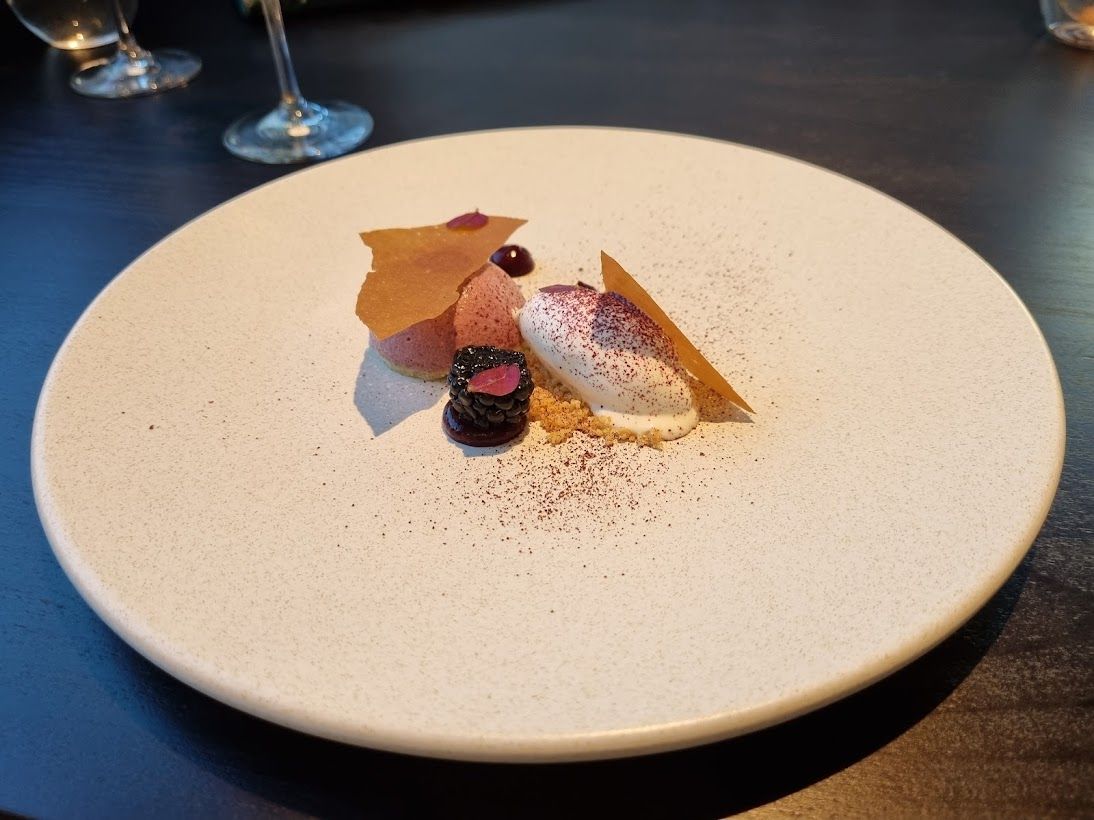 Once the meal was finished we were greeted by the head chef George Boarer who took us on a walking tour of the newly refurbished restaurant. Every single inch of the space was created by Stephen and George to be exactly what they wanted and it already looks incredible. From the bathrooms to the black out windows, every change was meticulously planned with the guest experience in mind. Although they are still putting the finishing touches on some incredible ideas, including a guest only cocktail area, the restaurant is absolutely stunning. To say I would recommend a visit to Etch is a wild understatement. It is quite easily one of my favourite dining experiences in Sussex and I believe everyone deserves to treat themselves to it whenever they can.