Hannah's four-course lunch is a seriously good introduction to etch.
Would it be overstating it to say that I had aspired to eat at etch.? Probably not. It has certainly been on my wishlist for some time; an unconquered, unknown, somewhere special that had remained just out of reach, until now. So when the opportunity to try the new 'Introduction to etch.' lunch menu came up, I couldn't help but feel a slight sense of relief as well as excitement. Some real insight at last.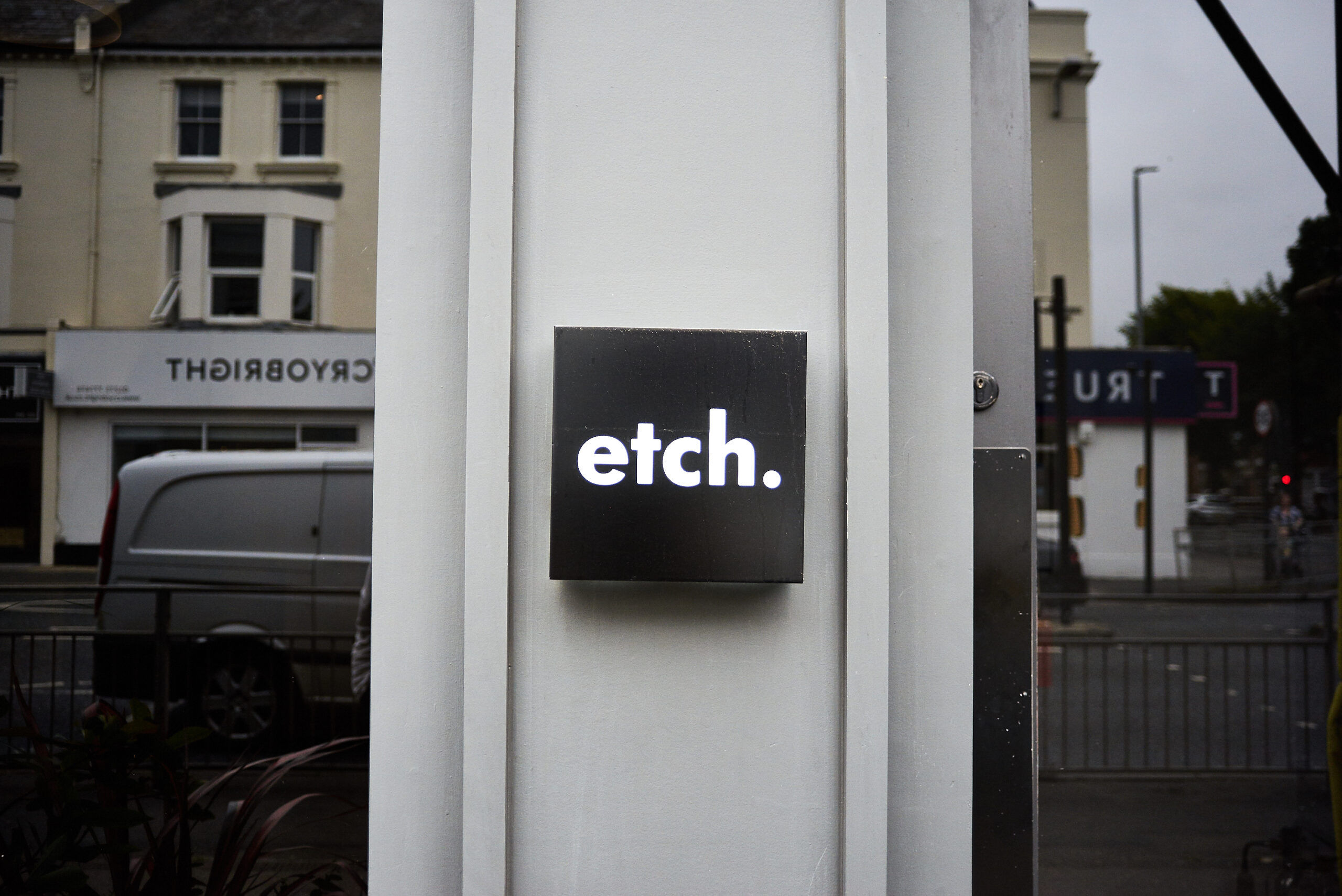 The flagship venue for Masterchef: The Professionals winner and executive chef Steven Edwards, etch. is no longer new to the Brighton and Hove restaurant scene. However, it is still very much on the lips of the city's epicurean community, known for its quality and innovation, as well as its dedication to local and British produce to create daily-changing seasonal tasting menus. 
Just Beneath The Surface
Housed in the shell of an old bank, you feel a sense of calm refinement as you approach the stormy graphite exterior. We were warmly met at the door and immediately shown downstairs to the subterranean Ink Bar. Previously a tattoo parlour, Ink embodies an edgy glamour we like in the city; dark decor and neon artwork by Ben Slow in enjoyable contrast. It feels miles away from the blustery street we had just left behind.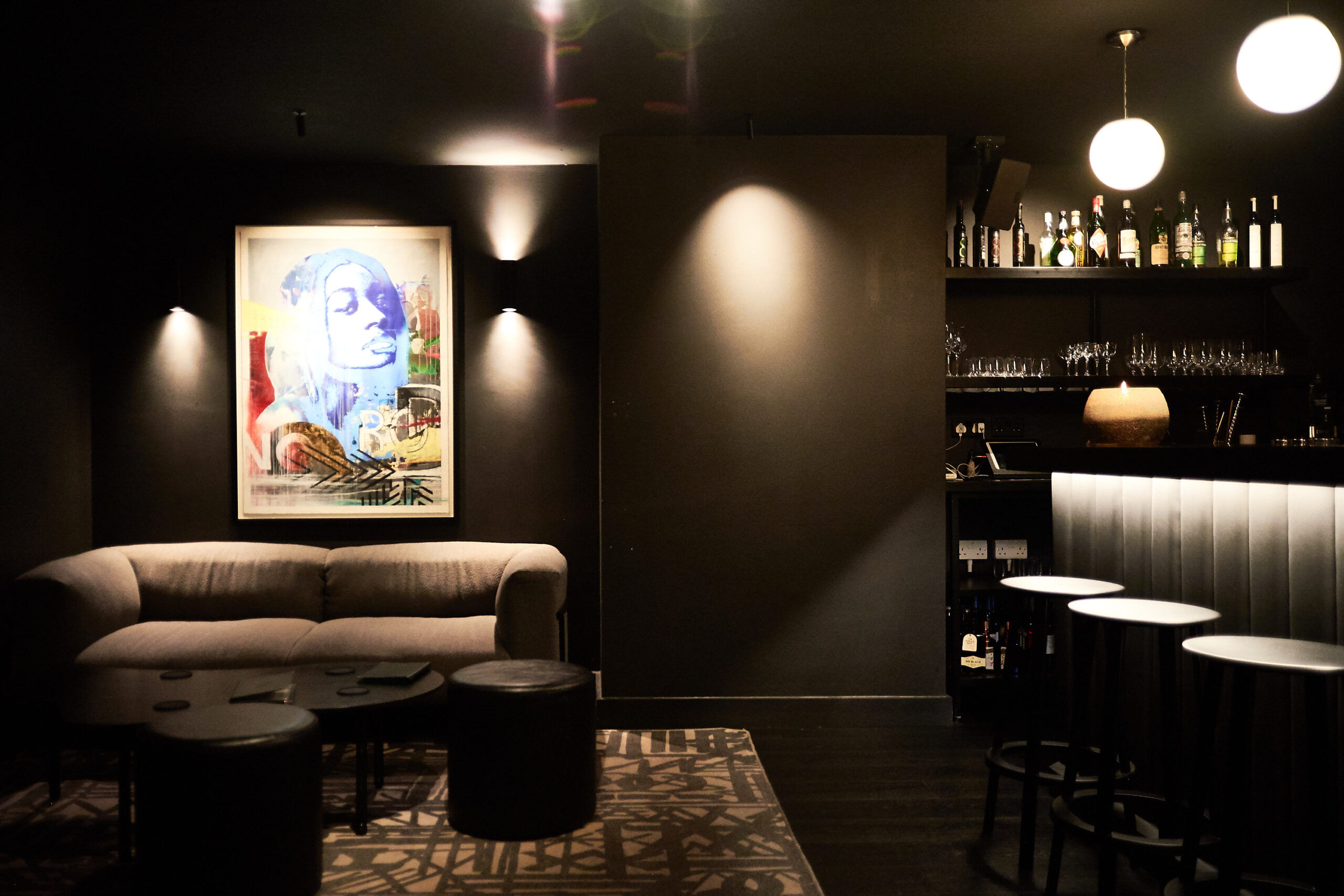 Comfortable at a plush corner table, we ordered from an enticing selection of mocktails, featuring surprising combinations of sodas, non-alcoholic spirits and seasonal ingredients including seaweeds and exotics. I plumped for 'We'll Always Have Paris' because the name tickled me. A fresh, appley, citrus iced tea, made thoroughly grown-up with a splash of Mt Fuji Bitters, it made a great aperitif for a weekday lunch. My friend Emma ordered 'About Thyme', which may, or may not, have been a comment on my timekeeping abilities. Paranoid, moi? Anyway, it was delicious, fruity kombucha-based loveliness.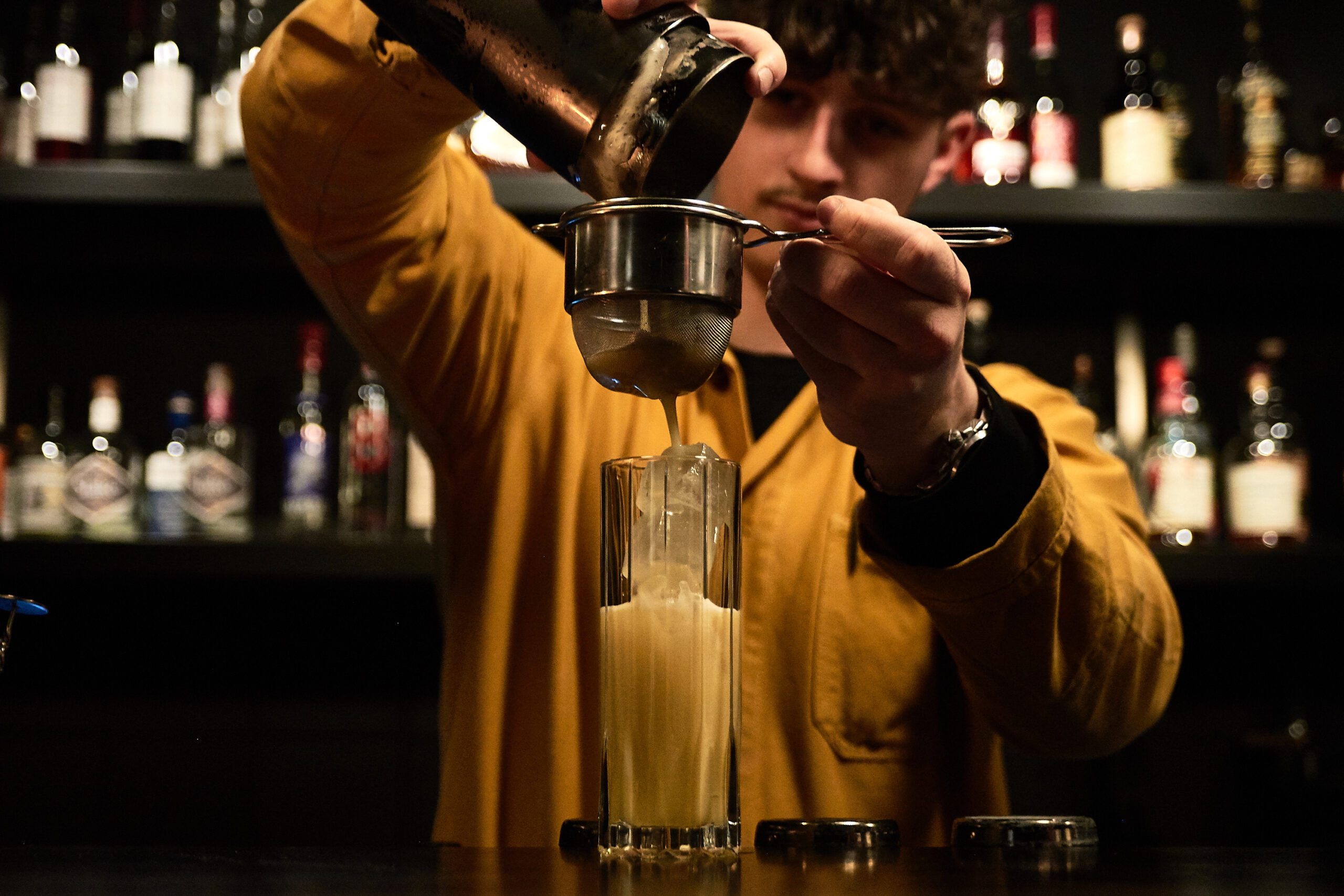 I will certainly be back to try some of the amazing sounding offerings from the main cocktail menu (when I don't have to do the school-run afterwards).
A Gallery of Gastronomy
Next, to our table in the main restaurant for our four-course lunch. An airy, open space, the white room is rimmed with huge arched windows and smart, leather banquets in etch.'s signature graphite grey and darkest racing green. Chandeliers are encased in white muslin. The result is minimal but elegant and luxurious at the same time. More modern art brings pops of colour interest but nothing disturbs the eye – the ambiance is that of a chic gallery. I like it.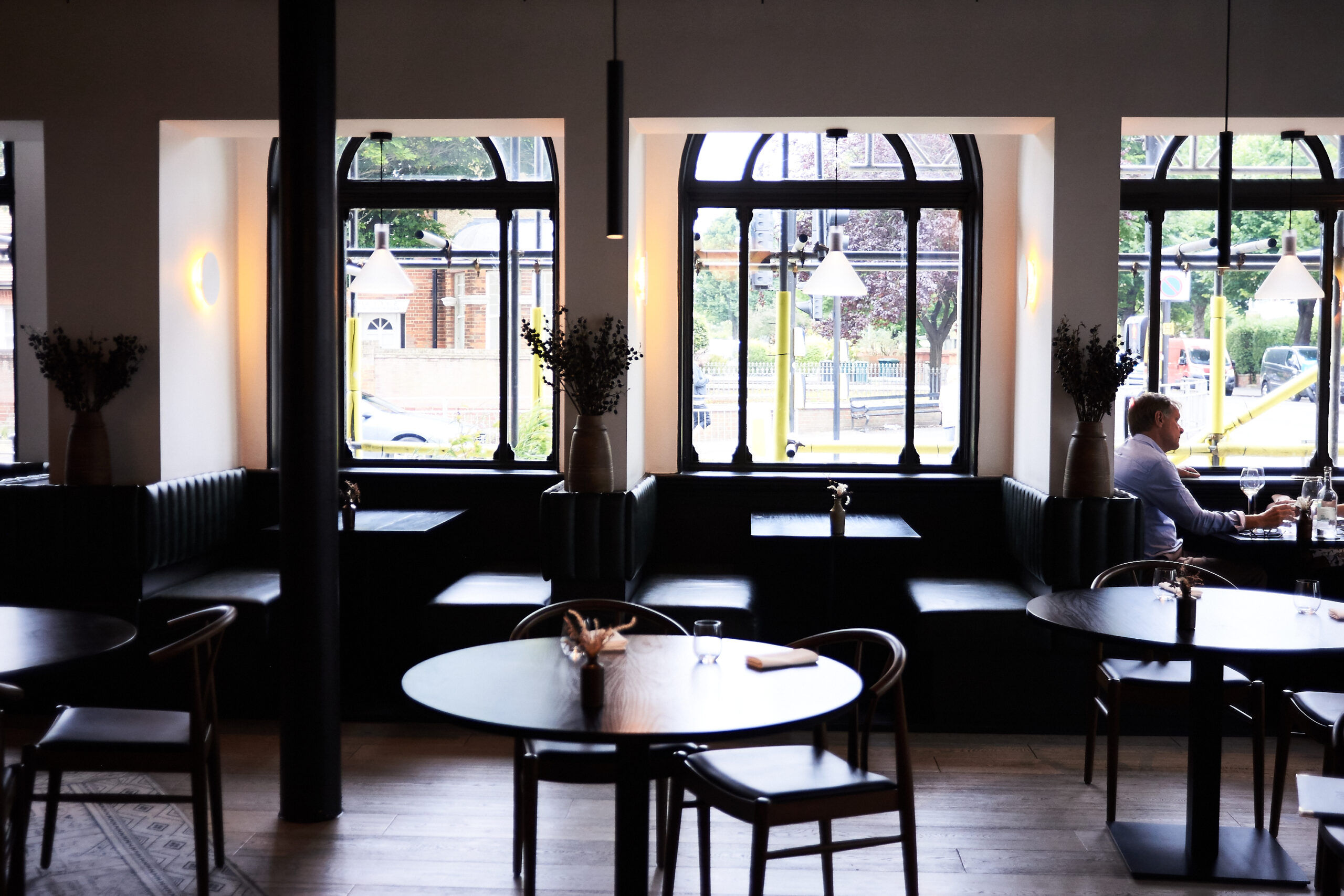 We're installed at the best table (in my opinion), a banquette directly facing the open kitchen. We have a perfect view of the action, but with distance and careful lighting, I am again reminded of art. This time, more painterly, a masterpiece in motion. We're here to try the 'short' four-course – Introduction to etch. We sit back and relax, trying to imagine what might arrive – there is no detail on the menu at all…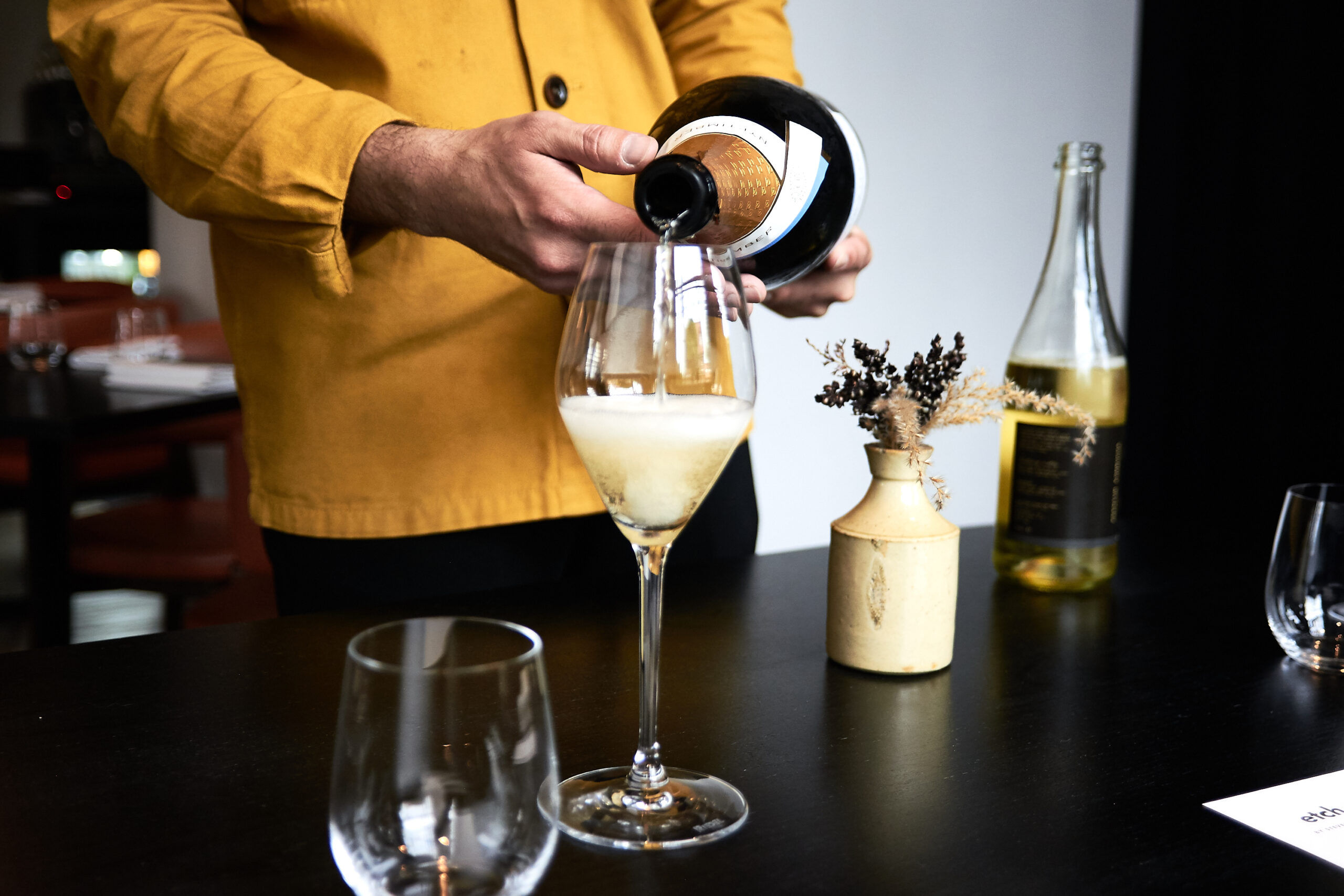 To start our four-course lunch. we are poured a glass each (just one) of Nyetimber's Classic Cuvee. It is perfectly chilled, Champagne-style English sparkling; very bready, mouthwatering and reliably one of the best. Alongside, there is a plate of 'snacks'; a savoury shortbread topped with truffle cream, fresh herbs and Twineham Grange cheese, and a marmite spike mini-donut stuffed with a whipped creme fraiche and more truffle. Both are luscious bite-sized flavour bombs, with layers of flavour and texture; deep umami set against the soft, salty dairy with herby top notes.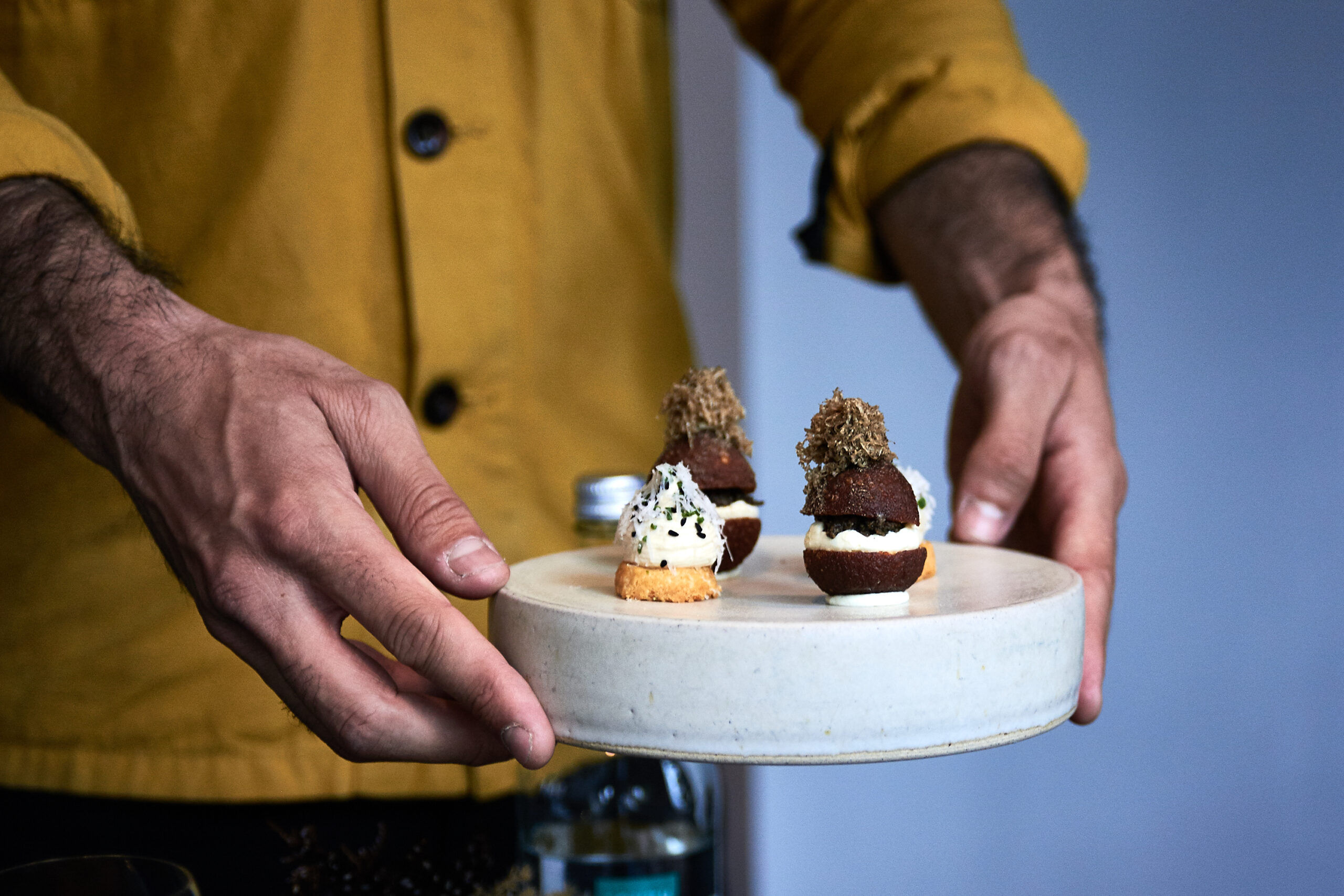 A slight, knowing smile spreads across our faces. This is going to be a real treat. 
Glazed, laminated marmite brioche is brought straight from oven to table, with a vivid-green seaweed butter, smooth and creamy with tiny strands of seaweed piled on top. Experience tells us to fight the urge to wolf the lot. It is a struggle we barely win. 
Celebration of Summer Produce
A thick, broad bean veloute is a celebration of summer produce. It tastes of, well, broad beans but better. Confit, podded broad beans and tiny fronds of fennel decorate the surface.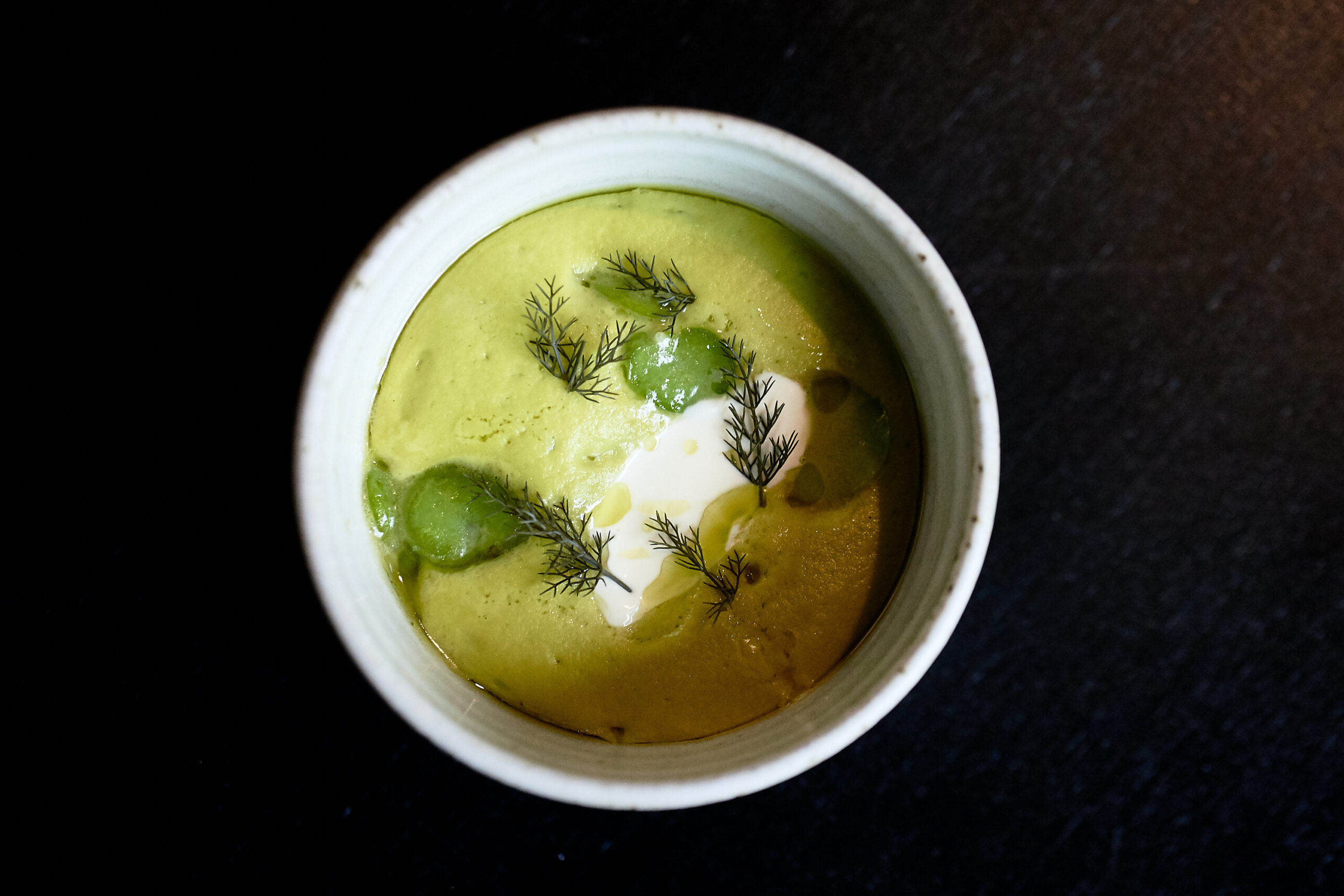 Delicate cones of crispy 'pancake' have been stuffed with creamy Golden Cross cheese mousse and fennel jam are served on the side.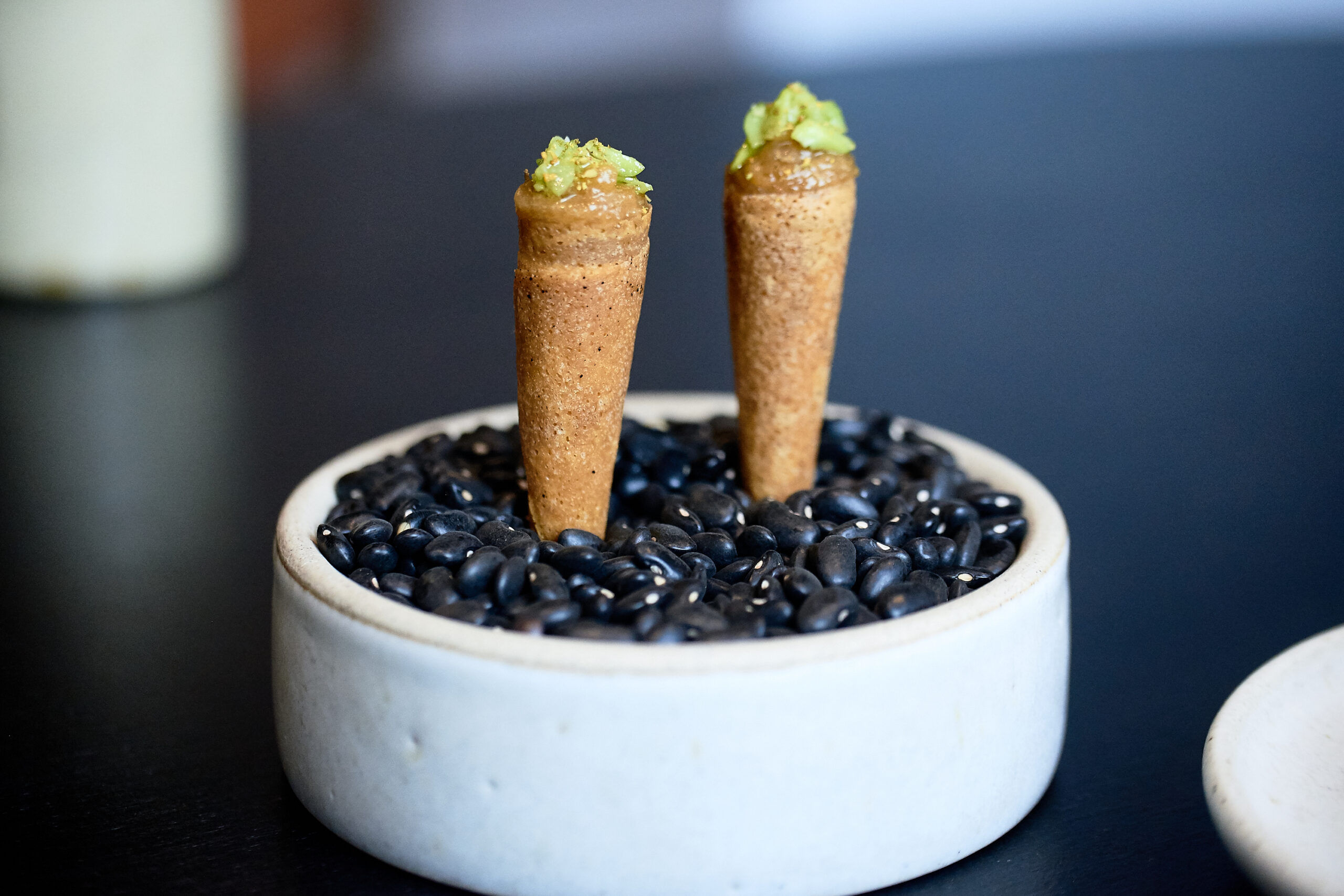 The fish course is a square of Gilthead Bream. This was probably the most delicious piece of fish I have ever eaten; the skin, perfectly crisp, atop succulent, flakey flesh. This is THE catch of the day. Served with blackened artichoke and a fresh green basil oil cut with vinegar and a hint of fresh mint.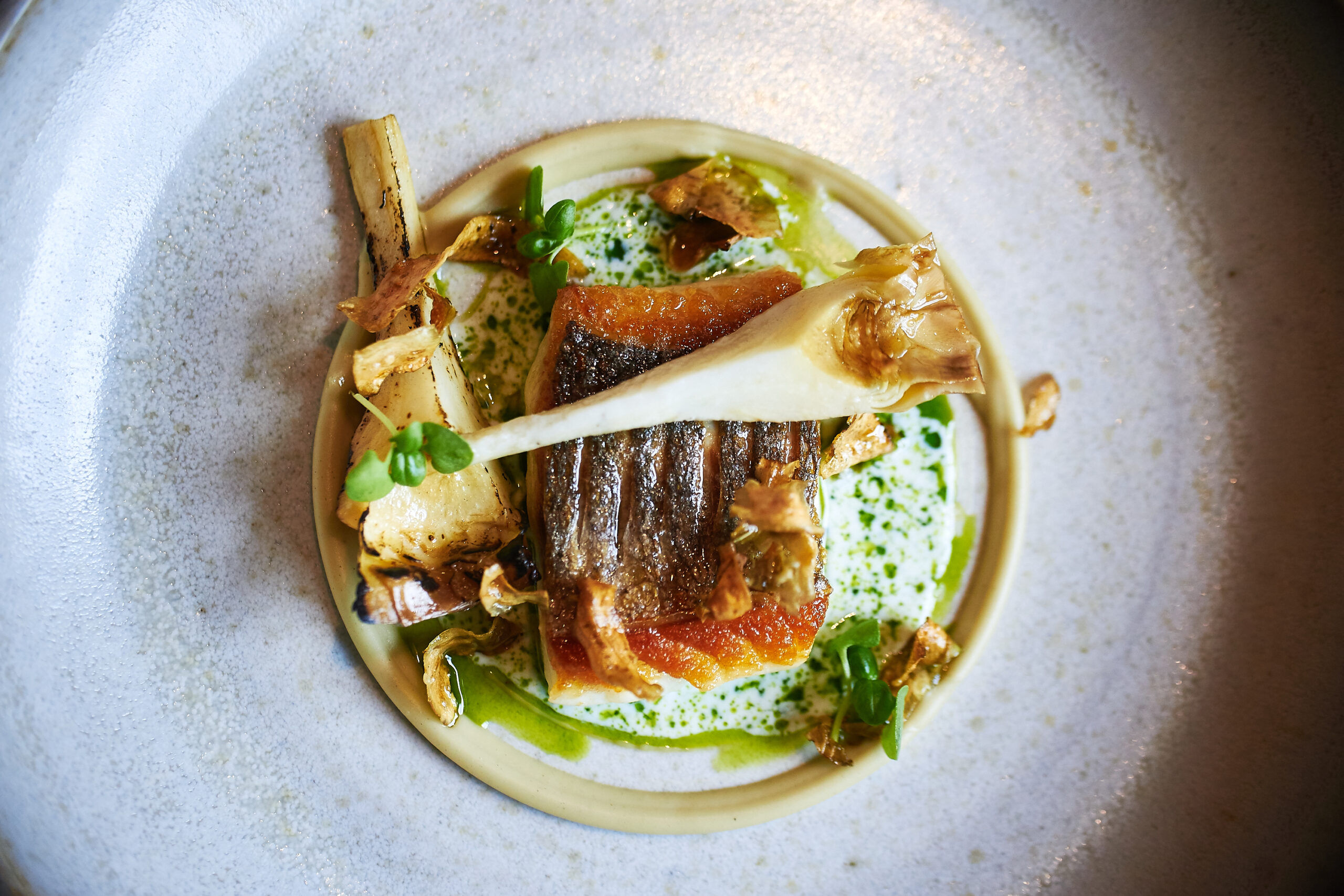 Next, a trio of pork. The loin is softly pink, there is a cube of caramelised belly and a meaty tempura bite brought together by a deeply savoury jus. Courgette makes a guest appearance in sliced and pureed form. Another pleasing hint of summery mint cuts through the richness.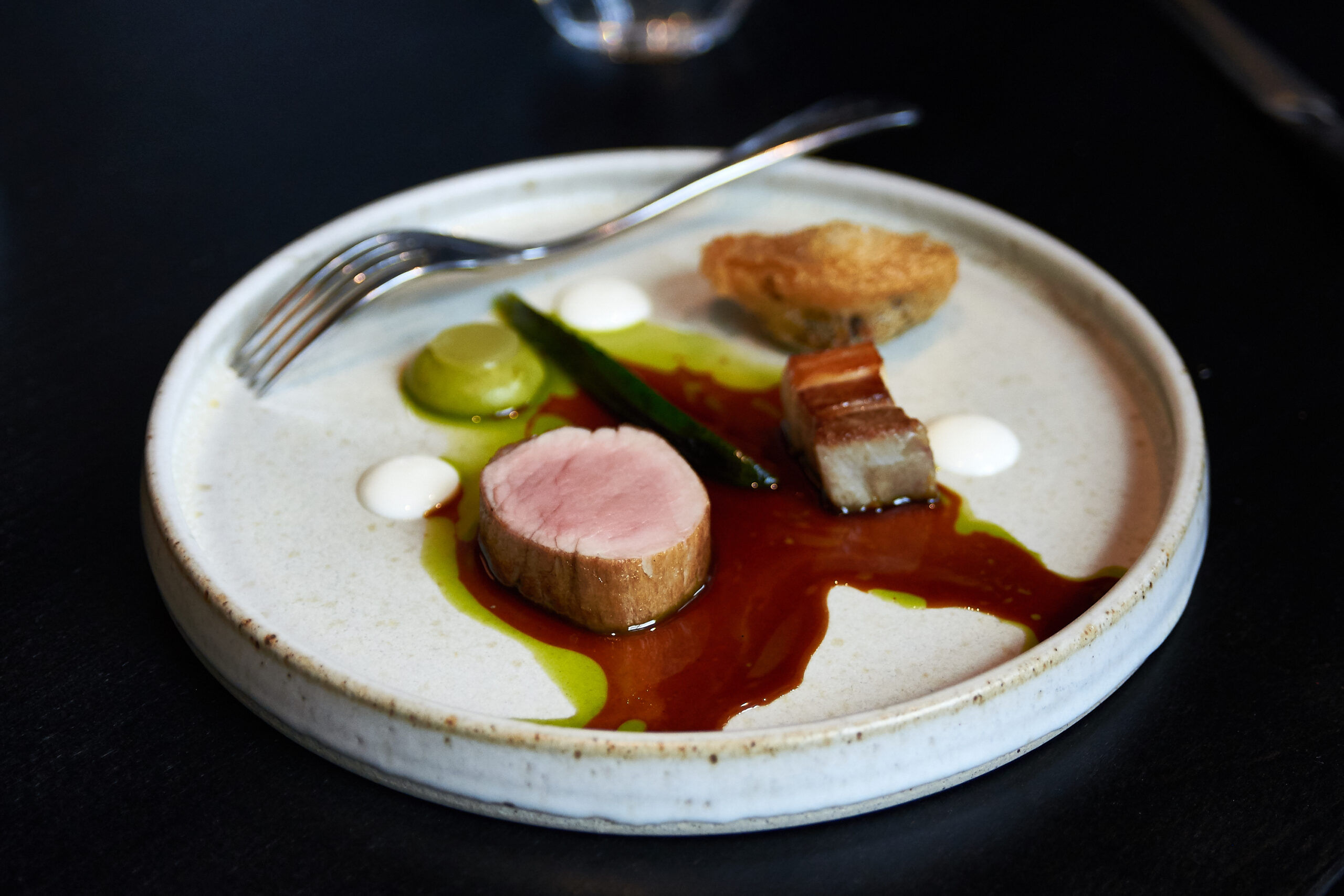 Emma asked for the vegetarian option for the four-course lunch and is presented with a delicious, nutty courgette Wellington.
Lovely Surprises at our four-course lunch
As committed gastronomes, Emma and I commit to sharing the additional cheese course. Baron Bigot is a Brie-style cheese from Suffolk, excellent in its pure form. However, never shy of making some extra effort, the etch. team served it flamed with gooseberry jam and gooseberry sorbet – salt, sugar, hot, cold – with the crunch of a sliver of sourdough toast to offset the soft. Such a lovely surprise.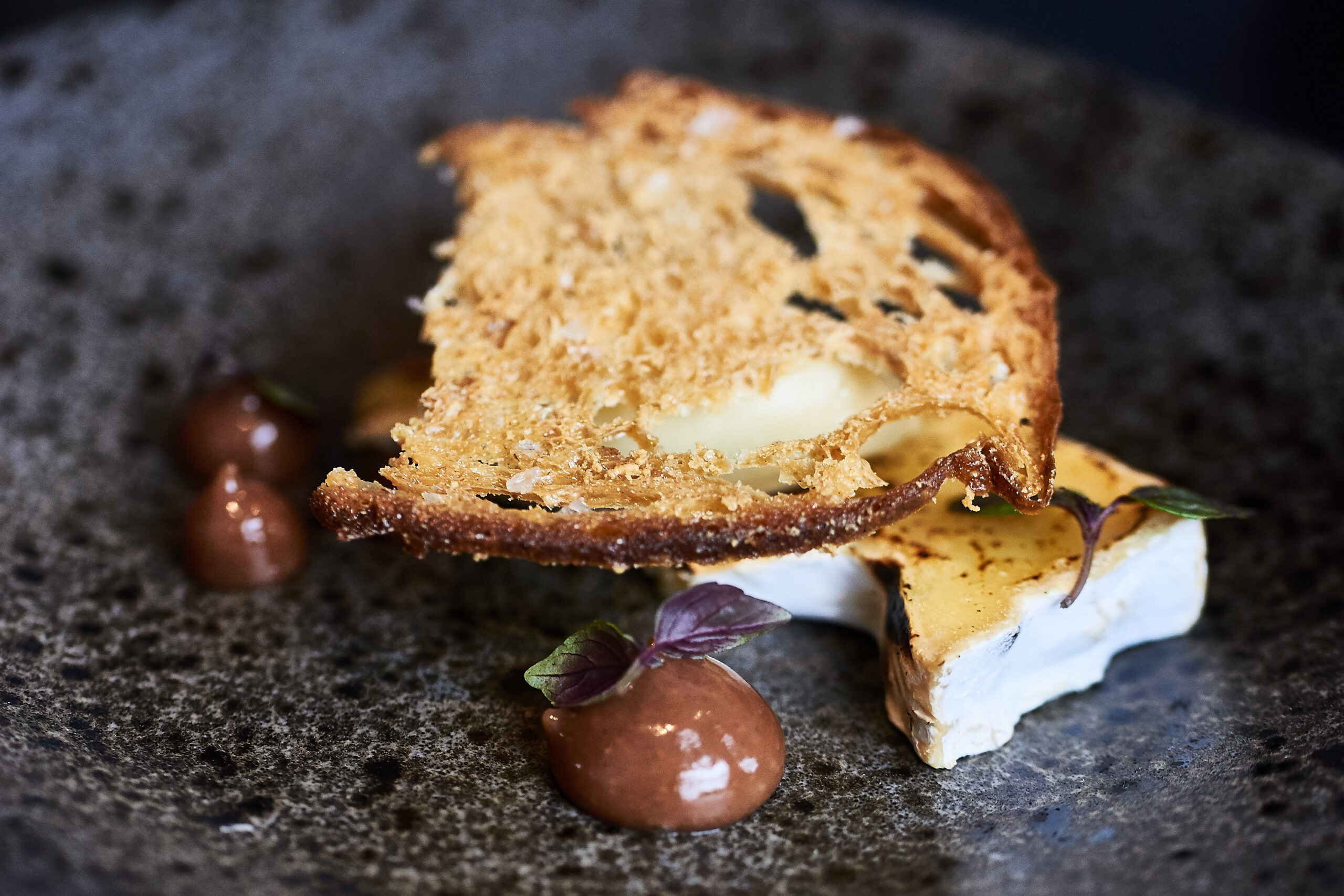 For dessert we were treated to clotted cream dipped in strawberry jelly presented as a pretty, translucent, pink dome, served with juicy strawberries, scone crumb, ice cream and a crisp, bee pollen shard. It is light, refreshing and nostalgic all at once.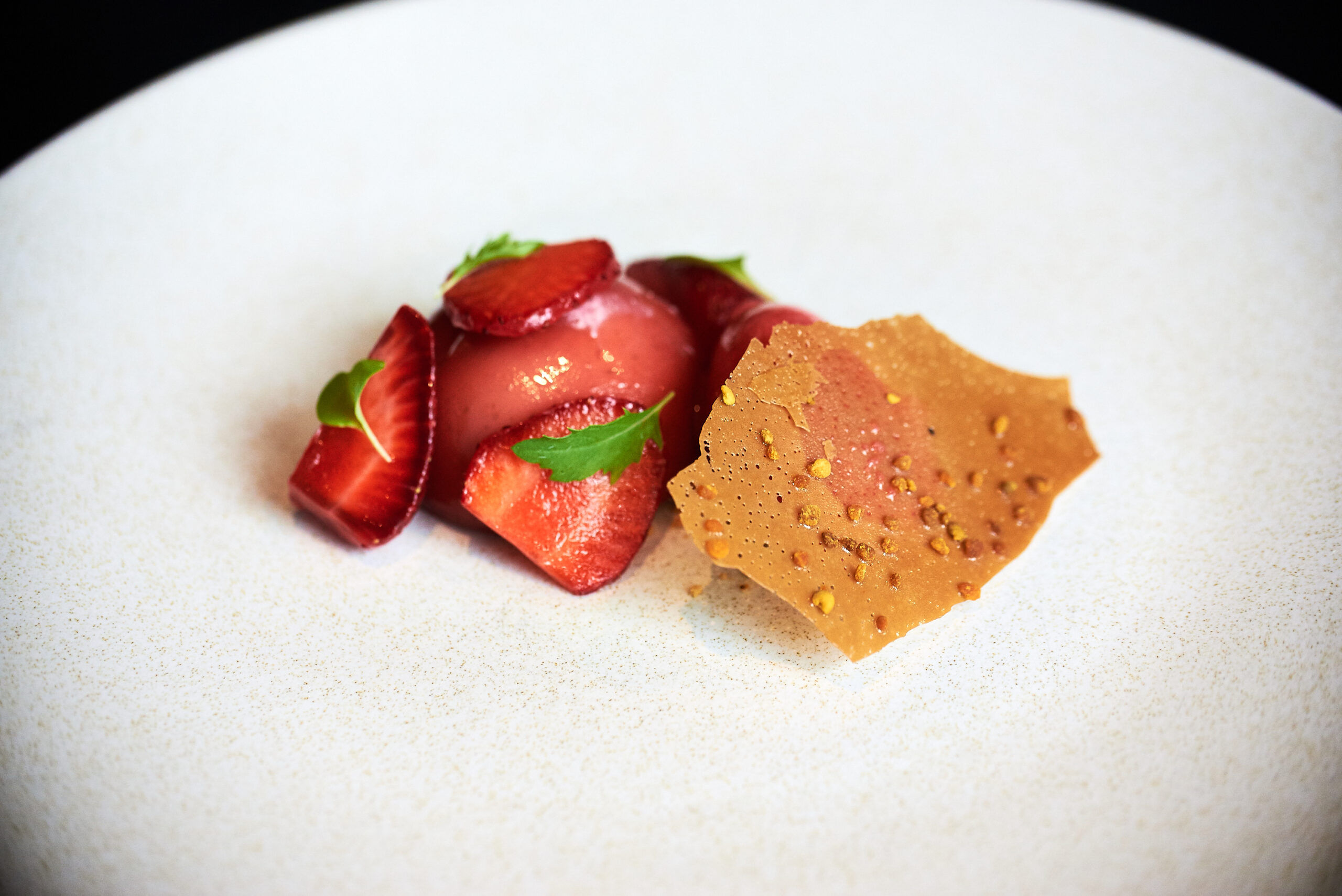 Steaming cups of Backyard coffee rounded off our lunch and were served with Sussex spirit-laced petit four.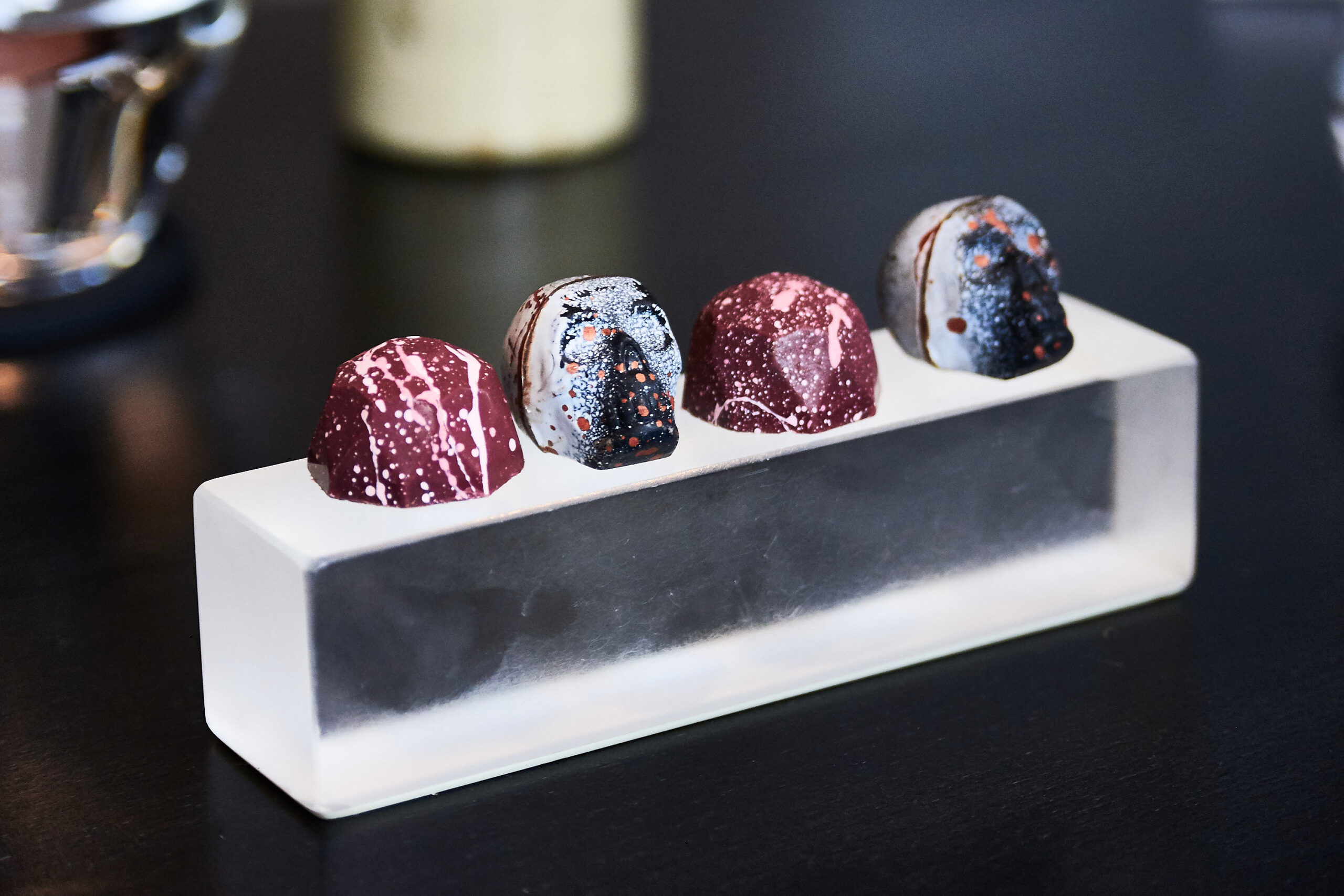 A Seriously Good Four-Course Lunch
Prepared by award-winning head chef George Boarer and his team, our wonderful lunch at etch. was beautifully balanced, thoughtfully conceived and ultimately, delicious. The service was faultless, relaxed and comfortably understated. With four courses at £50 pp, it requires less commitment than the full evening offering but diners do not lose out on the culinary brilliance; each plate a work of art.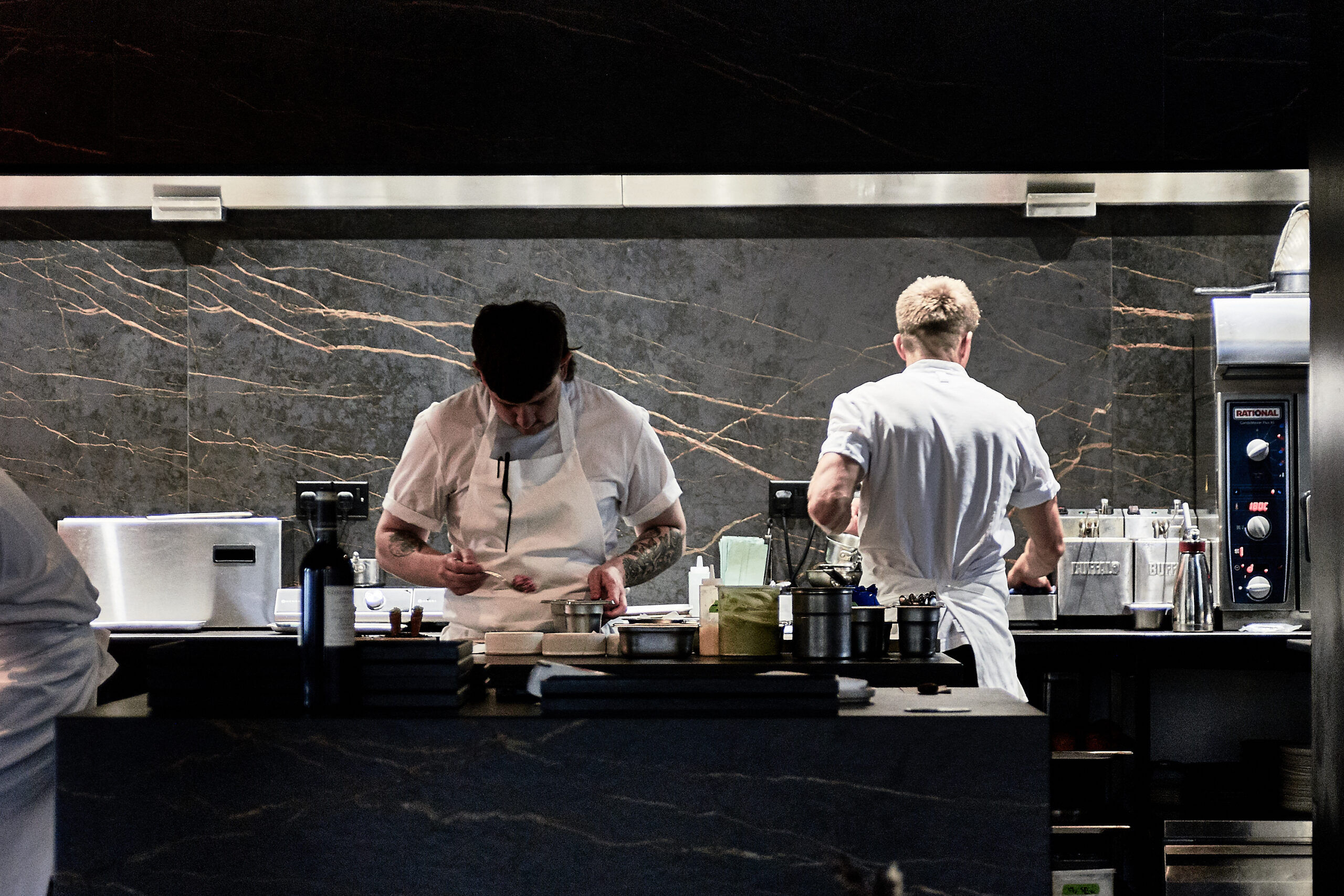 This place is serious about food. If you are, you'll probably want to eat here, and the four-course lunch menu is a very good place to start.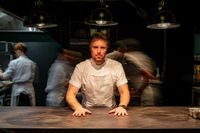 Want to know more about etch Brighton, by Steven Edwards?
Find Out More