Summer Supper in Sussex
Thursday night. Nothing planned. Except Spag' Bol' and a bit of TV.
Neither of us felt like cooking, so when we decided to jump in the car and head out into the country, we didn't look back.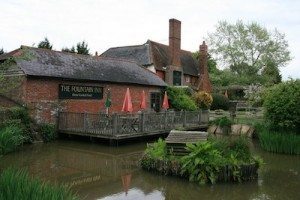 I've been to the Fountain Inn in Ashurst before but it was about 10 years ago.
I don't remember much except that it felt very cozy and 'oldy worldy' and it's only 20 minutes or so from Brighton.
The Inn is 16th Century and has kept its archaic charm.
When we arrived, the first thing I noticed, despite it being dark, was a beautiful, blooming archway trellis in the back garden leading from the car park to the pub. This was met by a gorgeous old apple tree.
As we walked in, my boyfriend Tommy had to stoop to get through the very low arched doorway. In fact, I think he had to stay 'stooped' until we sat down.
I wondered if he felt like he was in 'Alice in Wonderland?'
The place certainly had a 'fairy tale' feel to it.
The tiny, old fashioned bar was to the right, with a few comfy tables for those who just want to relax by the open fire with a local pint.
The restaurant area was to the left. This wasn't a big open plan space however, but a few small, cozy rooms with just a few tables in each. We were sat at a table which looked out onto the pretty front garden.
The tables were set very simply with a pretty wooden candle stick on the window sill.
The back of the menu had a black and white picture of the pub which was presumably taken several hundred years ago. It looked almost haunting.
The menus came out on dark wooden clipboards. There was a good choice of each course.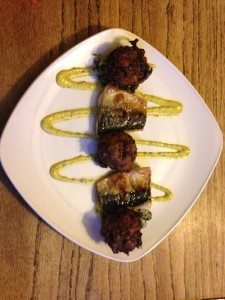 All the starters looked so good I couldn't decide.
After to-ing and fro-ing I went for the Grilled Pear William, Toasted Hazelnuts, Spinach, Rocket and Watercress, Brighton Blue Cheese and Basil Dressing. Bit of a mouthful!
Tommy went for the South Coast Mackerel, Shallot and Coriander Bhaji, Mint Relish, Curried Aioli.
He thought I was going to go for this one, as Mackerel is my absolute favourite fish ever. However, I was a bit unsure about the 'Indian' aspect.
Usually very adventurous, I just couldn't quite get my head round it. I was glad Tommy chose it though as I wasn't too afraid to try.
We both chose a glass of Red to go with dinner. Tommy went for his 'obligatory' Pinot Noir – an Argentinian one by Humberto Canale.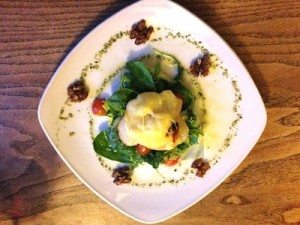 It was lovely. Juicy and fruity. The Skaapveld Shiraz I had chosen was a few notches punchier. I could almost taste charcoal from a barbeque.
The wine menu was more of a book than a menu.
What I liked about it apart from the extensive range of wines to choose from, was that underneath every single wine, there was an unpretentious, almost humorous description including which food it pairs best with.
When our starters came (very promptly), we were both impressed with the presentation.
The mackerel came in 3 square pieces symmetrically placed on a soft edged, square shaped white plate.
In between each square of fish there was a dollop of the mint relish and the curried aioli drizzled carefully. Tommy's verdict once he'd tasted it?
The best starter he's experienced all summer. Not what he usually goes for, but a great combination of different flavours.
I couldn't take his word for it so I tentatively tried. It was amazing! A taste sensation as Peter Kay might say.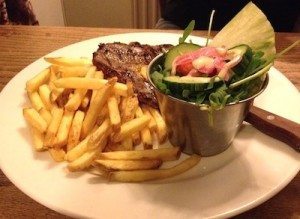 The fish was unbelievably fresh and could have come straight off the boat. It was cooked superbly too as the skin was light and crispy, the flesh underneath soft and tender. The 'Indian' aspect? It actually worked. I was surprised but pleasantly so.
The Grilled Pear salad was a very different starter in terms of flavours but just as impressive.
The flavours were more delicate and subtle, but still held their own.
The contrast of the sweet pear and the pungent blue cheese was a very good one.
I love blue cheese with absolutely anything, but this pairing was particularly special.
Even more so special that the Blue was a Brighton Blue.
Satisfied from our impressive starters we waited for our mains. Though, we had both chosen quite different starters, we both went for quite 'ordinary' mains.
The mains on the menu were a great mixture of traditional English dishes like Local Farm Sausages and Mash and unique 'Brightonian' style dishes like Tandoori Halloumi and Chick Pea Butter Curry.
However, I just couldn't turn down the classic 'Steak Frites'. This was a Six Ounce Rib Eye with Smoked Garlic Butter.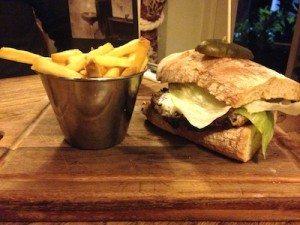 This little twist made me feel slightly better for my lack of adventure. Tommy was also feeling 'classic', as he went for the 'Hand-Made Sussex Beef Burger'. His little twist was the Sour Dough Bun and the Monterey Jack.
Both of our mains were presented with a small stainless steel cup of 'Rustic Fries' – hand-cut and with the skin on. Tommy's burger was presented on a wooden chopping board. It looked like a 'posh' sandwich but the size of a tower.
His appetite is something to marvel at, but even he struggled. He powered on through though and finished every last bit.
My 'Six Ounce Rib eye' was presented with the steak knife carefully placed underneath and the orange coloured smoked garlic butter gradually melting on top. This was a good touch.
Every time I cut into the steak, the juices from the butter mingled with the juices from the steak.
The smokiness wasn't an obvious flavour, but just enough for it to be a slight twist.
The Dessert menu was left to me, as Tommy's burger had finished him off.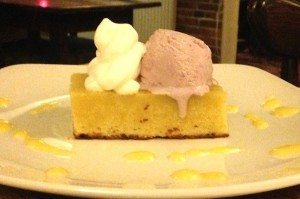 I went for the Almond Cake, Orange Curd, Mascarpone, Cherry Ice-Cream. I liked the 'bake well' theme of this one. The cake was like no other I've tasted.
It was dense but extremely moist and screaming with flavour. The cherry ice-cream was on top and the flavours together certainly gave Mr Kipling a run for his money.
So, if you find yourself on a Thursday night not wanting to cook, I definitely recommend a little drive into the country where you might find yourself upon a little, old 16th century Inn full of rustic charm, low ceilings and local culinary delights.