Simple is Sexy at Al Duomo Italian Restaurant
Al Duomo has been around for so long (celebrating its 40th birthday this year) that in the constant newness that is Brighton's restaurant scene it is often overlooked.
I am here to tell you to overlook no further – Al Duomo is some of the best Italian food Brighton has to offer.
Perfectly situated next to the Pavilion it is a sprawling contemporary space with ample outdoor seating. Over its five floors, Al Duomo can seat as many as 500 people which makes it a solid option for groups and families. They say they can cater for everything from casual breakfasts to baby showers, and after spending the evening there, I honestly believe they can.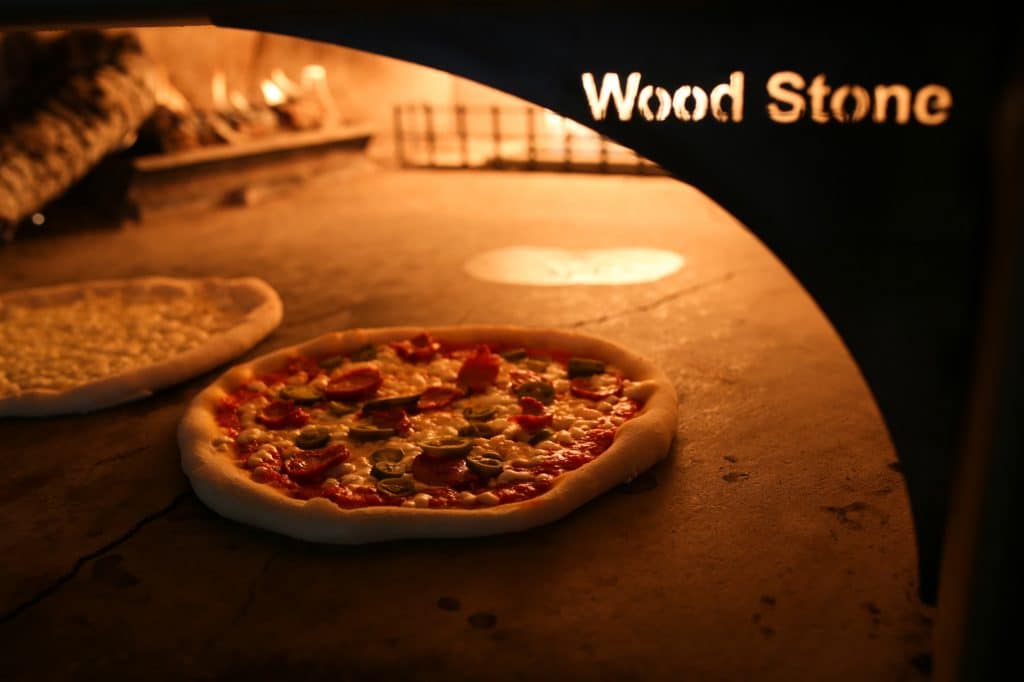 Attention to Detail
The first thing you notice about Al Duomo is the extensive but well thought out menu. You can stop in for an Aperitivo or have a full sit-down meal; you can enjoy a burger or go for something more classic. They have gluten-free pasta options (the pizzas are not gluten-free due to the cross-contamination risk from the pizza oven) and they have vegan and vegetarian options. Ask the waiting staff and most dishes can have substitutes by request.
The attention to detail continues through to the wine list where you would not go wrong with the house red, a Sangiovese that is robust but easy on the pallet. We were treated to the waiter's choice of Valpolicella – light with fruity undertones, reminiscent of sangria and a great complement to the summer sunshine.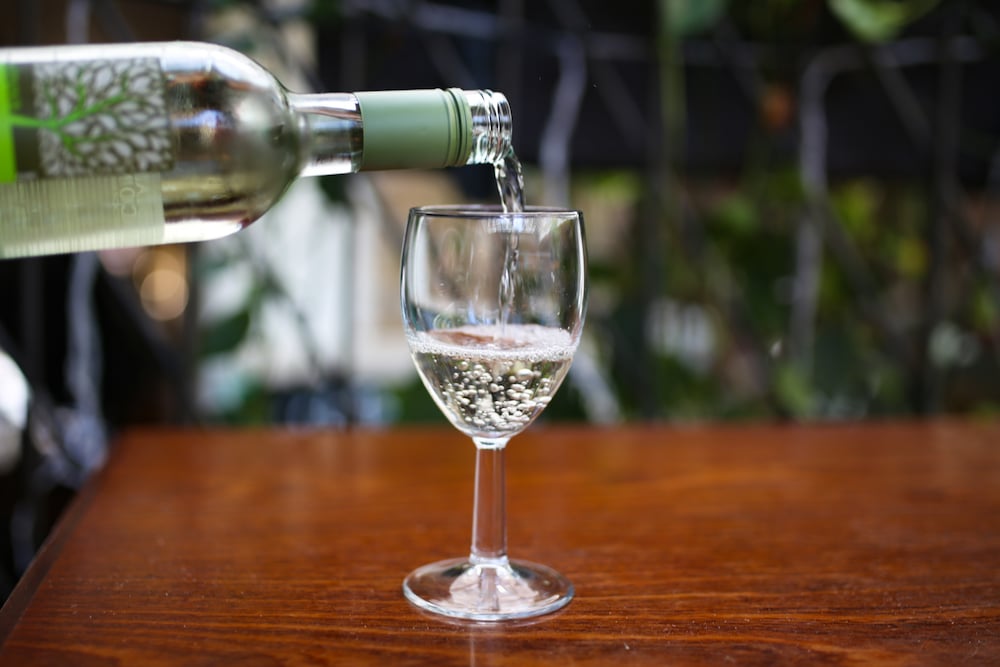 Time for a Spritz
We started our evening with an Aperol Spritz, olives and garlic pizza bread. The olives alone were out of this world and the garlic bread was light and expertly cooked. I knew from this point forward that we were in for an evening of gastronomic delight.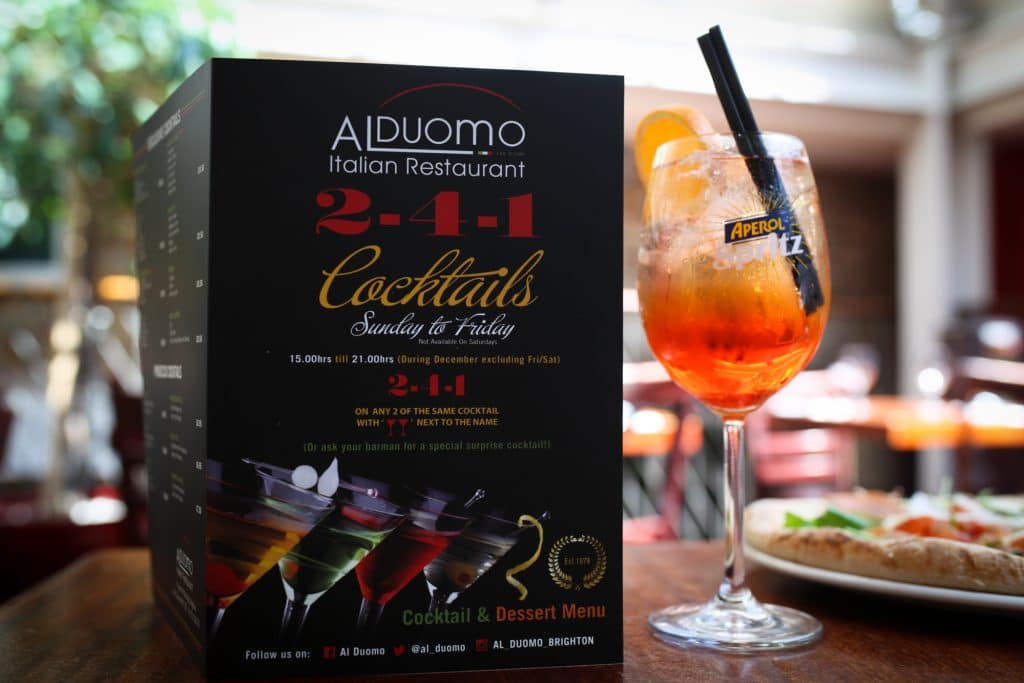 Antipasti
Our starter dishes started arriving one by one, each more delicious than the next. Our eyes may have been bigger than our stomachs, but each plate was worth the indulgence. There was the Bruschetta (cheese on toast on steroids – toasted bread and melted mozzarella topped with fresh tomato salad and rocket); the Crostini al Salmone (light and flavourful, wouldn't have ordered it but glad I ate it). This was followed by Cozze con Panna (creamy and garlicky but not over-powering, the mussels were cooked just right) and finishing up with Melezane alla Parmigiana (the ultimate vegetarian comfort food and notoriously labour intensive – Al Duomo pull it off perfectly).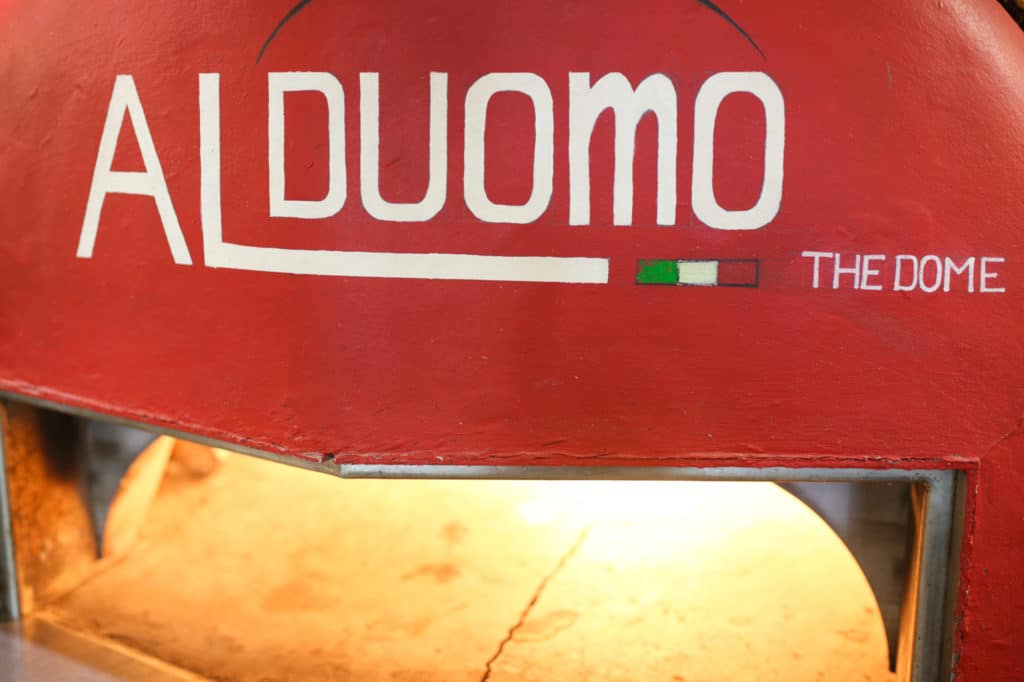 If you are looking for a quick bite, Al Duomo has a fine selection of sharing platters which work well as an Aperitivo for 2 or a starter for 4. We were treated to the Assaggino (which literally means little taste) which is a curated selection of meats (Parma, Mortadella, Salami Napoli, Lonza) with preserved vegetables, arancini and mozzarella.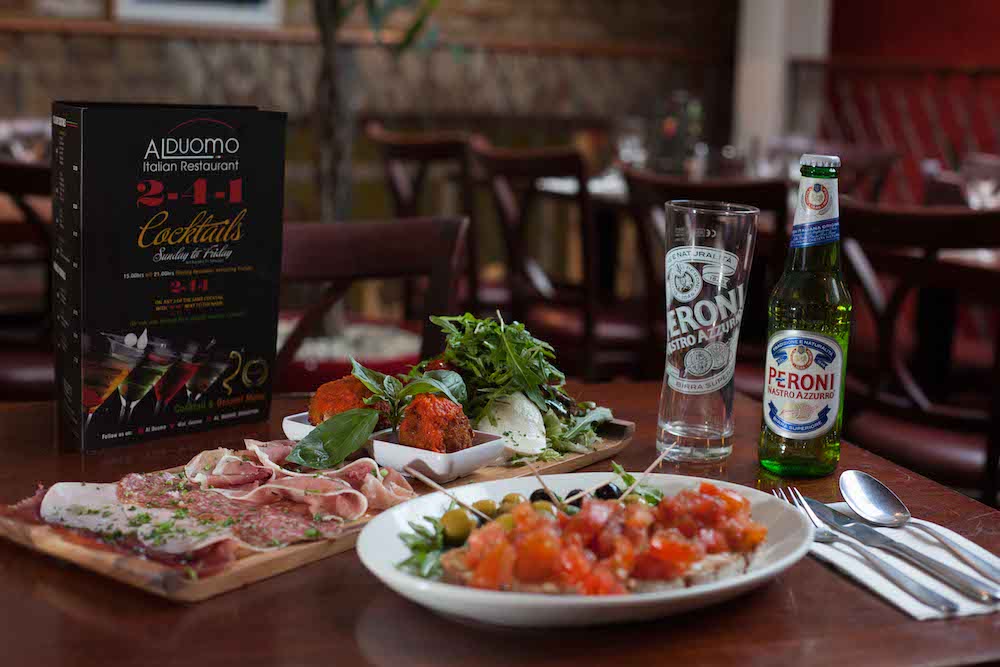 Mains
We moved onto mains where we tried the vegan pizza (Pizza Vergine) made up of all my favourite antipasti veg (olives, mushroom, artichoke, tomato base) on perfectly cooked pizza bread. There is also the option to add vegan cheese, highly recommended for its creamy, salty kick. We tried a slice of the chef's favourite – I think it was a Friarella (Bianca, fennel sausage, Naples broccoli) hands down the best Friarella in town.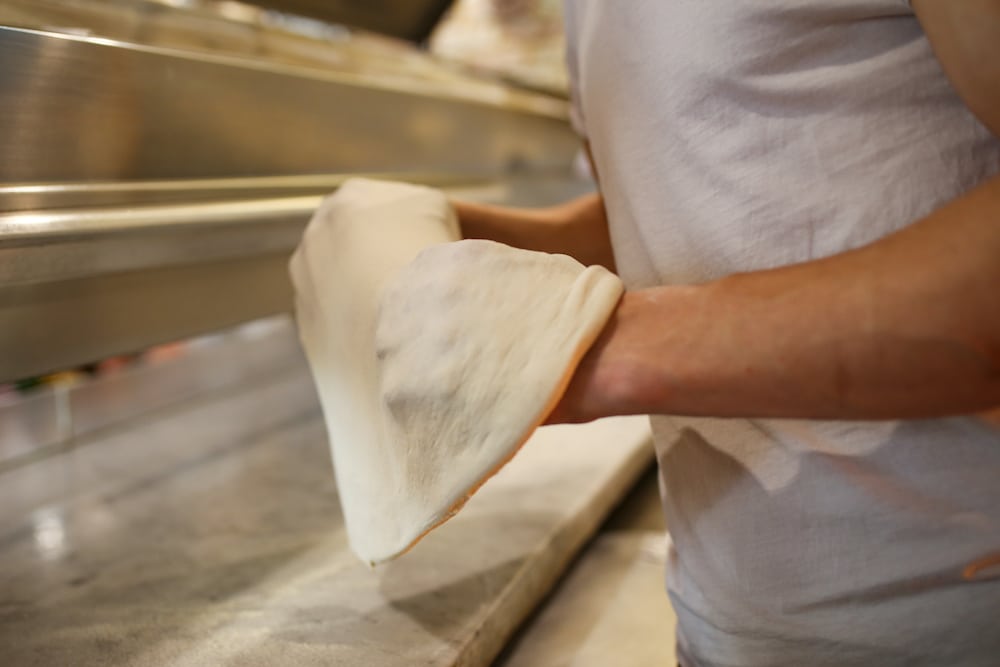 After a fresh air break, we moved onto pasta, with a selection of four dishes covering all the bases.
There is the vegan Spaghetti Aglio Olio Peperoncino – simple, sexy and a little bit piccante. The vegetarian Tagliatelle al Pesto with toasted pine nuts (a staple of any kitchen) & Tortellini EST, envelopes of ricotta & spinach with lashings of creamy mushroom sauce. The speciality dish was the Linguine alla Luciano – mussels, clams, prawns with walnuts, garlic and chilli. A classic twist on an Italian favourite.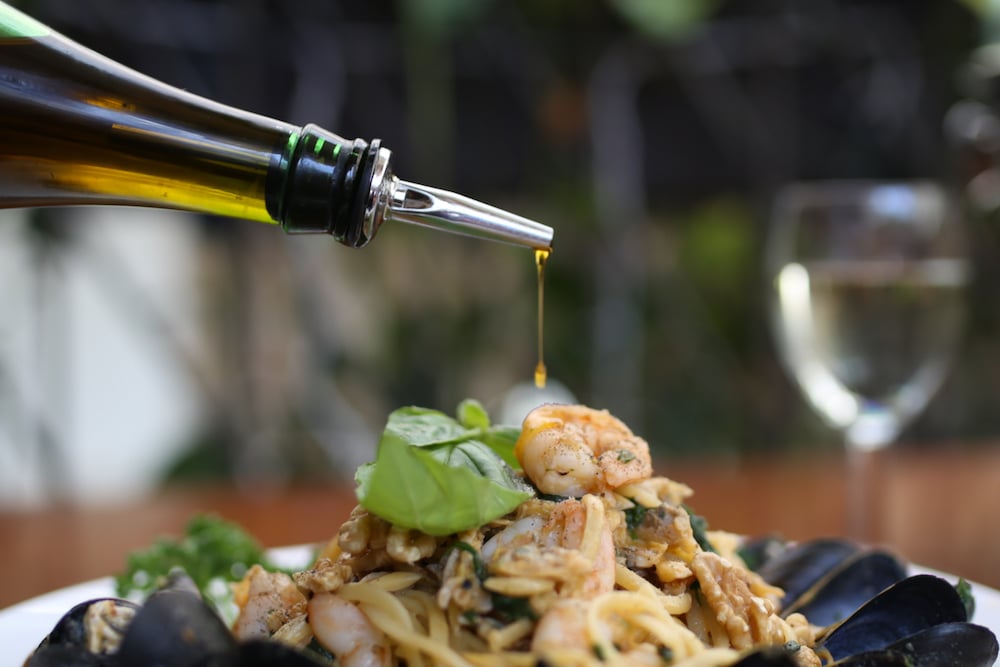 As it was a weekday, the chef whipped up Pesce al Arrolato as an off menu treat and it immediately became the favourite dish of the night. Crispy battered king prawns with stuffed fillets of white fish on a bed of creamy tomato passata. Very decadent but extremely delicious.
Dessert
We moved onto dessert with our belt buckles loosened. At first, we were not sure we could manage but our waiter treated us to a taster plate of Al Duomo favourites. The Torta al Cioccolato was richly satisfying, the homemade Tiramisu done so well it basically defied the laws of physics. The Passione al Cocoa is a must try. But for me, the winner was the vegan option of locally sourced sorbet (We had a mixture of mango, strawberry and lemon) which worked as the perfect pallet cleanser. To wash it down we had tiramisu shots, an Italian twist on an Irish Coffee, be warned they are as alcohol-filled as they are delicious.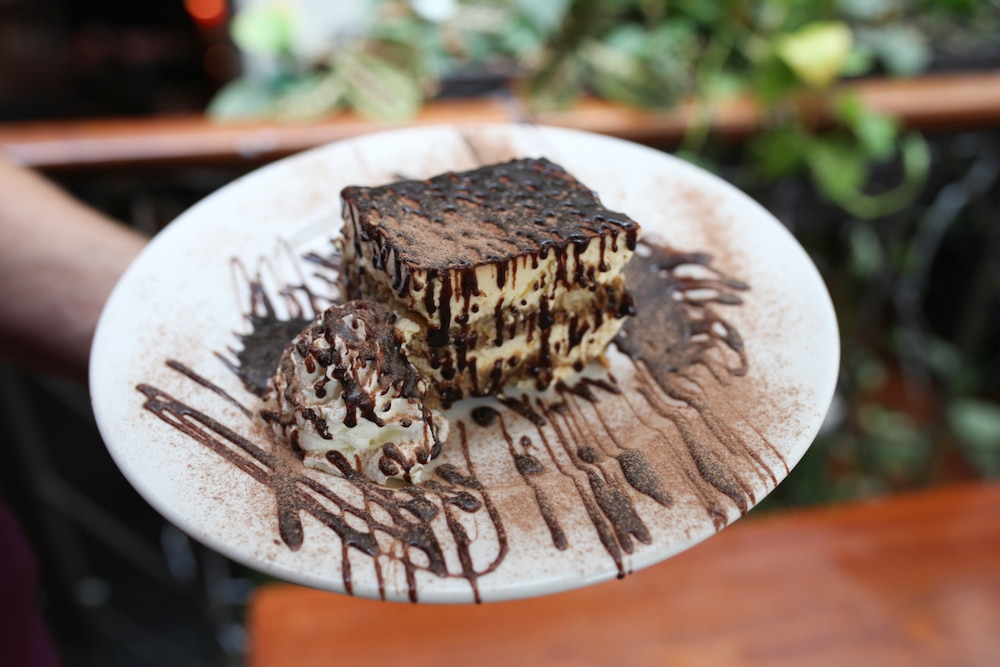 In a market saturated by chain restaurants and stir-in sauces, it takes skill to turn the everyday into something unforgettable and Al Duomo manages to do just that.
It is Italian food done properly with care and attention to detail.
The philosophy of Al Duomo is indeed the philosophy of Italian cuisine – it must come from the heart and must be learned in Nonna's kitchen. I will definitely be eating there again.
What Next?
Want to know more about Al Duomo Brighton, Italian & pizza restaurant, Central Brighton?
Find Out More