What a great way to start the week…
…a lovely sunny day at work followed by a delicious meal at Kemptown's plant-based restaurant, Purezza!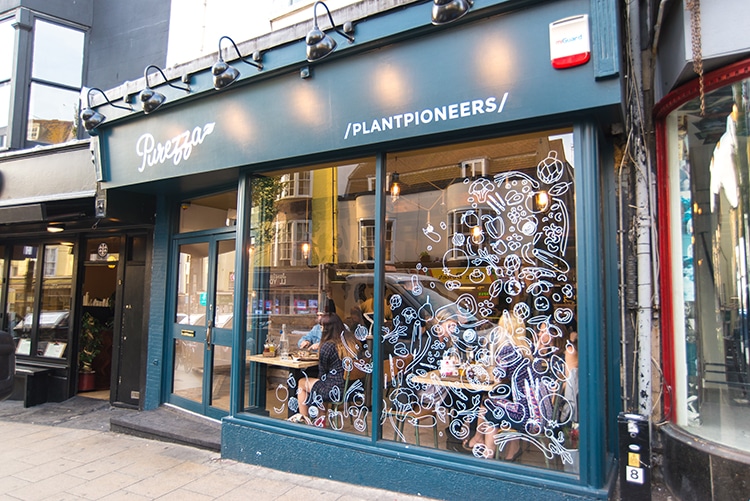 We were really excited about our visit to Purezza. We were familiar with it from ordering through Deliveroo and having eaten there before, and with there being so much to choose from this was a great chance to try the things we'd been eyeing up before…
Wood fire oven & plant-based cheeses
Purezza (meaning purity) has the title of being the only vegan pizzeria that uses a wood fire oven. Pizzas aren't the only thing on the menu though, they serve a mouthwatering selection of your classic Italian dishes with a few burgers thrown in.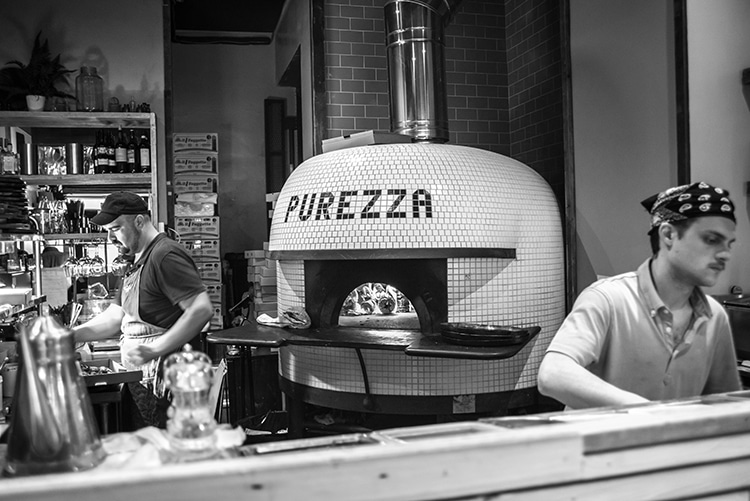 The team at Purezza are proud to reveal their new mozzarella recipe which was launched last October, and it's been going down a treat. Using a mix of rice milk, olive oil & chickpeas, it took just shy of two years to perfect their mozzarella recipe.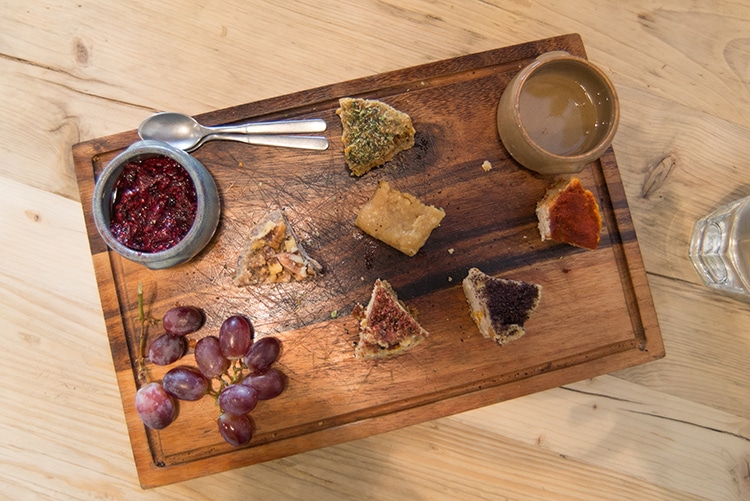 There's a vast array of plant-based cheeses such as raw cashew cheese, creamy coconut cheese and a ricotta style cheese, so don't think just because it's vegan you'll be missing that cheesiness you can't get enough.
Traditional family recipes
The owners of Purezza are Italian so when it comes to pizza dough they've got it down to a tee. Developing their dough recipe over the years, using their traditional family recipe it's light and crispy. Oh and it's freshly made on the day.
Light & fresh decor
We were greeted by the super friendly Ross, and were seated in one of their booths. I love the decor of Purezza, it's boasts a floor to ceiling south facing window, which at the time we arrived (6pm) the light was shining through beautifully.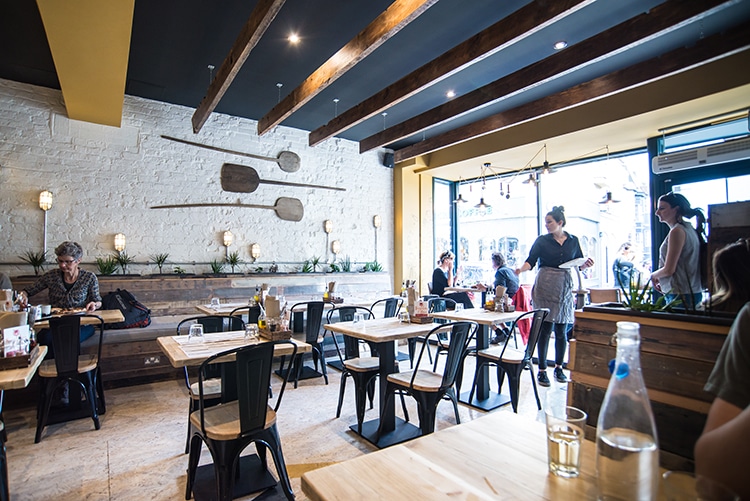 I'm told the restaurant has been revamped since last year and the decor is looking really tasteful, using up cycled wood to create the booths we sat in. These had plants growing inside them, so there was a real fresh feel about the restaurant.
Floral nectar drink
First up we ordered an Elderflower Cider, perfect for the summer day we'd had and after a sip of the floral nectar I was ready to peruse the menu. After chatting to Ross about the cheeses that are on offer at Purezza he recommended we try their 'cheese' board to start.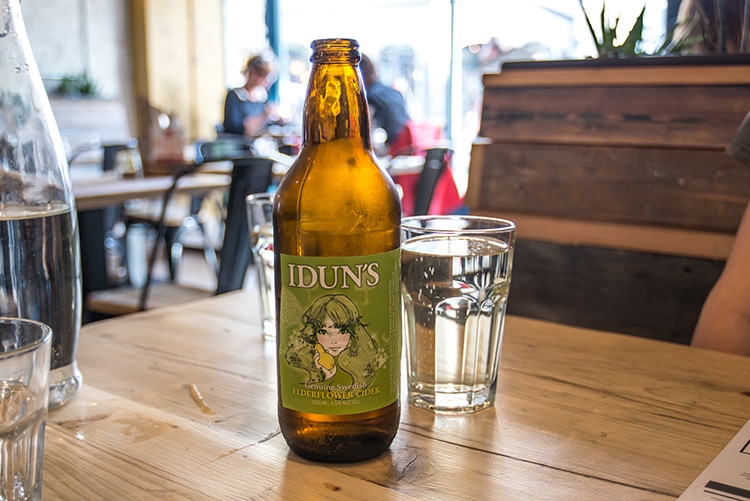 Artisan cashew cheese board
The cheese board is made up for homemade artisan cheeses, which have been fermented and matured for over ten days. The one difference from a normal cheese board? They're all made from cashew nuts. The cheeses come in a variety of flavours and there's such a selection our waiter offered to write them down for me so I could list them in the review…
Herbs & sun-dried tomatoes
Chilli flakes & smoked paprika
Acai & apricot
Balsamic vinegar & walnuts
Goji berries & pink peppercorn
Parmesan with miso (fermented soya)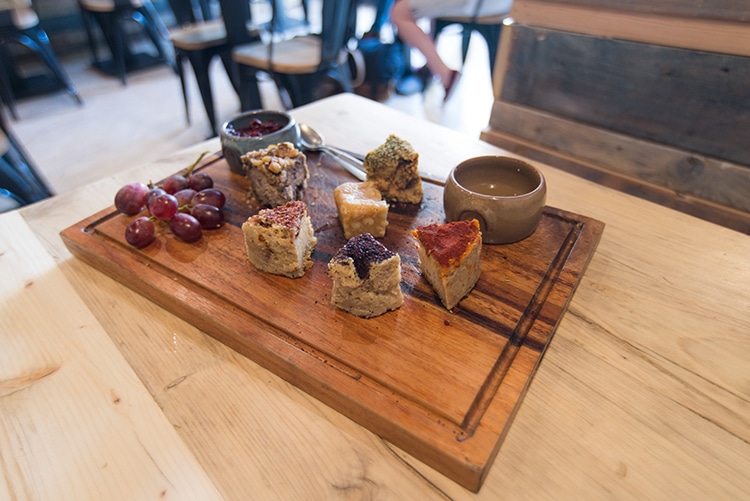 It was really fun tasting all the varieties, and there were two bowls of dips that complemented the cashew cheeses really well. One was simply agave nectar and the other was a berry compote. My favourite cheese had to be the parmesan with miso, which really stood out.
Over to the mains!
For our mains, I knew Dan would be going for a pizza and I, feeling like something a little more salad like, was drawn to the Raw section of the menu. Ross suggested the Fettucine, saying it was one of their more adventurous dishes which I was definitely up for. For those who don't eat wheat, it's good to know that all of the pizzas have the option to be gluten free if desired.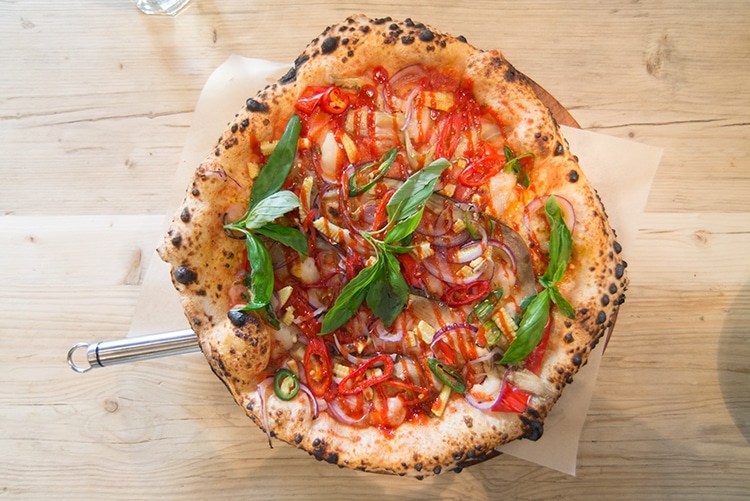 Dan's Vulcano pizza with roasted aubergine, green chilli peppers, sweetcorn, Romano peppers and red onions topped with sriracha sauce was a real centre piece when it arrived. The colours were incredible, and it came with a pizza cutter so no knife and forking it here! There was the perfect kick to this pizza, not overpowering but you knew it was there.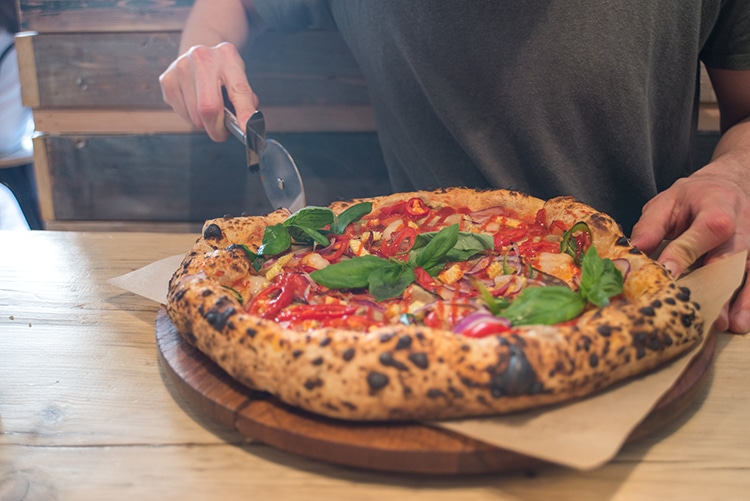 My gluten free fettuccine was made from raw butternut squash that had been cut into large strip to emulate the style of pasta, with a creamy seafood sauce finished with seaweed. I particularly noticed the 'seafood' element to the sauce which happened to be capers, who would have thought!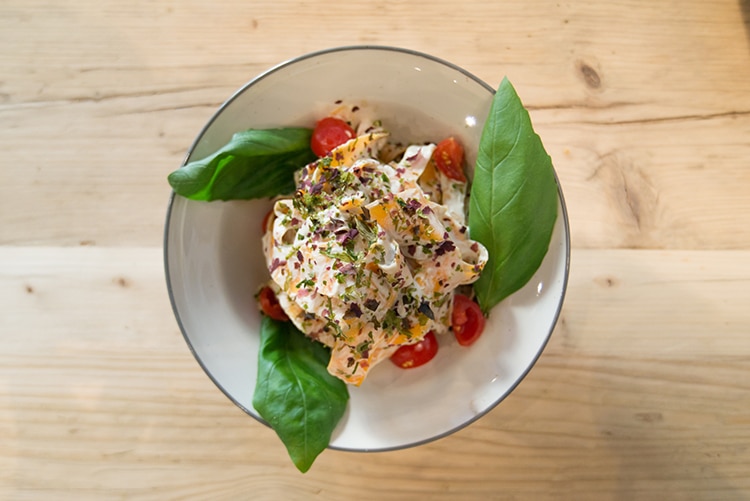 The sauce is deep and rich yet fresh because it's cold, and using squash instead of heavy pasta your stomach doesn't get the grunt. I couldn't quite finish mine, (which is rare for me!), because the creamy cashew sauce is so filling. But I did take it home in a doggy bag, perfect for a late evening snack or lunch the next day.
Calzone for dessert?!
The evening was rolling by and before we knew it we were asked if we'd like to see the dessert menu, of course! I had tried the tiramisu before so was tied between ordering that again or going for the chocolate calzone (yep, a calzone dessert).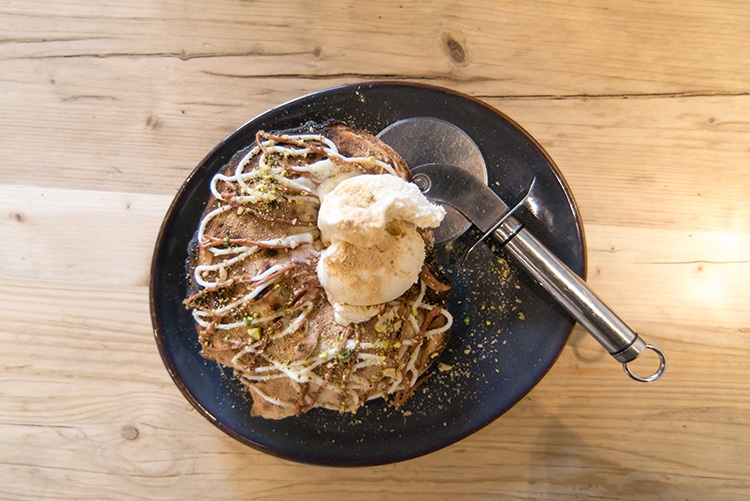 We settled on the calzone filled with hazelnut chocolate and topped with pistachios & walnuts, and asked for a scoop of the vanilla ice cream. You can order a small for 1 or large to share, even though we went for a small it was absolutely plenty for us to share. The ice cream is an absolute dream, you really couldn't tell the difference between a dairy based ice cream and this one.
I'd highly recommend ordering a scoop of ice-cream if you opt for the calzone, it goes so well with the hot chocolate centre.
So why not join the plant pioneers and get a taste for yourself? They're open 7 days a week from midday until late, no excuse. I can't wait for my next visit…
Want to know more about Purezza Brighton – Vegan Pizzeria?
Find Out More