Hidden gem at Brighton Marina
Meat. Cheese. Wine. Need I say any more to tempt you?! How about adding 'Best of British' as a precursor?
Now we're talking.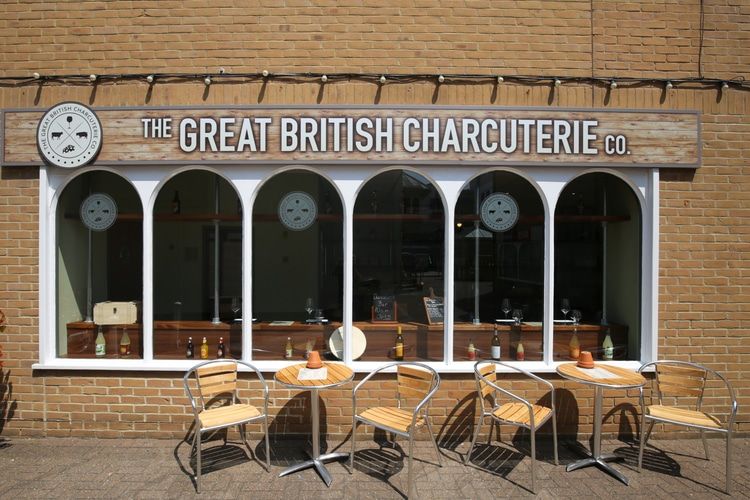 Impressive choices
Brighton marina is harbouring one of the most impressive displays of  British artisan produce I have ever seen. The Great British Charcuterie Co really is just that.
As a mainstream consumer of 'medium cheddar and smoked Ham' as a rule, I was in serious anticipation of our visit to this renowned store, come restaurant, come bar. I was not disappointed, the elegant shop really is a show case for the carefully considered produce it displays. Over 50 cheeses jostled for position behind the glass, with the most incredible crowd of charcuterie in the neighbouring case.  While British wine, chutneys and pickles line the walls showing off like works of art.
Abundance of goodies
Excuse my ignorance but I had no idea that our country produces anything like this abundance of goodies. Thanks to the owner Phil Bartley, who was head chef at Hove place and the Cricketers, we all now have the benefit of tasting and purchasing the very best of British charcuterie all under one roof.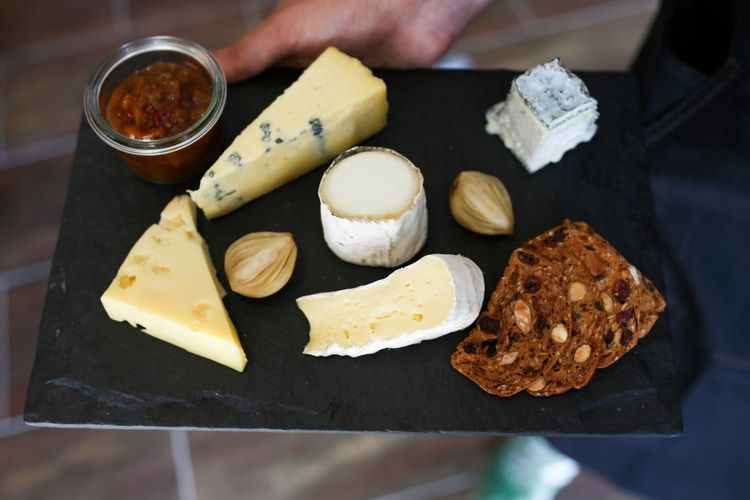 If you are looking to impress a cheese lover, you would be hard pressed to top this place. With it's mahogany bar and barrel tables towards the back of the shop, the ambiance in here is relaxed confidence.
The backdrop of polished togetherness lets the food and wine do the talking.
Now, if like me you have a burning desire to branch out of your cheesey comfort zone but feel a little lost at sea when faced with such choice- fear not: Jack The Manager is all you need.
Jack is Wikipedia's answer to charcuterie. Ask him anything. Nothing phases jack, not even my children squealing at the blue cheese selection. There are handy signs attached to each cheese which does give you a head start on their origin – they are either in the shape of a cow or a goat. Strong start.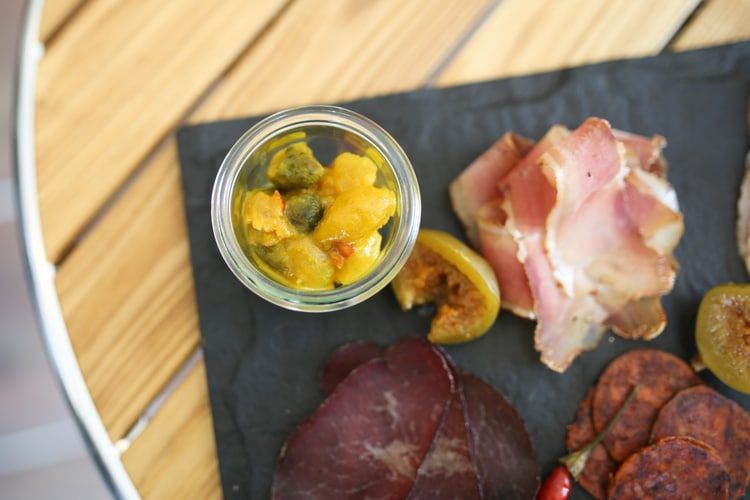 We decided to sample a board of cheese, meats, sour dough and of course a little British tipple. The menu is fairly simple, you choose the size of the board you would like to devour and then go and choose your wares from the display cabinets.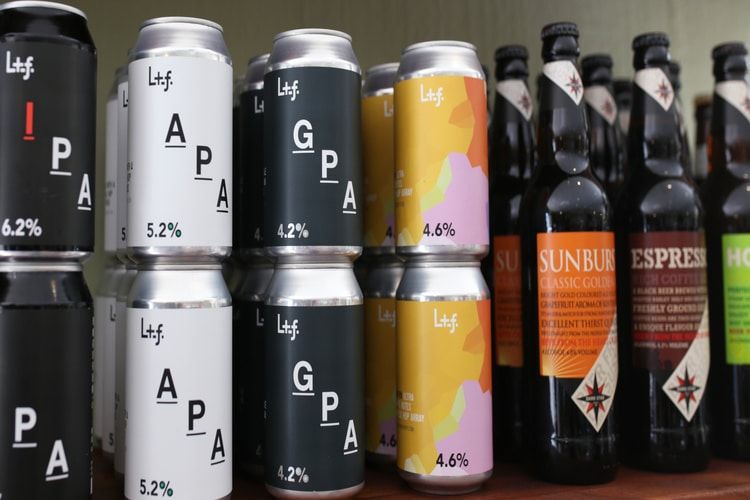 My daughter loudly pointed out, "This is just like picking out our lobster on holiday Mummy!"
Just like it.
This place was combining my favourite things: shopping, consuming, and learning. And we hadn't even sat down yet.
Delicious cheeses
Lincolnshire Smoked Poacher, Sussex Brie from Alsop & Walker, Sussex Charmer from Ridgewick in Horsham and the star of our platter, Charcoal Cheddar from Yorkshire were all weighed and cut for us. I'm not afraid to admit that this is more information than I ever realised I needed about my food. I like it. We should take the time to appreciate where our food has come from and credit those that have taken the time to make it! I relayed this lightbulb education-moment to my children who were far too busy wiping away sour dough crumbs, powerless to reply due to a mouth full of black cheese.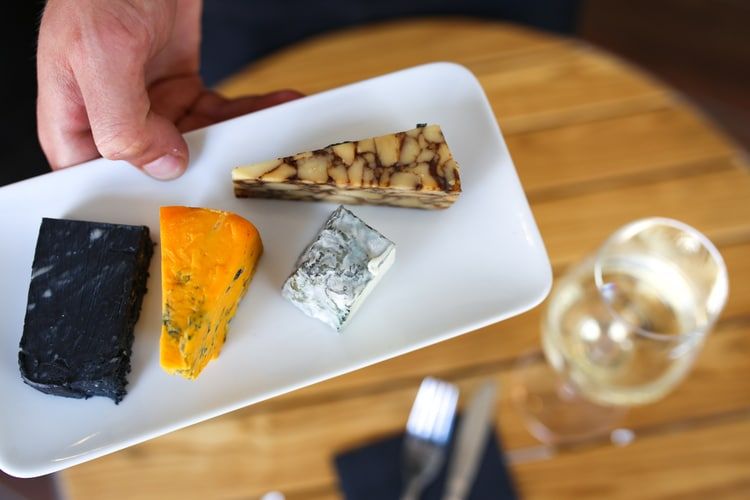 Melt in the mouth
Accompanying our array of cheese was some of the finest meats I have ever tasted. When you visit, please select Mangalitza Coppa. This is rare, a little like wagyu beef is rare. Rare and goddamn delicious. These slithers of indulgence are to be savoured, and probably not popped into a cracker sandwich with the recklessness of a famished 3 year old.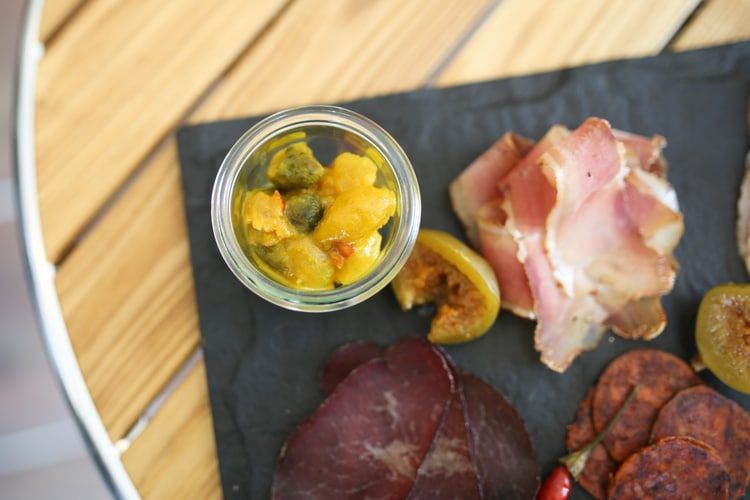 Lamb Carpaccio from Monmouthshire, Seaweed & Cider salami from Bude in Cornwall, Cornish Chilli Chorizo, Sussex smoked ham from Calcot farm (well, I had to compare it to our usual Bernard Matthews affair…). It was like a who's who foodie map.
Choose from a variety of breads, made by the flour pot bakery in Brighton, which are added to your boards along with your choice of pickles and chutneys.
So. Much. Choice.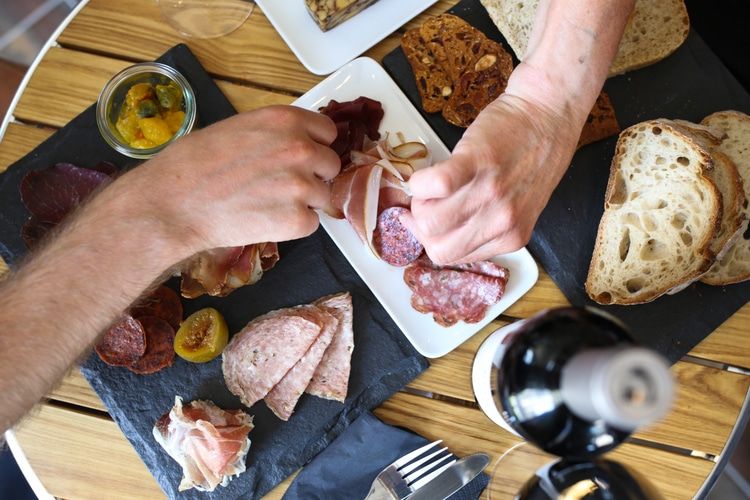 Perfect wines
Jack also doubles as a sommelier. His knowledge of grapes and soil, conditions and vineyards, award winners and up n comers is beyond impressive. Look out Olly Smith…
As we ate, and ate, and ate, cooing and making all the good noises, the staff were busy preparing platters to be couriered out to The Grand in Brighton and various hotels across the country.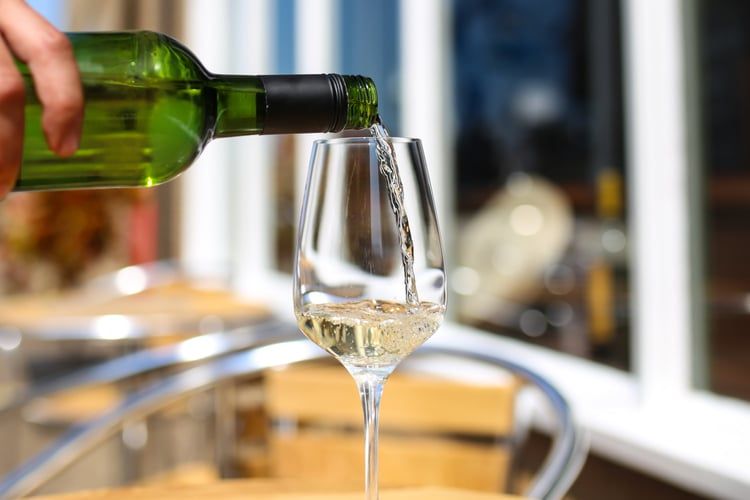 Pitched first as a wholesaler, then a local grocer, and now a unique dining experience.
The Great British Charcuterie Co has an enviable formula which connoisseurs (and clueless hungry cheese lovers like me) are lapping up.
Pop this place on your map for Aperitif o'clock, or a delicious lazy lunch. You now have a perfect solution for those hard to buy for friends and family too.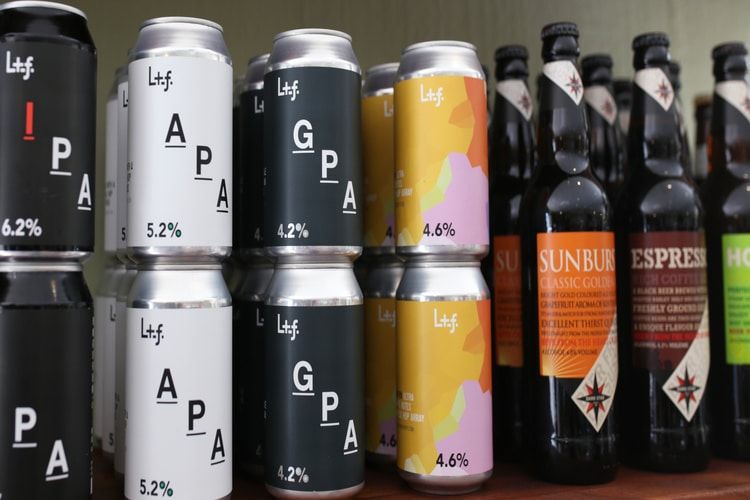 Personally I have my sights set on a little Christmas gathering of girlfriends.