Outstanding experience at Indian Summer!
Indian Summer is my new favourite restaurant. I've always had a love for Indian food, and my trip to South India last year totally concreted it. Indian Summer just took me back to traveling around Mumbai and Kerala through an exquisite culinary experience.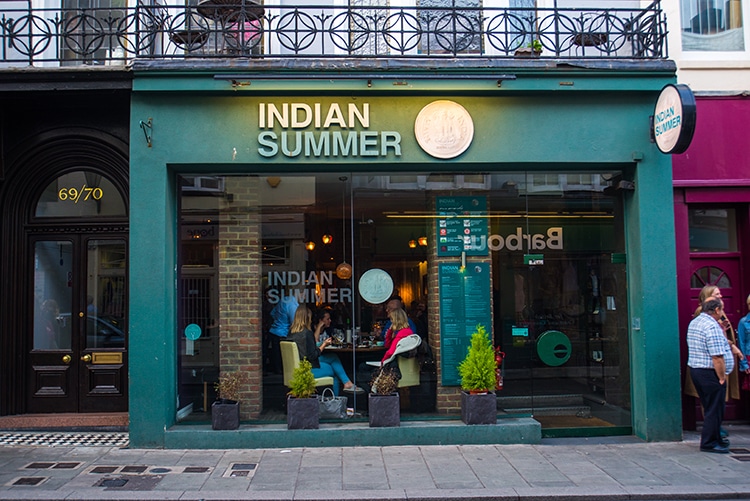 In the heart of The Lanes
The restaurant is situated in the heart of The Lanes, a stones throw away from the seafront and not far from the Pavilion Gardens. It's been there for 15 years, and I can really see why. The venue is spacious and decorated with Indian inspired interiors yet a contemporary home-from-home style.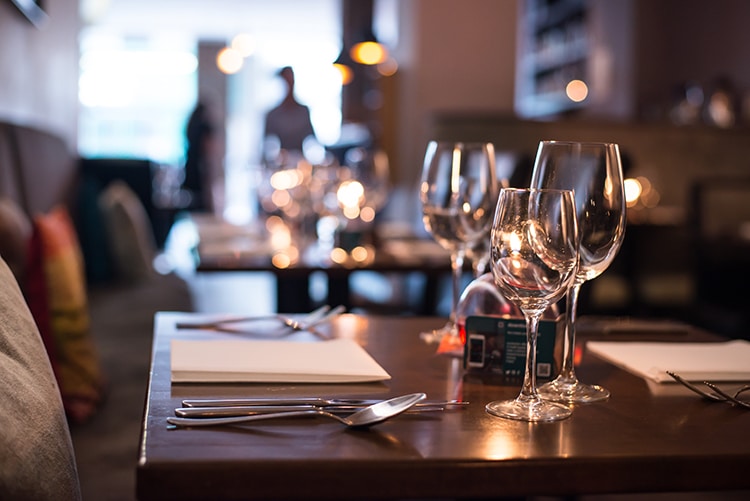 The decor is sort of East meets West. There's a large window with a table in front which always gets booked up in the summer I'm told, so make sure to book early if that's the one you want. Otherwise there's plenty of other nice seating throughout the rest of the restaurant.
The staff at Indian Summer are all so welcoming and friendly. I'll be sure to bring my mum here next time she visits Brighton and take her to Goa through her tastebuds like I was transported with mine!
What's on the menu?
We were given three menus, one being the early evening Thali menu, served between 5pm-6pm at £13.95 which gives you the full Indian Summer experience and includes various dishes, with your choice of meat, fish or vegetarian (which can be made vegan). The next menu was the main one, which was a little rectangular book bound in leather with a popper to hold it together.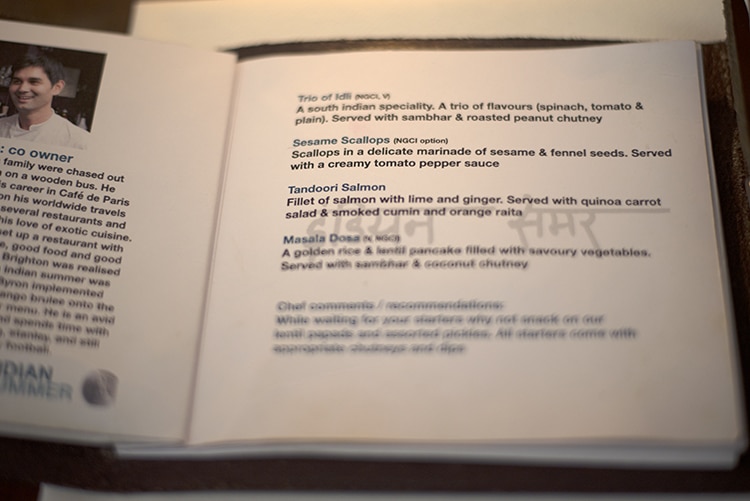 Lots of care and attention has gone into every detail at Indian Summer. The main menu gives you the option of a 2 course set menu at £26.95 or the 3 course set menu at £31.95. And the final menu was the drinks menu, which boasted plenty of wines, beers, ales and soft drinks.
Spoilt for choice
Looking through the main menu I was spoilt with choice with the starters. There were so many delicious dishes that gave you the option to order it as a vegan dish. I was drawn to the trio of Idlis remembering how delicious they were to have with samba as breakfast on my trip.
We placed our orders and after much deliberation I went for the Dosa as a main dish and as a vegan option, and Dan went for the Vegan Thali (not the one on the early evening 'Pre-Theatre' menu but the regular one you can get any time). We ordered a refreshing bottle of beer each which was great on such a humid day, and enjoyed the atmosphere of the restaurant.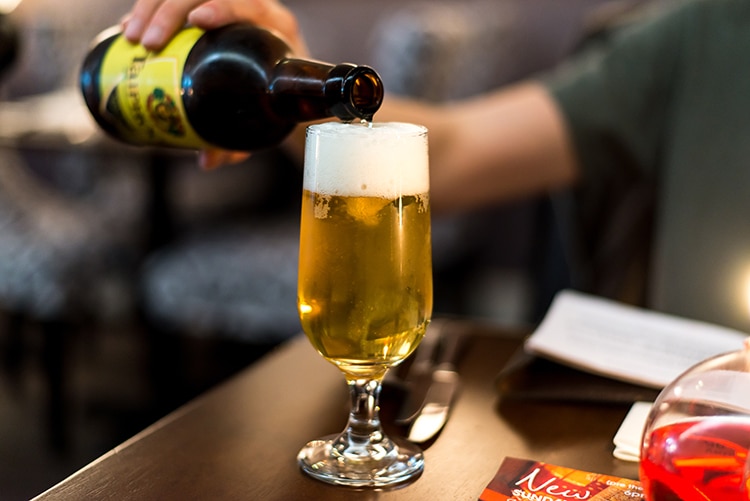 As we were just chatting about how tasty our beers were, I went for the Lazy Lizard which was designed in Brighton and made in Sussex, a lighter beer with fresh notes. Dan went for an ale, the Triumph, a pale ale with notes of lemongrass, a good accompaniment to food with a kick.
A soup surprise!
Out of nowhere we are brought two espresso cups of potato, parsnip & cauliflower soup. A fruity smooth soup with flavours to get your tastebuds craving some more!
Didn't want the starter to end
When the trio of Idli came, beautifully displayed on their silver tray, I was so excited to tuck in. They were slightly crisp and a little chewy, in a good way, swimming in a thick and flavoursome sauce with the remnants of coconut, peanuts and chilli coming through. I could have eaten this dish as a main for sure, I didn't want it to end!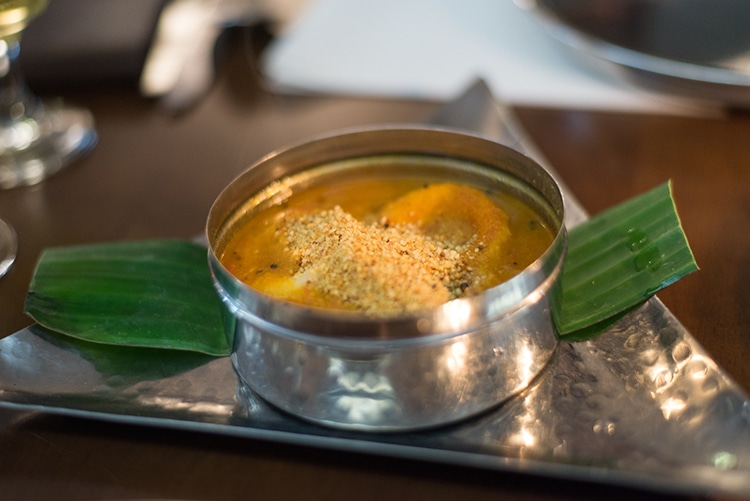 Palette cleanser sorbet
Almost immediately after our silver trays were taken we were hit with another surprise! This was a palette cleanser, a tiny jam jar filled with the melt-in-the-mouth mango sorbet.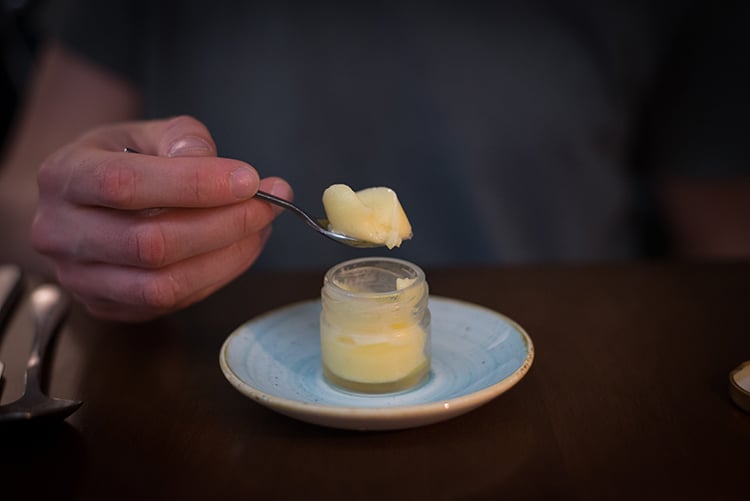 Showstopper mains
When our mains were brought to the table, we knew we'd chosen well! They were real showstoppers! The Thali was a banquet of Indian food all on one tray and the Dosa was so big. I tucked straight in, the Dosa pancakes are handmade to order. It was the perfect thickness with a slight crisp. The filling of potatoes and peas was generous and added a slight sweetness to the dish.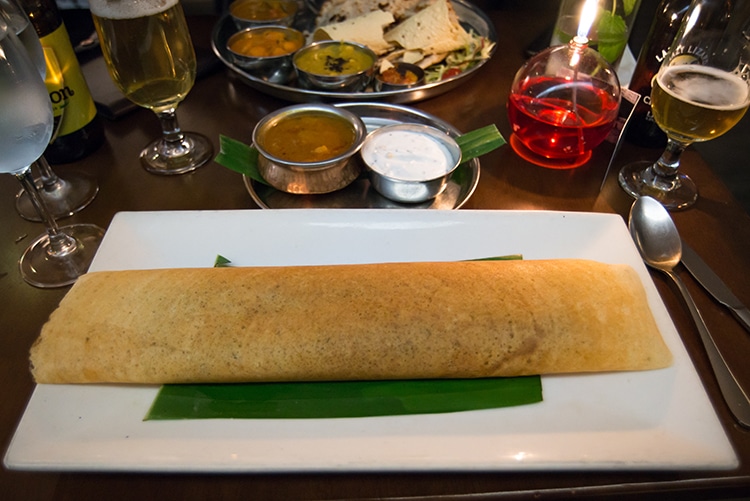 You're given two pots filled with the tastiest samba and a coconut raita – this is the vegan option, the non-vegan would be a yoghurt raita, but I'd highly recommend trying the coconut one! It's something I want to try and recreate at home. The sides of sauces went a treat of the dosa, you're given some real texture combinations to enjoy.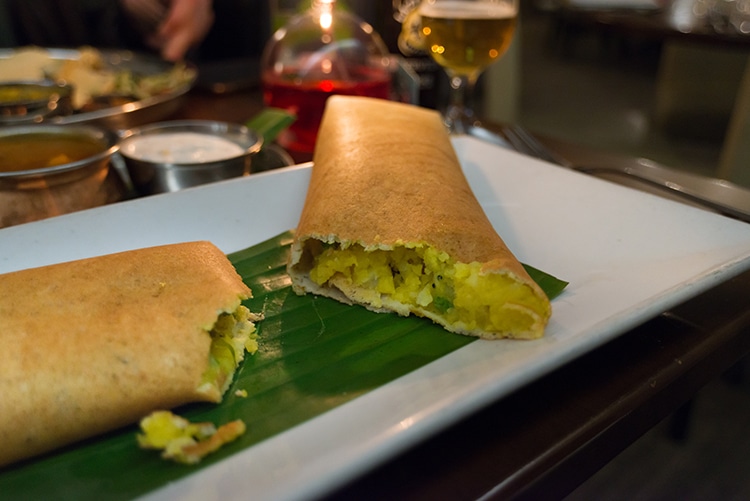 Extraordinary vegan thali
As we had agreed to swap our meals half way (this is something we often do to get a taste of more food), I stopped and waited eagerly for Dan to finish his half. Neither of us were wishing to have each others half back because they were both amazing in their own ways. The Thali was extraordinary, the variety on the dish is endless, I just want to eat it again as I write this!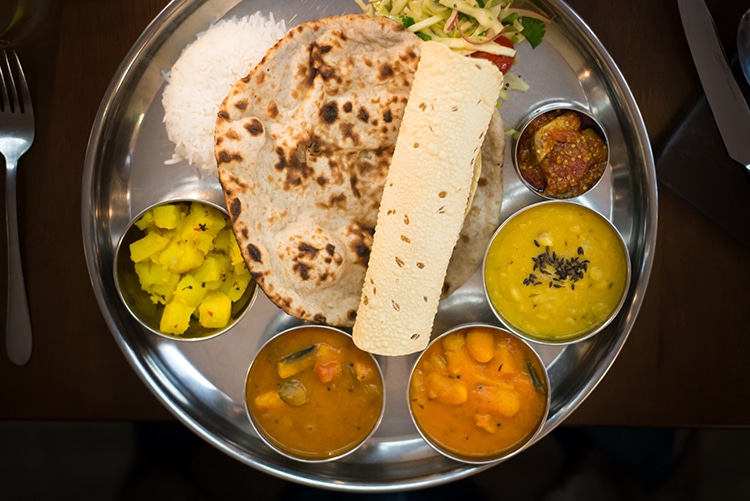 The Thali was made of aloo subzi, dal, samba, pickle, papa roti, rice and few others, everything on the plate was cooked to perfection and had their own individual tastes.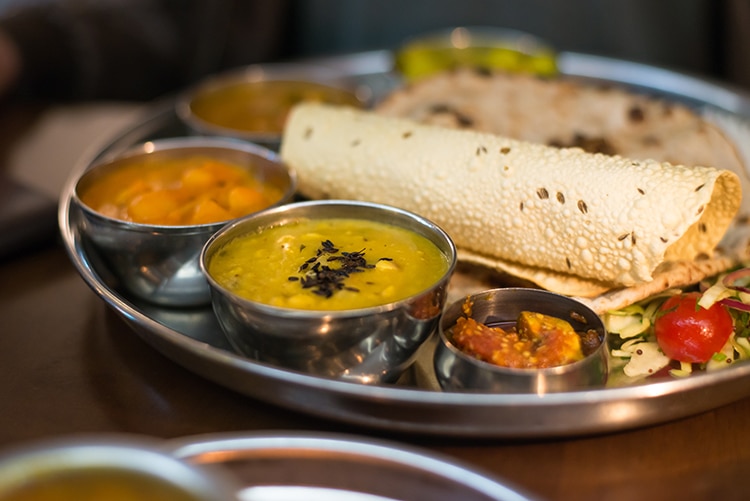 Refreshing dessert to finish
We finish the meal with a light, fruity dessert which is the Pina Colada dessert that chef kindly made as a vegan dish. It was a big slice of pineapple topped with a dollop of coconut sorbet, finished with a marinated cherry. I'm amazed at how flavoursome a piece of pinepple can be and when paired with the coconut sorbet you're on your way to planning your next visit!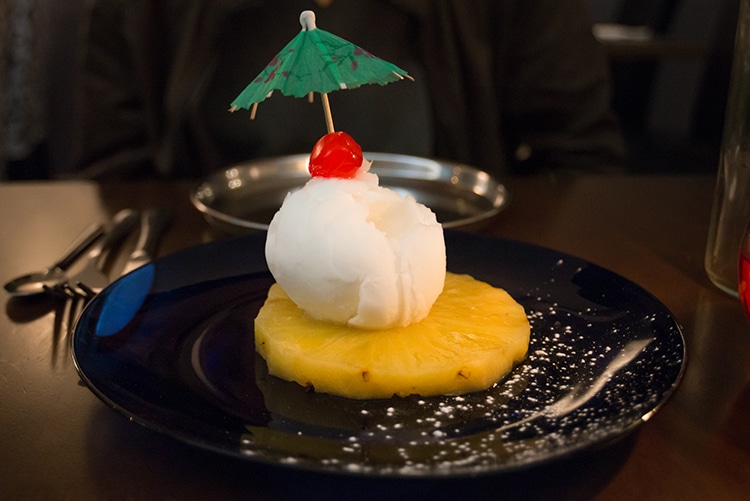 We leave the restaurant very happy, after sharing a starter, a dessert and having a main each this was a good amount to feel full but not heavy and like you want a nap, so we walked it off back home.
Another visit on the cards
Seriously, this restaurant is on the cards for another visit, it's the best meal out I've had in a while and will be chatting about it to everyone until I go again! I'd recommend the Thali early evening deal, there was a whole table of 8 people that ordered that when we arrived, and after trying the Thali from the main menu, if that's anything to go by then grab yourself a tasty deal.
What Next?
See the listing for Indian Summer Brighton