Q&A with Inger and Ian | Madame Jennifer Distillery
Rhys caught up with Ingar and Ian, the dream team behind Madame Jennifer Distillery, Hove. We're pretty certain you're going to enjoy their story as much as drinking a G&T in the sunshine.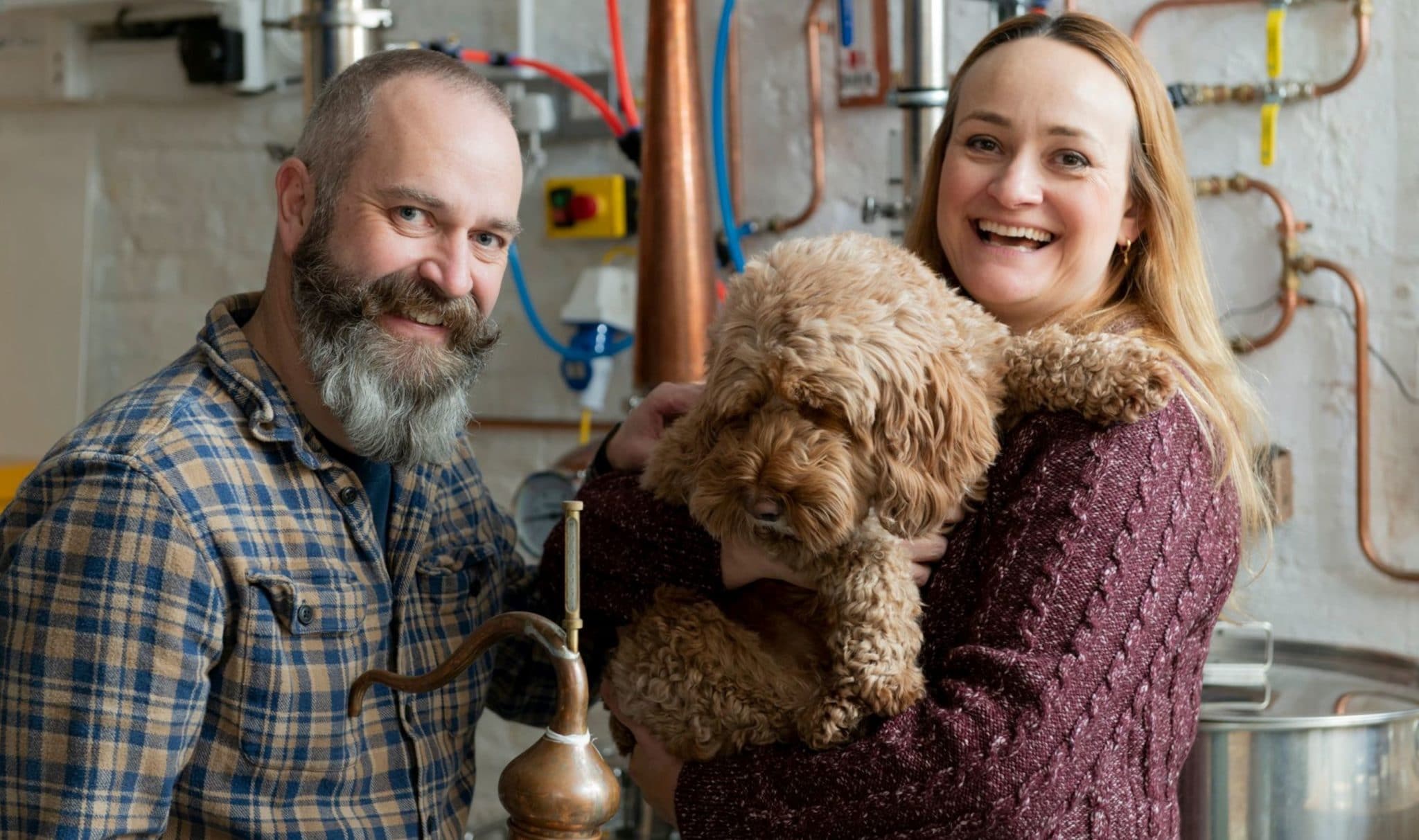 When did you decide to become gin distillers? And what was the process like?
[Inger] On a holiday in Thailand in 2016. I forgot to bring any books with me and so borrowed Ian's book which was called 'How to Start a Craft Distillery'.
I read the book and said to Ian, 'I think we can do this!' I am somewhat suspicious as to why the books I'd planned to take with me never ended up in my travel bag, and I ended up reading Ian's book who'd conveniently bought a number of books with him. But we've not looked back since.
The process took quite a while, starting with plenty of research! We tasted a lot of gins and visited a lot of distilleries. Including the oldest distillery in Amsterdam which is really the model for how we built our distillery. We went on courses and spent a lot of time researching the equipment we wanted, especially the still. Finding a location was difficult as we wanted somewhere that was central, the right size and not too expensive. Eventually, we stumbled upon our fantastic location nestled in Poets Corner, in the heart of Hove. We had to build everything, including walls, electrics and plumbing. The other part that is difficult is the licensing, you can't just build a distillery and switch it on. We needed 7 licenses to be able to do our first still run!
What did you do before making gin?
[Inger] I worked in drugs; I'm somehow drawn to illicit substances!
After studying microbiology at university, I wanted to work in a brewery but unlike today there weren't many breweries around and it was difficult to find a graduate job so I started off as a sales representative for a pharmaceutical company selling medicines to GPs, hospitals and pharmacies. I then went onto study for a Masters in Economic evaluation in Healthcare and work as a health economist which I still do 3 days a week. This gives us a bit of stability in the uncertain world of owning your own business.
[Ian] I've had quite a convoluted career! After studying Chemistry at university I worked in brewing for a while before moving into product development in the food industry. Then I moved into the packaging field and carried that into the cosmetics industry. I've developed packaging for everything from Pot Noodle to lipsticks to toilet rolls!
Having a broad range of experience certainly helps when you are setting up your own distillery.
So, how do you make gin anyway?
There are actually several different ways. We start with a base wheat spirit which we distil gently with botanicals to build the layers of flavour. Our still is quite unique as it allows us to introduce botanicals in different ways depending on what we want from them. Book into one of our distillery tours and we'll talk you through it!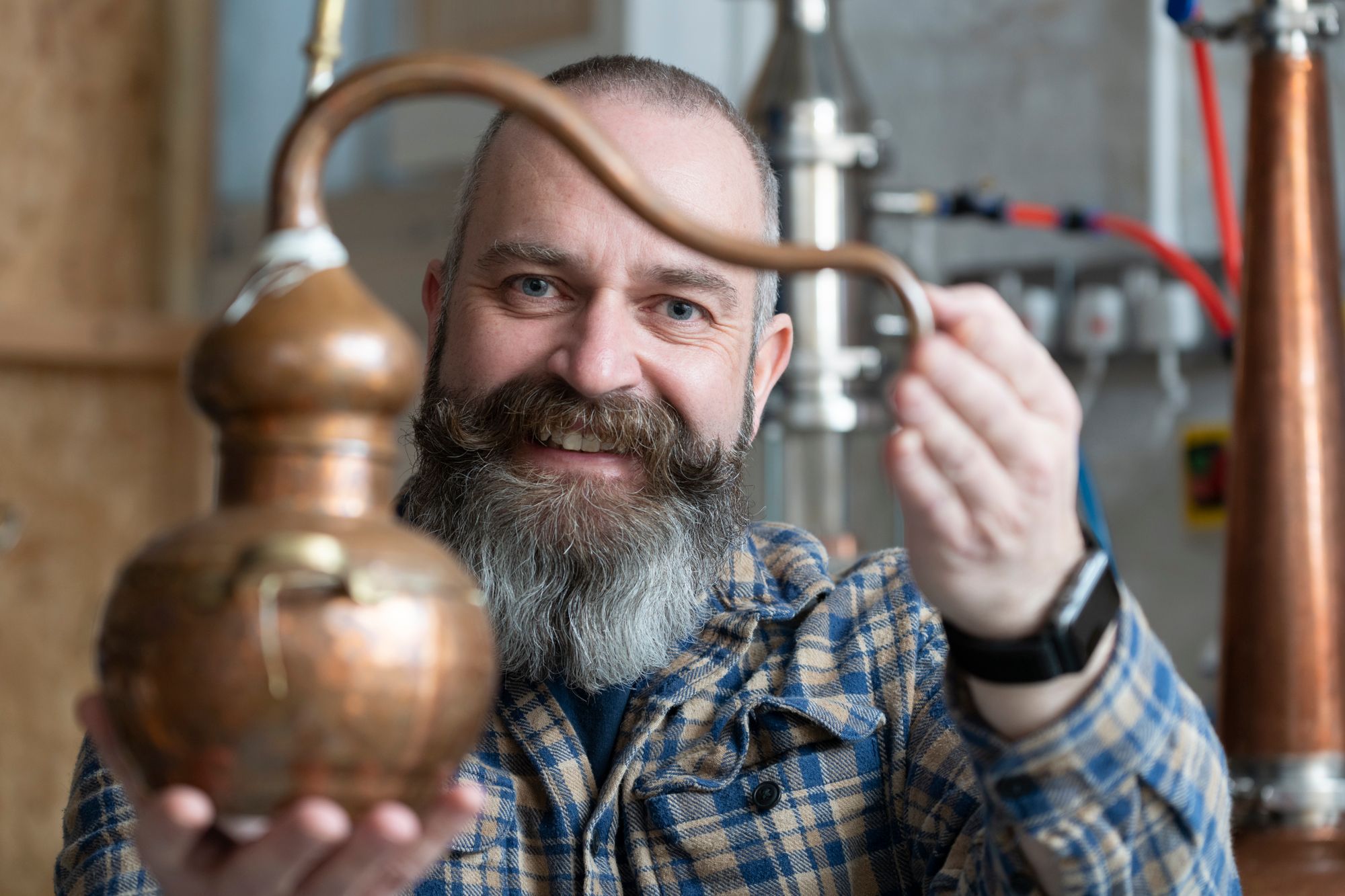 How does your combined background in science translate into the boozy beverage
making process?
We love experimenting! Science is all about having an idea and testing it and I think that's what's drawn us to distilling.
Madame Jennifer sounds like a character, what's behind the name?
The name Madame Jennifer comes from a book by Patrick Dillon called 'Gin: The Much-Lamented Death of Madam Geneva'.
The book describes the early eighteenth century, gin-drinking craze where every Londoner was reportedly averaging two pints of gin a week.
Reformers blamed "Madam Geneva" for everything from social decay to rising crime and passed eight major acts in an attempt to control it. So, we chose Madame Jennifer to represent a modern/anglicised take on the English gin history.
What makes MJ spirits special? What's your signature?
All of our spirits are small-batch, hand made by us in our little distillery in the heart of Hove. With only 100 bottles per batch, we are truly 'small-batch' which allows us to individually number and label each full-size bottle. Our small and unique still allows us to play with flavours in different ways such as using vapour to extract flavours as well as placing botanicals in the boiler. Our gins are generally dry and strongly juniper forward. We like to use plenty of bright citruses and our single-shot method give us a strong, bold flavour.
For our vodka, we use our very special glass bubble-plate still. The six beautiful copper bubble plates make the wheat spirit exceptionally smooth and creamy. Only the purest spirit reaches the top of the column which we collect for our vodka.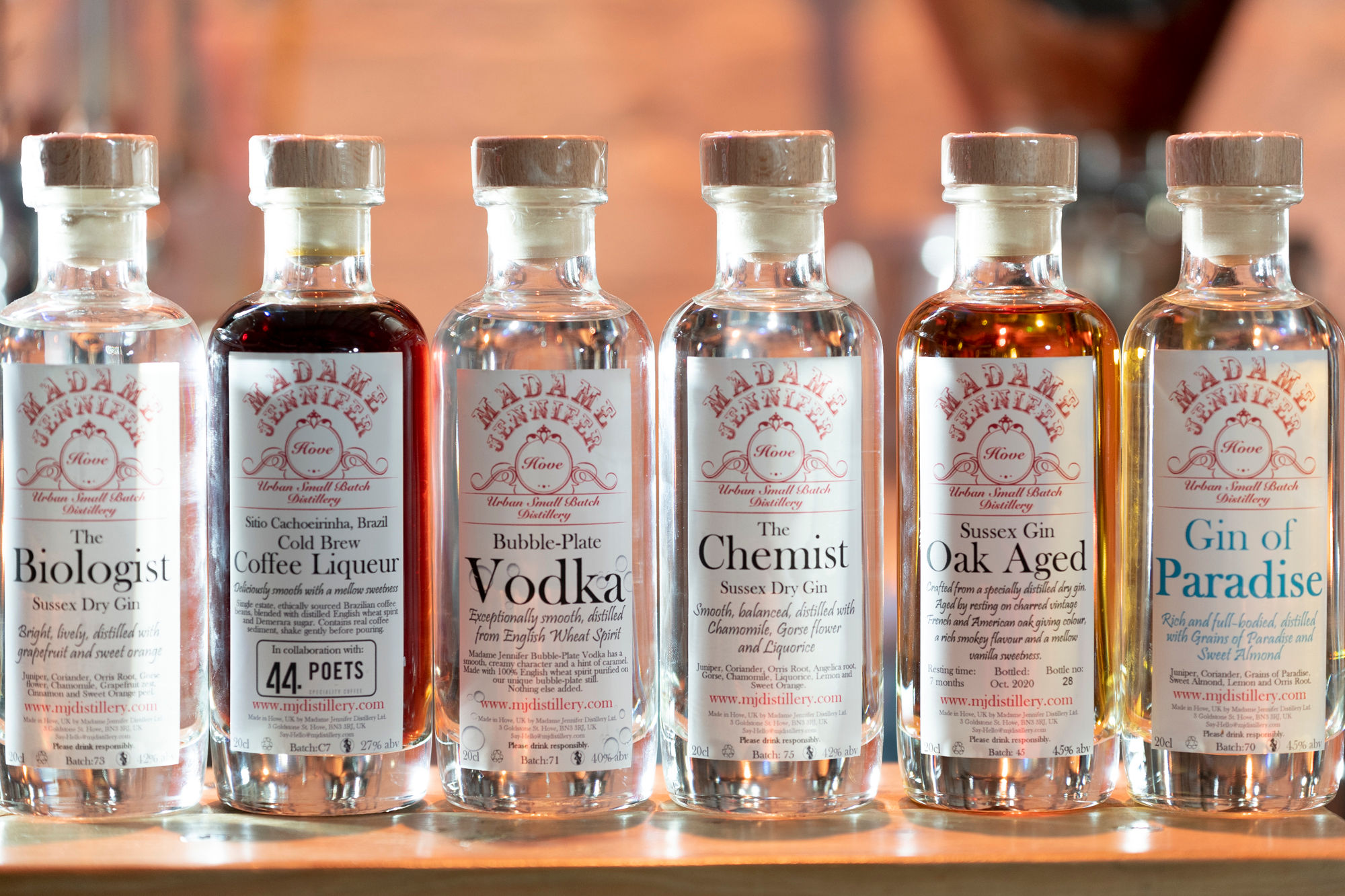 In the Hollywood version of the MJ story who would you be played by? (and who would personify MJ?)
I think Kate Winslet would play me! She's often cast in those intelligent female scientist roles. Ian doesn't really know any actors but models himself on Doc Brown from Back to the Future, so probably should be played by Christopher Lloyd.
You've got 24 hours in Brighton, where would you go for breakfast, lunch, dinner and
after-dinner drinks?
Since lockdown, we've barely left Hove so our recommendations reflect this. One of the closest places for breakfast to us is The hidden Pantry on Blatchington Road, Hove. We love the mismatch of furniture and crockery inside downstairs, or if the weather is nice the tables outside get lots of Sun (when it's out) in the morning.
Seafood is a favourite for both of us so popping into The Urchin for lunch is a real treat. They've started brewing their own beer and recently used some of our bitter orange zest to make their Larrikin Sleeping Giant Double IPA, which is fantastic!
If we haven't been outdone on seafood then you can't beat The Little Fish Market for a real treat delicious food and amazing service. Popping into Fourth and Church for a glass (or bottle) of wine on the way home is a great way to finish an evening, especially if you can sit by the window and watch the world go by outside.
Your favourite gin cocktails (and recipe)
Our current favourite cocktail is called the 'Basil Smash' which was introduced to us by Josh from Pick Your Poison. During lockdown 1 we collaborated with Josh to do lockdown cocktails, but as our license only allowed us to sell spirits made by us, Josh had to come up with a range of cocktails using only our spirits. A Basil Smash is really simple to make at home.
50ml of The Biologist gin, 25 ml freshly squeezed lemon juice and 15ml of simple 1:1 sugar syrup. Place all the ingredients in a shaker with lots of ice, add 4-6 basil leaves and shake vigorously. Strain into a martini glass and drink before it warms up!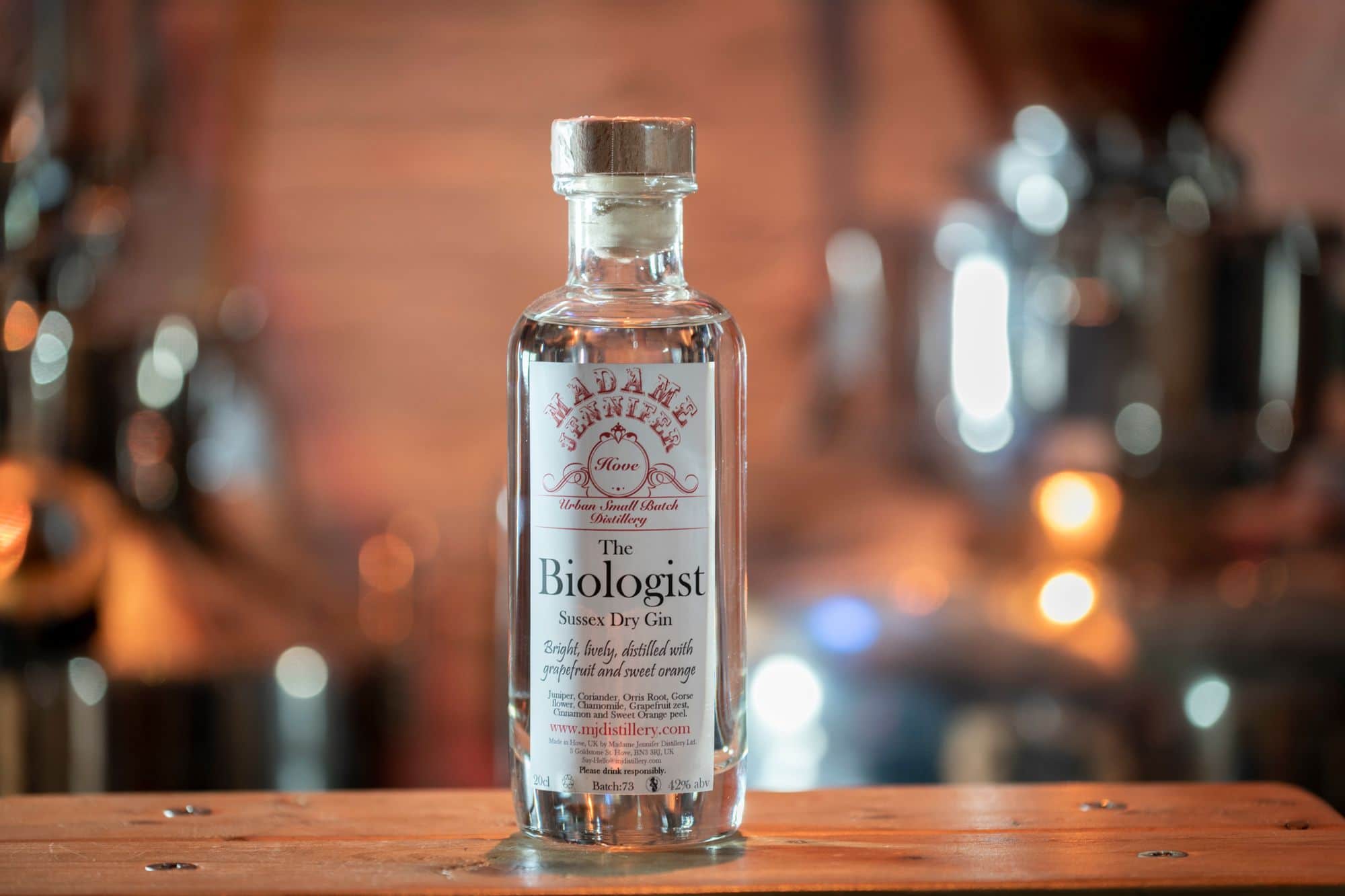 As well as selling spirits, cocktail sets and truffle kits you offer distillery tours (out of
lockdown), what can we expect from a tour?
You can expect to be surprised by how small our distillery is! We do everything in the distillery from making the gin, bottling, printing the labels and occasionally enjoying a gin and tonic ourselves. If you come on a tour, you'll taste the full range of our spirits and liqueurs and learn how we make them, enjoy a gin and tonic with us, hear the story of how we got started, and get to take home a 200ml bottle of anything from our range.
What's next for MJD?
Lots of new products. In the not quite three years we've been going we've launched four different gins, a vodka, a sloe gin, coffee liqueur and limoncello, plus making a few gins for other people such as the Brooksteed Alehouse in Worthing. We've been working on a couple of things including a summer gin with different flowers and lots of citrus, and our take on a Campari style liqueur. We love a negroni, which is gin, vermouth and Campari in equal measures.
Given there are a few Sussex vermouths on the market, we've been experimenting with a substitute for Campari which is a bitter-sweet liqueur, so watch out for a fully 'Made in Sussex' negroni!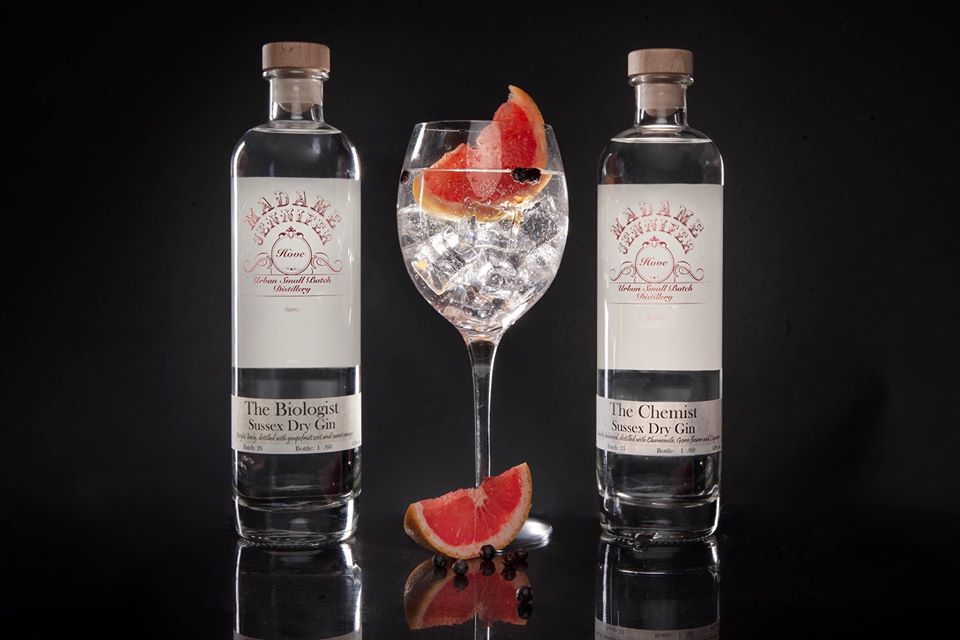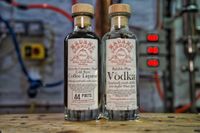 Want to know more about Madame Jennifer Distillery?
Find Out More